Stuffed Avocado Shrimp Salad (Peruvian Palta Rellena)
This Stuffed Avocado Shrimp Salad is healthy and busting at the seams with flavor! Reminiscent of a Shrimp Ceviche, you'll enjoy tender shrimp, lime, and cilantro…all packed into a creamy avocado and drizzled with a zesty sauce!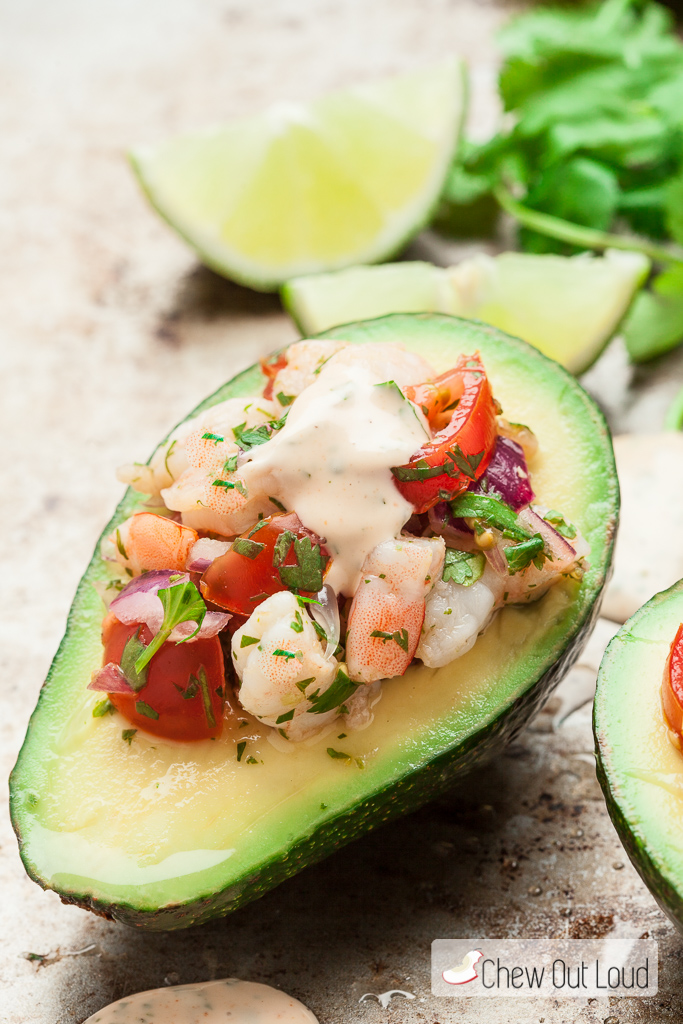 The last time our Gourmet Club met, it was over a Peruvian inspired dinner. I have to say Hubby and I couldn't be more thrilled with the theme, as we are huge Peruvian foodie fans.
Back in Los Angeles, we often brought our hungry tummies to our favorite Peruvian restaurants. With an "s" because there were a handful of favorites that we gleefully rotated between. The ones I liked best were the hole-in-the-wall restaurants. I love the small family-owned vibe.
So when my friends suggested we dive in Peruvian style for our schmancy dinner club, we were like: Yesssss!
High fives, fist bumps, somersaults…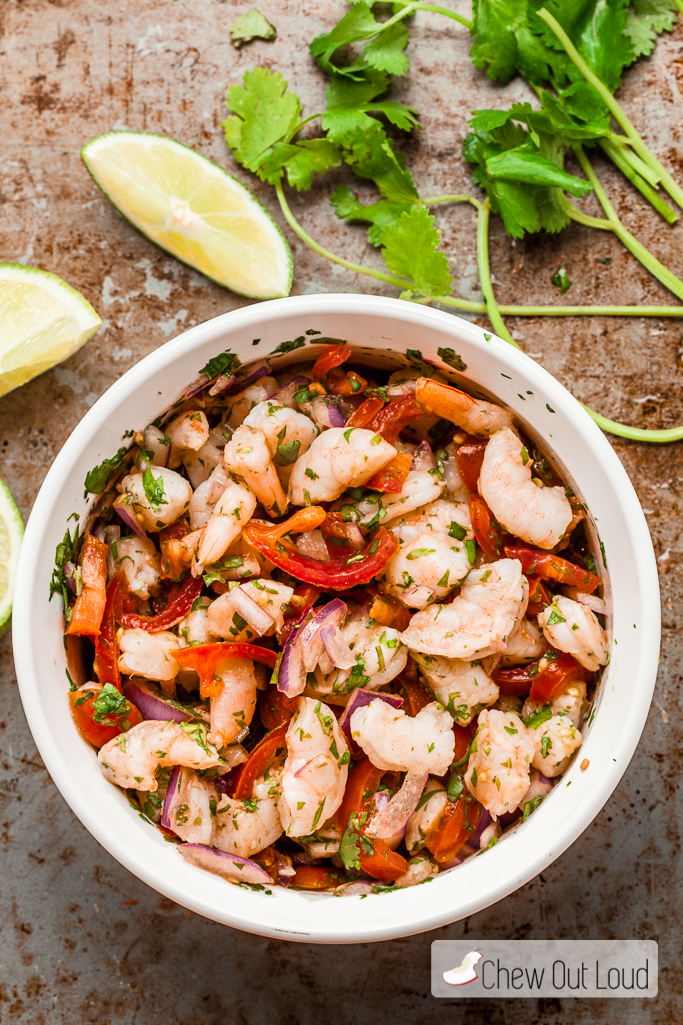 Hubby and I got dibs on the apps and salad portions of zee menu. I believe I had about a gazillion recipes I wanted to make.
Seeing as I did have to choose just one app and one salad, it took me days to talk myself down the kitchen ledge. I did a purple potato thingamajig with queso sauce for my appetizer. That was quite good. But it was the Stuffed Avocado Shrimp Salad that brought it home.
I don't always post my Gourmet Club creations, but when we hit a home run that's easy and delish, it needs to be here.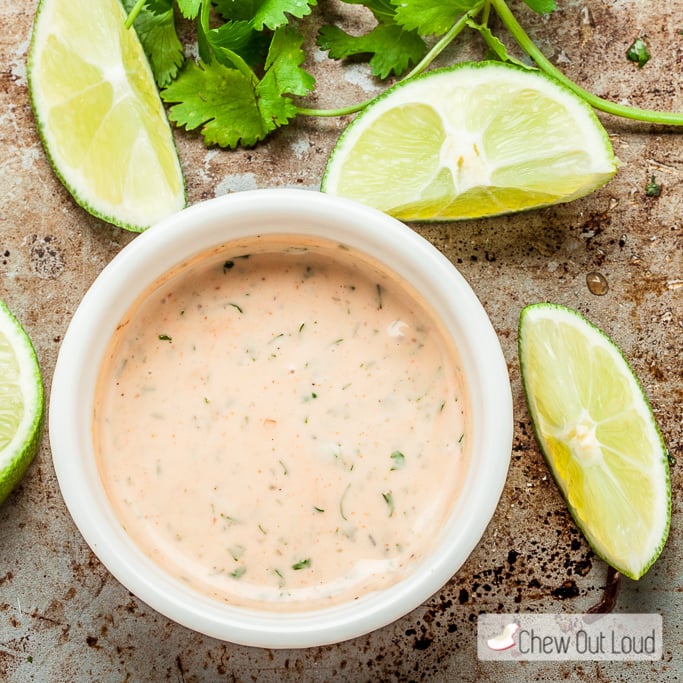 This Stuffed Avocado Shrimp Salad (aka Palta Rellena) is a popular Peruvian favorite. It's easy to see why.
The zesty cilantro sauce? Serious awesome sauce. A couple of us licked the sauce clean off our plates. No names mentioned.
Creamy ripe avocados are stuffed to the brim with succulent shrimp, tomatoes, and lime. The result is a totally refreshing, zesty, satisfying dish we can call a salad. It also could be an appetizer, snack, or light lunch.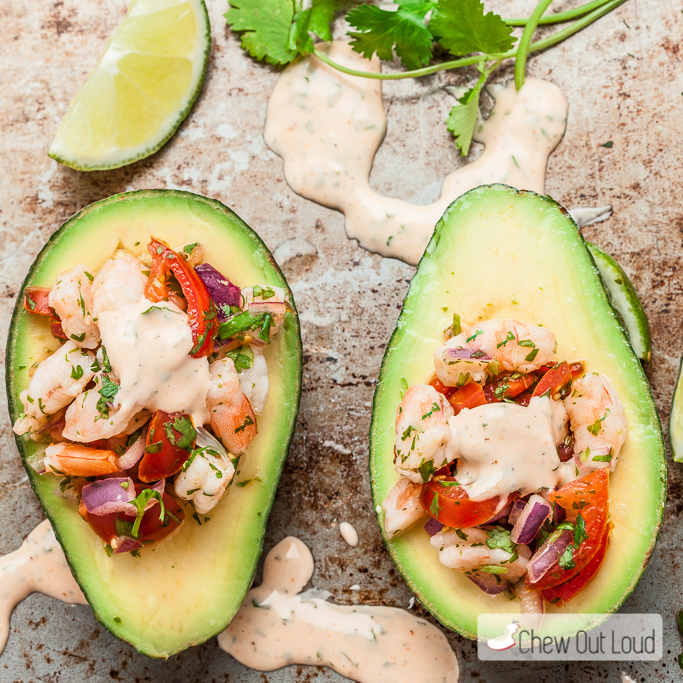 Here's to healthy dishes that taste amazing. And salads that don't act ordinary. Salads that jump out of the box and into an avocado.
Enjoy!
Print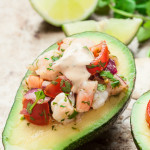 Stuffed Avocado Shrimp Salad (Peruvian Palta Rellena)
This Stuffed Avocado Shrimp Salad is a popular Peruvian dish known as Palta Rellena. It's so easy to make, fresh, tasty, and healthy. Every bite just makes you hungry for more. And the sauce is simply amazing.
For the Salad:

1 1/2 cups

cooked shrimp, cut in half

1/4 cup

grape tomatoes, halved

1/4 cup

red onion, diced

1/4 cup

freshly chopped cilantro

1/4 cup

freshly squeezed lime juice

1/4 cup

sliced black olives

3

avocados, semi-soft
kosher salt and freshly ground black pepper to taste
For the Dressing:

6

TB mayo

2

TB minced fresh cilantro

1/4 tsp

table salt

1/4 tsp

cayenne
Instructions
Make the Dressing: In a small container, mix the dressing ingredients well. Cover and chill until ready to use.
In a bowl, combine the shrimp, tomatoes, red onion, cilantro, lime juice, olives, salt, and pepper. If making ahead of time, cover and keep chilled until ready to serve.
When ready to serve, slice avocados in half and remove seed carefully. If desired, slice a bit off the bottom halves so that avocados can stand without tipping over. Fill each avocado half with shrimp salad. Drizzle with the dressing and serve immediately.
Author:
Category:

salad, appetizer
Source: Chew Out Loud
Here are a few of our favorite recipes using shrimp or avocado:
1. Shrimp Ceviche. By far my most favorite thing to eat in spring and summer every year. We make this often and it gets devoured every time.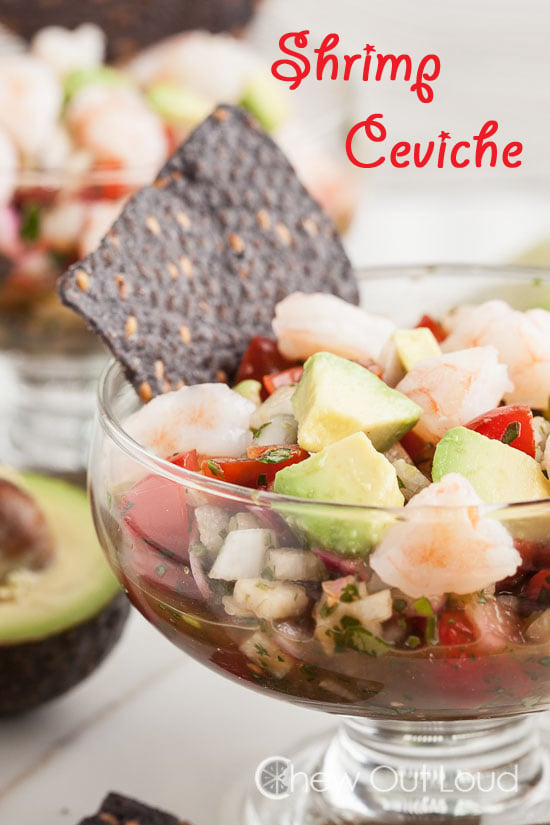 2. Honey Lime Shrimp with Sriracha. So easy. So full of flavor. And crazy addictive.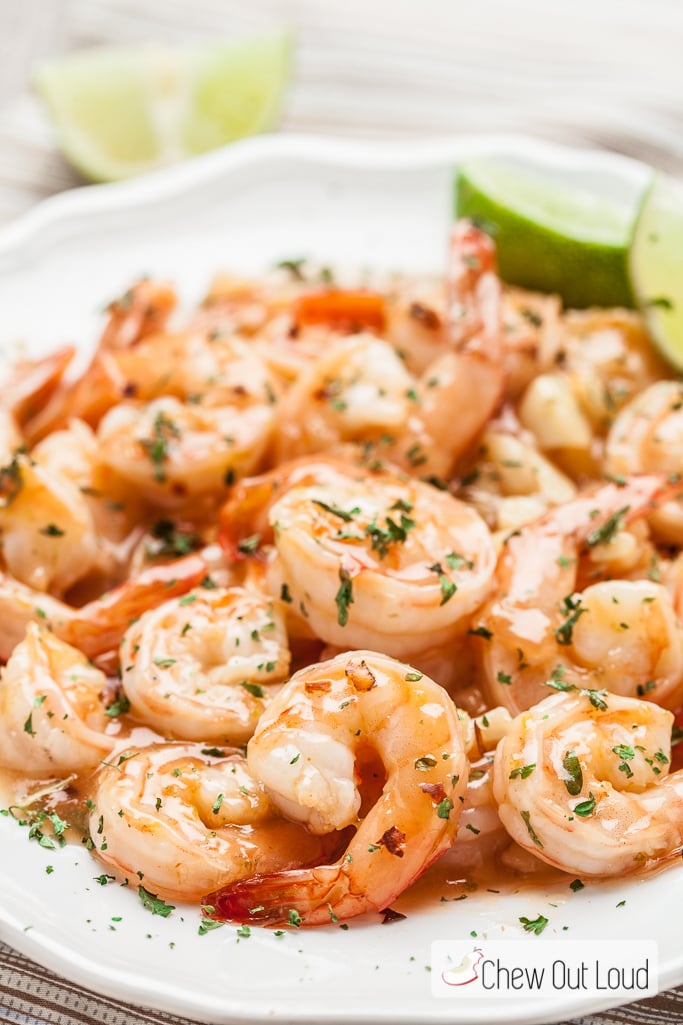 3. Black Bean Avocado Salad/Dip. Easy, perfect for potlucks or groups, and be ready to hand out the recipe.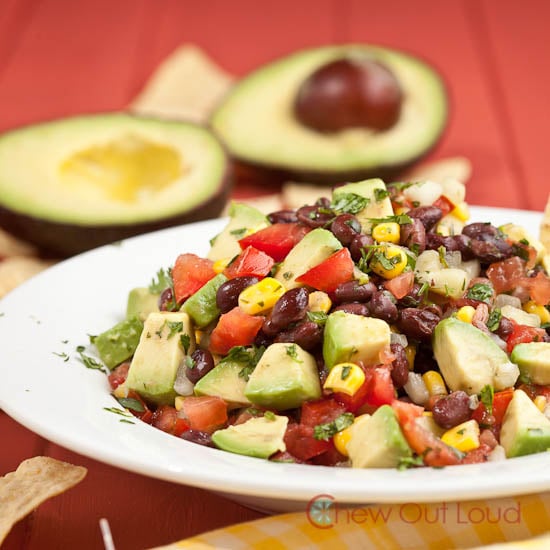 4. Avocado Hummus. When I have ripe avocados, this is what I love to make for the family and friends. It's rich, creamy, healthy, and full of only good stuff.