How to Make Cold Brew Coffee – So Easy!
By Amy Dong
Published Jun. 22, 2017
Updated Sep. 8, 2023
Here's the scoop on How to Make Cold Brew Coffee. No fancy equipment needed. It's simple, affordable, and SO smooth. It just might become the only way you do coffee.
Cold Brew Coffee suddenly busted out onto the coffee culture a couple summers ago; since then, it has steadily grown into a coffee phenomenon.
Cold brewing is a simple method of basically steeping coffee without heat. It results in a much smoother cup of joe without any of the common acidic, bitter, or even burnt coffee flavors that occur with drip methods.
All manners and sizes of trendy looking jugs and fancy schmancy labels are hitting more store shelves and coffee shops by the day.
Admittedly, I was initially reluctant to buy into the craze. I figured my usual brew from small batch, freshly roasted beans that I always grind at home was already darned good.
Plus, who wants to pay five bucks for a teeny jar of cold brew coffee that's only slightly larger than a jar of baby food?
But then my coffee world was turned upside down and all around. I tasted cold brew coffee. One sip is all it takes to convert a skeptic into a permanent follower. That's my story and not only am I sticking to it, I'm sharing the goodness.
How to Make Cold Brew Coffee:
Okay, did you see how easy it is to make your own cold brew coffee?? ⇑
No exorbitant price tags, no special equipment, nada.
The result is amazingly smooth, rich, and slightly sweet brew that can be enjoyed cold or hot – no creamer or sugar needed at all, but we'll leave that entirely up to you.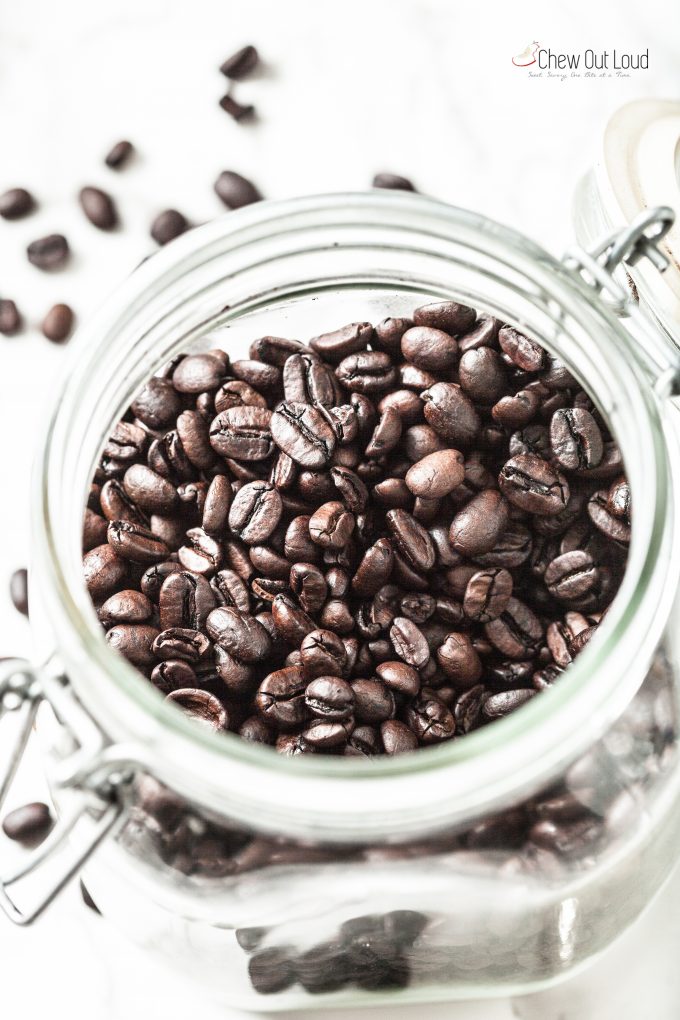 The only ingredient you need: the best, fresh coffee beans you can grab.
The fresher and higher quality your beans, the better your coffee will taste. That goes for regular drip coffee as well.
I always pick up a pound of fresh, small batch coffee beans from my favorite roaster. Even though I love my Super Target, it's not recommended to use store-bought beans that have been sitting on the shelf. They tend to be much less fresh, which definitely affects flavor.
I get my coffee ground ultra coarse, French press style. It's über important to get those beans ground at the coarsest setting possible. That allows you to easily and quickly strain the coffee when it's done brewing. If the beans aren't ground coarse enough, you'll have cloudy sediment and a few straining pains. 🙄
So, coarse ground. Do that. 👍🏼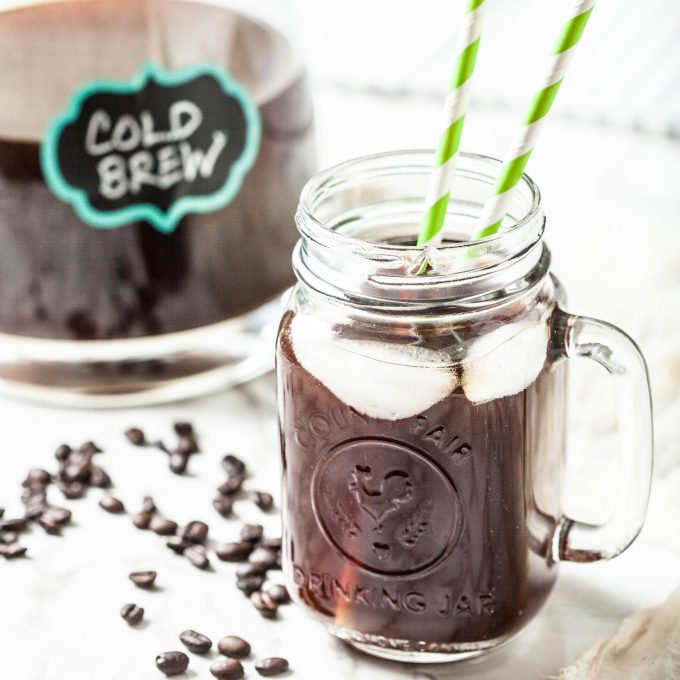 If you're still unsure, feel free to watch the video up there ⇑ and see how crazy easy this thing is.
We heartily welcome you to the cold brew craze.
It just might become the only way you ever do coffee again.
Did you make this?
Please give us a rating and comment below. We love hearing from you!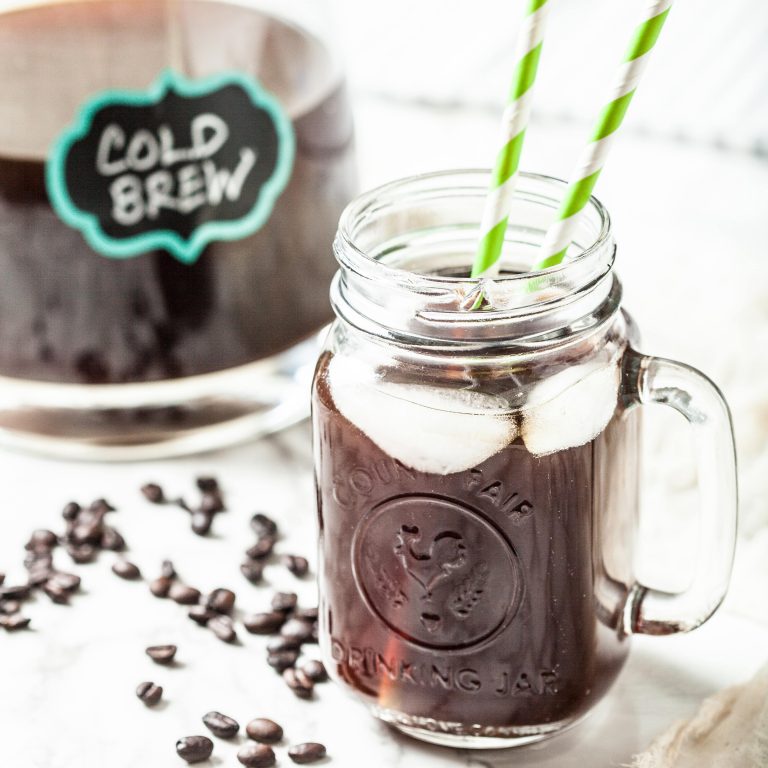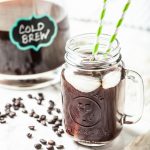 How to Make Cold Brew Coffee - So Easy!
Here's the scoop on How to Make Cold Brew Coffee. No fancy equipment needed. It's simple, affordable, and SO smooth. It just might become the only way you do coffee.
Ingredients
4

oz

freshly coarse ground

,

French press ground coffee

4

cups

room temperature filtered water
Instructions
Place ground coffee in a pourable container or pitcher. Gradually add filtered water. Stir gently to combine well. Press ground coffee down gently to fully immerse. Cover and let brew/steep at room temperature for 12-24 hours (longer brew time results in richer flavor.)

Do not stir anymore after this.

Place two layers of cheesecloth over a fine mesh sieve, set over another container/pitcher. Gently and slowly pour brewed coffee into the container, letting the cheesecloth catch any ground coffee that may emerge. Stop pouring once most of the liquid has been poured out. Repeat process once more, to ensure that no grinds get into your coffee (you can re-use the same cheesecloth after cleaning it out.)

Your cold brew will be in concentrate form. Add desired amount of water to dilute and to taste. Pour into individual glasses/mugs. Serve with cream or sugar, or simply as is. It's delicious straight!
Notes
You can have 1/2 to 1 lbs fresh beans ground (depending on how quickly you'll use it) and measure out 4 oz each time you brew a new batch. Keep unused ground coffee airtight in freezer, for freshness.
Use filtered water for best flavor.
Brewing/steeping at room temp allows for better intensity.
Be sure to throw used grinds in the trash, and not the sink disposal, as it could clog up your disposal.
Cold brew can be made into a wonderfully enjoyable hot mug of coffee - simply pour into your mug and microwave!
Nutrition (per serving)
Calories:
0.3
kcal
|
Protein:
0.04
g
|
Fat:
0.01
g
|
Monounsaturated Fat:
0.01
g
|
Sodium:
12
mg
|
Potassium:
14
mg
|
Calcium:
8
mg
|
Iron:
0.003
mg
Kitchen Essentials:
Better Than Coffee Shop Recipes: