Pumpkin Coffee Cake With Streusel
By Amy Dong
Published Oct. 23, 2023
Updated Oct. 25, 2023
This Pumpkin Coffee Cake with Streusel isn't your average coffee cake – this recipe uses an entire can of pumpkin so there's no waste, providing the most tender coffee cake possible. Your family and friends will adore the crispy, buttery streusel on top.
Why This Recipe Stands Out
Aside from the fact that I recipe-tested pumpkin coffee cake four times (4x!) before deeming it outstanding enough to share with you, here are some other reasons you'll love this cake:
Your house will smell incredible, with warm fall flavors wafting through the air.
Your entire family will finally not skip breakfast, but run towards it when you show them what you've baked up.
You'll proudly share this with friends at any brunch gathering throughout the entire fall season.
It's a 1-bowl cake recipe. The streusel is obviously separate, but you understand.
You get to use an entire can of pumpkin in this recipe. That's right – zero waste.
Key Ingredients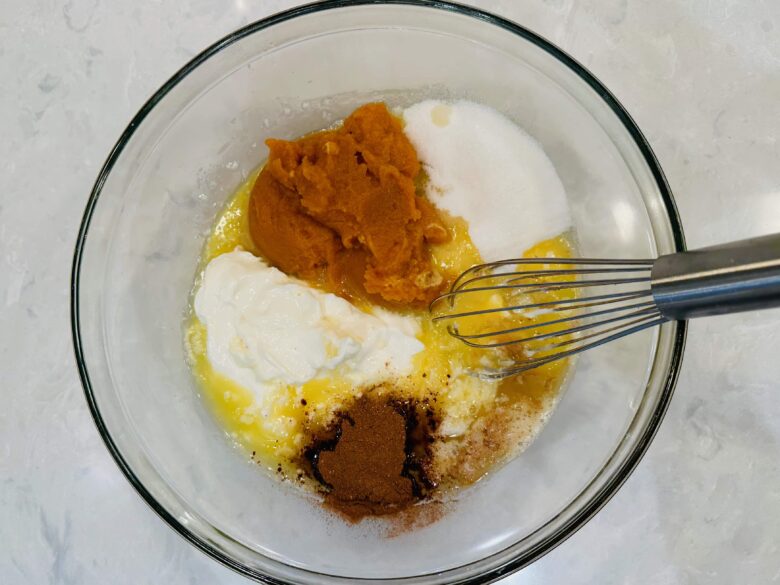 Greek Yogurt – We use whole, plain Greek yogurt in this recipe to make the coffee cake extra moist and tender. The acidity in yogurt also helps balance the sweetness in dessert recipes.
Pumpkin Puree – A whole 15 oz. can of pure pumpkin puree is added to this recipe. So, there's no waste and no chance of missing that amazing pumpkin flavor.
Pumpkin Pie Spice – Pumpkin pie spice is the perfect mix of cinnamon, ginger, cloves, nutmeg, and sometimes allspice. It makes the house smell amazing!
Melted Butter – We use butter in this recipe instead of oil for the best flavor.
Streusel Topping – The streusel is made with butter, brown sugar, cinnamon, flour, and the option of either roasted pecans or walnuts. And we pile it on!
Optional Glaze – To really give this pumpkin coffee cake that bakery feel, we drizzle on a simple glaze made with just powdered sugar and milk.
Substitutions And Variations
Whether you put this recipe on repeat and are looking for some variety, or are short on ingredients, we've got you covered! Take a look at some of these variation ideas:
Pumpkin Pie Spice: If you don't have pumpkin pie spice on hand, see the recipe card notes below for an alternative. If you're wanting to make a large batch of your own pumpkin pie spice, take a look at this simple Pumpkin Pie Spice recipe from the Spruce Eats.
The Glaze: We use a classic glaze for this recipe, but if you want to spice things up (quite literally), take a look at this spice glaze that we use in our Favorite Pumpkin Scones Recipe.
Gluten Free: If you want to make this recipe gluten free, replace the all-purpose flour in the cake and streusel with 1:1 GF Baking Flour and let us know the results!
Extra Toppings: We think this Pumpkin Coffee Cake would be amazing served next to a scoop of our Creamy Vanilla Bean Ice Cream. Try topping this coffee cake with this super light and fluffy Stabilized Whipped Cream or replacing the glaze with this 4-Ingredient Salted Caramel Sauce.
Step-By-Step Instructions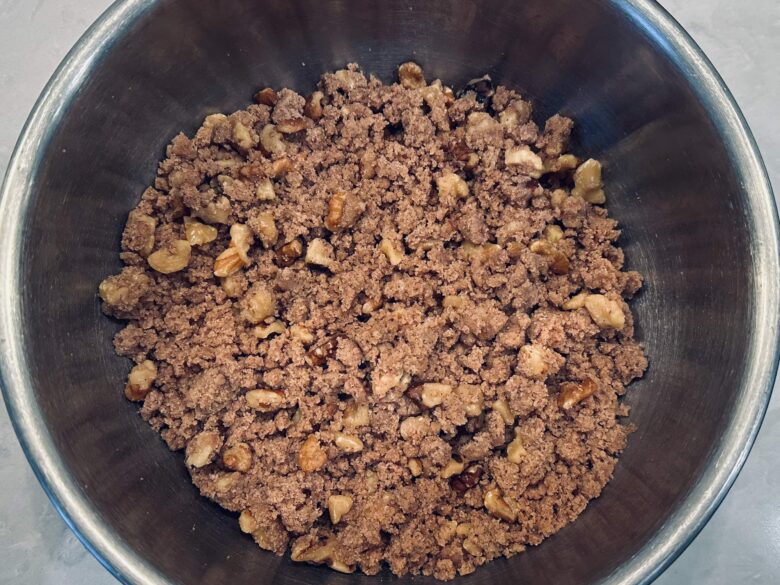 For the streusel, combine the butter, brown sugar, cinnamon, and flour until it resembles wet sand. Then mix in the pecans or walnuts. Cover and chill.
In a large bowl, whisk wet ingredients for the coffee cake until smooth.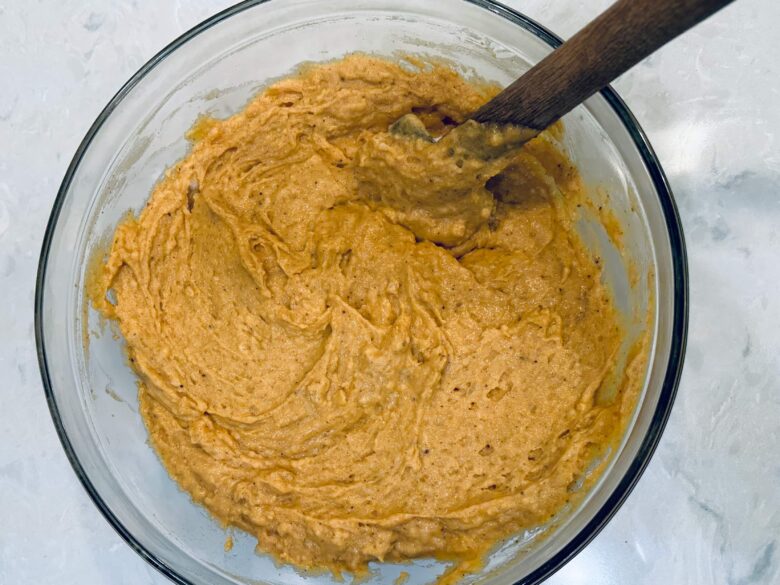 Combine dry ingredients in a separate bowl. Then fold dry ingredients into wet ingredients until just incorporated.
Scoop batter into greased 9×13 baking pan and top evenly with streusel. Bake at 350 F for 55-60 minutes or until toothpick comes out mostly clean.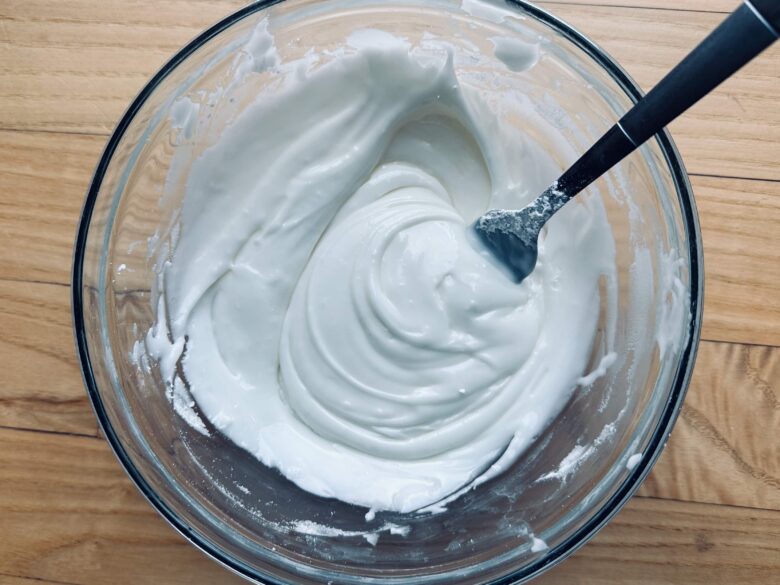 Use a fork to mix powdered sugar and milk for glaze until it reaches a thick consistency. Then add glaze to a Ziploc bag and cut tiny piece off of the corner.
Once pumpkin coffee cake is completely cooled, drizzle simple glaze on top, slice, and enjoy!
For full list of ingredients and instructions, see recipe card below.
How To Prep Ahead
Although this Pumpkin Coffee Cake recipe is already super easy to throw together, we have a few prep-ahead tips to make baking this coffee cake a cinch!
Streusel: One of the easiest things to make ahead in this recipe is the streusel. Feel free to mix this a few days in advance and keep in an airtight container in the fridge until ready to use.
Dry Ingredients: As always, the dry ingredients can be mixed in advance and stored in an airtight container at room temperature until you're ready to use them.
The glaze: Feel free to make the glaze up to a week in advance and store in an airtight container in the fridge. Just let it come to room temperature and give it a mix before drizzling.
Freeze: Slices of pumpkin coffee cake can actually be frozen for a simple make-ahead breakfast or dessert. Just wrap fully baked individual slices in plastic wrap, store in an airtight container, and freeze for up to three months.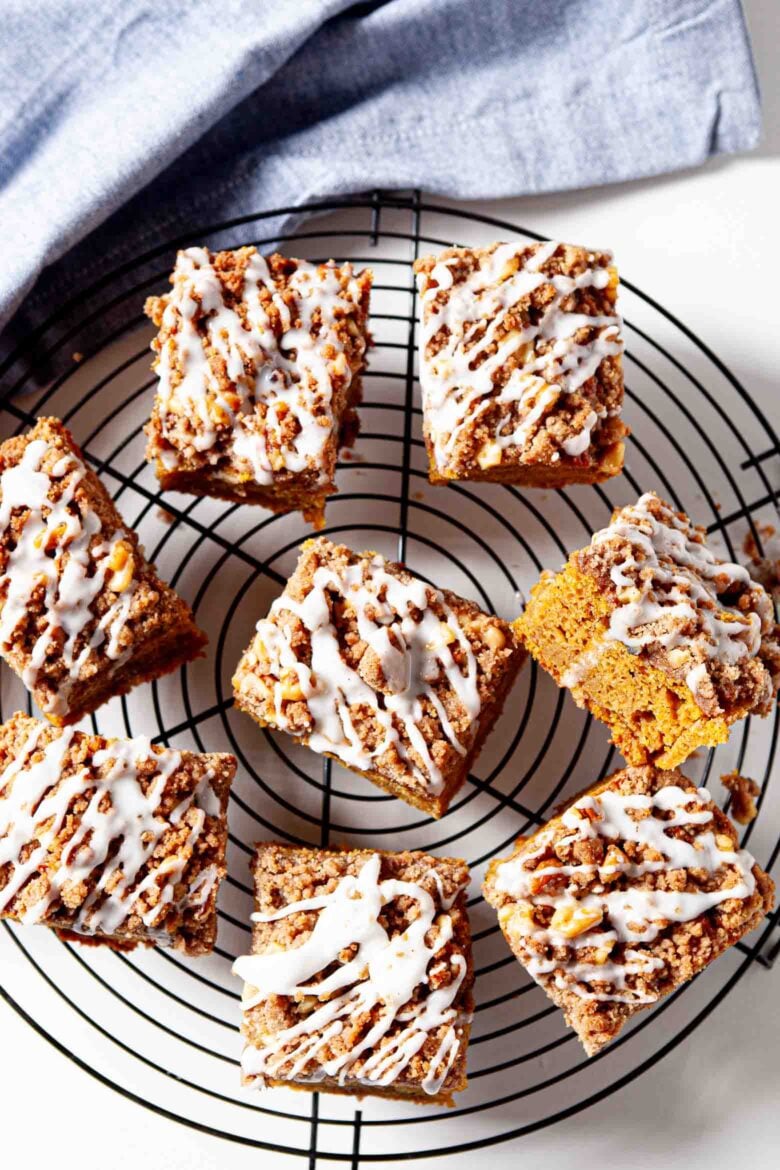 What to Serve with Pumpkin Coffee Cake
Commonly Asked Questions
How long can I keep pumpkin coffee cake?
Store pumpkin coffee cake in an airtight container in the fridge for up to 4 days. If you'd like it for longer, feel free to freeze it as well. We recommend slicing the cake first then wrapping the slices individually in plastic wrap before freezing.
Why is there no coffee in this coffee cake?
Most coffee cake recipes don't actually contain coffee which seems odd considering it's in the name. The reason it's called "coffee" cake, however, is because it's traditionally meant to be enjoyed with a cup of coffee.
Why is my coffee cake dry?
If your coffee cake turns out dry, you may have overcooked it. A toothpick inserted in the center should come out with a few crumbs (not completely clean) when it's done. Another thing to check would be if you overmixed the batter. For best results, mix the wet and dry ingredients until just barely combined.
Can I use homemade pumpkin puree for this recipe?
You can absolutely use homemade pumpkin puree! The only thing we recommend avoiding is pumpkin pie filling. Pumpkin pie filling has added sugars and spices that we don't need for this recipe.
Why did my coffee cake cave in?
If the center of your coffee cake excessively caved in, you probably undercooked it. Make sure to test doneness with a toothpick before removing from the oven.
Did you make this?
Please give us a rating and comment below. We love hearing from you!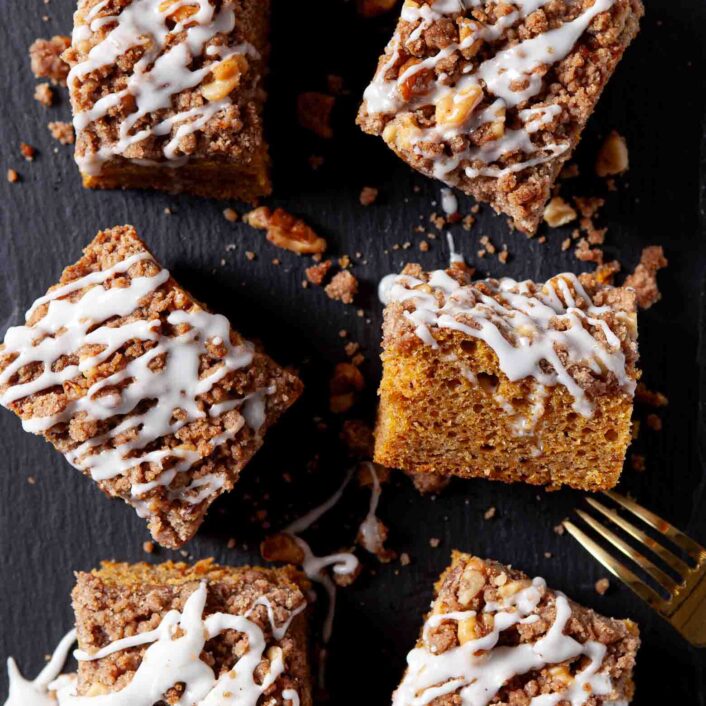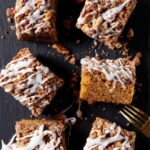 Pumpkin Coffee Cake with Streusel
This Pumpkin Coffee Cake uses an entire can of pumpkin, so there is no waste and big pumpkin taste! Your friends and family will adore the crispy streusel topping and tender, buttery cake.
Ingredients
For the Streusel Topping:
Instructions
Make the Streusel in Advance: Combine buter, brown sugar, cinnamon, and flour in a bowl and use clean fingers or a pastry cutter to work the mixture into texture of damp sand. Work in the pecans. Cover and chill until ready to use.

Grease a 9×13 baking pan and preheat oven to 350F with rack on lower-middle position. Set aside.

In a large bowl, combine melted butter, sugar, beaten eggs, vanilla, yogurt, and pumpkin. Whisk until smooth.

In a separate bowl, mix together the flour, pumpkin pie spice, baking soda, baking powder, and salt. Use a rubber spatula to fold flour mixture into the pumpkin mixture just until incorporated. Do not over-mix.

Use rubber spatula to transfer batter into greased baking pan, evening out the batter into the corners. Sprinkle topping evenly over the cake.

Bake for 55-60 minutes or just until a toothpick inserted in center comes out with just a few little tender crumbs attached. Cool completely at room temperature before cutting into it.

Optional Icing: Use a fork to mix together powdered sugar and milk until it becomes thick and drizzle-consistency. Transfer to a Ziploc baggie and seal. Cut a tiny bit off the corner of bag and drizzle icing over cake.
Notes
If you don't have pumpkin pie spice, you can use this spice combination: 2 tsp cinnamon, 1/2 tsp ground ginger, 1/4 tsp nutmeg, and 1/4 tsp ground cloves.
If you'd like vanilla flavor in your icing, you can add 1 tsp pure vanilla extract. For a fragrant almond flavor, add 1/2 tsp almond extract.
If icing is too thick, add just a touch more milk. If it's too thin, add a bit more powdered sugar.
If you enjoyed this recipe, please come back and give it a rating ❤️
Nutrition (per serving)
Calories:
274
kcal
|
Carbohydrates:
47
g
|
Protein:
5
g
|
Fat:
14
g
|
Saturated Fat:
6
g
|
Polyunsaturated Fat:
2
g
|
Monounsaturated Fat:
5
g
|
Trans Fat:
0.4
g
|
Cholesterol:
44
mg
|
Sodium:
192
mg
|
Potassium:
123
mg
|
Fiber:
2
g
|
Sugar:
19
g
|
Vitamin A:
3628
IU
|
Vitamin C:
1
mg
|
Calcium:
52
mg
|
Iron:
2
mg