How to Make Vietnamese Spring Rolls (Gluten-Free)
It's surprisingly easy and fun to make your own Vietnamese Spring Rolls at home. Great as appetizers and lunch. Have a Spring Roll party. These are delicious, fresh, and healthy. Bonus: They happen to be gluten-free.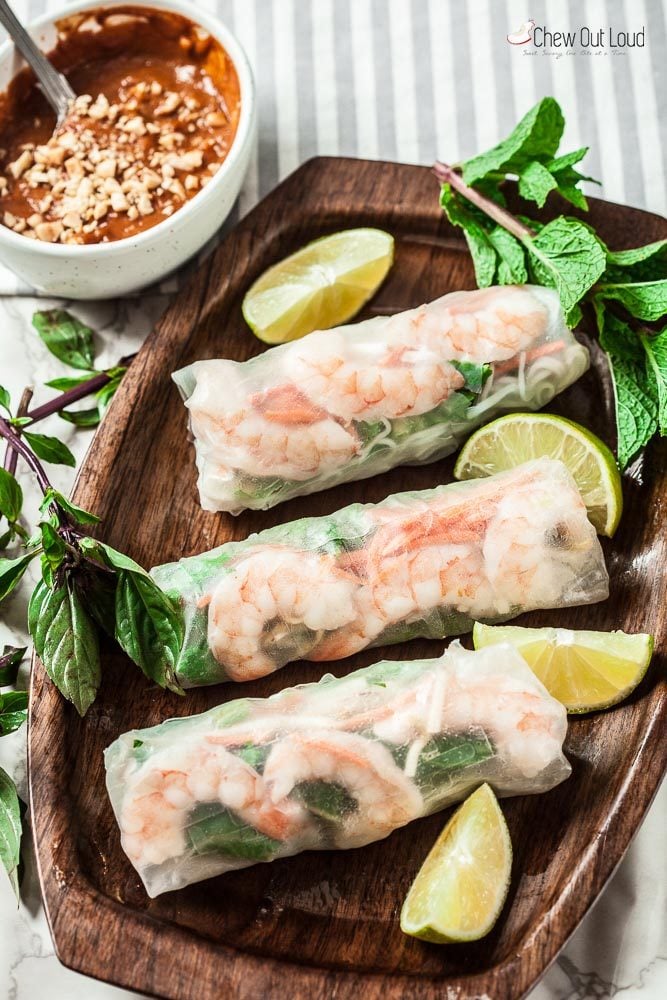 Vietnamese Spring Rolls
I'm beyond excited about today's recipe + tutorial.
Vietnamese Spring Rolls are one of my favorite foods on the planet. These were love at first bite for me, and I've faithfully ordered them at every Vietnamese restaurant we've gone to (which is a lot.) And I don't share.
I love my peeps, but they have to order their own spring rolls. If someone somehow can't finish theirs (how?), I'm on it before they ask.
Unlike summer rolls, which are essentially fried egg rolls, Spring Rolls are incredibly light and healthy. Each spring roll is a delectable balance of fresh veggies, chewy rice noodles, tender shrimp, and fragrant herbs. All hugged together inside a fun rice "paper" wrapper.
Some of you will be tickled to know: these just happen to be gluten-free.
And the peanut sauce? It is so so good. Don't be lured into dipping your spring rolls into just-okay sauce. Ya gotta try this stunning peanut sauce because it makes all the difference.
How to Make Vietnamese Spring Rolls:
That ↑ was way easier than you might have thought, yes?
And fun. Deliciously fun. 💫
Let's get rolling…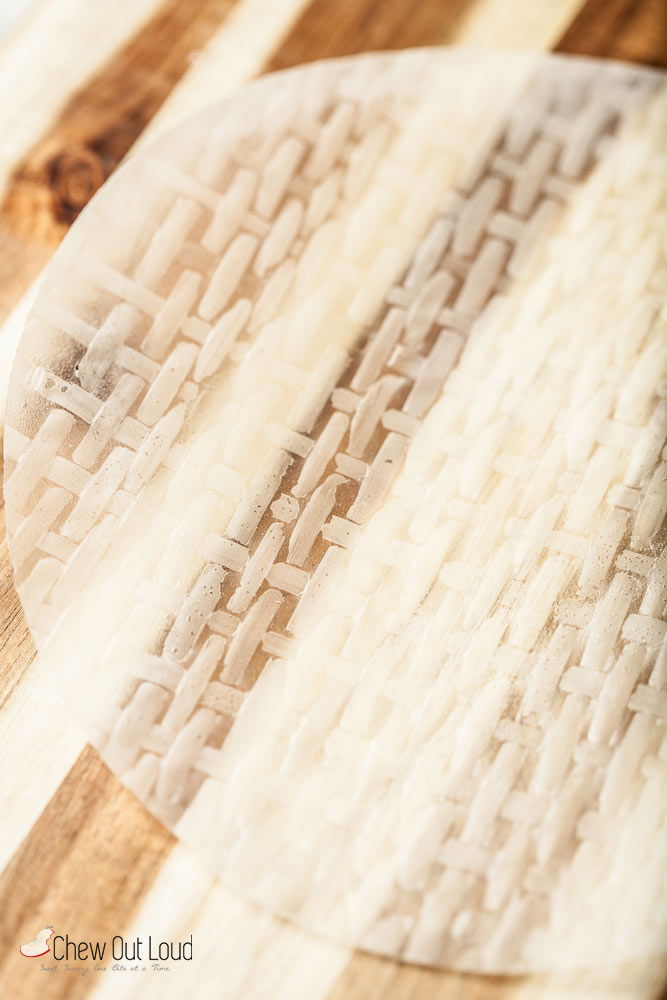 Rice paper wrappers
First off, you'll need a package of rice paper wrappers. Obviously not really paper, but these guys are super thin and fragile. Just be sure to grab these clear-ish, almost transparent rice wrappers, and not the opaque egg roll ones.
Do handle with care. Soak wrappers one at a time in hot water just until they're softened. They'll morph from crispy to chewy soft right before your eyes.
Once your wrapper is nice and pliable, it's party time. Fill 'em up with all the fresh goodies and wrap them gently. It probably won't look magazine perfect at first, so give yourself a couple trial runs. Once you've got the hang of wrapping, it'll go fast. If you gather a wrapping buddy or two, it's even better – an official spring roll party.
Make as many as you want, but make only what you and your peeps will eat. Vietnamese spring rolls are delicious when freshly made, but they're not a candidate for leftovers. You can always save the leftover filling and wrap new rolls when ready to eat again.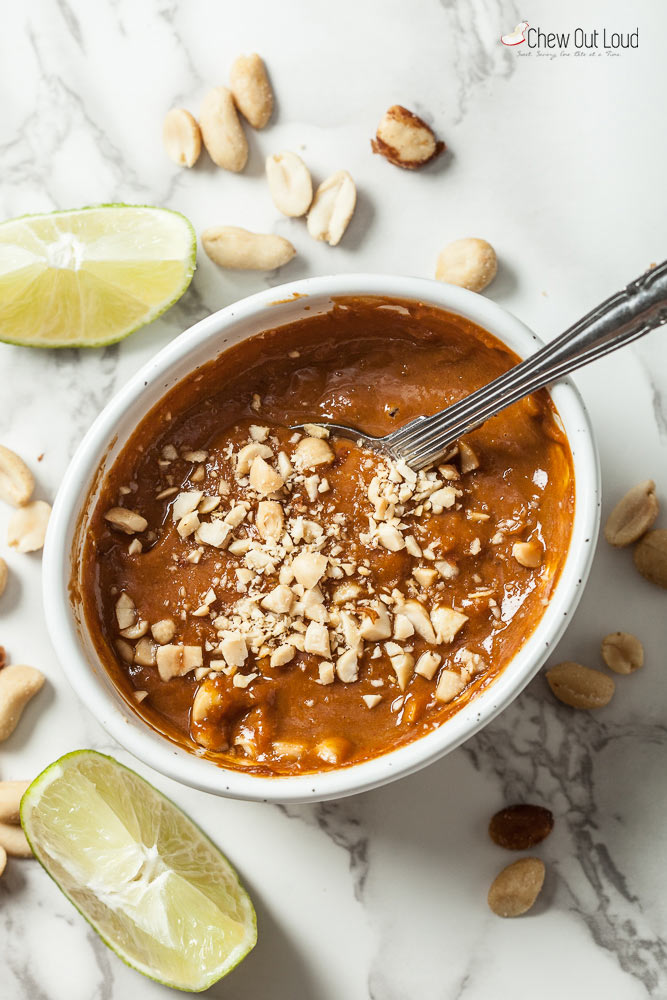 Amazing sauce for your spring rolls
This sauce is boss. That's all.
It's creamy, savory, peanutty, and awesome. The lime brings out a refreshing flavor that can't be beat.
It's worth stirring together a few ingredients to make your own. Way better than any store bought sauce. I always like to make extra sauce and use it for salads, noodles, etc. The sauce does keep well when stored in fridge, so feel free to keep some on hand.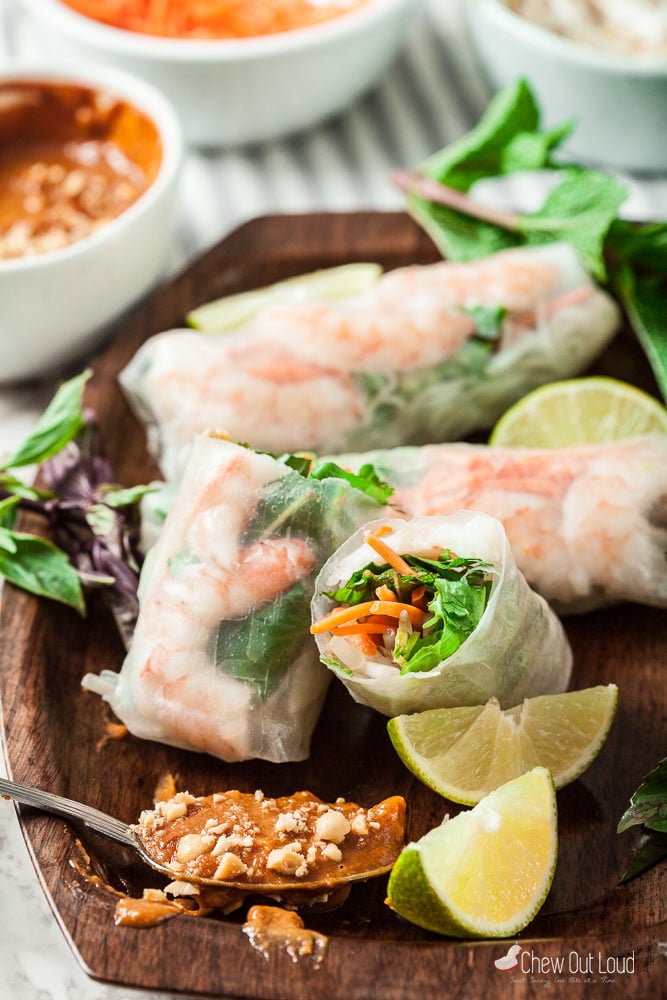 I'll think my family likes me a little bit better when I make Vietnamese Spring Rolls at home vs. ordering them at restaurants.
Because I make so many of them, I actually share. 😋
Happy rolling.
Did you make this?
Please give us a rating and comment below. We love hearing from you!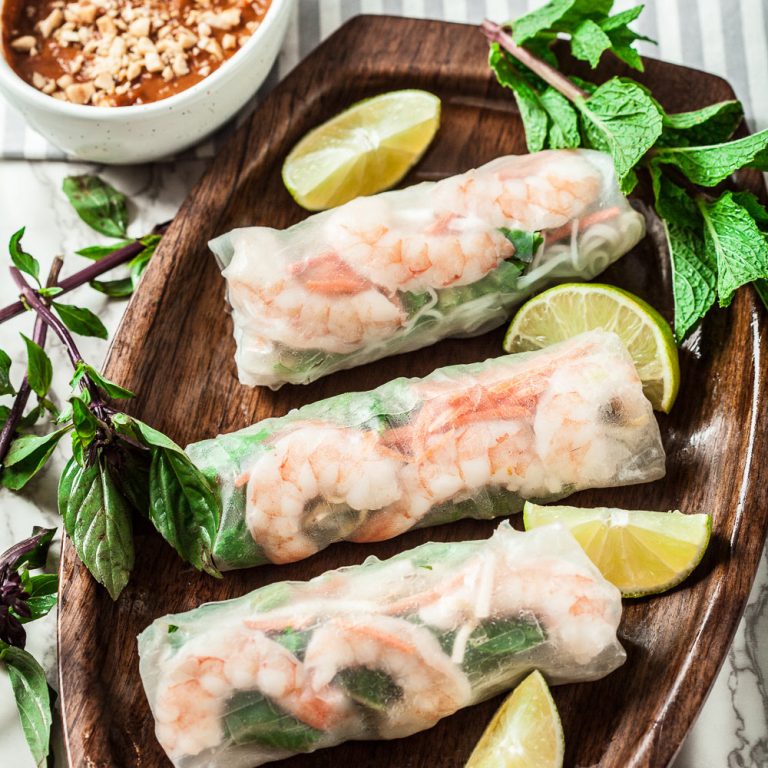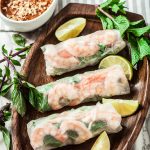 How to Make Vietnamese Spring Rolls (Gluten-Free)
It's surprisingly easy and fun to make your own Vietnamese Spring Rolls at home. They're light, healthy, and delicious! Plus, they're gluten-free.
Ingredients
For the Dipping Sauce:
3

TB

creamy peanut butter

3

TB

hoisin sauce

Freshly squeezed lime juice

,

from 2 small limes

2

tsp

garlic chili sauce

,

or use 2 tsp Sriracha + 1/4 tsp garlic powder

2-3

TB

water
For the Spring Rolls:
7

oz.

dry rice vermicelli

,

thin rice noodles

1

package

,

about 8 count dry, translucent rice wrappers (not egg roll ones)

1

pound

cooked jumbo shrimp

,

sliced in half (similar to butterfly-cut, but cut all the way through)

1

cup

matchstick carrots

1

cup

julienned cucumber

1

cup

bean sprouts

1

cup

thinly sliced green leaf lettuce

1

bunch mint leaves

1

bunch cilantro leaves

1

bunch Thai basil leaves
Instructions
Make the Dipping Sauce: In a small bowl, combine all sauce ingredients except water. Whisk to combine well. Add enough of the water to thin to desired consistency. Cover and chill until ready to use.

Make the Spring Rolls: Cook rice vermicelli noodles according to package instructions, just to al dente. Drain and rinse well with cold water. Sprinkle with enough Asian sesame oil to loosen and prevent sticking. Set aside.

Fill a large, wide bowl with hot water. Working one at a time, gently submerge a rice wrapper into the water just until it becomes soft and pliable (depending on the temp of your water, it can vary from a few seconds to about 30 seconds.) Gently lift the wrapper, place on a flat working surface, and start filling: lay down 3 pieces of shrimp, followed by a small handful of carrots, cucumber, bean sprouts, and lettuce (be sure to leave about 1-inch margins around edges of wrapper.) Add a few mint leaves, cilantro, and Thai basil leaves into the filling.

Gently tuck/fold in the sides and roll as gently yet tightly as you can, taking care to keep filling from moving toward the edges. Press the finished edges together gently to seal. Keep wrapped spring rolls covered with a damp cloth while you finish wrapping the remaining rolls. Serve immediately with dipping sauce.
Notes
See video tutorial above for how to wrap the spring rolls.
Leftover filling can be covered, chilled, and re-used for fresh wrapping next time. Once wrapped, the rolls should be eaten immediately.
Spring rolls are gluten-free. If needed, look for gluten-free hoisin sauce.
If you enjoyed this recipe, please come back and give it a rating 🙂
Nutrition (per serving)
Calories:
163
kcal
|
Carbohydrates:
29.2
g
|
Protein:
9.1
g
|
Fat:
1.2
g
|
Saturated Fat:
0.3
g
|
Cholesterol:
45.7
mg
|
Sodium:
134.5
mg
|
Fiber:
2
g
|
Sugar:
3.5
g
Better Than Take-out: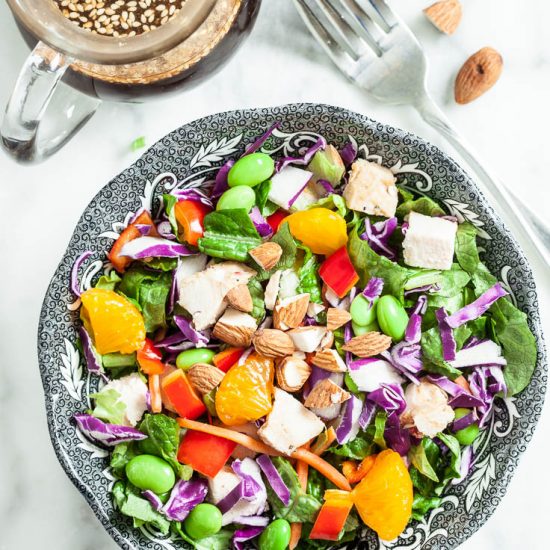 2. 15-Minute Buttery Asian Grilled Shrimp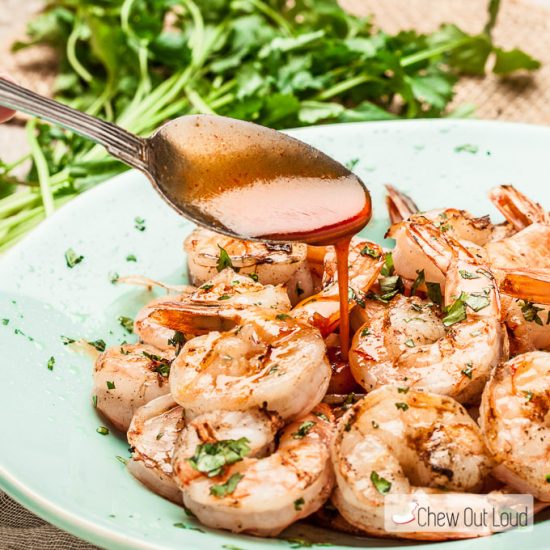 3. 30-Minute Asian Orange Beef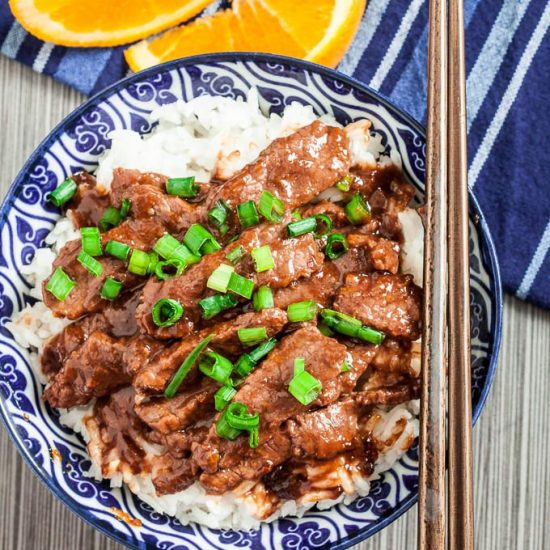 4. Asian Cold Sesame Noodles (Nut-free)