Omega-3 Chocolate Cake
This cake is touted as THE Omega-3 of all Chocolate Cakes. This luscious and moist chocolate cake is studded with whole flax meal and olive oil. We add plenty of mini chocolate chips, but feel free to add walnuts if you're really loading up on the omegas.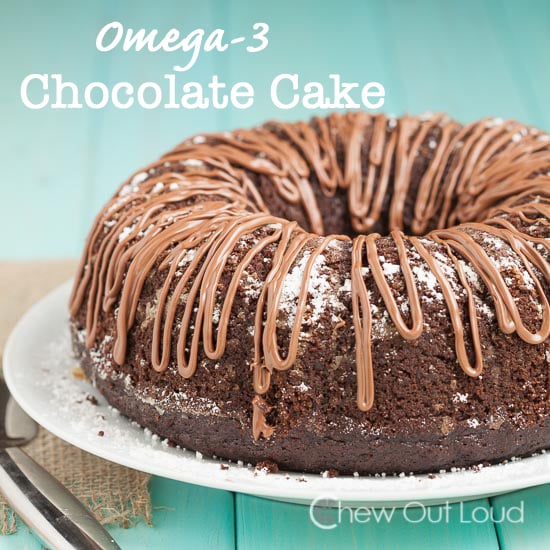 Moist Chocolate Cake Recipe
Today was a whirlwind of a day. It was one of those days where a big ol' monkey wrench gets thrown your way and everything else quickly falls to the wayside.
I was jarred out of REM sleep at 4am by little fingers tapping my arm. My preschooler's shaky voice said his tummy really hurt. Ordinarily, this type of announcement would have been met with my groggy instruction to go back to bed. You know, we'll see how you feel in the morning kind of directive.
But he's never woken me up like that before. And he was burning up with a fever. Plus his tummy pain was localized in the center and right side.
I've seen enough friends battle appendicitis to know this was a time-sensitive possibility. So at 4am, I jumped out of bed and woke Hubby up to take our Littlest to the nearest Children's Hospital…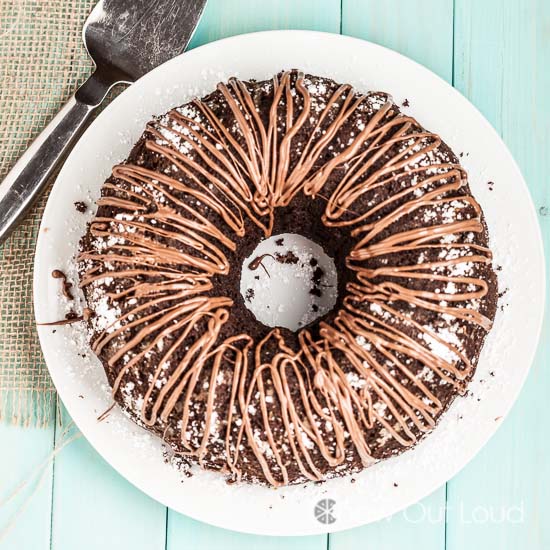 Hubby navigated a day of nurses, doctors, IV's, tests, and x-rays with our boy.
I spent the day with our other Littles. I rounded up some awesome prayer warriors. I tried to reassure our oldest that his little bro was in good hands. I ran the necessary errands. I texted and received calls.
Almost 8 hours later, we got the news that our Littlest was in the clear. He was going to be okay. Prayer is amazing and God is good. The light returned to our oldest's eyes. I never imagined he would be that affected by his little brother being in the hospital.
Neither did he. That was a thick silver lining, among many. My tender-hearted oldest didn't realize he loved his baby brother that much. Until he thought something really bad may actually happen to that pesky little sibling.
The usual bickering was thrown to the curb, and we watched the boys lovingly cater to their little brother for hours once we all settled back in.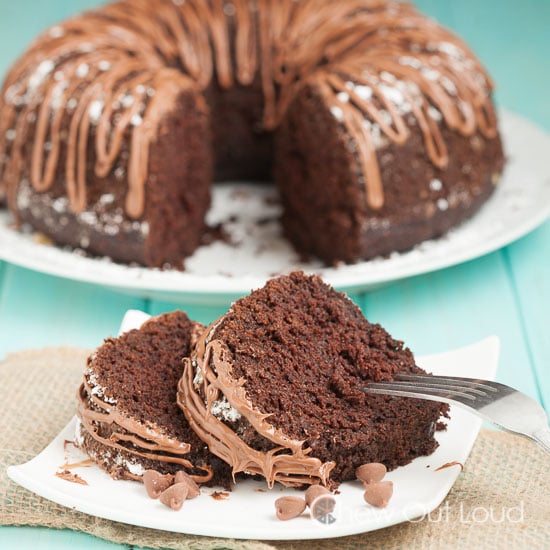 Decadent treat with a healthy twist
The sibling rivalry forgotten, all the boys generously shared, loved, and played nicely. For a shocking amount of time. Not a fuss or whine or tattle. Unbelievable. Like I said, silver lining.
Of course, the mama in me knows that by morning, they'll be flapping over who got the biggest waffle. But for today, I'll gladly take a bit of peace after the mini storm.
What all this has to do with today's Omega-3 Chocolate Cake, I'm not sure. Except that if we're talking silver linings, this cake is all but brimming with a bunch of unexpected goodness.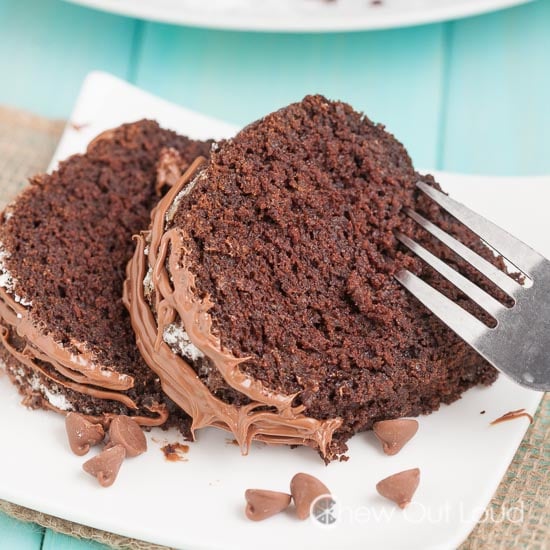 Chocolate Cake you feel good about
We all adore chocolate cakes. You'll get an eyeful of our favorite ones below. But if there ever was a chocolate cake with a hidden good side, it's gotta be this one.
This is no ordinary chocolate cake. Yes, it's uber chocolatey with dark cocoa and mini chocolate chips and even a chocolate drizzle, if you so desire. Yes, it is absolutely moist and dense and rich and luscious.
But this is one chocolate cake you can actually feel great about eating and serving. It's loaded up with whole flax meal, extra virgin olive oil, and you can even sub out the chocolate chips for walnuts if you are really omega-crazy.
The bundt is my favorite way to bake this cake, though it can also be made into a nice layer cake. I appreciate the simplicity of a good bundt cake that is healthy enough for, say, breakfast? This cake keeps super well and is even better the next day.
Did you make this?
Please give us a rating and comment below. We love hearing from you!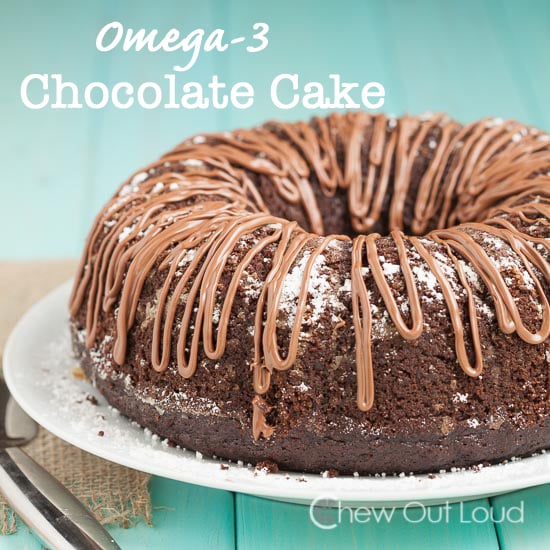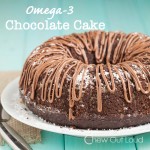 Omega-3 Chocolate Cake
This Omega-3 Chocolate Cake is rich, moist, and densely chocolatey. It's healthy yet indulgent. Perfect for dessert with frosting and ice cream. Wonderful for breakfast, plain, with a cup of coffee. The cake is even better the next day.
Instructions
Adjust oven rack to lower middle position and preheat to 350F. Grease and flour a Bundt pan.

In a large bowl, whisk together all the dry ingredients. To the same bowl, add eggs, oil, and vanilla. Beat just until smooth.

Slowly add water and beat just until smooth. Pour batter into greased/floured Bundt pan.

Bake for 40-43 minutes or just until a toothpick inserted into the center comes out almost clean, with a few tender crumbs attached.

Cool cake in the pan on a wire rack. Once cake is completely cooled, carefully use a thin knife to loosen edges. Invert cake, gently but firmly tap and remove the cake.

Note: Use any drizzle or frosting you like, or simply sprinkle generously with powdered sugar. I used melted chocolate for my drizzle. Cake keeps well if covered airtight at room temp.
Nutrition (per serving)
Calories:
381
kcal
|
Carbohydrates:
52.2
g
|
Protein:
6.1
g
|
Fat:
16.8
g
|
Saturated Fat:
3.2
g
|
Cholesterol:
62
mg
|
Sodium:
326.9
mg
|
Fiber:
3.5
g
|
Sugar:
34.2
g
Source: Chew Out Loud, adapted from King Arthur's Recipes
For a truly special dessert, this moist Chocolate Cake with Strawberries and Whipped Cream absolutely fits the bill and it will get you those oooh's and aaah's. And big chocolatey toothed smiles 🙂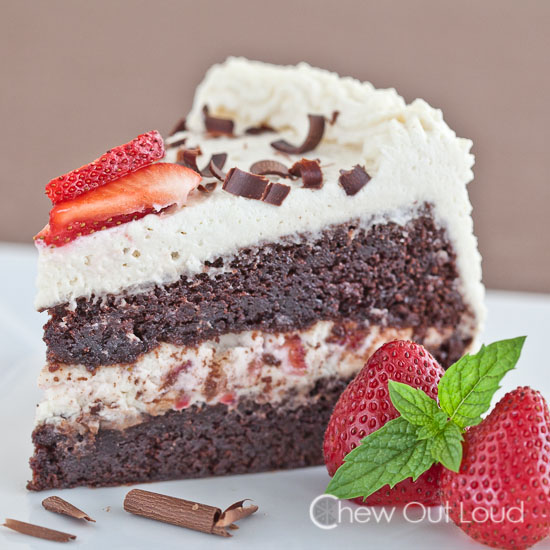 For a super easy one-bowl chocolate cake that happens to be vegan, you can't go wrong with this proven recipe.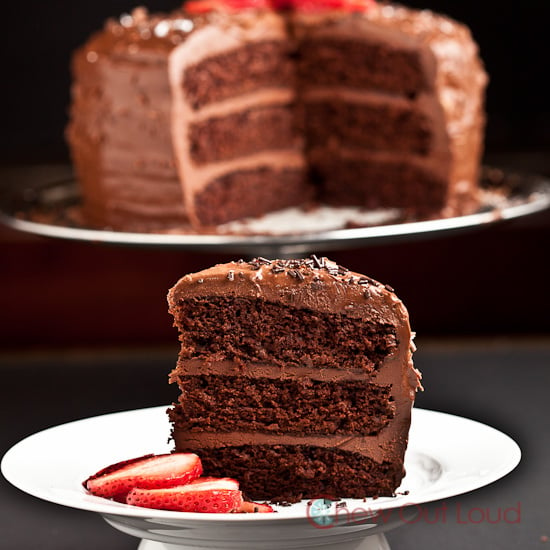 For a GF dessert that is out-of-this-world, astronomically deeeelicious…Triple Chocolate Mousse Cake all the way. I can't say enough great things about this cake; it's a people-pleasing thing, this one. Seriously. Triple. Chocolate.