One Bowl Chocolate Cake (Vegan – cake only)
By Amy Dong
Published Aug. 3, 2013
Updated Nov. 16, 2023
The calendar officially says August, and though we're still swimming in the warmth of summer, many folks are commenting about August signaling the end of summer. Of course, we're all greeted with back-to-school displays in every store. None of this would have fazed me in CA, where we take great weather for granted. But as a current midwesterner, warm days are elusively fleeting and every second is to be sweetly savored.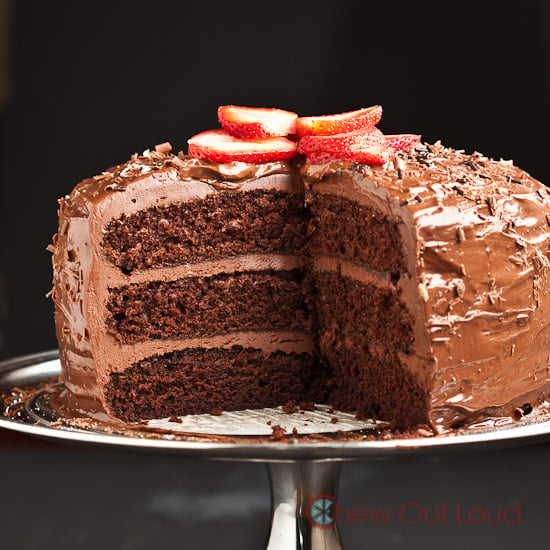 It's like so many other things in life. In the blink of an eye, we've somehow lived in MN for five years already. Before I could catch my breath, my oldest has reached fourth grade and is every bit the almost-tween. My youngest is counting down the months before his 5th birthday. Thank goodness it is still many months away. But I know it will be here in a flash.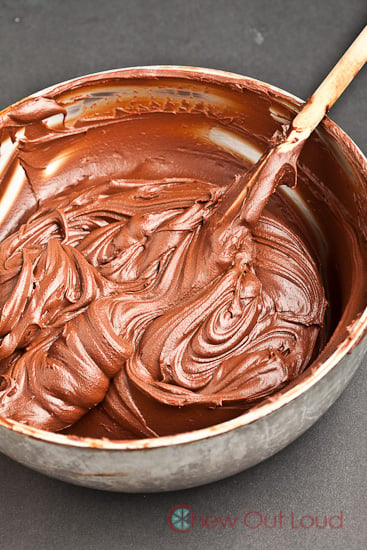 The days are long, but the years are short. The person who penned that quote was wisely insightful. Sometimes as we go through the daily grind, each day can feel so long. Yet somehow, the years flash by in a couple of heartbeats.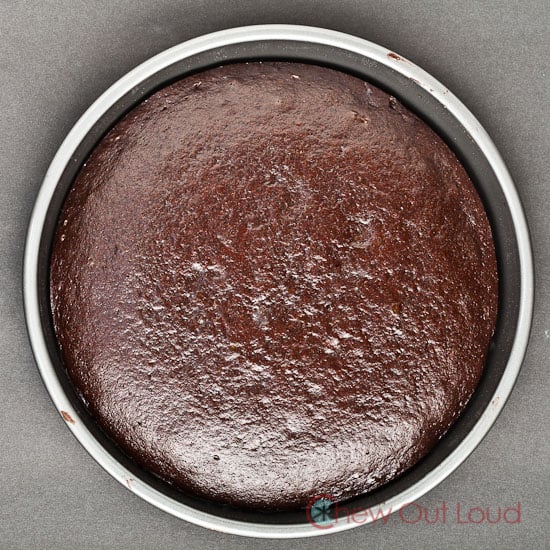 Yes, time is intangible. It's why we stay out at the lakes and parks as long as we can, even if that means being exhausted the next day. It's the reason we let the kids set up their tent inside and sleep in it, even if that means they'll be staying up chatting until way too late. It's why I hold my preschooler's hand through the jogger stroller top as I run, even if it makes for a silly-looking run. And, it's the reason I let 'em have cake for breakfast once in awhile.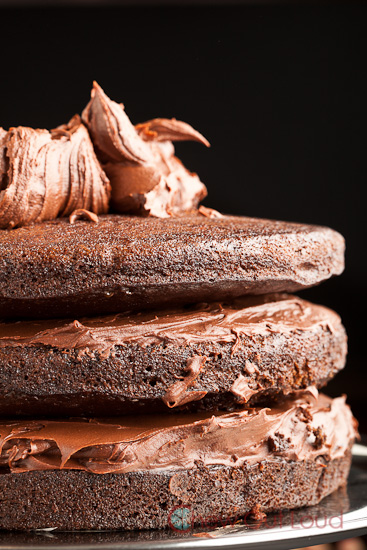 This One-Bowl Chocolate Cake seriously uses only one bowl, so you're not spending time washing dishes. It's the easiest homemade chocolate cake I've ever made. The result is a superbly moist, soft cake that is perfect for a layered any-occasion cake. A deliciously easy graduation, birthday, holiday, anyday cake. The cake is lighter than my favorite Double Chocolate Cake, as this one does not require the use of eggs (thus, it is vegan!)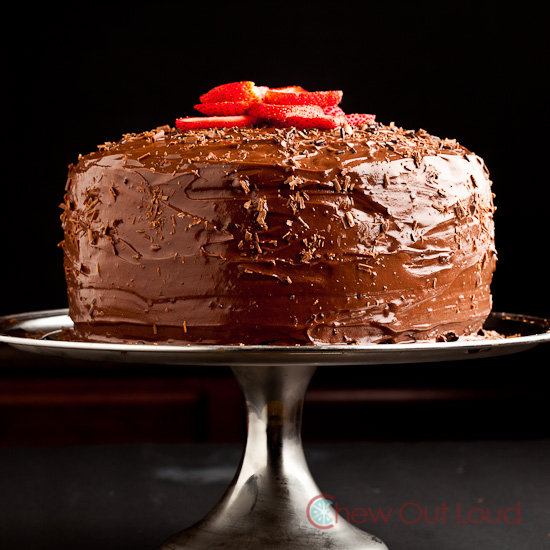 I used a chocolate and sour cream ganache frosting from Not Without Salt, which turned out sooo rich, decadent, and slightly tangy. The tang balances out the sweet perfectly, and I was loving up every last bit of frosting from the bowl. The frosting is not vegan, so if you need to, use your own favorite vegan frosting to lather up this yummy chocolate cake with.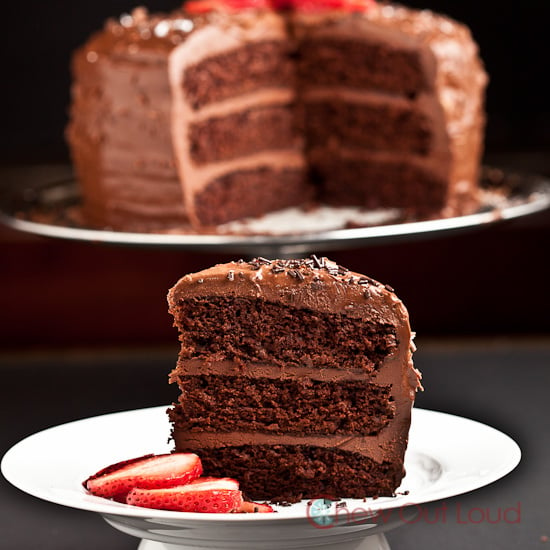 This particular cake is best eaten within a day. I found that if it sits in fridge longer, it started to lose some of its first-day moistness, possibly because of the eggless recipe. The thick chocolate ganache frosting is a different story. The frosting keeps really well in fridge, and only needs a bit of warming up to be stir/frost ready.
Looking for a fun way to enjoy chocolate cake for a kid's party? Check out my chocolate cake pops!
Here's to easy homemade chocolate cakes, lots of frosting, and breathing in every single summer day. Enjoy!
Did you make this?
Please give us a rating and comment below. We love hearing from you!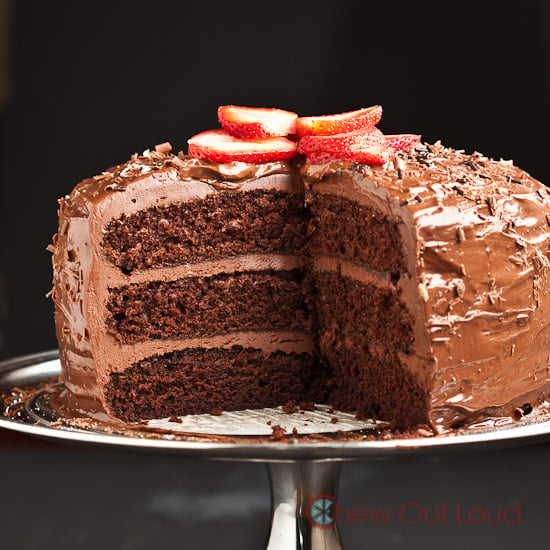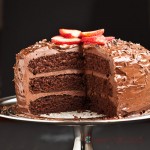 One Bowl Chocolate Cake (Vegan - cake part only)
This vegan chocolate cake is the easiest recipe, with only one bowl used for mixing. The chocolate ganache frosting can be easily substituted for your own favorite frosting.
Ingredients
For the Frosting:
5

cups

bittersweet chocolate chunks

3

cups

whole sour cream

1 ⅓

cups

powdered sugar

¼

tsp

table salt
Instructions
Make the Chocolate Frosting:
Melt bittersweet chocolate in a heavy medium saucepan (I use All Clad) over the lowest heat setting. Stir constantly until chocolate is just melted through. Turn heat off and stir in sour cream until mixture is smooth and creamy. Stir in powdered sugar and salt, mixing until completely incorporated. Add more sugar if needed. Set frosting aside at room temp and allow it to "firm up" to a good consistency for spreading.
Make the Cake:
Preheat oven to 350F with rack on lower middle position. Line three 8-inch cake pans with parchment on bottom, and grease generously on parchment and sides of pans.

In a large bowl, combine all dry cake ingredients, whisking to incorporate well. Add oil, lemon juice, vanilla, and coffee to the same bowl. Stir until just combined. Divide cake batter evenly between the 3 prepared cake pans.

Bake 17-20 minutes, until toothpick comes out almost clean, with a few tiny moist crumbs attached. Top should spring back gently when pressed. Cool cakes in pans to room temp. Carefully remove cooled cakes and frost as desired.
Nutrition (per serving)
Calories:
1092
kcal
|
Carbohydrates:
137
g
|
Protein:
12
g
|
Fat:
64
g
|
Saturated Fat:
29
g
|
Polyunsaturated Fat:
3
g
|
Monounsaturated Fat:
25
g
|
Trans Fat:
0.1
g
|
Cholesterol:
46
mg
|
Sodium:
586
mg
|
Potassium:
717
mg
|
Fiber:
10
g
|
Sugar:
75
g
|
Vitamin A:
475
IU
|
Vitamin C:
2
mg
|
Calcium:
161
mg
|
Iron:
8
mg
Source: Chew Out Loud, adapted from Not Without Salt