Pineapple Cake
Deliciously moist and mouth-watering, this Pineapple Cake is made with just one bowl and seven ingredients. This recipe has stood the test of time and will leave everyone, from kids to grandparents, coming back for more.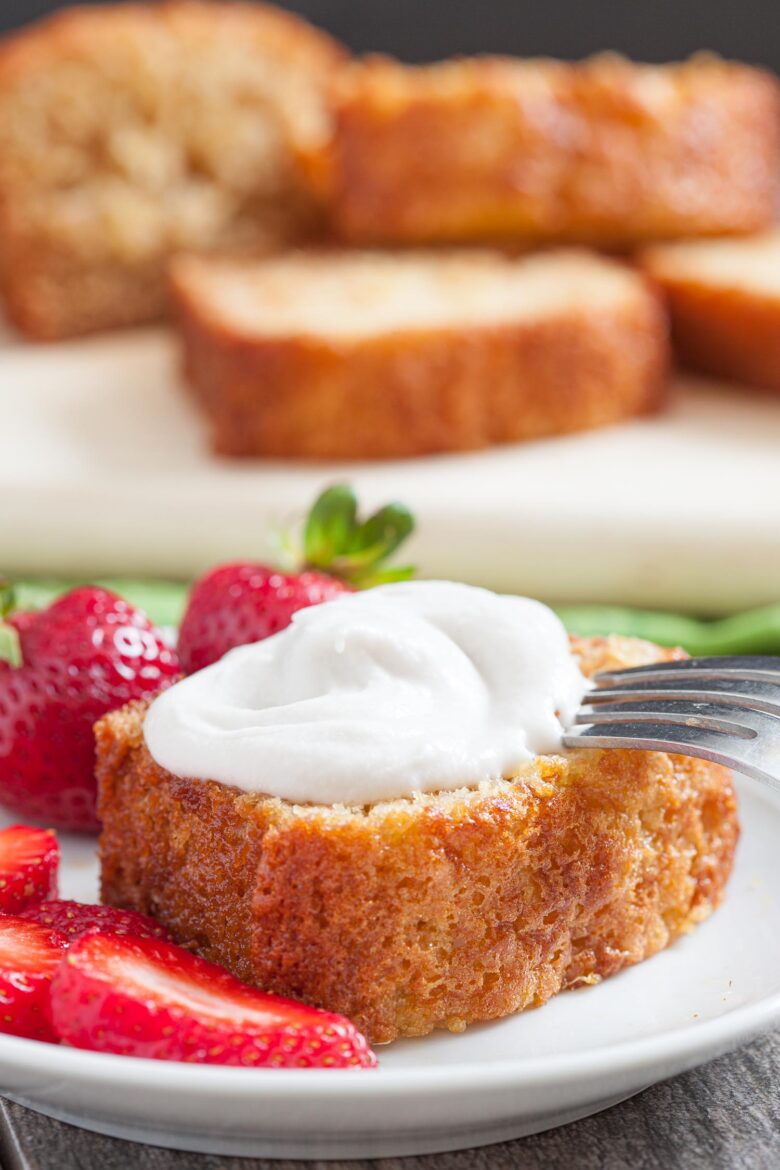 The Best Pineapple Cake
The secret to this recipe is crushed pineapple which provides an irresistibly juicy, tender, and moist texture without the fuss of oil or butter. This cake boasts a delicious tropical flavor that's perfect for any occasion whether you need a summer dessert, a weeknight delicacy, or an all-around crowd pleaser for your next gathering.
It's so delicious that it doesn't even require icing if you choose to forgo the extra sugary goodness. Although, this recipe can totally handle an equally delicious topping like this Coconut Whipped Cream if you're looking to give this cake even more of a tropical zing.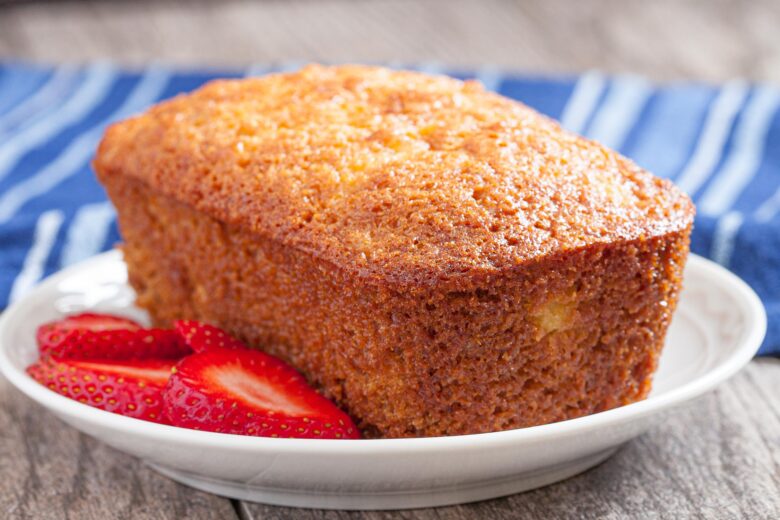 Why You'll Love It
This recipe is easy. We're talking only one-bowl-easy perfect for making with the kids.
Pineapple Cake comes together using just 6 staple pantry ingredients and 1 special ingredient to create such a delicious cake you'll never want to go back to box cake mixes.
The key ingredient, crushed pineapple, makes this cake moist enough that it doesn't require any added oil or butter, which also skips any additional greasy mess.
Adjust this recipe to fit your taste. Skip the icing to enjoy the naturally moist flavor, or incorporate an icing of your choosing to add an extra layer of tastiness. You can even top this cake with additional berries for an even fresher, moister treat.
This cake is reliably amazing, made time and time again with the same tropical and scrumptious result.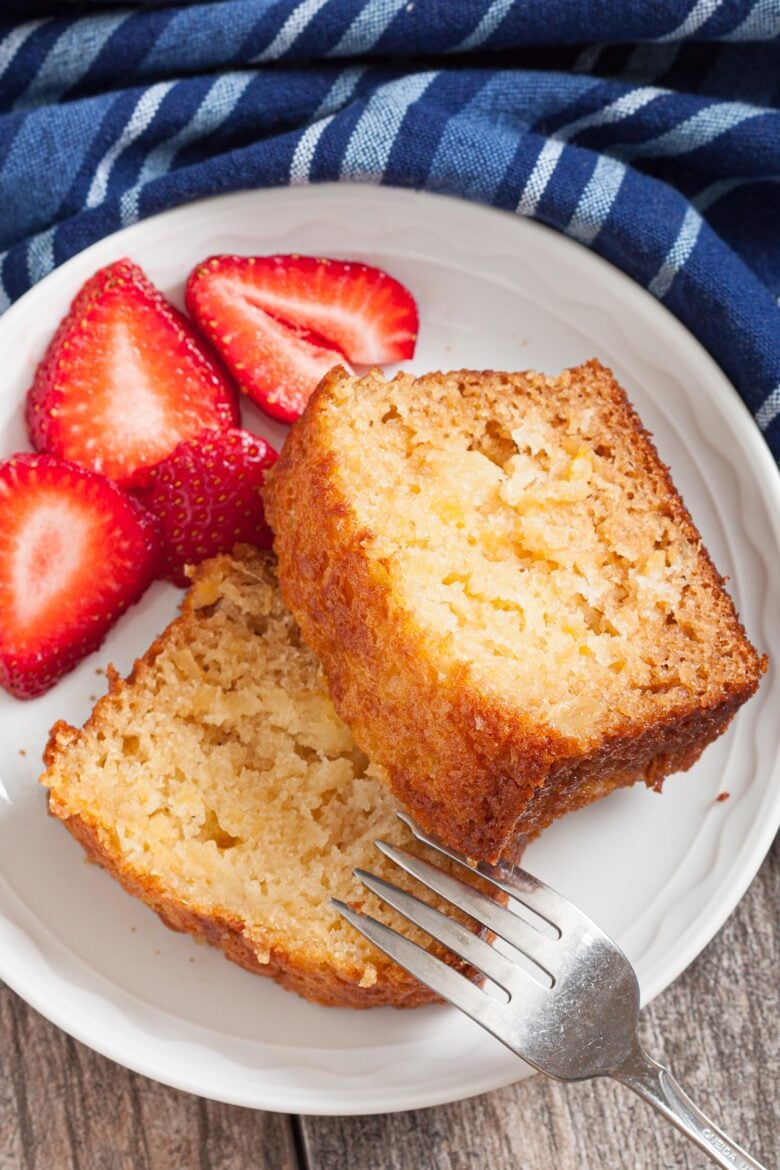 Key Ingredients
This recipe couldn't be easier. Bring together this wonderful treat with just 6 staple pantry ingredients and 1 special key ingredient.
All-purpose flour – Use your favorite all-purpose flour to make the base for this ultra-moist cake recipe.
Baking soda – A key component that helps to give the cake the perfect texture and lift.
Table salt – Be sure to use fine-grain table salt and not coarse-grained kosher salt in baking.
Granulated sugar – Give this cake a sweet element with pure granulated sugar, yet another pantry staple.
Eggs – Eggs give the cake the right texture by helping to give it proper structure and shape.
Vanilla extract – Another flavor component to give this cake a simple yet mouth-watering flavor.
Crushed pineapple – This is the secret ingredient that gives this recipe its yummy tropical flavor and moist texture. Be sure to use both the crushed pineapple and the pineapple juices.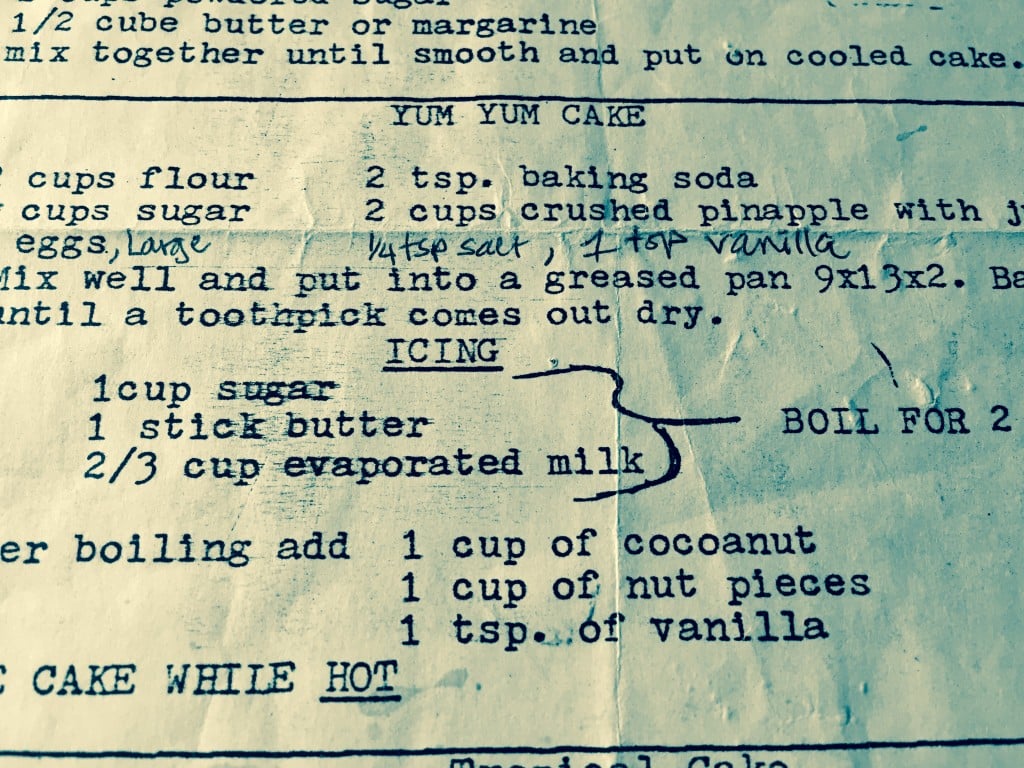 Here's the old paper recipe given to my mom decades ago, created with an old-school typewriter. This recipe is so well loved that it's been taped and re-taped because it's just too good to lose. Note that we only use the cake part of the recipe, as it's so good without any icing.
Tips for Perfect Results
Here are a few helpful tips that will take this recipe from delicious to simply delectable:
Place the baking rack in the lower-middle position to prevent the top of the cake from getting too brown.
Avoid overmixing the dough by using a hand whisk rather than an electric mixer. Overmixing can make the dough tough and chewy.
To test if the cake is ready, insert a toothpick into the center of the cake and gently remove it. The cake is ready when the toothpick comes out with a few tender crumbs attached, and not when the toothpick is completely clean. This helps prevent over-baking.
Commonly Asked Questions
Do you
need to use fresh pineapple for Pineapple Cake?
You can use fresh pineapple if you have access to a food processor, but fresh pineapple isn't required. Canned crushed pineapple will create an equally moist and delicious cake. Either way, be sure to use the juice!
How should I store Pineapple Cake to keep it fresh?
We have a feeling you won't have much leftover, but if you do, Pineapple Cake will stay good in the refrigerator for up to four days. If you plan to eat it the same day you bake it, you can leave it out on the counter, but otherwise, the fruity flavor will keep best in the fridge.
What can you add to Pineapple Cake?
This cake can handle almost anything you can dream of that will compliment the already amazing pineapple flavor. Top it with icing, glaze, or whipping cream, or decorate it with fruits or chocolate. This cake makes a great stand-alone cake or a base for a creative flavor masterpiece.
Can Pineapple Cake be frozen?
Pineapple cake can be frozen. Let the cake cool completely before wrapping the cake in plastic wrap or aluminum foil and placing it in the freezer. Icing, glaze, or whipping cream will not freeze well, so freeze the cake without adding any extra toppings. When the time comes to enjoy, thaw the cake on the counter for 3-4 hours before cutting and adding any desired toppings.
More to Bake and Eat
Banana Chiffon Cake – simple, light, and fluffy banana cake that boasts big banana flavor with the perfect amount of sweetness.
Lemon Olive Oil Cake– this luscious lemon cake is bright, sunny, and. bursting with flavor. You won't taste the olive oil, but you'll feel great about baking with it.
Did you make this?
Please give us a rating and comment below. We love hearing from you!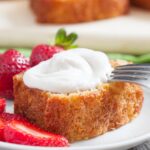 Pineapple Cake
Deliciously moist and mouth watering, this tropical inspired Pineapple Cake is made with just one bowl and seven ingredients. This recipe has stood the test of time and is sure to leave everyone, young and old, coming back for another delicious slice.
Instructions
Preheat oven to 350F, with rack on lower middle position. Grease a 9x13x2 pan.

In a large bowl, hand-whisk together the flour, baking soda, salt, and sugar until well combined. Add eggs, pineapple with juices, and vanilla extract. Hand-whisk just until incorporated; do not over-mix.

Use a rubber spatula to evenly distribute batter into the greased pan. Bake 25-30 minutes or just until a toothpick inserted in center comes out with a few crumbs attached; take care not to over bake.

Let cool on a wire rack completely before serving. Cake keeps well wrapped airtight at moderate room temp. Can also be frozen airtight for up to several weeks.
Notes
We found this cake ultra moist and sweet enough as-is, without any need for icing or thick frosting. But, we welcome you to top it with a bit of coconut whipped cream, which is light and fluffy over this tropical style cake.
You can also use a loaf pan (as we did in these photos) in lieu of the 9×13. If using a 9×5 loaf pan, adjust the bake time to about 50-60 minutes or just until a toothpick inserted in the center comes out with a few tender crumbs attached.
If you enjoyed this recipe, please come back and give it a rating ❤️
Nutrition (per serving)
Serving:
1
g
|
Calories:
250
kcal
|
Carbohydrates:
56.9
g
|
Protein:
3.7
g
|
Fat:
1
g
|
Saturated Fat:
0.3
g
|
Cholesterol:
31
mg
|
Sodium:
271.8
mg
|
Fiber:
0.8
g
|
Sugar:
40.8
g