Fresh Fruit Salsa
A bounty of fresh, ripe fruit combined into a beautiful, refreshingly sweet salsa. This healthy snack will be devoured by the whole gang in one sitting.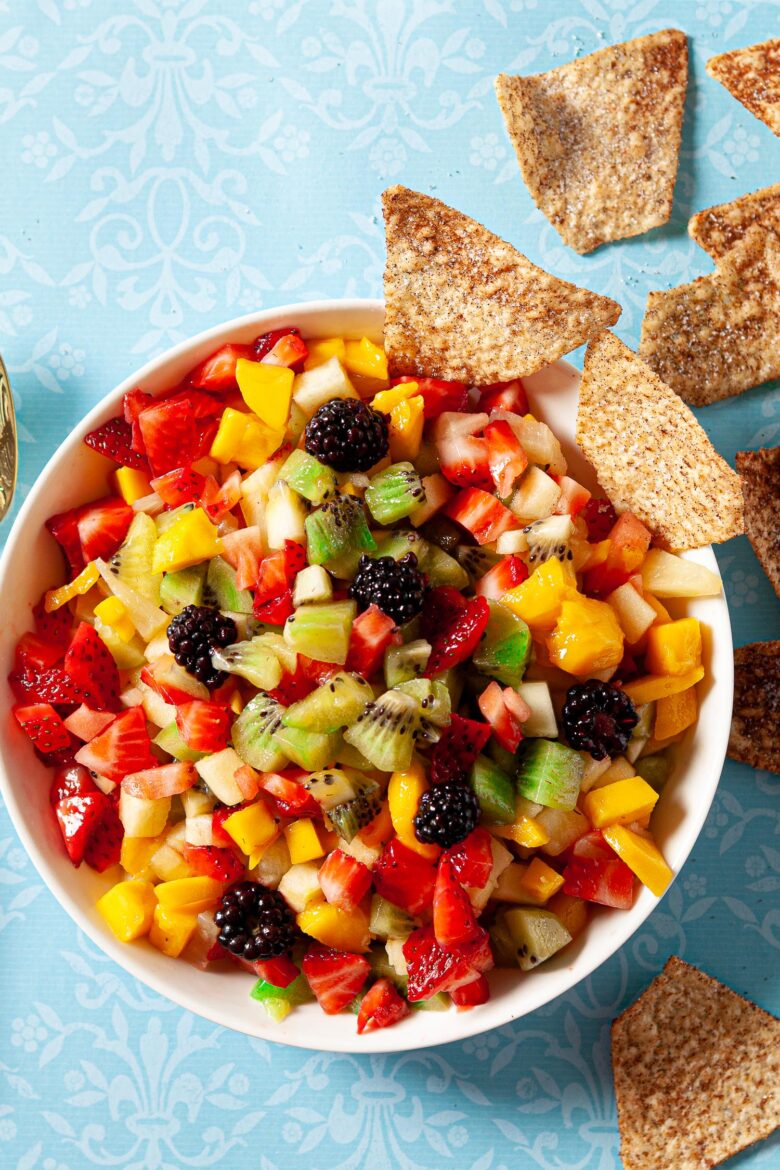 Fresh Fruit Salsa
Summer brings sunshine and fresh fruits and berries; what better way to enjoy them than in fresh fruit salsa? Fruit salsa is a blend of chopped fruit usually enjoyed as a dip just like the beloved tomato salsa except, you guessed it, much sweeter and no garlic/onions involved! Think of it like a fruit salad designed especially with dipping in mind.
This recipe is one of those recipes that is both delicious and healthy. So, it's the real deal when it comes to guilt-free snacking for you and the whole family. It makes for an amazing appetizer for a grill out or barbeque, or the perfect mid-day snack paired with your favorite summer drink. Fruit salsa bursts with flavor and freshness that only fresh fruit can bring on a hot summer day.
Why This Recipe Stands out
Full of fresh flavors and juicy fruit, this is the perfect summer refresher.
This recipe pulls together quickly and is easy. It's as simple as prepping the ingredients and combining them in a bowl.
This recipe is SO versatile. We've given a great base recipe below, but you can swap or add any of your favorite fruits for the same amazing result.
Fruit Salsa is a healthy and nutritious option for the whole family. Fruits provide important nutrients like Vitamin C, Potassium, and Fiber, so why not get a healthy dose while enjoying a delicious salsa?
Add this to your allergen-friendly recipe list because it's naturally gluten-free, vegetarian, and dairy-free.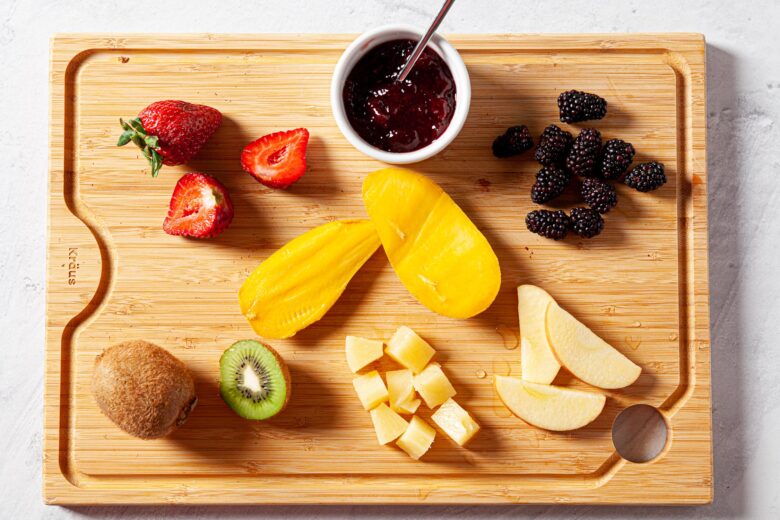 Key Ingredients
This recipe is a great base, but it's in no way the only set of options for substitutions or variations you could use to make Fruit Salsa. Check out this seasonality chart to see which fruit is in season and when to pick your substitutions. Here's what we recommend:
Kiwi – The quintessential green fruit known for its tangy flavor; adds beautiful color to this salsa.
Apple – A classic fruit beloved by all and a key component for a crunchy texture.
Pineapple or Mango – Add a sweet, tropical element to the salsa.
Strawberries – A favorite sweet berry that's high in antioxidants and gorgeous in color.
Peach or Nectarine – This summer stone fruit is irresistibly juicy when picked fresh.
Strawberry preserves – Think of jam, but a little bit thicker and with bigger pieces of fruit floating around. This helps hold the salsa together. You can also experiment with various preserve flavors.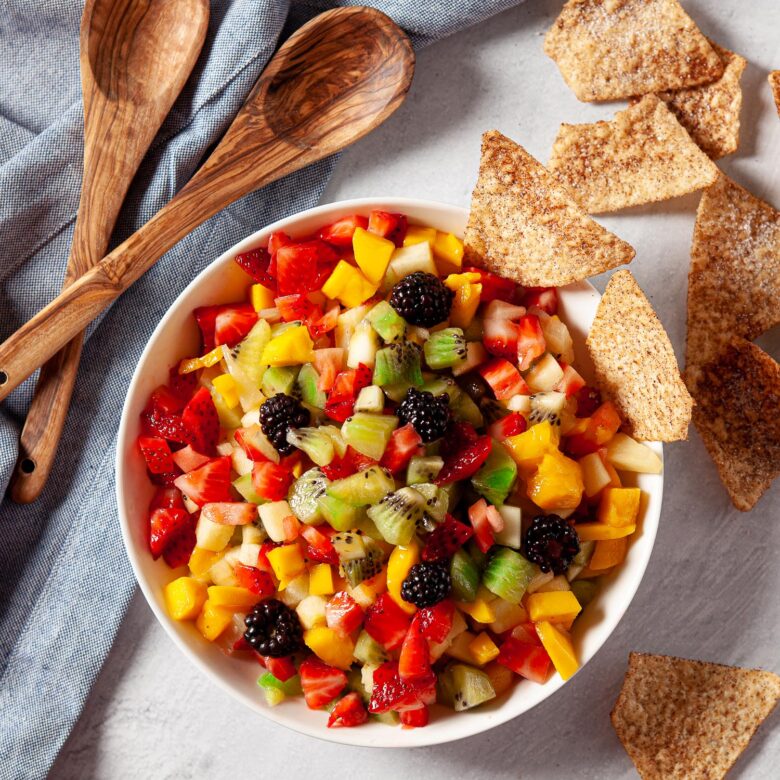 Ways to Serve
We may be biased, but this fruit salsa is best complimented with these Cinnamon Sugar Tortilla Chips. The combination of fresh, juicy fruit and cinnamon sugar-coated homemade tortilla chips is an unbeatable summer treat. However, there are plenty of other ways to enjoy fruit salsa.
Fruit Salsa would go wonderfully over a piece of cheesecake, or get creative and pick a new dipping tool such as graham crackers. You could even serve it over ice cream or yogurt. Anything you'd enjoy with fruit can be enjoyed with fruit salsa too! It's a versatile dish that can be adjusted to fit your needs.
Commonly Asked Questions
How long does fruit salsa stay good for?
Fresh fruit salsa is best on the same day that it's made. All cut fruit breaks down over time, so the longer it sits, the more juices it will release. That said, this recipe will stay good for up to 2-3 days in a container in the fridge.
Can I make fruit salsa ahead of time?
Though we recommend consuming fresh fruit salsa the same day, you can cut and combine the fruits the night before; leave out the preserves until just before serving.
Can I use frozen fruit?
We don't recommend using frozen fruit for this recipe. Fruit salsa is at its best when made with fresh ingredients. Frozen fruits often get mushy after thawing, so you would end up with a very different texture of fruit salsa. Keep an eye out for sales and what's in season to help keep the cost of fresh fruit down.
What other fruits can I add?
The options are almost endless, but here are a few other options that would make great additions to this fruit salad: grapes, blueberries, oranges, watermelon, raspberries, or blackberries. Any fruits can be substituted into the recipe, but keep in mind you might have to adjust the amount of strawberry preserves to ensure everything combines into a cohesive salsa.
More to Make and Eat
Did you make this?
Please give us a rating and comment below. We love hearing from you!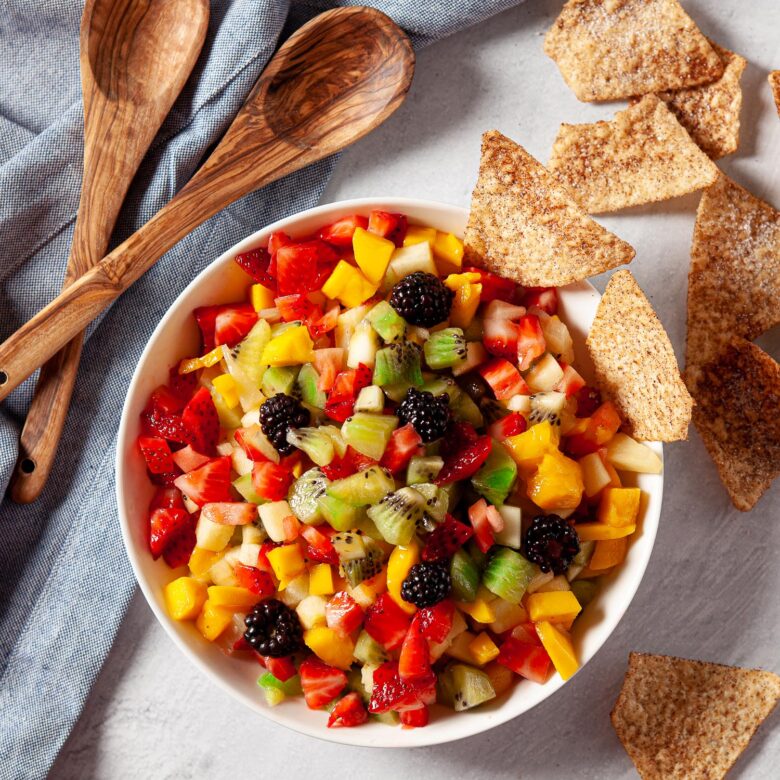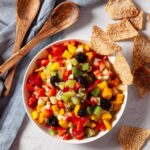 Fruit Salsa
A bounty of fresh, ripe fruit combined into a beautiful, refreshingly sweet salsa. This is one the whole gang will devour in one sitting – and probably request more!
Ingredients
3

kiwi

,

peeled and diced

2

apples

,

peeled and diced, sprinkled with lemon juice

1

cup

pineapple,

diced

1

lb

strawberries

1

peach

,

peeled and diced

3

tbsp

strawberry preserves,

plus more as needed
Instructions
In large bowl, gently mix all chopped fruit together. Make sure your apples are sprinkled nicely with lemon juice to prevent browning. Add fruit preserves.

Add fruit preserves. Taste and and add more fruit preserves, if needed. You can also add 1-2 TB sugar if you'd prefer.
Notes
You can replace peaches with nectarines, orange segments, or mangoes.
Substitute the strawberry preserves with any other flavor, such as raspberry.
We love Honeycrisp apples best, as they have the perfect balance of sweet and tart, with an extremely crispy texture.
Microwave jam preserves for 10 seconds to slightly soften it, for easy tossing.
Serve fruit salsa with these super easy cinnamon sugar tortilla chips.
If you enjoyed this recipe, please come back and give it a rating ❤️
Nutrition (per serving)
Serving:
1
g
|
Calories:
81
kcal
|
Carbohydrates:
20
g
|
Protein:
1
g
|
Fat:
0.4
g
|
Saturated Fat:
0.03
g
|
Polyunsaturated Fat:
0.2
g
|
Monounsaturated Fat:
0.1
g
|
Sodium:
6
mg
|
Potassium:
203
mg
|
Fiber:
3
g
|
Sugar:
14
g
|
Vitamin A:
107
IU
|
Vitamin C:
58
mg
|
Calcium:
23
mg
|
Iron:
0.4
mg