Pistachio Crusted Salmon
By Amy Dong
Published Oct. 30, 2019
Updated Dec. 7, 2023
This Pistachio Crusted Salmon is delicious enough to wow your dinner guests, yet easy enough for busy weeknights. It's a healthy and delicious way to do baked salmon.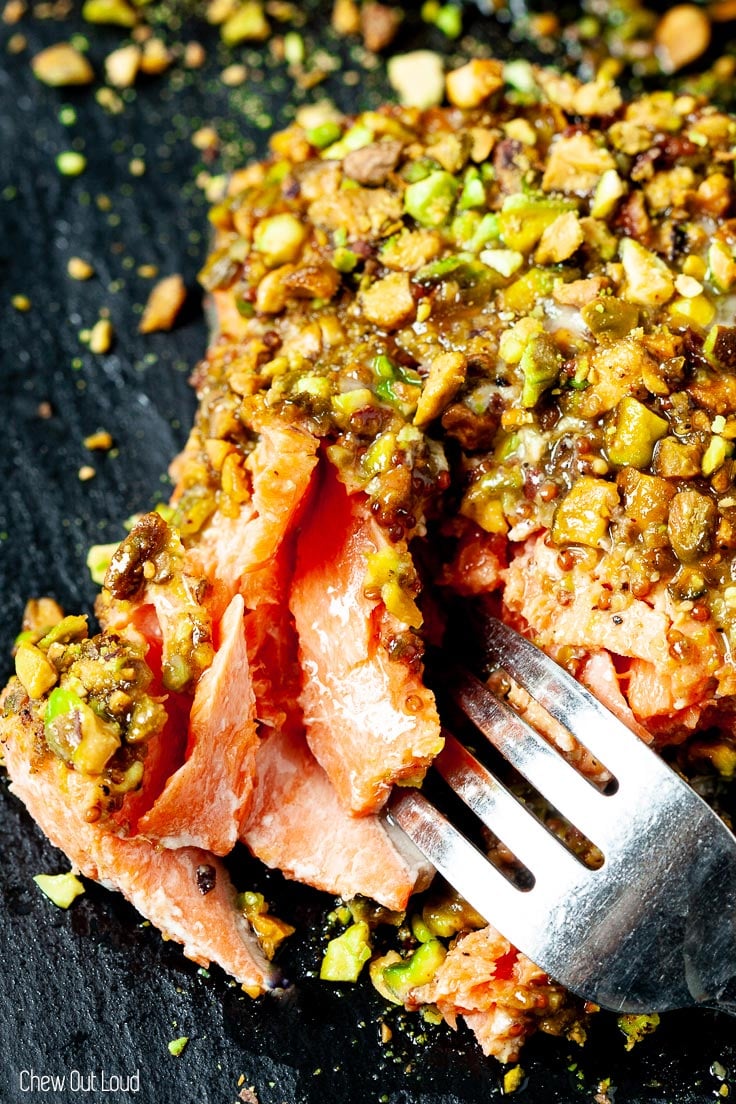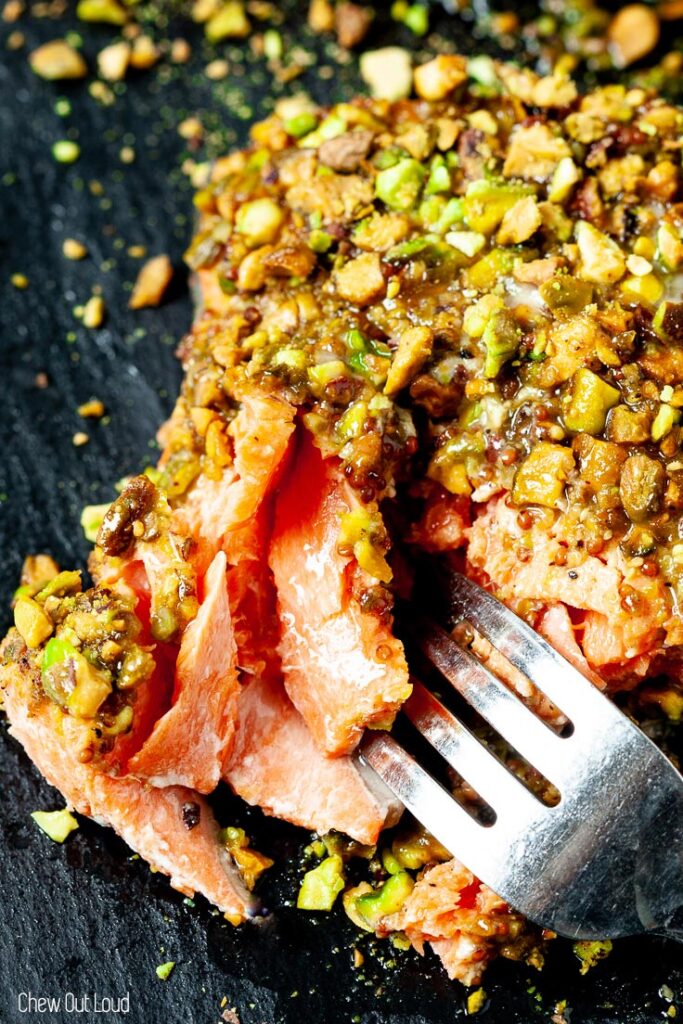 Pistachio Crusted Salmon
At a recent gathering, this irresistible pistachio crusted salmon caught everyone's attention. Everyone, including all the kids and tweens and teens, devoured it immediately.
I dutifully turned pistachio-crusted-salmon-crazy and experimented until this delicious recipe surfaced at home. It's since become home run at the table every time.
Don't let the fancy pistachio crusted title fool you into mistakenly assuming this salmon recipe couldn't possibly be a weeknight deal. It's as easy as our ever popular Sheet Pan Lemon Salmon. I've got a not-so-secret secret to making this healthy baked salmon more than doable on a random Tuesday night.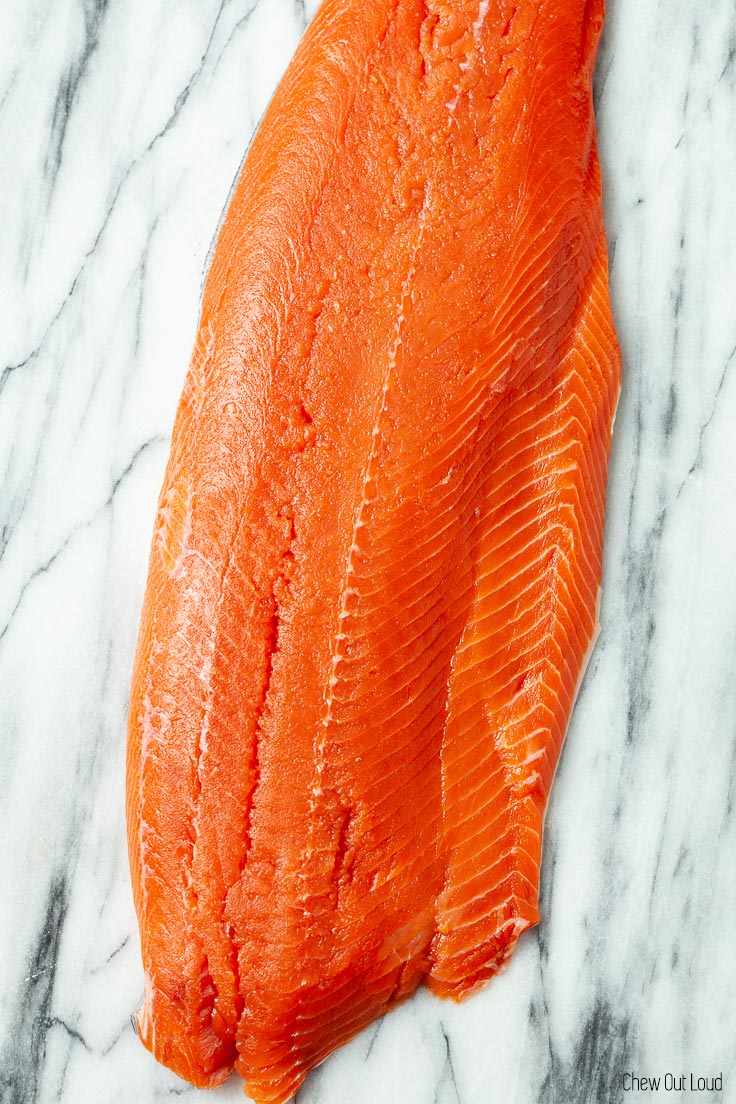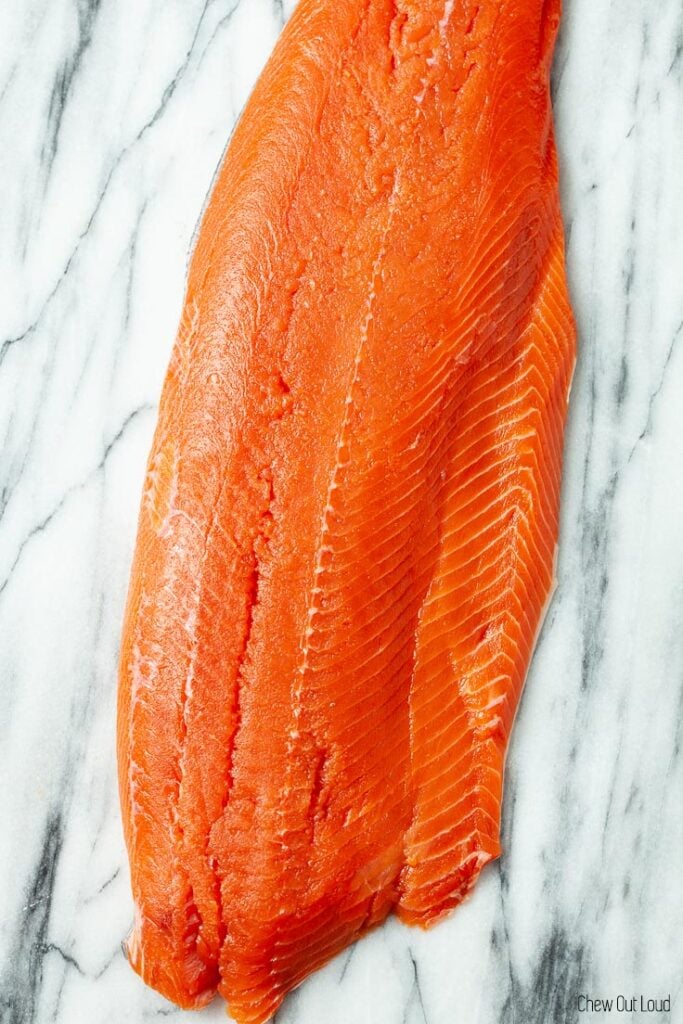 6 Simple Ingredients For Pistachio Crusted Salmon
Pistachio crusted salmon only sounds gourmet. It's certainly impressive enough to wow your friends, but it's easy enough to earn a place in your regular dinner rotation.
Here are the big six:
Fresh whole salmon fillet: you'll need 2-3 pounds worth, with skin on one side. Having skin on the bottom helps to keep your salmon tender during baking.
Stone ground mustard, or whole grain mustard: all mustards are not the same. Stone ground mustard has visible whole mustard seeds in it, providing texture and depth of flavor. We use it all the time in this Honey Mustard Chicken with Curry.
Shelled pistachio nuts: if you like popping roasted pistachios straight from the bag into your mouth, just save 2/3 cup for your baked salmon recipe. I remind myself of that every time.
Fresh lemon juice. Definitely freshly squeezed, not bottled.
Olive oil: only 2 TB oil is needed to help the pistachio crust adhere to the salmon during baking.
Honey: honey is my favorite sweetener for savory dishes. Our popular Honey Baked Ham uses plenty of pure raw honey. It does wonders for balancing out this pistachio crusted salmon.
About that Salt & Pepper
Kosher salt: I sometimes get asked why I specify kosher salt in the instructions. There is definitely a difference between kosher salt and table salt; kosher salt is made up of bigger crystals and is therefore much less salty volume-wise than the fine crystals of table salt. Additionally, kosher salt does not contain iodine, which imparts a certain flavor to table salt. I cook almost exclusively with kosher salt when it comes to savory recipes.
Freshly ground black pepper: There's also a significant difference in quality of flavor when you use a peppercorn mill or grinder for freshly ground black pepper vs. using typical pepper shaker. Not only can you adjust the coarseness of your pepper when you freshly grind it, but freshly ground black pepper is notably more zesty, spicy, and aromatic. My favorite all-purpose peppercorns are tellicherry peppercorns, with their deep, rich flavor.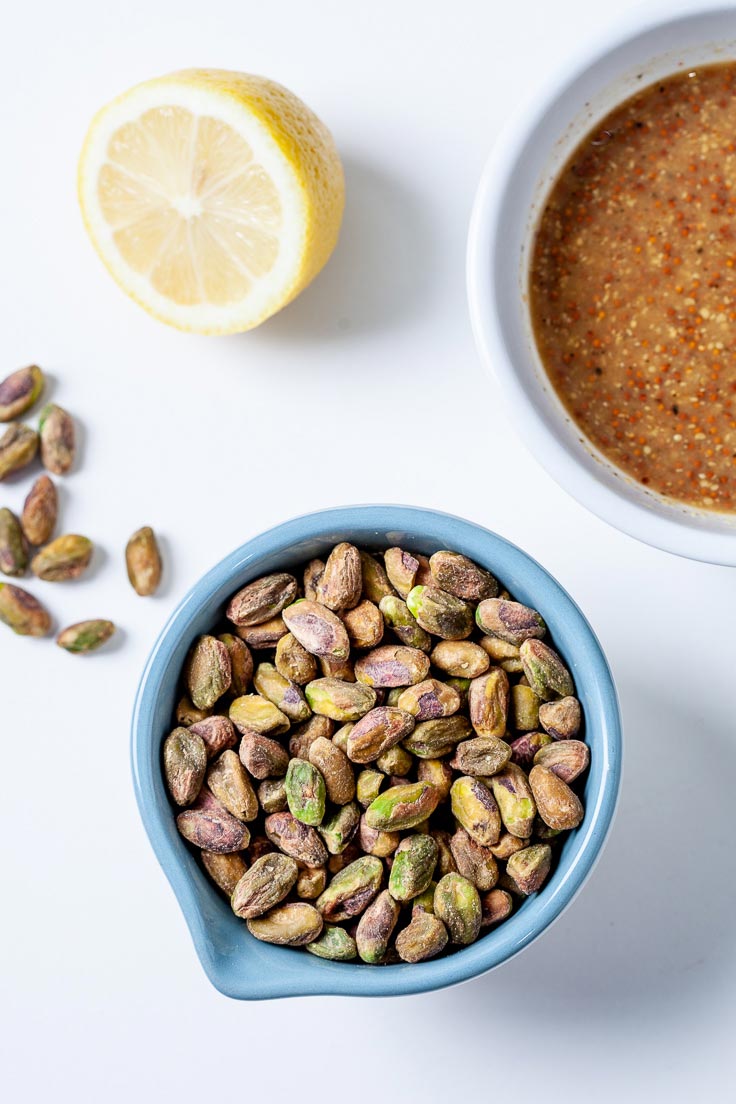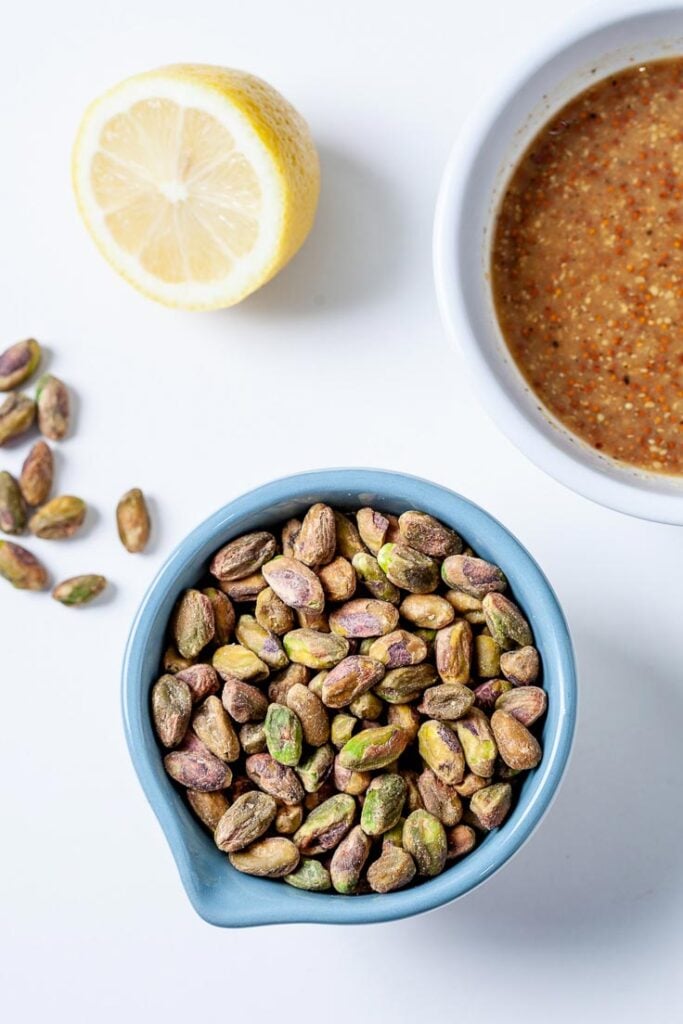 How to make pistachio crusted salmon: pro tips
Here are our time-saving tips for making this pistachio crusted salmon easy enough for busy weeknights:
Crush pistachio nuts ahead of time. They keep very well in an airtight container for several days, so crush away on the weekend for a seamless weeknight baked salmon.
If you don't want to dirty your food processor or blender (that's me) you can use a large zip up baggie and a meat tenderizer. Rolling pins don't work particularly well for breaking up nuts. I use the flat side of this meat tenderizer to quickly "chop" nuts in a bag; not only is it effective, it's also quite cathartic. Just be sure to have a thick cutting board underneath for the well being of your countertop 🙂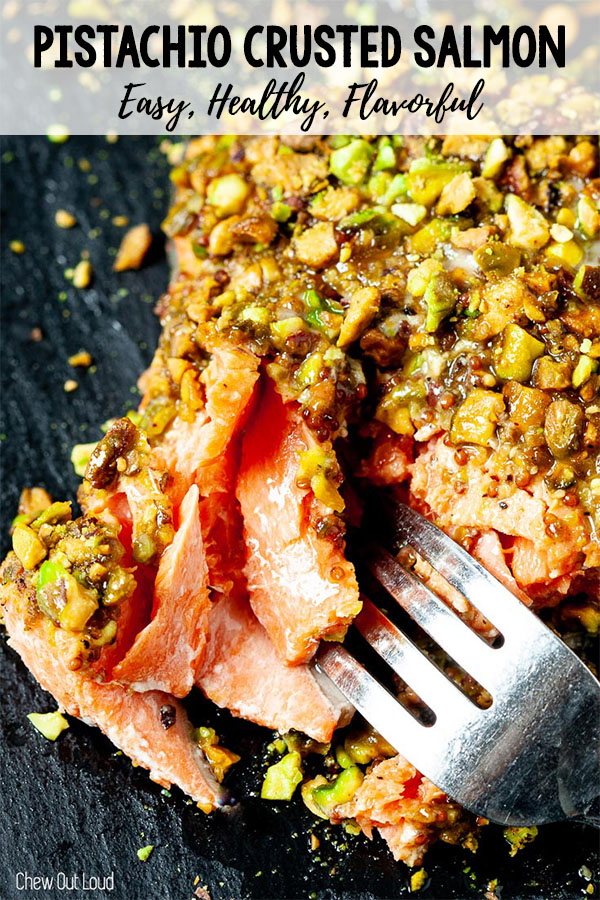 What to serve with baked salmon
Side dish options for this pistachio baked salmon are endless. Our favorites include the following tried-and-true recipes that don't require oven use:
Easy Rice Pilaf is fluffy, flavorful, and quick. With or without mushrooms (but we totally love it with.)
Best Broccoli Apple Salad is the one salad that actually stays crunchy even when you make it ahead of time. Our version is much healthier than most, yet tastes incredible. Even the kids will munch this up.
Skillet Pasta Primavera is simply scrumptious. This healthy pasta is teeming with saucy vegetables that taste unbelievably delicious.
You may want this for dinner, too:
---
Did you make this?
Please give us a rating and comment below. We love hearing from you!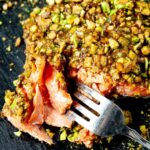 Pistachio Crusted Salmon
This Pistachio Crusted Salmon is delicious enough to wow your dinner guests, yet easy enough for busy weeknights. It's a healthy and delicious way to do baked salmon.
Instructions
Do ahead: crush pistachios into a texture similar to coarse ground/finely chopped nuts. Use blender, or place nuts in a large plastic Ziploc bag and use flat side of meat tenderizer to quickly pound nuts. Crushed nuts can be kept in airtight container for several days ahead of time.

Arrange rack to middle position in oven. Preheat oven to 375F. Lay foil down on a rimmed baking sheet.

Cut salmon fillet into desired amount of even pieces (alternatively, you can leave the salmon whole.) Use paper towels to soak up excess moisture off all sides of salmon. Place salmon skin side down on baking sheet.

In a bowl, combine lemon juice, honey, mustard, salt, and pepper. Use hand whisk to incorporate well. Brush mixture evenly onto top of salmon fillets.

Combine olive oil with crusted pistachios, mixing to coat well. Press mixture and firmly evenly on top of salmon fillets.

Bake 12-15 minutes, depending on thickness of the pieces. If desired, you can remove thinner fillets earlier and keep warm while thicker pieces finish cooking.

Let cooked salmon sit at room temp for 5 minutes – this helps your fish to finish cooking while it cools a bit, as well as retain moisture.
Notes
If you enjoyed this recipe, please do come back and give it a rating ♡
Nutrition (per serving)
Calories:
389
kcal
|
Carbohydrates:
51.3
g
|
Protein:
27
g
|
Fat:
10.9
g
|
Saturated Fat:
1.7
g
|
Cholesterol:
57.9
mg
|
Sodium:
220.8
mg
|
Fiber:
1
g
|
Sugar:
47.9
g