Easy Baked Salmon Recipe
This Baked Salmon, using simple sheet pan is a deliciously quick and easy weeknight meal that's healthy and flavorful. This easy salmon recipe only needs 15 minutes.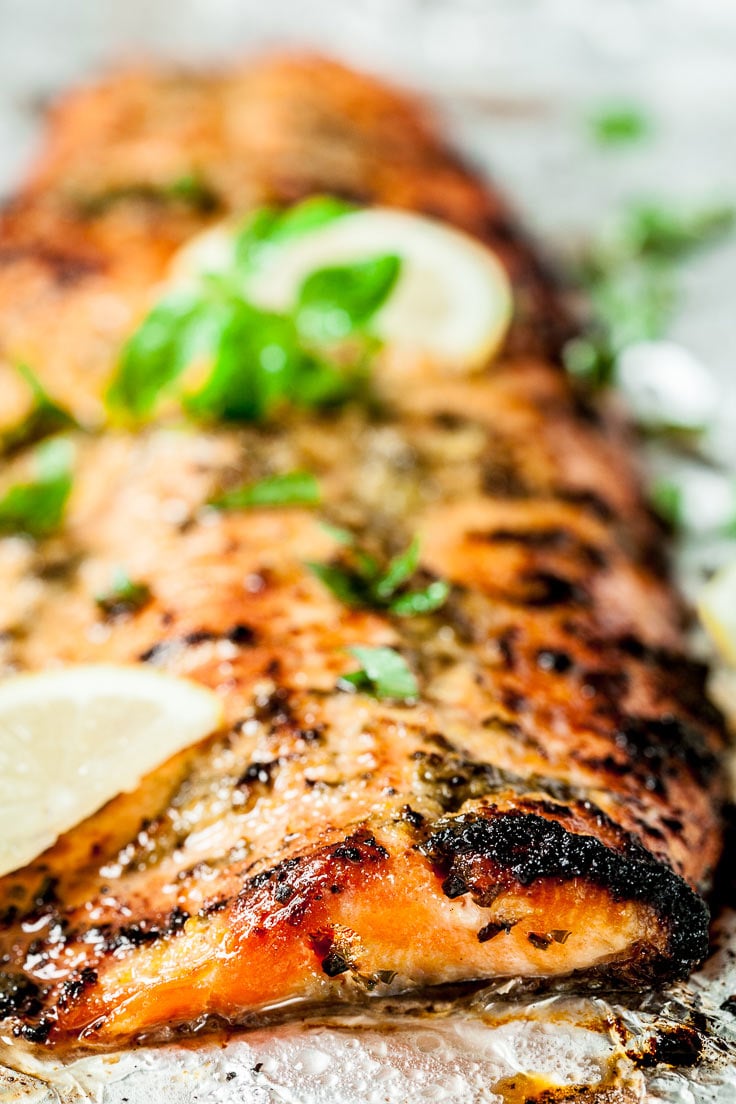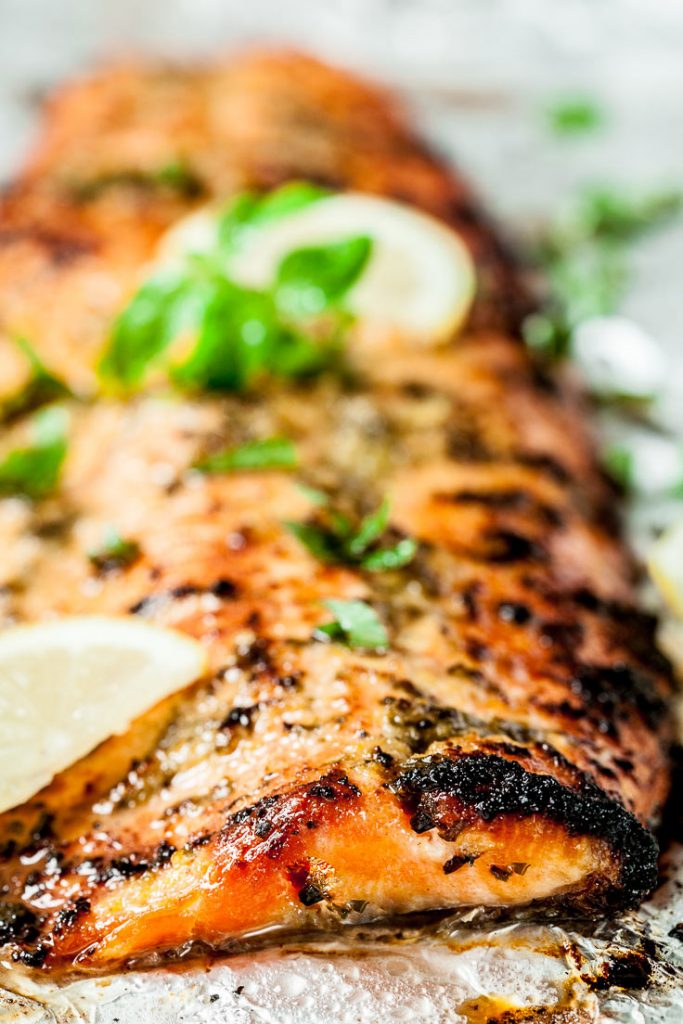 Watch Us Make Baked Salmon
Easy Baked Salmon
If you sometimes feel promptings or read articles that encourage adding more healthful fish into your regular dinner rotation, you're not alone.
Pretty much everywhere we turn, we're reading or hearing about how to add more omega-3's or incorporate more wild salmon onto our plates.
We will admit: all of us would much prefer a flavorful serving of a deliciously baked salmon, rather than pop omega-3 pills. And while a teaspoon or two of flax in this amazing Omega-3 Chocolate Cake is genius, it's definitely not a daily weeknight occasion.
But an easy, flavorful baked salmon on a sheet pan? We're talking minimal prep, minimal dirty dishes, and maximum healthy-deliciousness in under 30 minutes. This lemony baked salmon is absolutely for daily weeknight occasions.
Why You'll Love This
It's crazy easy and deliciously tender and flavorful
It tastes like you spent SO much more time than you did.
You really only spent 20 minutes on it.
It's like getting restaurant quality salmon, but way more affordable and totally manageable.
There's basically zero cleanup.
Oh, and this: omega-3's 😉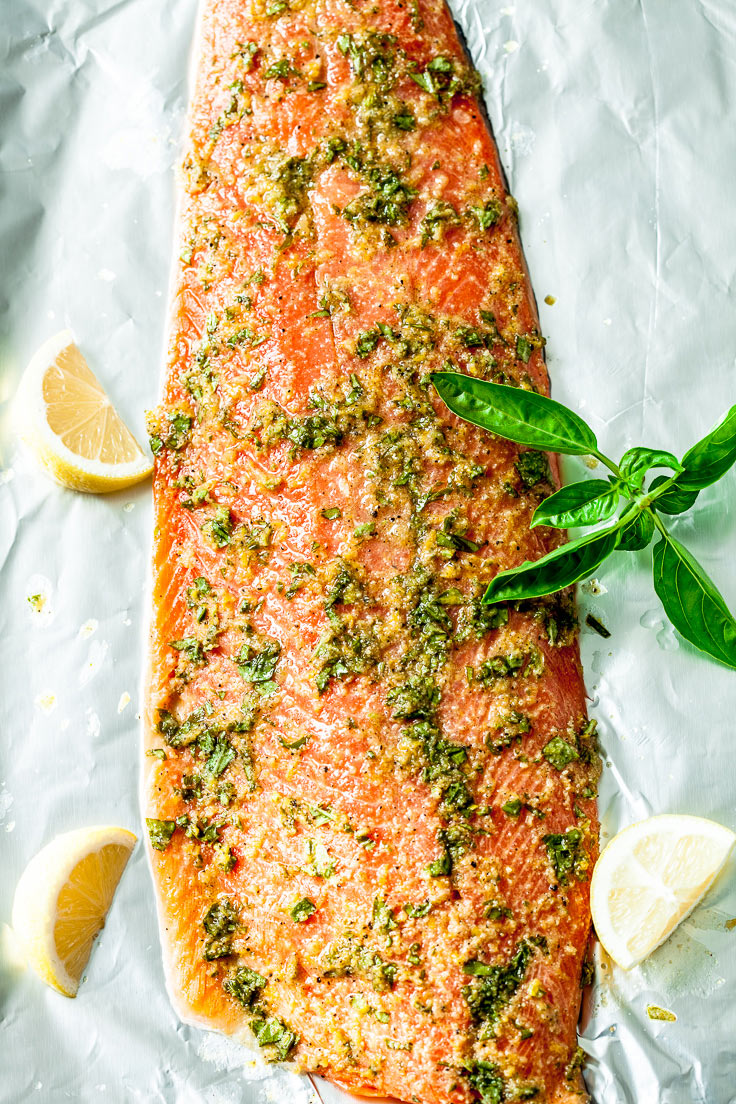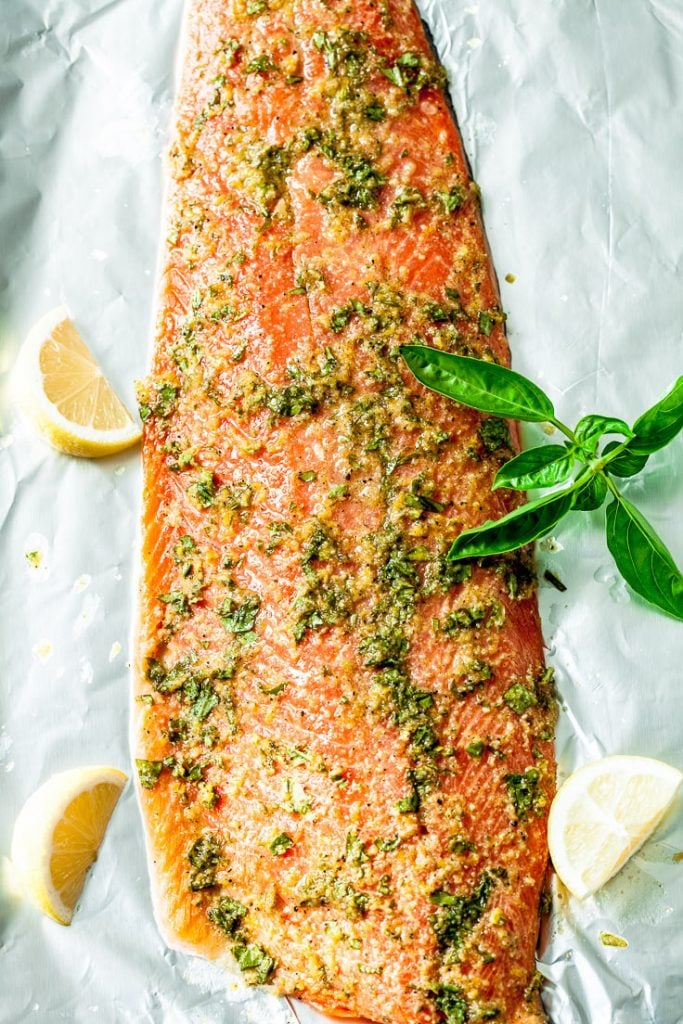 Easy Sheet Pan Method
For most sheet pan dinners, you'll want to use a sturdy, large sheet pan with rims to prevent any spillage of savory juices onto the bottom of your oven. Avoid flimsy or thin metal pans. Always line with heavy duty foil and grease it prior to placing ingredients on it. This helps with super easy clean up, without any food sticking to the foil. When you're finished cooking, just fold up the used foil and toss away.
Aside from a nice, thick piece of salmon, you'll need just a few fresh ingredients to make this salmon recipe come alive:
Fresh basil is a unique addition to this simple baked salmon, and lends a fabulous flavor profile
Freshly squeezed lemon juice and lemon zest are key; bottled lemon juice is not recommended.
Basic pantry seasonings such as garlic, kosher salt, and freshly ground pepper to bring all the flavors alive.
How Long to Bake Salmon
This lemon salmon needs only 15 minutes on the sheet pan total. From start to finish, this broiled salmon comes together in about 20 minutes. You'll roast your salmon on a large sheet pan for 10 minutes and then finish it off with a 5-minute high broil for gorgeous browning and color.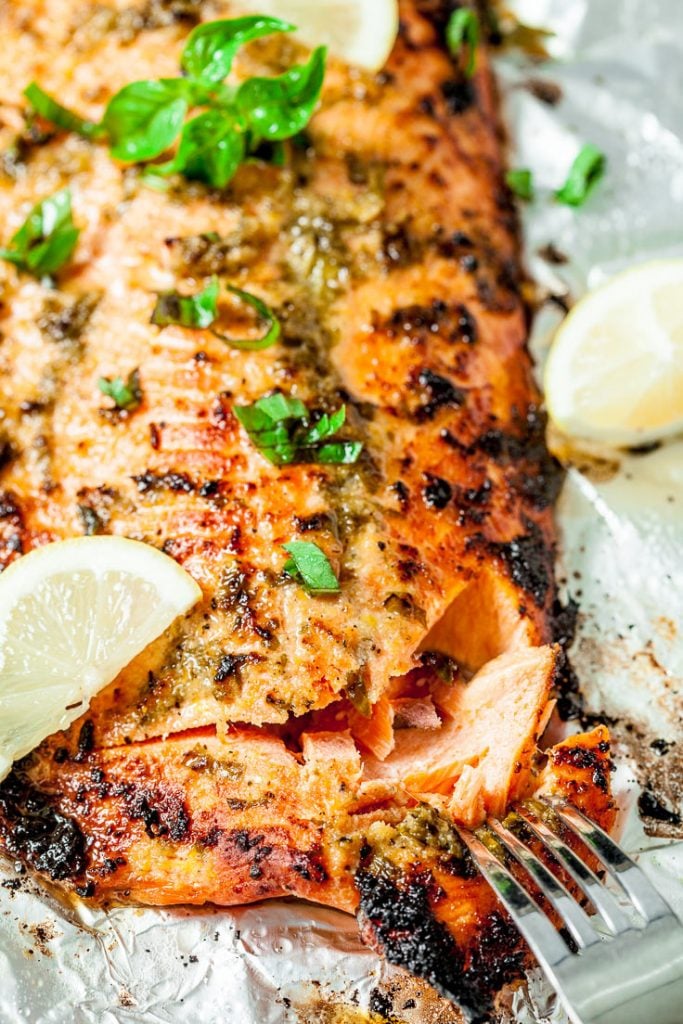 Tips for The Best Salmon
Use salmon that's about 1-inch thick; if it's thinner than that, please lessen cook time to ensure your beautiful salmon isn't overcooked.
As a rule, always use paper towels to pat dry your fish prior to adding seasonings. It's tempting to skip that part, but don't skip it. Removing excess moisture from your fish is important for both flavor and browning results.
Watch closely when your salmon is under the broiler, ensuring even browning without burning.
Let finished dish sit at room temperature for 5 minutes before serving, to retain juiciness.
More to Cook and Eat
---
---
Did you make this?
Please give us a rating and comment below. We love hearing from you!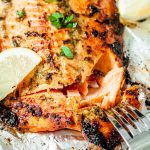 Easy Baked Salmon
This Baked Salmon with Lemon is a deliciously quick and easy weeknight meal that's healthy and flavorful. This salmon recipe only needs 15 minutes on the sheet pan.
Instructions
Preheat Oven: Preheat oven to 375F with rack on lower middle position. Line a large sheet pan with foil and grease the foil with some olive oil. Set aside.

Remove Moisture: Use paper towels to pat-dry the salmon fillet, ensuring that all excess moisture is removed (this step is important, as excess water/moisture causes fish to be "steamed" instead.) Place salmon on the prepared sheet pan.

Mix Seasonings: In a small bowl, stir together all remaining ingredients until combined. Evenly press the mixture over the top of salmon.

Bake: Bake salmon for 10 minutes in preheated oven. Carefully but quickly take salmon out, move rack to top position underneath the broiler, and place salmon tray back on rack.

Broil: Broil on high for up to 5 minutes or until top is nicely browned, but watch carefully for even browning without burning. Remove from heat immediately. Serve with extra slices of lemon.
Nutrition (per serving)
Calories:
238
kcal
|
Carbohydrates:
6.1
g
|
Protein:
34.1
g
|
Fat:
9.6
g
|
Saturated Fat:
1.6
g
|
Cholesterol:
77.2
mg
|
Sodium:
313.1
mg
|
Fiber:
0.3
g
|
Sugar:
2.1
g