Slow Cooker Mexican Shredded Beef
By Amy Dong
Published Jan. 3, 2019
Updated Nov. 28, 2022
Slow Cooker Mexican Shredded Beef uses less than 10 ingredients for a delicious weeknight meal. It's healthy, flavorful, with minimal effort. Try it over rice, in burritos, tacos, or nachos. Perfect for meal prep!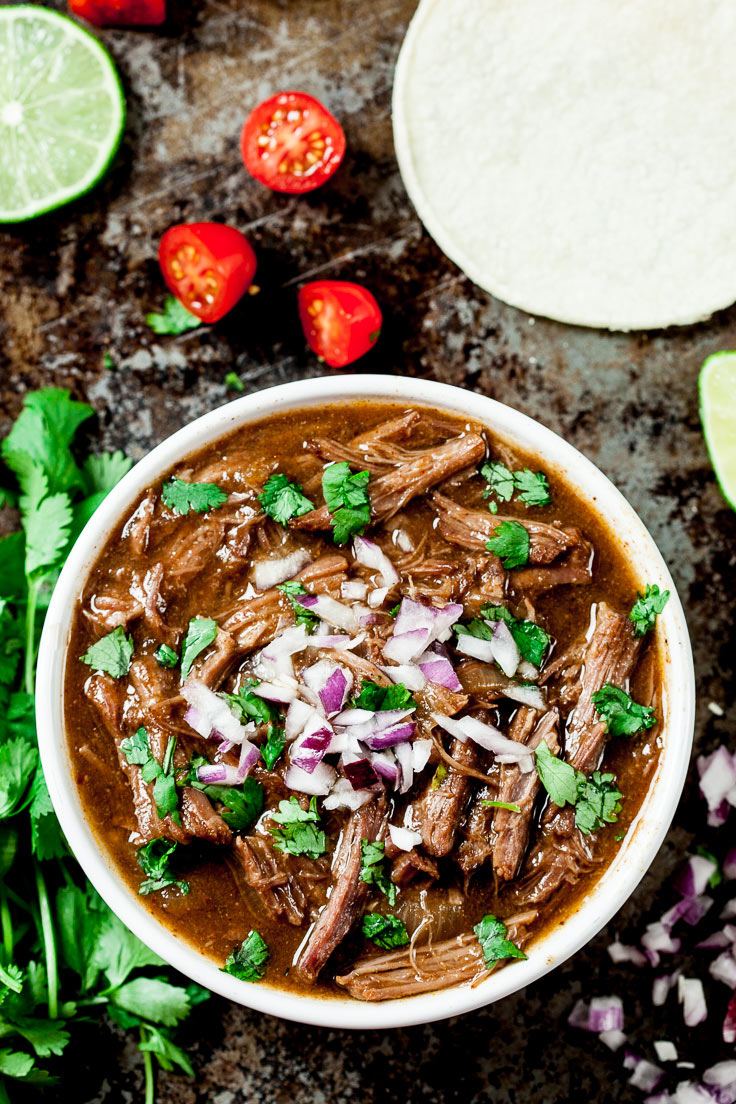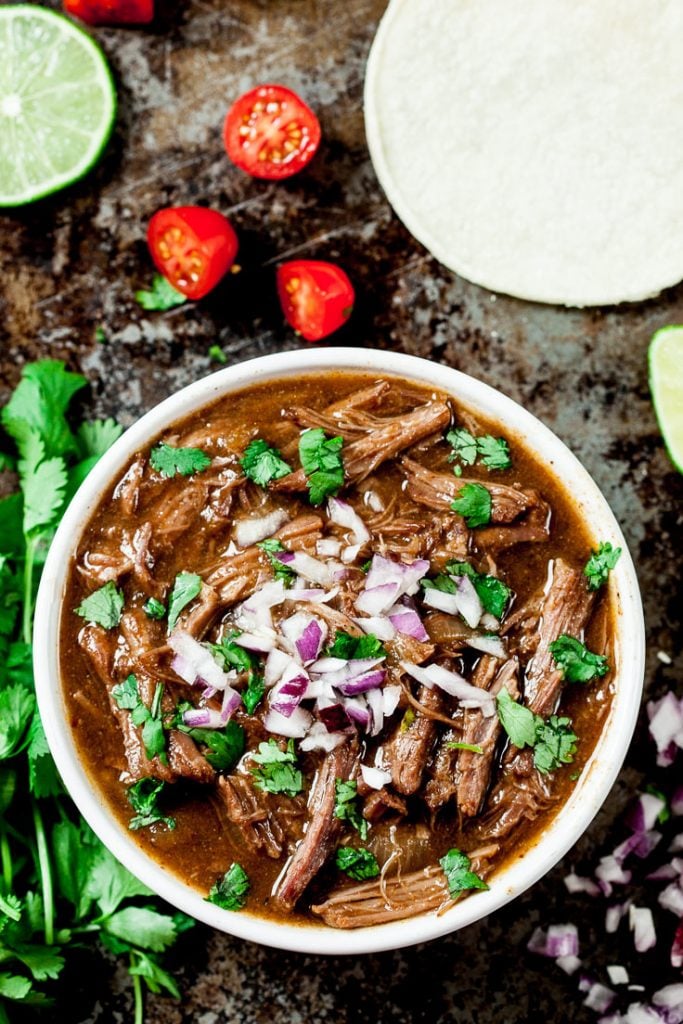 Slow Cooker Mexican Shredded Beef Recipe
As per usual, the past year flew by in the blink of a little eye, and here we all are stepping into another new year. No matter that I've still got unfinished business from the previous year (Hello, yet-to-be-painted walls.) No biggie that we've taken down precisely none of the Christmas decorations from a month full of hosting festivities.
Despite that I'm not even ready to jump straight into a brand new year, I'm totally ready for yet another January Sugar Fast, which I've done for the past several years. I somehow managed to get the entire fam on board with this sugar-free month thing. They may be just as wonky as I am. I'm not going to question it, I'll take the teamsmanship any day.
After all, around here we can all use a healthy reset for sure. Over the holidays, we ate Way. Too. Many. Cookies.
My goal this month is to create and share awesomely yummy recipes with y'all that are mainly free of processed sugar. A teeny bit of raw honey or pure maple may make its way into the recipes occasionally, but you're free to omit it if you like. And just so ya know, I'm not sweating it if the kids eat a bowl of rice cereal that has 1% sugar listed on its side panel 🤫 We'll do the best we can, which is totally better than not at all.
Which brings us to this Slow Cooker Mexican Shredded Beef. It's my favorite kind of busy weeknight dinner: minimal effort with maximum flavors. It's flexible in the way you serve it (rice, corn tortillas, etc.) and it's perfect for meal prep. You can easily make a big batch of this Mexican Shredded Beef on Sunday night and enjoy it in various forms throughout the week…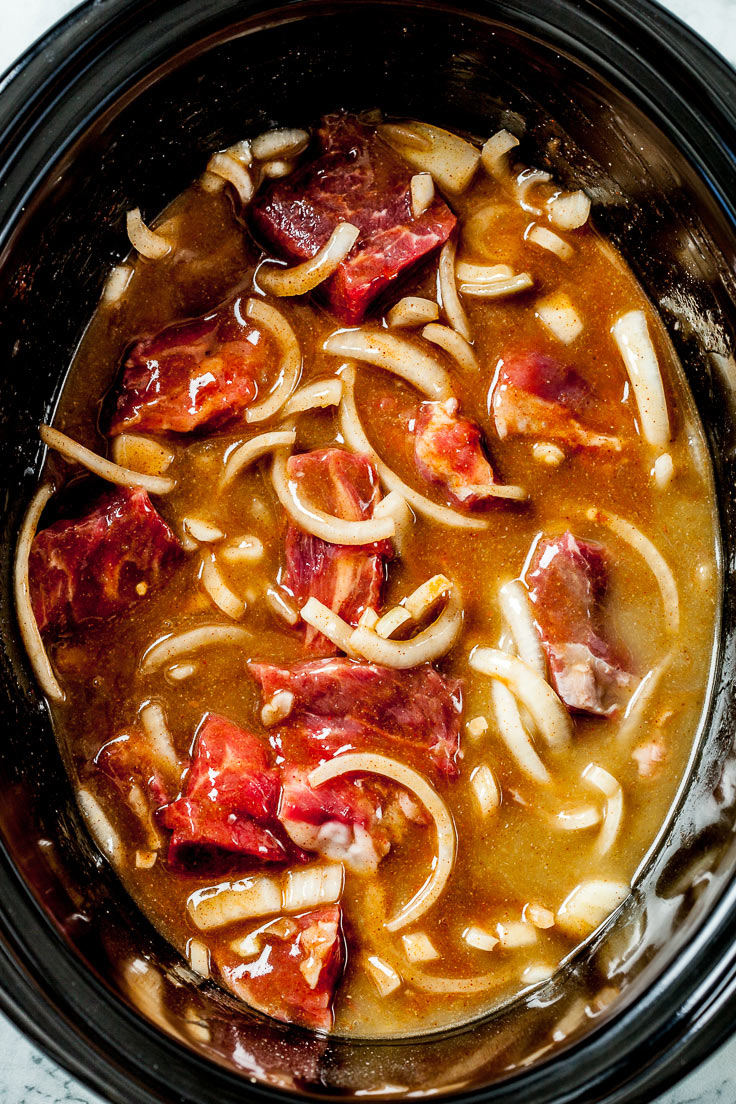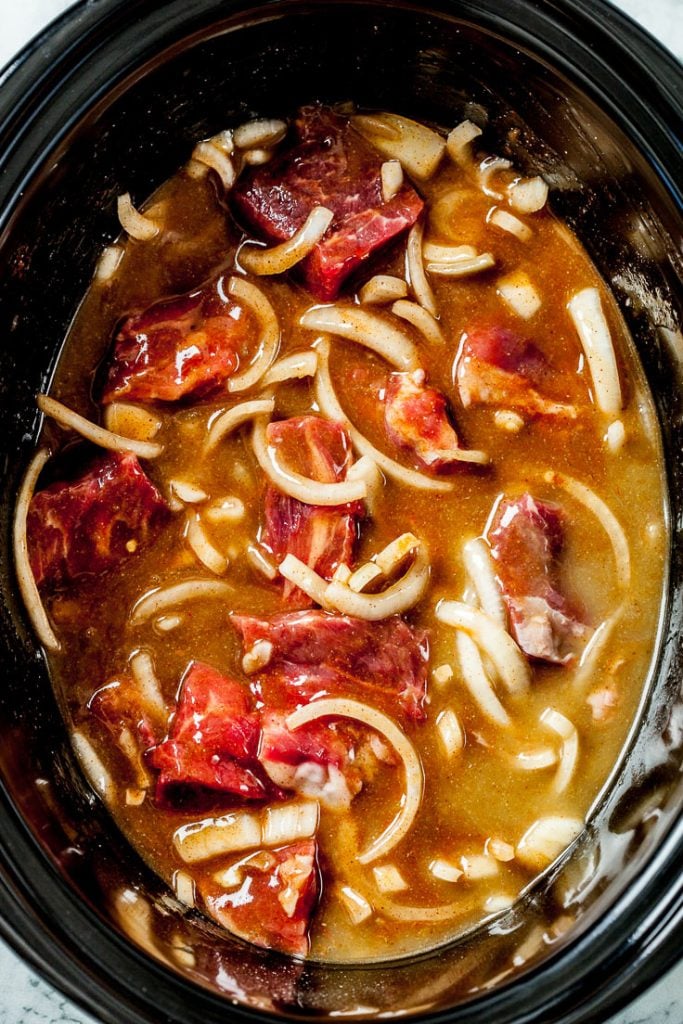 How to make Slow Cooker Mexican Shredded Beef
Use a fresh cut of boneless beef chuck roast, approx 3lbs. Don't worry if it's a bit more or less; once you trim the fat, it kind of evens out
Trim the fat. I like to take the time to get rid of as much of the excess fat as possible. The remaining marbled fat within the meat is good for tenderness.
Always use paper towels to dry the chunks of beef. I do this with almost every dish that uses raw protein; getting rid of excess moisture prevents the entire dish from tasting watered down.
To cut down on cook time and ensure even tenderness, cut the roast into 2-inch pieces before cooking. This also ensures that the sauce flavors really get into the meat.
To save time for busy weeknights, we use 30 ounces of prepared green enchilada sauce. You can use your favorite brand or make your own.
Tips for Serving Slow Cooker Mexican Shredded Beef
My favorite way to serve this tender Mexican shredded beef is over warmed corn tortillas, with garnishes. We love chopped red onions, a splash of lime, and chopped cilantro.
Come to think of it, diced avocado and sliced radishes would be pretty divine as taco garnishes here as well
Mexican shredded beef tastes delicious as Chipotle Style Chicken Burrito Bowls except use this beef as your protein instead
Surprisingly or not, Mexican Shredded Beef is pretty yummy over Slow Cooker Garlic Mashed Potatoes – yeah, it's not even Mexican style but def super tasty
Try this shredded beef over nachos and your fave fixings…YUM.
If you have any other ideas, I'd love to hear them in comments below!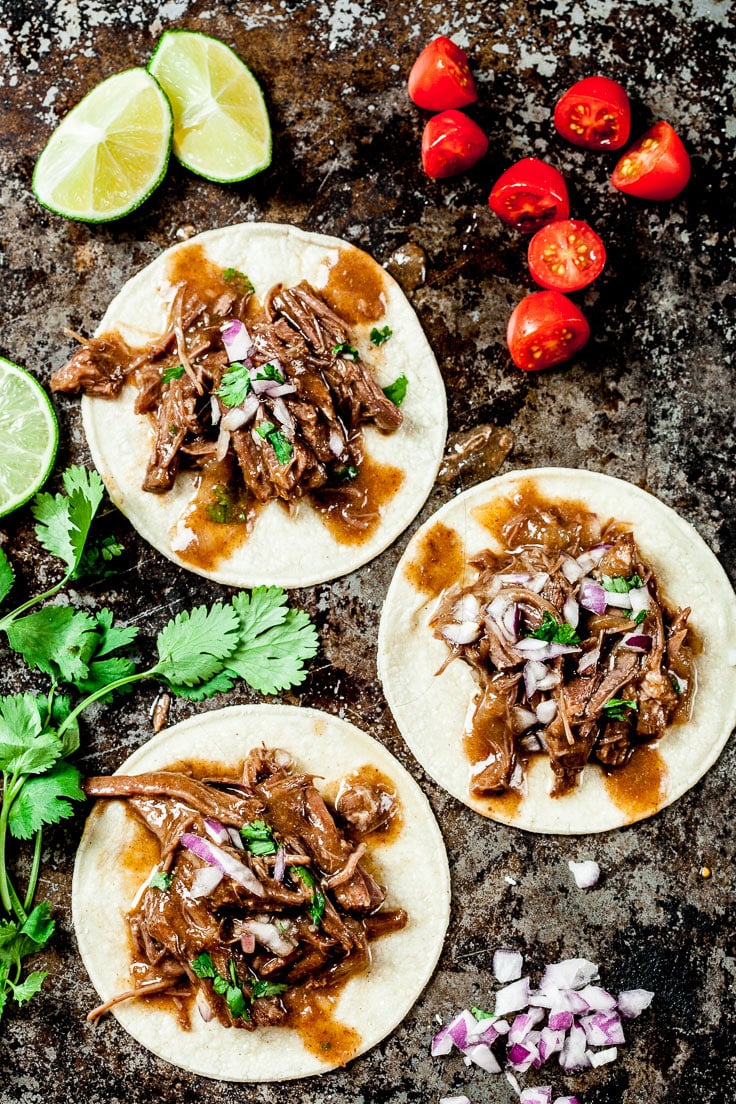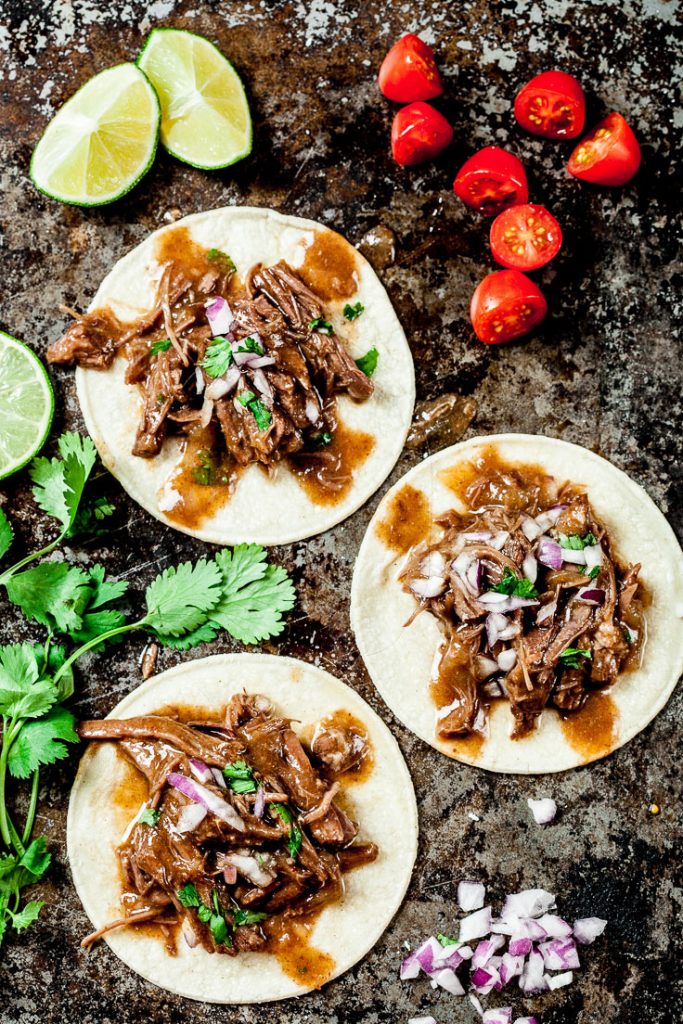 Why we love slow cooker mexican shredded beef
It takes less than 10 ingredients to make happen.
It's fix it and forget it, slow cooker style. Perfect for busy weeks.
It's healthy, flavorful, and simple.
It's totally flexible in how you serve it — tacos, burritos, nachos, rice bowl, even mashed potatoes…you name it.
It's easy on the budget. Anything that makes delicious use of an affordable chuck roast is a winner.
We love it for meal prep; make a big batch on Sunday night and serve it in various ways for several meals. Awesome.
Did you make this?
Please give us a rating and comment below. We love hearing from you!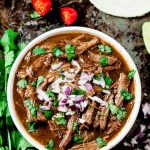 Easy Slow Cooker Mexican Shredded Beef
Slow Cooker Mexican Shredded Beef uses less than 10 ingredients for a delicious weeknight meal. It's healthy, flavorful, with minimal effort. Try it over rice, in burritos, tacos, or nachos. Perfect for meal prep!
Ingredients
3

lb

beef chuck roast

,

boneless, trimmed

2

whole

onions

,

thinly sliced

1

TB

ground cumin

1

TB

honey,

or brown sugar, if preferred

1

TB

smoked paprika*

3

tsp

kosher salt

2

tsp

garlic powder

1

tsp

chili powder,

plus more depending on taste

30

oz

green enchilada sauce

Optional Toppings: Mexican blend shredded cheese

,

chopped red onions, chopped cilantro
Instructions
Use paper towels to dry excess moisture from chuck roast. Cut roast into large chunks, about 2″ pieces. Place beef into slow cooker.

Add all remaining ingredients into slow cooker, gently stirring to ensure all ingredients are combined. Set slow cooker on low for 8-9 hours OR 5-6 hours on high.

When beef is fork-tender, use tongs to remove from slow cooker and gently shred as desired. Return shredded beef to slow cooker, warm through, and add more chili powder if desired. Serve with toppings of your choice, over rice or tortillas.
Notes
Ground smoked paprika is available at most major grocery stores. It provides a wonderful smokiness to the dish. If you cannot find it, you can sub with regular ground paprika, though you'll miss that smoky flavor.
This Mexican Shredded Beef is delicious in burritos, tacos, or over rice.
If you enjoyed this recipe, please come back and give it a rating ♡
Nutrition (per serving)
Serving:
1
g
|
Calories:
358
kcal
|
Carbohydrates:
11
g
|
Protein:
35
g
|
Fat:
20
g
|
Saturated Fat:
9
g
|
Polyunsaturated Fat:
2
g
|
Monounsaturated Fat:
10
g
|
Trans Fat:
1
g
|
Cholesterol:
117
mg
|
Sodium:
538
mg
|
Potassium:
614
mg
|
Fiber:
2
g
|
Sugar:
7
g
|
Vitamin A:
1247
IU
|
Vitamin C:
2
mg
|
Calcium:
40
mg
|
Iron:
5
mg
Kitchen stuff we love
Slow Cooker Dinners Your Family will Love
Slow Cooker Pot Roast with Gravy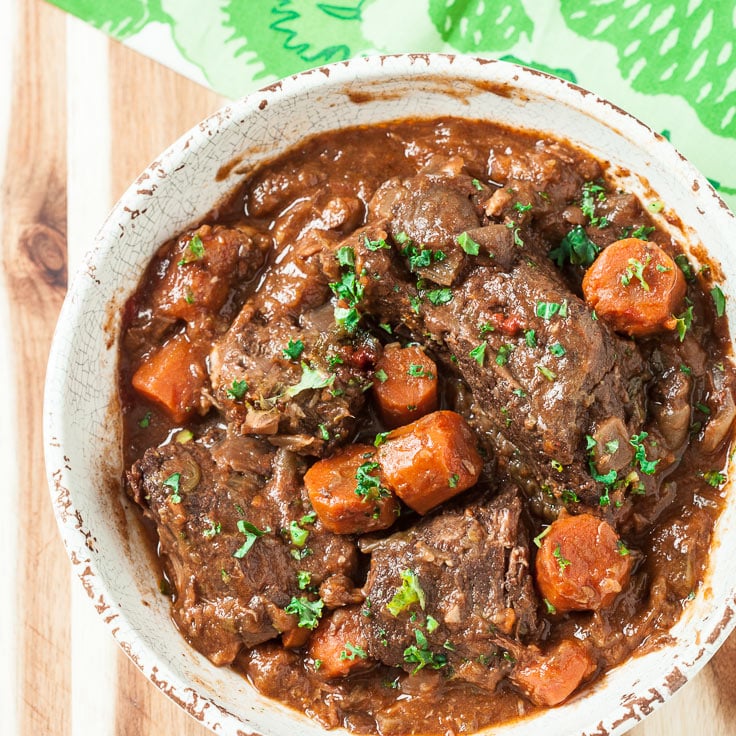 Easy Slow Cooker Salsa Chicken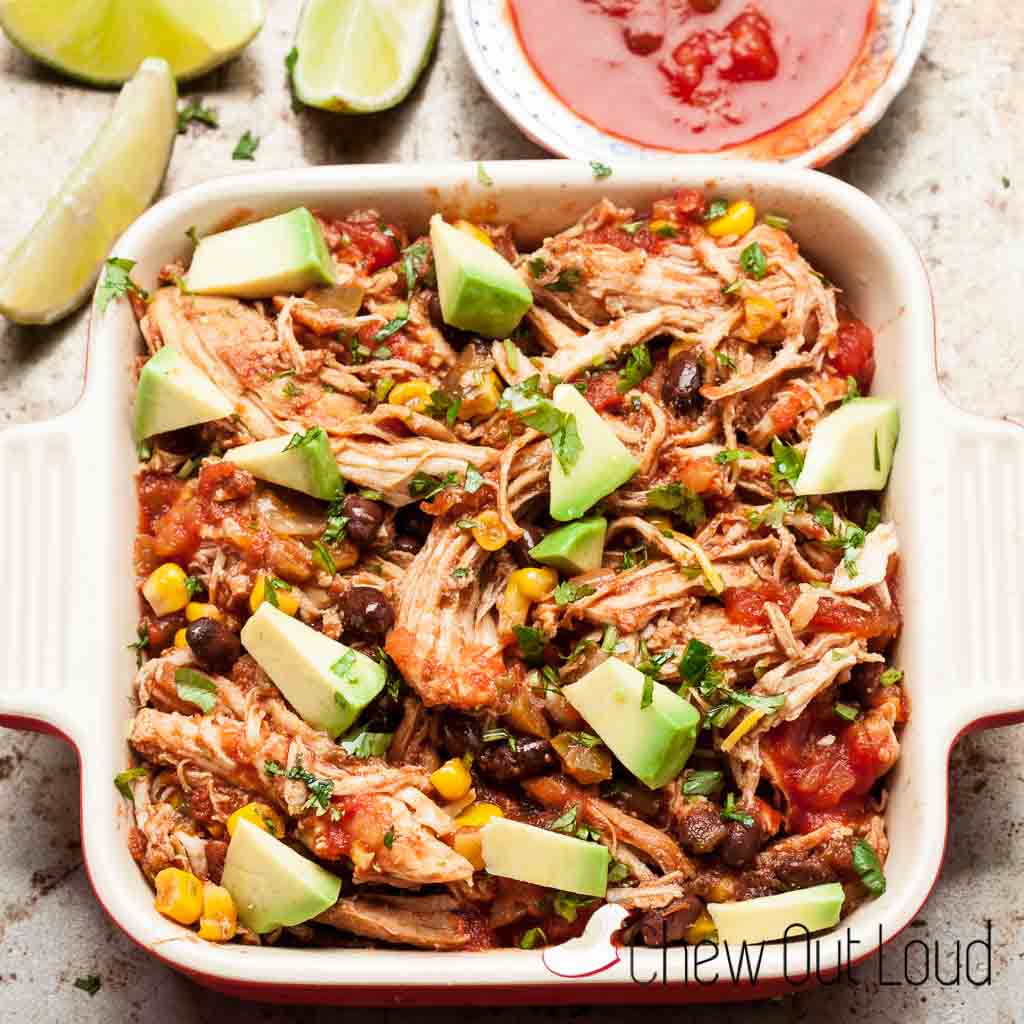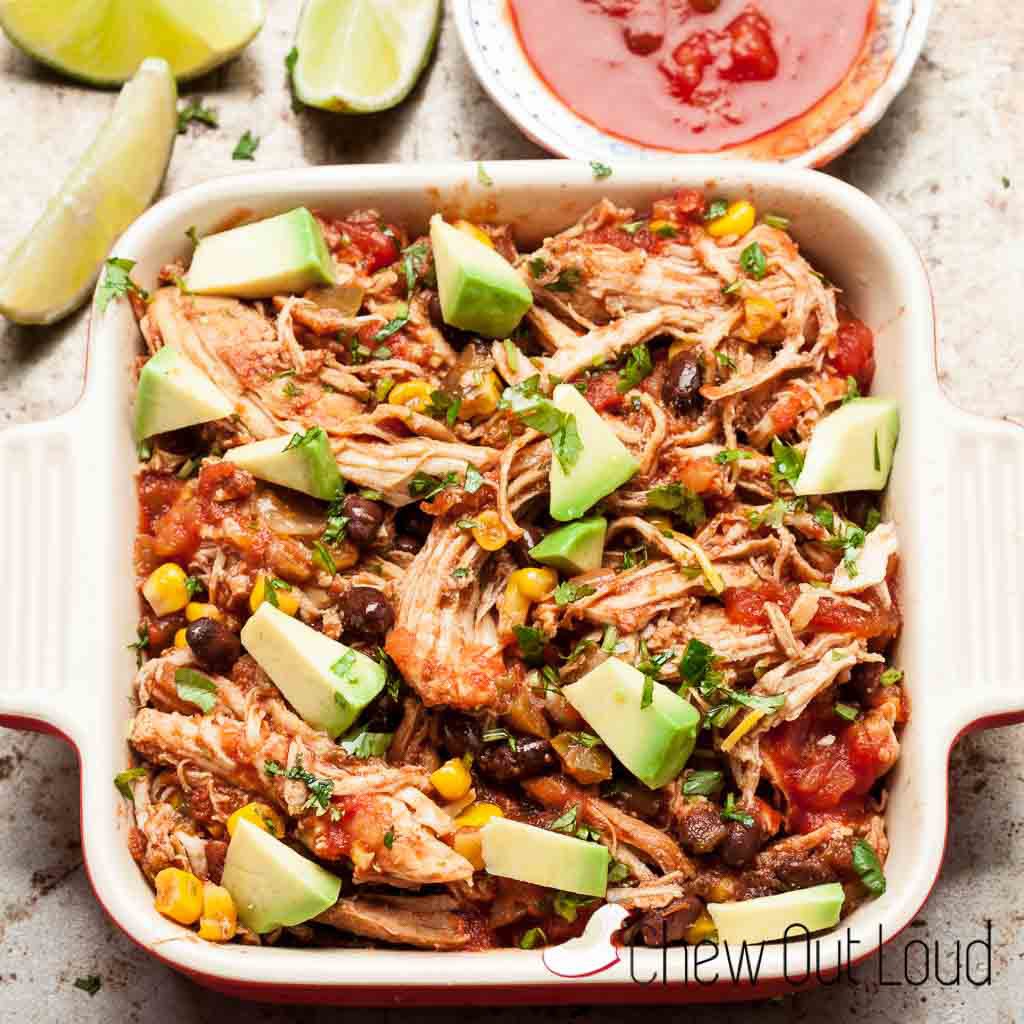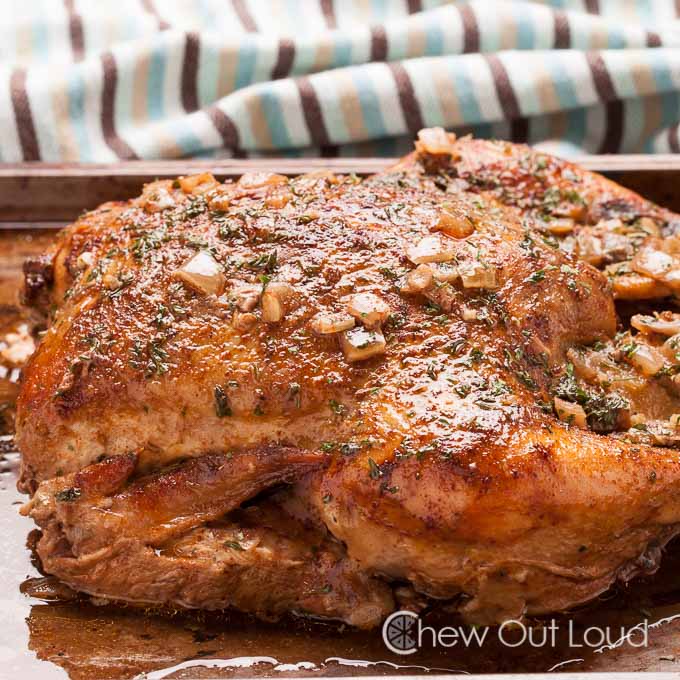 Slow Cooker Chili with Black Beans and Corn