Perfect, Smoky Pulled Pork (Slow Cooker)
You can have smoky, tender pulled pork without a smoker. Your slow cooker can create the most flavorful pulled pork; just let it cook all day long for fork-tender pork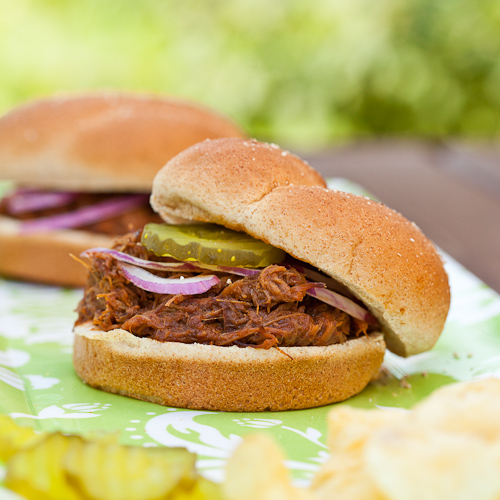 Smoky Pulled Pork, without a smoker
Years ago, I went through a slow cooker phase. What's not to love about such a good, old-fashioned appliance that delivers? Especially when the "daily stuff of life" leaves little time for cooking, the crock pot is a dinner saver. A few times, I've turned to said appliance for batches of various styles of pulled pork, which have all turned out tender and juicy. But this recent rendition of pulled pork is, unquestionably, our family's most favorite-est.
Nope, it doesn't even require a smoker. I know a few BBQ Guys who turn out deliciously smoky meats with their smokers. I could subconsciously be a tad envious because I don't own a smoker. I don't have a smoker and I refused to turn on the oven with the hot and humid weather. Thankfully, my trusty crock pot was ready to go. The neighbors might even have been envious of the great big BBQ aroma coming from my little kitchen 🙂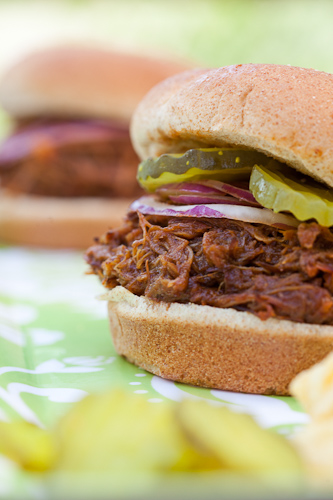 Use Pork Shoulder for flavorful Pulled Pork
Actually, now that I think about it… it's kind of funny that I've been posting about meat. During my independence-seeking college years, I swore off red meat, among other things. If I remember correctly, I adamantly refused beef and pork during that health nut phase (which my mama still scolds me for.) Funny how pork has since had an image revamp and become the "other white meat" – yeah, okay, that probably doesn't include pork shoulder/butt. But still. Pork has come a long way.
This pulled pork is full of flavor, with an awesome dry rub that sits on it overnight before cooking. The only challenge is that you'll need to plan for that night of marinading.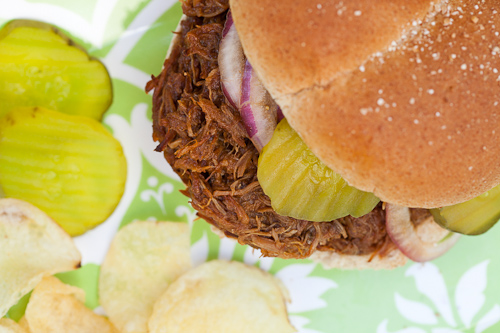 This Pulled Pork Recipe is Fork tender
The best part of this pulled pork is that you will get such big flavor and tender and fall-off-the-bone-goodness, all with little effort once everything is in your slow cooker. Just turn on that sweet little cooker early in the morning, and dinner is ready when you get home!
Oh, and everyone knows that BBQ sauces are not all alike. My disclaimer is that I only use Sweet Baby Ray's Honey BBQ Sauce because out of all the sauces I've tried, this is it. I'm not doing some kind of sponsor-ad thing, and I didn't get my recipe off the back of the sauce bottle. I just want you to really like this meal. You can certainly use something else, but it probably won't end up tasting like the pork I'm bragging about 🙂
Here's to delicious food that cooks on its own, slow cooker style. Enjoy!
---
---
Did you make this?
Please give us a rating and comment below. We love hearing from you!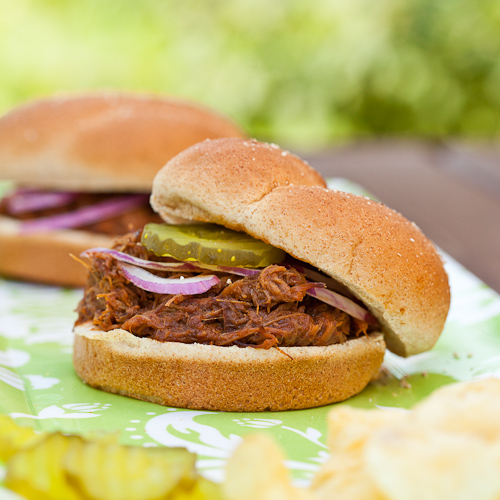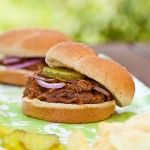 Perfect, Smoky Pulled Pork
You can have smoky, tender pulled pork without a smoker. Your slow cooker can create the most flavorful pulled pork for dinner tonight.
Ingredients
For Pulled Pork:
4-5

lbs

pork shoulder or butt

2

cups

cola or root beer

3

TB

liquid smoke

¼

cup

water

18-36

oz

your favorite honey BBQ sauce

,

depending on how saucy you want it (we like Sweet Baby Ray's)
Instructions
Make dry rub by mixing first 7 ingredients together. This can be made days ahead of time and stored in an airtight container.

Using paper towels, dry pork on all sides to remove all excess moisture. Press dry rub generously onto pork, on all sides. Wrap pork tightly in double foil and let sit overnight in fridge.

Remove foil from pork and set evenly in slow cooker. Pour in 2 cups cola or root beer and 3 TB liquid smoke. Add 1/4 cup water. Cover slow cooker and cook on low for about 10 hours.

Remove and shred pork. Reserve cooked pork juices into separate bowl and skim off fat. Put shredded pork back into slow cooker. Mix in 1 bottle BBQ sauce. Add as much of the reserved pork juices as desired. I use maybe half or more. Add more BBQ sauce if desired. The meat will soak up a lot of the moisture, so this part is pretty much done by taste and by eye. Once it is to your liking, cook on low another 30 min to 1 hour.
Nutrition (per serving)
Calories:
76
kcal
|
Carbohydrates:
7.4
g
|
Protein:
1.6
g
|
Fat:
4.5
g
|
Saturated Fat:
1.5
g
|
Cholesterol:
7.4
mg
|
Sodium:
207.2
mg
|
Fiber:
0.3
g
|
Sugar:
6.5
g