Crockpot Whole Chicken
By Amy Dong
Published Feb. 17, 2022
Updated Nov. 2, 2023
This Crockpot Whole Chicken is fall-off-the-bone tender, mouthwatering, and so easy. You won't believe this rotisserie style chicken came out of your slow cooker. Prep it in advance for easy weeknight meals.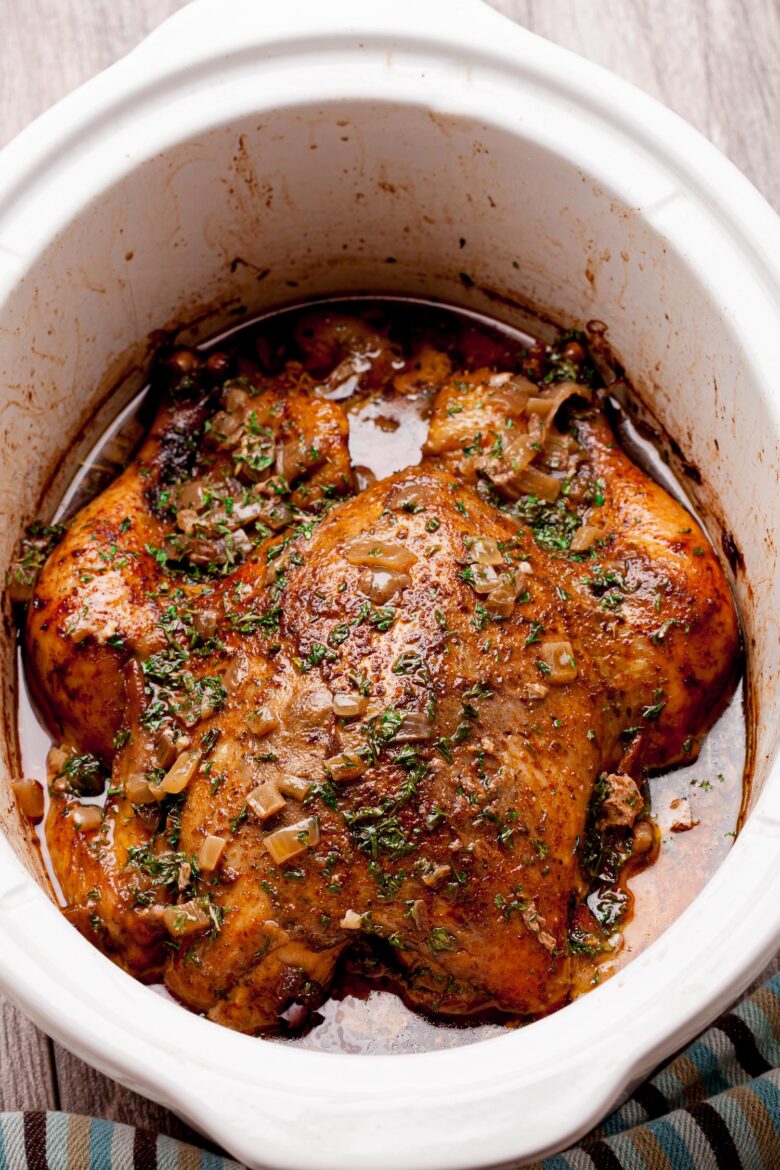 Crockpot Whole Chicken
Many busy home cooks love the ease of rotisserie chickens fresh from the store at 5pm on a Monday night. We sometimes reach for those ourselves, as we're fanatical about transforming rotisserie chicken into easy meals like this Mexican Chicken Stew or Tex Mex Chicken Burrito Bowl.
But if you can plan a bit on Sunday night and prep your own whole chicken for the Crock Pot, there is no store-bought rotisserie chicken that will match yours.
We're talking SO tender, you'll have to transfer the bird delicately from slow cooker to platter so it stays in one piece. No knife needed.
Why You'll Love this
It's extremely budget-friendly. When whole chickens go on sale, grab a couple.
Whole chickens in vacuum sealed packaging can last a long time in the freezer.
It's unbelievably tender and flavorful; way better than store-prepared chicken.
It's easily prepared the night before, completely in advance.
The juices create a savory, succulent sauce to pour over rice or potatoes.
Prep Crockpot Chicken in Advance
If your whole chicken is frozen, keep in mind that it can take 2-3 days to safely defrost it in the fridge. Start defrosting a few days before you intend to use it.
Alternatively, you can fully submerge vacuum-sealed frozen whole chicken in a cool water bath. This cuts defrosting time down to a few hours.
Spices and dry seasonings can be pre-mixed well in advance.
Fully season whole chicken according to recipe instructions and place in Crock Pot, cover, and chill overnight or even up to 2 nights. That way, all you have to do the next day is set it and forget it.
Leftover cooked chicken can be shredded and frozen airtight for future meals such as this One Pot Gnocchi with Spinach and Chicken or this super easy Chicken Enchilada Casserole with Rice.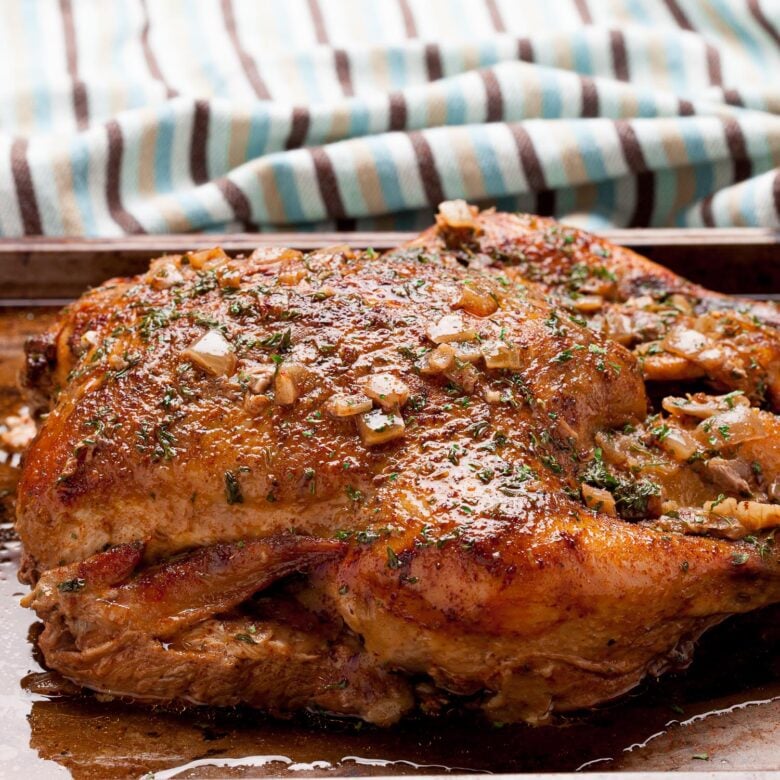 Commonly Asked Questions
How long does it take to cook raw chicken in the Crock Pot?
A large whole chicken about 5 pounds, takes 5-6 hours on low heat.
Do you need to add liquid to chicken in the Crock Pot?
You actually do not need to add any liquid. As the chicken slow-cooks, it produces its own juices.
Should you cook chicken on high or low heat setting in the slow cooker?
We always prefer low setting, as it's much more forgiving in the case you accidentally cook a bit longer than needed.
How do you know when Crock Pot Chicken is done?
Though 5-6 hours is plenty of time to fully cook a large chicken, you can be sure by inserting a meat thermometer into the thickest part of the thigh, without touching the bone. It should read 160-165F.
More to cook and eat:
Did you make this?
Please give us a rating and comment below. We love hearing from you!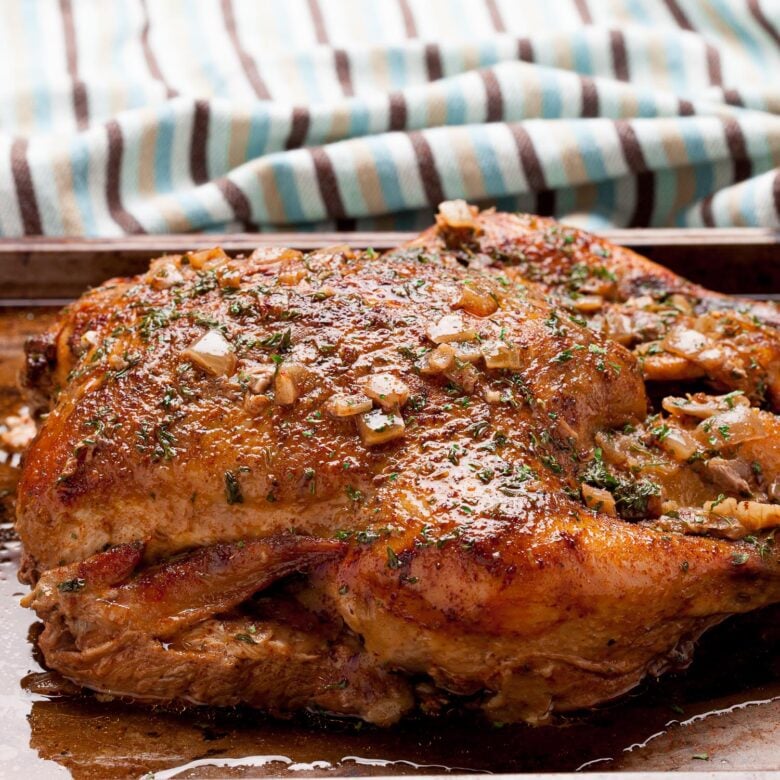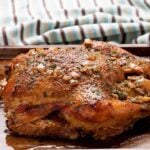 Crockpot Whole Chicken
Crock Pot Whole Chicken is even better than store bought rotisserie chickens! It's fall-off-the-bone tender, juicy, and supremely flavorful. The seasoning is spectacular.
Instructions
Prepare Chicken: Place chopped onion on bottom slow cooker. Remove giblets from chicken and towel dry entire chicken well, both inside and out – this step is important to ensure chicken doesn't turn out "watery." Using your fingers, gently pry the skin away from the chicken all around, so you'll be able to season chicken underneath skin.

Combine Spices (can be done in advance:) In a small bowl, combine all the spices, from salt to black pepper. Mix well. Use your hands to evenly spread two-thirds of the spice mixture onto chicken, underneath the skin. Be sure to include all areas of chicken (legs, back, thighs, etc.) Use remaining spice mixture to spread on top of skin. Place seasoned chicken on top of chopped onion in slow cooker. Cover and keep chilled overnight.

Cook: When ready to cook, turn slow cooker on Low for 5-6 hours only. Keep on warm until ready to serve.
Notes
If you're using a smaller chicken, adjust for less salt.
This dish is delicious over fluffy rice or potatoes so you can fully enjoy the sauce.
For best results, allow chicken to sit in seasoning overnight. I simply prepare the entire thing overnight and turn Crock Pot on the next day!
If you'd like more browning on top, place cooked chicken on a sheet pan and broil for 5 minutes or so, watching carefully not to burn.
If you enjoyed this recipe, please come back and give it a rating 🙂
Nutrition (per serving)
Serving:
1
g
|
Calories:
422
kcal
|
Carbohydrates:
6
g
|
Protein:
35
g
|
Fat:
28
g
|
Saturated Fat:
8
g
|
Polyunsaturated Fat:
6
g
|
Monounsaturated Fat:
11
g
|
Trans Fat:
0.2
g
|
Cholesterol:
136
mg
|
Sodium:
160
mg
|
Potassium:
422
mg
|
Fiber:
1
g
|
Sugar:
1
g
|
Vitamin A:
738
IU
|
Vitamin C:
6
mg
|
Calcium:
33
mg
|
Iron:
2
mg