This Strawberry Avocado Caprese Salad recipe is simple yet stunning! It's healthy, quick, and tastes irresistibly delicious. You'll want extra dressing to pour onto everything!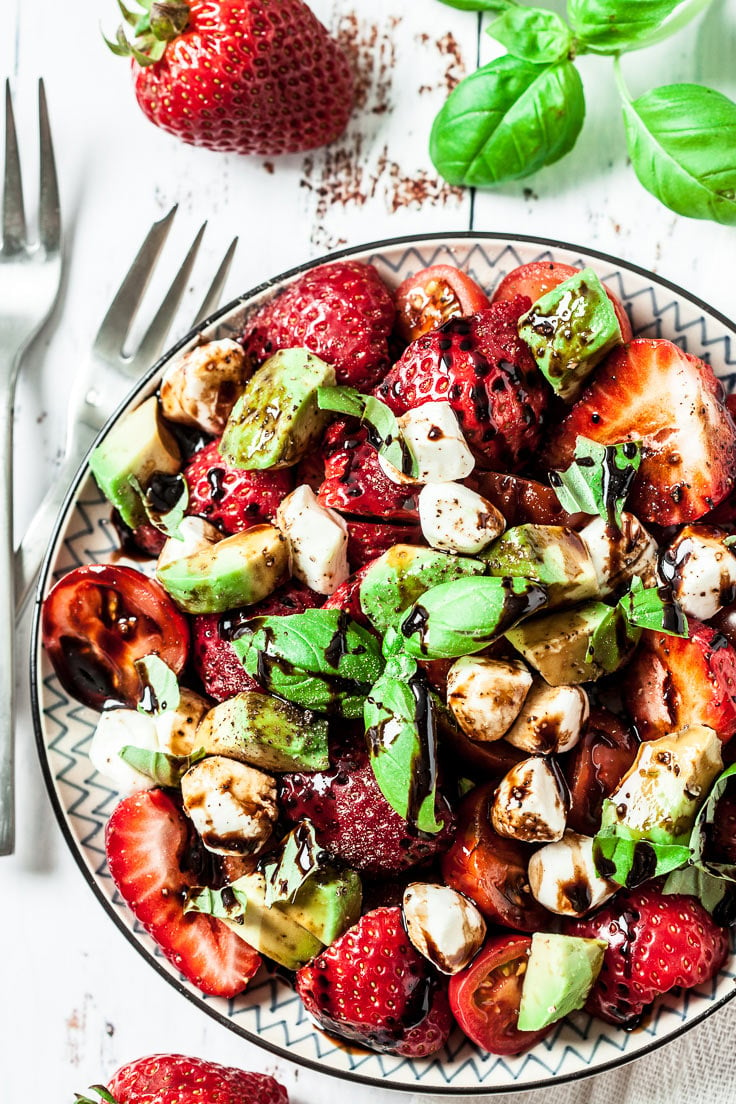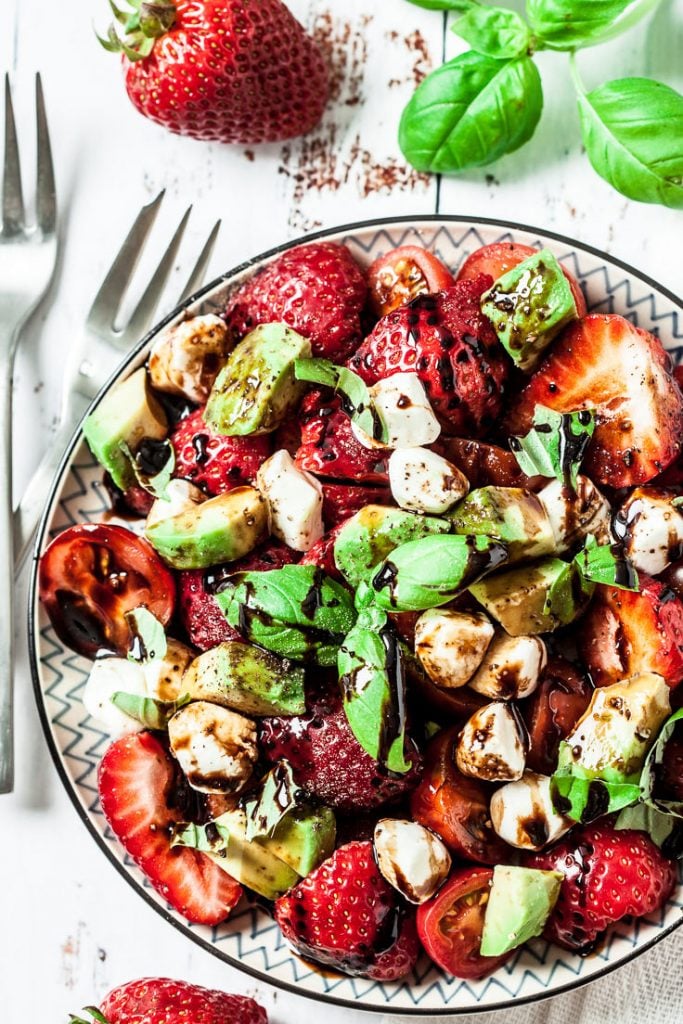 Happy post-Independence Day, Everyone! Hope you enjoyed plenty of fun, relaxation, fireworks, and the best, easy BBQ and grilling recipes that should be made all summer long.
If you're like me and had one too many bowls of Creamy Chocolate Ice Cream or three too many Fudgy Brownies, then you might feel kinda like I do right now — time to fuel myself with lighter, healthyish fare. [Because yes, I also munched my way through Perfect Chocolate Chip Cookies and sipped too much Cherry Mojito. #keepingitreal]
I'm definitely ready for a big plate of Strawberry Avocado Caprese Salad. We can all be super grateful that this is one of those salads that people actually crave and want to devour. Yet this bowl of luscious berries, creamy avocado, and fresh basil is 100% in the healthy salad category…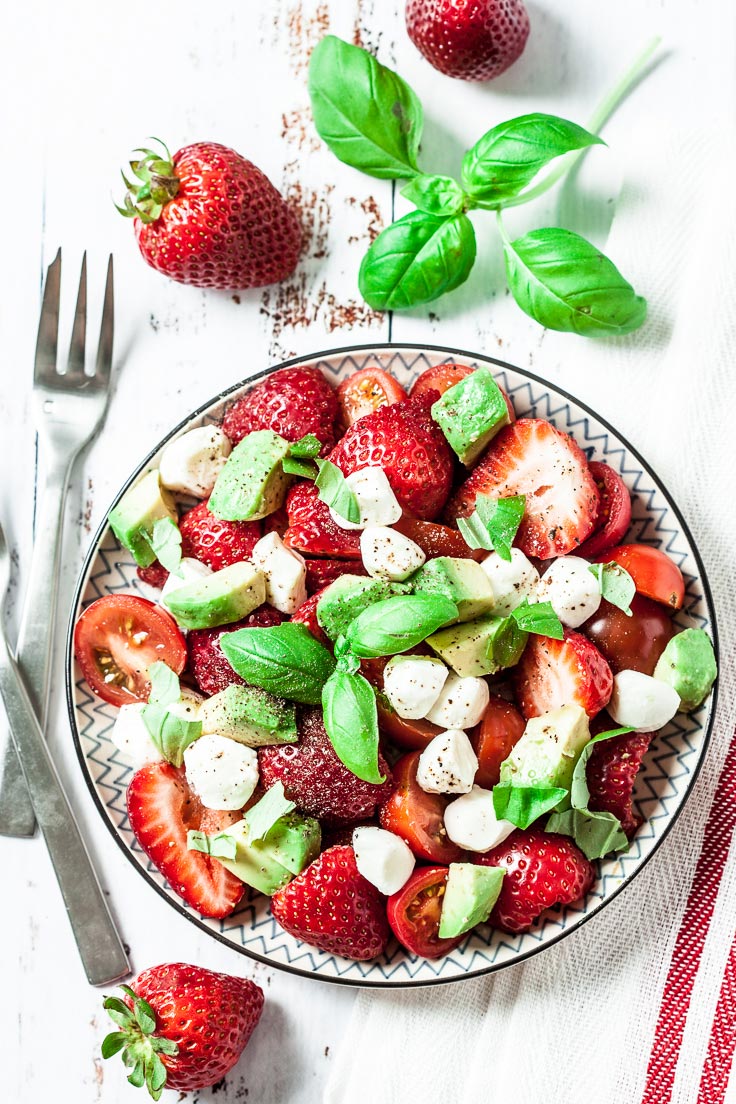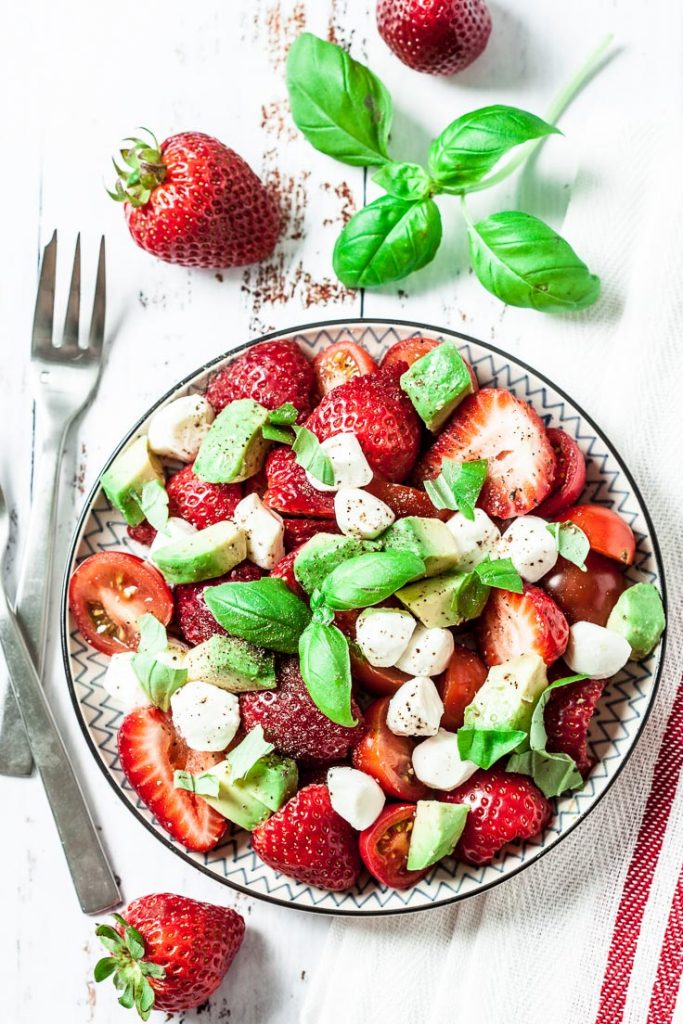 How to Make Strawberry Avocado Caprese Salad
As always, start off with the freshest, ripest, sweetest berries you can get. My favorite is, of course, organic local fresh-picked strawberries. Summer time is the best time for hoarding all the juicy berries. Ditto for the fresh basil. If you're lucky enough to grow your own, you've got that part down. Otherwise, just be sure to buy a bunch of fresh basil.
We like sweet cherry tomatoes or any variety of bite-sized sweet tomatoes for this caprese recipe. The crunch goes really well with the rest of the salad.
We suggest using fresh pearl mozzarella balls, which are like baby sized balls. They're smaller than the usual mozzarella balls. We like them for their ease of use (no need to slice them in half) and their cuteness.
For the avocado, it's best to use ones that are ripe yet still firm enough to easily slice through; you don't want mushy avocado here. Save the too-soft ones for this 5-Minute Real Guacamole .
Lastly, the balsamic vinegar. Use the best quality balsamic you possibly can, as the vinegar is basically the only ingredient in the entire dressing; so you'll want a good one. We reduce our balsamic vinegar by half, which results in this thick, sweet, tangy yum-drizzle ↓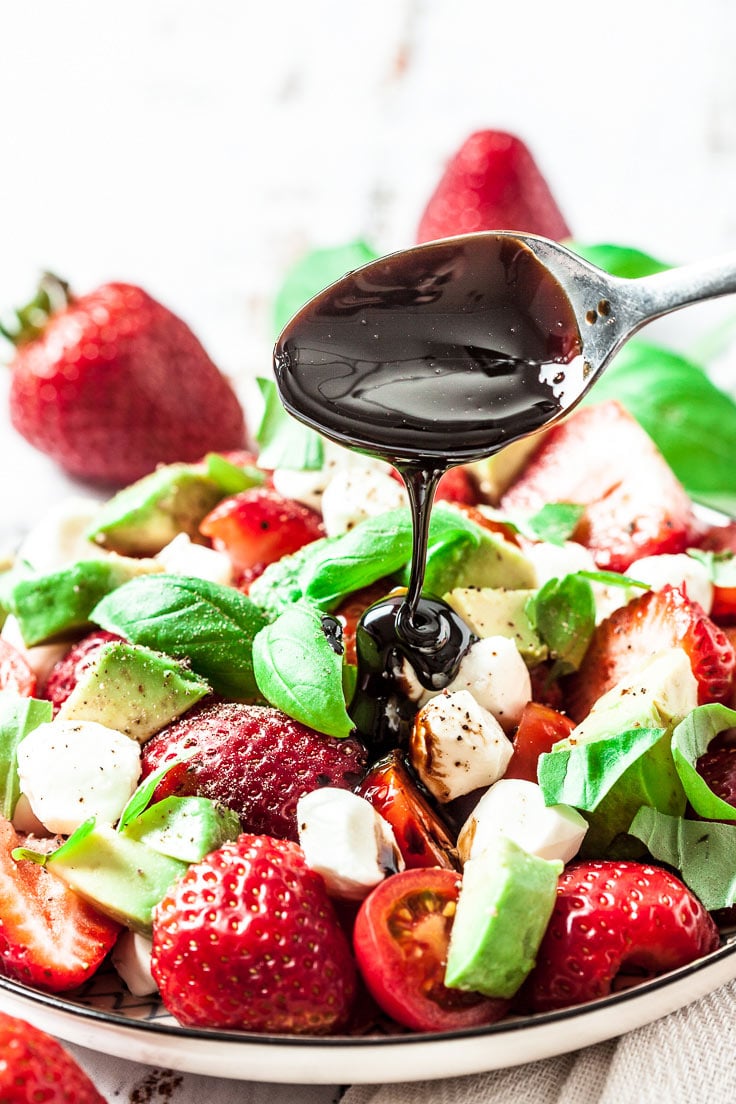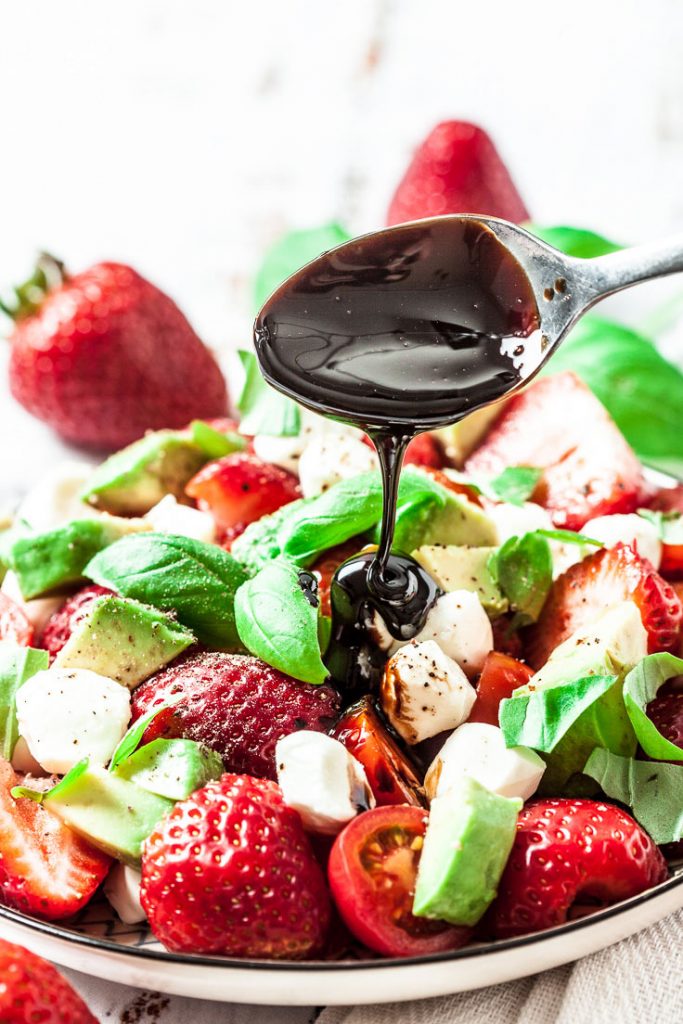 Why we love Avocado Strawberry Caprese Salad
It's way too easy not to try
Once you try it, it'll be on salad rotation the rest of summer
Gives you an excuse to hoard all the berries
It's full of antioxidants, vitamins, and nutrients
It looks beeaauutiful
It tastes like a delicious mouthful of summer
Go ahead. Berry on. 😊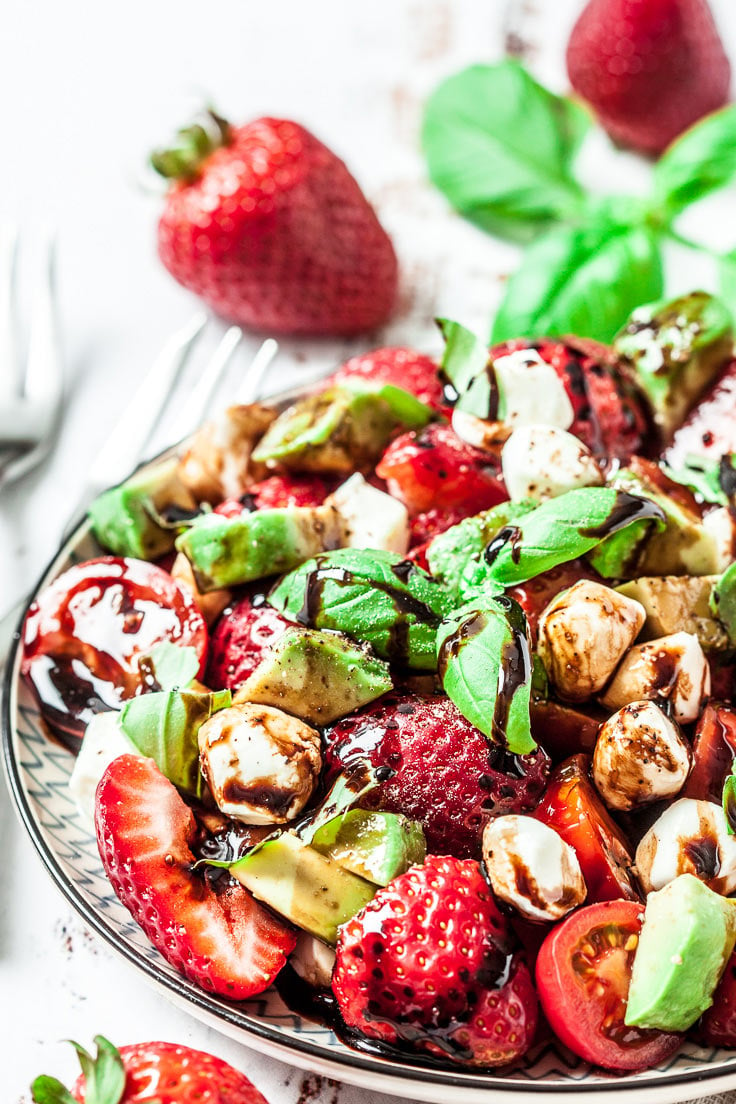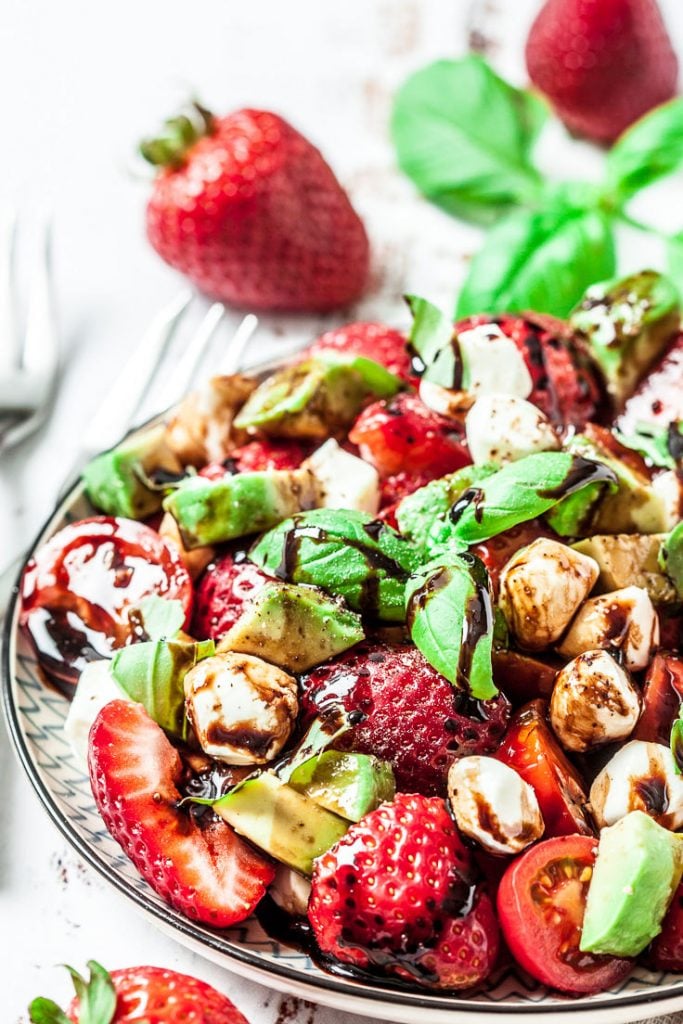 You'll probably want this all summer, too:
Print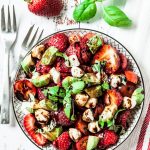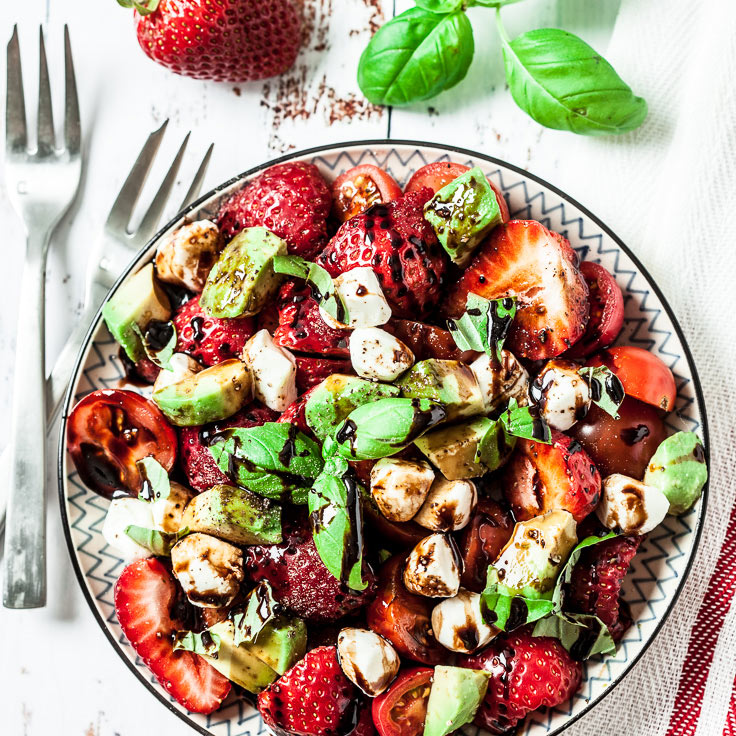 Strawberry Avocado Caprese Salad Recipe
---
Description
This Strawberry Avocado Caprese Salad recipe is simple yet stunning! It's healthy, quick, and tastes irresistibly delicious. You'll want extra dressing to pour onto everything!
---
1/3 cup

good quality balsamic vinegar

1 cup

mozzarella pearls (extra mini)

1 cup

sweet cherry tomatoes, halved

1 cup

ripe strawberries, hulled and halved

1

large semi-ripe avocado, diced and sprinkled with lime juice

1/2 cup

basil leaves, torn to small pieces
kosher salt and freshly cracked black pepper, to taste
Optional: honey roasted almonds, chopped or slivered
---
Instructions
In a small saucepan, add the balsamic vinegar and bring to a boil. Boil and stir 3-4 minutes or just until liquid is reduced by about half; should be thick and syrup-like. Transfer to a small bowl and let cool to room temp.
When ready to serve, add all remaining ingredients to a large platter or bowl, folding very gently with rubber spatula. Add kosher salt and freshly cracked black pepper to taste. Drizzle with balsamic glaze, sprinkle with almonds if desired, and serve immediately.
Notes
Slice the avocado last, prior to serving, and sprinkle with lime juice in order to prevent browning.
Caprese salad is best when tossed and served immediately. Be sure all ingredients are chilled prior to slicing/combining.
Category:

salad, side

Cuisine:

Italian American
Kitchen Stuff we Love:
Strawberries 'n Avocado Bliss:
Strawberry Avocado Chicken Salad with Poppyseed Dressing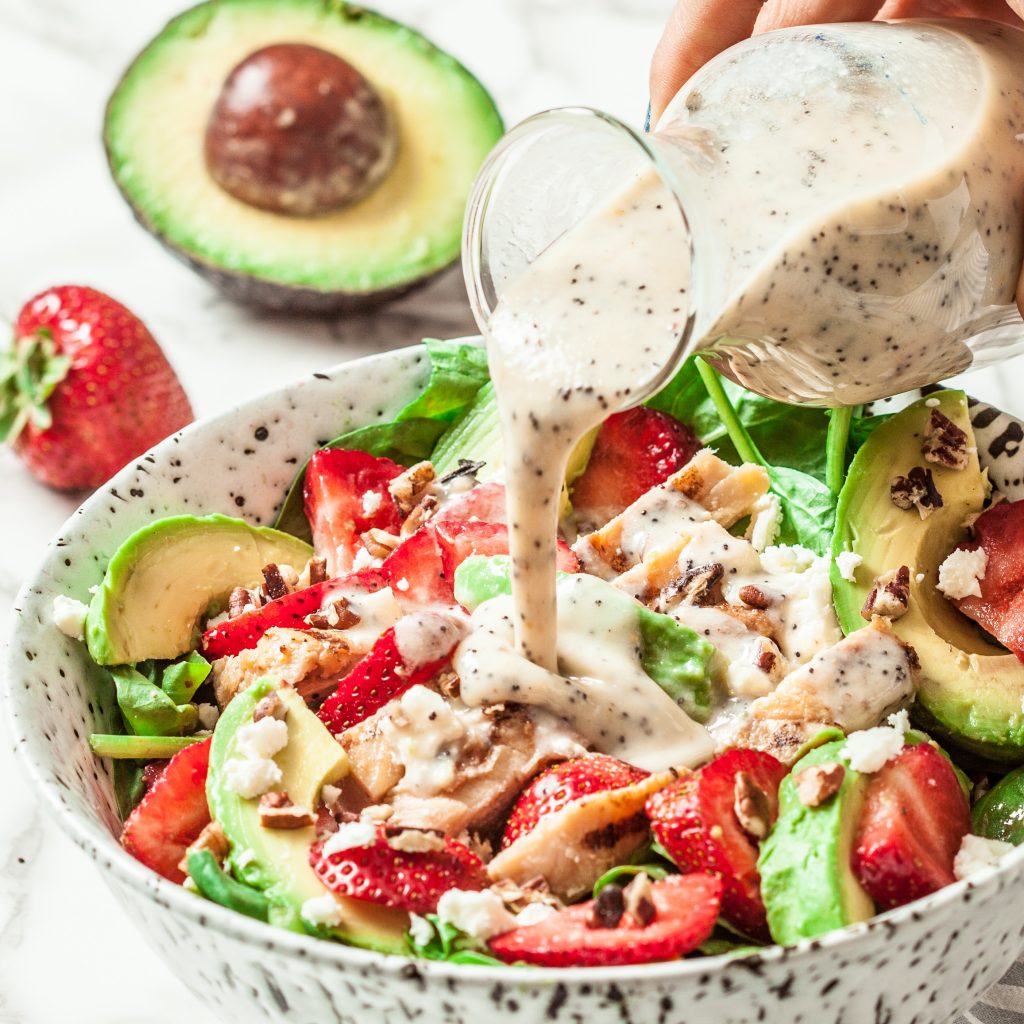 Strawberry Asparagus Farro Salad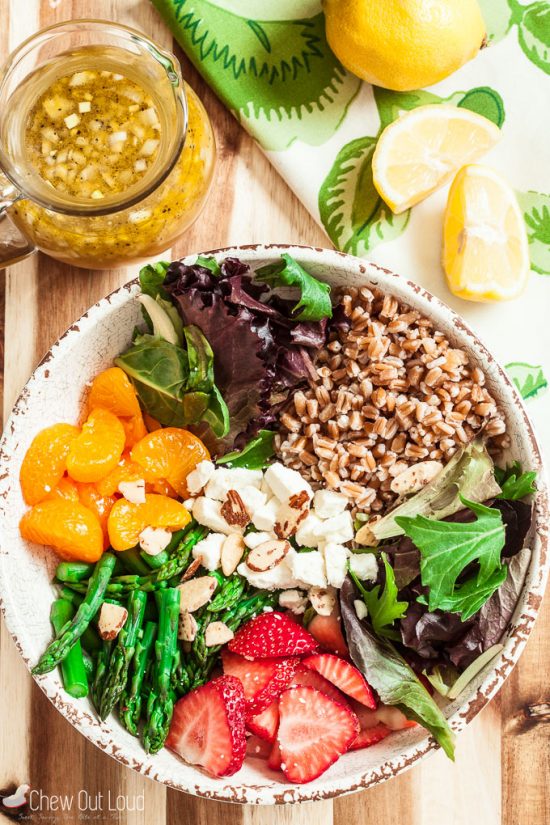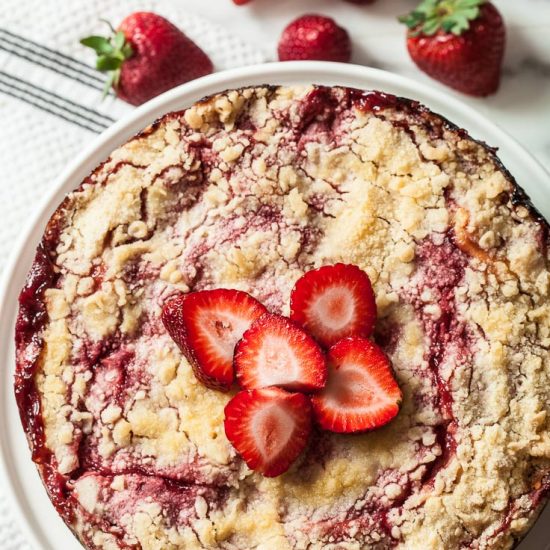 Avocado Black Bean Corn Salad with Lime Dressing