The Best Guacamole Recipe
This guacamole recipe is authentic and so easy, with bold and zesty flavors that will dazzle your taste buds. It's hard to believe something this healthy and delicious is so simple. Bonus tips for keeping guacamole fresh!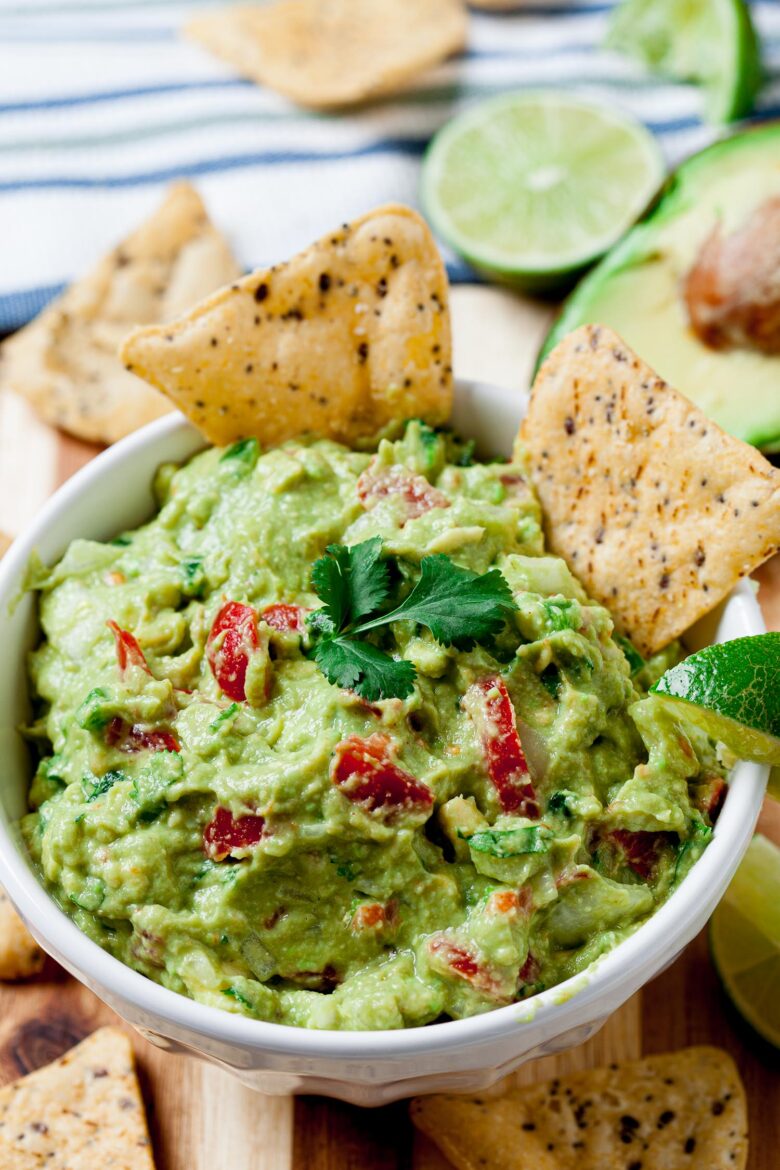 All About Guacamole
We don't know anyone who doesn't like guacamole. There's a reason why guac is a hot commodity at Mexican food spaces and brunch spots alike. Guacamole is the perfect party food and is the dish to vanish at all the gatherings. We obviously love everything avocado related. Having lived in Los Angeles and grown up with avocado trees in the backyard, we don't take guacamole lightly. It's the quintessential spread, dip, or snack that's as delicious as it is healthy.
Here's why we love this guacamole recipe:
It's 100% real and simple, with just a handful of fresh ingredients.
There are zero fillers – no sour cream or additives here.
It comes together in just 10 minutes or less, especially if you use a handy little chopper.
It's super healthy, loaded with nutrients, yet tastes indulgent.
There's a trick to choosing the perfect avocados for the best guacamole.
This recipe keeps your freshly made guac green and fresh for longer.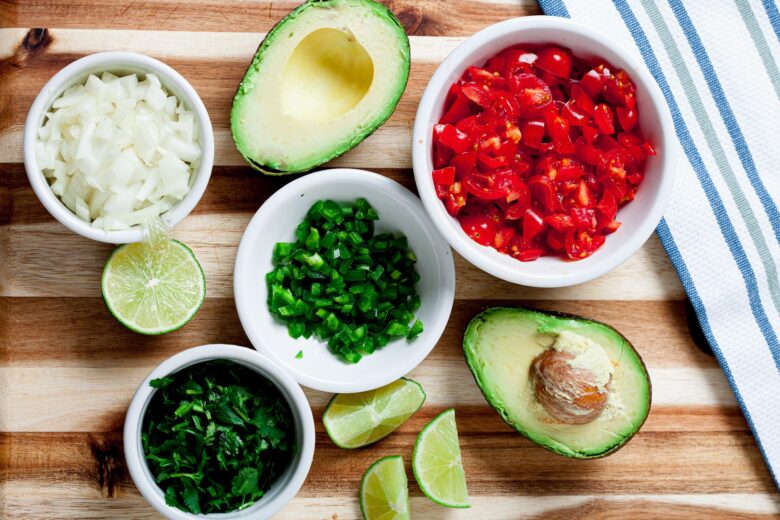 Key Ingredients
As always, authentic guacamole starts with the freshest ingredients. No sour cream or yogurt or other add-ins. Just pure, whole, and real goodness.
You'll need:
Hass Avocados: they're the most popular type of avocado found in grocery stores, have the highest good-fat content, and thus are richer in flavor and creamiest in texture.
Tomatoes: we highly recommend cherry or grape tomatoes, as those tend to be sweeter and have more robust flavor than large-sized, store-bought tomatoes.
Jalapeño: just one medium-sized, firm pepper will do. We remove the seeds for a milder guacamole that everyone can enjoy. However, if you have eaters who love more heat, you can include some of the seeds.
Onions: we opt for red onions, as they present an edgier, sharper bite to the creamy guacamole. If you prefer sweeter and milder flavors, use white onions.
Lime: use freshly squeeze lime juice from 2 whole limes. Refrain from bottled lime juices, as they don't taste as fresh.
Cilantro: we love cilantro and use 1/4 cup of freshly chopped cilantro. It seems like a lot at first, but it quickly melds into the mixture perfectly.
Spices: ground cumin provides that classic earthy fragrance, garlic powder is wonderfully aromatic, and kosher salt can be adjusted to taste.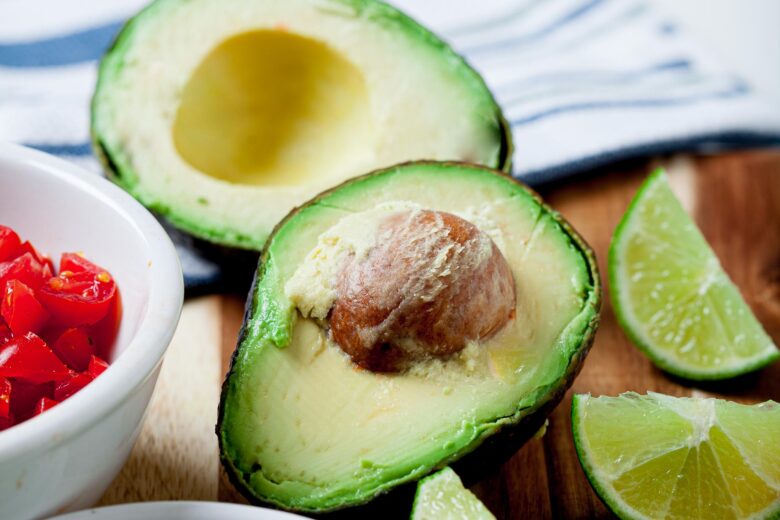 Buying Avocados
Interestingly, you'll see many people at the grocery stores poking and prodding for the most ripe, softest avocados in the bunch. Here's what you should really be looking for when buying avocados:
Feel: Look for semi-ripe avocados that aren't overly soft. When pressed, they should yield gently. Semi-soft avocados will taste ripe, while still giving your guacamole a bit of chunky homestyle texture. When an avocado gently yields, it's ready to be used. By the time it feels soft, it is over-ripe, so skip those.
Texture: Riper avocados usually have bumpier looking skin, whereas unripe ones have smooth skin.
Color: Riper avocados are darker in color, close to a black-green. Unripe avocados are bright green.
Spots: Avoid any avocados that have dents or dark spots on the skin. That typically indicates possible spoilage inside.
Stem: If stem area is dark brown or black, it's probably moldy inside.
Storing Avocados
Once you've brought your avocados home, you can use them immediately if they're semi-firm and yield gently to soft pressure.
If avocados are very firm, you can speed up the ripening process by placing them in a sealed paper bag at room temperature for 4-5 days.
Place avocados in a seals paper bag with either an apple or banana at room temperature for 2-3 days to ripen even quicker.
If you have semi-ripe avocados that you can't get to yet, place them in the fridge. This helps to slow down their ripening process.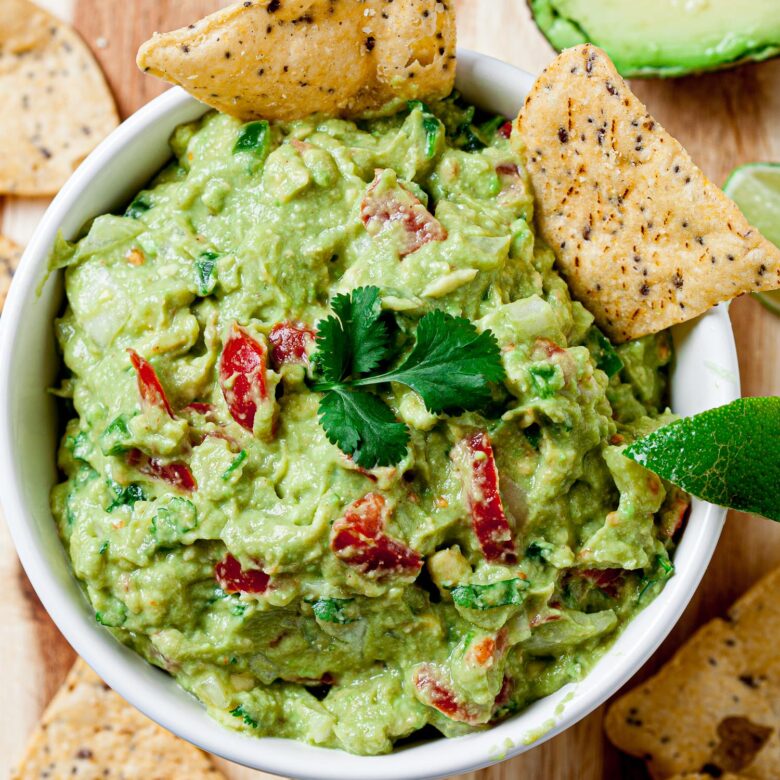 Helpful Tips
Only cut into the avocados when you're ready to make guacamole.
Roughly mash avocado flesh with a fork, leaving little chunks for a homestyle guacamole that's as toothsome as it is tasty.
Fold in the lime juice immediately, as the acids will prevent browning.
Gently fold in all remaining ingredients by hand, to avoid over-mixing.
How to Keep it Fresh
Ok, so nothing is going to keep cut avocados from eventually browning due to oxidation, but here are our tried-and-true tips for keeping guacamole fresh and green for as long as possible:
Use semi-firm avocados to begin with, rather than super soft ones. The flesh will start out greener, without any brown tints. Plus, little chunks of avocados in the texture will stay green for longer than completely smooth guac.
Don't be shy with the fresh lime juice, and do be sure to use fresh limes vs. bottled lime juice. Use every bit of the 2 large limes, as the acid greatly helps keep guacamole from oxidizing too quickly.
Pack it down. As in, actually pack down the guacamole in a clear container by gently tapping the container on the counter several times until you see no air pockets inside. Tip: put the lid on the container before you do this.
Smooth out the top of the guacamole in the container. Add a super thin layer of extra lime juice (or water, or both).
Place plastic wrap flush over the top, and put lid on. Your guacamole should stay green this way for several days. You'll want to repeat the packing down and plastic wrap routine if you have leftovers.
Commonly Asked Questions
Can I use lemon juice instead of lime juice in guacamole?
You can use freshly squeezed lemon juice instead of lime juice. Lemon juice has a milder flavor than lime juice does, so if you prefer the flavor of lemons, feel free to substitute with it.
How do you prevent guacamole from turning brown?
Exposure to oxygen is what causes discoloration of guacamole. The key to keeping guacamole green is keeping oxygen out. Use plenty of lime or lemon juice in the recipe helps inhibit the enzyme that causes browning. Tap down the container of guacamole, to remove tiny air pockets within the container. Add a very thin layer of lime/lemon juice (or water) to the top of guacamole, to act as a barrier. Place plastic wrap flush against the top and cover with a lid. Stored this way in the fridge, freshly made guacamole should last several days without browning.
Does placing the pit in guacamole keep it fresh?
Contrary to popular belief, the answer is no. Having a pit in the middle of a container of guacamole actually causes air pockets, which increases the rate of oxidation.
Can you eat avocados or guacamole that has turned brown?
Technically, it's not harmful to consume oxidized avocados or guacamole. However, the color is a bit off-putting and the flavor may be slightly bitter once it's become oxidized.
Did you make this?
Please give us a rating and comment below. We love hearing from you!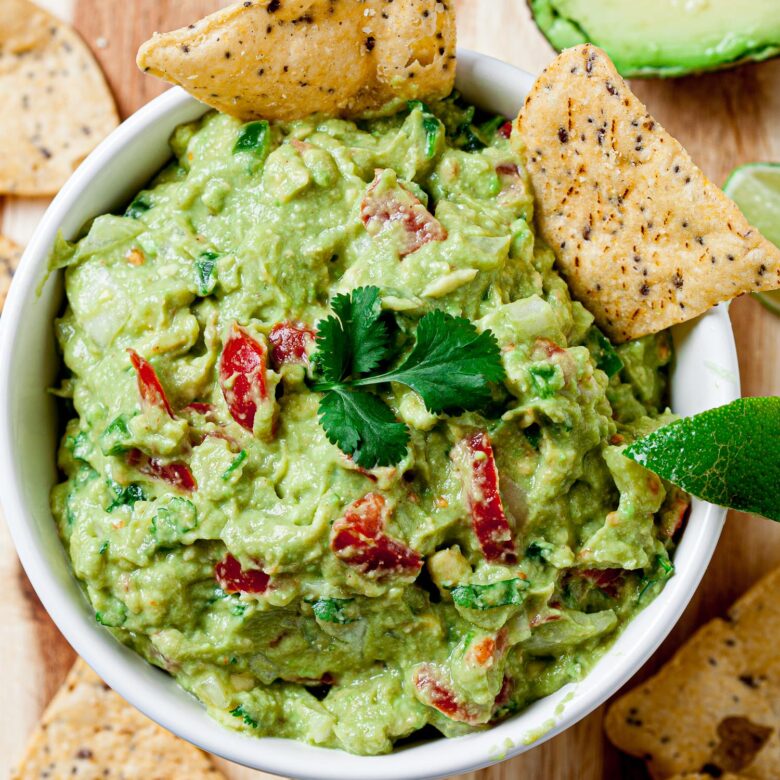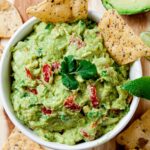 The Best Guacamole
This 5-Minute Real Guacamole is authentic, with bold and zesty flavors that will dazzle your taste buds. It's hard to believe something this healthy and delicious is this easy. (Bonus: whole30 and paleo compliant)
Ingredients
6

large

hass avocados

,

semi-ripe

Juice of 2 large limes

,

fresh

1

small

red onion

,

chopped

½

cup

cherry tomatoes

,

chopped and seeded/drained

¼

cup

cilantro

,

freshly chopped

1

medium

jalapeno pepper

,

seeded and minced

½

tsp

ground cumin

1

tsp

garlic powder

¾

tsp

kosher salt
Instructions
Halve avocados, remove the seeds, and scoop flesh into a large bowl. Roughly mash with a fork, leaving some chunky bits. Immediately fold in lime juice, using a spoon or rubber spatula.

Gently fold in all remaining ingredients by hand, until combined. If serving immediately transfer guacamole to serving bowl and serve with tortilla chips.

If not serving immediately: transfer guacamole to a clear container with lid. Gently tap down the container, to pack down the guacamole and remove as many air pockets as possible. Add a very thin layer of lime/lemon juice (or water) over the guacamole, and place cling wrap flush over the top to form an airtight seal. Cover and chill until ready to serve.
Notes
If desired, you can replace the garlic powder with 2 cloves of freshly minced garlic.
Cumin may be new to you when it comes to guacamole, but it provides a deliciously fragrant flavor; we love it!
You can use grape tomatoes as well. We like the cherry tomatoes for their sweeter, fuller flavor than large store-bought tomatoes.
If you want to use sweeter onions, use white onions instead of red ones.
For a bigger kick, you can include some of the jalapeño seeds.
Guacamole can stay fresh and green for several days if completely airtight; the key is preventing oxygen from coming into contact with any part of the guacamole.
See original article for key tips on buying/storing avocados.
If you enjoyed this recipe, please come back and give it a rating ❤️
Nutrition (per serving)
Serving:
1
g
|
Calories:
218
kcal
|
Carbohydrates:
15
g
|
Protein:
4
g
|
Fat:
18
g
|
Saturated Fat:
3
g
|
Polyunsaturated Fat:
2
g
|
Monounsaturated Fat:
12
g
|
Sodium:
197
mg
|
Potassium:
894
mg
|
Fiber:
9
g
|
Sugar:
2
g
|
Vitamin A:
578
IU
|
Vitamin C:
50
mg
|
Calcium:
95
mg
|
Iron:
3
mg