Caprese Pasta Salad with Basil Pesto
With its bright flavors and color, this Caprese Salad will be a hit at any party. It's super easy to throw together and can be made in advance.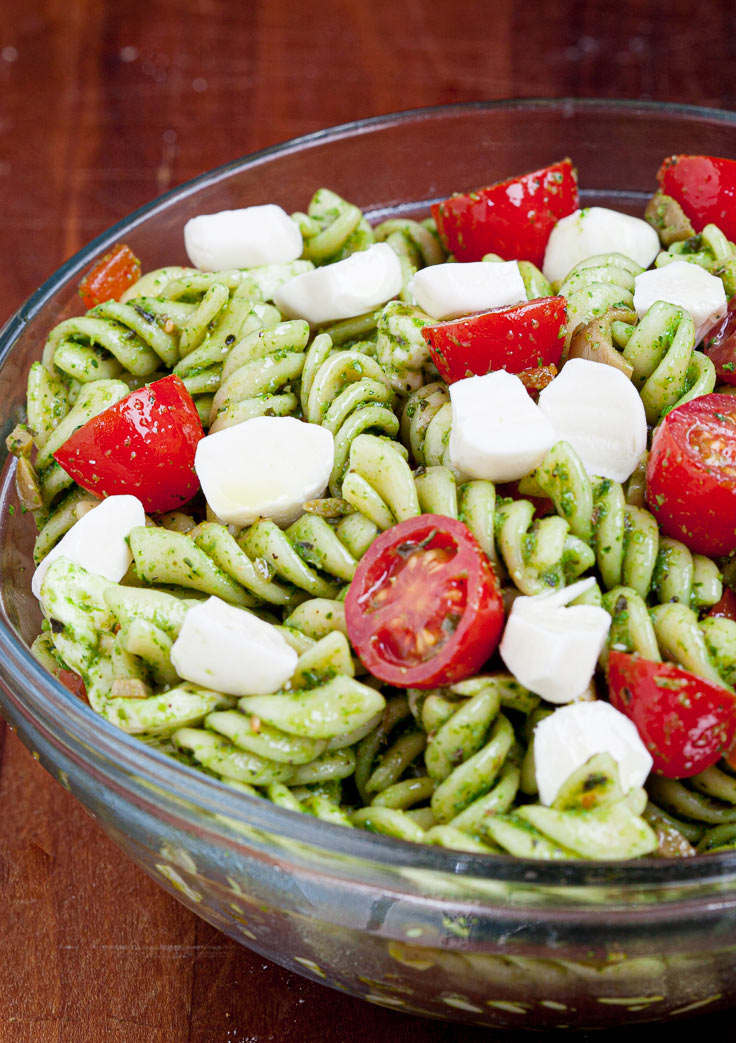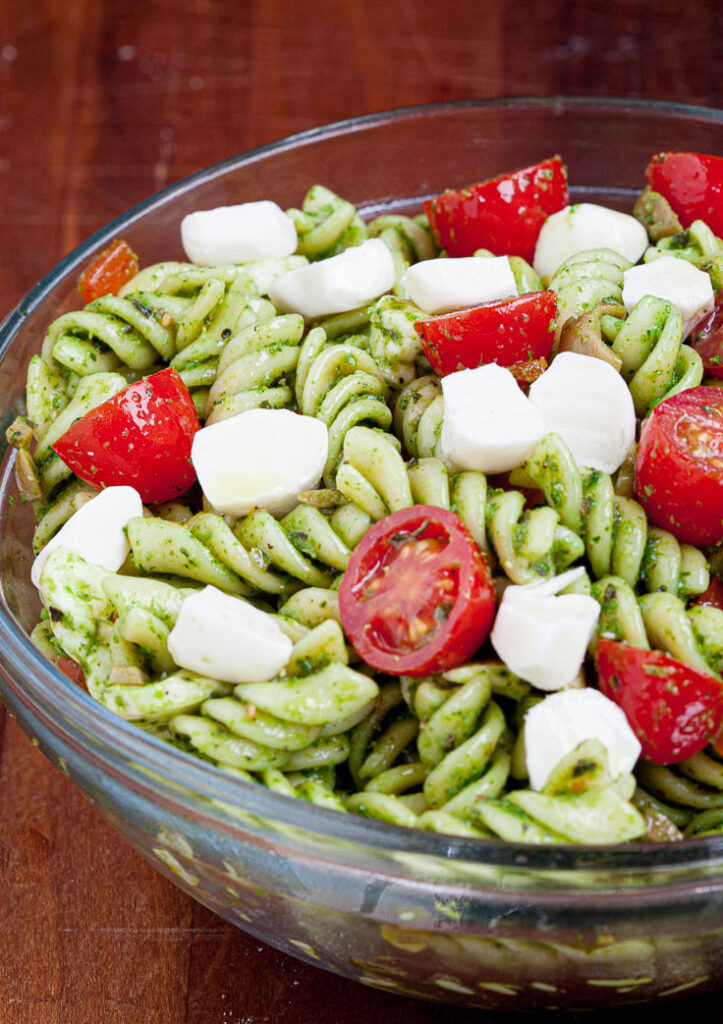 Caprese Pasta Salad is like no other pasta salad
Caprese Pasta Salad with Basil Pesto is decidedly different from other pasta salads. You know: One of these things is not quite like the other.
That's because most forms of pasta salads are mixed with some version of creamy-mayo dressing. Or, they usually contain a bottle of store-bought dressing loaded with perplexing ingredients.
But this Caprese Pasta Salad is a naturally refreshing, healthy, and flavorful shift from the norm. No mayo dressing here.
Packed with fresh herbs, fresh tomatoes, fresh mozzarella, and extra virgin olive oil, we devour this pasta salad up with no guilt whatsoever. The flavors are bright and delicious…perfect for entire summer.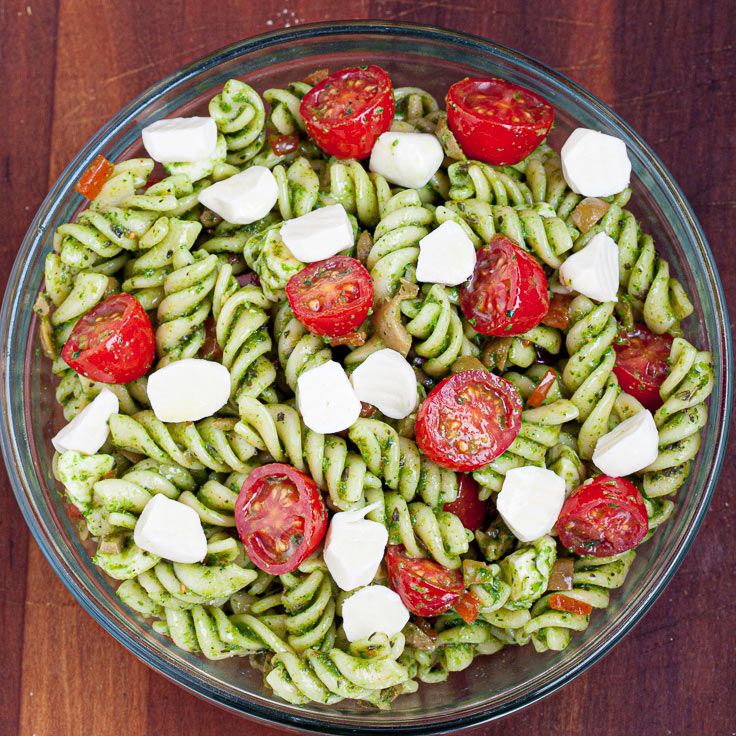 Caprese Pasta Salad can be made in advance
I served this Caprese Pasta Salad at a recent baby shower, along with several varieties of finger sandwiches, including this Chopped Egg and Bacon Sandwich. (By the way, those sandwiches were the first thing to go. Guess nobody can say no to eggs 'n bacon, not even a crowd of gals.)
This Caprese Pasta Salad went over extremely well, with many compliments on its refreshing flavors. The marvelous thing about this Caprese Pasta Salad is how easy it is to make, and how incredibly well it keeps — leftovers keep well in an airtight container, chilled in the fridge for 2-3 days.
If you prep the basil pesto 24 hours ahead of time, the bright green may dull somewhat, but the flavors remain just as bright as he day you made it. Pasta and sauce can be prepared and kept in separate containers until ready to toss and serve. Reserve fresh tomatoes and mozzarella for stirring in right before serving.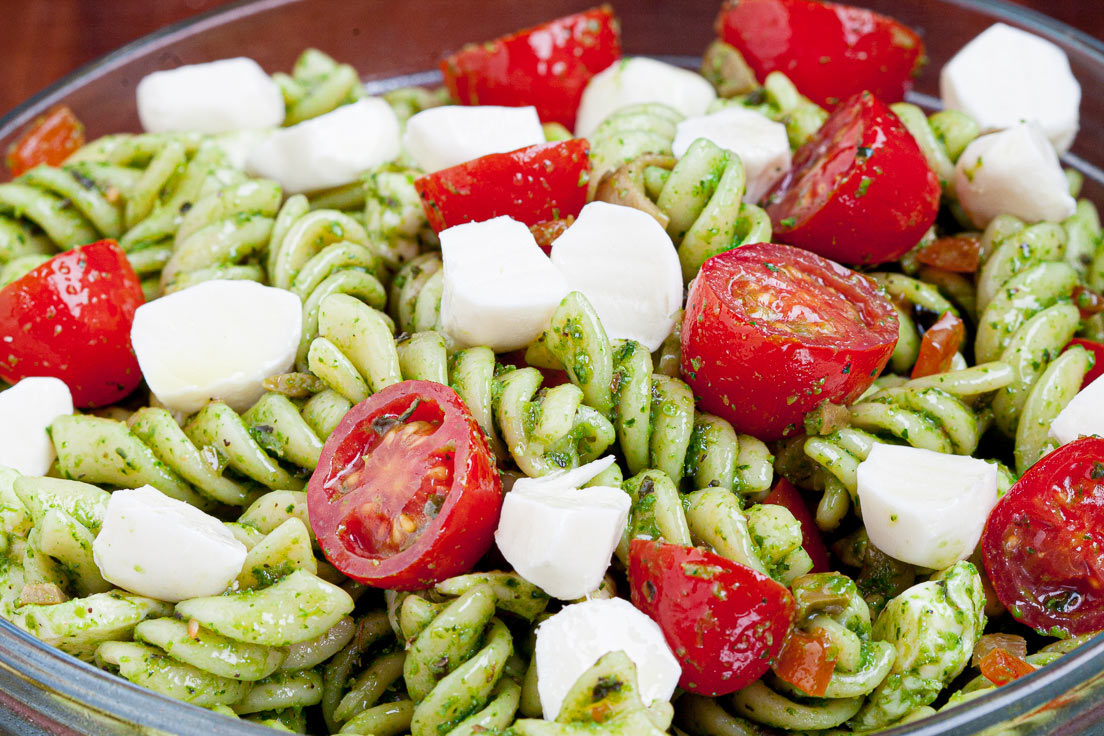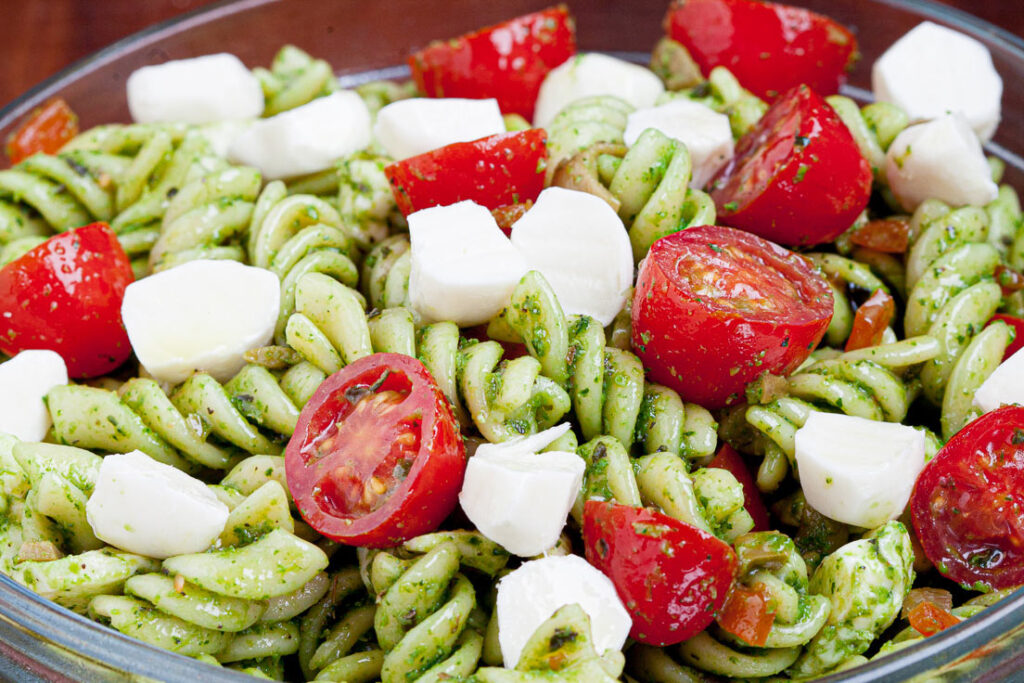 Serve caprese pasta salad with these
---
Common questions and answers
Is Caprese Salad Healthy?
Yes, caprese salad is on the healthier side, as there is no creamy or fatty dressing involved. Our recipe uses only extra virgin olive oil and balsamic vinegar. If you'd like to make it even healthier, decrease the amount of mozzarella.
What do you serve caprese salad with?
We love this caprese pasta salad with grilled meats. See above section for ideas of easy, tasty grilled chicken, salmon, or pork chops.
Can I make caprese salad in advance?
Yes! We recommend keeping the basil pesto in a separate container from the cooked pasta, until ready to toss and serve.
Do leftovers keep well?
One of the best things about this caprese pasta salad is that it keeps extremely well. Leftovers can be kept in an airtight container in fridge for 2-3 days.
Why add parsley to the basil pesto?
Because basil tends to lose its brilliant color in the sauce after 24 hours, parsley helps to retain the color, as well as provide extra flavor.
---
Did you make this?
Please give us a rating and comment below. We love hearing from you!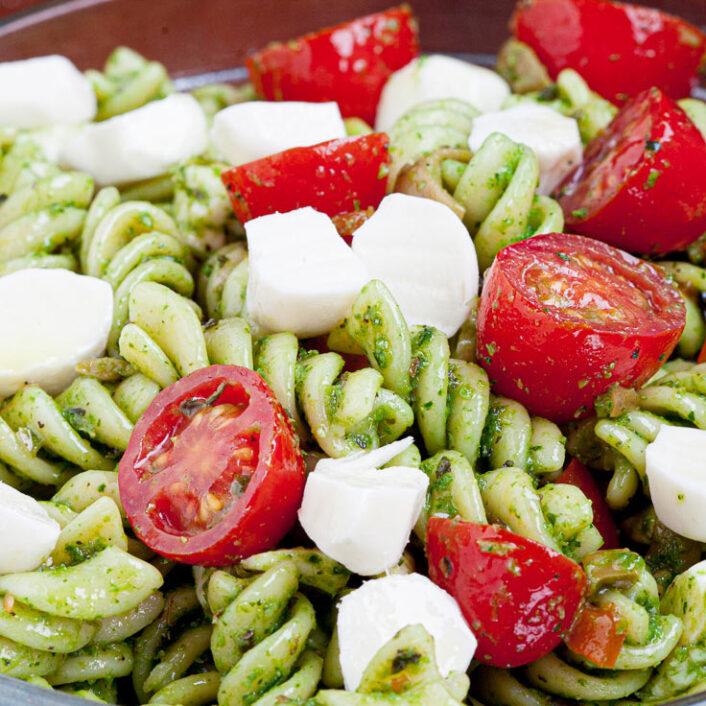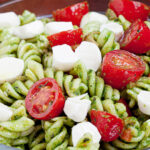 Caprese Pasta Salad
This Caprese Pasta Salad is simple, full of good nutritious ingredients, and tastes even better than it looks! The flavors meld together into a refreshing and pure pasta salad. It keeps very well chilled in fridge.
Ingredients
For the Pasta Salad:
1

lb

dry fusilli or rotini pasta

8

oz

fresh mini mozzarella balls or "pearl" mozzarella balls

,

halved

1

pint

cherry or grape tomatoes

,

seeded and halved

Optional: 1/2 cup chopped green olives with pimientos
Instructions
Basil Pesto: In the bowl of a food processor, combine the basil, parsley, olive oil, vinegar, shallot, garlic, salt, pepper. Pulse until finely chopped. Add more kosher salt and fresh black pepper to taste. Set aside or wrap tightly and chill until ready to use.

Boil Pasta: In a large heavy pot, bring well-salted water to a boil. Cook pasta just until al dente, according to instructions, taking care not to cook past that. Drain fully but do not rinse. Transfer to a large serving bowl and sprinkle with a bit of olive oil, tossing so pasta is thinly coated. Let pasta cool to room temperature.

Toss: When ready to serve, toss in the mozzarella halves, tomato halves, and optional olives, if using them. Continue to lightly toss until well combined. Leftovers may be covered and chilled up to 3 days.
Notes
If making this dish in advance, we suggest keeping pasta and sauce in separate containers until ready to toss and serve. Note that the basil pesto may dull somewhat in color after 24 hours, but flavor remains the same.
For gluten-free version, use your favorite gluten-free rotini style pasta.
If you enjoyed this recipe, please come back and give it a rating ♡
Nutrition (per serving)
Calories:
397
kcal
|
Carbohydrates:
47.6
g
|
Protein:
10.6
g
|
Fat:
18.6
g
|
Saturated Fat:
2.7
g
|
Cholesterol:
1.3
mg
|
Sodium:
69.3
mg
|
Fiber:
2.8
g
|
Sugar:
4.7
g