These Spicy Thai Grilled Shrimp Skewers are addictive and mouthwatering.  Succulent, tender shrimp are quickly grilled to perfection.  The Thai inspired sauce is simply irresistible.  The whole thing comes together within 10 minutes.  All of it will be eaten within seconds.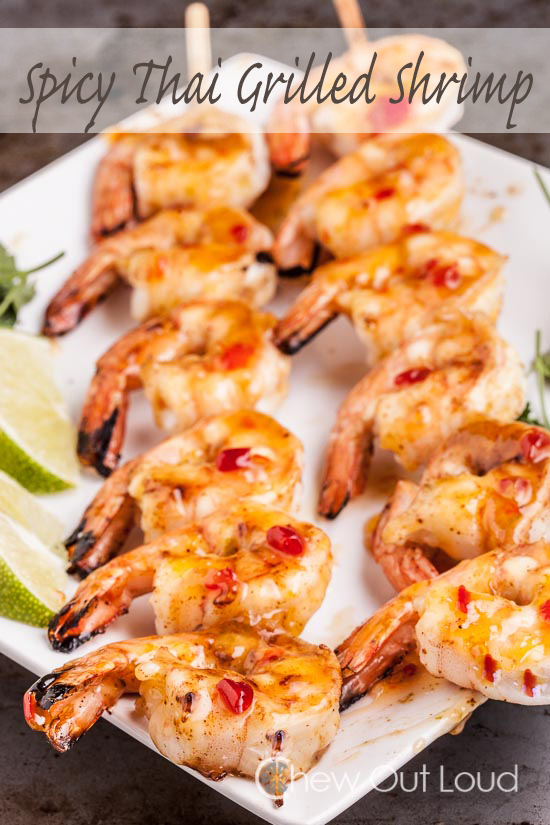 Anyone else out there who simply cannot believe summer is actually half over?  I know, I know.  Shhh.  I won't say it out loud.  I'll try not to even think it.
I'm in total defiance over all the in-your-face big displays of back to school ads and store displays.  No.  Just no.  Give me until August, at the very least.  I just can't think about purple folders and dry erase markers right now.
The best method I know to make summer last as long as possible is just to get out there and enjoy every bit of warmth there is.  Thus, the glaring shorts tan.  No farmer's tan, courtesy of tank tops.  Rather, I have silly shorts and flip flops tans.  Whatever. I'll take it if it means sunshine.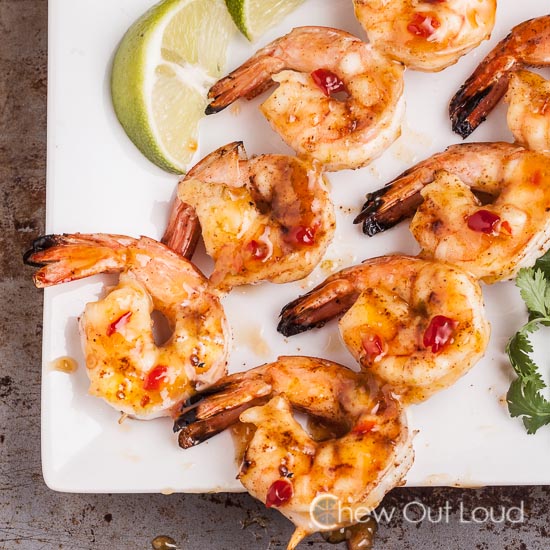 Every morning that it's warm and sunny out, I smile to myself.   #minnesotabrain
Breathe and take it all in.  Even when it's piping hot out, I don't complain.  I mean, I try really really hard not to.  We just get out there and sweat our little hearts out and make the most of the fleeting summer.
Oh, and food.  Yeah, that.  I also do my very best to make the most of warm weather with food.  Translation:  Ice cream that's crazy creamy, Smoothies that soothe, Cocktails that cool, and The Grill.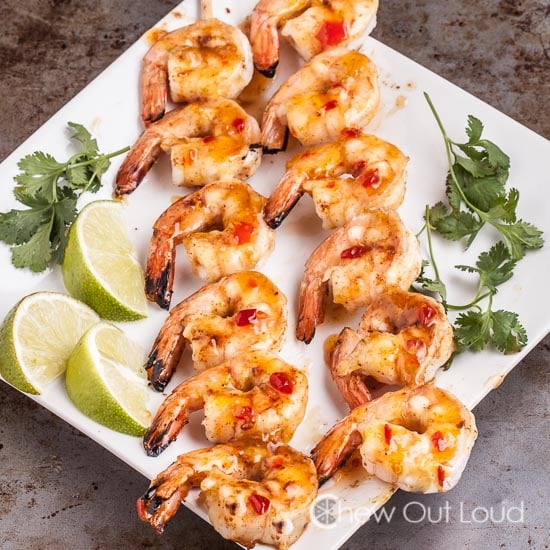 This Spicy Thai Grilled Shrimp is simply irresistible.  The shrimp is absolutely succulent, tender, and grilled to perfection in just 60 seconds.  That's what I adore about shrimp – it cooks in a blink, which makes it an awesome weeknight protein.
These grilled guys boast a nice kick (take down the cayenne if you wish, but it's sooo good the way it's written.)  They're sweet, tangy, and 100% yum.
Even The Littles scarfed down their spicy shrimp in no time, which was quite amusing to watch.
If you've got 10 minutes, you've got yourself some Spicy Thai Grilled Shrimp.  Enjoy!
Print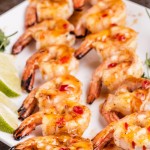 Spicy Thai Grilled Shrimp
Author:

Yield:

4

1

x
---
Description
This Spicy Thai Grilled Shrimp is succulent, tender, and mouthwatering. The sauce is amazing. Be sure shrimp is cold when you put it on the grill, to avoid over cooking. It cooks super fast!
---
Scale
Ingredients
1 1/2

lbs jumbo shrimp, peeled and deveined, kept cold

4

TB salted butter, melted

1/4 tsp

cayenne pepper
kosher salt

1/2 cup

Thai sweet chili sauce (sometimes labeled "for chicken" found in major grocery stores' Asian aisle; a thick orange-red sauce with red pepper flakes in it)

2

TB fresh lime juice

1 tsp

lime zest
---
Instructions
Pat shrimp dry with paper towels and thread shrimp onto four 12-inch skewers (wood skewers must be pre-soaked in water first.) Brush with 1 TB butter and season with cayenne and a pinch of salt on both sides. Keep chilled until grill is ready.
Heat Thai sweet chili sauce in a small saucepan over medium heat until bubbling. Off heat, whisk in remaining butter, lime juice, and lime zest. Cover and keep warm.
Grill shrimp over hot fire, about 30-60 seconds per side. Brush with glaze and serve immediately.
---
Source:  Chew Out Loud, adapted from The Best Simple Recipes Cookbook
Get more out of your grill with this fantastic Teriyaki Grilled Chicken.  It's our favorite way to grill chicken every summer.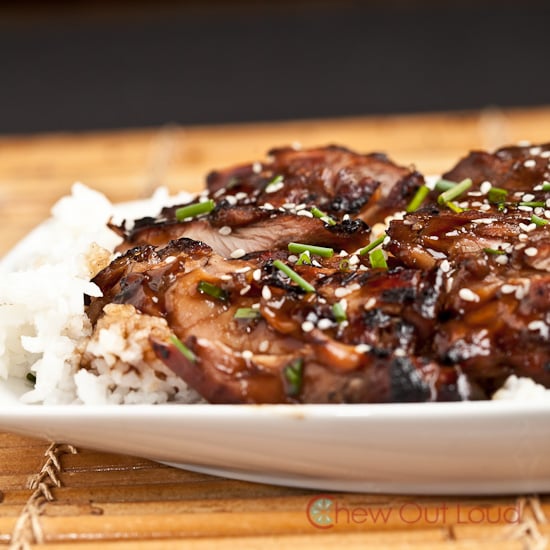 Glass Noodle Salad with Shrimp is an amazing Asian style salad that hits the spot on a hot day.
We love our stir fry dishes around here, and this Shrimp with Snow Peas is both easy and deeelish!