Grilled Peach Caprese – a Sweet Twist!
It goes without saying that tomato & mozzarella caprese has an abundance of adoring fans during the summer months. We've had our share of caprese made with luscious heirloom tomatoes around here. But last week, I just wanted something a little different. If you're like me, you're driven to switch things up often just for the fun of it. I can't say I enjoy drastic changes when it comes to really big things, but when dealing with the likes of fashion or food, I love to change it up once in a while. Hmm, I wonder if that is why I can't seem to wear the same hairstyle longer than a season or two. A year at the most. Back to food. Grilled Peach Caprese – oh, my goodness… you really, seriously have to try this. This is so easy that it begs to be made at least once before summer's end.
Not only is it absolutely gorgeous as an appetizer or salad (or in my case, the meal itself), but it is both healthy and delicious! How can it get better than that?!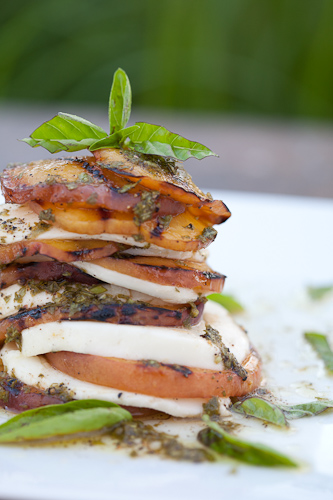 This is reminding me of that lovely Mango Caprese, which was also crazy delicious. Caprese has such diversity, I love it. This grilled peach number is fantastic with the simple basil white vinaigrette. Slice into this refreshingly sweet and savory caprese, while sipping a cool, crisp wine. These are the little pleasures of summer.
The sweetest, juiciest fresh peaches will obviously turn out the best results. Use the best fresh mozzarella you can get, and of course fresh basil. Y-U-M.
I stacked my peach caprese for presentation, but it's just as lovely layered whichever way you want. And it stays just as delicious no matter how you'd like to present it 🙂 Enjoy it while fresh peaches abound!
RECIPE (serves 4)
INGREDIENTS
2 large ripe (but not overly ripe) peaches, sliced with skin on, almost 1/2 in. thick
1 ball fresh mozzarella, sliced
1 bunch fresh basil
For Vinaigrette:
4 T white balsamic vinegar
2 T extra virgin olive oil
1 TB minced fresh basil
1 tsp freshly ground pepper
pinch coarse kosher or sea salt, to taste
DIRECTIONS
Mix together all ingredients for the vinaigrette. Can be made ahead and set aside in fridge.
Heat grill to high. When grill is very hot, set peach slices on top and cook just until grill marks appear. Don't over cook. Set aside to cool off a bit at room temp.
Layer slices of grilled peaches, slices of mozzarella, and fresh basil leaves. Drizzle generously with vinaigrette.
Enjoy!
Wine Pairing Note: Excellent with a crisp (non-0aked) Chardonnay, Viognier, or Riesling.