Peach Caprese Salad
This Peach Caprese Salad is layered with flavors for a refreshing recipe all summer long. It's an amazingly delicious spin on a classic caprese salad. Perfect for an appetizer, side, or main course.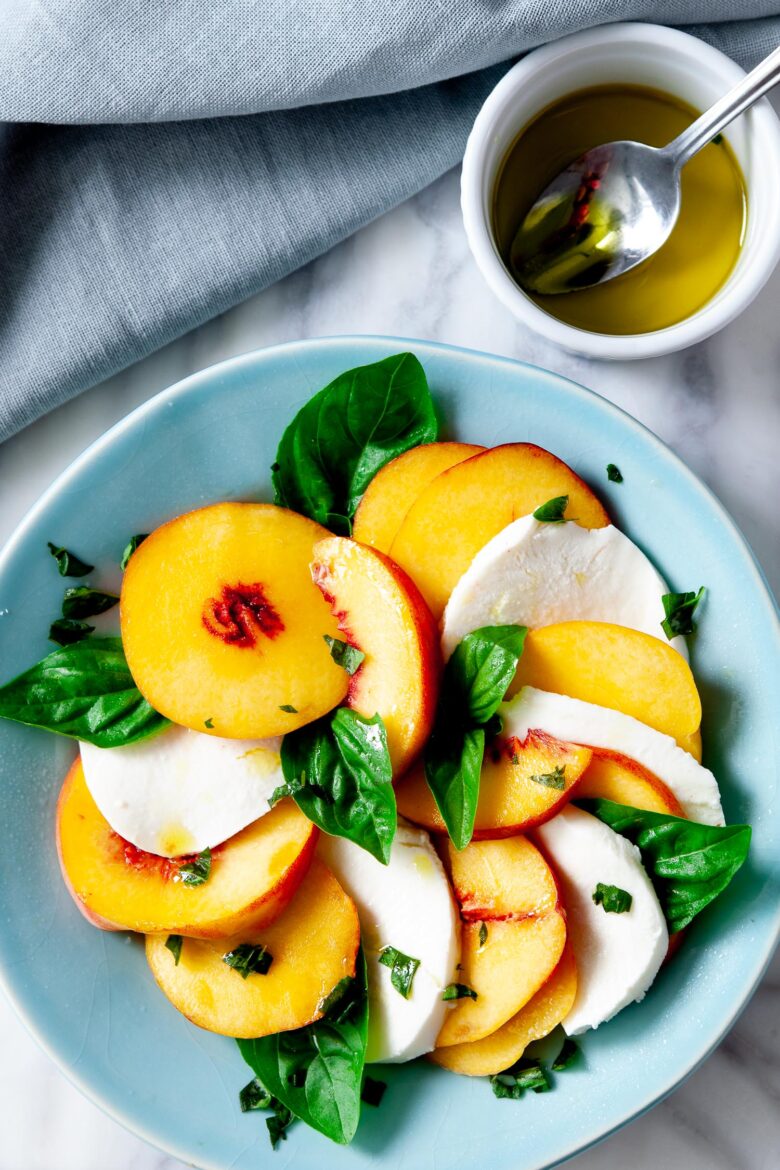 Peach Caprese Salad: What Exactly Is It?
A summery take on classic caprese salads, this recipe features many of the same ingredients but is given a bit of a twist. Instead of featuring plump tomatoes, it boasts the magnificent flavor of fresh peaches. Then, the combination of balsamic and good olive oil is elevated even further in a simple homemade vinaigrette that's quick to make and out-of-this-world delicious.
Light, refreshing, and full of depth, this salad is a warm-weather staple that's guaranteed to be served on repeat. Not only is it easy to make, but it's also versatile and perfect for a light appetizer, tasty side, or refreshing main course.
What You'll Love About Peach Caprese Salad
With no cooking required, all you have to do is slice, layer, and serve.
It can be kept completely vegetarian or bulked up with your favorite high-quality protein.
There are less than 10 healthy ingredients in this budget-friendly dish.
Fresh peaches are used to balance out the salty, savory flavor of Mozzarella.
Great for date nights, it pairs perfectly with white wines such as Chardonnay, Viognier, or Riesling.
Fresh produce, creamy Mozzarella, and homemade dressing…summer recipes don't get better than this.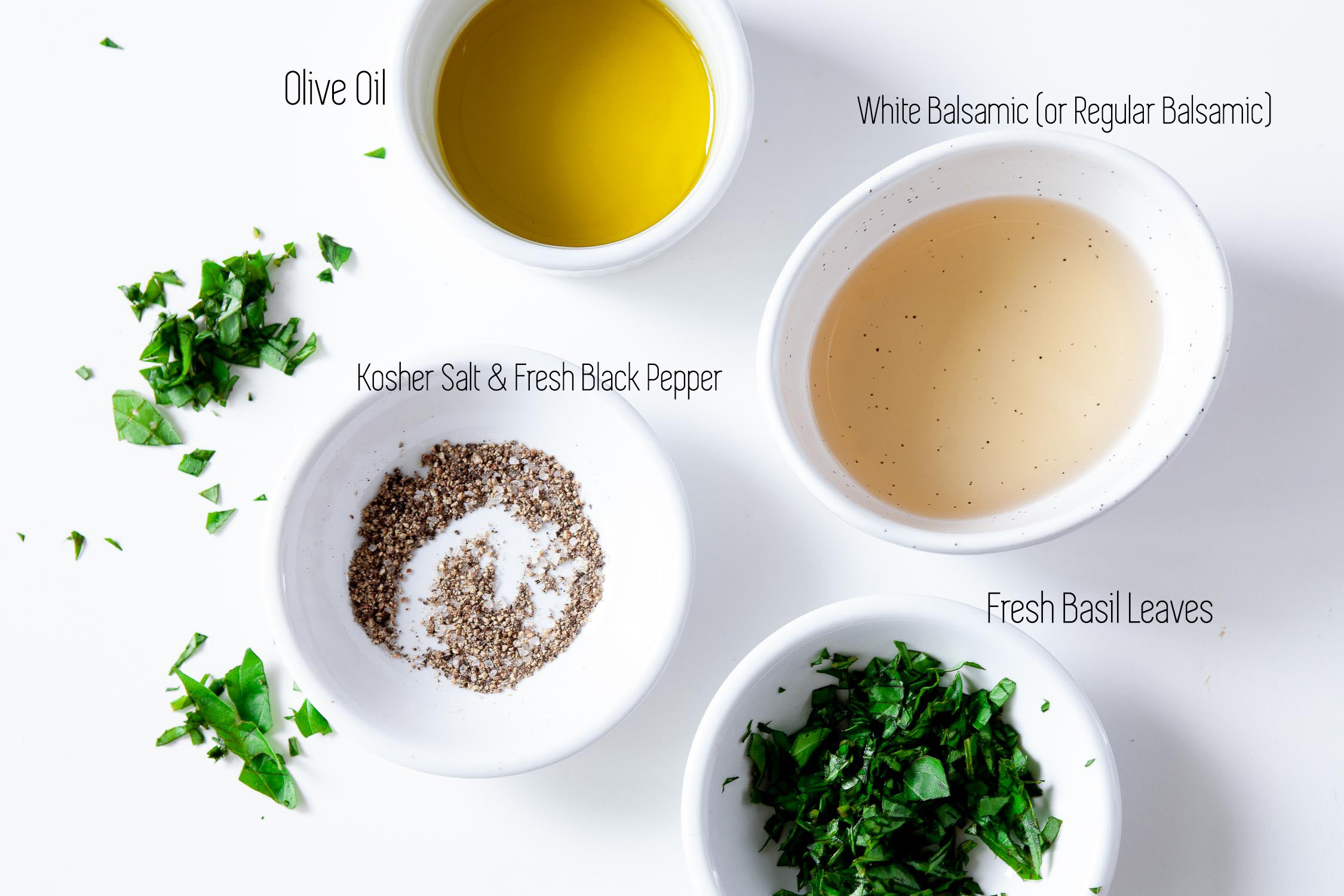 Ingredients for Peach Caprese Salad
Featuring simple and easy-to-find items, the ingredient list is short and sweet but packs tons of flavor for a healthy recipe you won't be able to resist.
Succulent fresh peaches form the base of this dish. Feel free to experiment with different kinds; try yellow peaches, white peaches, or even nectarines.
A caprese salad essential, fresh Mozzarella is sliced and layered between the peaches for a rich taste and creamy texture that just can't be beat.
Simple yet understated, basil provides an herbaceous flavor that takes this peach caprese salad to the next level. For the absolute best results, make sure it's as fresh as possible. Or, experiment with substitutes like oregano or mint for a bit of a unique take.
Keeping to the theme of renovating classic recipes, white balsamic is used instead of regular balsamic and paired with extra virgin olive oil. It truly doesn't get better than this, unless you elevate the two with a bit of freshly ground black, using fresh peppercorns (we love our pepper mill) and sea salt…and we do!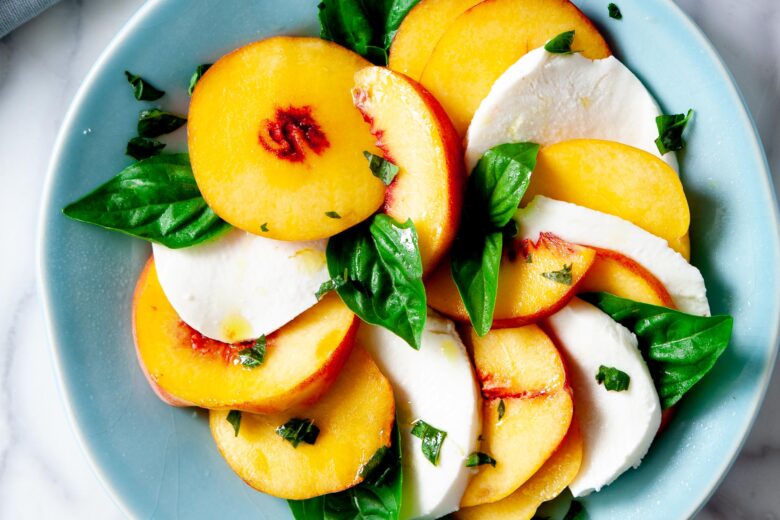 Peach Caprese Salad
Commonly Asked Questions
Can I make this recipe in advance?
This recipe is best served right away but can be kept refrigerated for a few hours. If you make it ahead of time, we recommend storing the dressing separately and drizzling it on top just before serving to prevent the ingredients from becoming soggy.
What's the difference between balsamic vinegar and white balsamic vinegar?
Both regular or "dark" balsamic and white balsamic vinegar are made out of the juice of grapes that have been extracted, boiled to a thick syrup, and aged in barrels. The primary difference between the two is in how long they are aged. For example, regular balsamic is aged for a minimum of twelve years in barrels that previously held batches of balsamic. Meanwhile, white balsamic is aged no longer than twelve years in brand new barrels. As a result, white balsamic has a much sweeter taste.

---
More to Cook and Eat
The Best, Crispiest Peach Crisp – we found the secret to the crispiest, crunchiest, tastiest peach crisp ever, and we can't wait to share it with you! One bite and your guests will be begging for more.
Peach 'n Blueberry Crumb Bars – if you love a make-ahead dessert, this is just the treat for you. Bursting with fruit juices and warm spices, it's decadent to taste yet so easy to make.
---
---
Did you make this?
Please give us a rating and comment below. We love hearing from you!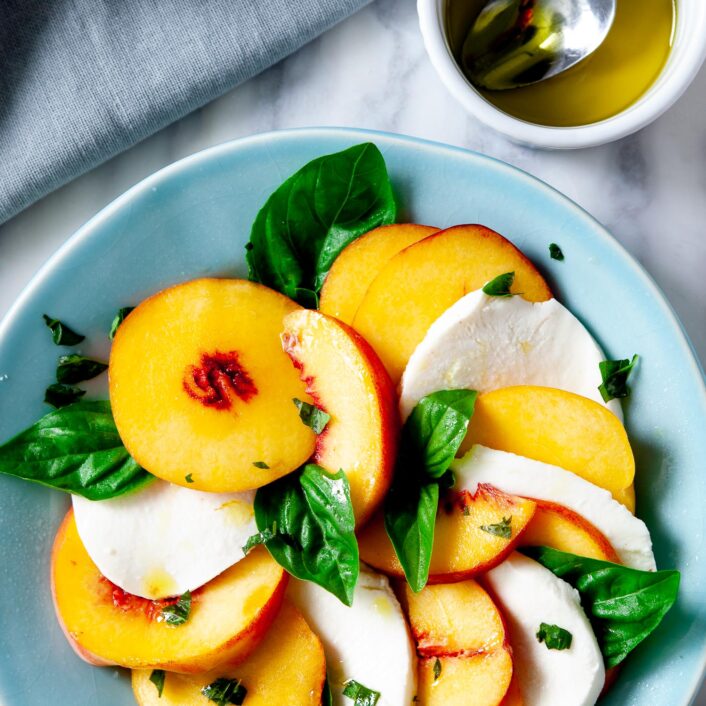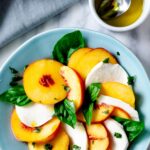 Peach Caprese Salad
This Peach Caprese Salad is layered with flavors for a refreshing recipe all summer long. It's an amazingly delicious spin on a classic caprese salad. Perfect for an appetizer, side, or main course.
Ingredients
For Vinaigrette:
1

TB

minced fresh basil

Pinch

coarse kosher or sea salt,

to taste
For Salad:
2

large ripe

, but not overly ripe peaches, sliced with skin on, almost 1/2 in. thick

1

ball fresh mozzarella,

sliced

1

bunch fresh basil
Instructions
Mix: Combine all the ingredients for the vinaigrette, and set aside in refrigerator.

Layer: Arrange slices of peaches, mozzarella, and fresh basil leaves on top of each other.

Drizzle and Serve: Drizzle the vinaigrette on top, and enjoy!
Notes
Grilled Peach Option: Heat grill to high. Once hot, set peach slices on top, and cook just until grill marks appear. Don't overcook.
Wine Pairing Note: Excellent with a crisp (non-oaked) Chardonnay, Viognier, or Riesling.
*If you enjoyed this dish, please come back and give it a rating 🙂
Nutrition (per serving)
Calories:
136
kcal
|
Carbohydrates:
9.9
g
|
Protein:
9.8
g
|
Fat:
7.2
g
|
Saturated Fat:
1
g
|
Cholesterol:
5.1
mg
|
Sodium:
210.2
mg
|
Fiber:
2
g
|
Sugar:
7.9
g