Balsamic Glaze Recipe
Sweet, tangy, and bold, this Balsamic Glaze Recipe will take your favorite meals, appetizers, and desserts to the next level. With just one simple ingredient and about 10 minutes, you can make the perfect garnish right at home!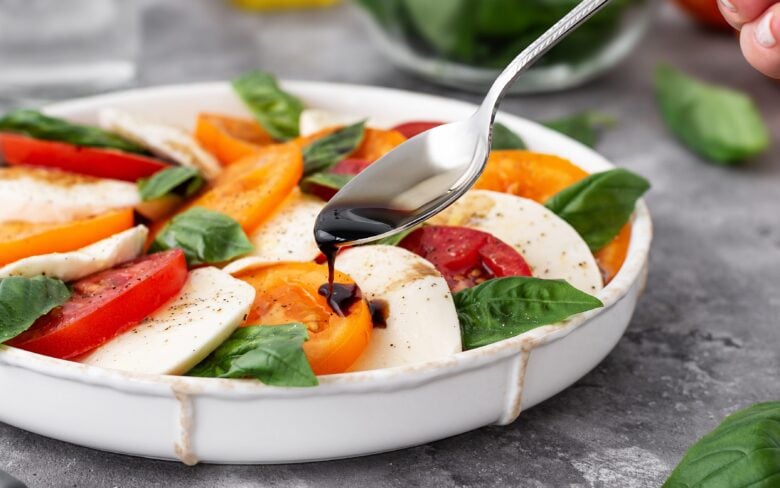 Balsamic Glaze Recipe
Balsamic glaze is a sweet and tangy garnish that pairs well with a variety of dishes. It's made by boiling down balsamic vinegar until it reaches a maple syrup consistency. We think this smooth glaze makes any dish immediately fancier. Veggies, crostini, pizza, you name it! Balsamic glaze will elevate it to chef's kiss status.
Condiments and sauces are a great way to easily add a pop of flavor to any meal. We like homemade condiments specifically, because they don't have any of the unnecessary added sugars and preservatives found in store bought varieties. This balsamic glaze is about as easy as it gets. Just grab a good quality Balsamic vinegar and get started!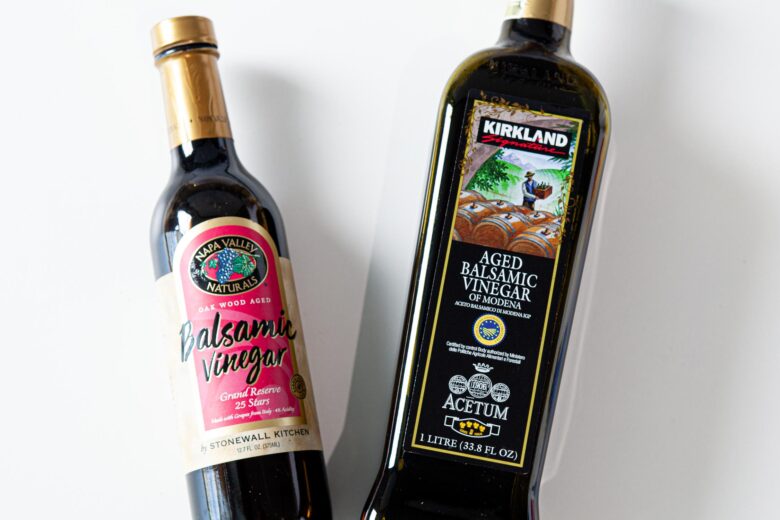 Types Of Balsamic Vinegar
There are three main categories of Balsamic vinegar based on how and where it's produced. Depending on which one you use, you may or may not want to add honey to the glaze for sweetness.
Traditional Balsamic Vinegar – This is the highest quality Balsamic you can get, and it often comes with a higher price. The vinegar sits for years to ensure a super rich, glossy flavor and texture. Bottles of this variety are produced in either Modena or Reggio Emilia, Italy. If you choose traditional Balsamic, you probably won't need any honey as the vinegar itself will be sweet enough.
Condiment-Grade Balsamic Vinegar – This variety of Balsamic vinegar is high quality and has a robust flavor. However, it doesn't quite check off all the boxes that the traditional variety does. Usually, it doesn't come from Modena or Reggio Emilia, Italy or it's aged for less time. Condiment-Grade balsamic is, however, a more affordable option and offers great taste.
Commercial-Grade Balsamic Vinegar – The majority of vinegars lining the shelves in grocery stores are Commercial-Grade Balsamic vinegars. This variety is made from wine vinegar with some colorings and thickeners added to give it a richer texture and flavor. It is barely aged and much less expensive than the other varieties.
Balsamic Glaze Variations
We love experimenting with different kinds of balsamic vinegars and sweeteners to see which ones we like best. Try some of these ideas for subtle flavor changes.
Flavored Balsamic Vinegar – There are tons of Balsamic vinegar flavors. Vinegars infused with fig, dark chocolate, black currant, raspberry, and blackberry are just a few of the many varieties. We love trying these with our glazes.
Sweeteners – If you're using a Commercial-Grade vinegar and need to add a sweetener, try playing around with what kind you use. We recommend honey for this recipe because of it's flowery, succulent taste that pairs well with the vinegar. However, feel free to replace the honey with brown sugar, maple syrup, or agave nectar for a slightly different taste.
The Grade – If you've made balsamic glaze before and didn't like it, consider looking at the quality. A Commercial-Grade vinegar will make a much different glaze than a Condiment or Traditional-Grade vinegar. So, try upping the quality of your vinegar for a better result.
Key Tips For Success
Balsamic glaze is so easy to make, but there are a few tips to take note of to ensure the perfect outcome.
Watch the vinegar. Make sure to keep a close eye on the vinegar as it's simmering to prevent it from burning. You'll want to keep it at a low boil and stir it frequently.
Taste. We like to give the vinegar a taste after it's done boiling to ensure it has the flavor we're looking for. If not, we'll adjust the honey as needed.
Take it off the heat. The Balsamic glaze will thicken a lot when it cools down. So, make sure to take your saucepan off the heat immediately once the vinegar is done so it doesn't get too hard.
Wait until chilled. As mentioned earlier, the balsamic glaze will not thicken until it's chilled. So, make sure to let it sit in the fridge for a while before putting it to use for the smoothest glaze.
Splurge on the Vinegar. For best results, we recommend a higher quality balsamic vinegar. Traditional-Grade or Condiment-Grade vinegar will make a smoother, sweeter glaze than Commercial-Grade.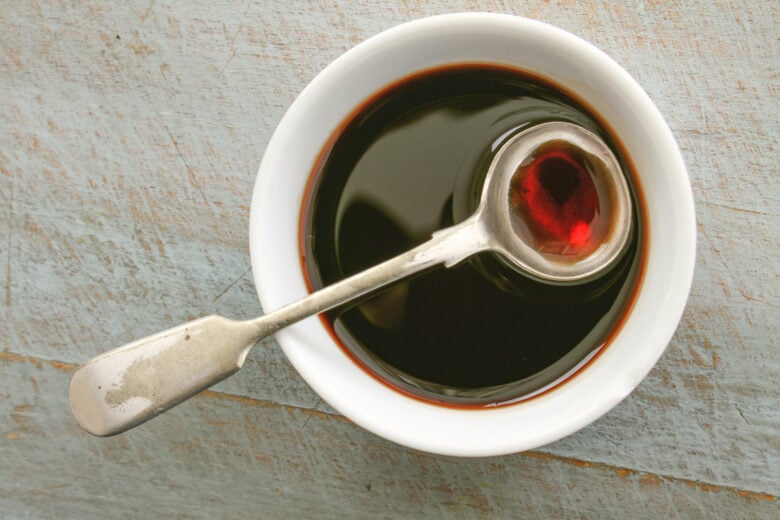 Commonly Asked Questions
How long does balsamic glaze keep?
Balsamic glaze will keep in the fridge for 2 to 3 weeks. Note that it will become thicker in the fridge the longer it sits, so just let it sit out a little while before using it.
Why is my balsamic glaze not thickening?
The glaze won't really thicken while it's on the stove. You'll know it's ready to take off the heat when your vinegar has reduced to half. Once it cools is when it will really start to get thicker. If your glaze has chilled and still isn't thick enough, you may not have reduced it enough.
Why is my balsamic glaze too thick?
A glaze that turns out too thick has been reduced too much. Make sure to take your saucepan off the heat immediately to prevent it from reducing too much after it's done boiling. You can fix overly thick glaze by adding a hint of water and and heating it on the stove again.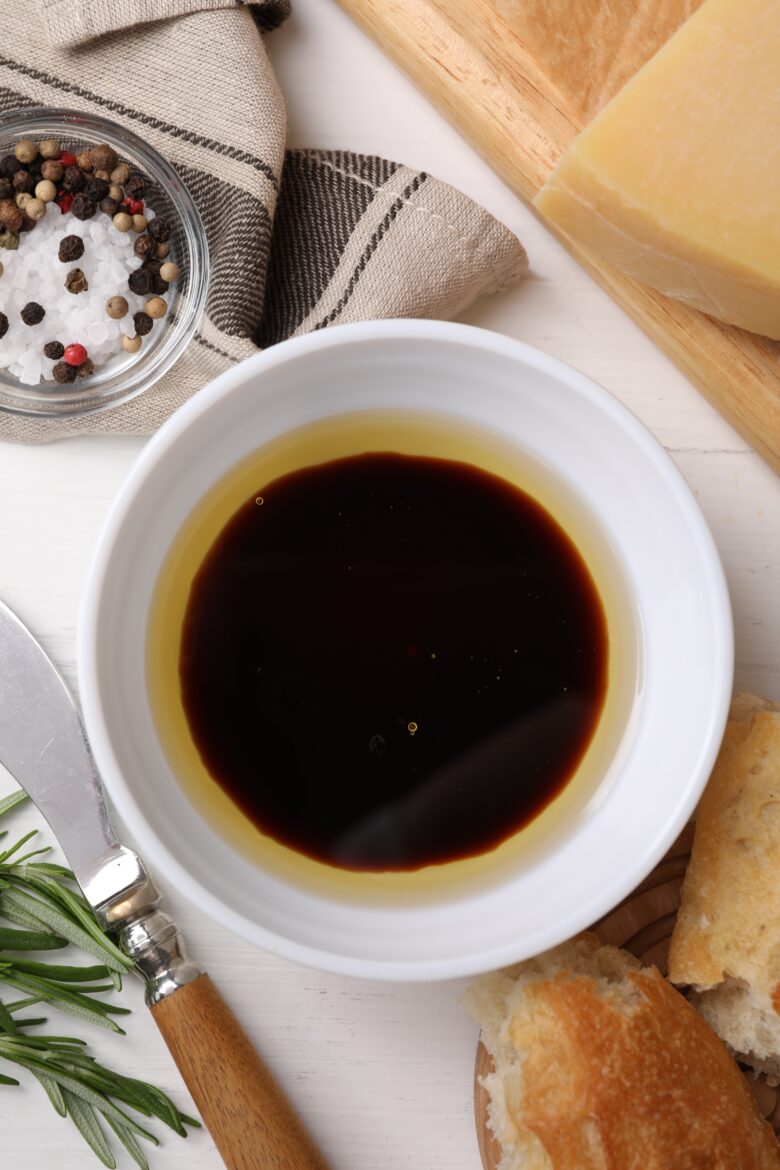 What To Serve With Balsamic Glaze
Did you make this?
Please give us a rating and comment below. We love hearing from you!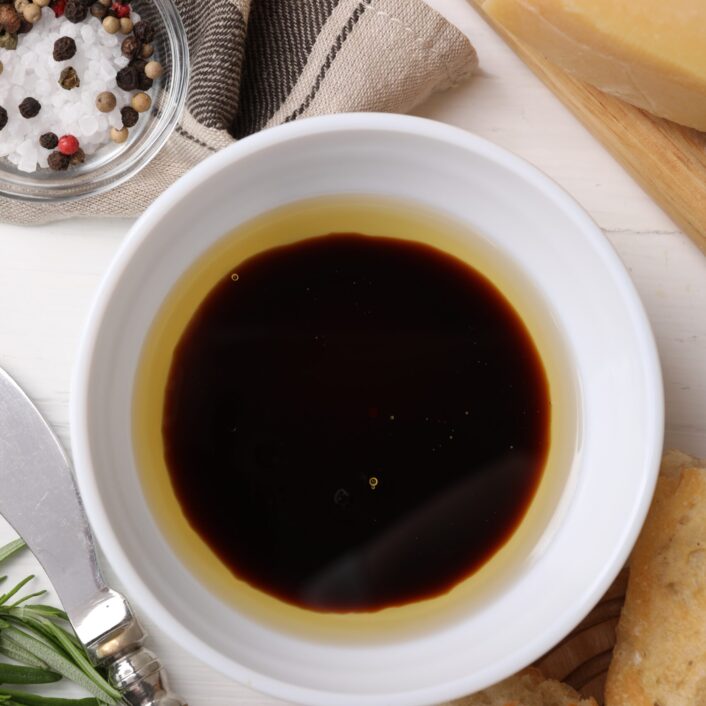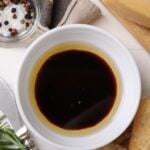 Balsamic Glaze
Sweet, tangy, and bold, this balsamic glaze recipe is the perfect garnish to take your favorite meals, appetizers, and desserts to the next level. With only one simple ingredient and just about 10 minutes, you can have the perfect condiment made right at home.
Instructions
In a saucepan, add balsamic vinegar and bring to a low boil, over medium-low heat. Continue to cook at a low boil and stir occasionally, until liquid has reduced to half its original volume, about 10-12 minutes. It will not be very thick, as it thickens upon cooling.

Taste and add honey, if needed. Use rubber spatula to fully scrape reduced balsamic vinegar into a small container with lid. Let cool completely, cover, and chill until ready to use.
Notes
A high quality balsamic vinegar will have a richer flavor and thicker texture to begin with, which means your glaze will be much better balanced.
Many high quality balsamic vinegars will reduce to a wonderfully sweet glaze, and will not need honey added. Whether you use honey will depend on the style of balsamic vinegar you started with.
You should end up with about ½ cup of balsamic glaze when it's finished reducing.
Balsamic glaze will become nicely thickened upon cooling.
Serve balsamic glaze with caprese or roasted vegetables or crostini.
If you enjoyed this recipe, please come back and give it a rating ❤️
Nutrition (per serving)
Calories:
28
kcal
|
Carbohydrates:
5
g
|
Protein:
0.2
g
|
Sodium:
7
mg
|
Potassium:
36
mg
|
Sugar:
5
g
|
Calcium:
9
mg
|
Iron:
0.2
mg