Strawberry Salad With Asparagus
By Amy Dong
Published Apr. 24, 2023
Updated Apr. 26, 2023
This Strawberry Salad with Asparagus will brighten your day and leave your taste buds dancing. It's hearty, healthy, and completely delicious.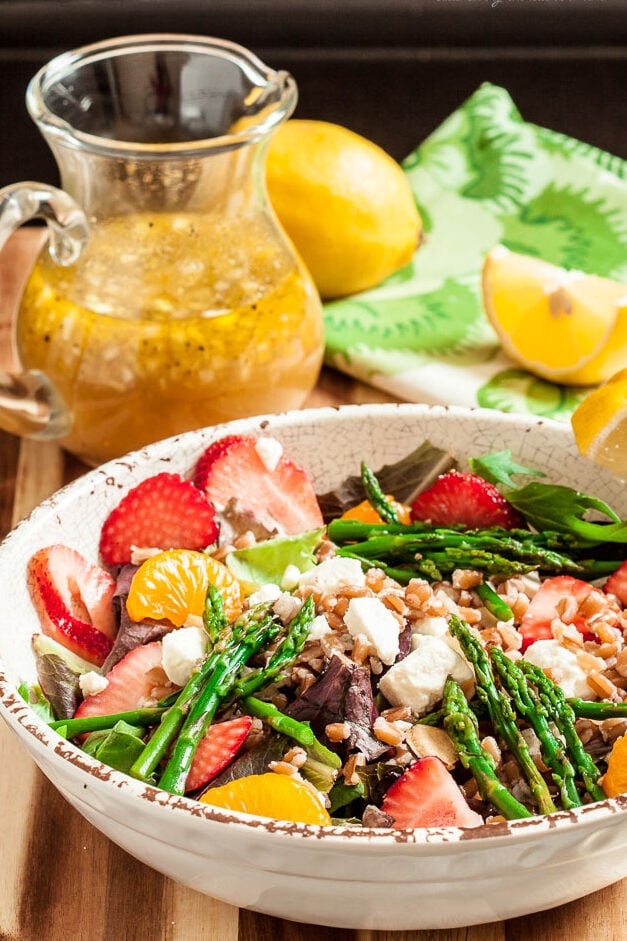 The Best Spring Salad
Spring is in the air which means pulling out all of the brightest salad recipes. Strawberry Salad with Asparagus is loaded with springtime flavors: strawberries, mandarin oranges, lemon, and tender asparagus to name just a few fresh ingredients that this salad features. Top it off with crisp greens and sweet almonds, this salad melds together into a super sunny flavor burst.
Bonus: the lemon honey vinaigrette is one of our absolute springtime favorites. It's bright, zesty, sweet, and tangy all at once – perfect for pouring all over your favorite greens this time of year. The vinaigrette is also a perfect make-ahead option that keeps well in the fridge for all your future salad uses.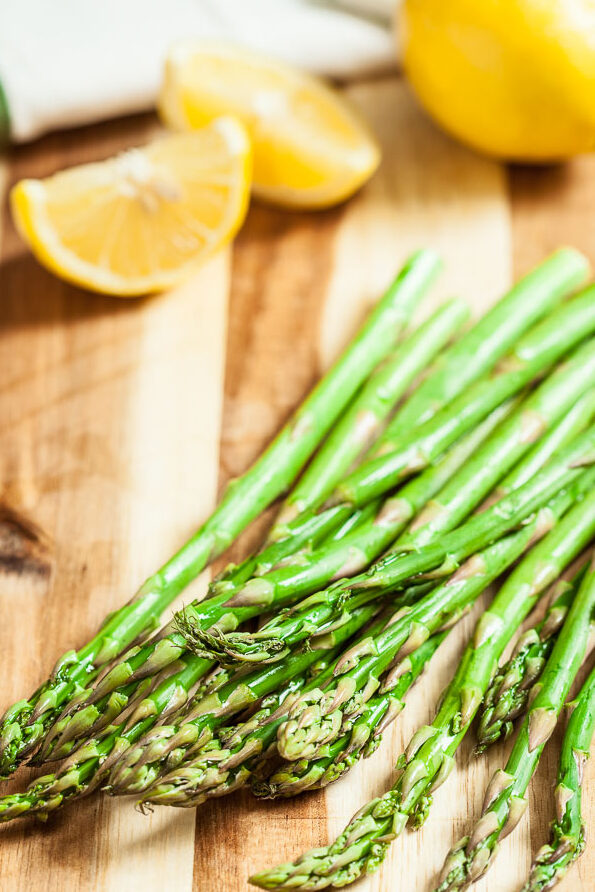 Why You'll Love This Strawberry Salad with Asparagus
This salad is FRESH. The flavors are light and playful which makes it the perfect option for a lunchtime delight or dinner side.
While this recipe is seriously delicious the way it is, you can mix and match your favorite ingredients. Consider adding additional nuts or extra fruit. This salad can be personalized to fit your flavor preferences.
This salad is a powerhouse recipe when it comes to hitting multiple food groups in one meal. Farro provides a dose of whole-grain wheat and fruits and veggies add many other important nutrients and vitamins all on one plate.
Strawberry salad with asparagus has a great texture. Crispy greens, melt-in-your-mouth strawberries, crunchy almonds, tender farro…this recipe has it all!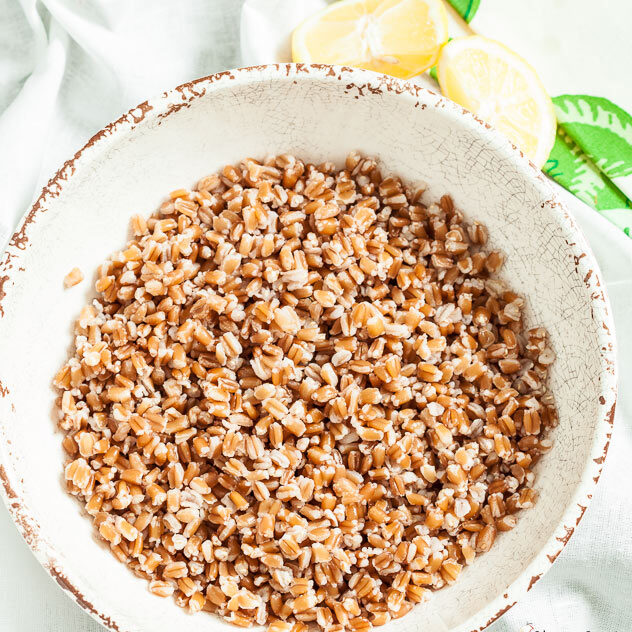 Key Ingredients
Apple cider vinegar – This brightens the flavor of the vinaigrette.
Honey – Honey balances out the bold flavors in the vinaigrette with a sweet element.
Extra virgin olive oil – A classic ingredient for a delicious homemade salad dressing.
Lemon juice & zest – Did someone say spring? These flavors add zest – literally – to the salad along with an acidic zing.
Salt & pepper – Flavor to your taste preference. Always use kosher salt and freshly ground black pepper.
Dijon mustard – Dijon mustard acts as an emulsifier to help combine the other ingredients in the vinaigrette into a cohesive dressing.
Garlic clove & Shallot– Two additional classic flavor enhancers that make a world of difference in the dressing.
Farro – Toothsome, chewy, and deliciously hearty. It's a superhero power food that will help you stay full longer after enjoying this tantalizing meal.
Asparagus – The fresher, the better! Look for vibrant green color, thin stems, and firm tips.
Baby spring greens – This mix can often be found in stores and contains baby lettuce, spinach, and often green or red romaine lettuce. You can also switch up your greens here.
Strawberries – Irresistibly juicy, sliced strawberries also add a sweet element to the mix. Fresh berries only.
Mandarin oranges – Be sure to drain your mandarin oranges before tossing them with the salad.
Feta cheese – A nice dose of salty tang for the salad and one of our favorite salad toppings.
Almonds – A crispy topping and the perfect nutty addition. Feel free to sub with sunflower seeds, if you're avoiding nuts.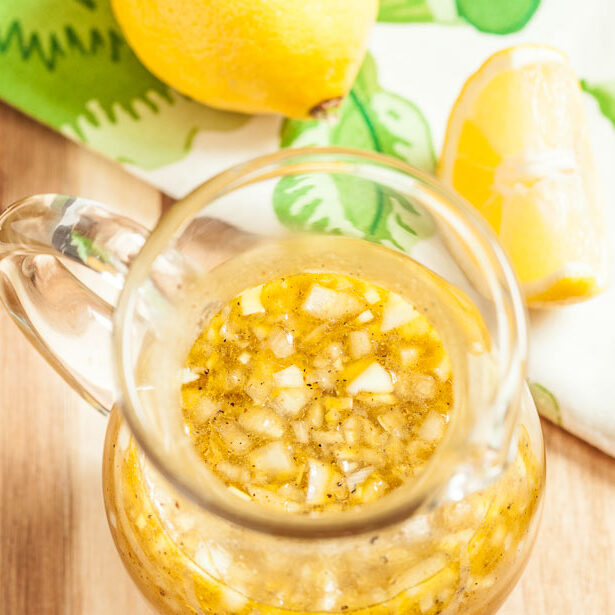 Tips for Perfect Strawberry Salad
Here are a few tips and tricks to ensure your Strawberry Salad with Asparagus is optimally delicious and nutritious.
Get thin asparagus over thick ones. Thin asparagus stalks are more tender than thick stalks which means an even better texture for the salad.
As with any time you eat fresh fruits and veggies, prewash the produce to remove any residual dirt before enjoying. Towel dry them before adding to the recipe.
Trim the stems of the asparagus. The woody ends of asparagus are much tougher and more fibrous than the rest of the stalk. Line up the woody ends and cut off roughly two inches to remove the tough portion.
Soak farro overnight. Farro naturally contains phytic acid which binds to nutrients and blocks your body from absorbing them. Soaking farro makes it more nutritious and digestible. Plus, it reduces the overall cooking time.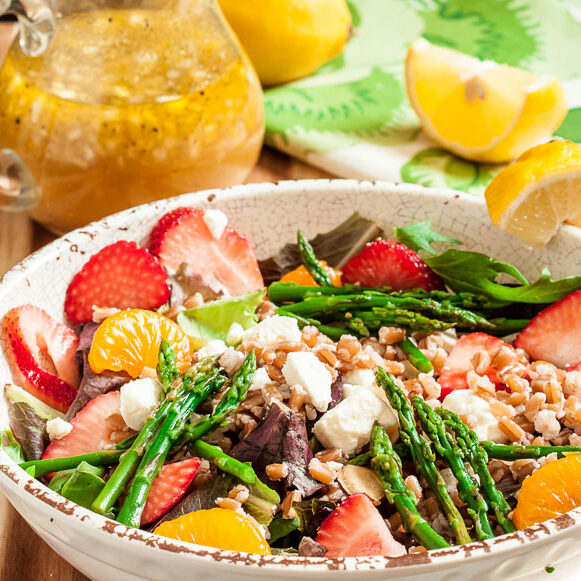 Commonly Asked Questions
What is farro?
Farro is a wheat that originates in the Middle East and Mediterranean. It has a nutty flavor with just a hint of cinnamon. Farro is soaked and then cooked in water; it has a chewy but tender texture. It's commonly used in salads and soups.
How long does farro need to soak?
Farro needs to soak for several hours but can soak overnight if you have the time. To soak, place the farro in a bowl of water overnight in the refrigerator.
What other ingredients would go well with Strawberry Salad and Asparagus?
This recipe can be adjusted to fit your favorite ingredients. Consider adding in extra nuts or additional veggies such as peppers, snap peas, or kale. Toss in additional fruits such as blueberries, apples, or dried cranberries. Strawberry Salad already has plenty of scrumptious flavors, but if you want to add to the deliciousness, there are plenty of other produce and ingredient options to add.
How long will the lemon honey vinaigrette last?
This may be surprising, but homemade vinaigrette stays good in the fridge for 1-2 weeks at a time. We think homemade salad dressings are far better than anything you can get in the store, so if you make a big batch at once, you'll be able to enjoy it for weeks to come.
More to Cook and Eat
Asian Rice Salad – An exciting blend of colors, flavors, and textures. Grains and greens combine together to create a mouth-watering salad with the perfect sesame ginger dressing.
Best Creamy Caesar Salad – This recipe is a take on a classic except our homemade Caesar dressing will blow any store-bought option out of the park. Creamy, savory, and the perfect overall topping for a Caesar salad.
Did you make this?
Please give us a rating and comment below. We love hearing from you!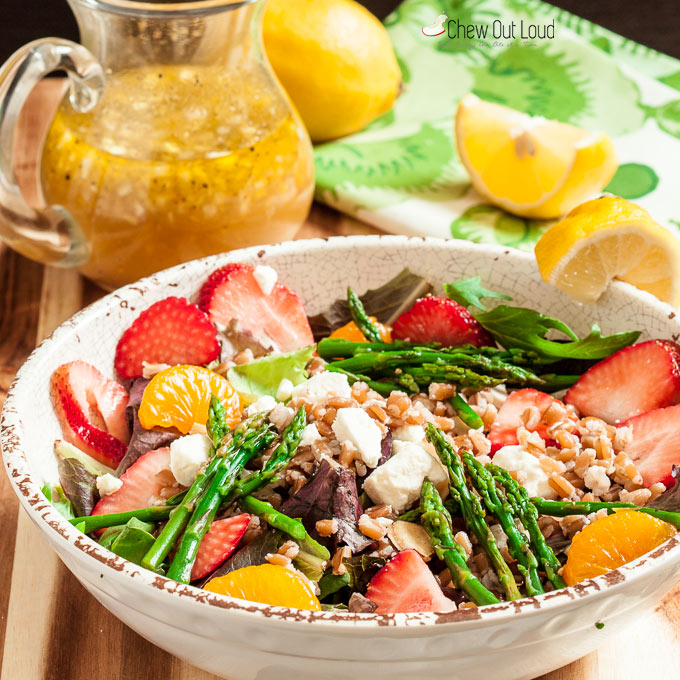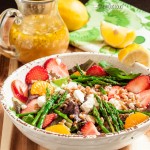 Strawberry Salad with Asparagus
This Strawberry Asparagus Salad will brighten your day and leave your taste buds dancing. It's hearty, healthy, and completely delicious.
Ingredients
For the Dressing:
¼

cup

apple cider vinegar

5

TB

honey

1

TB

freshly squeezed lemon juice

zest of 1 small lemon

¼

tsp

kosher salt

2

tsp

Dijon mustard

,

coarse ground with visible seeds

1

large garlic clove

,

minced

1

shallot

,

minced
For the Salad:
½

cup

Farro,

presoaked in water overnight

20

thin spears

asparagus

,

fresh, stems trimmed

1

cup

baby spring greens

16

oz

strawberries

,

fresh, sliced

11

oz

mandarin oranges,

drained

½

cup

feta cheese

,

crumbled

½

cup

almonds

,

roasted, slivered
Instructions
Make the dressing ahead of time: combine all ingredients in a bowl and whisk well to combine. Transfer to an airtight dressing jar and keep chilled until ready to use.

Cook presoaked farro according to package instructions, 10-15 minutes or just until tender. Drain well and let cool, or rinse with cold water for quicker cooling.

Blanch asparagus in salted/boiling water just until color changes to a bright green, 30-60 seconds, depending on thickness of your asparagus. Drain, cool, and cut into 2-inch pieces.

In a large bowl, toss together cooled farro, cooled asparagus, and baby spring greens. Drizzle desired amount of dressing over mixture and toss gently to combine well.

Gently add in the strawberries, mandarin oranges, and crumbled feta. Add more dressing if desired and toss. Top with toasted almonds and serve immediately.
Notes
Tips for buying asparagus: Choose vibrant green, thin stemmed ones. The thinner ones are much more tender. Look for firm tips; they should be not be soft nor damp.
Dressing can be made several days ahead of time.
Make this recipe dairy-free by removing the feta cheese.
Make this recipe nut-free by using sunflower seeds instead of nuts.
If you enjoyed this recipe, please come back and give it a rating ❤️
Nutrition (per serving)
Serving:
1
g
|
Calories:
288
kcal
|
Carbohydrates:
32
g
|
Protein:
7
g
|
Fat:
16
g
|
Saturated Fat:
3
g
|
Polyunsaturated Fat:
3
g
|
Monounsaturated Fat:
10
g
|
Trans Fat:
0.002
g
|
Cholesterol:
11
mg
|
Sodium:
263
mg
|
Potassium:
391
mg
|
Fiber:
7
g
|
Sugar:
12
g
|
Vitamin A:
453
IU
|
Vitamin C:
60
mg
|
Calcium:
135
mg
|
Iron:
2
mg