White Chocolate Berry Almond Scones
Scones are the quintessential baked good for brunches. Too often, they can be dry and somewhat bland. These White Chocolate Berry Almond Scones are just the opposite of that… these are moist, tender, and super flavorful. They're very likely to change the mind of any non-scone-eaters you know.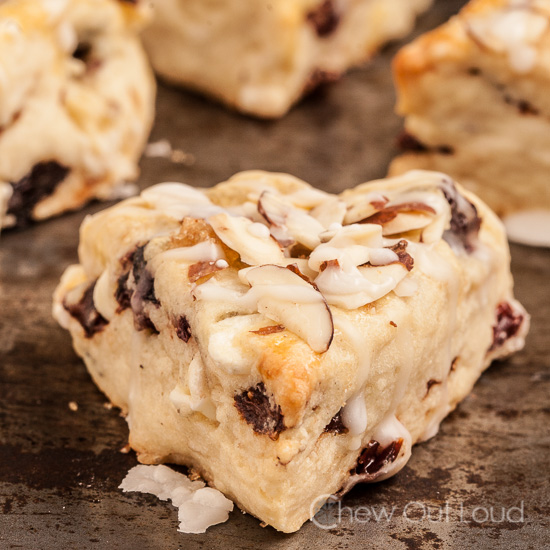 I wrote that introductory blurb because I was one of them. Non-scone eaters. Back in the day, I actually kind of detested scones because all the scones I'd ever eaten were dry, crumbly, and somewhat bland. I suppose I just never had a really good scone, so I didn't know any better.
Sometime after I got married, I came across a scone recipe that promised to be moist and tasty. I gave it a go, and was shocked to discover that scones absolutely do not have to be dry and crumbly!
That was the day that forever changed my scone destiny. Since that day, I've made countless scones, in all shapes and sizes, and with varying flavor combinations. I've been on Team Scone ever since…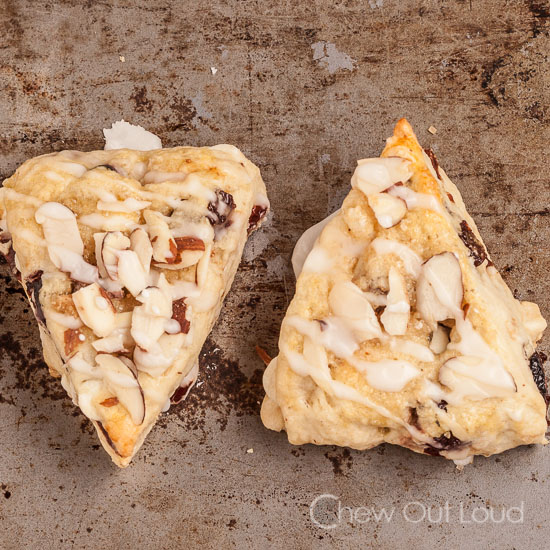 I recently made these White Chocolate Berry Almond Scones for a baby shower and a for a women's breakfast.
There weren't any left to share with Hubby, who was openly disappointed, so I've promised to make another batch just for him and The Littles.
It's a great thing when your baked treat is a hit and you don't bring home leftovers. A teensy sad for family members who are eagerly expecting leftover treats, but are greeted with a tray of crumbs instead.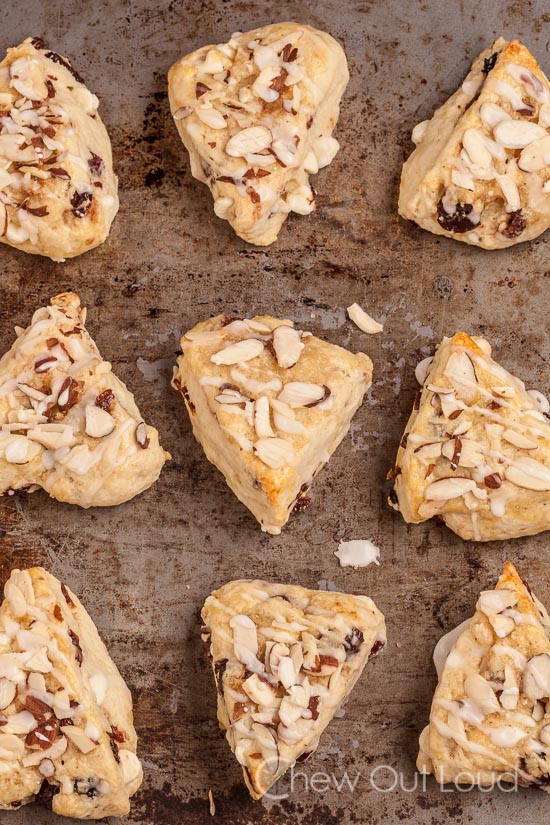 Thankfully, these white chocolate berry almond scones are easy to whip up! The hardest part for me is cutting them into equal shaped sizes! If you've got a good eye, that won't be an issue.
Or if you aren't all crazy into symmetry, you'll be just fine.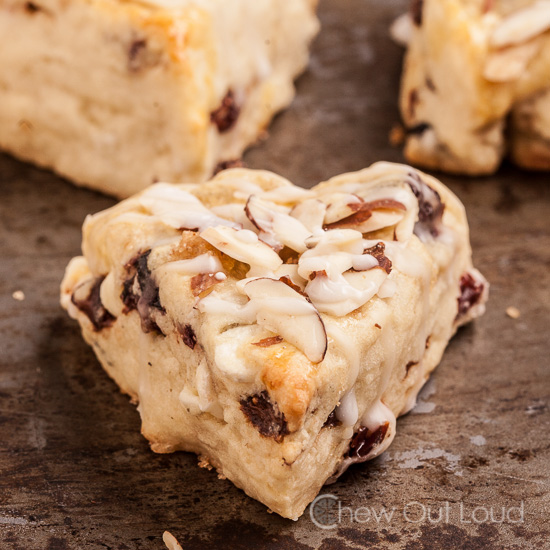 There are endless possibilities for unleashing your creativity where scones are concerned. I've tried numerous flavor combinations, and while we devour them all, my personal favorite is this one.
White Chocolate Berry Almond Scones. I just love the white chocolate in every bite, which brings a satisfying sweetness to this moderately sweet pastry. For the dried berries, I like using a mixture of dried berries such as strawberries, blueberries, and cherries. Just one of those would work great, too. And the touch of almond… it is a must-have. Don't skimp on the almond extract, because it is really what makes this scone so special.
Oh, and the sweet almond glaze. No words needed for such a glaze. Enjoy!
Did you make this?
Please give us a rating and comment below. We love hearing from you!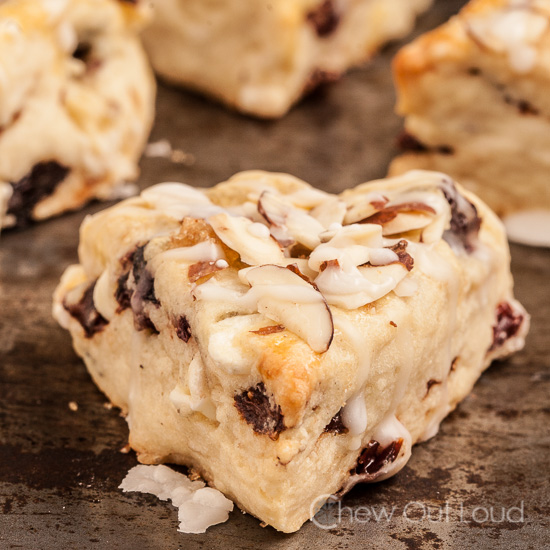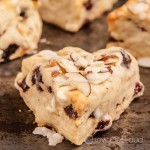 White Chocolate Berry Almond Scones
These White Chocolate Berry Almond Scones are one of the BEST scones I've ever eaten (or made!) They are a hit at every brunch gathering, every time. Moist, not dry. Super flavorful. The dough can be made ahead of time and kept chilled until ready to bake.
Instructions
In a large bowl, whisk together the flour, sugar, baking powder, baking soda, and salt. Using large holes of a box grater, grate frozen butter into the flour. Use fingers to work in the butter until it resembles a coarse meal. Stir in dried berries and white chips.

In separate bowl, whisk together sour cream, eggs, and almond extract until smooth and incorporated.

Use a fork to stir sour cream mixture into flour mixture until large clumps form. Then use hands to form dough into two even sized balls. (As you work the dough, it will come together and form balls.)

If dough is sticky and needs to firm up a bit, wrap dough balls tightly and chill until it's easier to work with, about 20-30 minutes. (Depending on the temp of my kitchen and the season, sometimes I don't need to chill the dough and other times I do.)

Meanwhile, line baking sheets with parchment paper. Set oven to 400F, with rack on lower-middle position.

On a lightly floured, flat surface, pat each dough ball evenly into an 8-inch circle, about 3/4 inch thick each. Using a very sharp knife, cut each circle into 8 triangle wedges. Place triangles on lined baking sheets, 1 inch apart.

Brush the egg wash on top of each triangle. Sprinkle tops with sliced almonds.

Bake one sheet at a time, about 14-17 minutes or just until tops are light golden. Do not over bake.

Allow scones to cool on wire rack.

Make the glaze by combining glaze ingredients in a small bowl and stir until smooth and glossy. Add a tiny bit more sugar if you need it thicker; add a tiny more milk if you need it thinner. Drizzle glaze onto scones. Serve immediately, or store in airtight container for up to 2 days. Baked scones are best within first 24 hours. If they are just ever-so-slightly underbaked, they will stay moist longer.

*Note: If you want to make the dough ahead of time, simply wrap the two dough balls in cling wrap and chill up to 2 days in fridge. Then, shape and bake as directed.
Nutrition (per serving)
Calories:
389
kcal
|
Carbohydrates:
55
g
|
Protein:
6
g
|
Fat:
19
g
|
Saturated Fat:
11
g
|
Polyunsaturated Fat:
1
g
|
Monounsaturated Fat:
5
g
|
Trans Fat:
0.5
g
|
Cholesterol:
75
mg
|
Sodium:
355
mg
|
Potassium:
179
mg
|
Fiber:
2
g
|
Sugar:
21
g
|
Vitamin A:
498
IU
|
Vitamin C:
0.2
mg
|
Calcium:
87
mg
|
Iron:
2
mg
Source: Chew Out Loud, adapted from USA Weekend
We've got tons of breakfast/brunch love in our kitchen. These have got to be the best fluffy healthy pancakes we've EVER had the privilege of making and inhaling: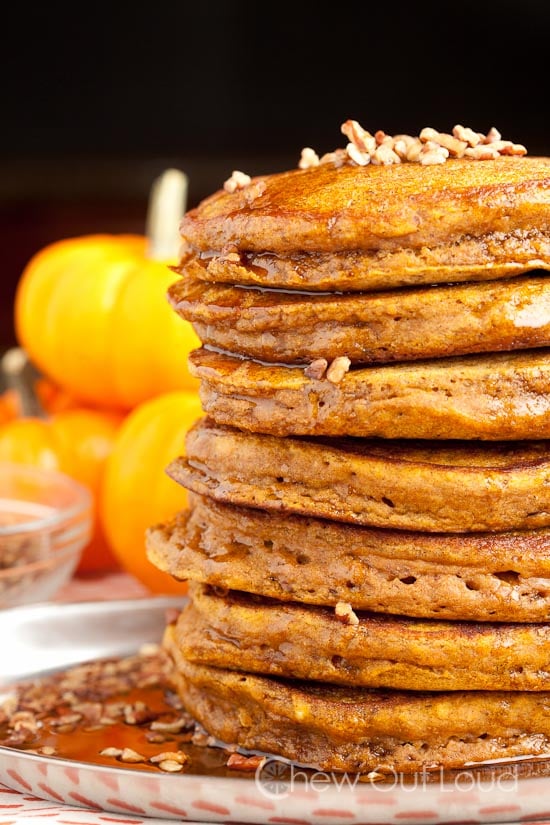 No matter that fall is still forever away. These Pumpkin Scones are scrumptious brunch treats, year round, and super moist! This is one of those recipes you'll get asked about… a lot!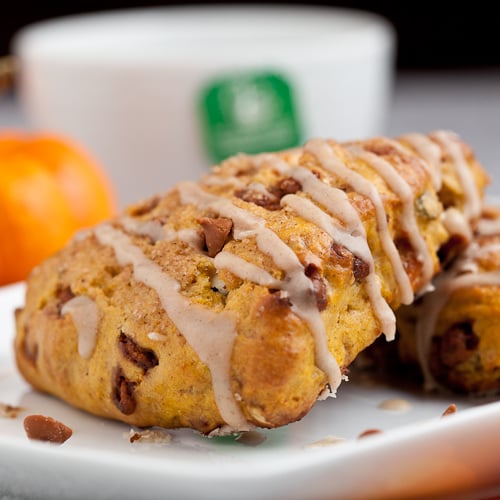 These big blueberry muffins have got to be better (and healthier) than any coffee shop muffins I've ever tasted. Oh, so-so-soooo good: