15-Minute Healthy Guacamole Chicken Salad
By Amy Dong
Published Aug. 1, 2017
Updated Oct. 17, 2023
This Healthy Guacamole Chicken Salad is incredibly nutritious and delicious. Fantastic as sandwiches, over baguette slices, or in pita pockets. Also use with scoop tortilla chips as a make-ahead appetizer.
Hello, August…we weren't expecting you so early.
Anyone else stunned that it's already the last full month of summer? I'm a summer gal through and through, so the arrival of August is always bittersweet.
On the one hand, it's sunny and gorgeous and the local farmers markets are in full swing. Local farms are finally harvesting all that sweet summer corn we hoard every season. Store bought stuff can't hold a candle to the farm fresh yummies right now.
August is also the glorious month we actually get a pint-sized respite from The Littles' year-round sports schedule. There are two blissful little weeks before fall soccer season starts 🎈
We'll take whatever break we can get because it's gonna be a wild ride once fall sports and school [and all else] collide.
Now, the bitter in the sweet: August signals the start of a new school year way too soon for me. I'm pretty much never mentally ready for it.
To all my friends who must shuttle Littles back to school this month (especially those who start next week): you all deserve an extra scoop of creamy cookies and cream ice cream. It's my favorite homemade ice cream in the universe. If you wanna go all out, there's this DQ Style ice cream cake with all the fudgy crunchies you need.
I'll balance out the indulgence with this Heathy Guacamole Chicken Salad. It's not only nutritious but it's ridiculously easy. It's a no brainer for BTS days when some of us (me) have a diminished capacity for anything more than a 15-minute dinner deal.
This guacamole chicken salad boasts all the yummy flavors of a freshly made guacamole: avocados galore, lime, herbs, tomatoes, and spices. Add shredded cooked chicken. Kosher salt and freshly ground black pepper at your discretion.
We love spreading this yummy creation in sandwiches or sliders for a quick 'n delish meal that's packed with nutrients: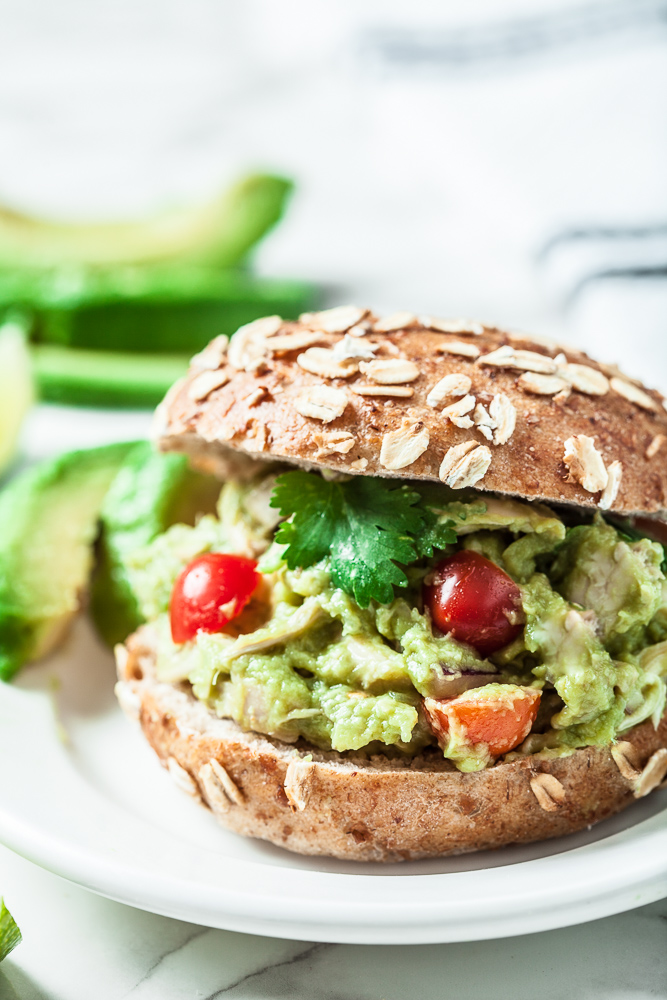 We also dig spreading it onto baguettes for a crostini type scenario. This would be great for an easy, sharable lunch. Also perfect for snacks and appetizers: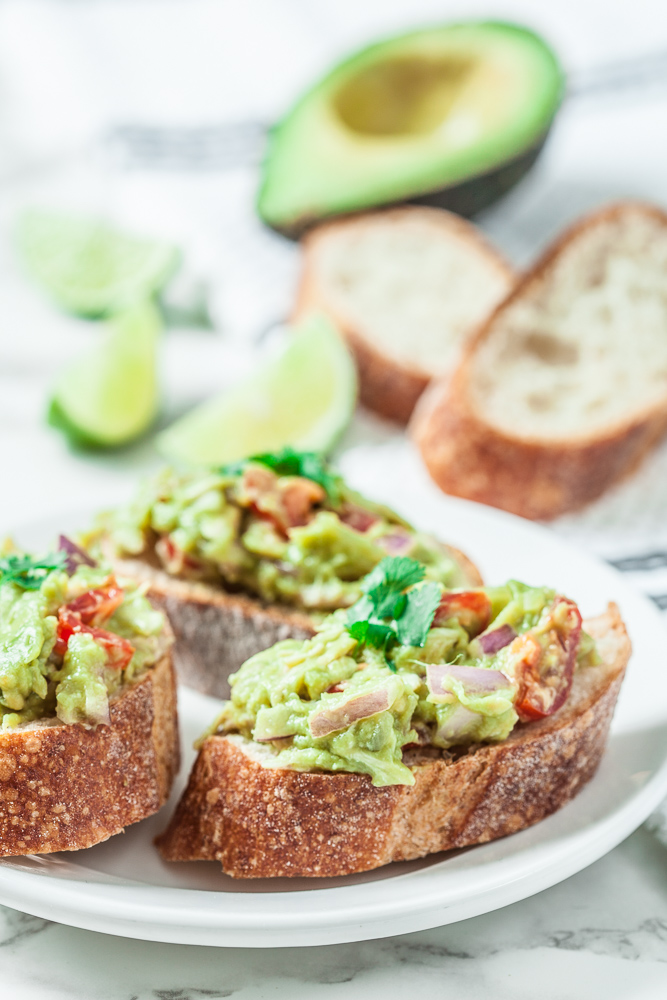 This Healthy Guacamole Chicken Salad is just too yummy when piled high into crunchy scoop chips. It's the way The Littles like to gobble it up. Plus, these are super cute and make-ahead as a party appetizer: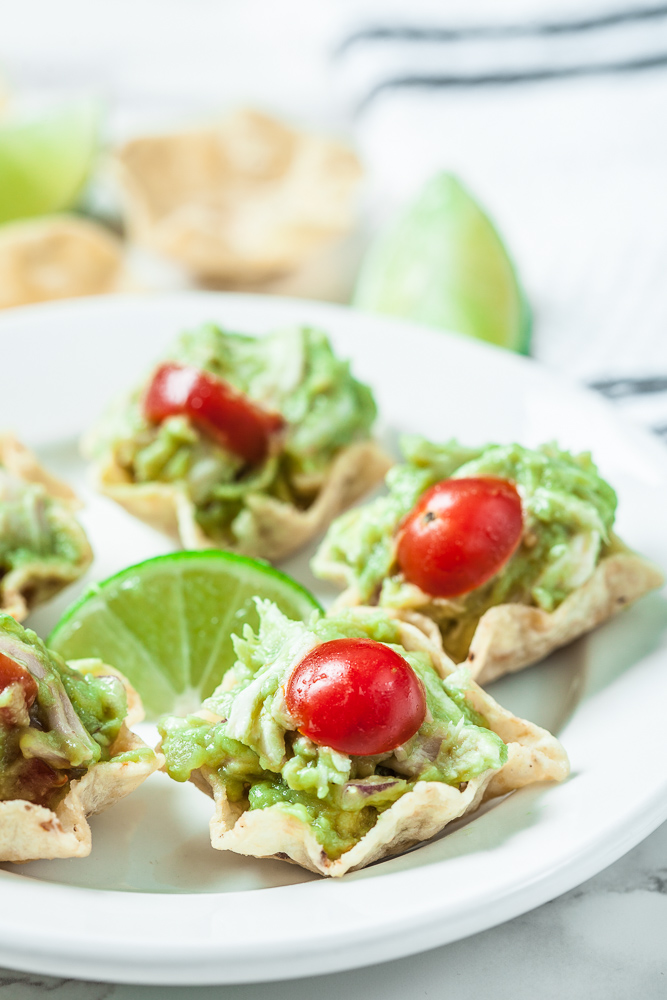 Here's to an August full of ice cream cones, walking the beach, and guacamole everything.
Enjoy. ✨
Another Healthy-Delish Dinner:
Did you make this?
Please give us a rating and comment below. We love hearing from you!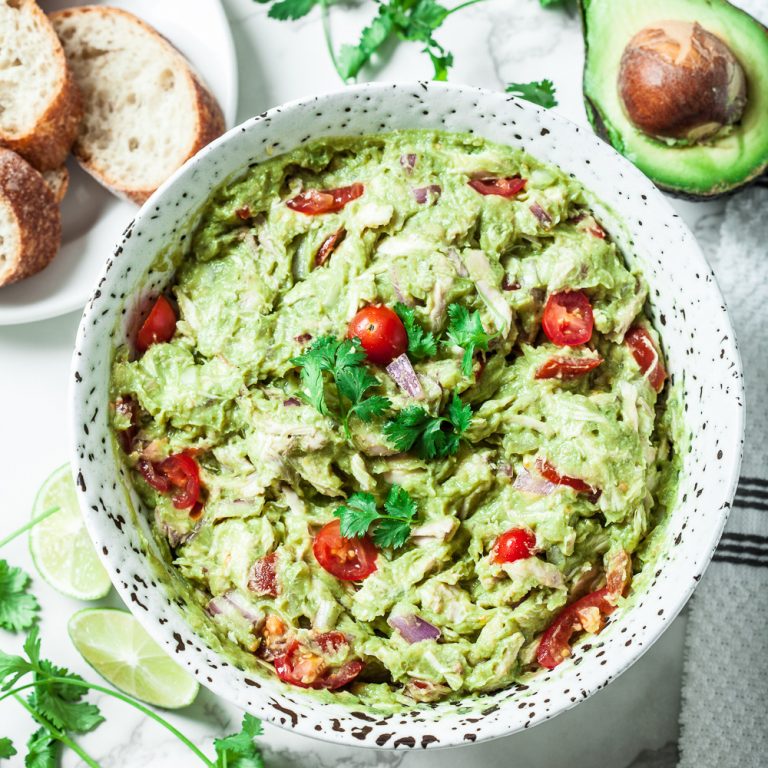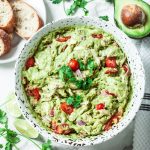 15-Minute Healthy Guacamole Chicken Salad
This Healthy Guacamole Chicken Salad is incredibly nutritious and delicious. So satisfying in sandwiches or crostini. Or use it for filling scoop tortilla chips as a healthy snack/appetizer.
Ingredients
2 ½

cups

cooked chicken

,

shredded (rotisserie works well)

Kosher salt and freshly ground black pepper
Instructions
In a serving bowl, gently fold together the shredded chicken with guacamole. Add kosher salt and freshly ground black pepper to taste, if needed. Serve in sliced bread, pitas, over baguette slices, or with chips.
Nutrition (per serving)
Calories:
298
kcal
|
Carbohydrates:
13
g
|
Protein:
12
g
|
Fat:
24
g
|
Saturated Fat:
4
g
|
Polyunsaturated Fat:
3
g
|
Monounsaturated Fat:
16
g
|
Cholesterol:
26
mg
|
Sodium:
37
mg
|
Potassium:
808
mg
|
Fiber:
10
g
|
Sugar:
1
g
|
Vitamin A:
233
IU
|
Vitamin C:
15
mg
|
Calcium:
22
mg
|
Iron:
1
mg
Amazing Avocado: