Easy Sourdough Sandwich Bread
This EASY sourdough sandwich bread recipe is guaranteed to give you a soft, tender, and flavorful loaf. This is the one bread your family will crave for all their toasts and sandwiches.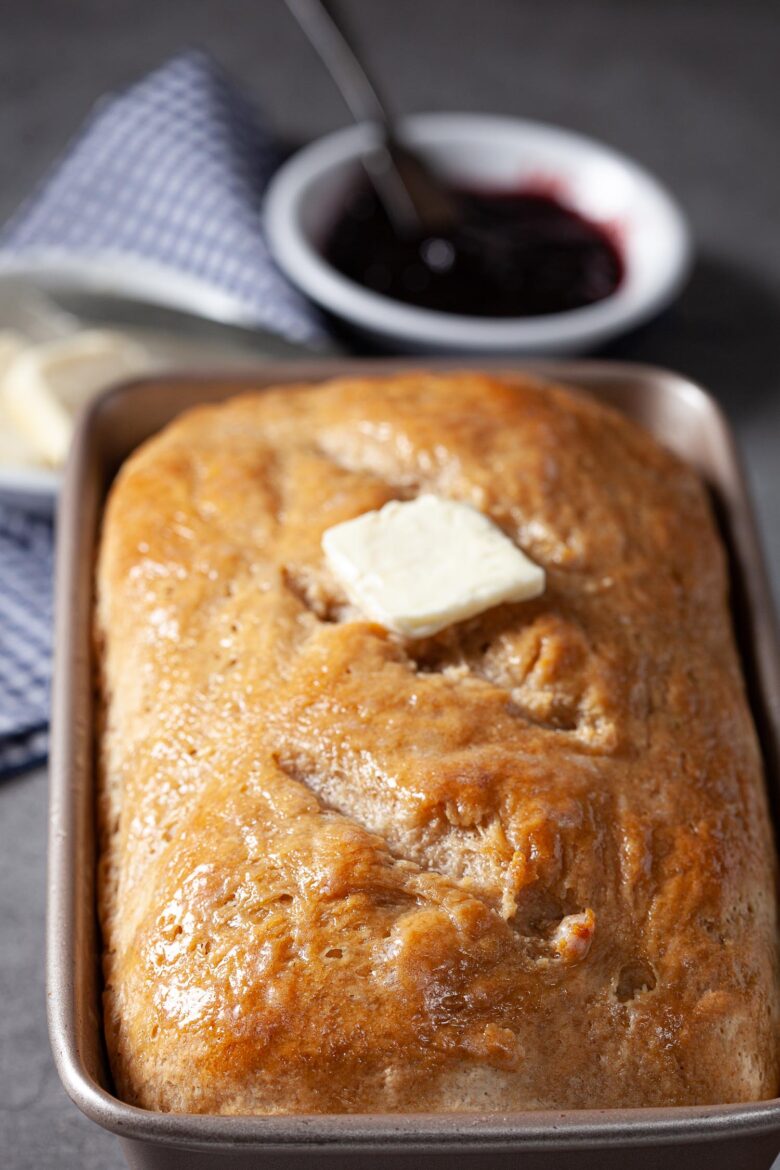 Video: Watch Us Make This Recipe
The Best Sourdough Sandwich Bread
There's nothing better than the aroma of freshly baked bread, and that's no exception with this easy sourdough sandwich bread recipe. Yielding a perfectly soft, tender interior, this recipe results in the ultimate sourdough sandwich bread perfect for breakfast toast, sandwich masterpieces, or simply enjoyed on its own slathered with butter, jam, or Creamy Apple Butter.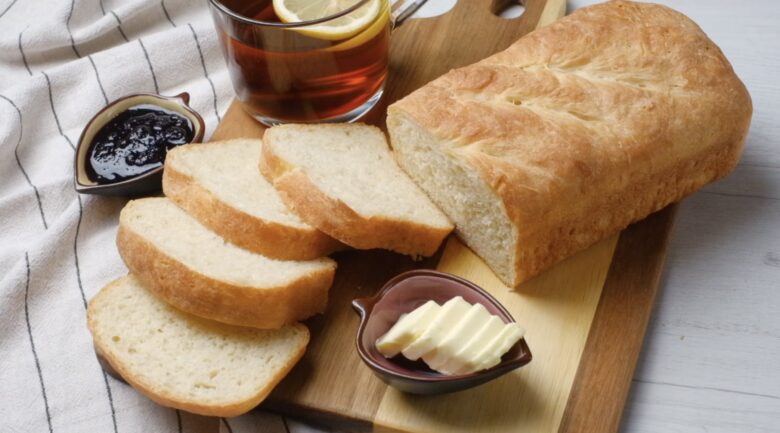 What is Sourdough Bread?
Sourdough bread is a unique type of bread made with a starter. These starters are made by combining various types of flours with warm water and "feeding" them over the course of a few days. Naturally occurring yeasts and bacteria cause the starter to ferment, bubble, and rise.
Because of the fermentation, sourdough bread is also commonly known as a healthier option that holds more nutrients and allows for easier digestion thanks to its lower glycemic index and lower levels of gluten. In fact, some folks with gluten sensitivity (not those with true celiac disease) can even tolerate sourdough bread.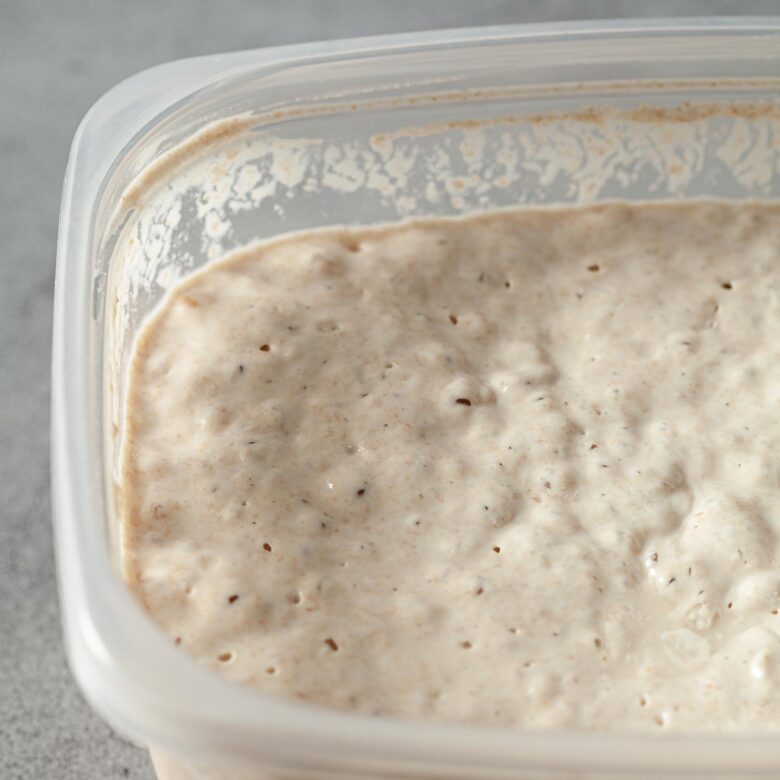 Why You'll Love It
This sourdough recipe has a subtle tangy flavor that is perfect on its own or in sandwiches.
Once you have a sourdough starter in place, this recipe is just as easy to bake as a regular loaf of bread.
This recipe comes together in just 10 ingredients or less – besides the sourdough starter, they're all pantry staple ingredients, meaning you can skip special grocery shopping.
Sourdough is notorious for being one of the healthiest bread options since the sourdough starter ferments the grain which makes it more digestible and easier for your body to absorb nutrients.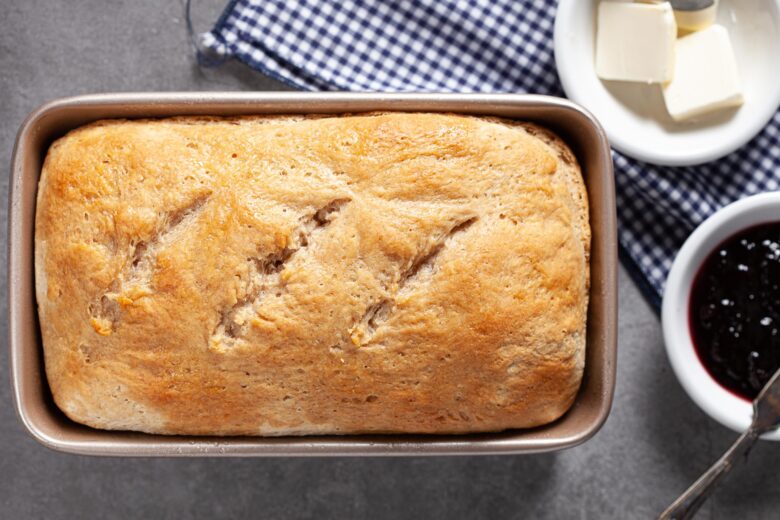 Key Ingredients
This recipe only uses a few key ingredients yet yields amazing and reliable results.
Instant yeast – Adding yeast for some might put this recipe into a "hybrid sourdough recipe" category, but it's guaranteed to give you the best rise and consistent flavors.
Salt – A simple flavor element that also helps tame the yeast from over-expanding.
Sugar – Food for the yeast and a sweet element for the bread.
All-purpose flour – The bulk of the recipe and a classic bread ingredient.
Sourdough starter – Your starter should be ripe and ready to go, this is the star of this easy sourdough bread recipe.
Warm water – Warm water helps the yeast rise and bind all of the ingredients together.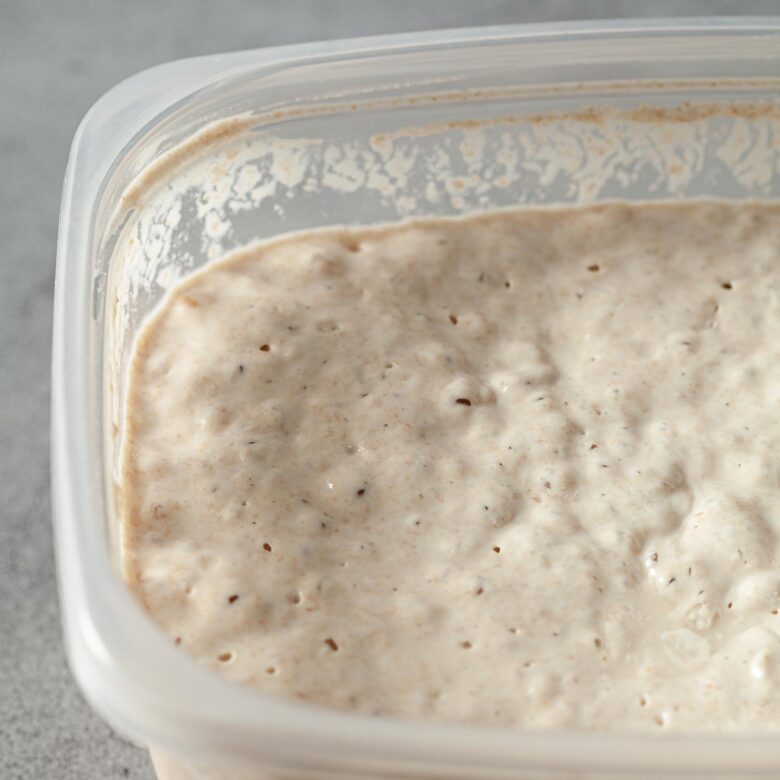 Tips for the Best Results
Weigh the flour. In this recipe, 2.5 cups of flour equals 300g. A food scale is highly recommended, but if you don't have one, use the spoon-and-level method and a dry measuring cup with flat edges. Be sure to gently spoon flour into the measuring cup and gently scrape the top flat with a butter knife – never tap down the flour.
The time it takes for a loaf of bread to rise always depends on the temperature of the room. The warmer the room, the faster a loaf rises. You want the loaf to be puffy but not quite doubled in volume. Keep checking in on the rising loaf periodically, but it should take roughly 45 minutes.
To ensure a perfectly cooked inside of your easy sourdough sandwich bread, check the internal temperature and bake until the bread is 190F.
Commonly Asked Questions
How do I make a sourdough starter?
Sourdough starters are made by combining various flours with warm water. Over a series of days, the starter grows, bubbles, and develops the traditional soured smell which means the starter is right on track and ready to use. Check out this tutorial on how to make a sourdough starter.
What is the difference between sourdough and regular bread?
The main difference between sourdough bread and regular bread is how they rise. Sourdough bread either relies solely on its fermented sourdough starter to create gases that make the bread rise or a combination of a starter and yeast, whereas usual bread only calls for yeast. Another main difference is the taste. Sourdough bread is known to have a tangy, sour flavor to them in comparison to regular bread.
What if my sourdough bread doesn't rise properly?
This recipe relies on a combination of a starter and instant yeast to ensure the loaf rises beautifully. If you do find your loaf doesn't rise as much as you'd like, you can always let it rise longer or increase the yeast amount ever so slightly. Double-check that your water is the right temperature, too.
How long does sourdough bread keep?
This bread will keep nicely at moderate room temperature for 3-5 days. If you won't be using your bread within a few days, wrap it airtight and freeze it for up to 2 months. Do not refrigerate bread, as the fridge will dry out any fresh breads.
How to serve sourdough bread?
Here's where the fun begins! Sourdough bread is perfect for slicing up and toasting – it's the perfect blank canvas for butter, jam, or using in avocado toast. We adore sourdough bread served with all the soup. You can make leftover sourdough bread into a satisfying breakfast casserole or use it to elevate your grilled cheese game. If you really need to use up leftover sourdough bread, make crispy croutons – you'll never go back to buying them again.
More to Bake and Eat
Did you make this?
Please give us a rating and comment below. We love hearing from you!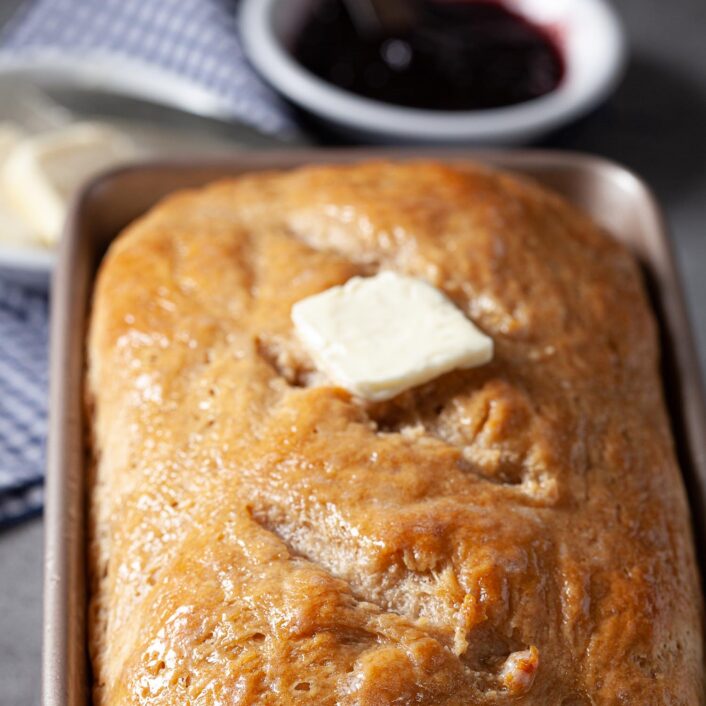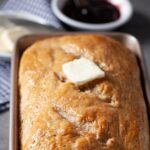 Easy Sourdough Sandwich Bread
Put your sourdough starter to good use with this easy sourdough sandwich bread recipe guaranteed to give you a soft, tender loaf ready to devour on any occassion!
Instructions
Combine all the ingredients in a bowl and knead 15 minutes by hand (or gently mix for 10 minutes with an electric mixer) to make a soft, smooth dough.

Transfer dough to a lightly greased bowl and let it rise for about 45 minutes, or just until puffy but not quite doubled in volume.

Lightly grease a 9×5" loaf pan and set aside. On a lightly greased work surface, gently deflate the dough, and form it into a loaf shape. Place loaf in the prepared pan, cover with lightly-greased plastic wrap, and let it rise for about 60 minutes in a warm, draft-free room, until dough rises about 1-inch above the rim of the pan.

Meanwhile, preheat oven to 350°F. If desired, use a sharp knife to very gently score the top of loaf a few times with shallow cuts. Bake the bread for about 40 minutes, until the top is lightly golden and puffed up.

Cool bread in pan for 5 minutes, and gently turn it upside down, out of the pan and onto a rack to cool completely.
Notes
Use your own ripened sourdough starter, or you can use a live sourdough starter and follow simple package instructions for ripening before use.
Bread can keep for several days at mild to moderate room temperature, wrapped airtight. It can be stored in the freezer for up to 2 months. Refrigeration is not recommended.
If you'd like, use a food thermometer to check internal temperature of the bread, for doneness. It should register 190F when it's ready to take out of the oven.
If you enjoyed this recipe, please come back and give it a rating ❤️
Nutrition (per serving)
Calories:
110
kcal
|
Carbohydrates:
24
g
|
Protein:
4
g
|
Fat:
1
g
|
Saturated Fat:
0.02
g
|
Polyunsaturated Fat:
0.2
g
|
Monounsaturated Fat:
0.2
g
|
Sodium:
350
mg
|
Potassium:
17
mg
|
Fiber:
4
g
|
Sugar:
2
g
|
Vitamin C:
0.01
mg
|
Calcium:
21
mg
|
Iron:
1
mg