How to Brine and Roast Turkey with Homemade Gravy
After countless years of cooking up the holiday bird, here's our tried-and-true recipe for how to brine and roast turkey. Extra Bonus: homemade gravy so good you'll want to pour it over everything!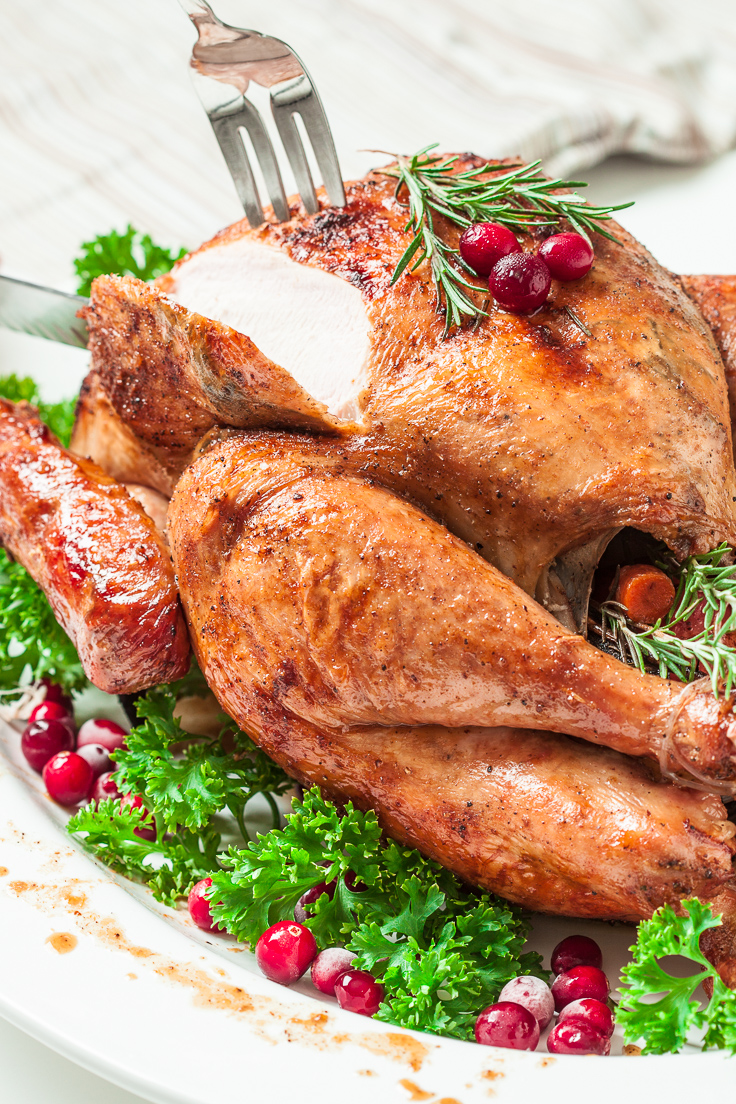 How to Brine and Roast Turkey with Homemade Gravy
Somehow, Hubby and I have been responsible for the holiday turkey every Thanksgiving AND Christmas every single year since we can remember. Which means approximately 17 years, which translates to 30+ roast turkey adventures.
And that's not counting all the turkey we roast for later-winter gobbling just because we feel like it. We really, really like a tender, juicy turkey. We even make Instant Pot Turkey Breast with Gravy anytime of the year.
Needless to say, we've had more than our share of failing and nailing it where roast turkey with homemade gravy is concerned. We've tried plenty of brine and roast turkey methods.
We eventually landed on a consistently juicy, moist, and super-flavorful roast turkey. Did we mention the slurp-worthy homemade gravy?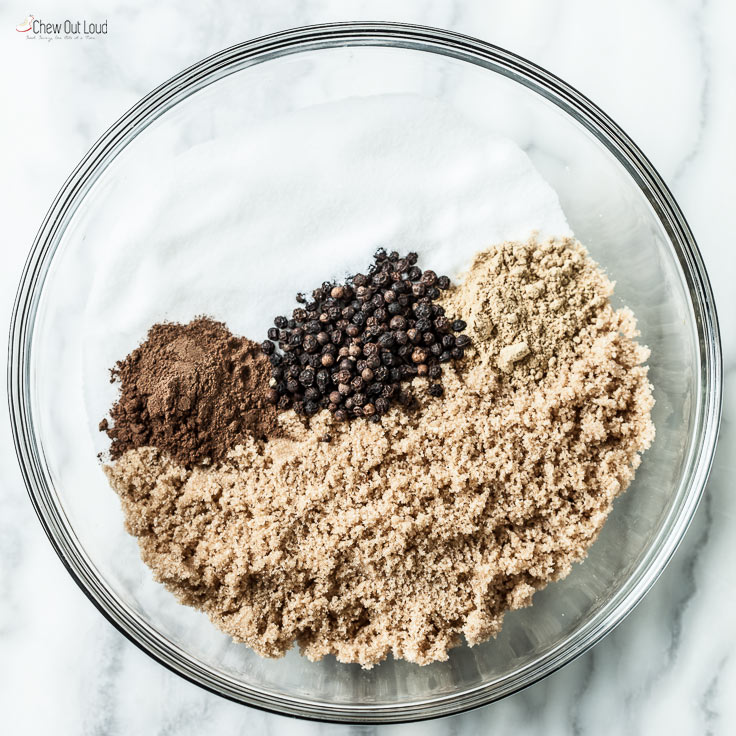 How to make the brine for your turkey
For the brine, you'll need lots of brown sugar, spices, lots of veggie broth, and plenty of table salt. Be sure to use fine table salt here, and not coarse kosher salt.
It seems like a lot of salt, but it'll make your big bird ultra juicy and retain tons of great moisture. Whether you buy a fresh turkey or a frozen one that's been treated with a solution, still brine it for at least 24 hours (up to 48 hours, if you've defrosted your turkey early enough – remember, it takes at least 6 days for a large turkey to fully defrost in the fridge.)
P.S. You'll need a super tall stock pot or clean bucket with which to fully immerse turkey in brine.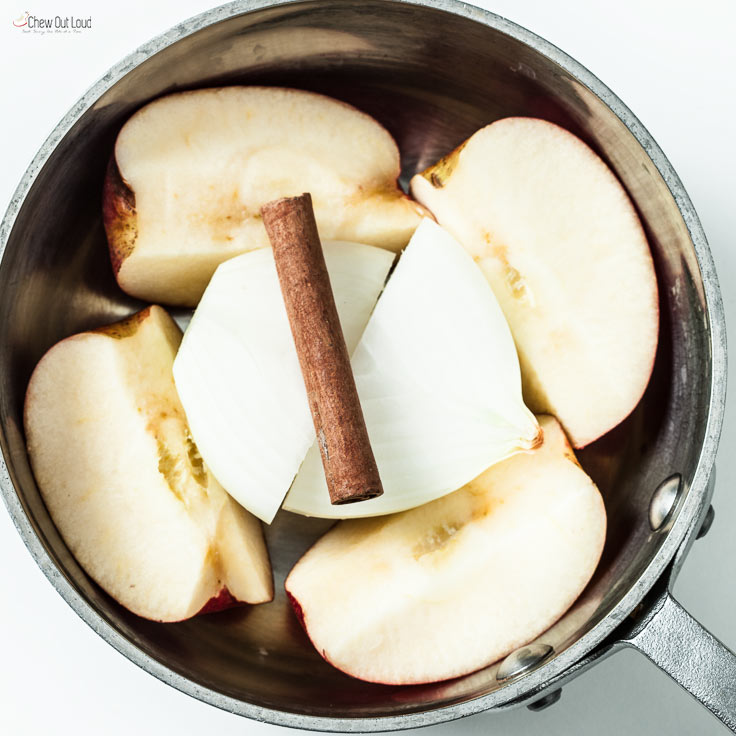 All the Aromatics
Steeped aromatics like apples, onion, and cinnamon sticks will go into the turkey's cavity, along with fresh herbs. ⇑
After trying a slew of various brining ingredients, we kept coming back to adapting Alton Brown's advice for the brining portion.
This results in some major magnificent smells floating through the air, creating salivation. Just be forewarned.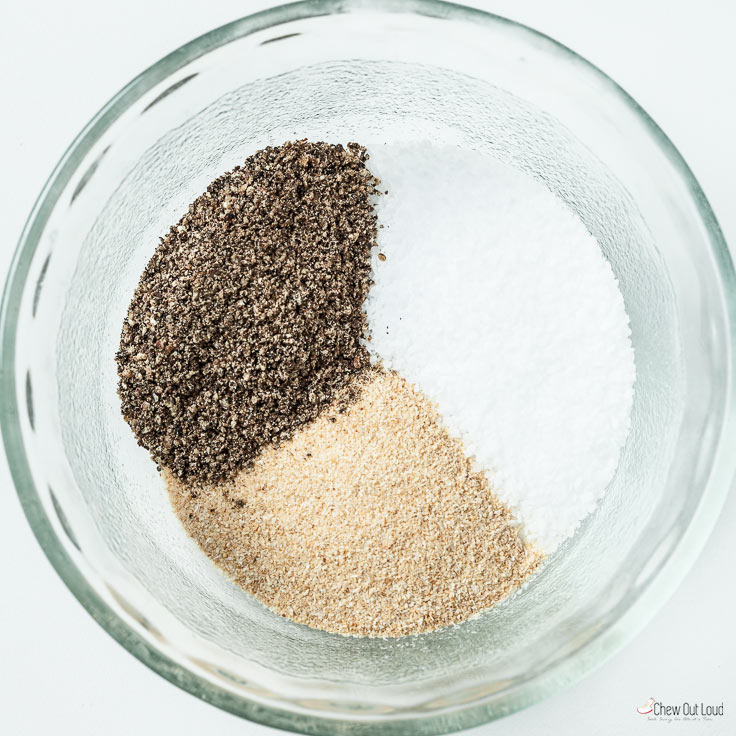 Dry Rub for Roast Turkey
Generously spread this ⇑ simple blend of garlic, pepper, and kosher salt under the skin, directly onto the flesh of turkey all throughout.
If you can get over the fact that you're smooshing your fingers in between the skin and flesh of turkey for the sake of dry rub, you'll be great. Trust us, it's worth it.
You'll do a trick of roasting on high, flipping, and roasting on lower temp. For the perfect holiday bird: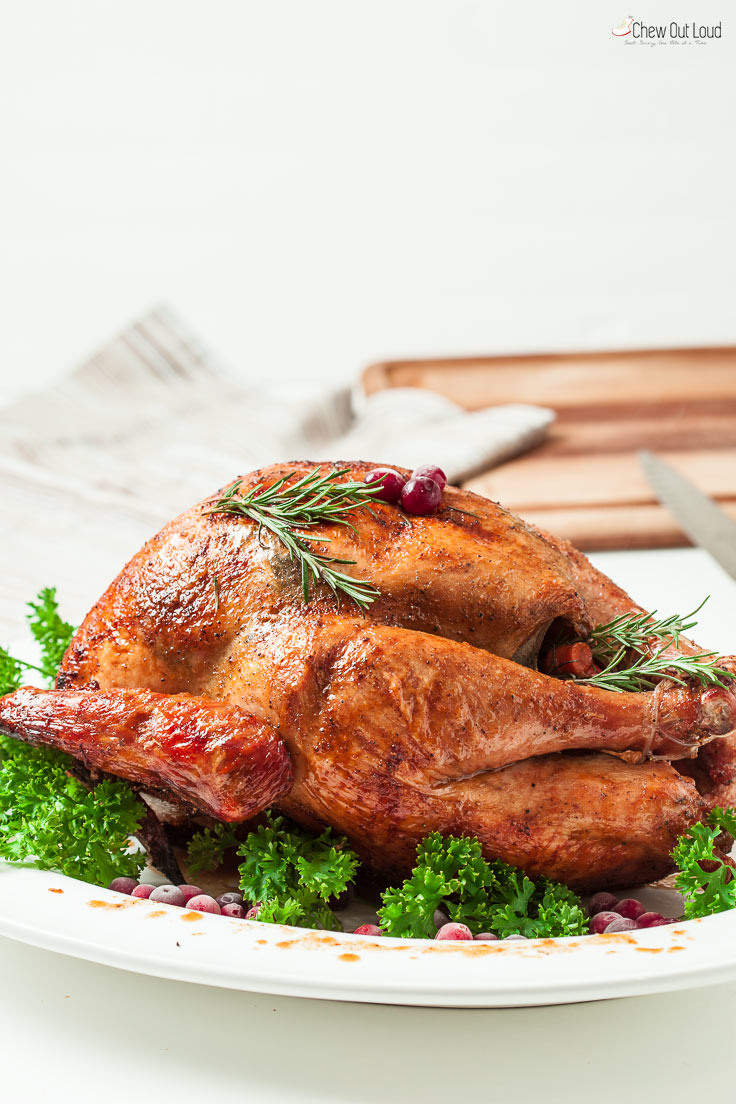 Homemade Gravy
And let's not forget the amazing gravy. It's more of an au jus than a thick gravy, so if you really want a thicker gravy, you'll have to thicken it with flour or dissolved cornstarch. We really like the saucy aspect of au jus, so we don't thicken ours.
Stir and cook together all the classic players: onions, garlic, carrots, celery, etc.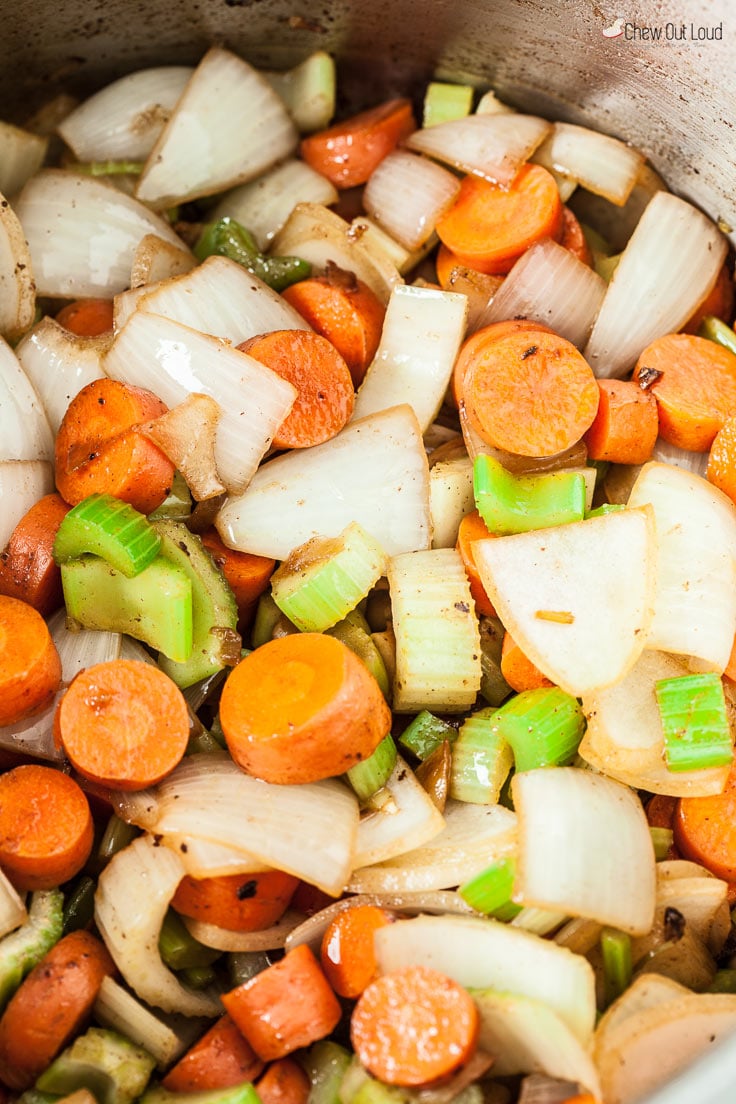 You'll get a mouthwatering au jus (thin sauce-like gravy) with full-on aromatics.
Drain the aromatics out and you're left with possibly the most luscious sauce on the planet. Meanwhile, I suffered brain lapse and didn't get a pic of the strained gravy by itself, so feel free to imagine.
Always let a roast rest at room temperature for 5-10 minutes prior to slicing, whether it's prime rib or whole turkey. This allows the juices within to redistribute and settle. If you slice into the bird too soon, you'll lose an abundant amount of juiciness.
Finally, Slice up your glorious turkey, pour plenty of that savory au jus gravy onto the slices, and enjoy.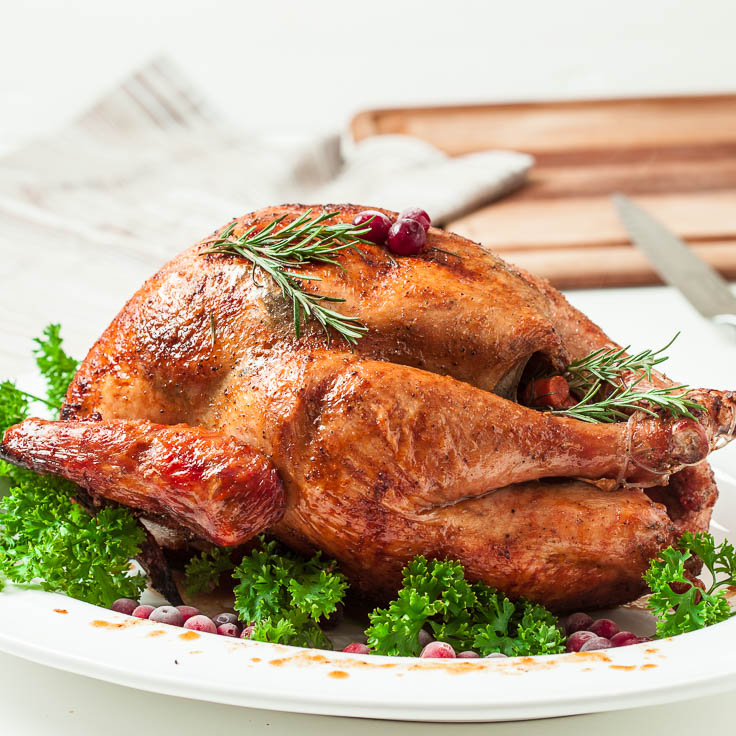 Have you seen this recipe yet?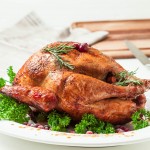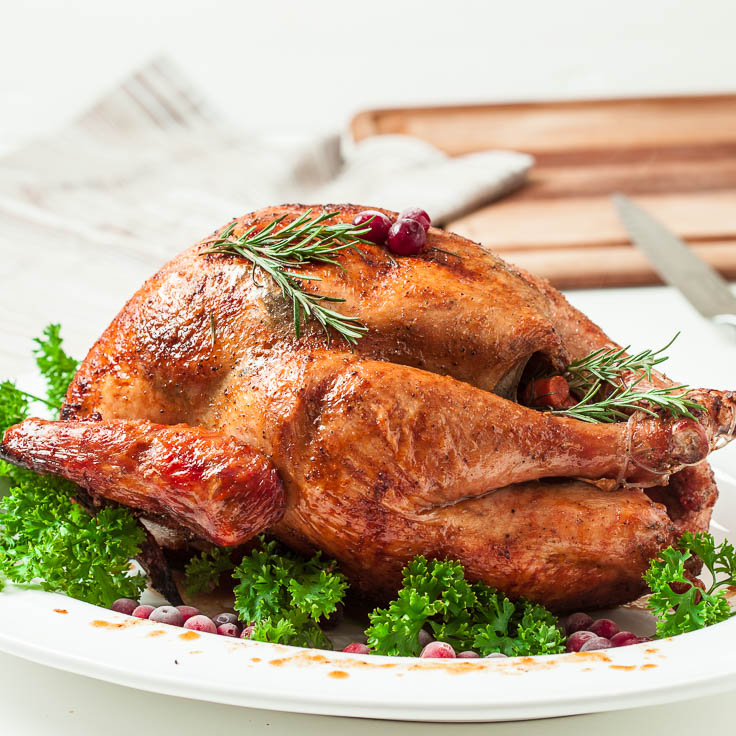 How to Brine & Roast the Best Turkey (+Amazing Gravy)
This step by step recipe for how to brine and roast the most juicy, moist turkey will immediately make you the turkey guru! Don't skip this amazing sauce-like gravy that tastes wonderful over turkey and potatoes! (NOTE: Give yourself a couple of days for brining)
Ingredients
For the Brine:
1

cup

table salt

½

cup

tightly pack brown sugar

1

gallon

vegetable stock

1

TB

whole black peppercorns

1

tsp

ground ginger

1

tsp

ground allspice

plenty of ice and water
For the Dry Rub:
2

Tbsp

Granulated Garlic

2

Tbsp

Freshly ground pepper

1

Tsp

Kosher salt
For the Turkey:
1

large frozen turkey

,

roughly 16-20 lbs

1

apple

,

quartered

2

onions

,

quartered

1

cinnamon stick

1

cup

water

4

sprigs rosemary

6

large leaves sage

4

carrots

,

roughly cut

4

celery stalks

,

roughly cut
For the Au Jus Sauce/Gravy*:
4

TB

olive oil

Giblets and neck from turkey

10

garlic cloves

,

peeled and smashed flat

1

onion

,

roughly cut into pieces

4

carrots

,

sliced into 1/4" coins

4

stalks celery

,

cut into 1/4" pieces

6

quarts

water
Instructions
Brine the Bird:
In a very large/tall stockpot (one that can submerge the entire turkey later) add all brine ingredients. Heat over high heat and stir until dissolved. Allow to cool.

Gently submerge turkey into the brine. Cover the top with ice. Pour in enough cold water to completely submerge turkey in liquid. Stir the liquid to combine. Store in fridge or cool location (below 40F) Swirl/stir a couple of times during brine time (48 hours recommended, but 24 hours minimum.)
Roast the Turkey:
Preheat oven to 450F with rack on lower position. Remove turkey from brine and rinse well inside & out. Dispose brine. Set turkey upright on roasting pan's wire rack to allow it to drain for several hours and reach room temp. Dry turkey skin with paper towels. Combine dry rub ingredients in bowl.

Gently spread one-third of the dry rub between skin and flesh, taking care not to rip the skin. Place half of the rosemary and sage between skin as well. Press remaining dry rub on outside of skin throughout entire bird. Secure loose skin of neck area with toothpicks to hold skin closed.

Combine apple, 1 onion, cinnamon stick, and 1 cup water in a glass bowl and microwave on high for 5 min. Drain and place mixture into the turkey cavity. Place remaining rosemary and sage into cavity.

Place sheet of foil on wire rack of a turkey roaster and poke holes to allow juice to flow through. Place turkey breast side down on the foil-lined rack. Add 1 onion, carrots, and celery to the bottom of roasting pan.

Place turkey in preheated oven and roast for 1 hr at 450F. Drop heat to 300F and roast for 30 min. Take bird out and flip so its breast side up and continue roasting at 300F until breast is 160F on instant read thermometer.
For the Au Jus/Gravy:
While turkey is roasting, heat olive oil in a large pot. Add giblets and neck to pot and brown, leaving brown bits. Remove from pan; throw out gizzards, reserving just the neck. Add garlic to empty pot and lightly brown. Add onions, carrots, and celery, cooking until onions become translucent. Add water and bring to a boil. Add neck back in and simmer on med heat. Continue to simmer until reduced by about half. Keep stock on low simmer until turkey is finished.

When turkey is finished cooking, remove turkey with rack and let rest over a large platter.

Place the turkey roasting pan with juices over two burners. Pour stock with veggies into the roasting pan and bring to a boil. Use wooden spoon/spatula to scrape up all brown bits from the roasting pan. Boil and reduce by at least 1/2 until au jus has the desired flavor strength.

Strain mixture so you are left with just the au jus. Skim fat off the top and serve with sliced turkey.
Notes
* It takes about 6 days for a large frozen turkey to completely thaw in the fridge.
* If you don't own a large enough stockpot, you can brine the turkey in a bucket.
* Allow turkey to come up to room temperature before roasting, for best results.
* The gravy is a sauce-like au jus, which is thinner than classic gravy. If you prefer a thicker gravy, add 2-3TB flour to the boiling liquid while stirring, OR use dissolved cornstarch for a gluten free option (start with 2TB cornstarch fully dissolved in 2TB water; no trace of white cornstarch should be visible upon use.)
Nutrition
Calories:
135
kcal
|
Carbohydrates:
18.4
g
|
Protein:
6
g
|
Fat:
4.9
g
|
Saturated Fat:
1
g
|
Cholesterol:
17.9
mg
|
Sodium:
6328.7
mg
|
Fiber:
3
g
|
Sugar:
11.3
g
Did you make this?
Leave a comment below and tag @chewoutloud on Instagram
Sensational Sides…
BEST Sweet Potato Casserole with Brown Sugar Pecan Crumble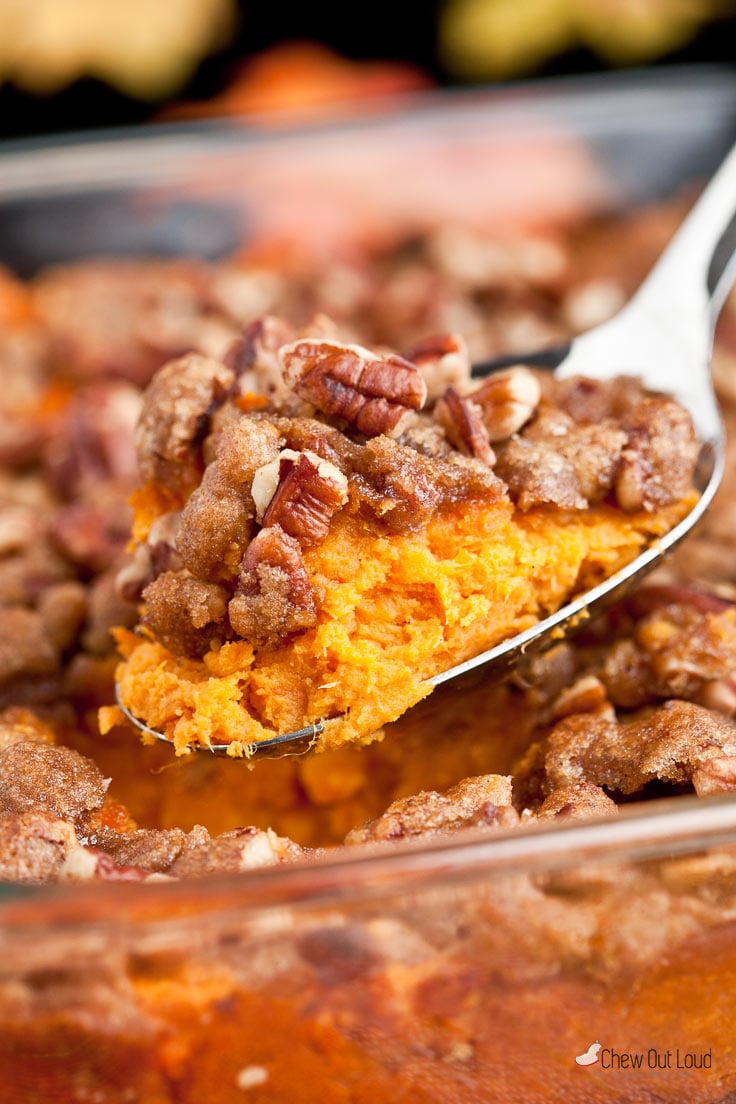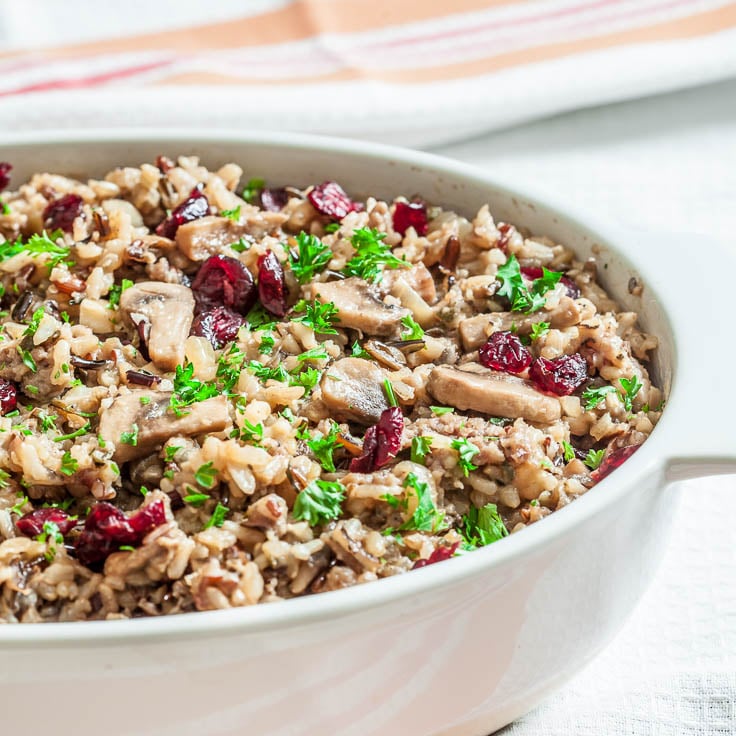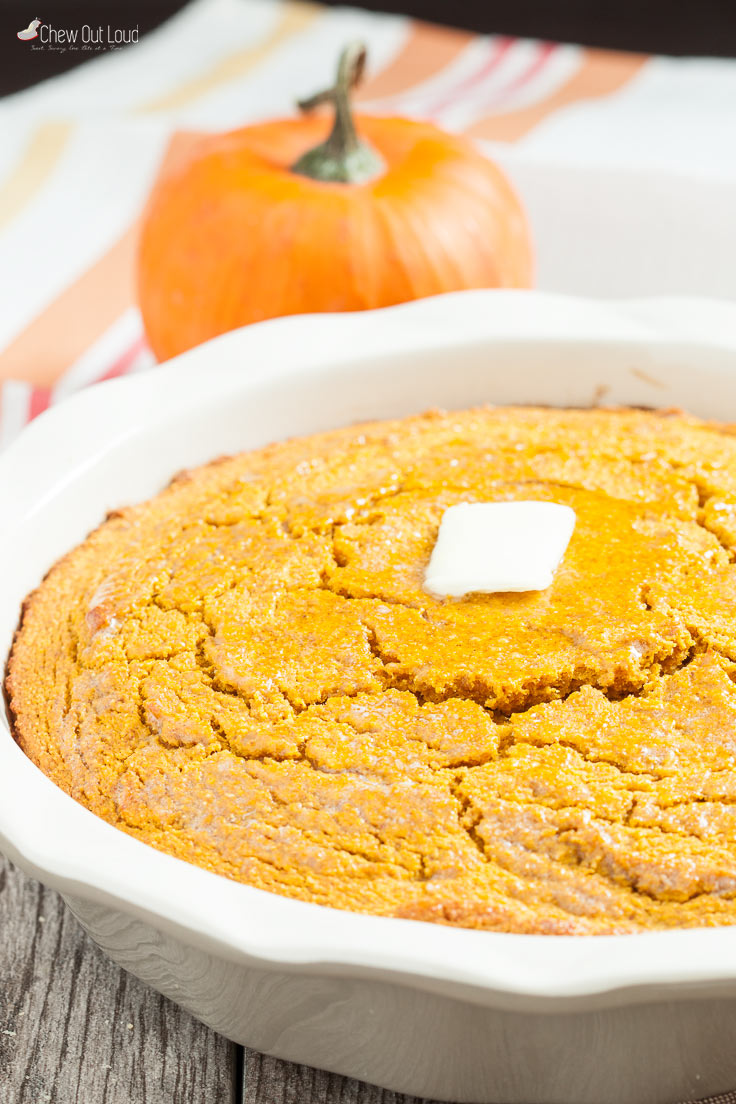 Creamy Baked Mashed Potatoes (make-ahead)