Rotisserie Chicken Salad
By Amy Dong
Published Sep. 8, 2020
Updated Aug. 17, 2022
This Rotisserie Chicken Salad is healthier than most, without compromising a bit of flavor. Minimal effort with delicious results.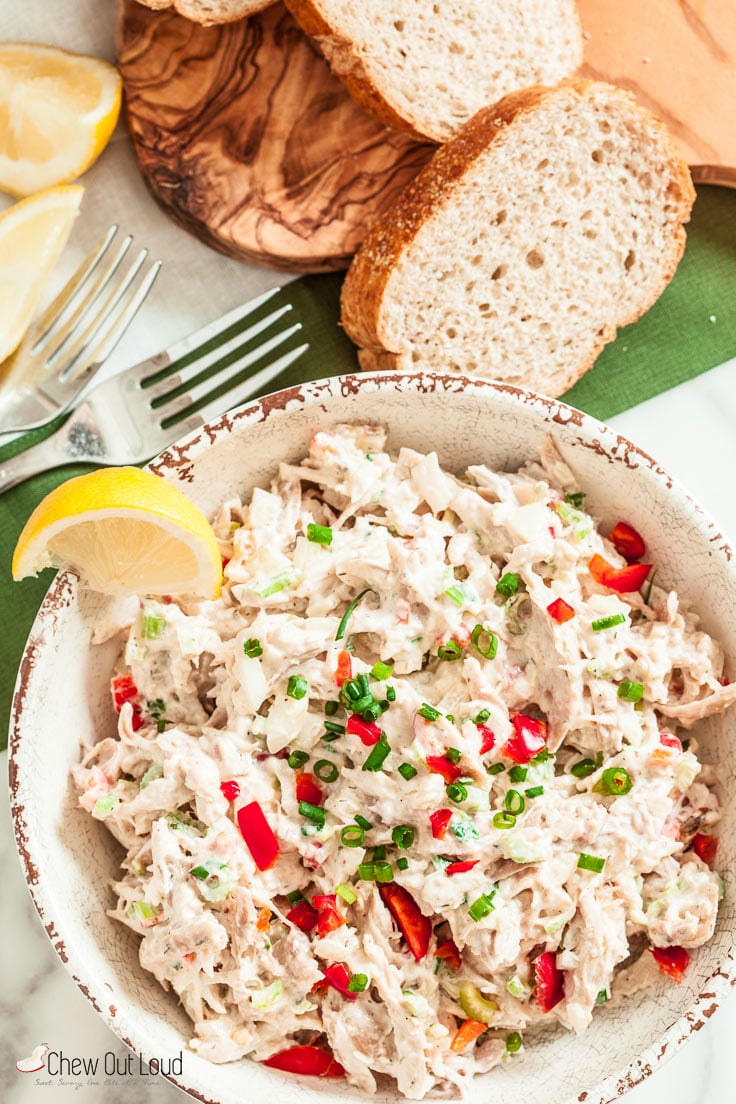 Rotisserie Chicken Salad
September. It's the start of a new school year for many. It signals the unofficial end of summer; not quite fall, but definitely no longer summer.
Some of the trees in our 'hood have already decided to bring on their orange and yellow hues. Others are lingering onto summer and sticking with green leaves as long as they can.
September is always kind of an in-between month. Which beckons transitional recipes that hold onto the sunshine, yet accommodate the busy routine of fall.
This healthier version of chicken salad is the perfect for busy weeknights meal. It hangs onto a summery vibe, but absolutely back-to-school friendly.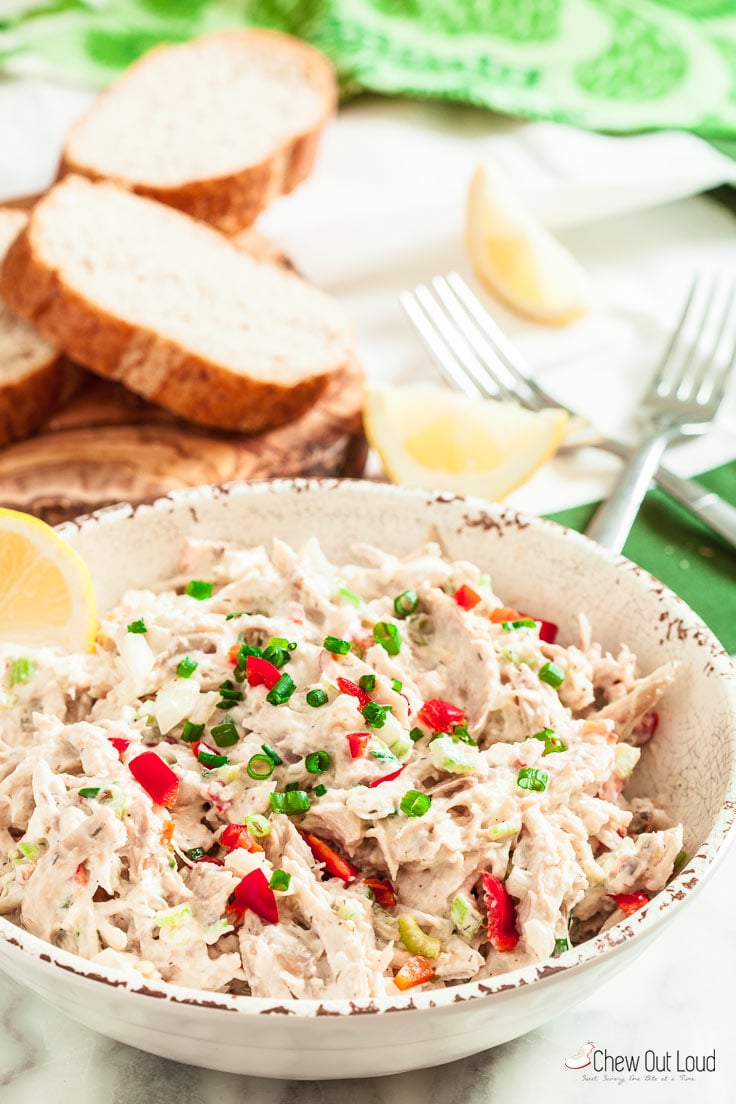 Your Strategy for Easy CHicken Salad
Next time you go to the grocery store, grab an extra rotisserie chicken for the week. Rotisserie chicken can be kept in fridge a few days or even frozen airtight for a couple of weeks until you're ready to defrost and use.
If your store offers cold rotisserie chicken for a couple of dollars less than the hot ones, feel free to grab the budget-friendly cold option. Since you'll be using it for chicken salad, you don't need just-cooked, hot chicken.
Since this recipe only uses 1/2 cup of mayo, you'll only need to grab a small jar of it.
If you like blending up healthy smoothies, buy a bigger container of plain Greek yogurt for both your smoothies and for this recipe (just add honey or agave to your smoothies for sweetness, if using plain yogurt in them )
Look for the latest expiration date on the shelves for freshest yogurt; it can last quite awhile in your fridge as long as you use a clean spoon each time you remove your desired portion from the container.
Don't be afraid to grab extra green onions, herbs, or veggies during grocery runs. Here's how you can keep produce fresh longer.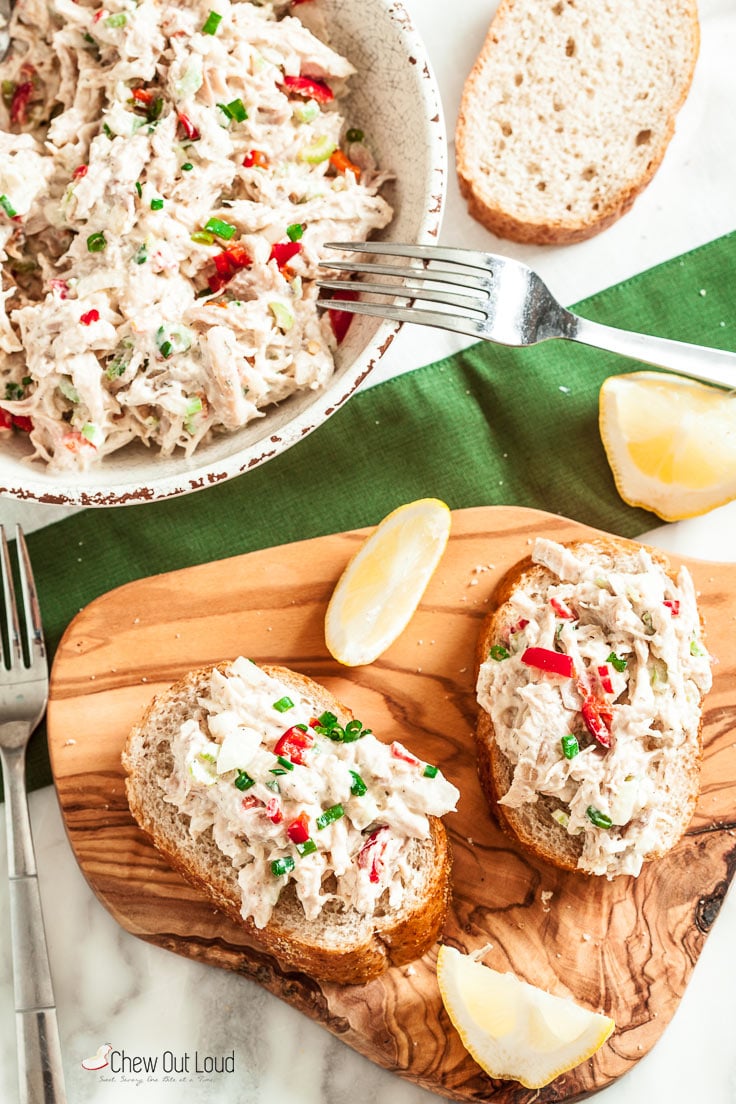 This simple, no-cook recipe is:
Easy enough for all the busy weeknights (plus delicious leftovers for tomorrow's lunchbox.)
Crispy yet creamy with less mayo than most chicken salads
Creamier and heathier with the addition of Greek yogurt
Full of flavor and texture
Whether you're ready for fall or hanging onto those flip-flops, this is one salad that will keep everyone happy. Enjoy.
Did you make this?
Please give us a rating and comment below. We love hearing from you!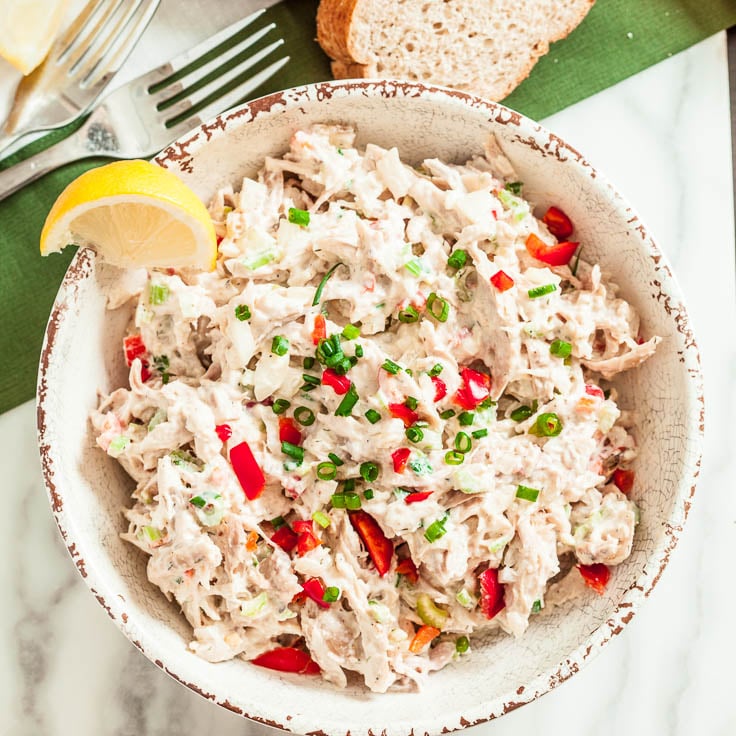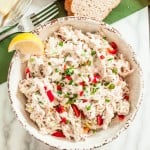 Healthier Rotisserie Chicken Salad
This Rotisserie Chicken Salad is healthier than most, without sacrificing a bit of flavor. The flavor is robust and delicious, and even non-chicken salad eaters will be going back for seconds!
Ingredients
7

cups

shredded rotisserie chicken

1

cup

whole plain yogurt

,

Greek is great

½

cup

real mayo

1

small onion

,

finely chopped

1

small red bell pepper

,

finely chopped

½

cup

celery

,

finely chopped

¼

cup

green onion

,

sliced

1

TB

freshly squeezed lemon juice

2

tsp

kosher salt

1 ½

tsp

garlic powder

1

tsp

granulated sugar

1

tsp

ground mustard

½

tsp

dried dill weed

Optional: chopped parsley for garnish
Instructions
Combine all ingredients together in a large bowl. Gently fold with rubber spatula until all ingredients are well incorporated. Cover and chill in fridge until ready to serve.

Serve with crusty bread, crackers, or in a sandwich. It's also delicious over a green salad, if you're looking to cut down on carbs. Keeps well when covered and chilled for several days.
Notes
Most chicken salads use quite a bit of mayo and sour cream. We "healthified" this recipe by using mostly yogurt and cutting the mayo in half. We still recommend the flavor of whole mayo for 1/2 cup amount, but if you prefer, you can use lowfat.
Nutrition (per serving)
Calories:
151
kcal
|
Carbohydrates:
6.9
g
|
Protein:
4.1
g
|
Fat:
12.4
g
|
Saturated Fat:
2.5
g
|
Cholesterol:
10.4
mg
|
Sodium:
420.9
mg
|
Fiber:
0.9
g
|
Sugar:
3.8
g
Delicious Chicken Dishes:
Maui BBQ Chicken – Delicious all year round, this super flavorful and tender chicken dinner can be grilled outdoors or indoors using a cast-iron stovetop grill pan.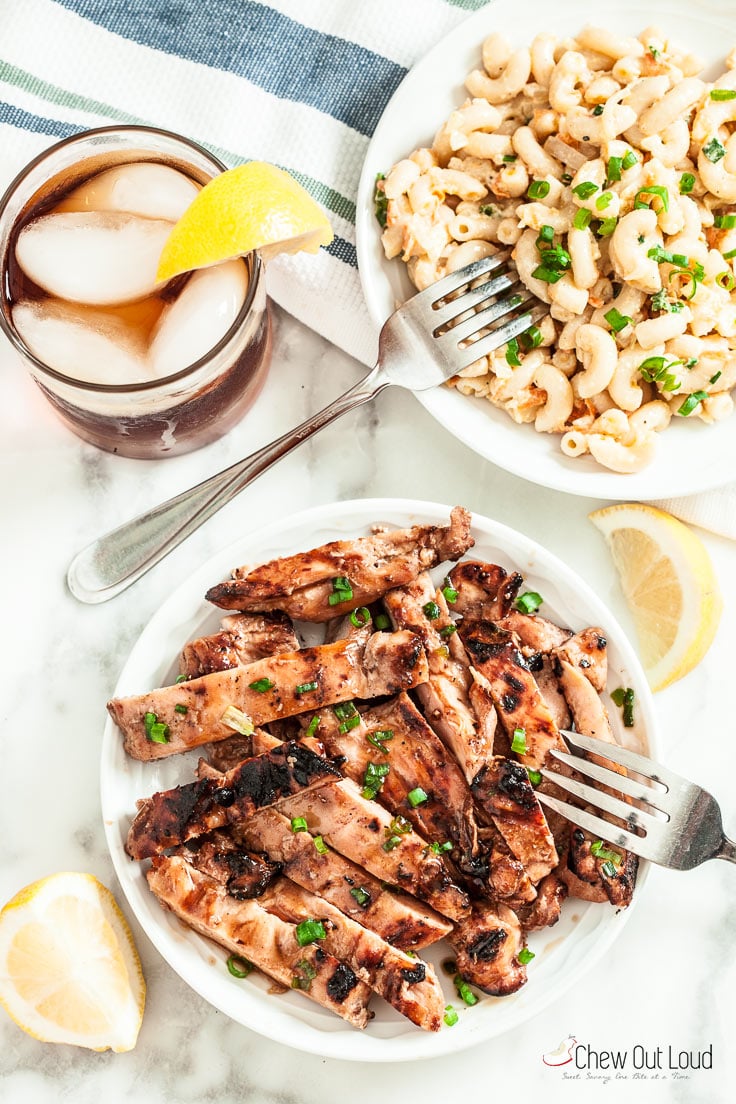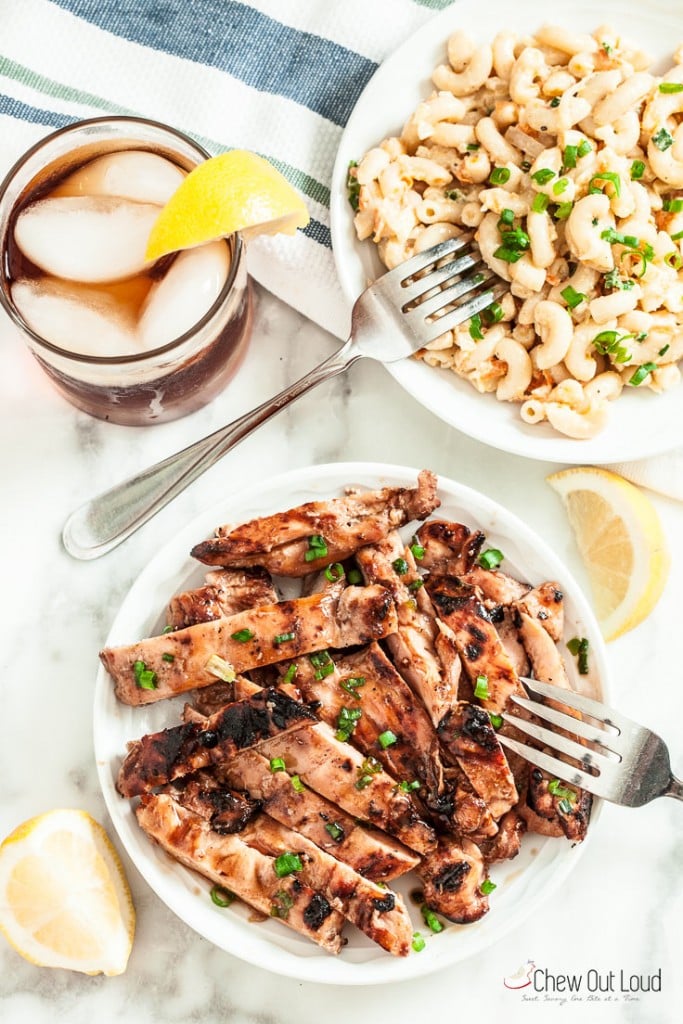 2. Garlic Lemon Roast Chicken – Big flavors with minimal effort in a pan. If you love garlic and lemon, this may be your new favorite recipe.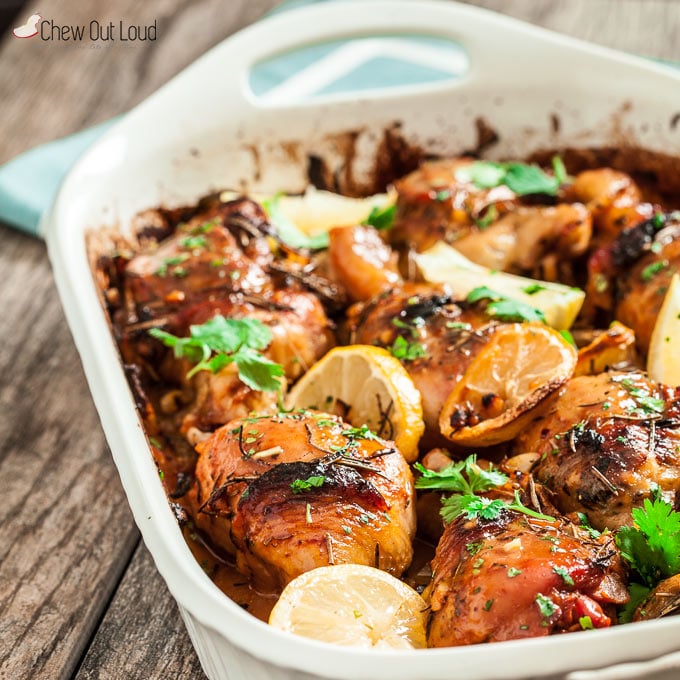 This one's called Hurts So Good Chicken for a reason. It's crispy on the outside, tender on the inside, and packed with flavor in every bite.