15-Minute Spicy, Buttery Asian Grilled Shrimp
By Amy Dong
Published Aug. 20, 2015
Updated Mar. 28, 2023
If you're a seafood fan, you'll appreciate this tender and succulent Spicy, Buttery Asian Grilled Shrimp. It's a 15-Minute type of meal that's quick to make and even quicker to disappear.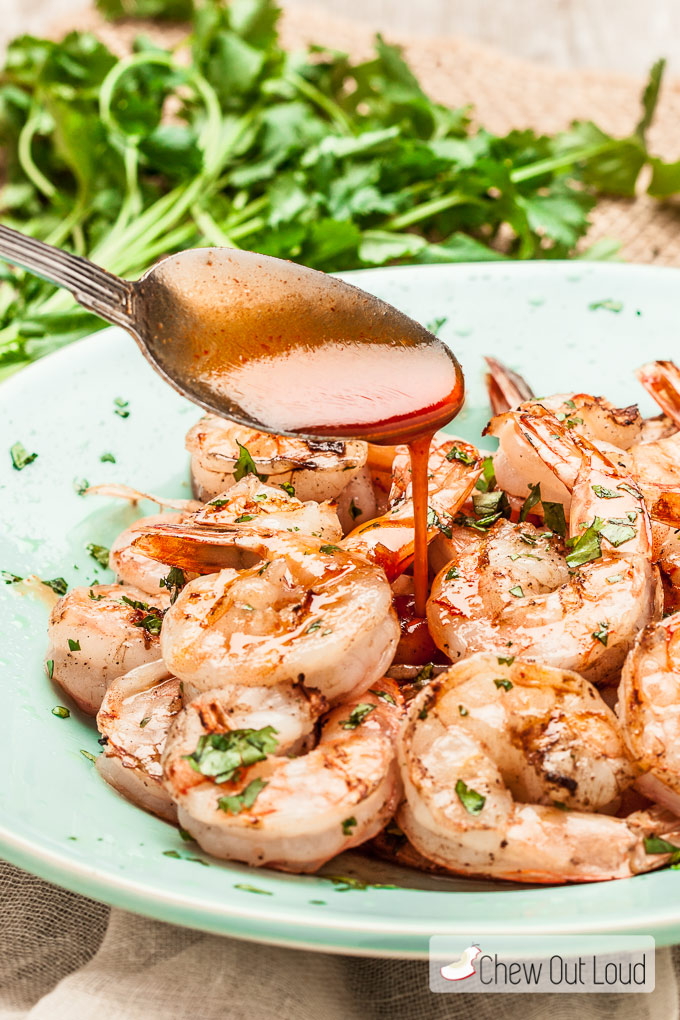 Lately, I've had a thing for jewelry.
Not the blingy stuff or glitzy kind. Nothing ornate. And definitely nothing expensive.
Rather, I've been drawn towards simple, humble pieces that hold deep meaning. Whether it's a pair of earrings with an inspirational symbol or a charm with an engraved word, I look for tangible daily reminders of the truth.
At this moment, I'm sporting a modest bracelet made out of mud. Or clay. On it is inscribed just one little word…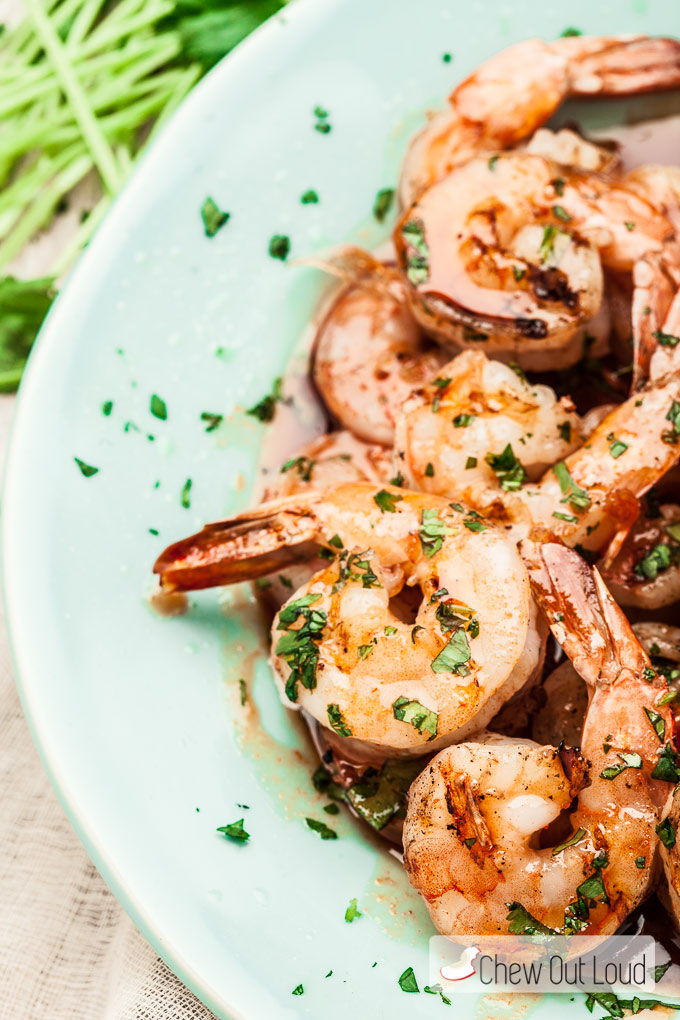 …today.
That's it. Just one word stamped on my mud bracelet: today.
Because I need frequent reminders throughout each day to slow down for just a moment, to breathe, and find the treasure in today.
Even if today is just another day packed to the brim with dishes, laundry, carpools, kids' activities, errands, running, and work. Plus paperwork, phone calls, emails, and kid drama. [All at the same time.]
'Cause it's too easy to forget about the devotional I was so inspired by this morning when waves of the day come crashing in.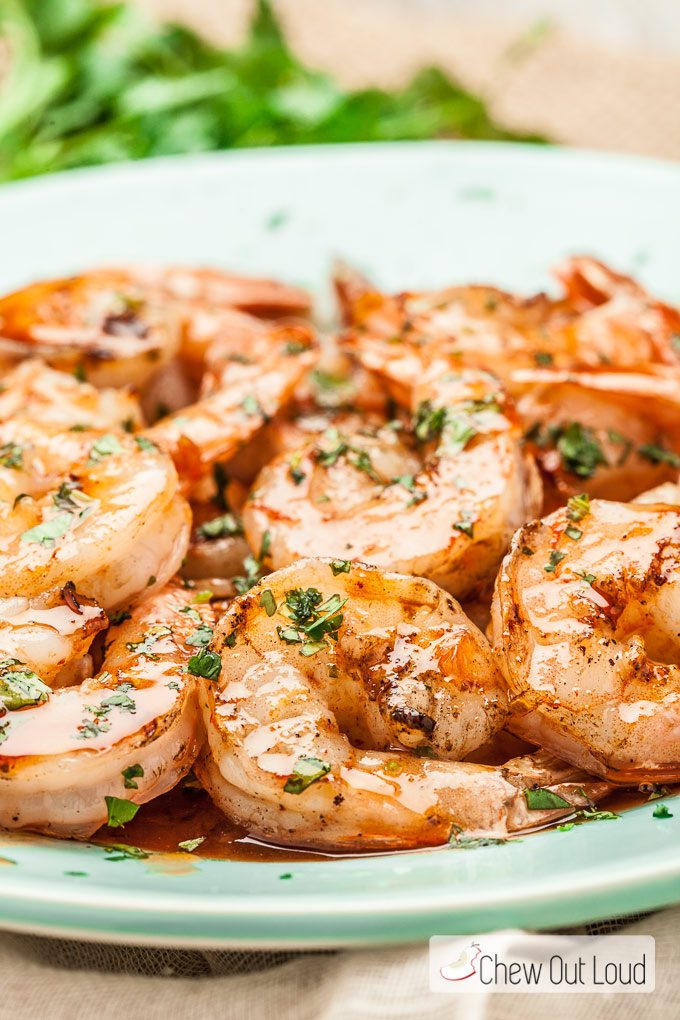 Today. It's the perfect reminder for me to take a few minutes when I need it.
Every time I look at my wrist, I'm reminded to breathe deep and be thankful for something. Even in the chaos of one kid running to me with crushed eyeglasses, another crying about a soccer injury, and yet another showing me his sudden acquisition of pink eye.
But I don't want all that to make me miss the good stuff. There's always something beautiful there when I take a moment to notice it. To just stop.
Sometimes that means I don't get all three loads of laundry done. Little Miss Bulldog may have to miss her bath.
And it means plenty of dinners that take only 15 to 30 minutes, especially on days like…today.
Never fear; we won't sacrifice flavor for speed.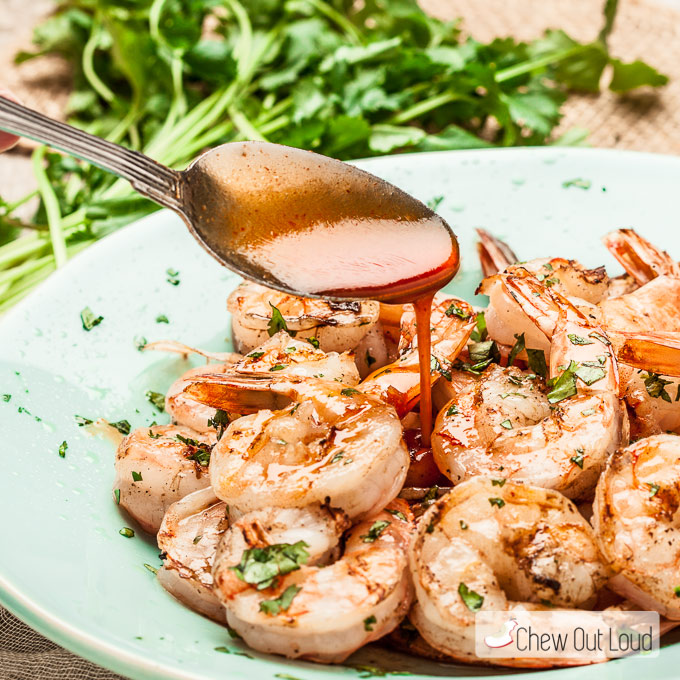 This Spicy, Buttery Asian Grilled shrimp is super fast, easy, healthy, tender, and succulent.
It literally takes me 15 minutes to have it on the table. We adore this flavorful meal with a nice pot of fluffy rice and a quickly tossed salad.
Here's to today.
Did you make this?
Please give us a rating and comment below. We love hearing from you!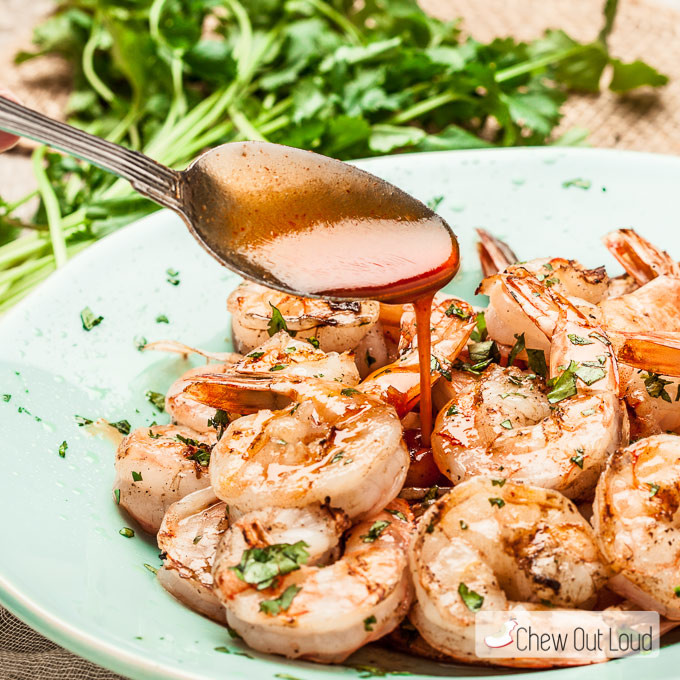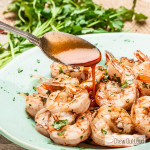 Spicy, Buttery Asian Grilled Shrimp
This Spicy, Buttery Asian Grilled Shrimp is light, tender, full of flavor, and comes together in just 15 minutes. It's quick to make and quicker to disappear. Use either an outdoor grill or an indoor grill pan.
Ingredients
For the Shrimp:
12

oz

jumbo raw shrimp

,

peeled, deveined, and towel-dried

¼

tsp

kosher salt

¼

tsp

white pepper

oil for greasing the grill
Instructions
Make the Sauce: In a small saucepan, whisk together all ingredients (except lime juice) on medium heat until butter is melted and ingredients are smoothly incorporated, 2-3 min. Remove from heat and whisk in the lime juice. Set aside and cover to keep warm.

Grease either an outdoor grill or indoor grill pan. Heat grill over medium-high heat until oil is hot. While grill is heating, make sure shrimp is towel dried, and toss with kosher salt and white pepper. Grill shrimp in a single layer for 45-60 seconds per side; it cooks super fast, just until opaque; don't over-cook. Toss shrimp with sauce and serve with lime wedges, if desired.
Notes
Serve with fluffy rice and a quickly tossed salad for a fast and delicious weeknight meal!
Nutrition (per serving)
Calories:
190
kcal
|
Carbohydrates:
19
g
|
Protein:
12
g
|
Fat:
8
g
|
Saturated Fat:
5
g
|
Polyunsaturated Fat:
0.4
g
|
Monounsaturated Fat:
2
g
|
Trans Fat:
0.3
g
|
Cholesterol:
126
mg
|
Sodium:
862
mg
|
Potassium:
118
mg
|
Fiber:
0.1
g
|
Sugar:
17
g
|
Vitamin A:
376
IU
|
Vitamin C:
2
mg
|
Calcium:
51
mg
|
Iron:
0.4
mg
Source: Chew Out Loud
We are shrimp fanatics and we think you'll really, really like these: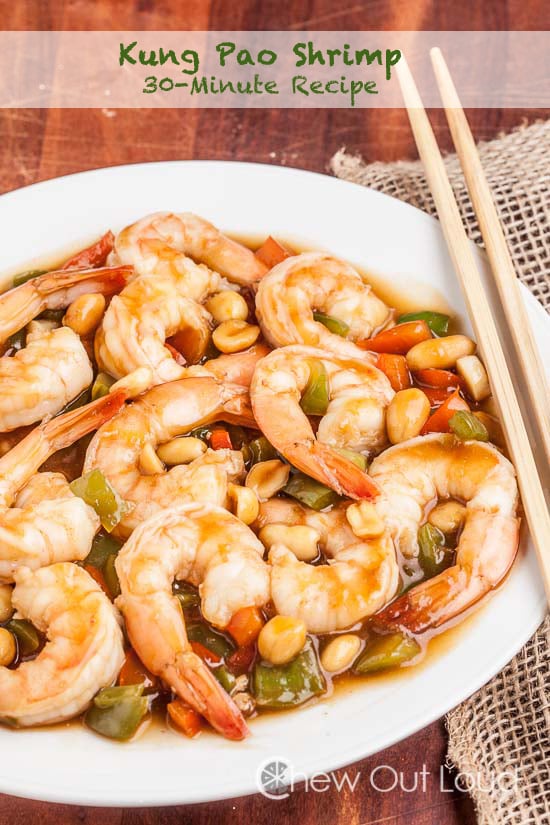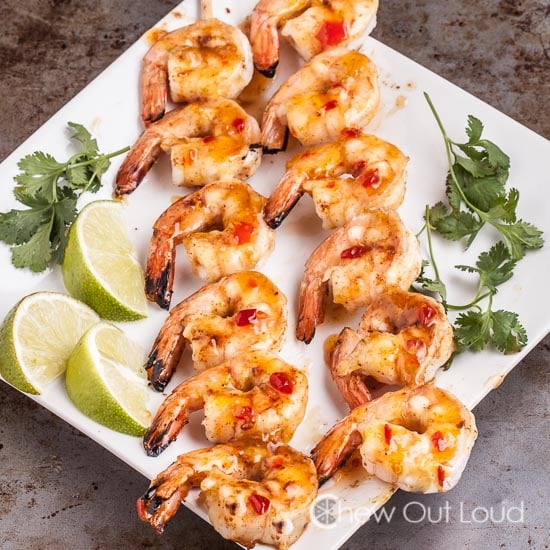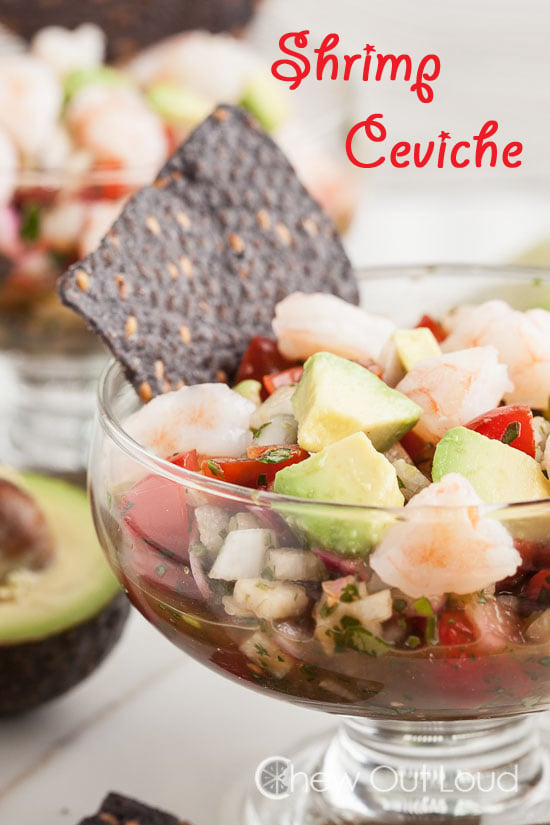 4. Stuffed Avocado Shrimp Salad