Honey Soy Chicken
With only a handful of ingredients and minimal effort, this Honey Soy Chicken will quickly become a family favorite. It's super tender, flavorful, and healthy. It's great for meal prep.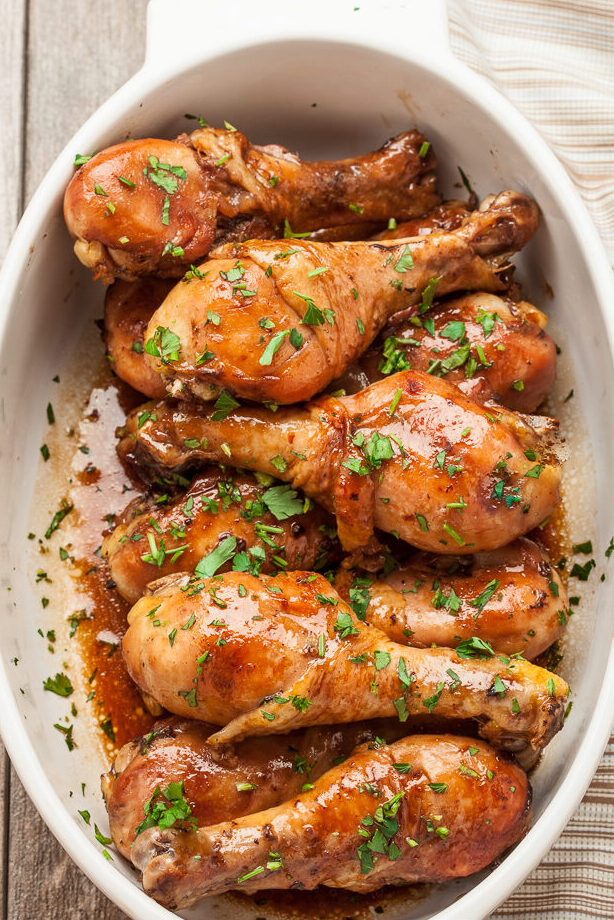 Honey Soy Chicken
This honey soy chicken is quite possibly the easiest way to make juicy, tender chicken in the oven. My dad used to make this for us all the time when growing up. To this day, Dad still serves up this dish whenever we make a trip back home. It was a hit with his kids and now it's a hit with his grandkids.
Of course, Dad never used actual recipes, yet his chicken turned out fork-tender and scrumptious every single time. I've tried watching him cook, but I always have to come up with my own measurements because no, I cannot remember the exact color and thickness of that sauce by just watching you. After many attempts, I've nailed down this recipe – it's tender, full of flavor, and perfect over your favorite rice.
What You'll Love
There are only 4 ingredients, not counting salt and pepper.
Honey soy chicken literally takes about 5 minutes to prepare.
It bakes up beautifully browned, tender, juicy, and full of flavor.
You can make this chicken ahead of time for meal prep.
This dish is perfect for busy weeknights, as well as sharing with guests on the weekends.
Honey soy chicken can be made gluten free using gluten-free soy sauce.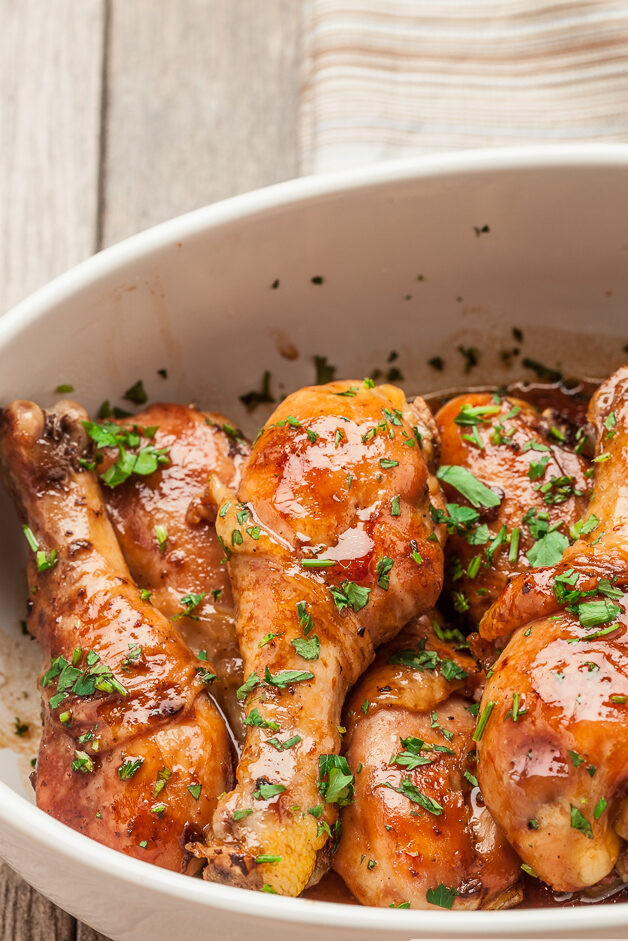 Basic Pantry Ingredients
Asian Rice Cooking Wine is found at most Asian grocery stores. It is a cooking wine, and is not the same thing as sweet rice wine or seasoned rice wine. It's sometimes called Chinese Cooking Wine or Shaoxing Cooking Wine.
Pure honey provides thickness to the sauce and exceptional flavor.
Good quality regular-strength soy sauce or Tamari sauce (gluten-free) is essential to this dish, as it provides umami flavors.
Tips for Perfect Honey Soy Chicken
Use paper towels to pat-dry all excess moisture from chicken prior to marinating. Excess water content will dilute the marinade and will also cause chicken to steam rather than roast in the oven.
Use a fork to pierce chicken pieces all around prior to marinading. This allows flavors to soak into the chicken.
If you want to be certain your dish is gluten-free, use Tamari soy sauce.
Use tongs to turn chicken pieces over a few times during baking, particularly after the cover comes off – that will ensure your chicken is nicely browned on all sides.
Pour any sauce/drippings from pan onto chicken and rice!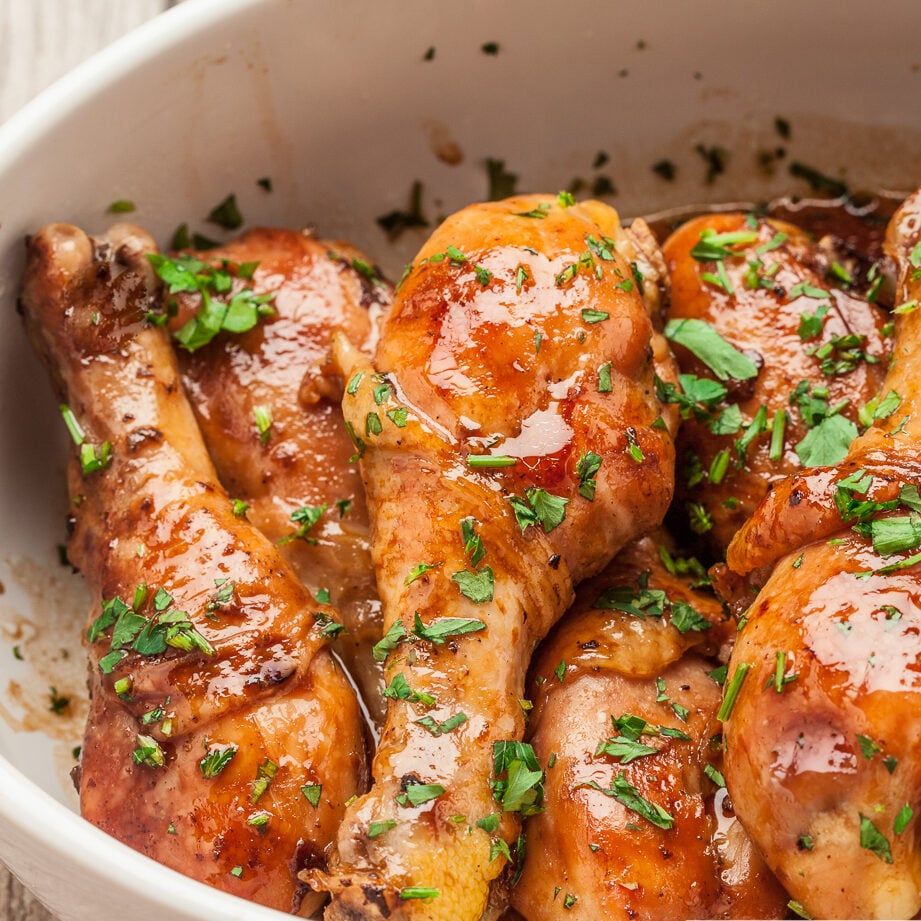 What to serve with Honey Soy Chicken
Honey Soy Chicken
Common Questions
What is honey soy sauce made of?
Our flavorful honey soy marinade is made simply with good quality soy sauce, rice cooking wine, and pure honey.
How do you thicken the honey soy sauce?
The marinade/sauce will thicken naturally during the final baking stages, particularly once the cover is removed. It thickens into a texture that is perfect for basting and drizzling.
Can I make honey soy chicken ahead of time?
Absolutely. You can make this dish several hours in advance, or make it for meal prep, as it keeps well in the fridge for 3-4 days.
Is rice cooking wine the same as seasoned rice vinegar?
No, they are not the same thing. Be sure you're using cooking wine and not anything labeled as vinegar.
More to Cook and Eat
Also Try These Fabulous Baked Wings
Did you make this?
Please give us a rating and comment below. We love hearing from you!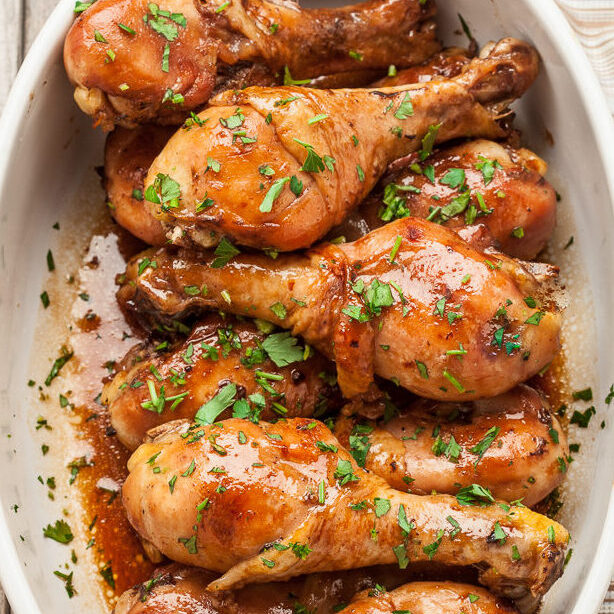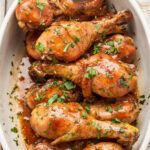 Baked Honey Soy Chicken
This Baked Honey Soy Chicken requires only a handful of simple ingredients. It's easy, healthy, and delicious. A winning combo for the perfect weeknight meal. Serve over fluffy rice.
Instructions
Using paper towels, thoroughly dry each piece of chicken. (Do not skip this step, as moisture from chicken will negatively affect results.) Use a fork to poke holes everywhere on all sides of chicken pieces. Lay drumsticks in foil-lined rimmed baking sheet or two baking pans, making sure not to crowd pieces. Evenly sprinkle kosher salt and black pepper over drumsticks.

In a bowl, combine cooking wine, honey, and soy sauce; use a whisk to mix well. Pour mixture evenly over drumsticks. Rotate drumsticks to coat. Let chicken marinade for 1 hour at moderate room temp, rotating once in between. Meanwhile, preheat oven to 350F, with rack on middle position.

Cover pans tightly with foil and bake 45 minutes. Uncover pans and bake another 20-25 minutes, rotating drumsticks once or twice in between to get a nice browning on all sides. Serve while warm, with thickened sauce from the pan.
Notes
Rice cooking wine can be found in ethnic aisles of some major grocery stores and definitely in Asian grocery stores. I use Shaoxing Cooking Wine, but you can use your preferred brand. If you can't find it, you can try substituting with dry sherry.
Be sure not to use rice vinegar by accident, as that would impart a tangy vinegar flavor – great for salad dressings, but not for this recipe.
If you have 2 large rimmed sheet pans, you can place one pan on top of the other to use as a "cover" in the oven.
If you enjoyed this recipe, please come back and give it a rating ❤️
Nutrition (per serving)
Serving:
1
piece
|
Calories:
84
kcal
|
Carbohydrates:
8
g
|
Protein:
0.2
g
|
Fat:
0.1
g
|
Saturated Fat:
0.02
g
|
Polyunsaturated Fat:
0.02
g
|
Monounsaturated Fat:
0.03
g
|
Trans Fat:
0.001
g
|
Cholesterol:
1
mg
|
Sodium:
174
mg
|
Potassium:
6
mg
|
Fiber:
0.03
g
|
Sugar:
7
g
|
Vitamin A:
1
IU
|
Vitamin C:
0.03
mg
|
Calcium:
1
mg
|
Iron:
0.04
mg