One of our family's favorite weeknight meals is a really good Teriyaki Chicken.  We lived near several yummy hole-in-wall Teriyaki joints in So. Cal, and it was as easy as a walk down the street to satisfy that craving.  Sadly, good Teriyaki is mysteriously hard to find in my current midwest 'hood.  The one at the mall food court the closest thing we could find, and that's… well… that's all.
Fortunately for all of us who love Teriyaki but aren't in a position to call in an order down the street, great tasting Teriyaki is easy to dish up yourself!  In the warmer months, we like to grill up some chicken or beef for Teriyaki bliss, but in the colder months (Spring, are you coming to town?) we bake it up instead.  Baking makes it super easy as a one-dish meal, and it's mouthwateringly delish.  It's all about the sauce, whether you grill it or bake it.
This is the one and only Teriyaki Sauce that I use and have used for years.  It's super versatile, and can be used on a variety of proteins.  Even on a Hawaiian Burger!   It's savory, it's sweet, it's thick, and oh-so-addictive.  This sauce opens up a whole new world of possibilities.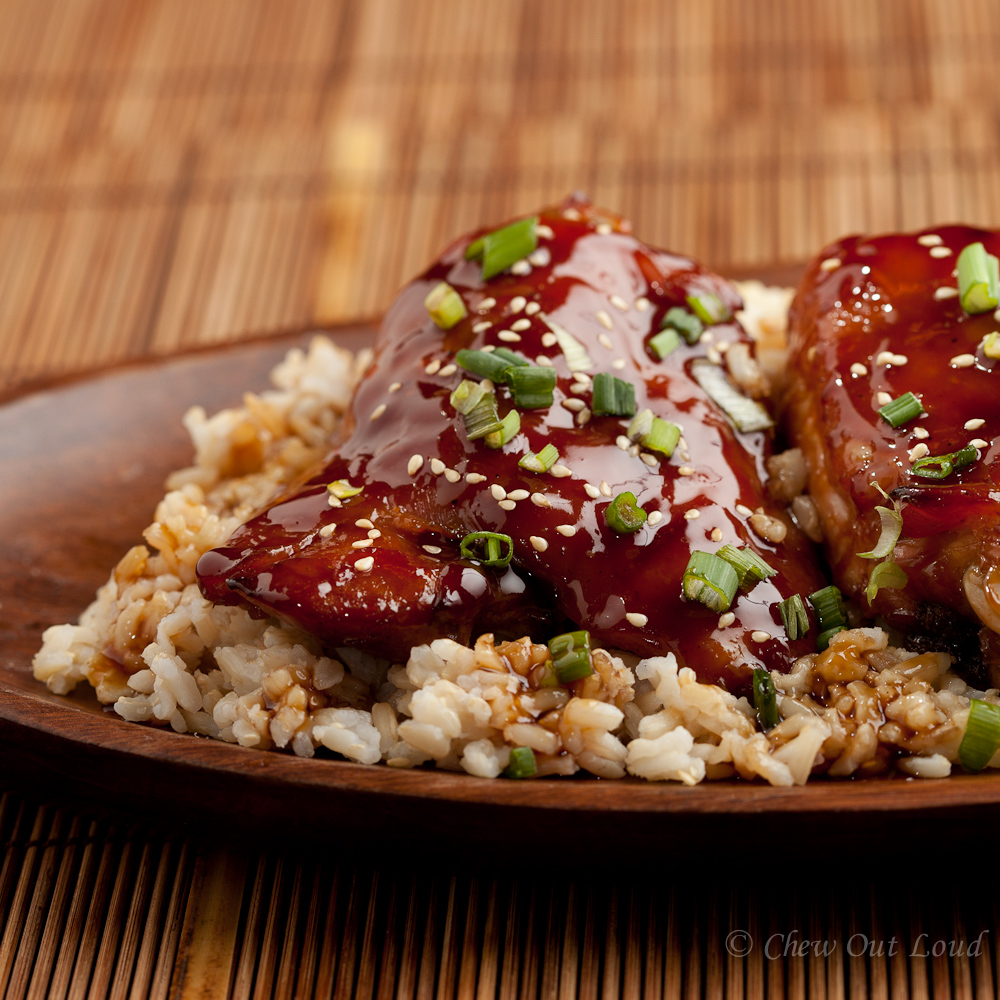 Be sure to have extra sauce on hand.  Everyone will want to drizzle it onto their plates.  Don't forget the rice (we use brown rice) – you'll want rice to go with that sauce.
Enjoy!
———————————————————————————————–
BAKED TERIYAKI CHICKEN RECIPE (for 10 chicken thighs)
INGREDIENTS
2 TB corn starch dissolved in 2 TB water
1 cup Kikkoman Teriyaki Sauce (each brand tastes different)
1 cup water
1/2 to 2/3 cup white sugar, depending on taste
1 tsp ginger powder
Juice from 3 wedges of a fresh orange (do not use store bought OJ)
10 chicken thighs, bone in, with skin
kosher salt
chopped scallions, optional
DIRECTIONS
Stir all ingredients except for chicken in a medium saucepan.  Cook on medium, stirring, until sauce bubbles and thickens.  Set aside to cool.
Thoroughly dry each raw chicken piece with paper towels.  Loosen skin from the meat so that marinade can get into the meat, but don't remove the skin.  Using a fork, poke holes all over each piece of chicken.  Arrange chicken in a single layer in a baking dish and sprinkle top of each piece with a light layer of kosher salt.  Spoon just enough marinade to cover all pieces well, ensuring that tops and bottoms are covered with marinade.  Save 1/3 to 1/2 cup of the sauce for basting and drizzling.  Cover and let sit in fridge overnight or at least 4 hours.
Remove chicken from dish, and arrange evenly in a foil-lined baking sheet (rimmed.)  Bake at 350F for 1 hour, basting with some of the reserved sauce every 15 minutes (separate basting sauce from drizzling sauce.)
Serve chicken with rice, and drizzle with remaining sauce onto plates.  Garnish with chopped scallions if desired.
Source:  Chew Out Loud
Note:  The bake time listed is for bone-in, skin-on chicken thighs.  Adjust your bake time for boneless or other cuts of meat.  If you have leftover basting sauce that you want to use for drizzling, simply bring sauce to boil again, and enjoy!