Teriyaki Chicken (Stovetop Method)
One of our family's favorite weeknight meals is a really good Teriyaki Chicken. We lived near several yummy hole-in-wall Teriyaki joints in So. Cal, and it was as easy as a walk down the street to satisfy that craving. Sadly, good Teriyaki is mysteriously hard to find in my current midwest 'hood. The one at the mall food court the closest thing we could find, and that's… well… that's all.
Fortunately for all of us who love Teriyaki but aren't in a position to call in an order down the street, great tasting Teriyaki is easy to dish up yourself! In the warmer months, we like to grill up some chicken or beef for Teriyaki bliss, but in the colder months (Spring, are you coming to town?) we bake it up instead. Baking makes it super easy as a one-dish meal, and it's mouthwateringly delish. It's all about the sauce, whether you grill it or bake it.
This is the one and only Teriyaki Sauce that I use and have used for years. It's super versatile, and can be used on a variety of proteins. Even on a Hawaiian Burger! It's savory, it's sweet, it's thick, and oh-so-addictive. This sauce opens up a whole new world of possibilities.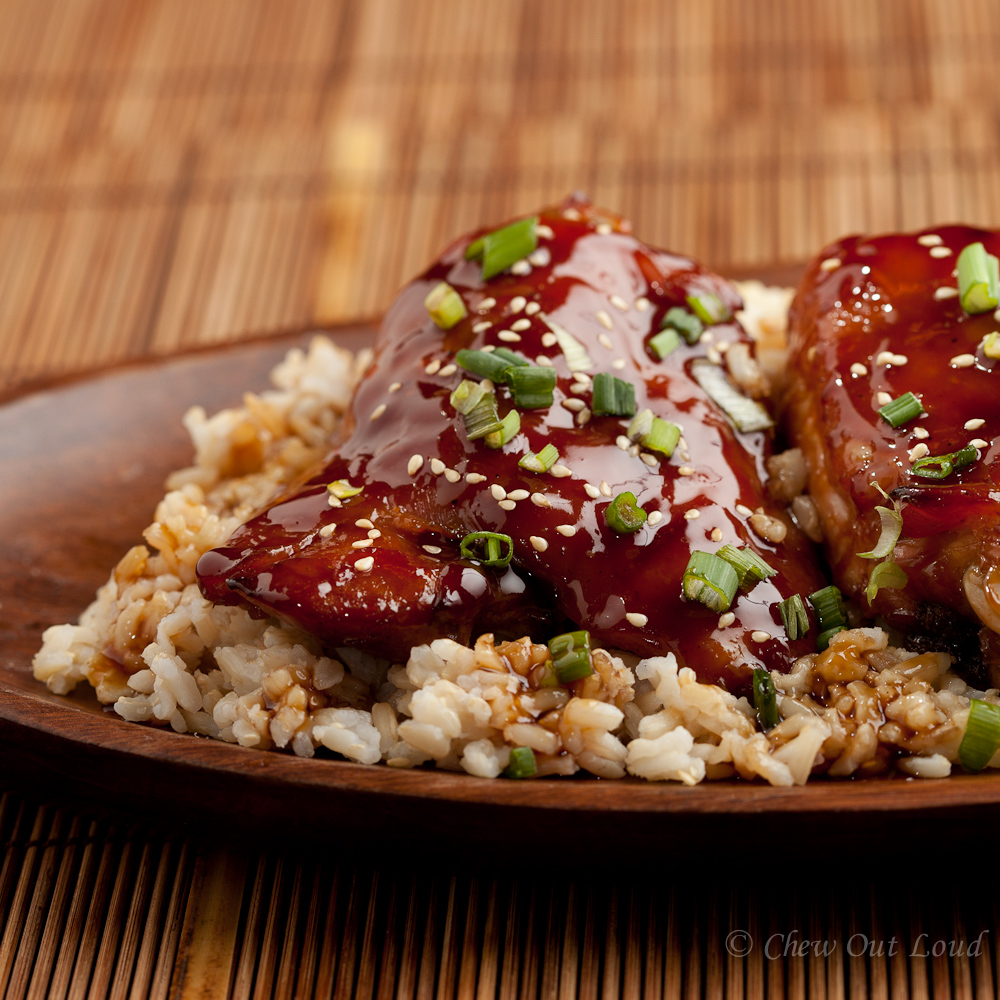 Be sure to have extra sauce on hand. Everyone will want to drizzle it onto their plates. Don't forget the rice (we use brown rice) – you'll want rice to go with that sauce.
Enjoy!
---
Teriyaki Chicken Recipe
INGREDIENTS
For the Sauce:
2 TB cornstarch, stirred/fully dissolved in 2 TB water
1 cup basic Teriyaki Sauce (our preference is Kikkoman)
1 cup water
2/3 cup white sugar
1 tsp ginger powder
Juice from 3 wedges of a fresh orange (do not use store bought OJ)
For the Chicken:
4 boneless, skinless chicken thighs*
2 TB olive oil or canola oil
Optional Garnish: thinly sliced scallions, toasted sesame seeds
DIRECTIONS
In a saucepan, combine all sauce ingredients. Use a hand whisk to stir thoroughly, ensuring there is no trace of undissolved cornstarch left. Turn heat to medium and cook, stirring, until sauce bubbles and thickens. Sauce will continue to thicken as it cools. Set aside.
Thoroughly dry each piece of chicken with paper towels (this step is important to ensure chicken browns in the pan, rather than steams.) Cut chicken into 1/2-inch pieces.
In a large pan, heat oil on medium high until very hot. Add chicken and arrange in an even layer in pan. Let cook undisturbed for 2 minutes, or until bottom of chicken pieces are browned. Stir and cook just until chicken is no longer pink in center, about 2 more minutes.
Spoon desired amount of sauce over chicken and stir to coat. Garnish with scallions and sesame seeds, if desired. Serve with remaining sauce.
Notes: We highly recommend using thigh meat, as it tends to remain tender even when accidentally over-cooked. However, you may also use 3 boneless, skinless chicken breasts (take care not to over-cook chicken breast meat.)
If you enjoyed this recipe, please come back and give it a rating ♡