The Best Grilled Chicken Legs
These grilled chicken legs are a delightfully flavorful way to change up your usual grilled chicken. This juicy sauce is amazingly flavorful and super easy. The marinade sets this recipe apart from all the rest.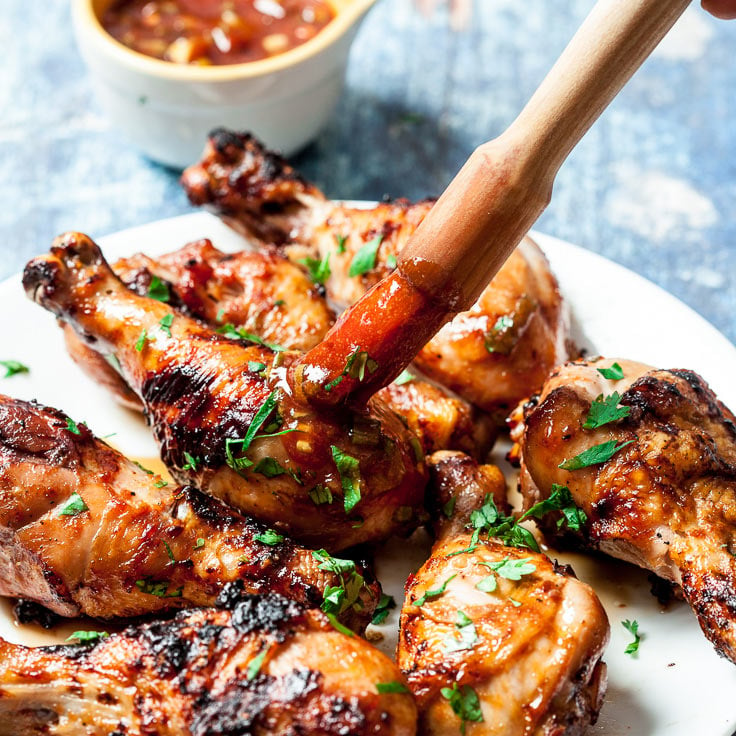 Video: Watch Us Make This Recipe
The Best Grilled Chicken Legs
One thing both my husband and I have fully agreed on from the start is that Asian-style BBQ grilled chicken is the way to go. This recipe for the best grilled chicken legs features an amazing sauce that's just as juicy as it is flavorful. No need for boring grilled chicken when this recipe is perfect for the next cookout dinner on the grill.
Why This Recipe stands Out
Asian inspired BBQ sauce is a flavor burst with tamari sauce, crushed red pepper and tangy apple cider vinegar.
Add this to your list of make-ahead and meal prep options. These chicken legs can be marinated for up to 2 days before grilling.
You'll be blown away by the simple ingredient list required to make a sauce as amazing as this. Most of the items are probably already sitting in your pantry.
This recipe is naturally gluten-free and dairy-free for an allergen-friendly score!
It's also a naturally cheap recipe to feed a big crowd and leave everyone satisfied.
Key Ingredients
This recipe is divided into two main parts: the chicken legs and the basting sauce. Even with two parts, the ingredients list is short. Here is everything you'll need to pull off this delicious mouth-watering grilled chicken:
Chicken legs – Chicken legs are the perfect vessel for this barbecue sauce.
Tamari soy sauce – Tamari is robust in flavor and similar to soy sauce, but it contains less overall sodium.
Olive oil – Olive oil provides added flavor and also prevents the chicken legs from sticking to the grill.
Ketchup – An unexpected ingredient, ketchup contains sugar and adds a sweet element to the sauce.
Apple cider vinegar – Tangy on its own, but this will balance out the sauce.
Green onion – This adds a mild onion flavor without going overboard.
Spices – Garlic powder, crushed red pepper, and salt combine to add just the right spice, sodium, and flavor profile.
Cilantro or parsley – Used for garnish, feel free to pick between the two based on your flavor preference.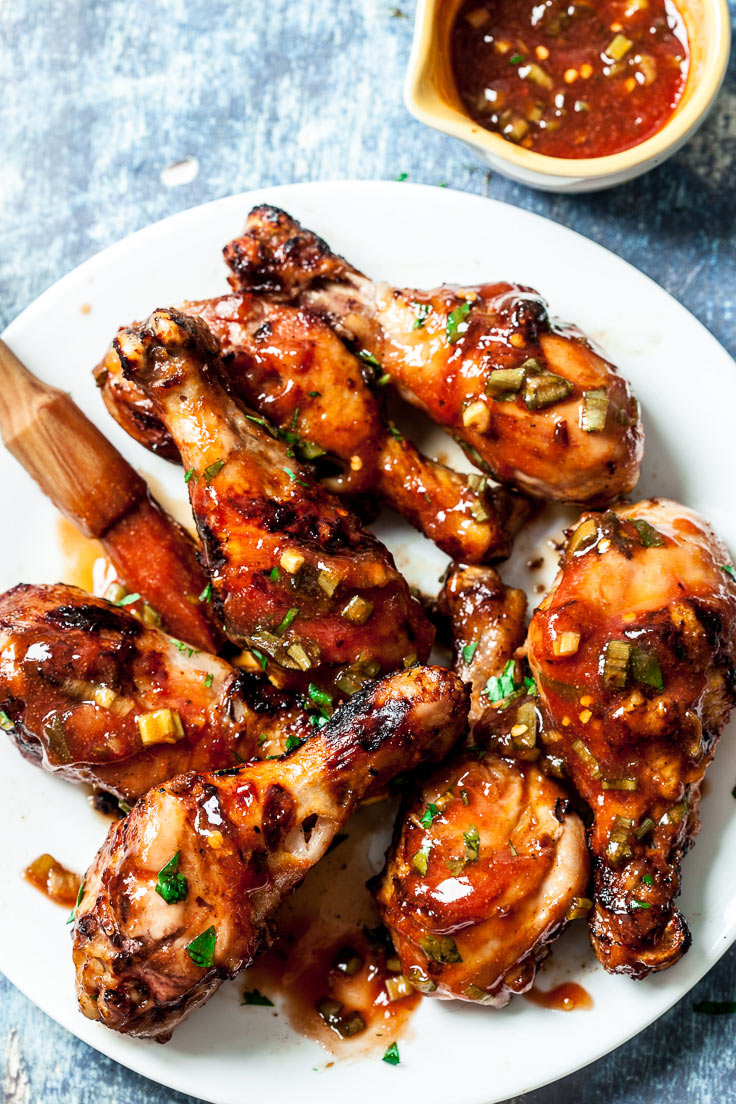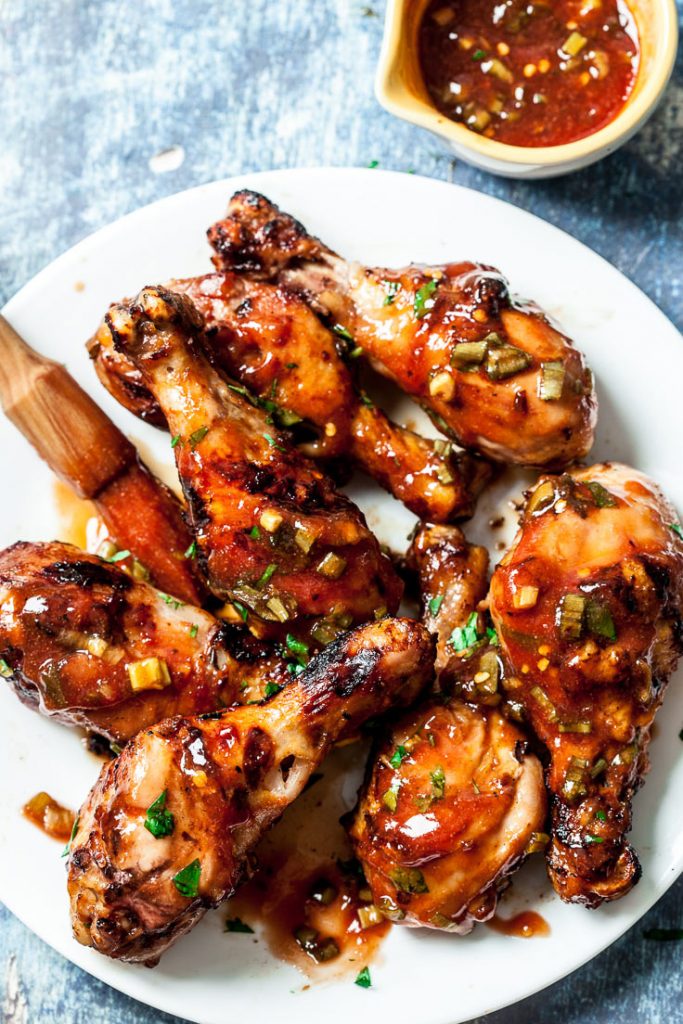 Tips for the Perfect Results
Dry chicken legs with a paper towel before marinating. Chicken legs naturally contain excess moisture out of the package. Patting the pieces down with a paper towel ensures the marinade sticks to the legs without excess water.
Use Tamari Sauce instead of traditional Soy Sauce. The two ingredients are similar, but we prefer true Tamari Sauce as it's naturally gluten-free, contains less sodium, and has a better all-around flavor when compared to soy sauce.
To make this recipe ahead of time, add the paper towel-dried chicken legs into a large ziplock bag and combine them with Tamari Sauce and olive oil. This mixture can be left in your fridge for up to two days before removing and grilling.
Use half of the sauce for basting and half of the sauce as a finishing coat over the chicken. Basting sauce creates an irresistible glaze on the grill. Using half of it during the grilling process and half of it after the grilling process creates a chicken leg with a glazed base and juicy sauce dripping off the top.
What to Serve with The Best Grilled Chicken Legs
These Asian-inspired grilled chicken legs go perfectly with a plethora of options. Because the legs are so delicious by themselves, the sides can be as simple or elegant as you choose.
We love pairing this with grilled vegetables. Check out this helpful page on How to Grill Any Vegetable if you've never tried it before.
Commonly Asked Questions
How do I know when chicken is grilled all the way through?
The best and most foolproof way to ensure your chicken is grilled completely is to use a digital or analog meat thermometer. Chicken must be cooked to 165F to meet food safety standards.
How long does it take to make grilled chicken?
Grill time can vary depending on the specific grill in use, but generally speaking, chicken legs, also called drumsticks, take 25 minutes to perfectly grill. Rotate the legs while grilling to ensure an even cook without too much char.
What is the difference between Tamari and soy sauce?
Tamari sauce is gluten-free and contains less sodium. Tamari sauce is also known to have a richer flavor than soy sauce due to the slightly longer fermentation time that allows the soy base and salt to combine.
More to Make and Eat
Did you make this?
Please give us a rating and comment below. We love hearing from you!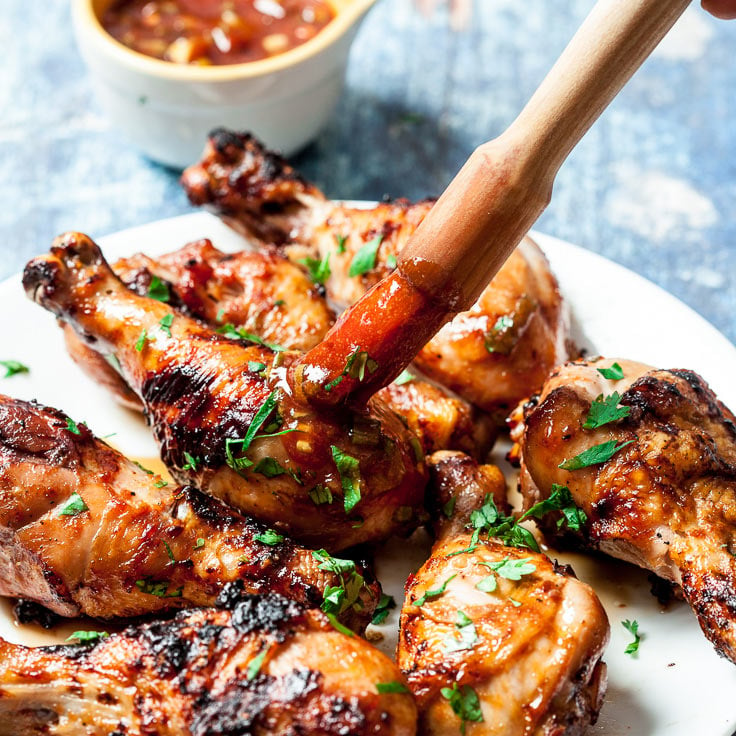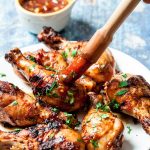 The Best Grilled Chicken Legs
These grilled chicken legs are a delightfully flavorful way to change up your usual grilled chicken. This juicy sauce is amazingly flavorful and super easy. Get ready for tender, tasty grilled chicken.
Ingredients
Garnishes:
¼

cup

cilantro

,

or parsley, freshly chopped
Instructions
Prep the chicken. Use paper towels to thoroughly dry excess moisture from chicken pieces. Use a fork to poke holes throughout all chicken pieces.

Place chicken in a large Ziplock bag and add Tamari soy sauce and olive oil. Seal bag well and ensure chicken pieces are well coated with mixture. Chill overnight, or up to 2 nights.

Meanwhile, make the Basting Sauce: Combine all basting sauce ingredients and whisk to incorporate. Separate marinade in half (half is for basting, rest is for serving.) Can be made ahead of time and covered/chilled until ready to grill.

When ready to grill, place bag of chicken at room temp while you prepare the grill. Grill chicken uncovered and rotate. Baste with half of the Basting Sauce, until thickest portion registers 165F (approximately 25 minutes).

Once all chicken is cooked, pour reserved Sauce over grilled chicken to coat all the pieces. Sprinkle with freshly chopped cilantro and serve immediately.
Notes
Actual grill time depends on temperature of the meat prior to cooking, as well as actual temperature of the grill.
See original article for ideas for how to serve grilled chicken legs, and side dish recipes to pair with.
If you enjoyed this recipe, please come back and give it a rating ❤️
Nutrition (per serving)
Serving:
1
g
|
Calories:
97
kcal
|
Carbohydrates:
14
g
|
Protein:
28
g
|
Fat:
12
g
|
Saturated Fat:
2
g
|
Polyunsaturated Fat:
2
g
|
Monounsaturated Fat:
6
g
|
Trans Fat:
0.02
g
|
Cholesterol:
118
mg
|
Sodium:
205
mg
|
Potassium:
697
mg
|
Fiber:
1
g
|
Sugar:
8
g
|
Vitamin A:
579
IU
|
Vitamin C:
42
mg
|
Calcium:
113
mg
|
Iron:
5
mg