When a kid requests a favorite meal for his 6th birthday, the desired meal is usually something akin to pizza, mac & cheese, or maybe spaghetti & meatballs.
My 6-year-old's birthday dinner wish?  Deep fried fish.  I asked him at least 7 times, just to be sure he didn't waver.  Nope, no wavering.  Fried fish is what he would like Mommy to make.  So, I decided on a beer battered fried fish.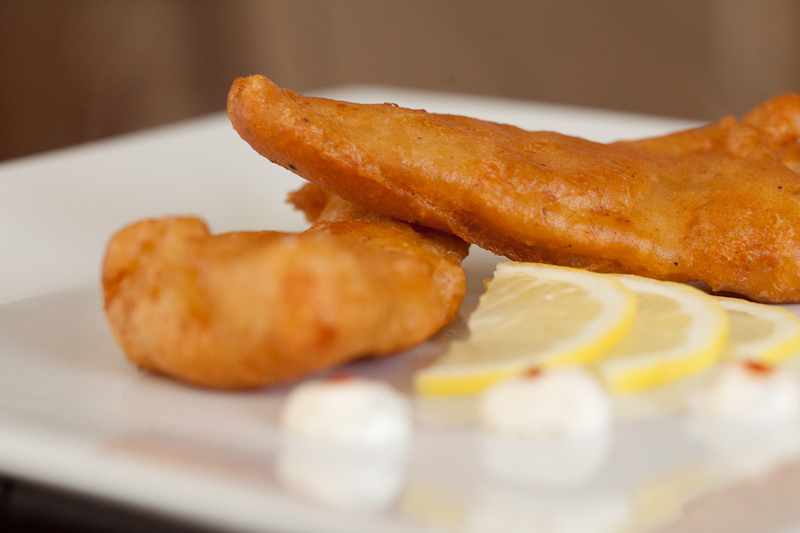 Firm, white fish (such as cod) works beautifully.  It turns out tender and flaky inside, while crisp on the outside.
The batter is full of flavor and is a fish'n chip lover's dream.
The major plus to this fish dish is that my entire family, including my three boys, devoured their plates and wanted more.  Great way to increase fish intake!
One catch: like most fried foods, you've got to eat it while it's hot.  You can keep it warm in the oven for a bit, but not long if you want to keep the crunch.   Serve alongside fries, malt vinegar, or tartar sauce.
RECIPE (serves 6)
INGREDIENTS
2 cups flour
2 tsp garlic powder
2 tsp onion powder
2 tsp Old Bay seasoning (near seafood section of stores or in spice aisle)
1 tsp pepper
1/4 tsp cayenne
1 TB salt
1 TB baking powder
1 bottle beer
cornstarch
2 lbs cod or other firm white fish, cut into strips
oil for frying (Peanut oil is great for deep frying, as it has a high smoke point. Safflower and sunflower oils are good also)
DIRECTIONS
In a large bowl, whisk together the first 8 ingredients.  Whisk in the beer until the batter is smooth, without lumps.
In deep pot, heat oil to 350F and watch thermometer throughout frying process, turning up the heat between batches so you can maintain the 350F while frying.  Dredge pieces of fish into cornstarch and shake off excess.  Dip a few pieces of fish into batter, let excess drip off, and gently submerse in the oil (I use tongs and a splatter guard).  Do not overcrowd, working in small batches.  Turn fish over in oil as needed to evenly brown all sides, until golden brown is reached.  Drain on rack.
Eat while hot, and enjoy!  If you happen to have any left over, use it for excellent fish tacos the next day.
Source:  Chew Out Loud, adapted from Alton Brown