Beer Battered Fish
This beer battered fish fry is simple, accessible, and tastes just as good as your favorite restaurant fish fry. Here's how to get tender fish with golden crisp exterior. No deep fryer needed.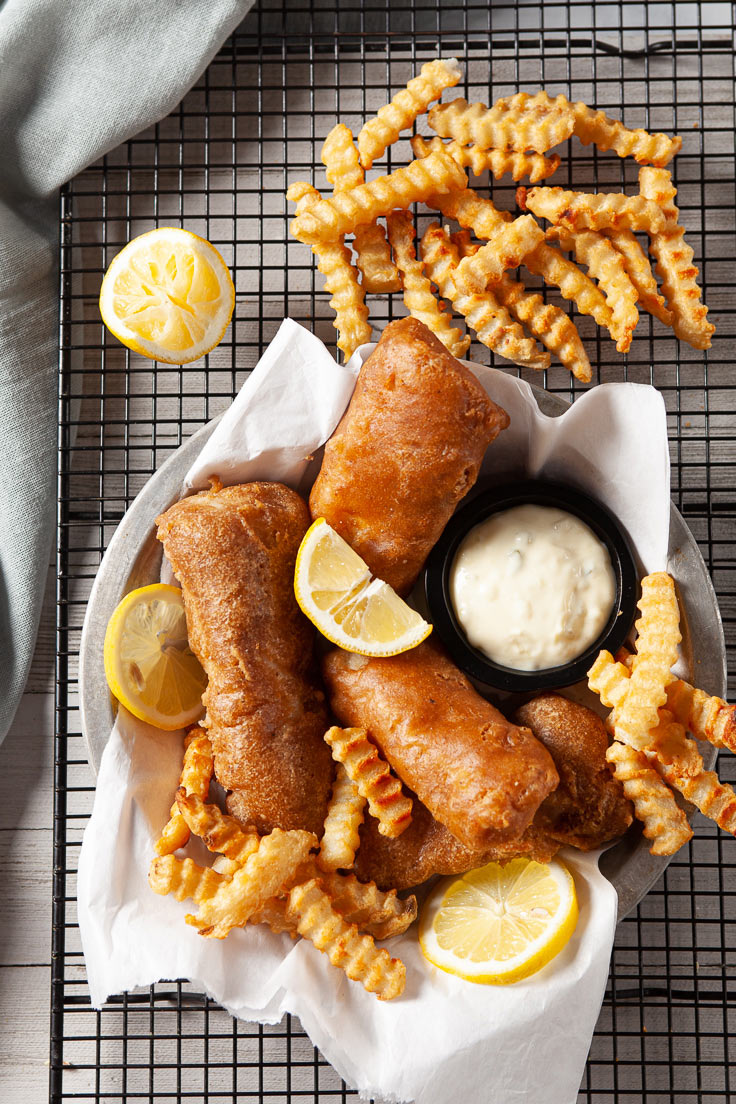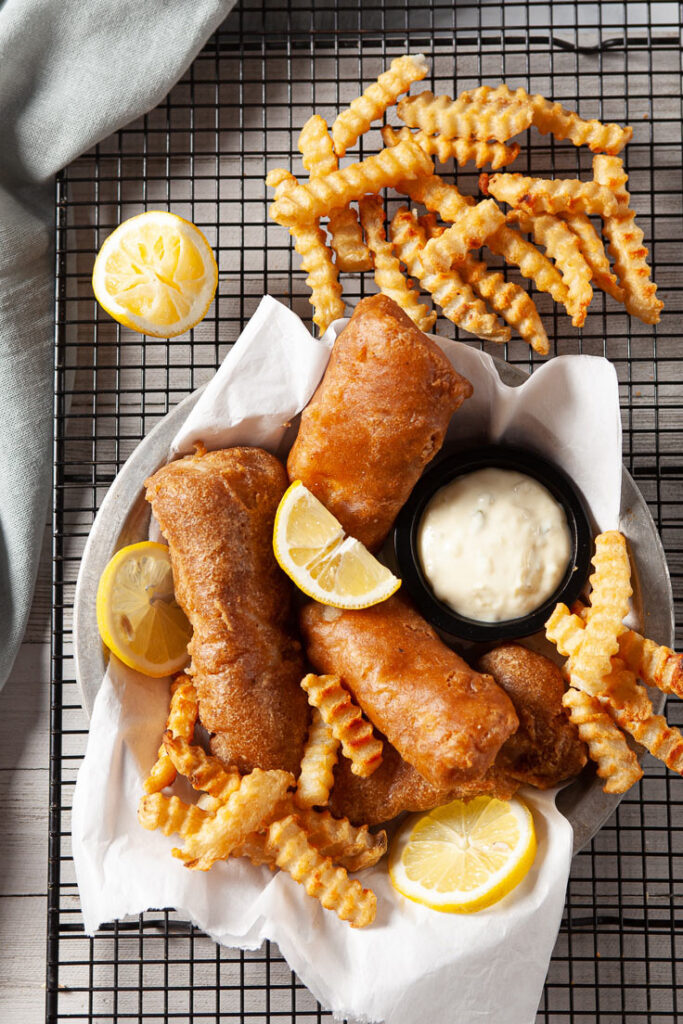 Video: Watch Us Make Beer Battered Fish
Crispy Beer Battered Fish
This beer battered fish recipe is such a catch, you'll be luring eaters to the table in no time. After all, we're talking golden crispy fish and chips, fresh out of your own kitchen.
This is a fish dish that even kids and non-fish-eaters tend to enjoy. It's a great way to increase fish intake in a way the entire family appreciates. When one of our kids turned 6 years old, he requested this fried fish for his birthday dinner. I asked him maybe 11 times, just to be sure he wasn't going to change his answer to macaroni and cheese. He didn't.
Crispy fish and chips have become a family favorite throughout the years, and this beer battered fish recipe is an instant winner.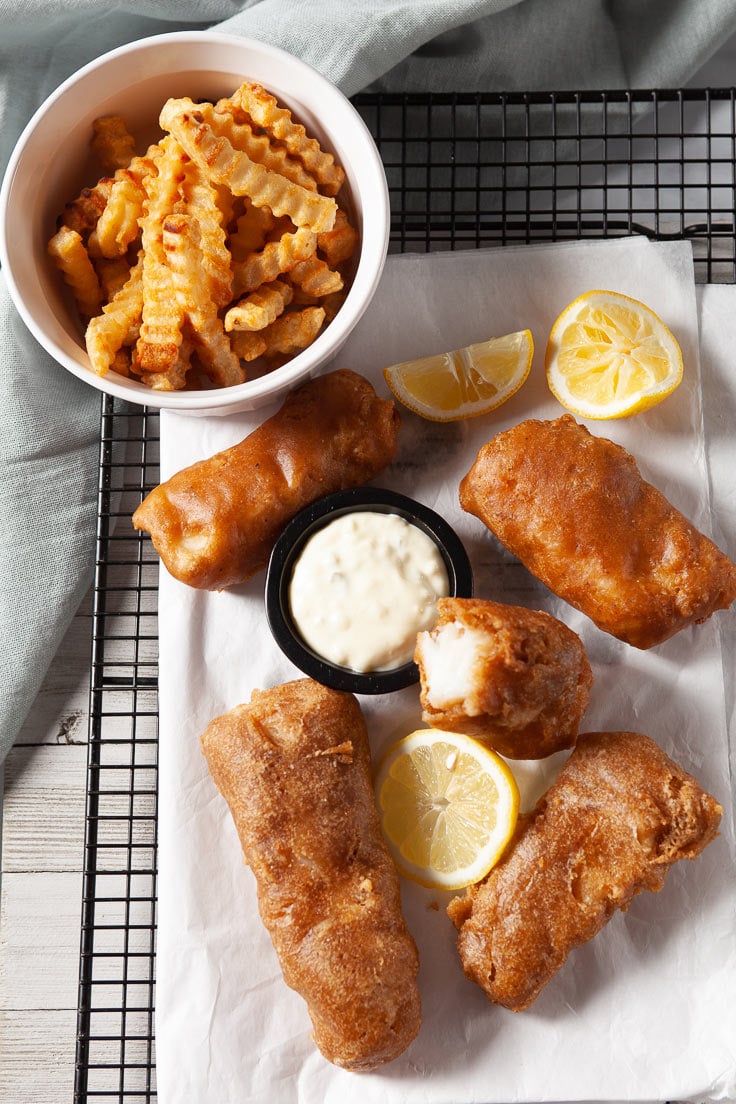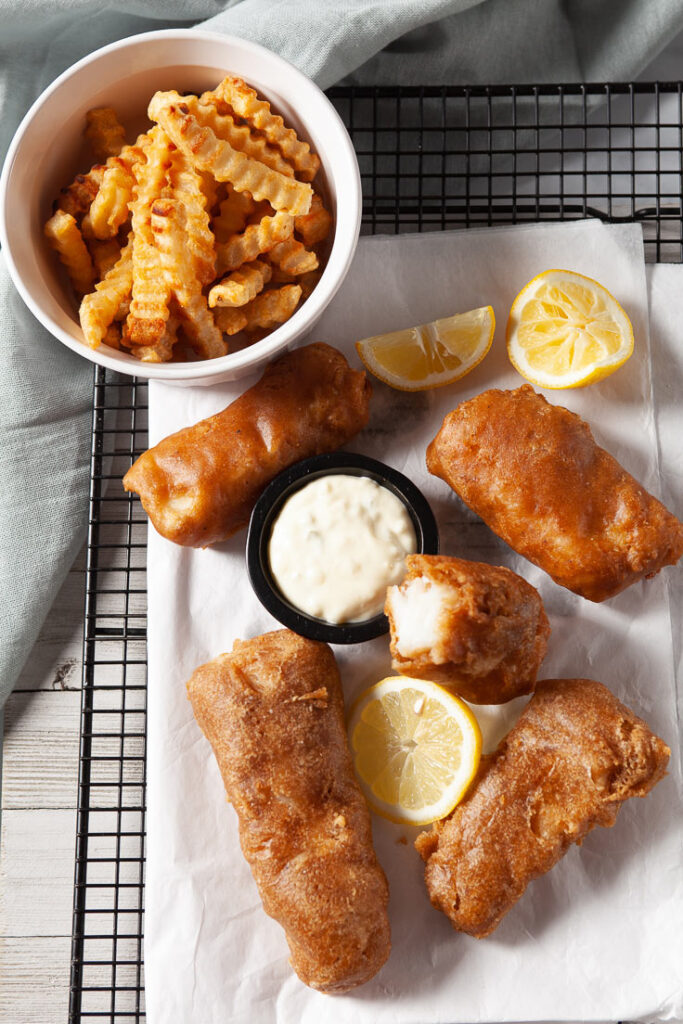 How to Fry Fish Without a Deep Fryer
Use a deep and heavy pot that's large enough to allow frying without overcrowding.
A good cooking thermometer is essential, as it's important to keep the oil temperature at a steady 350F throughout the frying process.
If the oil temperature dips below 325F during cooking, the batter will retain moisture, absorb excess oil, and emerge with a soggy and greasy coating. Not what you're going for.
When oil temperature gets above 375F for too long, it can start smoking and may impart off-putting flavors. Not to mention, the exterior will burn before food is cooked through.

Key Tips For Successful Frying
Cut fish into thin, even strips about 1 ounce each. Evenly sized pieces make for even cooking.
It's worth repeating: use a deep frying thermometer, and let oil regain its correct temperature before cooking next batch.
Choose the deepest pot you have, and fill it about half full.
Use a splatter guard to prevent random oil splatters on the wall or in your eye.
Always, always fry in small batches, ensuring that pieces don't touch.
Briefly drain just-fried fish on a plate or rack lined with paper towels to absorb outer grease.
Like most fried foods, it's best served while hot and fresh. If not able to eat right away, place fried fish in a single layer on a rack and place in oven at 200F to keep warm.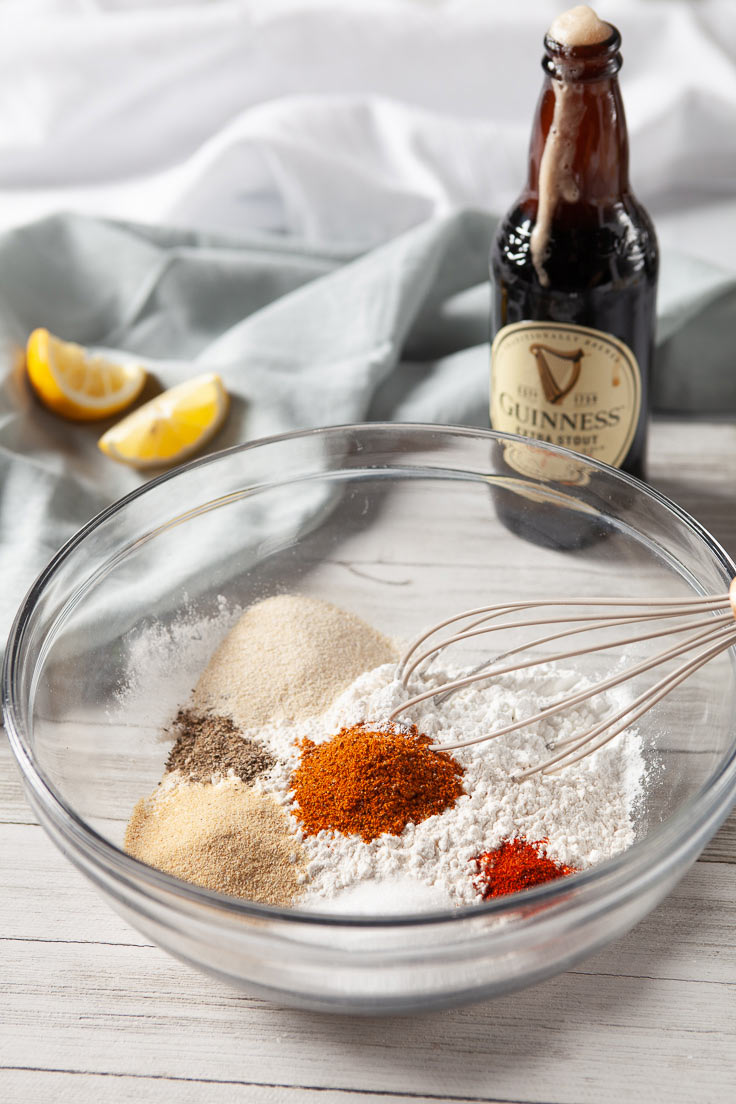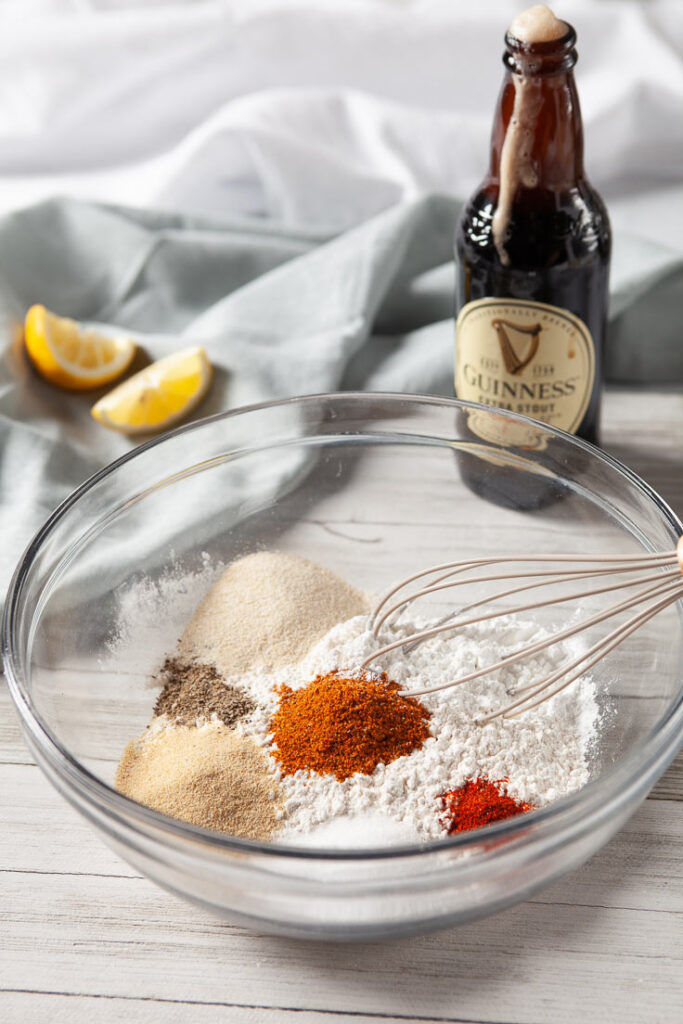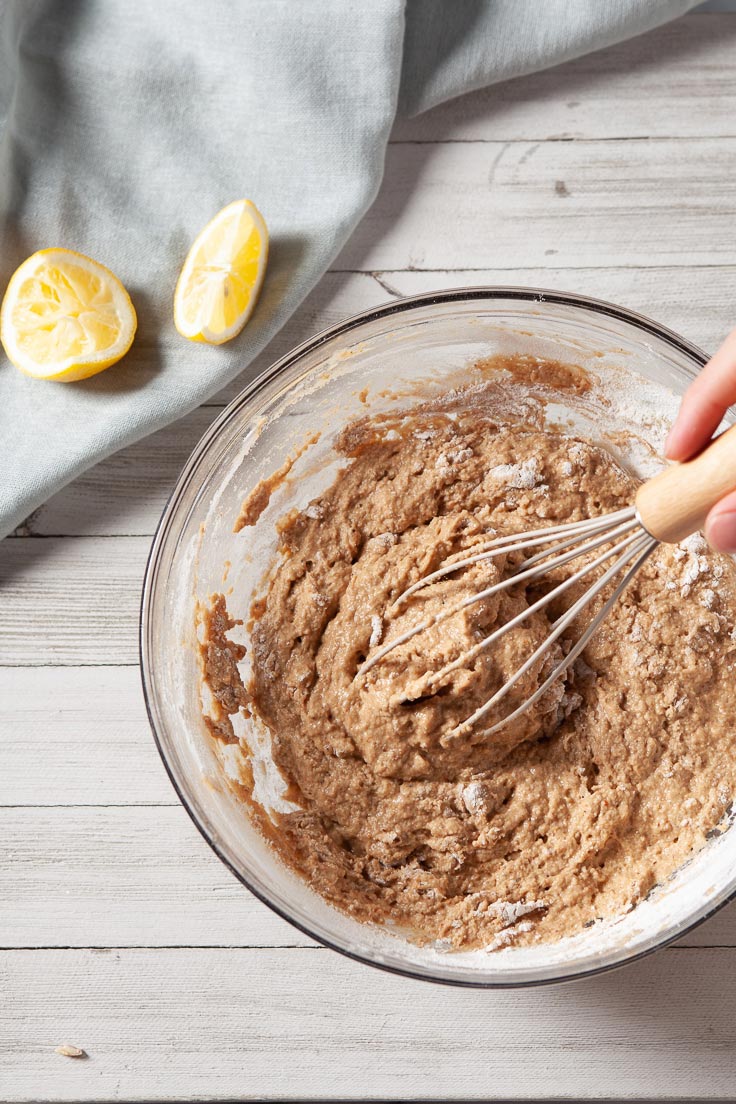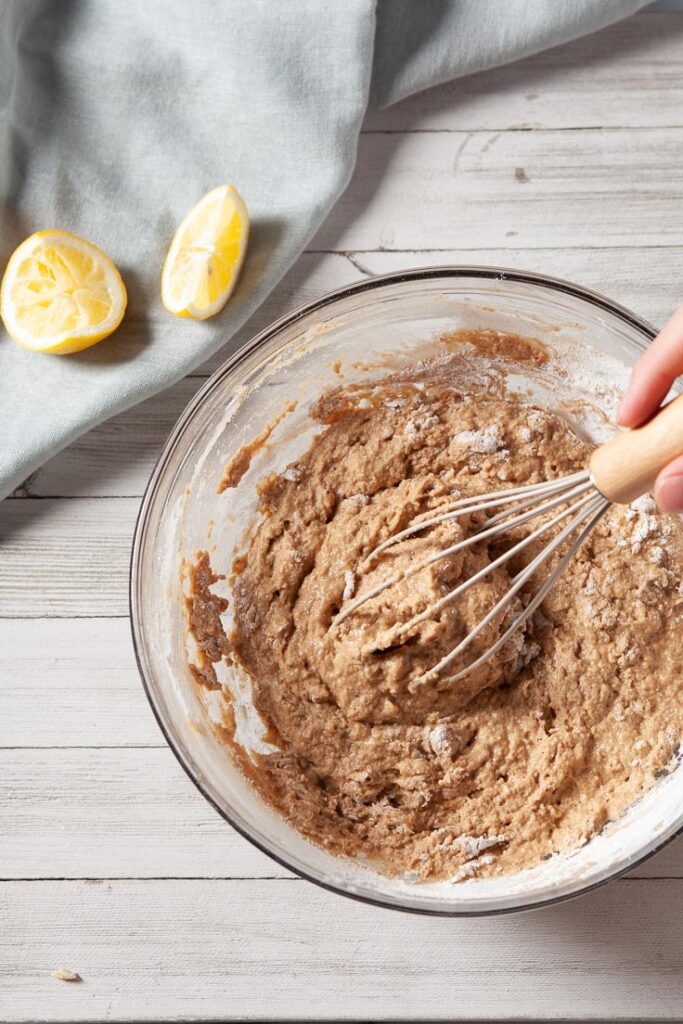 What's the Best Type of Fish to Use?
Firm, white fish works beautifully for any beer battered fish fry. Here's more on white fish types if you're interested.
Cod is our favorite choice of white fish for fried fish, as it tends to stay tender and resists drying out. It's one of the most forgiving choices.
Halibut is another great choice for tender texture, albeit a more expensive option.
Pollock and tilapia are accessible and popular choices for frying, as both are mild in flavor.
Frozen fish fillets work just as well as fresh fish; just be sure to drain and pat dry all excess moisture from any fish you use.
Which Oil is Best for Frying?
Most vegetable oils are good for frying, as their smoke points are high enough to be safe.
Corn oil and olive oil have smoke points of about 410°F. Between the two, corn oil is the better choice, as olive oil is less budget friendly for large quantity use.
Canola oil has a safe smoke point of 435°F. It's a great choice, as it doesn't impart any of its own flavors.
Peanut, soybean, and safflower oils have the highest smoke points at 450°F. With these higher smoke points, these oils are safe options and are affordable in larger quantities.
Tip: use a budget-friendly oil, as you'll be using a larger amount of it when deep frying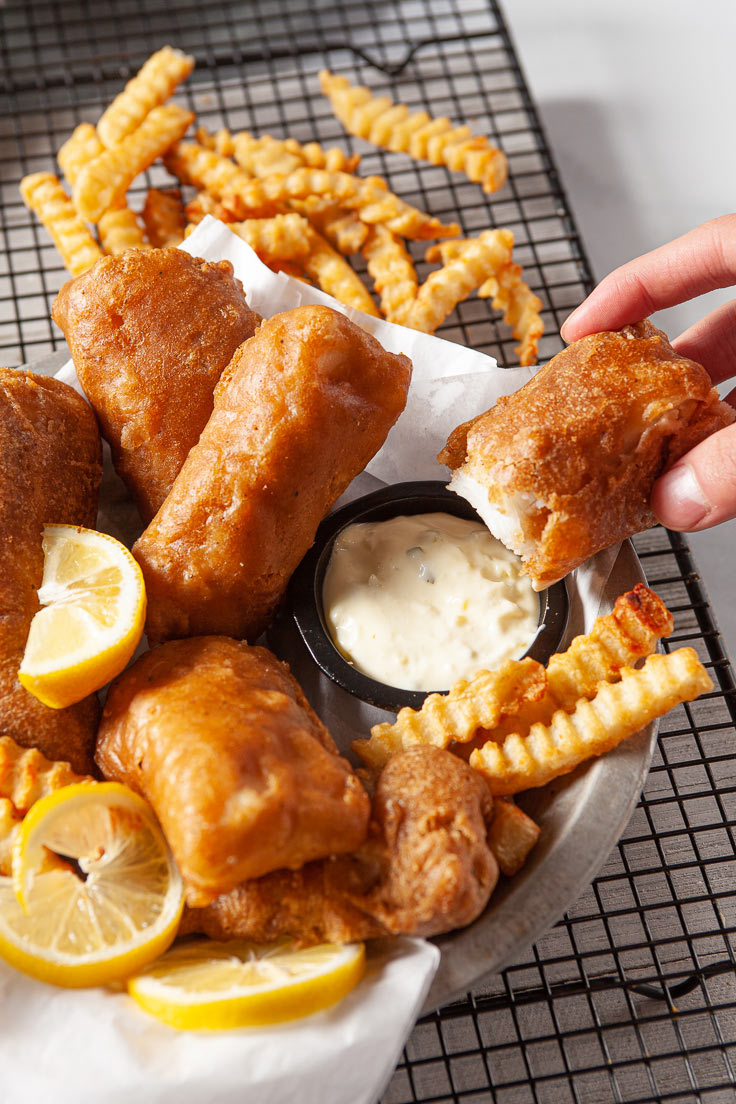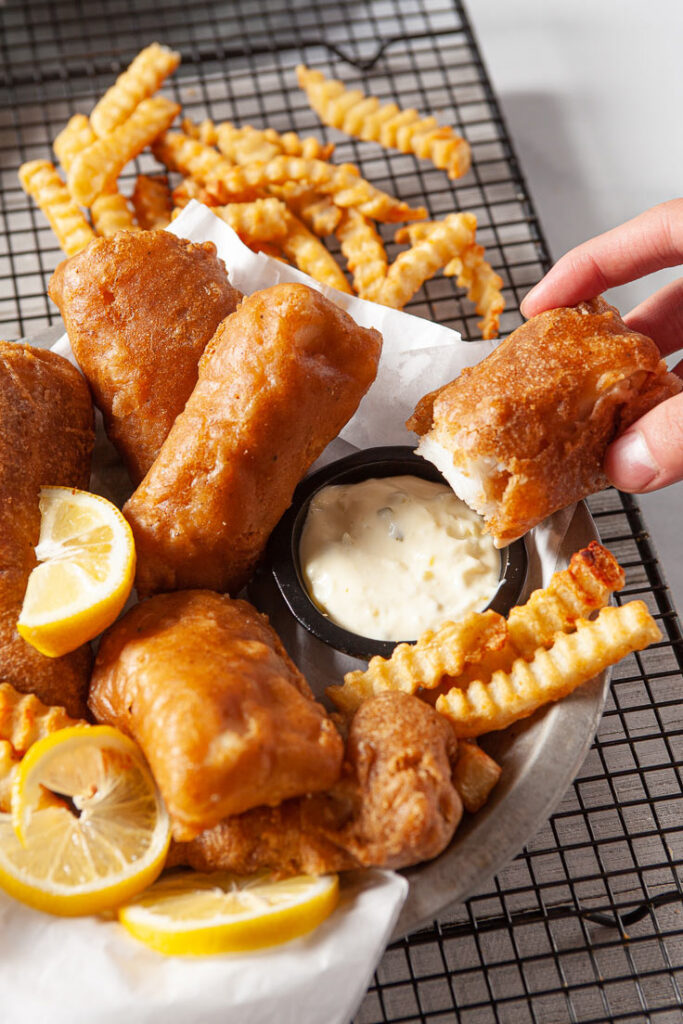 Serve Crispy Fried Fish with These Sides
Serve it with these Air Fryer French Fries, which are crispy and delicious without the need for additional deep frying.
If someone in the family loves creamy ranch dressing, use that in place of tartar sauce.
Slices or slivers of dill pickles balance out the fried food perfectly. Also, pickles definitely count as a vegetable.
Try this Crunchy Cabbage Ramen Salad for a crispy, hearty, healthy dose of delicious vegetables.
More Fish to Cook and Eat
Common Questions and Answers
How can I reuse frying oil?
If the oil is still clear and light in color, you can store it in an airtight container in a cool and dry place, for another deep fry in the near future. Be sure to strain out the bits and crumbs before storing.
What's the best way to dispose of used oil after frying?
Never pour used oil down the sink. Rather, pour cool oil into large plastic zipper bags, seal, and carefully place in the trash. If you can compost it, that's even better.
Can I make gluten-free fried fish?
Yes, you can use rice flour in place of all-purpose flour. Most 1:1 gluten free flour substitutions can also work.
What is the best substitute for beer?
If you'd like a non-alcoholic substitution for beer in the batter, you can use club soda. Just be sure the soda is brand new and freshly opened, and chill it before use. Doing those two things will ensure plenty of carbonation, which is needed for a crispy texture.
How can I reheat fried fish?
To reheat in oven: Set oven to 350F on convection bake. Heat fish on oven-safe wire rack set over sheet pan, 10-15 minutes. For toaster oven or air fryer, heat fish at 350F for 8-10 minutes. To reheat on stovetop: Coat a large skillet with oil over medium high heat. When oil is smoking, cook fish 2-3 minutes per side or until crisp.
---
---
Did you make this?
Please give us a rating and comment below. We love hearing from you!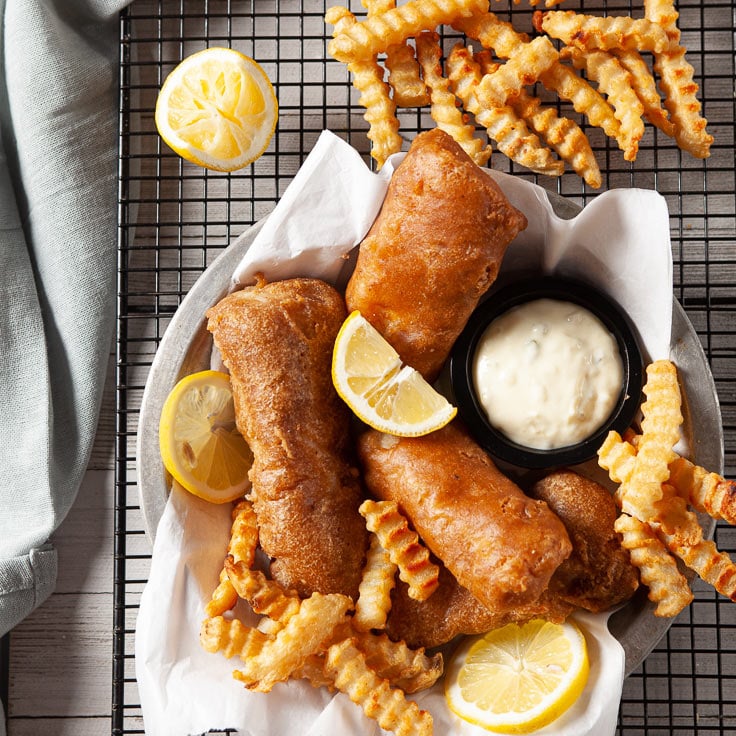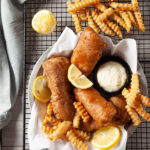 Beer Battered Fish Fry
This beer battered fish fry is simple, accessible, and tastes just as good as your favorite restaurant fish fry. Use a firm white fish for tender, flaky texture on the inside and golden crispiness on the exterior.
Ingredients
2

cups

flour

2

tsp

garlic powder

2

tsp

onion powder

2

tsp

Old Bay seasoning

¼

tsp

cayenne pepper

1

tablespoon

table salt

1

tablespoon

baking powder

12

oz

dark beer

, we recommend Guinness
cornstarch ,

for dredging

2

pounds

cod or other firm white fish

,

cut into 1-ounce strips

oil for frying

,

Peanut oil is great for deep frying, as it has a high smoke point. Safflower and sunflower oils are good also
Instructions
In a large bowl, whisk together the first 8 ingredients. Whisk in the beer until the batter is smooth, without lumps. Consistency should be similar to pancake batter. If too thick, add a bit of water to loosen. Set aside.

In deep pot large enough to prevent over-crowding or

deep fryer

, heat oil to 350F. Keep watch on

cooking thermometer

throughout frying process, turning up the heat between batches so you can maintain the 350F while frying (maintaining oil temperature is essential for attaining crispy texture that's not too greasy.)

Use paper towels to fully pat dry all excess moisture from the fish fillets on all sides. Place enough cornstarch in a shallow pan, to be used for dredging.

Working in batches, dredge a few fish fillets into cornstarch and shake off excess. Dip fish into batter, let excess drip off, and gently submerse in the oil (I use a splatter guard.)Do not overcrowd; be sure pieces do not touch each other or they will stick together.

Turn fish over in oil as needed to evenly brown all sides, about 2 minutes or until golden brown and crisp. Place on rack lined with paper towels and keep warm in oven while you finish frying remaining fish, or serve as you cook. Fish fry is best enjoyed immediately. Try serving with crispy french fries.
Notes
You can also use pollock, tilapia, or halibut fillets.
Gluten-free option: use rice flour in place of all-purpose flour.
If you happen to have any left over, use it for excellent fish tacos the next day.
To reheat in oven: Set oven to 350F on convection bake. Heat fish on oven-safe wire rack set over sheet pan, 10-15 minutes. For toaster oven, heat fish at 350F for 8-10 minutes.
To reheat on stovetop: Coat a large skillet with oil over medium high heat. When oil is smoking, cook fish 2-3 minutes per side or until crisp.
If you enjoyed this recipe, please come back and give it a rating ❤️
Nutrition (per serving)
Calories:
245
kcal
|
Carbohydrates:
35.4
g
|
Protein:
4.6
g
|
Fat:
9.8
g
|
Saturated Fat:
1.4
g
|
Sodium:
1169.4
mg
|
Fiber:
1.5
g
|
Sugar:
1
g