Pan Seared Halibut
Light, flaky, and buttery, this pan seared Halibut recipe is both delicious and healthy. In less than 20 minutes, you can have the best seafood dinner that's sure to impress!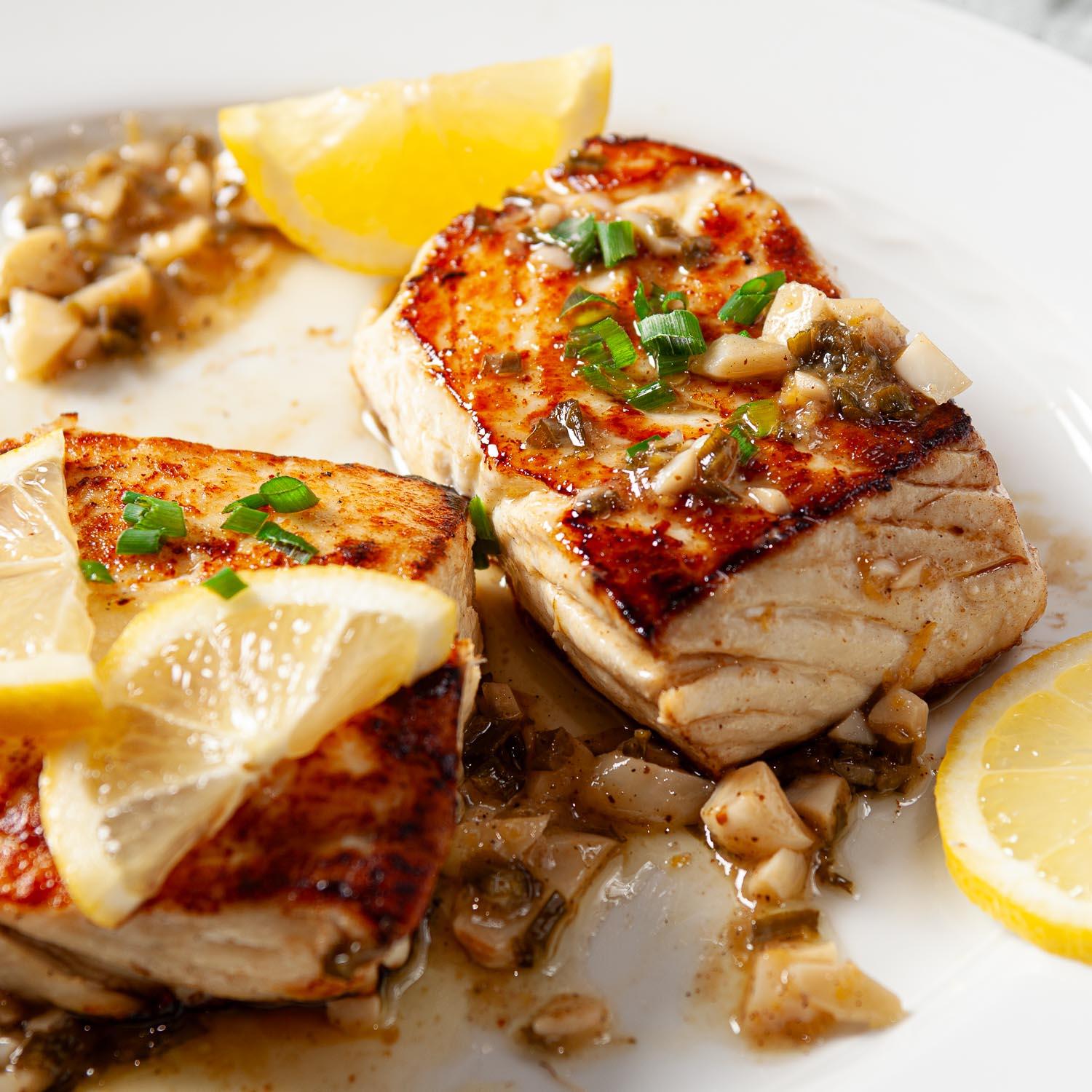 Why This Recipe Works
We think simple seafood dinners are the perfect option for a healthy, vibrant meal. This pan seared Halibut packs a punch of protein along with B vitamins and magnesium. Serve it beside your favorite starchy side and veggie, and you've got a perfectly balanced plate!
While Halibut is truly the star of the show here, we can't help but mention the sauce. A classic lemon butter sauce with a twist – freshly minced garlic – pairs perfectly with any kind of fish (like my barramundi fish) and offers that bright citrus flavor that we can't get enough of. This sauce also provides the perfect opportunity to put that herb garden to use. The option of fresh parsley or chives, not only gives the dish a pop of color, but also adds fresh summer flavors to this meal.
What Is Halibut?
Halibut refers to the largest species of flat fish. They're fairly similar to flounder in their taste and appearance. However, halibut are much larger and have firmer meat. One interesting fact about this fish is that both of their eyes are on the same side of their head!
This white-fleshed fish has mild and ever-so-slightly sweet tasting fillets. It's a great seafood option for people who are sensitive to fishy flavors. Halibut fillets are not fishy in the slightest and tend to be dry. So, cooking methods should retain moisture in the fish and sauces go wonderfully with it.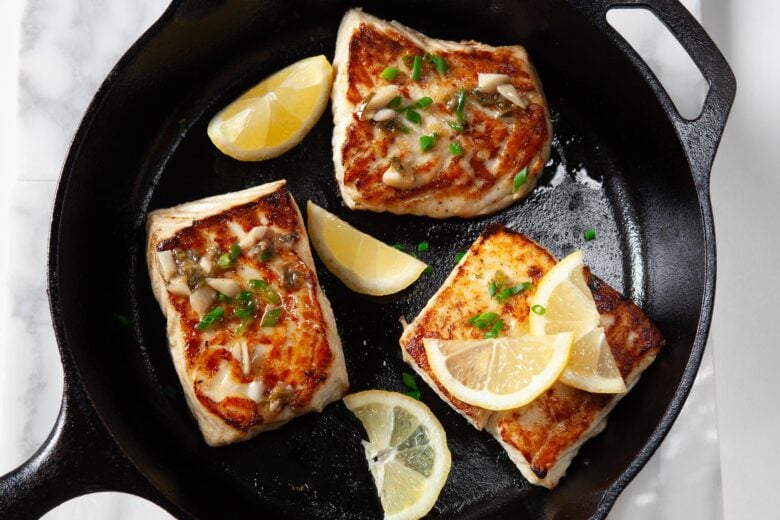 Key Ingredients
Butter – We use salted butter in this recipe to add that burst of buttery flavor and to help keep the halibut from becoming dry.
Garlic – Bold and pungent, freshly chopped garlic goes wonderfully with the lemon and butter giving your taste buds something to remember.
Kosher Salt – We recommend Kosher salt for this recipe. Note that if you choose table salt, you may get too salty of an outcome because it has smaller grains than Kosher.
Black Pepper – We love using freshly ground black pepper for this recipe for the perfect hint of spice that pairs well with the lemon.
Lemon Juice – Lemon and fish are a classic combo for a good reason. The acidity in the lemon pairs well with seafood and offers a splash of fresh, summery flavor.
Grated Lemon Peel – This adds even more lemony goodness to the sauce helping the lemon juice not to get overshadowed by the other ingredients.
Chives or Parsley – We love either one of these herbs to add a pop of color and a fresh, earthy taste.
Halibut Fillets – Use cold fillets of Halibut that are 1″ thick and that weigh around 4 oz each for best results with the cooking times listed here.
See the recipe card for full information on ingredients and quantities.
Substitutions And Variations
The Fish: If you can't get your hands on Halibut for this recipe, you can absolutely substitute it with a variety of different white-fleshed fillets. We love Cod as an easy-to-access and absolutely perfect substitute for this dish. Other varieties you could try are Striped Bass, Flounder, or Fluke. Barramundi would also work well with this recipe. Just note that cooking times will vary based on the thickness of fillets you have.
The Sauce: Feel free to experiment with other sauces for this recipe. We can't get enough of lemon-butter sauces on fish, but it's fun to switch things up now and then. Try swapping homemade pesto or a honey lime glaze for the lemon-butter sauce in this recipe. You could also play around with your favorite seasonings to make a blend all-your-own to pair with this tasty fish.
Recipe Step-By-Step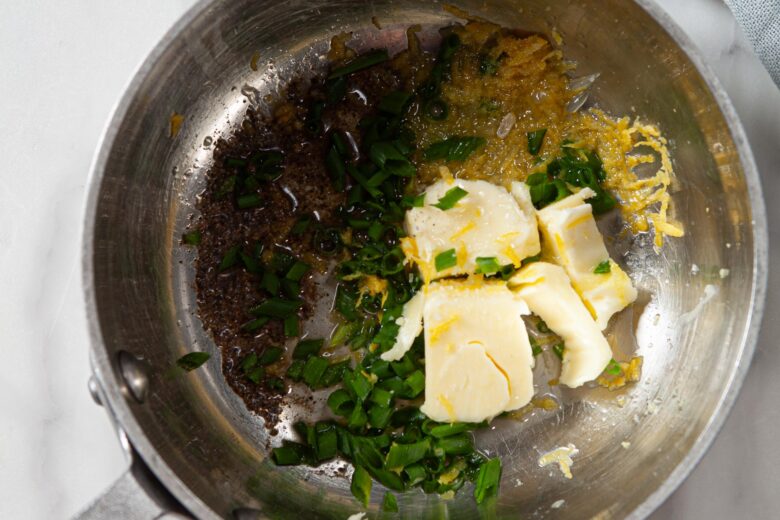 Key Tips For Success
There are a few tips and tricks to make this delicious pan seared halibut turn out perfect every time. Take a look at the suggestions below for making this recipe.
Wash and dry the fish. We always like giving our fish fillets a good rinse to make sure they're nice and clean. Just make sure to thoroughly pat them dry after so the seasonings can stick and so they cook properly.
Don't crowd the fish. Make sure you have some space in between the fish so that they crisp nicely. If they're too close together, you'll end up getting more of a steamed outcome rather than crispy. You may have to cook the fish in 2 batches if you have a smaller pan.
Let it rest. The goal when cooking Halibut fillets is to only flip the fish once. Try not to fidget with the fish while its cooking to prevent it from falling apart.
Note cooking times. Cooking times will vary based on the thickness of your fillets and if you used a different kind of fish. We like using a food thermometer to make sure our fillets are done perfectly without fidgeting with them too much. Once the internal temperature reaches 145 degrees, the Halibut is done!
Start with cold fillets. For the best results with the cooking times listed in this recipe, start with cold Halibut fillets.
Commonly Asked Questions
What does Halibut taste like?
Halibut has a mild (not at all fishy), slightly sweet flavor. The taste is similar to flounder, cod, and striped bass.
Is Halibut healthy?
Yes! Halibut is not only packed with protein, but also is a great source of B vitamins and magnesium. For the healthiest fillets, we prefer wild caught Halibut.
How long will cooked Halibut keep?
Store Pan Seared Halibut in an airtight container for up to 4 days. If you need it to last longer, you can freeze it in an airtight container for up to 3 months.
Is it better to cook Halibut with the skin on or off?
We like taking the skin off of Halibut before cooking, because it tends to be tough and unappetizing. It also increases the cooking time when left on.
How can I tell if my Halibut is done?
You can tell if your Halibut is done by jabbing the fillet with a fork and gently twisting it. If it starts to flake and the flesh is no longer translucent, it's done! Food thermometers are also a handy tool for this. Halibut is done when it reaches an internal temperature of 145 degrees.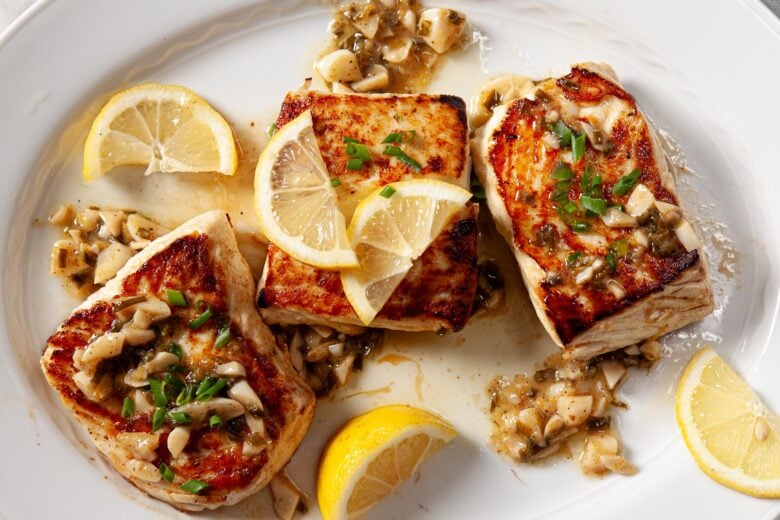 What To Serve With Pan Seared Halibut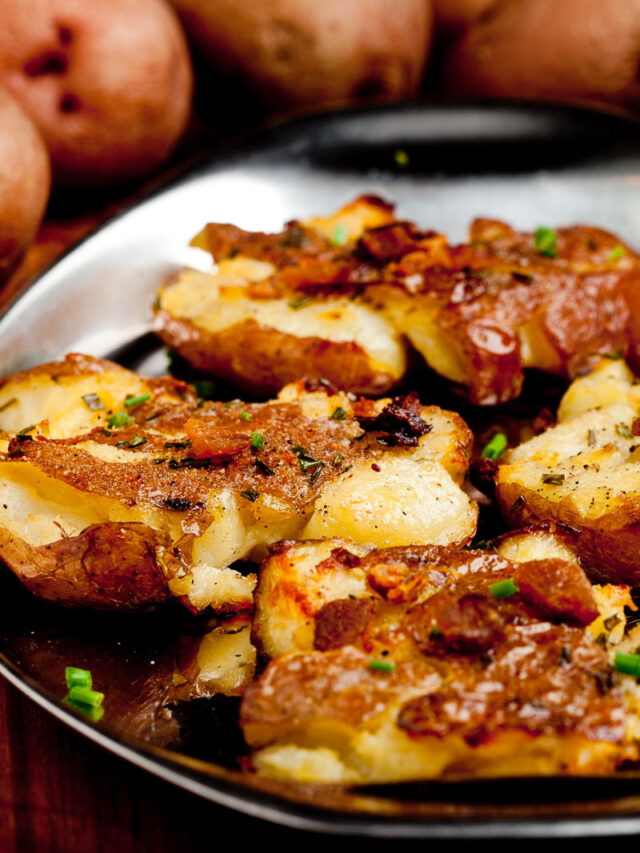 If you tried this Pan Seared Halibut Recipe or any other recipe on my website, please leave a 🌟 star rating and let me know how it went in the 📝 comments below!
Did you make this?
Please give us a rating and comment below. We love hearing from you!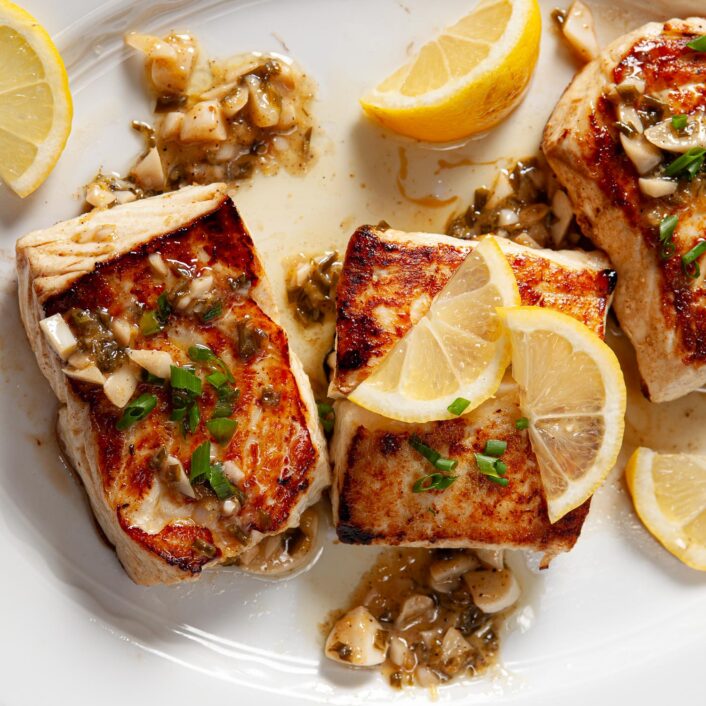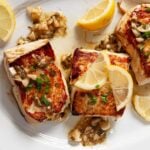 Pan Seared Halibut
Light, flaky, and buttery, this pan seared halibut recipe is both delicious and healthy. In less than 20 minutes, you can make the perfect weeknight dinner that's sure to impress!
Ingredients
For the Lemon Garlic Sauce:
2

TB

salted butter,

softened to room temperature

1

TB

chives or parsley

,

freshly chopped

2

TB

garlic cloves

,

minced

⅛

tsp

kosher salt

1

TB

juice from fresh lemon

1

TB

grated lemon peel
For the Fish:
4

TB

olive oil,

divided

4

cold

halibut fillets

,

1" thick, about 4 oz each

Kosher salt and freshly ground black pepper
Instructions
For the Lemon Garlic Mixture (can be made ahead)
In a small pan, combine all Lemon Garlic Mixture ingredients and stir to fully combine. Heat over medium high heat, stirring constantly, until bubbly. Turn off heat and set aside.
For the Halibut
Pat-dry all excess moisture from the fish fillets with paper towels. This step is important, so be sure to pat off as much moisture as you can. Evenly sprinkle both sides of fillets with pinches of kosher salt and freshly ground black pepper. Set aside.

Heat 2TB olive oil over high heat in a cast iron pan; once oil is smoking and very hot, carefully add 2 halibut fillets, cover with a splatter guard (or a lid, but leave it partially open so steam can escape), and cook without disturbing the fillets for 2 ½ – 3 minutes or until bottom half looks cooked.

Use a thin metal spatula to carefully flip fish to the other side and cook without disturbing for another 2 ½ – 3 minutes. Transfer fish to a serving plate, add 2 TB of oil to the pan, and repeat with remaining halibut fillets.

While halibut finishes cooking, gently reheat lemon garlic mixture if needed. Transfer halibut fillets to a serving plate and pour warm lemon butter sauce over them. Serve warm.
Notes
It's important to use kosher salt as kosher salt is less salty than table salt, by volume.
We use a large cast iron pan for high heat and even browning.
If you don't have a cast iron pan, you can use a high quality stainless steel pan for high heat and even browning.
We recommend cooking fillets in batches to prevent over-crowding. If there isn't enough air flow in between the fillets, fish will "steam" instead of sear. If you can fit 4 fillets into a very large pan without over-crowding, you can cook them in one batch.
The 2 ½ – 3 minute cook time works for fish fillets that are 1" thick, around 4oz in size, and If fish is not cold before cooking, they may become overcooked. If fish is thicker or larger than specified, you may need to increase cook time.
We use an oil splatter guard to prevent hot oil from splattering during cooking.
Serve Pan Seared Halibut with these extra crispy Smashed Potatoes and this easy Air Fryer Broccoli for a full, balanced meal.
If you enjoyed this recipe, please come back and give it a rating ❤️
Nutrition (per serving)
Calories:
297
kcal
|
Carbohydrates:
2
g
|
Protein:
32
g
|
Fat:
22
g
|
Saturated Fat:
6
g
|
Polyunsaturated Fat:
2
g
|
Monounsaturated Fat:
12
g
|
Trans Fat:
0.2
g
|
Cholesterol:
98
mg
|
Sodium:
197
mg
|
Potassium:
763
mg
|
Fiber:
0.1
g
|
Sugar:
0.1
g
|
Vitamin A:
290
IU
|
Vitamin C:
3
mg
|
Calcium:
22
mg
|
Iron:
0.4
mg