Lemon Butter Cod Recipe
Lemon Butter Cod is a healthy, lean fish that can be easily added to your dinner rotation. This tender, flavorful cod recipe is quick enough for busy weeknights. It's sure to become a favorite.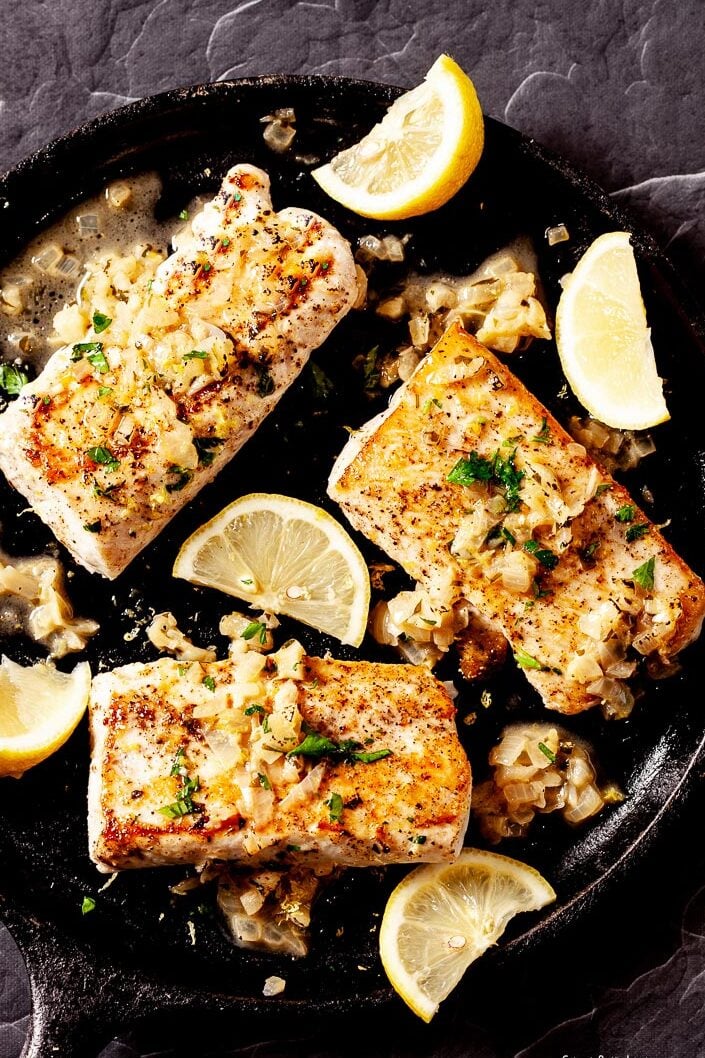 Video: Watch Us Make This Recipe
Easy Cod Recipe
Atlantic cod is a popular white fish to cook, as it's mild in flavor, flaky and tender in texture, and easily accessible.
Though Atlantic cod is commonly battered and deep fried for fish and chips, it's actually an extremely versatile fish that can be baked, steamed, broiled, or pan fried. We've done it all, and the results are always tender-delicious, whichever method we've chosen. That said, my personal favorite way to enjoy a fresh, thick fillet of cod is simple pan frying. Thus, this lemon butter cod recipe was born.
Why choose Cod? And Is Cod Healthy?
This pan fried cod recipe would be fantastic with any thick white fish fillet: halibut, mahi mahi, or snapper would all work well. We often opt for Atlantic cod, as it's easily accessible throughout the year. Thick, high quality, flash frozen cod also works beautifully here.
A happy, heathy benefit of cod is its stellar nutrition profile. Cod has earned some bragging rights: not only is it lean and low in calories, but it's high in protein and packed with essential vitamins and minerals (Hello, B-12 and Selenium.)
Bonus: cod is generally much lower in mercury than many other popular fish, making it a cleaner choice.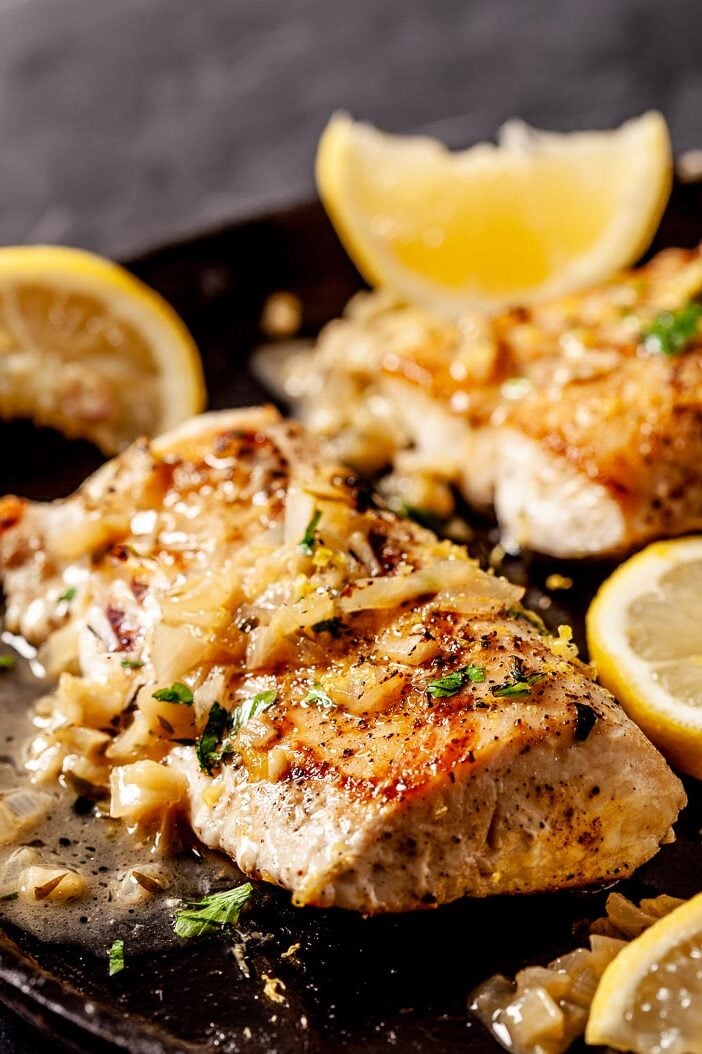 How to cook Cod Using Pan-Fry Method
I'm into easy pan frying partially because I'm lazy. But more importantly, pan frying yields that deliciously browned exterior on both sides of the fish. Baking or steaming won't accomplish that same golden "crust."
Pro Tips for pan frying cod:
Let fish sit at room temp in a colander to drain any excess water, particularly if your fish was previously frozen. Do this while you're preparing the rest of the ingredients; this allows time for the fish to get closer to room temperature.
Always thoroughly pat dry fish fillets to further remove as much moisture as you can. Yes, your roll of paper towels will dwindle a bit, but this step is essential to ensuring the fish cooks correctly.
Use enough olive oil to coat bottom of pan; get that oil super hot prior to adding fish fillets.
Cook 2 fillets at a time (unless your pan is giant and can cook 4 fillets without crowding) and cook with lid ajar to allow steam to escape. Otherwise, the cod will be steamed rather than browned.
Use a thin but wide metal spatula to gently flip the fish to brown the other side. No small or flimsy tools – it's a sad minute when a nice fish fillet breaks apart.
Ingredients for Lemon Butter Mixture
We'll start with the obvious: lemon and butter. Plenty of fresh lemon zest, juice, and slices of bright yellow lemons are on call. This recipe uses salted butter, but feel free to adjust and use unsalted butter if needed.
We use shallots, as they offer a milder flavor than onions. If you'd like, feel free to substitute with 1 tablespoon freshly minced onion.
Garlic. Oh, how we love all the garlic. The end.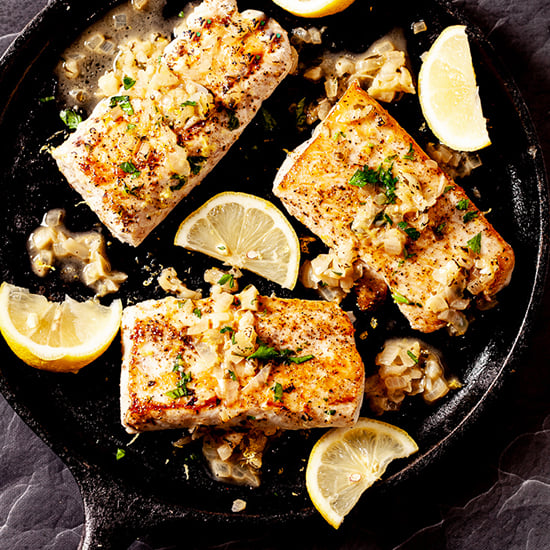 What to Serve with Cod
We adore rice pilaf as a healthy sidekick to fish recipes. If you love mushrooms, here's our rice pilaf with mushrooms that'll have you patting yourself on the back
If you're a spud fan, here are our top 15 best potato recipes to choose from.
For your vegetables, may we suggest a helping of nutritious air fryer broccoli that cooks in mere minutes? Or perhaps a healthy lemon spinach orzo salad is calling your name. Either way, you can't go wrong.
Pan Fried Cod Recipe
Commonly Asked Questions
What's the best cooking method for cod?
Cod is popular for battered, deep fried fish. However, cod is perfect for baking and pan frying. Our pan fry method below is both healthier and wonderfully flavorful.
What does cod fish pair well with?
Though it's common to serve fried cod with cole slaw or french fries, we love serving this lemon-butter cod recipe with rice pilaf and caesar salad.
How long should you pan fry cod for?
There are actually several variables, including the thickness of your cod fillets. For 1-inch thick cod fillets, we recommend cooking on hight for 3-4 minutes per side.
How do I know when cod is done cooking?
The best way to test the doneness of cod is to gently twist open the center of cod fillet with a fork – if it is no longer translucent and flakes easily, it is done. It's worth repeating that a 1-inch thick cod fillet cooks within 3-4 minutes per side; if your cod fillets are thinner, they will cook faster. The key is not to overcook.
Did you make this?
Please give us a rating and comment below. We love hearing from you!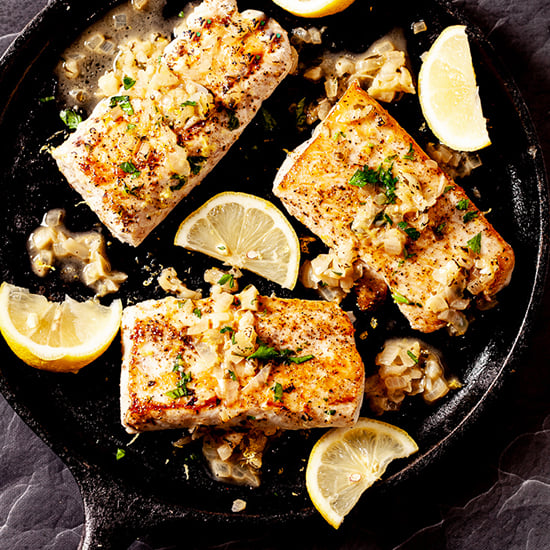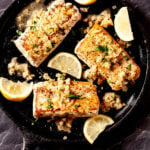 Lemon Butter Cod Recipe
Cod is a healthy, lean fish that can be easily added to your dinner rotation. This tender, flavorful cod recipe is quick enough for busy weeknights. It's sure to become a favorite.
Ingredients
For the Lemon Butter Mixture:
3

TB

salted butter,

softened to room temp

1

TB

chives

,

or parsley, freshly chopped

2

TB

garlic

,

freshly minced

1

TB

shallots

,

freshly minced

⅛

tsp

kosher salt

1

TB

juice from fresh lemon

1

TB

grated lemon peel
For the Fish:
2

TB

olive oil

4

cod fillets

,

1-inch thickness, 4 oz each

kosher salt and freshly ground black pepper

additional lemon slices for serving
Instructions
Place cod in colander and let sit to drain and get closer to room temperature, while you prepare rest of ingredients.

In a small pan, combine all Lemon Butter Mixture ingredients and stir to fully combine. Set aside.

Use paper towels to pat-dry all excess moisture from the fish fillets. This step is important, so be sure to pat off as much moisture as you can (extra moisture from fish will dilute flavors and steam the fish rather than brown it.)

Evenly sprinkle both sides of fillets with pinches of kosher salt and freshly ground black pepper. Set aside. In a large pan, heat the olive oil over high heat. Once oil is sizzling hot, add fish fillets to pan (you may want to do 2 at a time to avoid crowding) and cover with lid ajar, allowing steam to escape. Cook until browned on one side, about 3-4 minutes. Do not move fish around.

Use a thin but wide metal spatula to gently flip fish fillets over to the other side for another 3-4 minutes just until nicely browned and center is just-cooked. The key to tender fish is to avoid overcooking.If your fillets are less than 1-inch thick, shorten cook time.

While your last fish fillets are cooking, heat up small pan of prepared lemon-garlic mixture over medium-high, stirring just until bubbly. Immediately turn heat off and keep warm.

Once fish is done, plate fillets and spoon lemon butter mixture over the fish, including any leftover juices from your frying pan. Garnish with lemon slices and enjoy.
Notes
Be sure to use coarse kosher salt, not fine table salt. Kosher salt is much milder and less salty per volume.
The actual cook time varies, depending on thickness, starting temp of fish, and type of pan used. I typically cook about 3-4 minutes per side. I check for doneness by lightly pressing fillet centers for firmness. Once it feels somewhat firm, it's usually done.
Serve with Perfect Instant Pot Brown Rice or Best Easy Roasted Vegetables Recipe for a healthy meal that happens to be gluten-free.
If you enjoyed this recipe, please come back and give a rating ♡
Nutrition (per serving)
Serving:
1
serving
|
Calories:
490
kcal
|
Carbohydrates:
3
g
|
Protein:
161
g
|
Fat:
20
g
|
Saturated Fat:
7
g
|
Polyunsaturated Fat:
3
g
|
Monounsaturated Fat:
7
g
|
Trans Fat:
0.3
g
|
Cholesterol:
410
mg
|
Sodium:
332
mg
|
Potassium:
3746
mg
|
Fiber:
0.2
g
|
Sugar:
0.3
g
|
Vitamin A:
656
IU
|
Vitamin C:
11
mg
|
Calcium:
155
mg
|
Iron:
4
mg
---
---