A big bowl of this Irish Guinness Beef Stew makes a supremely satisfying meal for the entire family. This beef stew is unrivaled in tenderness and flavor. It's also perfect for weekly meal prep, as leftovers taste amazing.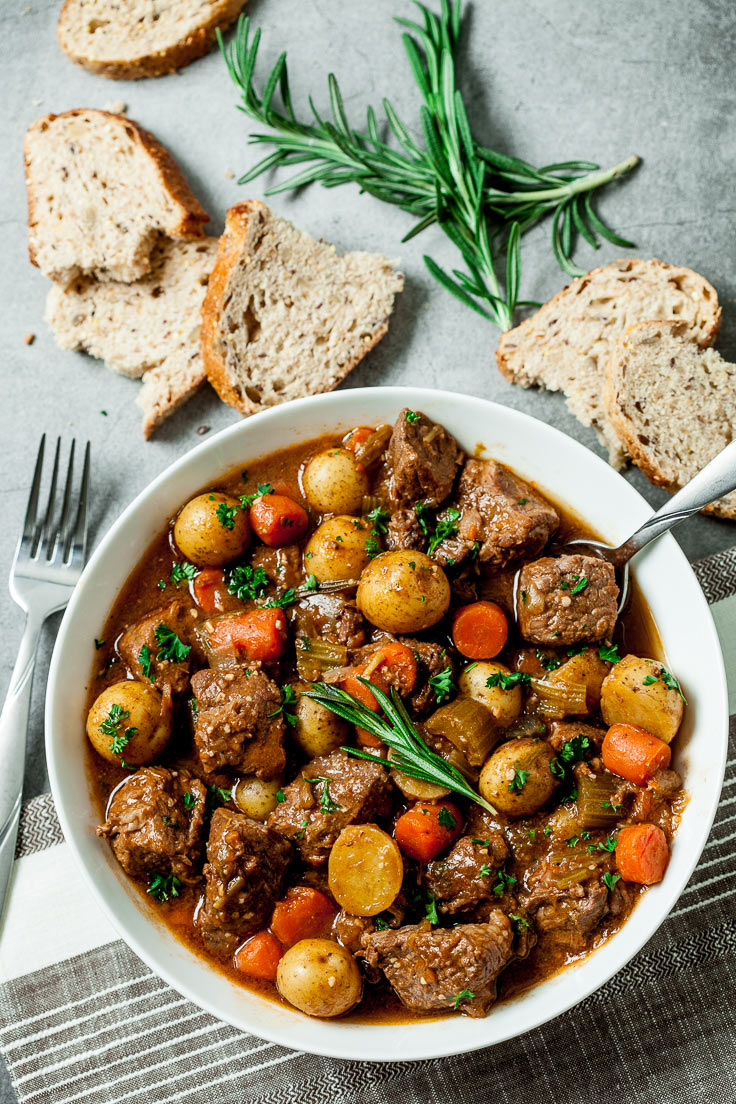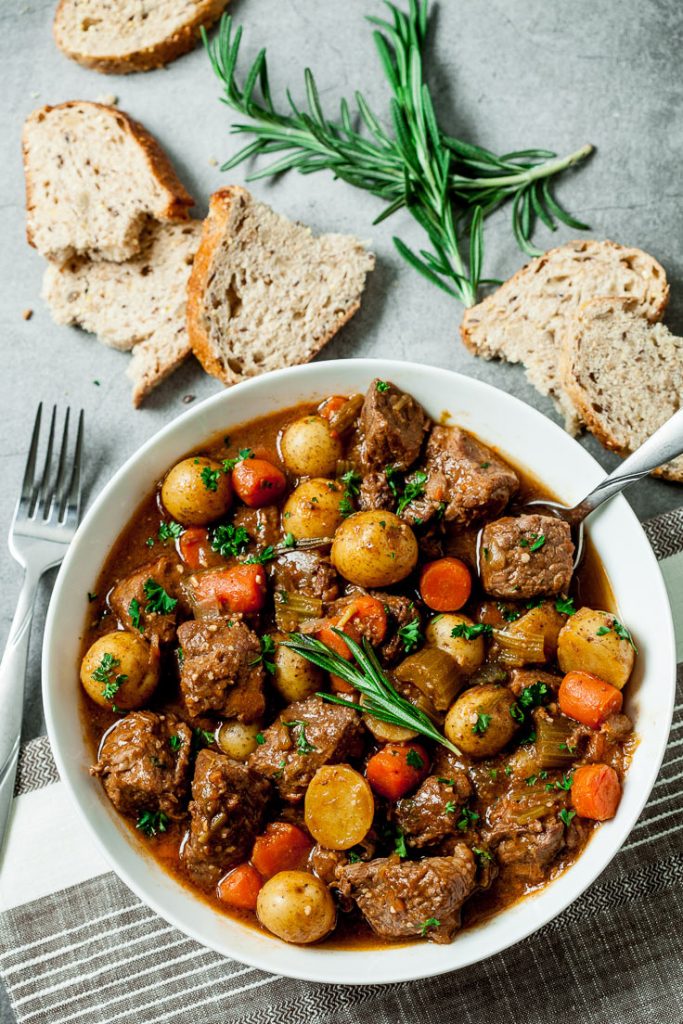 After a blustery winter filled with intense polar vortex vibes, we're [hopefully] seeing some light at the end of the arctic tunnel.
I've tried hard not to bat a frozen eyelid at the extreme temps this winter, but I've admittedly whined on occasion. Twice a day on the worst days. Just keeping it real.
On the plus side, I did manage to conquer the freeze baby in me by continuing to run outdoors throughout the winter when possible. I even drilled new screws into my old run shoes so I could hit the snow-laden paths, which then resulted in massive blisters, but no need to camp there.
I've even done some classic bribing for all the boys to go snowshoeing and winter hiking with me. It's amazing what teen boys will do for freshly baked chocolate chip cookies.
But first, dinner. Dinner before dessert. Most of the time 😉
In honor of spring coming up and all things Irish, we're feasting on this lucky-delicious Irish Guinness Beef Stew today. St. Patrick's is this Sunday, which is kind of a big deal because it's also our Sam Dog's birthday. A few years ago, we adopted a St. Patrick's day puppy, and he's been sporting a shamrock outfit on his birthday ever since. Sometimes I even join him.
Needless to say, you totally don't have to be even a little bit Irish to enjoy scrumptious Irish Beef Stew for dinner and this Baileys Irish Cream Chocolate Cake with Whipped Frosting afterwards…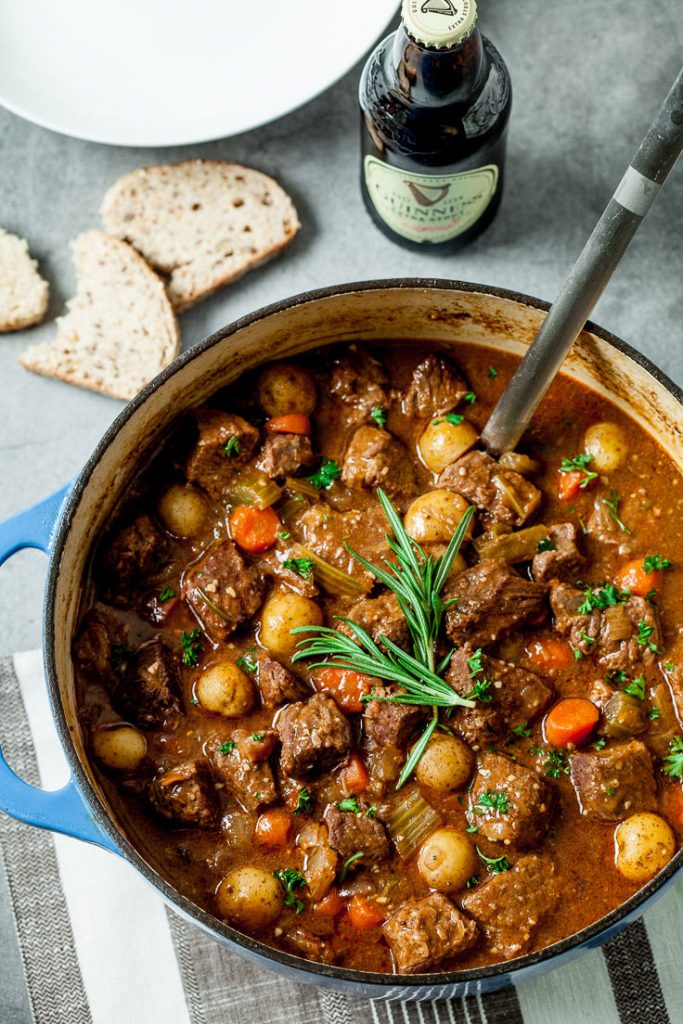 What Ingredients Do I need to make Irish Guinness Beef Stew?
For starters, use an affordable 3-4lbs of boneless chuck or london broil. Chuck tends to be the most flavorful and tender in a long braise situation, as it's marbled throughout.
Fresh aromatics and herbs such as garlic, onions, carrots, celery, bay leaves, and rosemary. Fresh is forever best.
Beef broth, tomato paste, and salt/pepper
Worcestershire. It may not be traditional in beef stew, but don't skip it; it lends such great umami flavor to the stew.
A bottle (11-12oz) of Guinness beer: Irish dry stout is beautifully dark and thick. There is no beer-y taste nor alcohol once it's been cooked into stew, but it provides a richness in flavor.
We add baby potatoes towards the end of cooking; make sure they're no more than 1 inch in size. Add in at the end to prevent them from becoming overly soft. These bite size spuds are perfect, as they hold together well in stews.
I add a bit of cornstarch slurry at the finish, for a thicker stew consistency.
Can I use a slow cooker or instant pot?
Short answer: Yes.
If you go the slow cooker route, you'll need to brown the beef pieces in a skillet prior to loading everything (including dissolved cornstarch) into your slow cooker. I typically go with 8-10 hours on low; add in the potatoes during the final 2 hours.
For the Instant Pot/pressure cooker, you can brown the beef and veggies using same directions as the stovetop method on sauté mode in the Instant Pot itself. Then add the remaining ingredients, including dissolved cornstarch. Set to pressure cook on high for 35 minutes and let it do a natural release.
Once the stew is done, add kosher salt + freshly ground black pepper to taste at the end.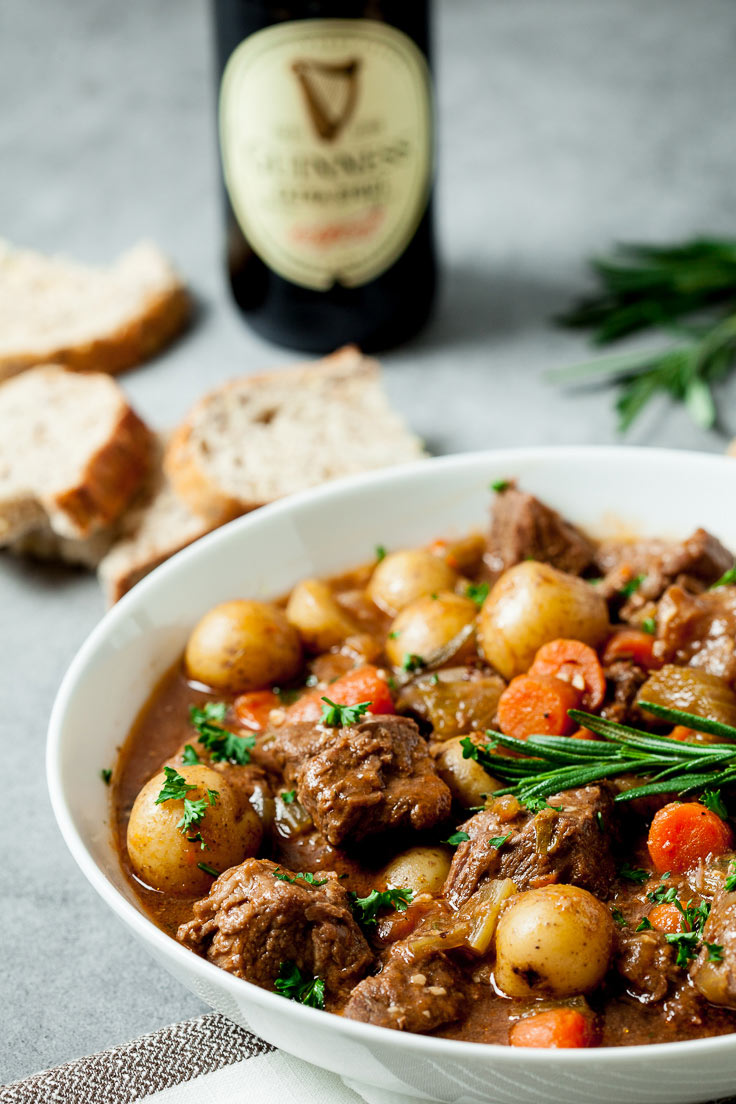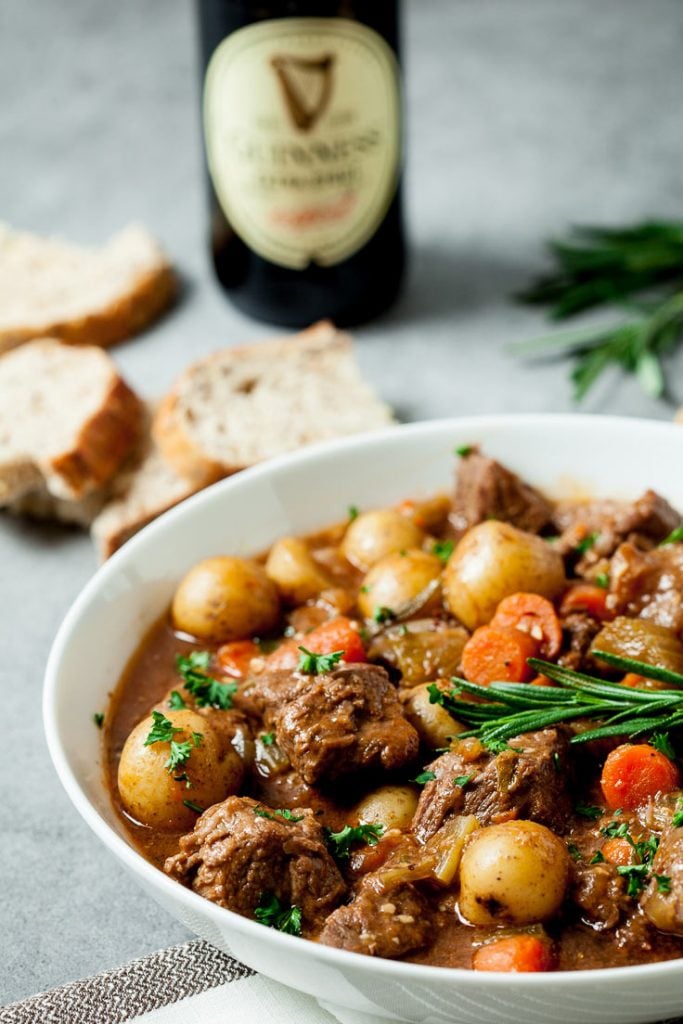 Why you'll love this Irish Guinness Beef Stew:
Hello, Deliciousness. This is one fabulously flavorful, tasty, scrumptious stew.
It's customizable for stovetop, slow cooker, or Instant Pot.
This stew awesome for meal prep; leftovers taste incredible.
I'm not Irish, but I'd serve this to my Irish friends because it's that good.
My finicky tweens gobble this stew up like nobody's business.
Bonus: this recipe is on my healthy-ish list. Once I've skimmed the fat off the top of the finished stew, it's on my fitness menu.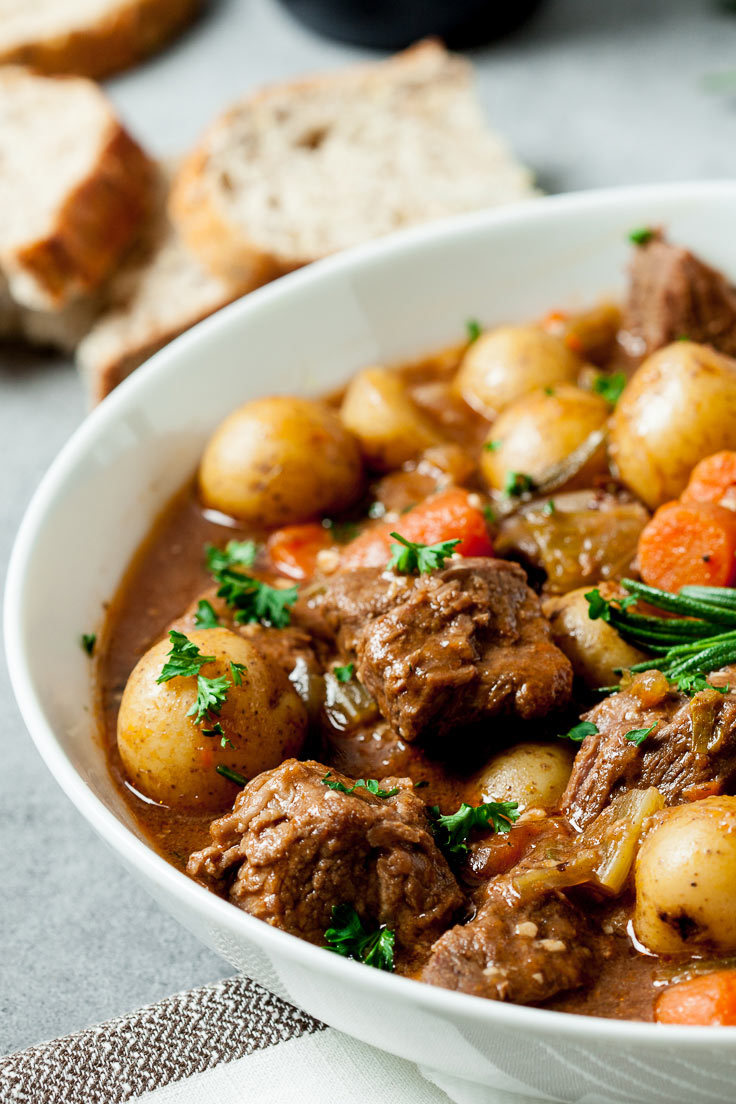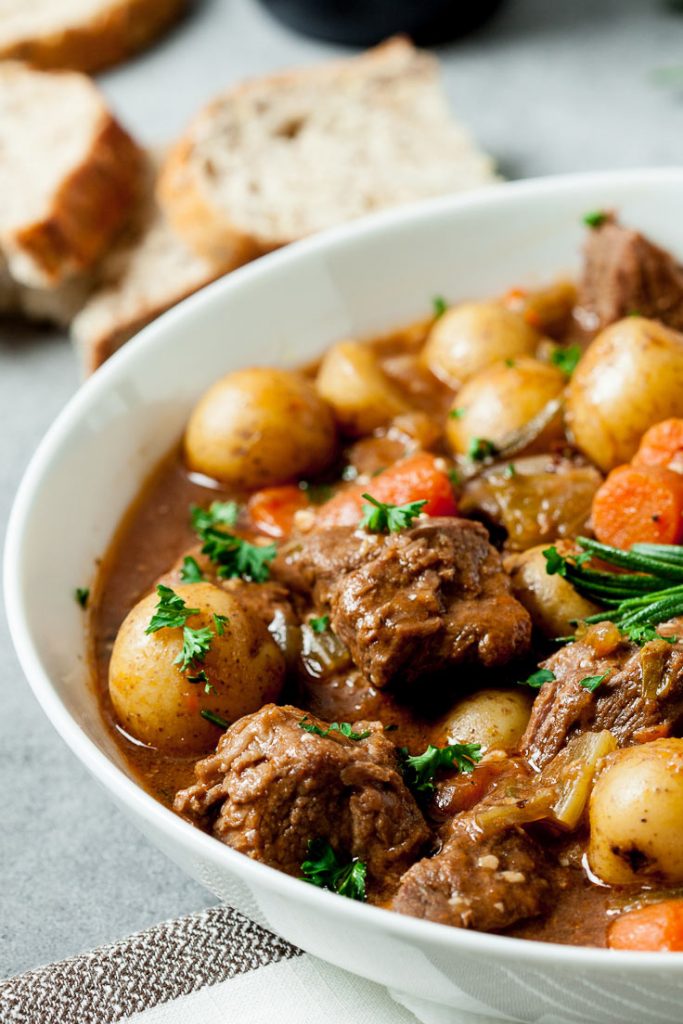 Print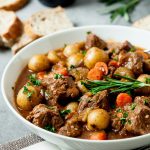 Irish Guinness Beef Stew Recipe
Author:

Prep Time:

40 min

Cook Time:

2 hours 45 min

Total Time:

3 hours 25 minutes

Yield:

8

Category:

Main, Dinner

Method:

Stovetop, Slow Cooker, or Instant Pot

Cuisine:

Irish American
---
Description
A big bowl of this Irish Guinness Beef Stew makes a supremely satisfying meal for the entire family. This beef stew is unrivaled in tenderness and flavor. It's also perfect for weekly meal prep, as leftovers taste amazing. 
---
Ingredients
Olive oil for browning
3-4 lbs boneless chuck roast, trimmed
2 tsp kosher salt, plus more to taste
1/2 tsp freshly ground black pepper, plus more to taste
1 large onion, chopped
6 garlic cloves, chopped
1 1/2 tsp Worcestershire sauce
1 bottle (11-12 oz) Guinness Beer
4 TB tomato paste
4 cups regular strength beef broth
4 cups sliced carrots, peeled and sliced into 1/2-inches
2 cups sliced celery, sliced into 1/2-inches
1 TB freshly chopped rosemary
2 large bay leaves
1 lb whole bite-size baby potatoes, 1-inch diameter each
---
Instructions
Use paper towels to thoroughly pat dry the beef roast, removing any excess moisture. Cut into 1-1.5 inch thick cubes. Season with 2 tsp kosher salt (not table salt) and 1/2 tsp freshly ground black pepper. Toss to coat all sides with seasoning.
In a large, heavy pot (I use my Dutch oven) heat 3 TB olive oil over high heat, until very hot. Brown the beef cubes in batches, taking care not to overcrowd the pieces. Brown all sides of beef cubes, turning them over as they brown; Continue to heat up more oil for browning as needed. Transfer all browned beef pieces to a separate bowl.
Using same pot with browned bits still on the bottom, heat up more oil and stir in the onions and garlic. Stir 2-3 minutes until translucent and aromatic. Gently pour in the beer and Worcestershire sauce, stirring to combine. Add tomato paste, beef broth, carrots, celery, and return the browned beef to the pot. Stir gently to ensure all veggies and beef are submerged in broth. Sprinkle in the fresh rosemary and bay leaves.
Bring mixture to a low boil, cover and allow to simmer 2 hours. After 2 hours, uncover and stir in the baby potatoes. Bring back to a low boil and allow to simmer another 45 minutes until the beef and potatoes are to your desired tenderness. Once done, taste and season with additional kosher salt and black pepper if desired. Remove bay leaves and let stew sit for 10 minutes to allow grease to rise to the top; skim off excess grease and serve warm.
---
Notes
Leftover Irish Guinness Beef Stew is delicious. Cover airtight and chill until ready to reheat.
Keywords: Irish Guinness Beef Stew
Stew-perbly Delicious:
Chicken, Sweet Potato, and Coconut Stew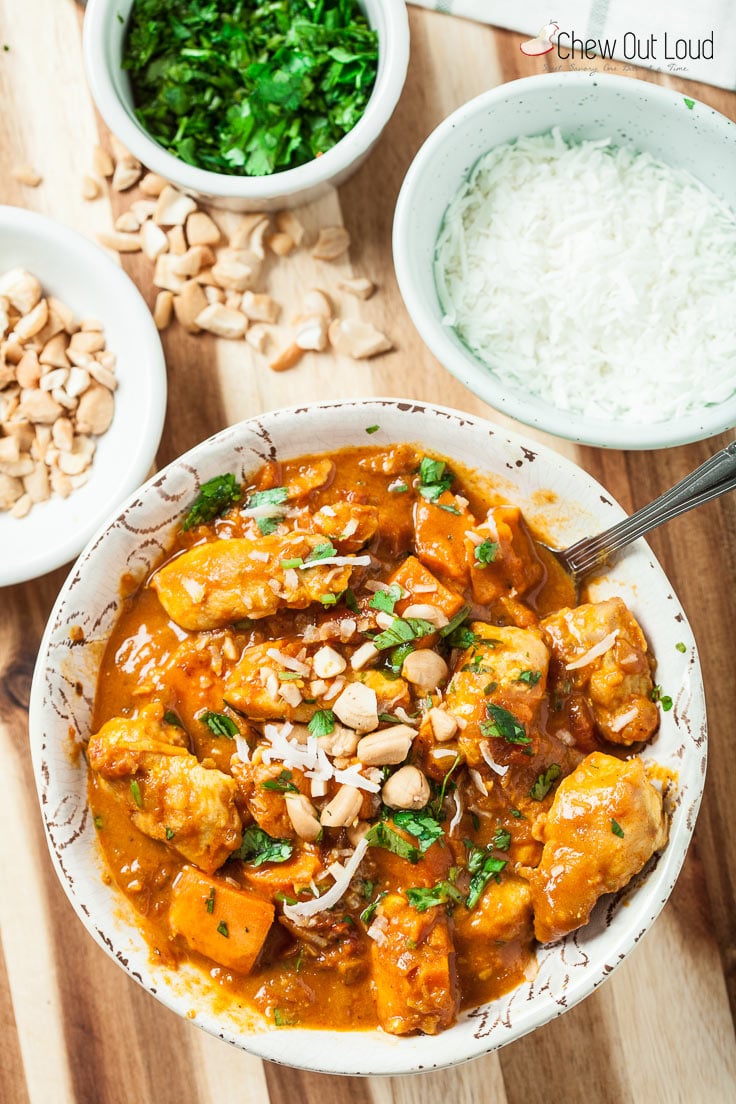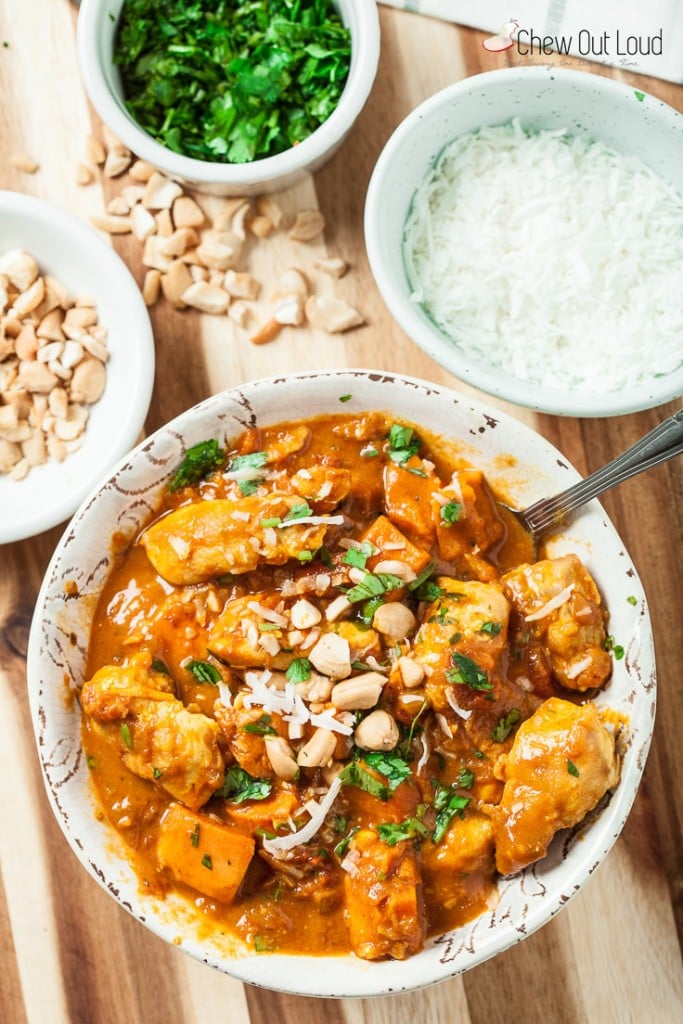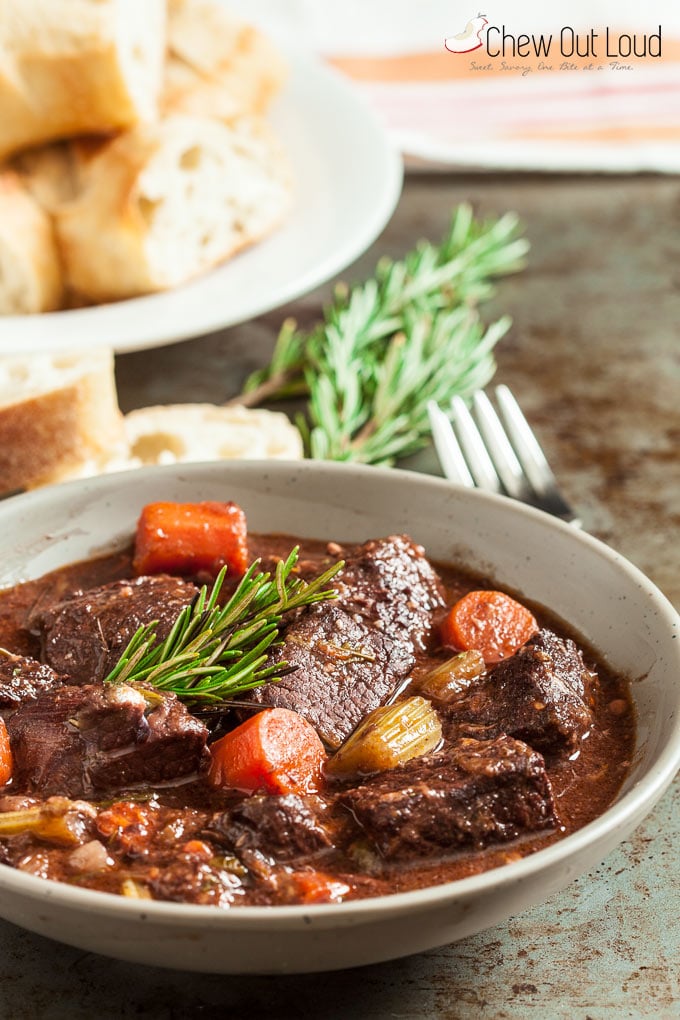 Slow Cooker Beef Vegetable Barley Stew