Air Fryer French Fries, Extra Crispy
These Air Fryer French Fries are fresh, crispy, and healthy. Here are the secrets for making extra crispy, flavorful French fries using only 3 basic ingredients.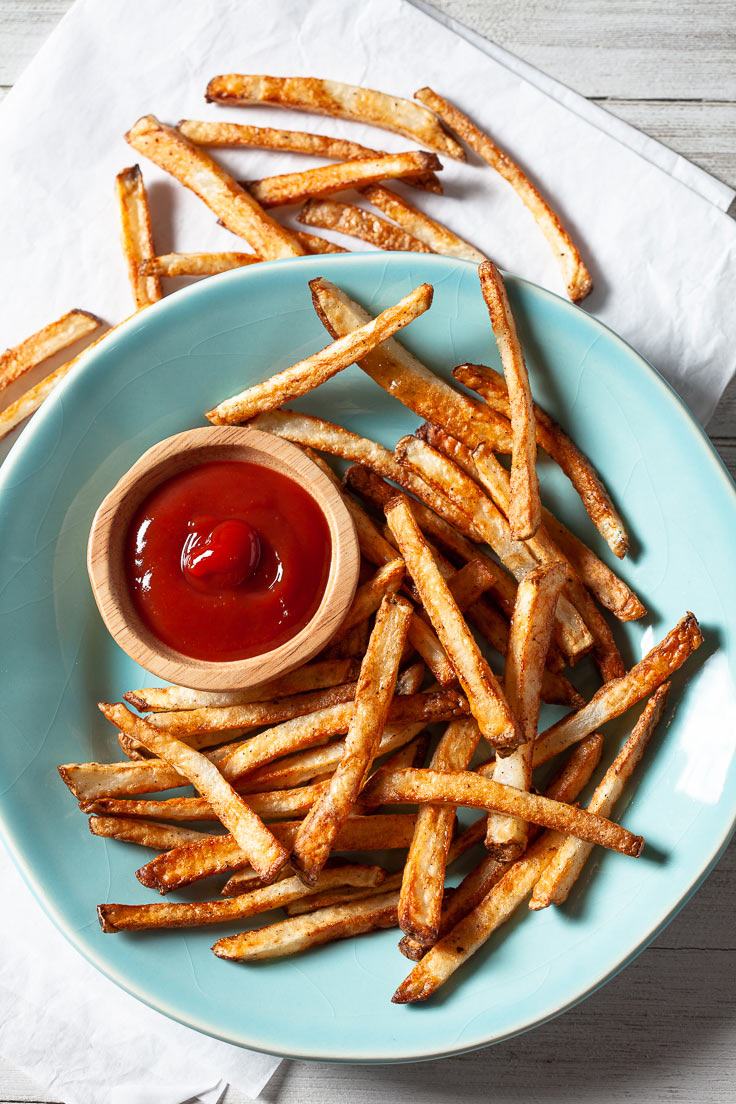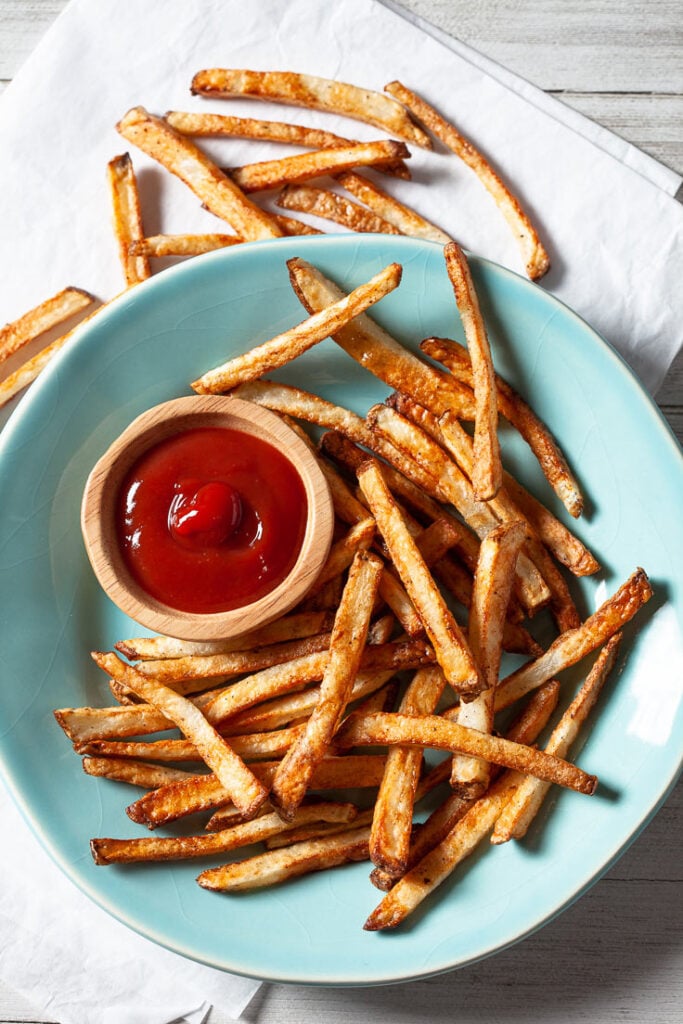 Air Fryer French Fries
Guilt-free fried food? Yes, please. You don't have to choose between greasy, deep fried French fries vs. no fries at all. It's absolutely not an all or none predicament. It's possible to enjoy golden, crispy, delicious French fries you feel great about.
Once you've tried these air fryer French fries, you'll discover a whole new world:
These air fryer fries are surprisingly healthy, with only 2 tablespoons of oil
By oil, we mean extra virgin olive oil
You can use organic potatoes
These fries cook up wonderfully golden and crispy
You can season your fries exactly the way you'd like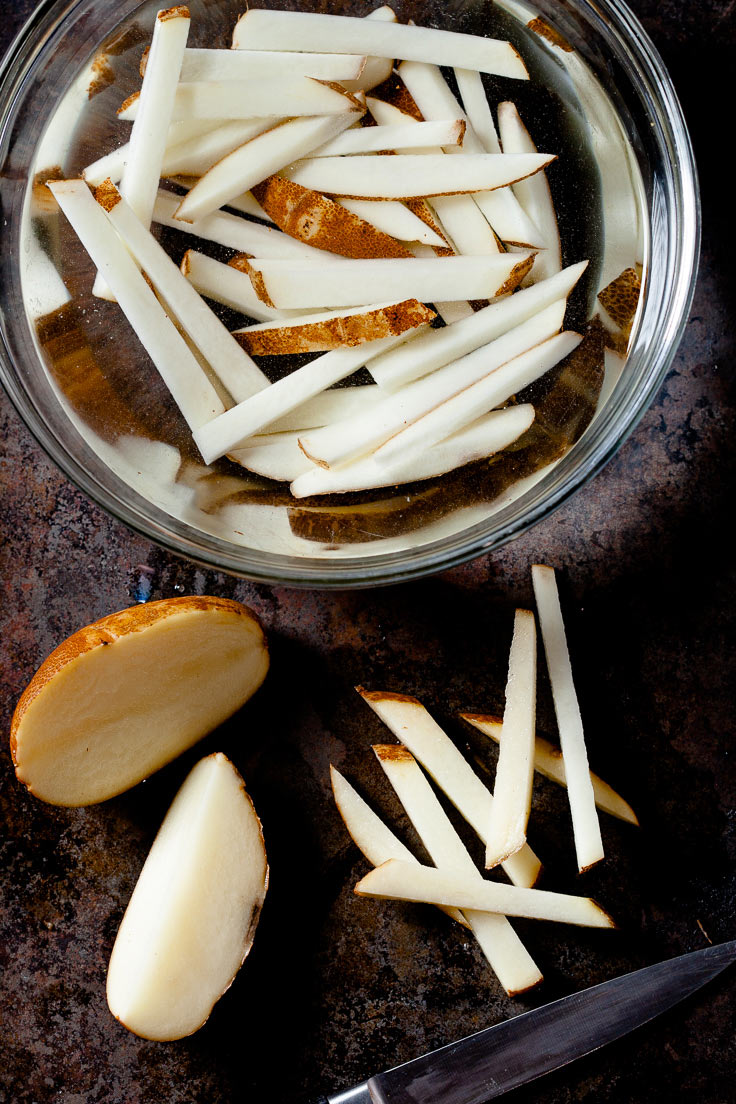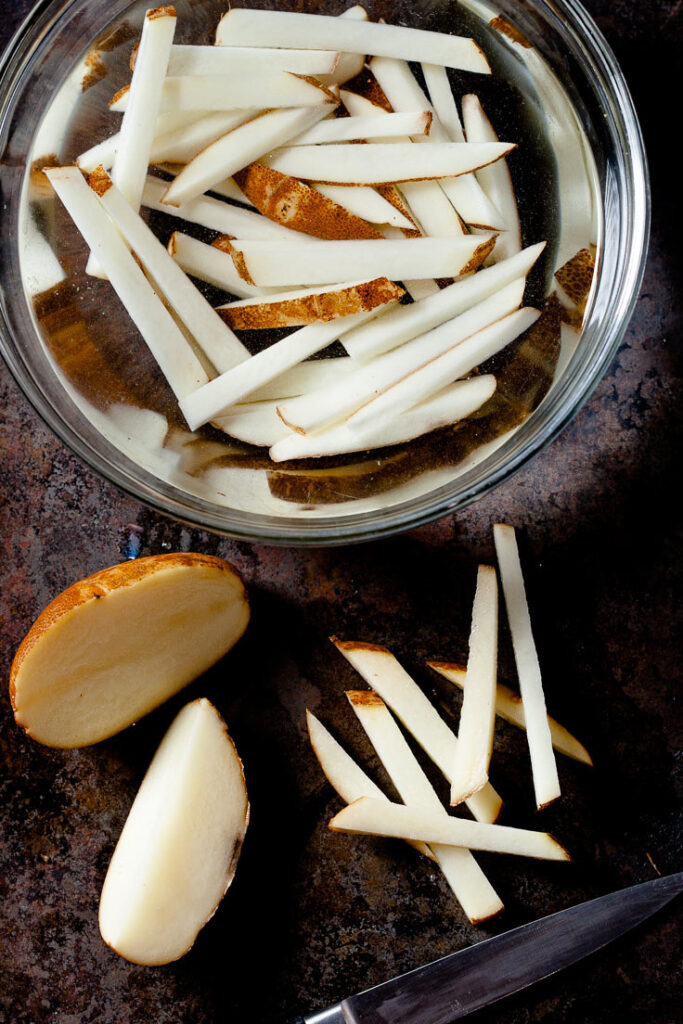 How to make extra crispy fries in an air fryer
There are a few tricks to achieving French fries that are both healthy and crispy, using an air fryer:
Use a sharp knife or mandolin to slice potatoes into even slices.
Thinner fries will naturally cook up crispier than thicker ones – we recommend slicing them on the thin side.
Immediately after slicing, submerge potatoes in cool water. The soaking removes excess starch from the potatoes, which helps them crisp up.
Fully pat-dry potatoes after soaking. This step is important not only for crispness, but also for seasonings to adhere. I use absorbent flour sack cotton cloths.
Arrange potato slices in an even, single layer on the rack of your air fryer. Hot air needs to circulate around fries, so don't overcrowd.
As always, you'll enjoy the crispiest French fries when served immediately.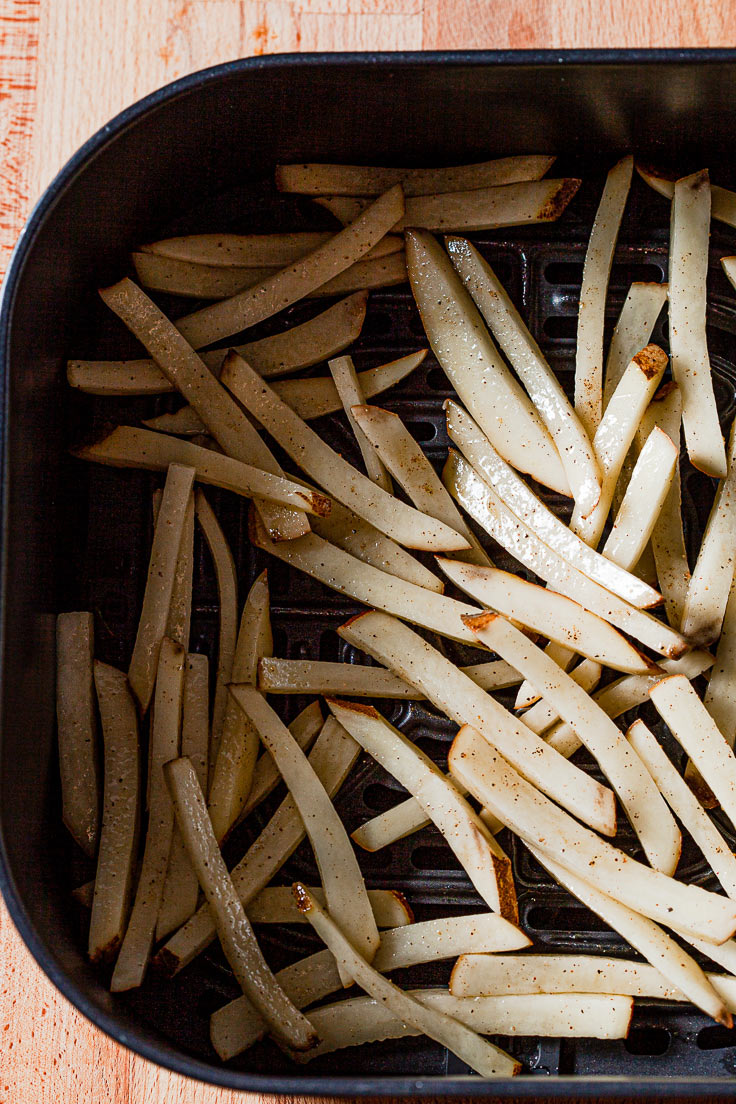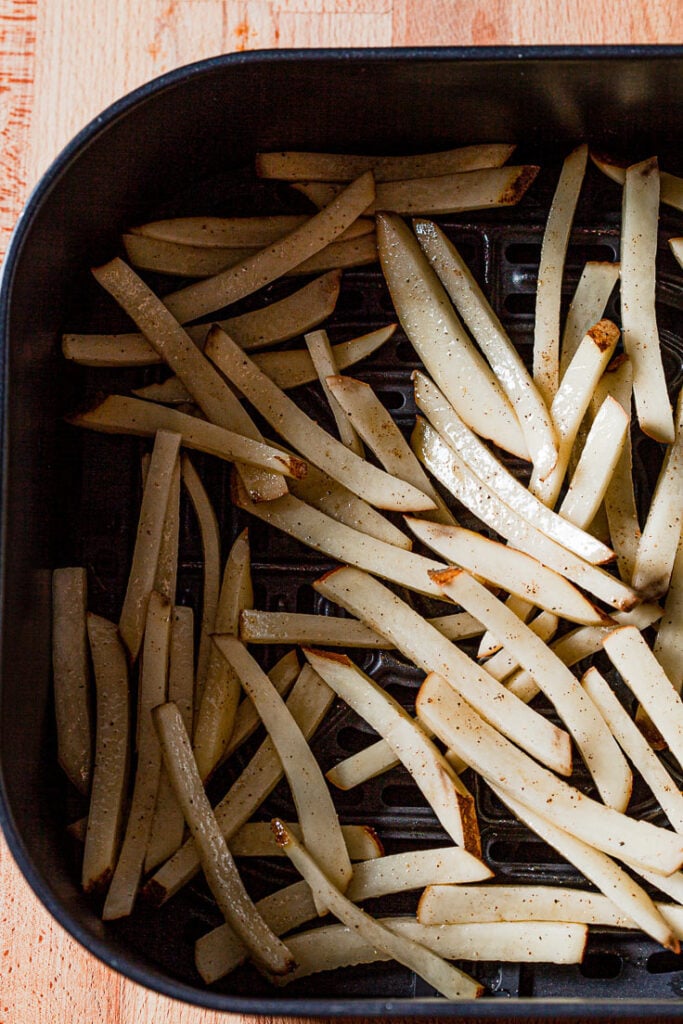 Choose your flavors
We all know French fries are irresistible with just a sprinkle of salt. That said, here are delicious options for your homemade fries experience:
Freshly ground black pepper or cayenne pepper
Garlic powder
Onion powder
Any variety of dried herbs
Paprika or Smoked paprika
Old Bay seasoning
Reheating French Fries
As unlikely as leftover fries are, it's easy to reheat them in your air fryer.
If needed, dab away any excess moisture on fries.
Place fries in an even, single layer in basket of air fryer at about 350F, for 3-5 minutes.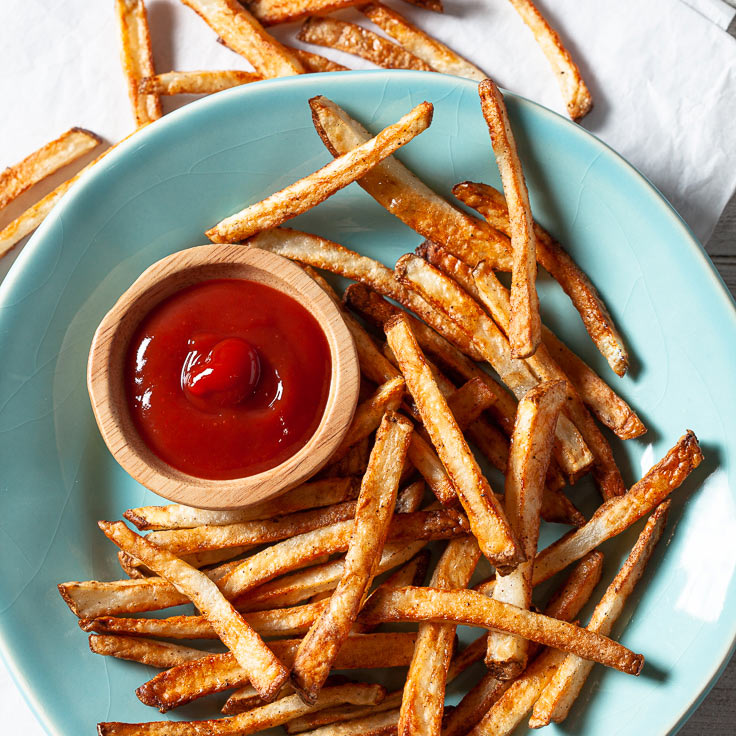 Air Fryer french fries
Common questions
Q: Which type of potatoes are best for French fries?
A: Russet potatoes are ideal for French fries, as they're high in starch and low in moisture, which enables them to crisp up nicely.
Q: Do I have to preheat my air fryer?
A: Because air fryers are much smaller than typical ovens, they heat up quickly and do not require preheating. We've always had great results without preheating, which is consistent with general consensus for most air fryers.
Q: Why do I have to soak the sliced potatoes?
A: Soaking helps to draw out some of the starch from the surface, which helps with browning evenly. Don't forget to rinse after soaking.
More to Cook and Eat
---
watch this recipe in action
---
Did you make this?
Please give us a rating and comment below. We love hearing from you!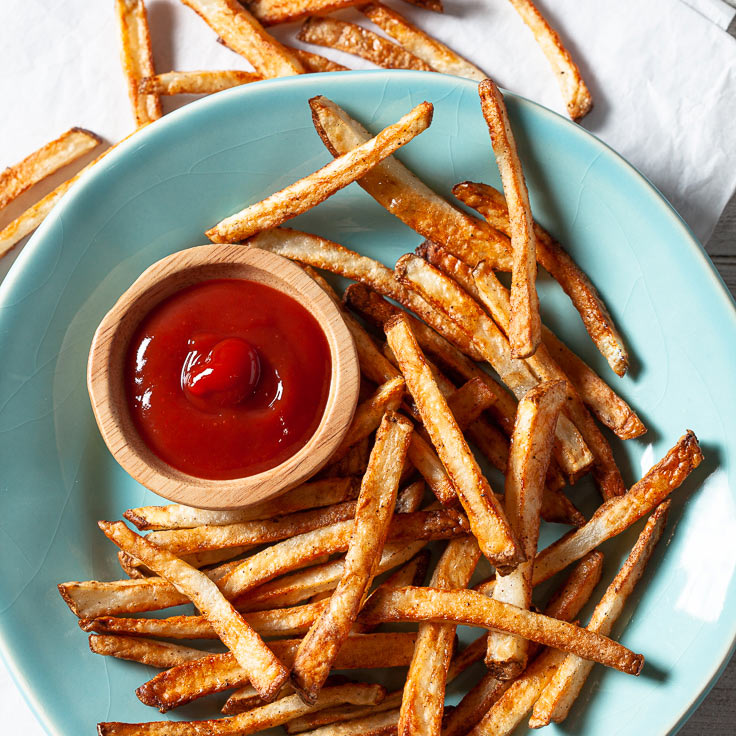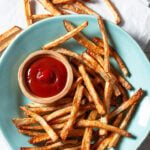 Air Fryer French Fries, Extra Crispy
These Air Fryer French Fries are fresh, crispy, and healthy. Here are the secrets for making extra crispy, flavorful French fries using only 3 basic ingredients.
Ingredients
2

large russet potatoes

2

tablespoons

extra virgin olive oil

⅔

teaspoon

table salt,

fine salt

Optional Seasonings: 1/4 teaspoons fresh ground black pepper, garlic powder, onion powder, paprika, Old Bay, or ranch seasoning
Instructions
Do Ahead

: Wash and dry potatoes. Using a sharp knife or a

mandolin

, slice potatoes into strips of even thickness (thinner fries will turn out crisper than thicker ones.) Immediately place sliced potatoes into a bowl of cool water so that they're fully submerged, about 60 minutes to overnight.

Dry

: Drain and rinse potatoes well. Using paper towels or

clean absorbent cloths

, pat-dry all excess moisture from potatoes.

Season: In a bowl, gently toss potatoes with olive oil and salt. Add pepper and any other seasonings, if desired.

Cook: Working in batches, place fries in a single/even layer on rack of air fryer. Be sure fries are not overlapping. Cook 15-20 minutes or just until golden and crisp (cook time depends on thickness of fries.) While fries are cooking, set your oven to warm setting if you won't be serving the first batch immediately.

Keep Warm: If not serving first batch right away, place them on a baking sheet in warm oven; repeat cooking the remaining fries. As always, fries are best served immediately after cooking.
Notes
You can use peeled or unpeeled potatoes; either is fine.
Fully submerging sliced potatoes in water removes excess starch, which helps browning and crisping. It's important to pat dry all excess liquid after draining and rinsing.
There may be variation in cook time depending on air fryer models. Watch carefully so your fries don't burn.
This Instant Vortex Air Fryer is super popular among home cooks.
If you enjoyed this recipe, please come back and give it a rating ❤️
Nutrition (per serving)
Serving:
1
serving
|
Calories:
165
kcal
|
Carbohydrates:
26.7
g
|
Protein:
3.2
g
|
Fat:
5.7
g
|
Saturated Fat:
0.8
g
|
Sodium:
317.6
mg
|
Fiber:
1.9
g
|
Sugar:
0.9
g