This Angel Food cake is divine —  store-bought ones don't hold a candle to this.  This homemade cake is extraordinary, and will forever change the way you perceive angel food cake.  It's 200% better than store-bought!  Soft, spongy, pillowy fluffy, and moist.  Takes only 30 min to bake!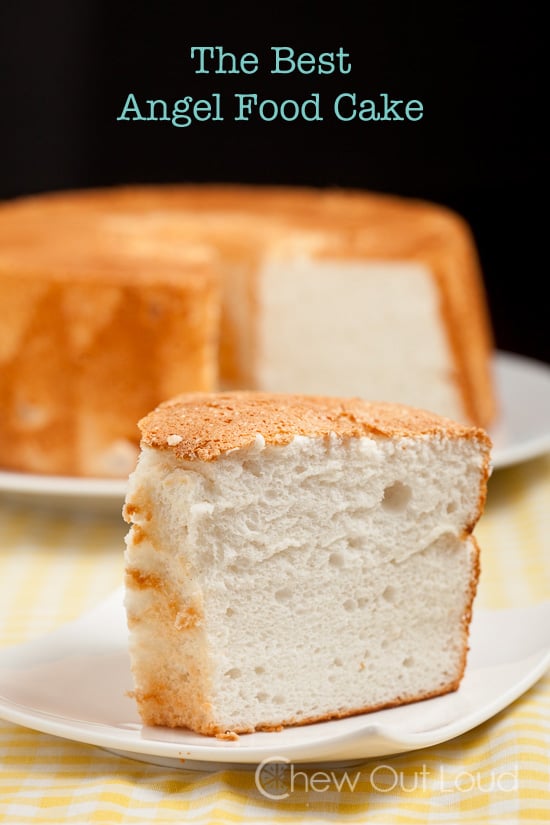 Yesterday was my birthday.  Typically, Hubby and I celebrate our birthdays by grabbing our favorite sitter and going for a night out on the town, hitting an adventurous, somewhat frou-frou, foodie restaurant that we've been hankering to try.
This year, I decided to try something different.  My boys were on spring break, and Hubby took the day off for me.  We took the whole family on a day's outing, which of course still included an adventurous foodie restaurant.
Yes, we were crazy enough to take on the risk of towing 3 active boys to a grown-up restaurant, and we knew we'd be pretty much the only table with Littles in the party.  Much to our amusement and surprise, the boys were thrilled to be included in such a grown-up dining experience, and the whole thing went over beautifully…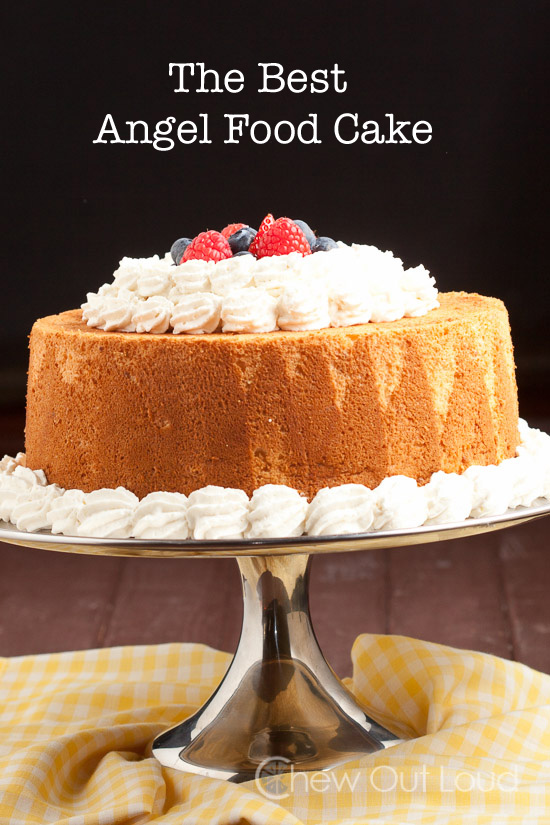 I mean, the simple fact that the boys ate adventurously, and nobody wiped their hands on their shirts was a well enough birthday present for me.  I didn't need anything more.
It also happened to be a balmy 48F (tank top weather for Minnesotans)… so I worked in some outdoor time into my birthday excursion.  We explored downtown, and the guys let me do some shopping.  We then skipped around the zoo, where crowds were light and animals were active.
When we got home, Hubby brought out my birthday cake, which he ordered from our local family-owned bakery.  It was a delicately light cake layered with strawberry mouse and fresh strawberries strewn throughout.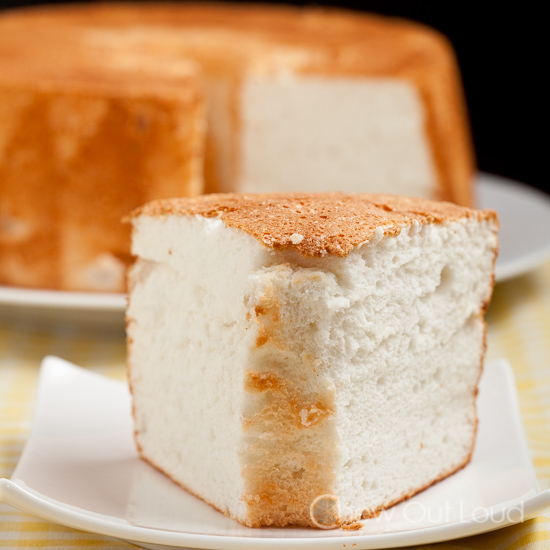 After 12 years of marriage, Hubby knows me well.  At least, in the arena of cakes, he's got it down.  My favorite type of cake is light and tender, not heavy.  Flavorful and sweet, but not too sweet.  With a light whipped cream frosting, rather than heavy buttercream (for all you buttercream fans, know that my kids are on your side.)
The cake Hubby ordered reminds me of this Best EVER Angel Food Cake I made for a recent family gathering.
I've never been a fan of angel food cakes, and now I know why.  Because the only angel food cakes I've had are store-bought ones.  And store-bought vs. homemade is like apples vs. oranges. It's like homemade chewy chocolate chip cookies, versus the bagged ones sitting on grocery store shelves.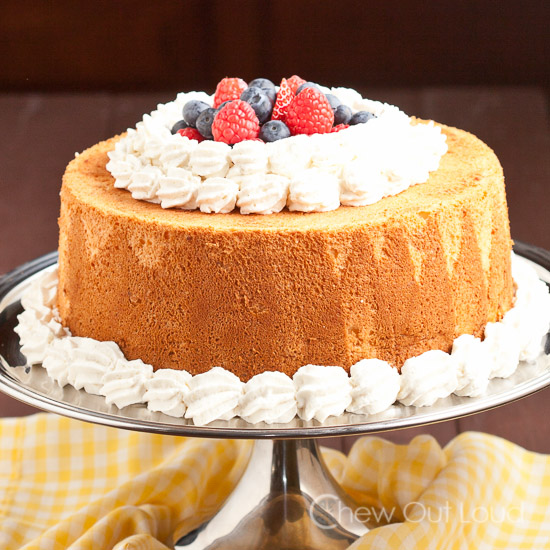 Homemade angel food cake is absolutely divine.  Words can't express just how extraordinary each bite is.  Drrreammy.  
With every bite of this cake, you'll get a happy mouthful of pillowy soft, moist, tender cake.  The flavors of almond and vanilla extracts shine wonderfully.
The day I made this cake, the bunch of us had already polished off a heavy dinner.  Yet everyone devoured big slices of this angel food cake.  And then some.  By morning, there was not a crumb left.
Try this, and you won't be sorry.  Taste angel food cake like never before.  Your friends and family will be in awe of you.    Enjoy!
Print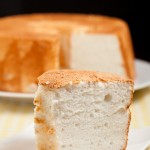 The Best Ever Angel Food Cake
Author:

Yield:

about

12

1

x

Category:

dessert, cake
---
Description
This Angel Food Cake is indeed divinely delicious. It is 200% better than any store-bought version, and easy to make at home. You will need a 2-piece angel food cake pan for best results. I bought my pan specifically for this cake, and I'll be using it again and again.
---
Scale
Ingredients
1 cup

cake flour (no other flour substitutions)

2/3 cups

sugar

12

large egg whites only, must be at room temp (If any yolk accidentally falls in, remove it! It's very important not to have even a little yolk mixed in.)

1 1/2 tsp

cream of tartar

1/4 tsp

table salt

2/3 cups

sugar

1 1/2 tsp

vanilla extract

1/2 tsp

almond extract (must have)
---
Instructions
Important: Do NOT grease the 2-piece angel food cake pan.
Preheat oven to 375F. Sift cake flour and 2/3 cup sugar into a bowl and set aside.
In a separate bowl, beat egg whites, cream of tartar, and salt until it forms soft peaks. Add the other 2/3 cup sugar slowly, and then beat on high until stiff peaks form.
Beating on LOW, add in flour mixture and both extracts slowly, stopping as soon as batter is incorporated. Do not over-mix. Using rubber spatula, fold in the sides and bottoms of bowl, to fully incorporate.
Spoon batter into un-greased angel food cake pan. Gently shake to even out batter.
Bake 30-35 min, or until the top springs back with a gentle touch, and top is golden.
Invert pan upside down, to cool completely. Run a thin knife around pan sides, and remove bottom from the sides. Gently cut bottom away from pan.
* Note: I reduced my sugar amounts to 2/3 cups each, as we prefer our angel food cake less sweet. If you prefer it sweeter, increase both sugar levels to 3/4 cups each.
---
Soure:  Chew Out Loud, adapted from food.com
Here's my favorite EASY yellow cake with chocolate whipped cream frosting!  Light, airy whipped cream frosting makes this cake!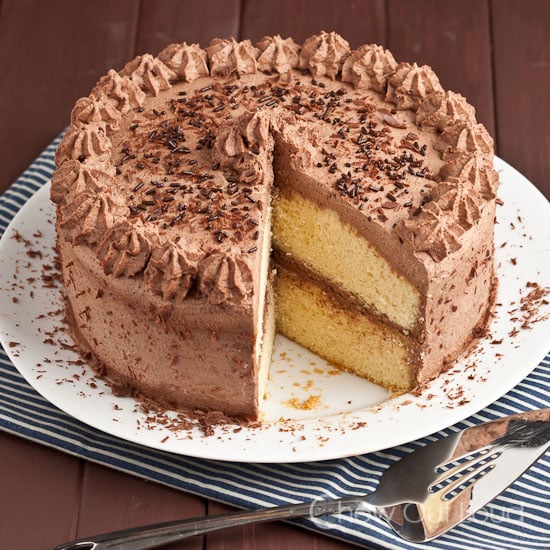 This One-Bowl, Easy Chocolate Cake is tender, soft, and delicious…great flavor, without taking a ton of time to make!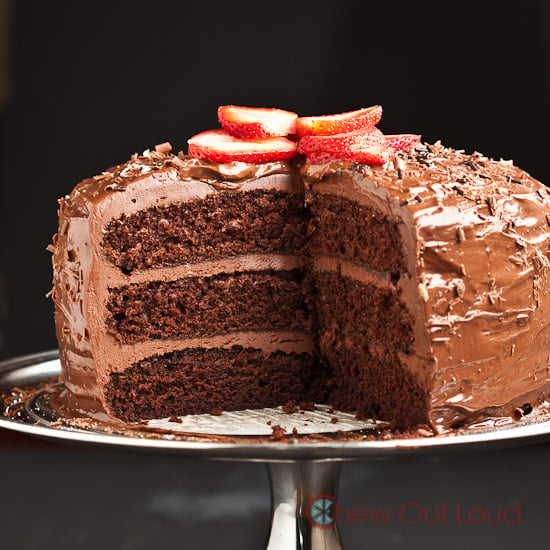 These World's Best Chocolate Oatmeal Cupcakes are unbelievable.  You have to taste it to believe it.  Super moist, decadent, and even healthy (kinda.)