The Best Angel Food Cake (8 Ingredients)
By Amy Dong
Published Mar. 24, 2023
Updated Oct. 3, 2023
This Angel Food cake is divine; store-bought varieties don't come close. Homemade angel food cake is soft, pillowy, fluffy. It's scrumptious all on its own, or with berries and whipped cream.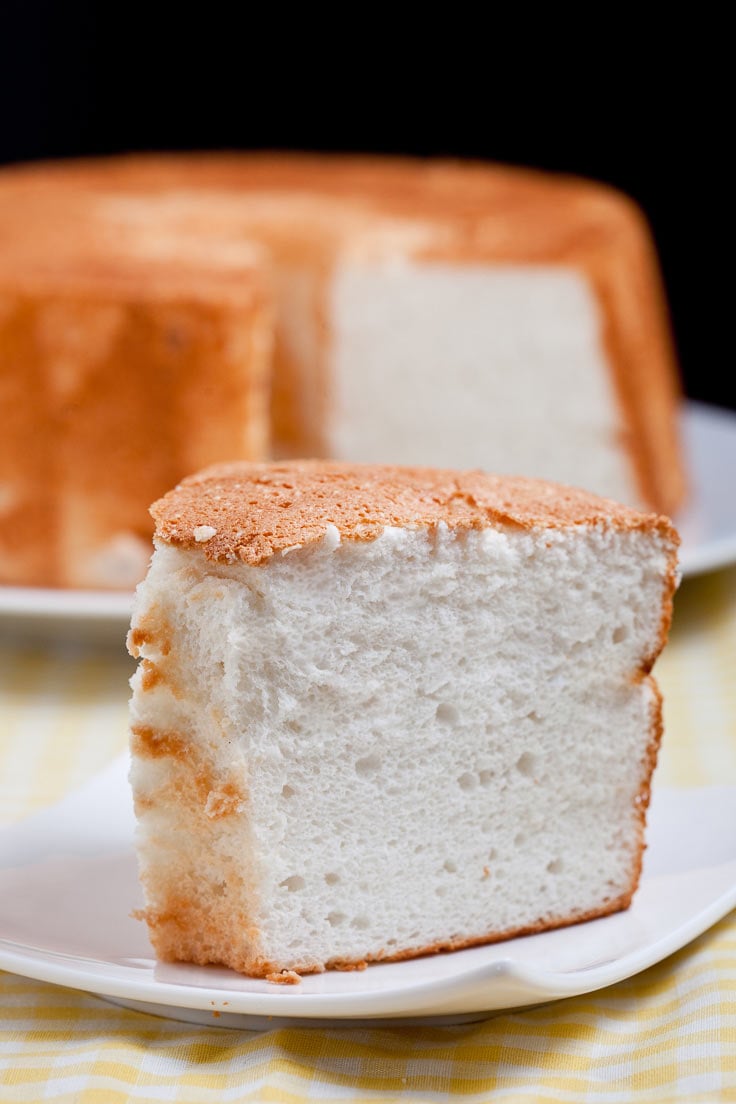 Video: Watch Us Make This Recipe
Homemade Angel Food Cake is not the same as store-bought
When your previous experience with angel food cake involves only store-bought versions, it's easy to assume all angel food cake tends to be on the bland-dry-boring spectrum of cakes. That's where this homemade angel food cake will absolutely waltz in and change all past notions.
Homemade angel food cake is heads above the rest:
It smells amazingly aromatic as it bakes.
It's the opposite of bland; homemade angel food cake so lavish with flavor, it needs no embellishment. People eagerly devour this delicious cake all on its own.
It's also not even a little bit dry. This angel food cake recipe yields the most fluffy, tender, and pillowy soft cake.
This angel food cake is actually dairy-free, containing no butter and no milk.
There are only 8 ingredients to this recipe.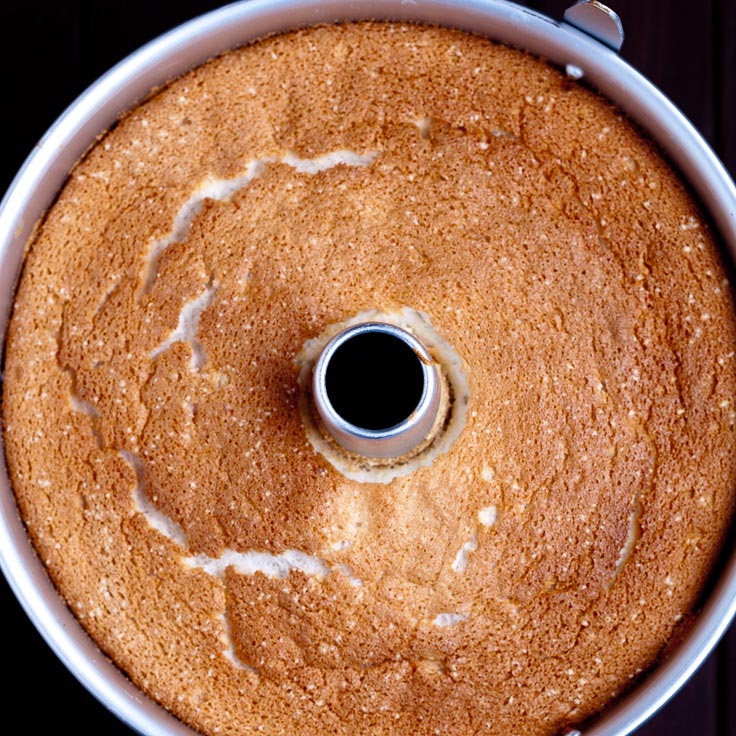 Only 8 Simple Ingredients
Angel food cake may feel like it belongs in the professional-baker category of desserts, but take heart: it only requires 8 simple pantry ingredients to make this fluffy soft cake come true, anytime you want.
Aside from the usual players like eggs, vanilla, sugar, and salt, you'll also need cake flour, cream of tartar, and almond extract.
Cake Flour
The main difference between cake flour and all-purpose flour lies in the lower protein content of cake flour. Protein becomes gluten when liquids are introduced, which directly affects the structure and texture of baked goods.
With airy-light cakes like our angel food cake, the lower protein content is essential to achieving that signature pillowy soft crumb.
Cream of Tartar
Cream of tartar may be a strange name, but it's a pantry staple for baking. It helps bind ingredients together and stabilizes light and fluffy baked goods. It's essential when recipes involve whipping plentiful air into egg whites.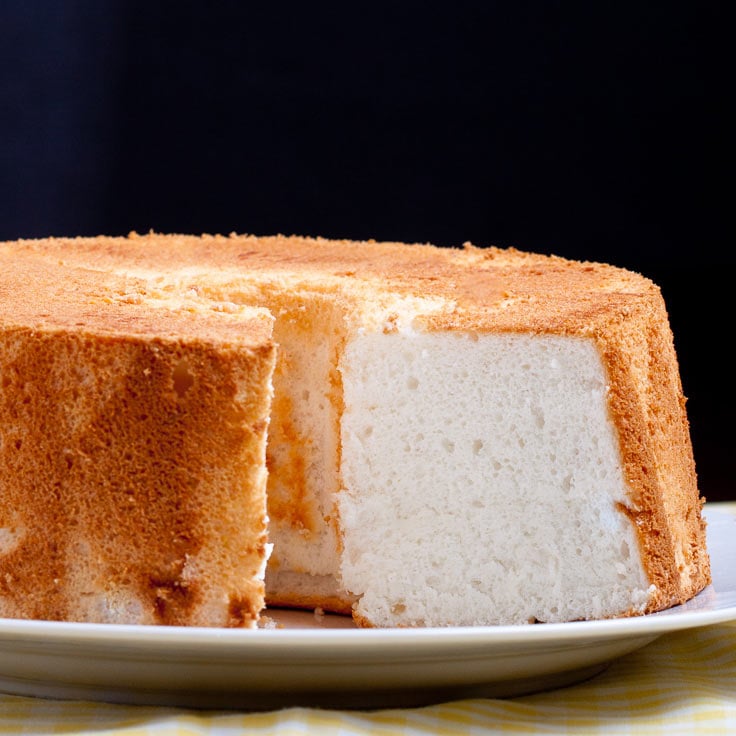 Egg Whites Only
Use large egg whites only; it's important to remove any yolk that accidentally falls in with the egg whites. I've definitely plucked bits of yolk out of the whites, just to ensure the egg whites whip up as nice and airy as possible.
Soft Peaks vs. Stiff Peaks
Use either a stand mixer or an electric hand mixer to whip the egg whites into required peak levels. Be sure eggs are at room temperature.
Soft peaks: when you turn gently pick whisk up from the mixture and turn it upside down, the peaks are soft and gently bend over at the tips
Stiff peaks: when you turn whisk upside down, the peaks hold up strong and pointy, without bending at tips.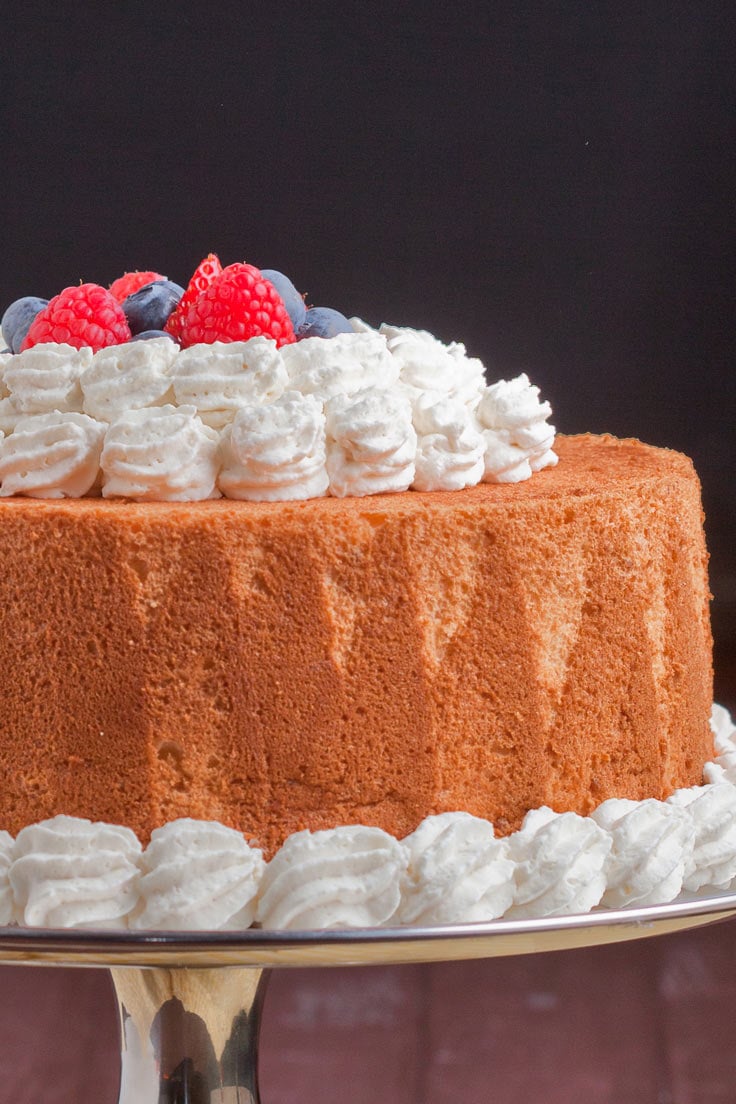 More to Bake and Eat
Angel Food Cake
Common Questions
What is angel food cake?
Angel food cake is a type of sponge cake made with egg whites,
How do you keep your angel food cake from falling?
It's important to measure the ingredients carefully, particularly the dry ingredients, using the scoop and level method. Bake until the cake springs back with a gentle touch, and be sure to invert the cake upon cooling. Allowing the cake to cool upside-down prevents it from collapsing while cooling.
How do you store angel food cake?
This cake keeps well at moderate room temperature, tightly covered, for up to 3 days. Beyond this, keep it tightly covered in the fridge and allow it to reach room temperature before serving.
What do you serve with angel food cake?
We absolutely love and highly recommend serving your angel food cake with stabilized whipped cream, as resists becoming soggy or runny. Add some fresh berries on top for the perfect finish.
---
Did you make this?
Please give us a rating and comment below. We love hearing from you!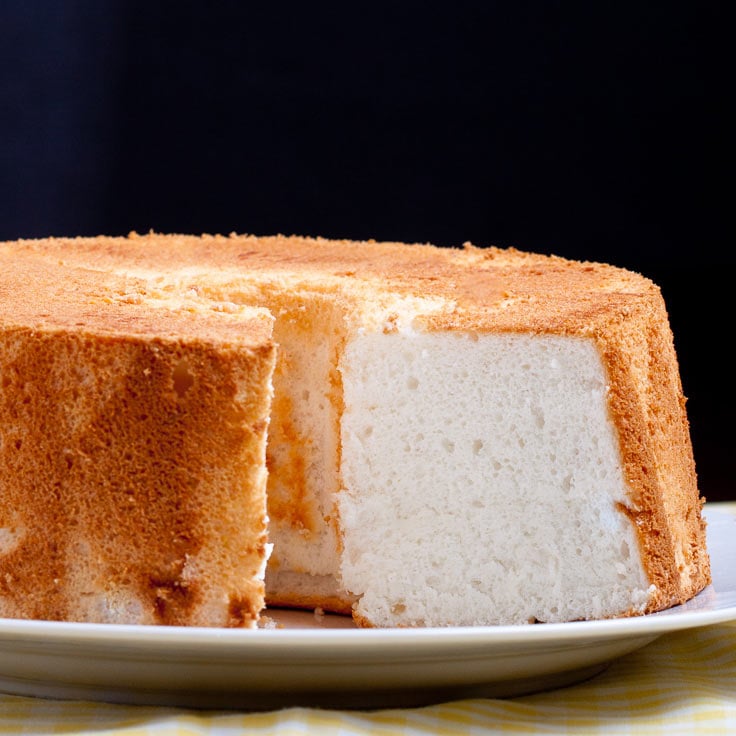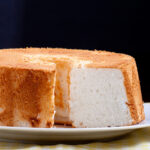 The Best Angel Food Cake
This Angel Food Cake is indeed divinely delicious. It is 200% better than any store-bought version, and easy to make at home. You will need a 2-piece angel food cake pan for best results. I bought my pan specifically for this cake, and I'll be using it again and again.
Instructions
Preheat oven to 375F. Sift cake flour and 3/4 cup sugar into a bowl and set aside.

Using stand mixer or electric hand mixer on medium-high speed, beat egg whites, cream of tartar, and salt until it forms soft peaks. Add the other 3/4 cup sugar slowly, and then beat on high until stiff peaks form.

Beating on LOW, add in flour mixture and both extracts slowly, stopping as soon as batter is incorporated. Do not over-mix. Using rubber spatula, fold in the sides and bottoms of bowl, to fully incorporate.

Spoon batter into un-greased angel food cake pan. Do NOT grease the 2-piece angel food cake pan. Gently shake to even out batter.

Bake 30-35 min, or until the top springs back with a gentle touch, and top is golden.

Invert pan upside down, to cool completely. Run a thin knife around pan sides, and remove bottom from the sides. Gently cut bottom away from pan.
Notes
It's important that not even a little egg yolk gets mixed in with the egg whites.
Soft peaks: when you turn gently pick whisk up from the mixture and turn it upside down, the peaks are soft and gently bend over at the tips
Stiff peaks: when you turn whisk upside down, the peaks hold up strong and pointy, without bending at tips.
If you enjoyed this recipe, please come back and give it a rating ♡
Nutrition (per serving)
Serving:
1
g
|
Calories:
158
kcal
|
Carbohydrates:
34.5
g
|
Protein:
4.5
g
|
Fat:
0.2
g
|
Sodium:
104
mg
|
Fiber:
0.2
g
|
Sugar:
25.3
g