Fresh Strawberry Crumb Cake
By Amy Dong
Published May. 27, 2020
Updated May. 25, 2023
This Fresh Strawberry Crumb Cake is perfect for both breakfast and dessert. Have it with coffee in the morning, or a scoop of vanilla ice cream in the evening.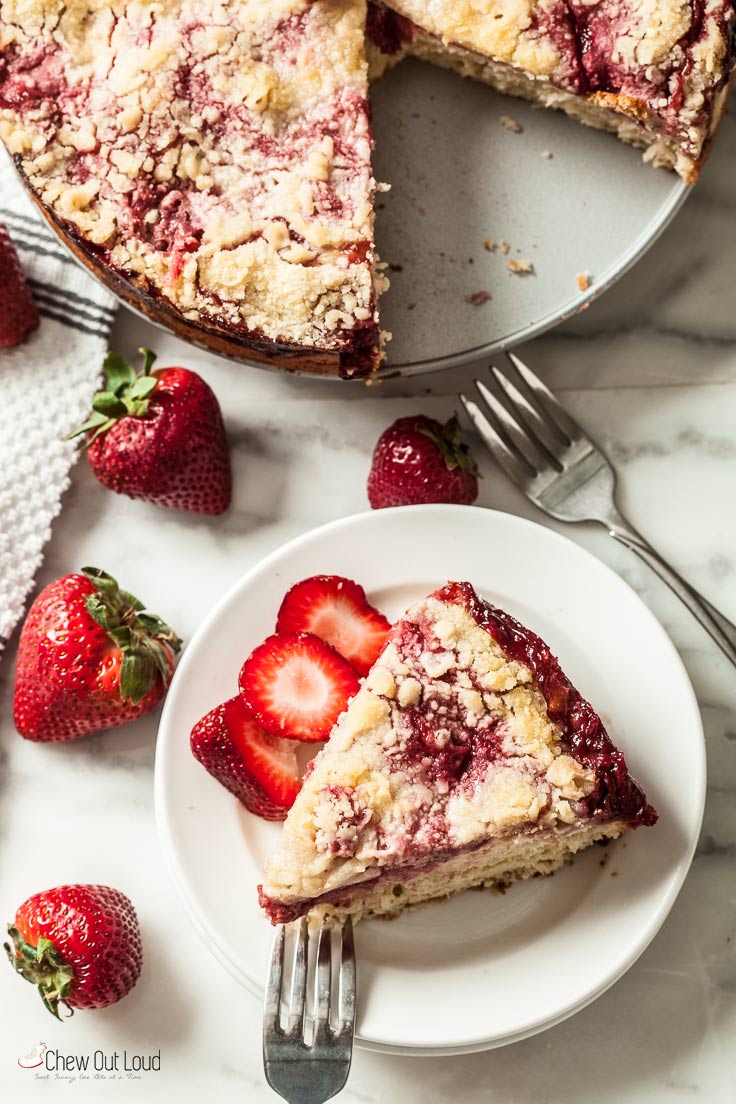 Fresh Strawberry Crumb Cake
The practical girl in me makes it pretty low maintenance when it comes to things like my own birthdays or Mothers Day. I don't need fancy jewelry or expensive roses. I'd rather receive simple potted plants and a nature walk over a spa treatment any day.
I also don't need heavily frosted fancy bakery cakes. I'm happy making my own cake, as long as it's simple to make and tantalizingly delicious. This tender, tasty, and pretty Strawberry Crumb Cake fits the bill…it's beautifully simple and ridiculously flavorful. Best of all, this strawberry cake lets your juicy ripe strawberries take center stage.
This fresh strawberry cake encompasses everything that's right about cake: the simple layers of goodness meld together into the fresh strawberry cake your family will devour, so be sure to save yourself a slice.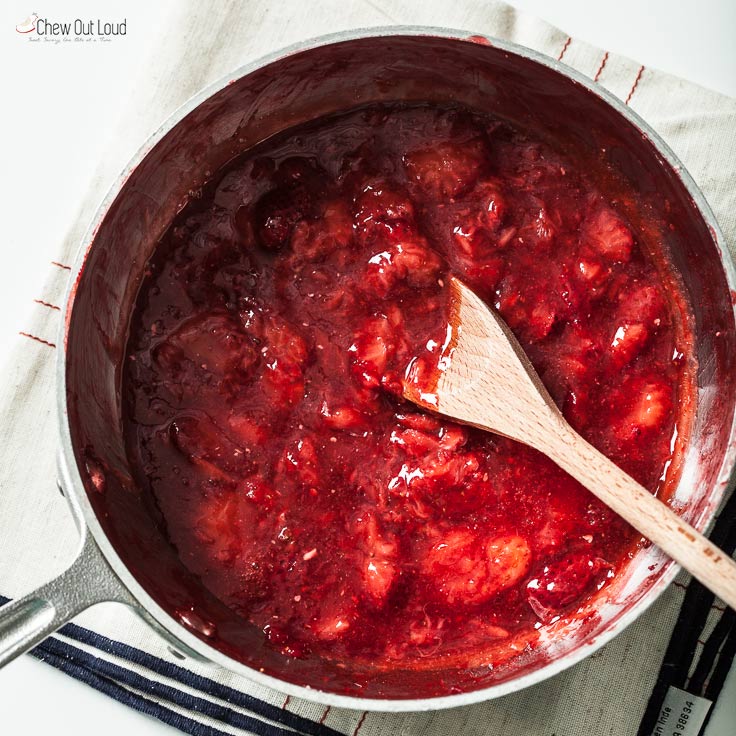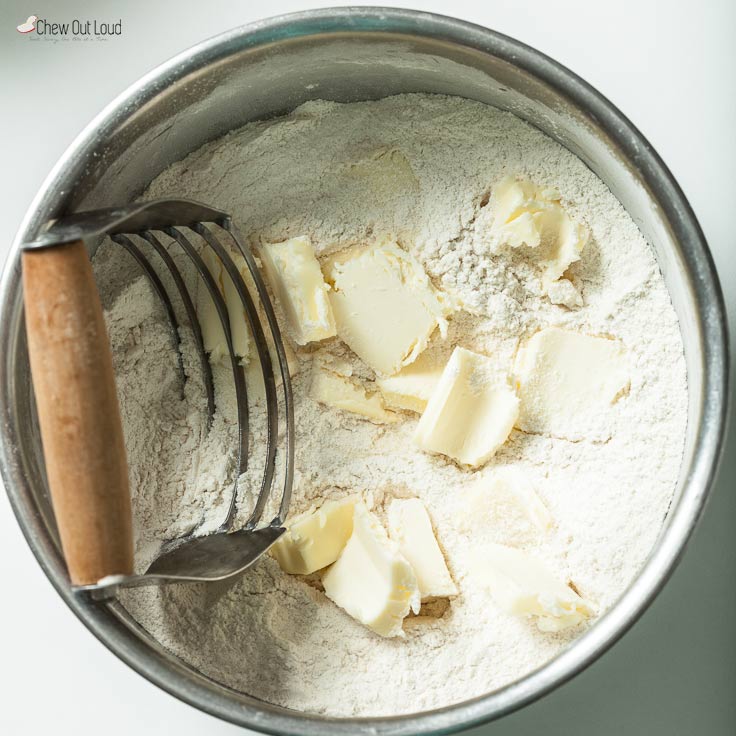 Easy 3-in-1 Cake
The beauty of this fresh strawberry cake lies in its minimal-effort layers.
You'll get a tender cake layer on the bottom, made extra moist with the addition of sour cream (plain greek yogurt may be substituted.) Resting on top of that is a thin cheesecake-flavored custard layer that's so fuss-free that it only uses 3 ingredients. Then you'll pour on a versatile, easy fresh strawberry sauce that can be used not only for this cake, but for everything from berry ice cream to New York cheesecake to Belgian waffles.
No Frosting Needed
No frosting or icing or any other adornment needed. This strawberry cake is both pretty and delicious, just as it is, straight out of your oven. Do wait until it's completely cooled before removing from pan and cutting.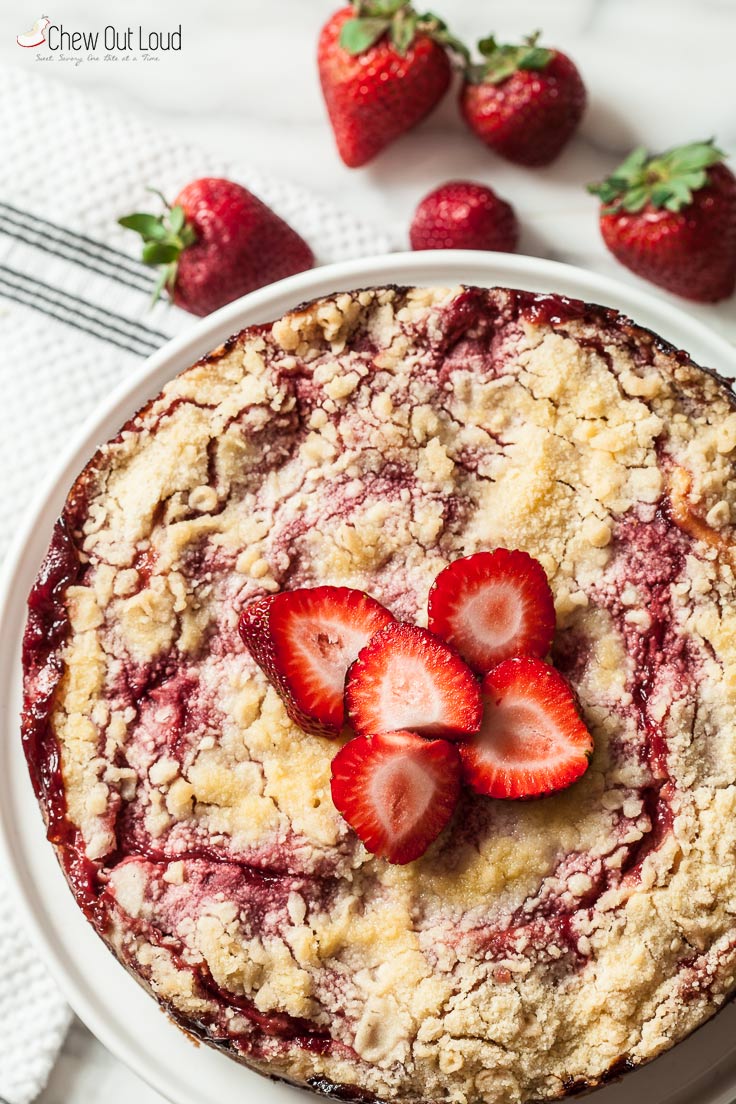 Make it Ahead and/or Freeze it
As with most of our cake recipes, you can bake this up the night before and keep it covered at moderate room temp until the next day. Perfect for a make-ahead brunch situation or dessert after a busy day.
If you have leftovers you'd like to freeze, wrap it up airtight and freeze for up to 2 weeks. Tip: cut leftover cake into desired slices before wrapping and freezing; this makes it easy to defrost a slice whenever you'd like.
Note that the strawberry sauce can be made 1-2 days ahead of time and chilled in a covered container prior to using in the cake; reheat it just enough for it to be easily spreadable.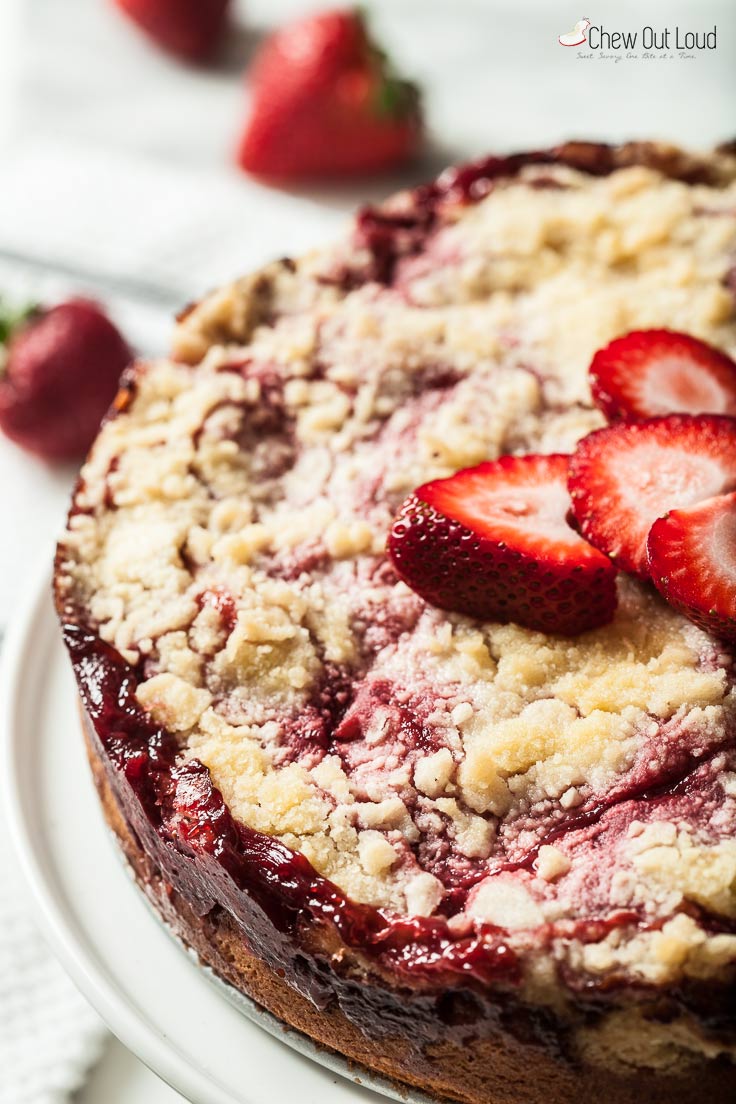 Did you make this?
Please give us a rating and comment below. We love hearing from you!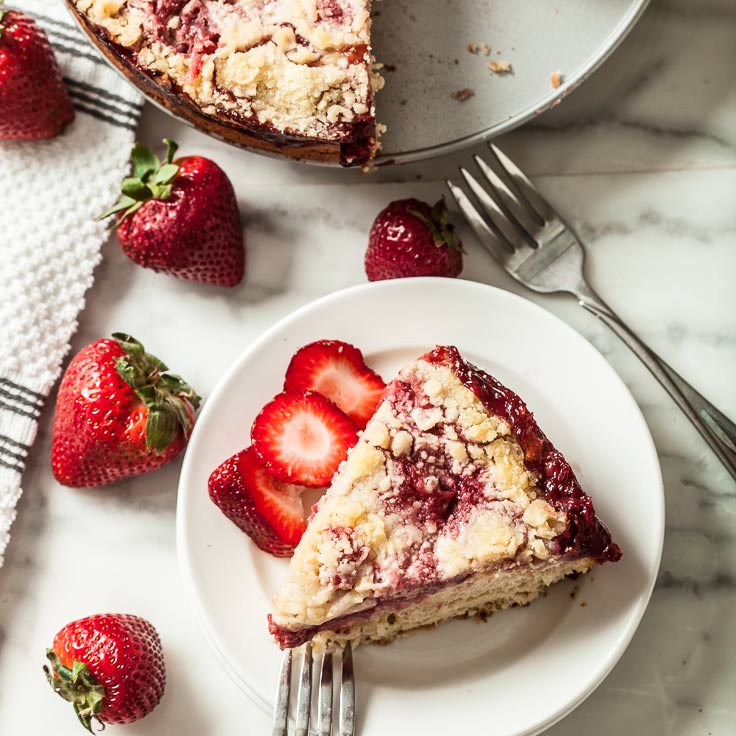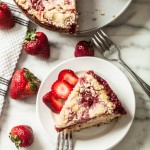 Strawberry Crumb Cake
This Fresh Strawberry Crumb Cake is perfect for both breakfast and dessert. Have it with coffee in the morning, or a scoop of vanilla ice cream in the evening.
Instructions
Preheat oven to 350°with rack on lower middle position. Grease a 9-in.

springform pan

and set aside.

For the Strawberry Sauce: In a saucepan, add dissolved cornstarch, sugar, and strawberries. Stir to combine well and bring to a boil over medium high heat. Immediately reduce to a simmer; stir frequently and simmer uncovered 6-8 minutes or just until thickened to a jam-like consistency.

For the Filling: In a bowl, beat cream cheese and sugar on medium speed until smooth. Beat in egg until mixture is smooth. Set aside.

In a large bowl, combine flour and sugar;

cut in butter

until pea-sized lumps remain; mixture will be dry and crumbly. Reserve 3/4 cup for topping. To the remaining mixture, add baking powder, baking soda, and salt. In a separate bowl, gently whisk together the egg, sour cream and vanilla until combined; fold/stir sour cream mixture into flour mixture (will still be lumpy, which is ok.)

Spread cake batter evenly into bottom of greased springform pan. Spread custard layer over crust, leaving a 1/2-in. border around edge of pan. Spoon strawberry sauce evenly over the top. Sprinkle with reserved 3/4 cup of crumb mixture on top.

Place springform pan on a large baking sheet. Bake 50-60 minutes or until edges are golden and cake is puffed up. Cool completely before loosening sides of cake from pan (use a thin, sharp knife to do so.) Remove springform sides and place cake on desired platter. Serve at room temp or chilled.
Notes
Cake can be made ahead of time, covered airtight, and chilled until ready to serve.
Nutrition (per serving)
Calories:
397
kcal
|
Carbohydrates:
44.7
g
|
Protein:
7.1
g
|
Fat:
21.5
g
|
Saturated Fat:
12.8
g
|
Trans Fat:
0.4
g
|
Cholesterol:
92.6
mg
|
Sodium:
297.1
mg
|
Fiber:
1.3
g
|
Sugar:
22.1
g
Fresh Fruit Desserts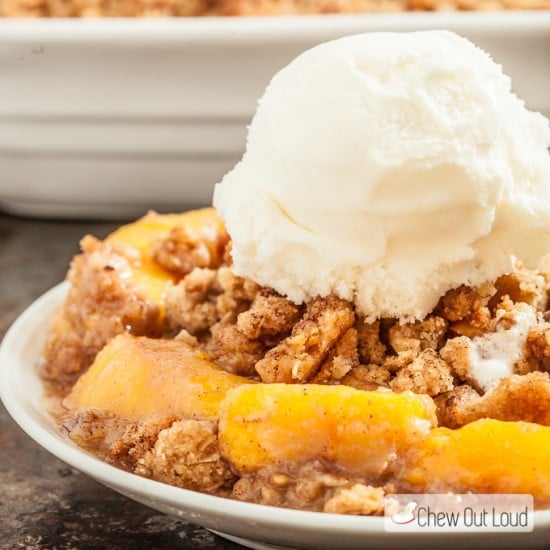 2. Strawberry Cupcakes with Whipped Cream Frosting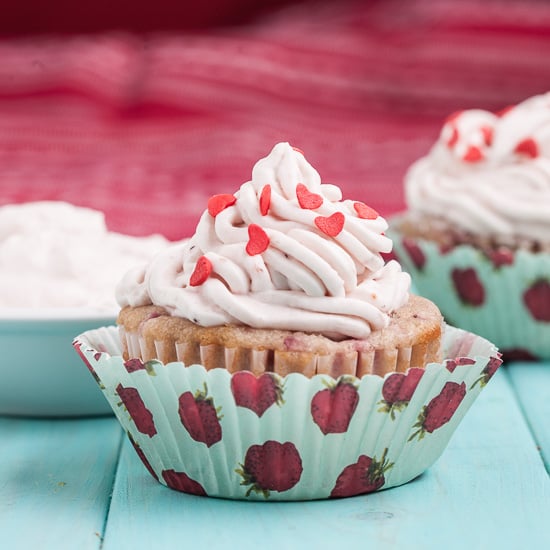 3. Best Blueberry Lemon Bundt Cake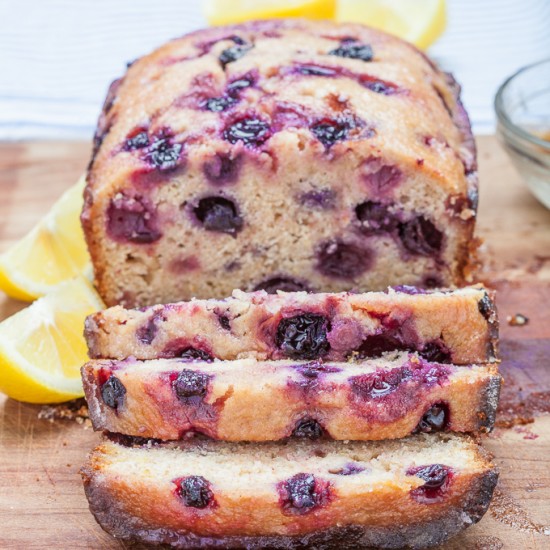 4. Easy Surprise Raspberry Cake