Cheesy Ham and Hash Brown Potato Casserole
Know anyone who is looking for ways to use up that holiday ham? Our family is pretty good about eating leftovers, but after a couple of days, we're ready to transform it into something that feels new.
This Cheesy Ham and Hash Brown Casserole is one of our favorite ways to renew a leftover ham. It's a hands-down phenomenal brunch dish. In fact, it's popular enough to bring out for dinner. Good grub is a winner at any time of day 🙂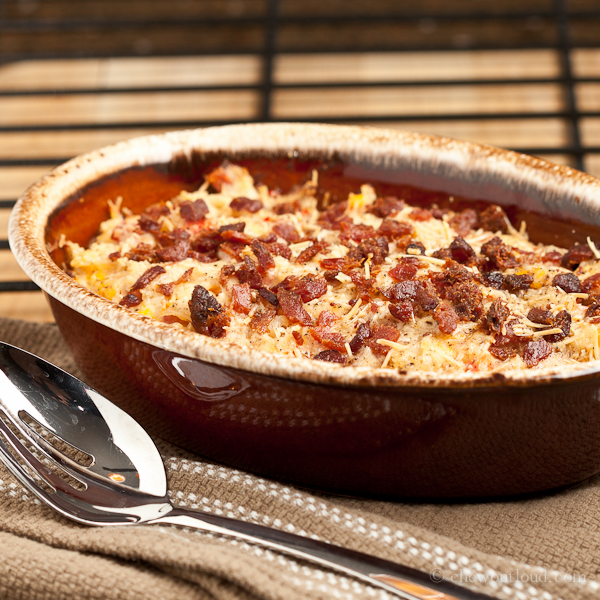 This Cheesy Ham and Hash Brown Casserole is easy to throw together the night before and bake up the next morning. If you need something easy and super tasty for brunch on New Year or an upcoming weekend, here it is. It's the perfect fuss-free, wake-up-late breakfast cure. Totally my style. Did I mention this is a fabulous way to use up leftover ham?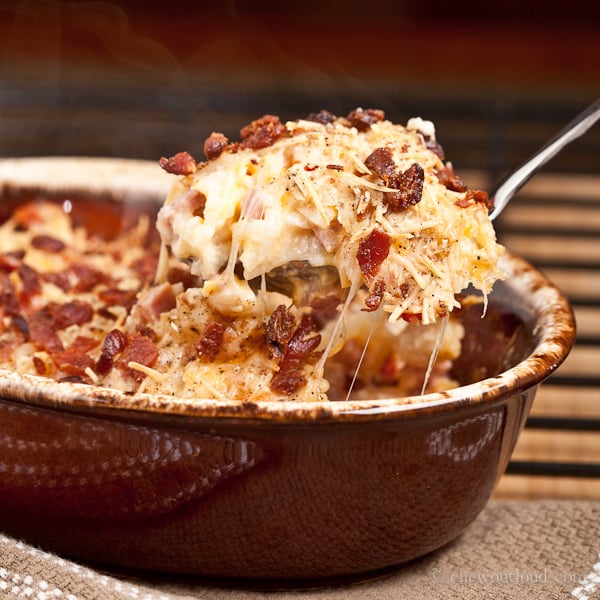 This yummy dish is chock full of cheese, ham, frozen hash brown, and whatever add-ins your palate desires. We like a bit of red bell pepper for texture and color, and of course sprinkled with crumbled bacon on top – because a bit of bacon makes everything better. Even the kiddos inhale this cheesy casserole.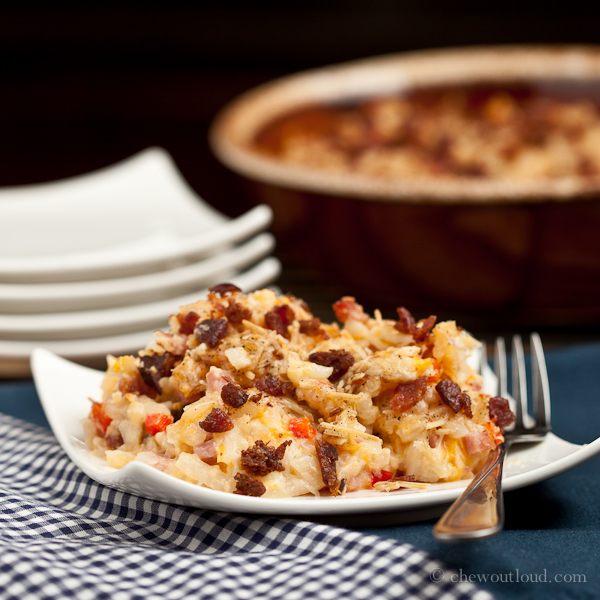 This Cheesy Ham and Hash Brown Casserole is also one of our favorite things to bring to brunch potlucks. You'll want to keep this recipe in a safe place for your next potluck contribution. It's a popular crowd-pleaser, and you'll love going home with an empty casserole dish. Though a little left over could be good, too 🙂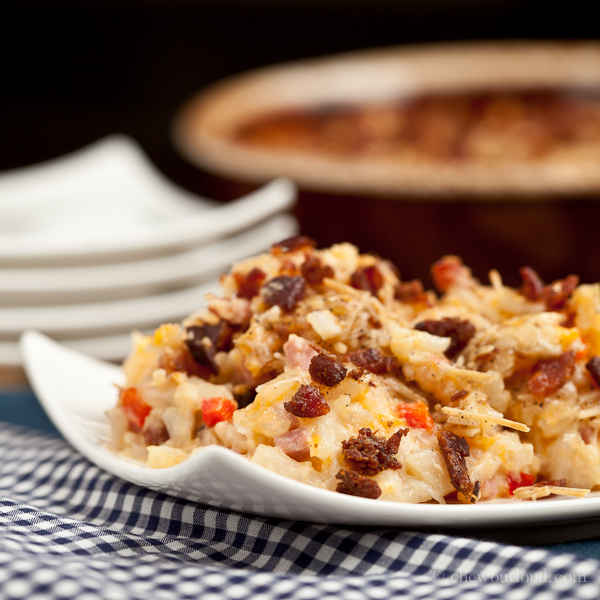 Here's to a carefree, delicious weekend morning. Enjoy the rest of the holidays!
RECIPE (one 9×13 casserole)
INGREDIENTS
32-oz package frozen plain hash brown potatoes
2 cups cooked, diced ham
1 red bell pepper, seeded and chopped
2 cans condensed cream of potato soup
16 oz sour cream (lowfat is ok)
2 cups shredded sharp Cheddar cheese
1/4 tsp salt
1 tsp garlic powder
1 tsp onion powder
1 tsp freshly ground black pepper
1 1/2 cups freshly shredded Parmesan cheese
5-6 slices cooked bacon, crumbled (real bacon bits work, too)
DIRECTIONS
In very large bowl, combine: frozen hash browns, ham, bell pepper, cream of potato soup, sour cream, Cheddar cheese, salt, garlic powder, onion powder, and black pepper. Gently mix until thoroughly incorporated. Spread evenly into a greased 9×13 baking dish. Sprinkle with Parmesan cheese and crumbled bacon. If not baking yet, wrap tightly and place in fridge until ready to bake.
Preheat oven to 375F. Bake 45 min to 1 hour on middle rack, until bubbly and golden on top. Serve immediately, while hot. Enjoy!
Source: Chew Out Loud, adapted from allrecipes