Ham Bone Soup
By Amy Dong
Published Apr. 8, 2023
Updated Apr. 12, 2023
Ever wonder what else you can do with leftover ham and ham bone? Don't let any of it go to waste. Leftover ham bone soup is a delicious meal-in-one!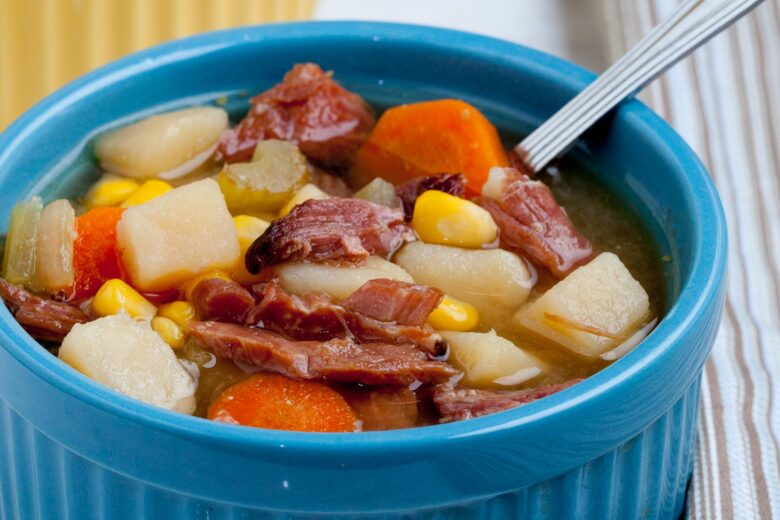 Easy Ham Bone Soup with Beans and Potatoes
I don't make ham often, since we generally gravitate towards roasted turkey for the holidays and even for Easter. But when I do make ham (the ever-popular Honey Baked Ham), the sweet and savory components of it are deliciously inviting.
If you're lucky enough to have leftover ham, consider it a good thing, as you can transform every bit of that leftover ham into something brand new. We often make Easy Fried Rice with chopped up ham for dinner. For brunch, chop up your leftover ham and include it in Crustless Quiche or Cheesy Ham and Potato Casserole. Today, we're highlighting the cozy side of leftover ham, with this succulent Ham Bone Soup.
Benefits of Ham Bone Soup
A classic comfort food that is hearty, flavorful, and perfect for chilly fall/winter nights and still-cool spring evenings.
A great way to use up leftover ham bones and make use of all the flavor that's left behind.
Easily made from ham bones, vegetables, and seasonings.
The ham bones are simmered in liquid to create a flavorful broth, and then the vegetables and seasonings are added to create a hearty and nutritious soup.
This ham bone soup is a meal in one, with potatoes and carrots.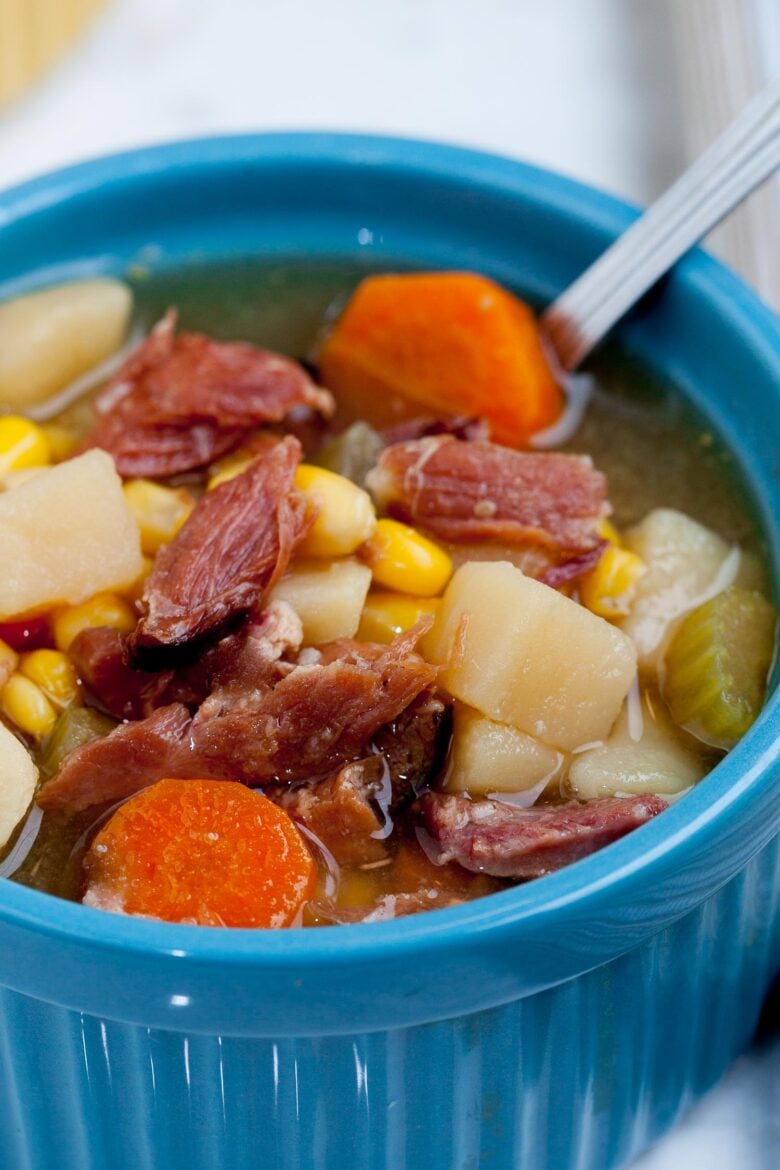 What Vegetables Are Typically Used?
Carrots, onions, celery, and potatoes are commonly used in ham bone soup. You can also add other vegetables like green beans, peas, or corn depending on your preference.
We love the classic combination of carrots, celery, and potatoes. The carrots and celery provide delectable aromatics, while the potatoes make this soup extra satisfying and a meal-in-one.
What Does it Taste Like?
Ham bone soup is slow-simmered, providing unparalleled flavors in the succulent broth. The flavors are savory, with a slight sweetness from the carrots and corn. Ham bones gift you with a mildly smoky essence. If you're using honey baked ham, you'll enjoy a more complex salty and sweet flavor profile that's absolutely incredible.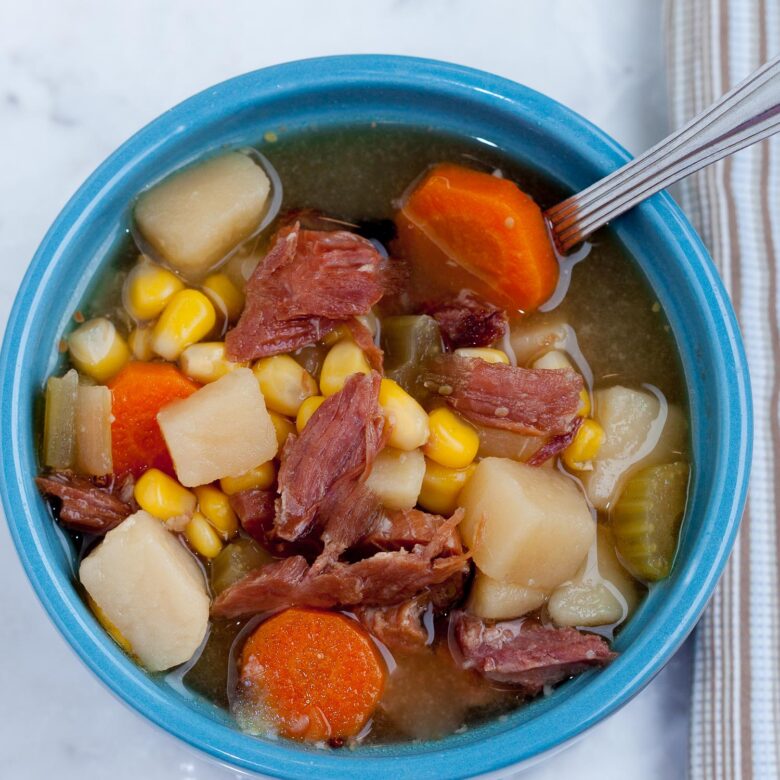 What to Serve with Ham Soup
Common Questions and Answers
Can I freeze ham bone soup?
Yes, you can freeze ham bone soup. Allow the soup to cool completely before transferring it to a freezer-safe container. Label the container with the date and freeze for up to three months. To reheat, simply thaw in the refrigerator overnight and heat on the stove until hot.
How long can I keep ham bone soup in the refrigerator?
You can keep ham bone soup in the refrigerator for about 4 days. Make sure to store it in an airtight container to prevent contamination. Rather than reheating all of it at once, reheat only the amount you want to use each time.
Can I use any type of ham bone for ham bone soup?
Yes, you can use any type of ham bone for ham bone soup, but keep in mind that the flavor may vary depending on the type of ham. A smoked ham bone will give the soup a smoky flavor, while a honey baked ham bone will have a sweeter taste.
Is ham bone soup healthy?
Ham bone soup can be higher in sodium if the ham used is salty. Try a low-sodium ham bone or reduce the amount of added salt in the soup, if you're watching sodium intake. Adding plenty of vegetables to the soup can increase its nutritional value. Vegetables like carrots, celery, and onions are low in calories and high in fiber, vitamins, and minerals. Using lean ham meat and trimming the fat can reduce the amount of saturated fat in the soup.
Adding cooked grains or legumes like barley or lentils can increase the soup's fiber and protein content, making it more filling and nutritious.

More to Cook and Eat
Did you make this?
Please give us a rating and comment below. We love hearing from you!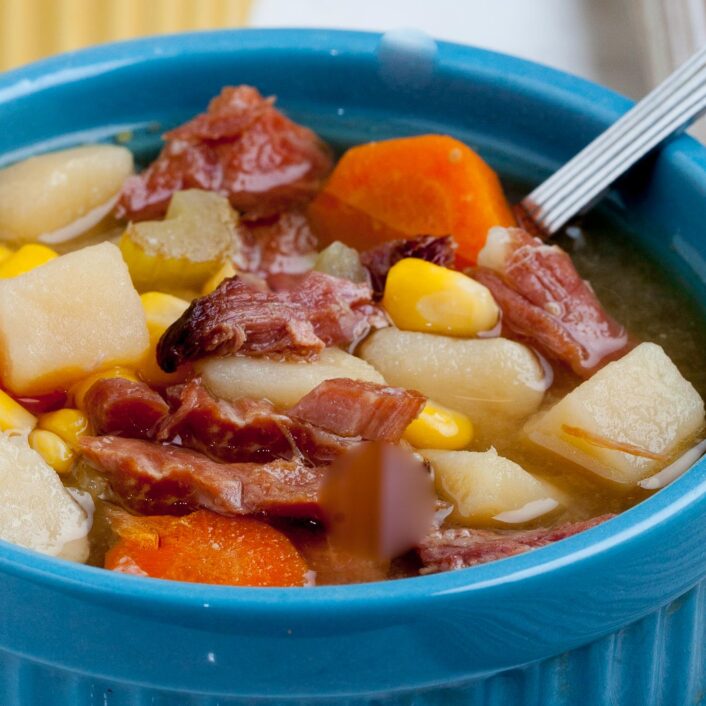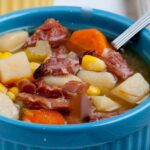 Ham Bone Soup
This Ham, Potato, and Vegetable soup is made easy in the slow cooker! It's simple, healthy, and a delicious way to use up leftover ham bone/ham. Perfect weeknight meal!
Ingredients
1

ham bone with leftover meat attached

,

plus leftover ham meat cut into bite-size pieces

4

carrots

,

sliced (about 1 cup)

4

stalks celery

,

sliced (about 1 cup)

4

russet potatoes

,

peeled and cubed

6 ½

cups

water

15

oz

kidney beans

,

canned, drained

1

cup

corn kernels

,

from frozen or canned, drained

1

TB

garlic powder,

or minced garlic

kosher salt and freshly ground black pepper

,

to taste
Instructions
In slow-cooker, add all ingredients except for potatoes. Stir well to combine. Cook on LOW for 8 hours (or on high for 6 hours), adding potatoes for the final 2 hours only, as potatoes can get mushy if cooked too long.

Remove ham bone. If needed, remove attached meat and shred. Discard the bone, and return shredded meat to the slow cooker.
Notes
Ham bone and leftover ham amounts/sizes will vary; this recipe is extremely forgiving and works well with varying sizes of ham bones.
If your ham bone is on the larger side, try a large 10-quart slow cooker.
Kidney beans can be swapped out with any other beans you prefer; try navy beans or great northern beans.
If you'd like to make this soup over stovetop, we recommend a large Dutch oven or heavy pot. Cook on low boil for 2 hours, adding potatoes during the last 30 minutes, and continue cooking just until potatoes are tender.
If you enjoyed this recipe, please come back and give it a rating ❤️
Nutrition (per serving)
Serving:
1
g
|
Calories:
169
kcal
|
Carbohydrates:
35
g
|
Protein:
8
g
|
Fat:
1
g
|
Saturated Fat:
0.1
g
|
Polyunsaturated Fat:
0.3
g
|
Monounsaturated Fat:
0.1
g
|
Sodium:
60
mg
|
Potassium:
704
mg
|
Fiber:
6
g
|
Sugar:
2
g
|
Vitamin A:
45
IU
|
Vitamin C:
7
mg
|
Calcium:
37
mg
|
Iron:
3
mg