Mexican Breakfast Casserole Recipe (Gluten-free)
By Amy Dong
Published Jun. 24, 2020
Updated Feb. 17, 2023
This Mexican Breakfast Casserole Recipe is an easy overnight recipe that can be fully prepared the night before. Basic pantry items are all you need for this family favorite.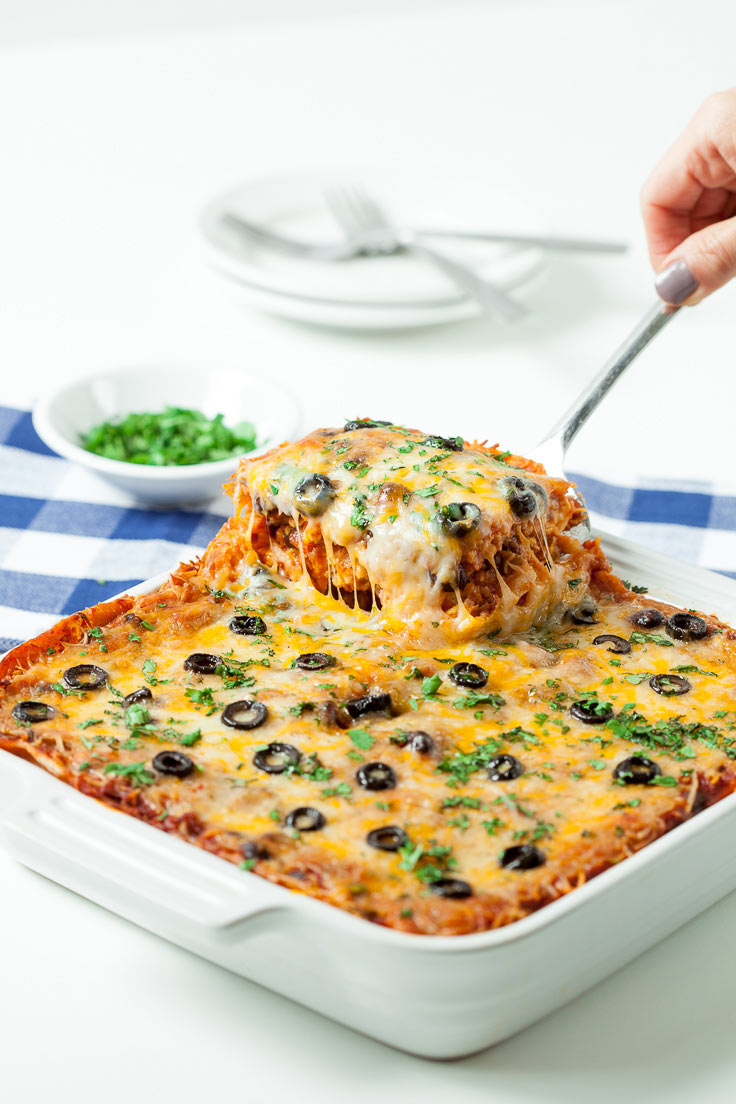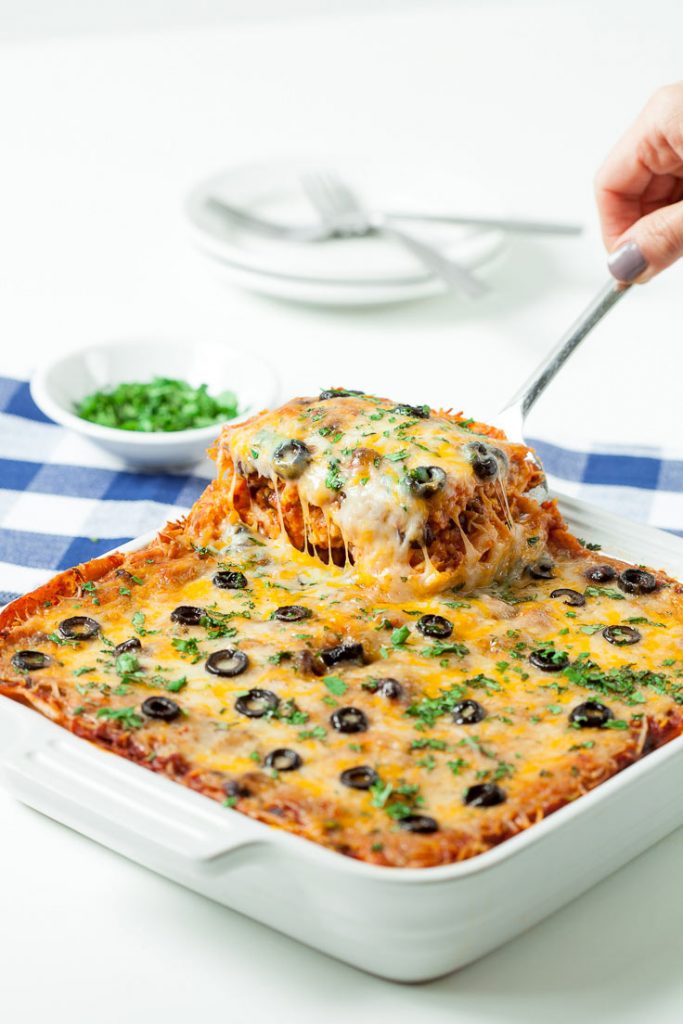 mexican Breakfast Casserole
My tribe of five loves enjoying hot breakfasts together. The only way we can make that happen is to prep ahead. Because some of us (me) aren't morning people at all; the thought of waking up any earlier than I have to is not attractive.
This Mexican Breakfast Casserole is completely prepared the night before, so you can sleep in and enjoy a deliciously hot breakfast with your favorite people…
Watch us make this Mexican Breakfast Casserole:
Was that not entirely yummy and super easy? 👆🏼
I'm not trying to brag, but this Mexican Breakfast Casserole gets lots of requests. My friends eventually decided to start making it themselves and bringing it to all the brunch potlucks. (Ok, I bragged.)
Once you try this scrumptious overnight breakfast casserole for yourself, you might show a little swagger too 😉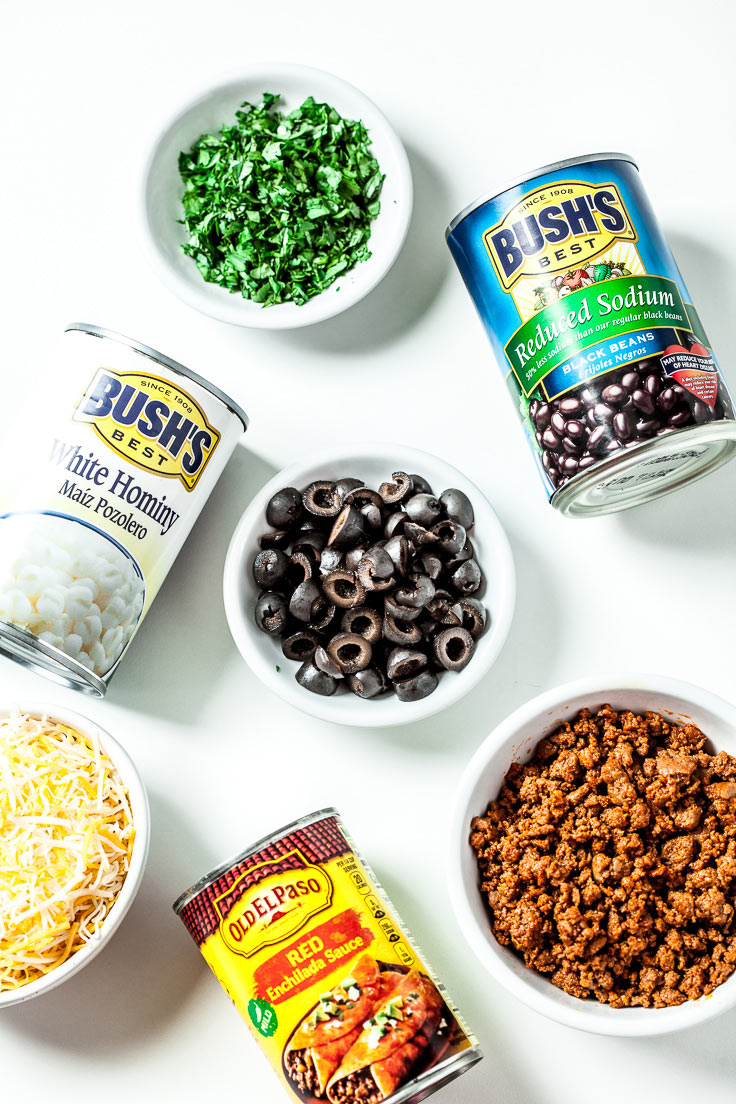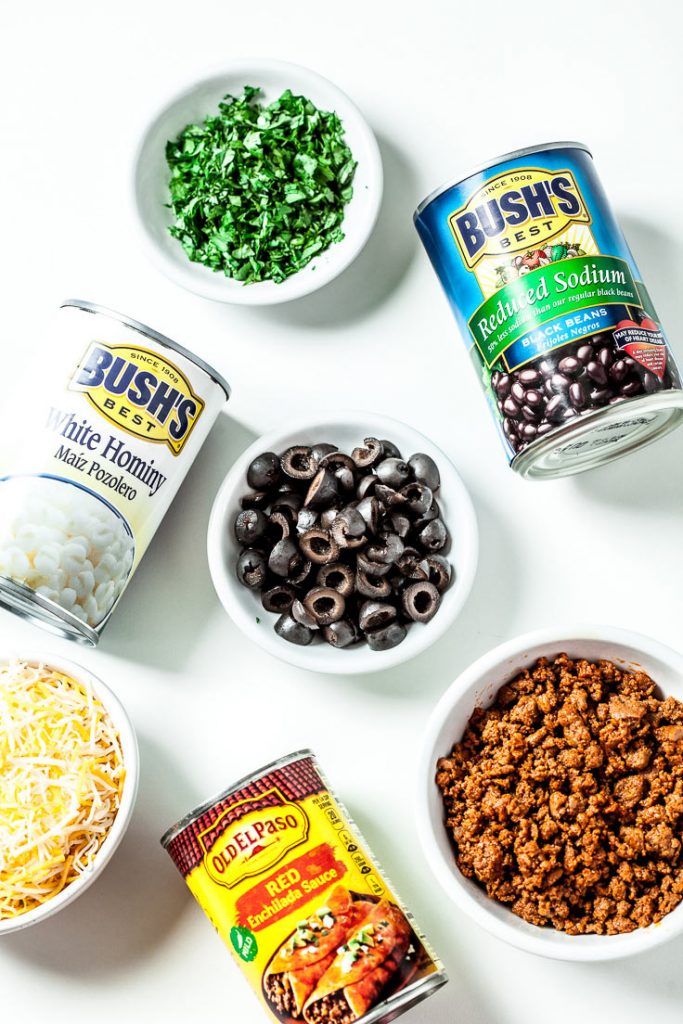 Your Pantry Basics
Fun fact: kids and adults who used six or more canned foods per week are more likely to have diets higher in 17 essential nutrients, including potassium, calcium and fiber. Win-win!
Luckily, our full-on favorite Mexican Breakfast Casserole uses several flavorful and nutritious canned options straight from our kitchen pantry. I love keeping a well-stocked pantry, as it helps me get through the week with creative yet easy meals.
Here are some of the key pantry basics you'll need:
Canned hominy: hominy is basically corn or maize, with a soft and chewy consistency. It's the prime ingredient used for making grits and corn tortillas. Hominy is a delicious ingredient to add to Mexican style dishes. If you don't want to use hominy, use canned corn instead.
Canned enchilada sauce: This provides an easy way to create a saucy, delicious dish.
Canned black beans, rinsed and drained. Adds more protein and flavor.
Eggs: You'll scramble the eggs ahead of time so it's ready to layer when you are.
Chorizo: This is a medium-spicy Mexican ground sausage that lends huge flavor the dish. You can also use spicy ground breakfast sausage if chorizo is unavailable.
Corn tortillas: This stands up well to casserole baking and keeps the dish gluten free.
Canned Fire Roasted Tomatoes: These are readily available among the shelves of canned tomatoes in major stores. The fire roasted option provides amazing depth of flavor and a bit of "charred" goodness.
Canned Sliced Olives: You'll need just enough to top the casserole with.
How Spicy

?

This casserole tastes like a boldly flavorful enchilada bake with some kick, thanks to enchilada sauce and chorizo.

If your taste buds prefer it on the mild side, feel free to use mild salsa and your choice of mild breakfast sausage in lieu of the spicier chorizo — although, we're a bit biased and highly recommend chorizo.

Chorizo can be found in refrigerated sections of most major grocery stores, typically near the ground sausage offerings. If your store doesn't carry chorizo, the closest alternative would be spicy ground sausage (without casings.)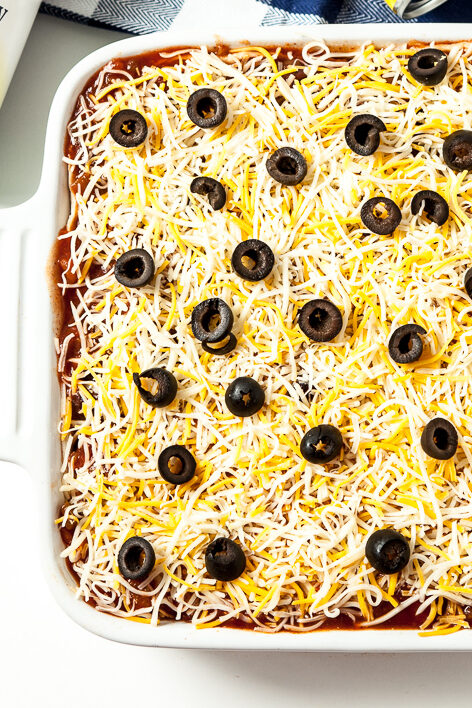 Can this Mexican Breakfast Casserole be prepped ahead and frozen?
Yes, you can completely assemble the casserole ahead of time, seal it airtight, and freeze for a week or two.
Baking the casserole from frozen is recommended; you'll increase bake time to about an hour total – 30 minutes with foil, 30 minutes with no foil.
It's absolutely wonderful for meal prep when you anticipate a busy week. Pop in the freezer and take it out to bake on any busy weeknight. Whatever your version of a busy weeknight entails, you'll thank yourself for having a breakfast-for-dinner casserole in the freezer.
What You'll Love about this overnight casserole

:
It's completely prepared the night before, so you can just bake and enjoy the next morning.
It's a super popular item at any brunch gathering.
It's a delicious change of pace from the usual breakfast casserole.
It's gluten free and packed with protein.
It tastes amazing. 😋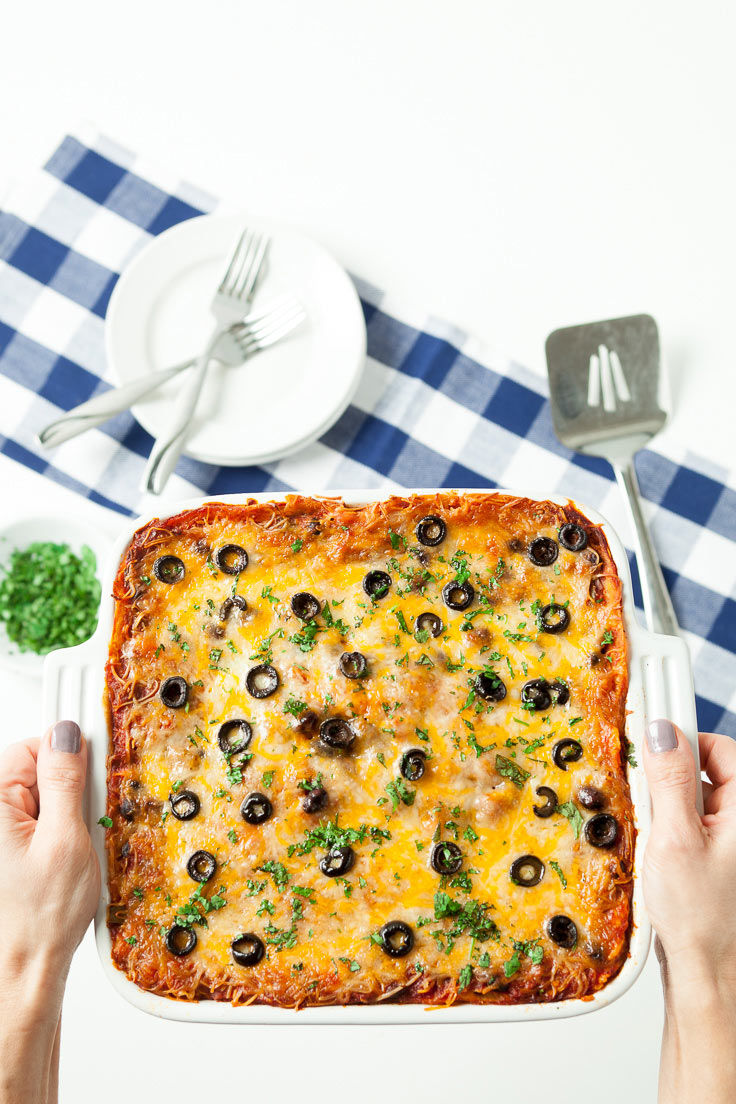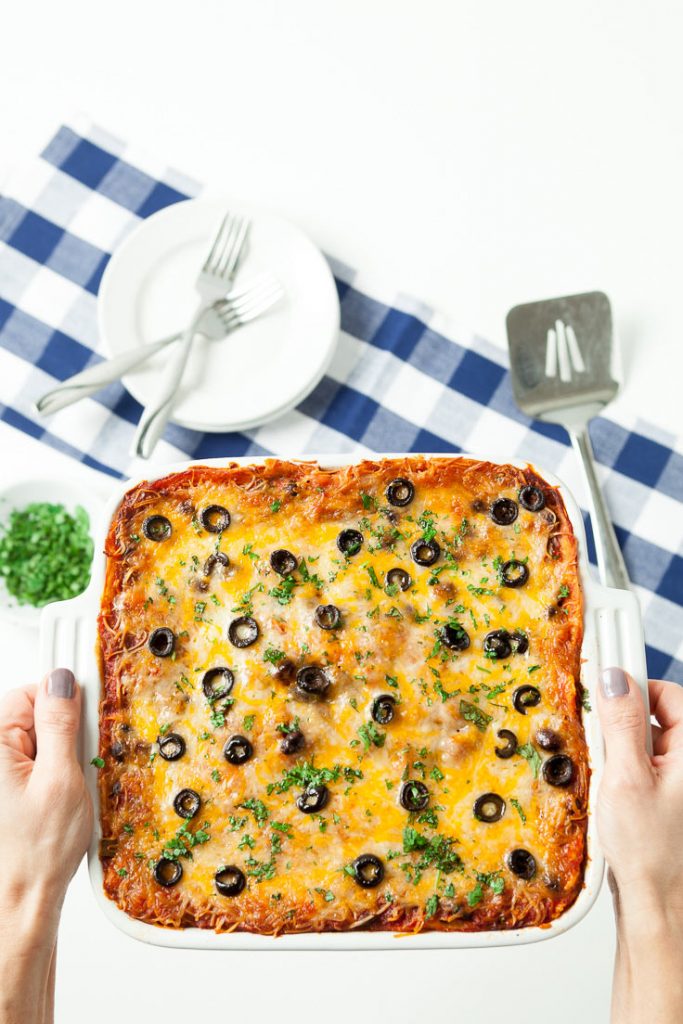 Did you make this?
Please give us a rating and comment below. We love hearing from you!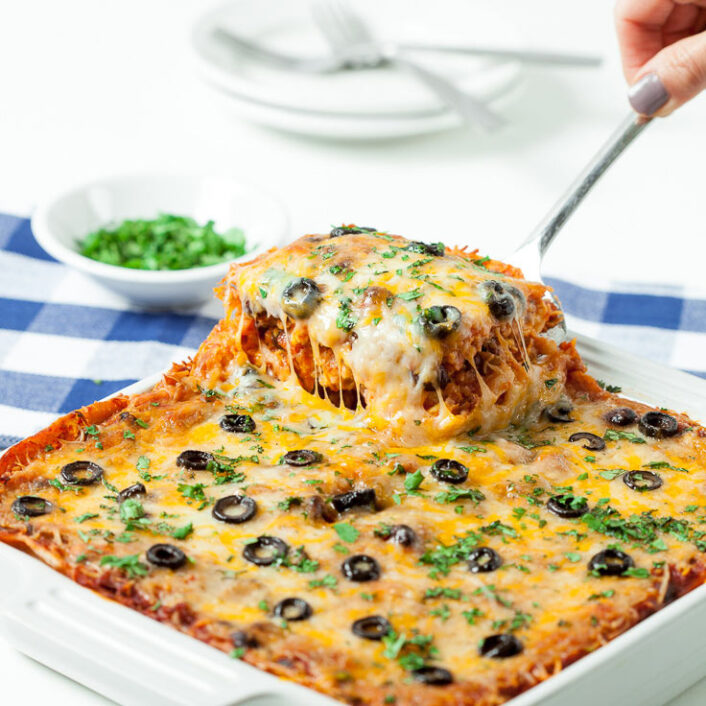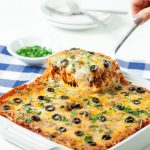 Mexican Breakfast Casserole Recipe
This Mexican Breakfast Casserole Recipe is an easy overnight recipe that can be fully prepared the night before. Simply pop it in the oven the next morning for a deliciously hot breakfast with the family. Great for brunch potlucks, too.
Ingredients
12

oz

ground chorizo sausage

,

no casings

10

large eggs

¼

cup

milk

¼

tsp

table salt

½

tsp

garlic powder

3

TB

olive oil

1

cup

black beans

,

rinsed and drained

1

cup

hominy

,

drained*

½

tsp

table salt

12

corn tortillas

15

oz

Mexican blend shredded cheese

2

10 oz each cans enchilada sauce

1

14.5 oz can fire roasted tomatoes, drained

1

2.25 oz can sliced olives, drained

3

TB

fresh cilantro

,

chopped for garnish
Instructions
Grease a 13×9 glass baking dish; set aside. Preheat oven to 350F.

In a large nonstick skillet, cook chorizo while stirring and breaking it up into small pieces until cooked through. Transfer to a bowl and set aside.

In a bowl, beat eggs together with milk, 1/4 tsp salt, and garlic powder.

In same skillet, heat olive oil over medium heat for about 1 min. Add beaten eggs and cook, gently stirring until eggs are scrambled and set. Transfer to a bowl and set aside.

In a bowl, combine enchilada sauce, fire roasted tomatoes, and 1/2 tsp salt.

Spread a third of the enchilada sauce mixture on the bottom of prepared baking pan. Layer 6 corn tortillas, followed by half of the scrambled eggs, half of the chorizo, half of the beans, and half of the hominy. Sprinkle with half of the cheese. Spread a third of the enchilada sauce mixture on top, followed by the remaining tortillas, scrambled eggs, chorizo, and beans. Spread the remaining third of enchilada sauce mixture. Sprinkle with the rest of the cheese. Top with sliced olives.

Cover with lightly greased foil and bake 20 minutes. Remove foil and bake another 20 minutes or until cheese is bubbly. Garnish with chopped cilantro and serve warm.
Notes
Casserole may be assembled the night before, covered and chilled overnight, and baked the next morning. If cold, additional bake time may be required.
Casserole may be prepped ahead, covered airtight, and frozen until ready to bake. If baking from frozen: bake 30 minutes covered with foil, followed by 30 minutes uncovered (or until top is bubbly)
Mild ground sausage may be used if you don't want any heat, but Mexican chorizo is highly recommended for a flavorful kick. If you can't find chorizo, use any spicy ground sausage.
If you can't find hominy, you can substitute with more black beans or use sweet yellow corn kernels.
Nutrition (per serving)
Calories:
358
kcal
|
Carbohydrates:
18.2
g
|
Protein:
22.2
g
|
Fat:
21.8
g
|
Saturated Fat:
9.2
g
|
Cholesterol:
154.2
mg
|
Sodium:
1236.2
mg
|
Fiber:
3.4
g
|
Sugar:
3.2
g