Protein Granola bars
By Amy Dong
Published Jan. 28, 2023
Updated Jan. 29, 2023
These protein granola bars are made with 10 ingredients and are ready in less than 30 minutes for a better-for-you, budget-friendly option perfect for breakfasts and snacks that will fill you up and leave you feeling energized!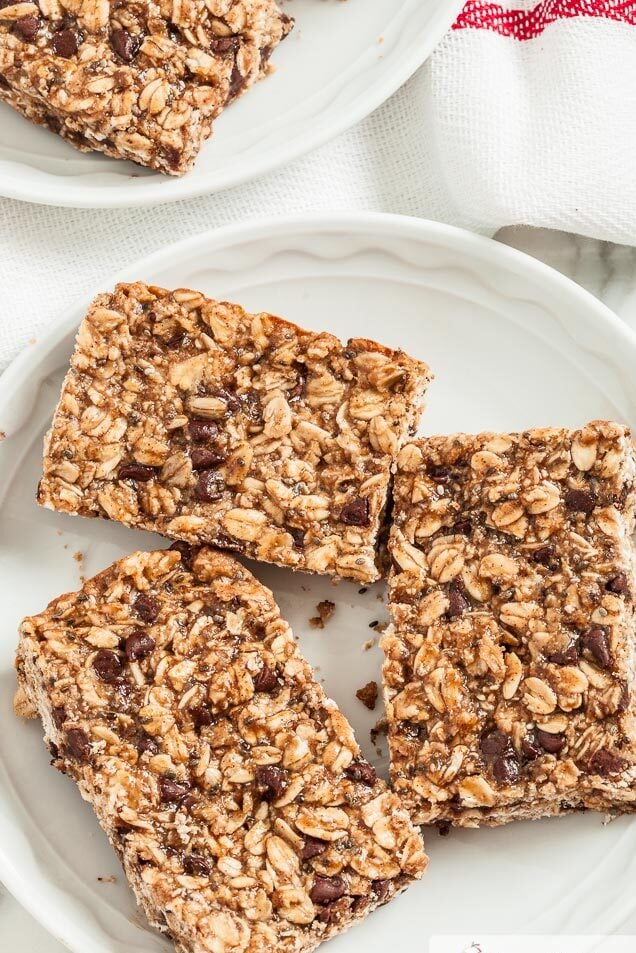 Why You'll Love These High Protein Granola Bars
Suitable for a wide variety of dietary needs, they're naturally gluten and nut-free and can easily be made dairy-free and vegan, too.
One batch makes 12 servings, meaning they're great to prepare ahead of time and enjoy all week.
They're much more budget-friendly than store-bought options.
As the name suggests, these protein granola bars are full of protein. However, they're also rich in healthy fats and fiber to keep you satisfied.
Quick and easy, they're ready in less than 30 minutes and are loved by kids and adults alike.
Key Ingredients
With no preservatives or strange additives, you'll love the simple, nutritious ingredients that go into these high protein granola bars. Below are the primary items you'll need, but be sure to double-check the recipe card below for all the specifics.
Old Fashioned Rolled Oats – Used to form the base of these bars, rolled oats provide a robust, slightly chewy texture. If needed, make sure to buy from a brand that is certified gluten-free to avoid cross-contamination with other gluten-containing ingredients.
Protein Powder – We prefer to use this vanilla protein powder, but your favorite brand will work. However, we highly recommend steering clear of artificial sugars, as those tend to have an unpalatable aftertaste.
Chia Seeds – Little nutritional powerhouses, these provide a great source of healthy fats and fiber.
Sunflower Butter – This acts as the binder, holding the ingredients together and providing a nutty flavor while keeping the bars nut-free.
Pure Honey – Used as a natural sweetener. Maple syrup works as well.
Milk – Regular dairy milk or any plant-based milk can be used.
Mini Chocolate Chips – We love to use mini chocolate chips over full-sized varieties, as the mini chips blend in better.
Flavor Variations
One of the great things about these protein granola bars is that they can easily be adjusted to fit all your preferences. Feel free to experiment with different ingredients and add-ins to make them your own! For instance, some of our favorite variations include:
Dark Chocolate – Chop up your favorite dark chocolate into bits. Or, melt dark chocolate, and use it to dip, dunk, or drizzle your bars. Place them in the fridge to set, and enjoy!
Coconut – Incorporate unsweetened shredded coconut flakes into the batter for extra flavor and texture.
Dried Fruit – For a hint of sweetness and a chewy texture, fold dried fruit like raisins, blueberries, or cherries into the mix.
Nuts – Add in chopped nuts like almonds or walnuts for extra crunch and healthy fats.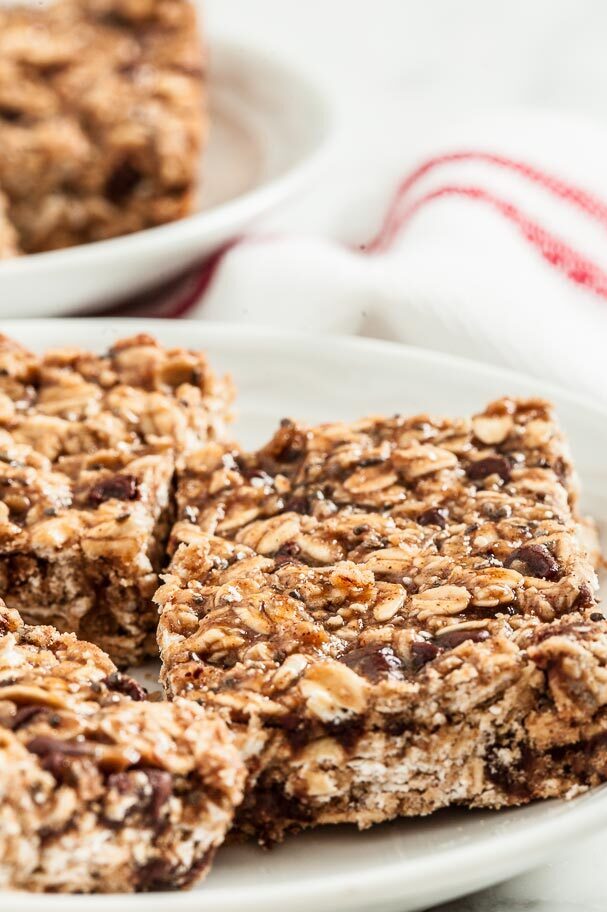 Pro-Tips For Making
Protein Granola Bars
If you've never made a protein granola bar, it's incredibly easy to do! Especially when you follow our tips below.
Grease Your Baking Pan. Make sure to liberally grease an 8×8 baking pan to prevent the bars from sticking.
Combine the Wet and Dry Ingredients Separately. Similar to cookies, you'll want to combine your wet and dry ingredients in separate bowls before mixing them together. This ensures the flavors are well distributed and the bars hold their form.
Adjust the Ingredients. Depending on the ingredients used, you may need to add more sunflower butter or honey in order for the batter to be sticky enough to cling together. Or, if it is too sticky, slowly fold in extra oats to soak up some of the excess moisture.
Press the Batter. Once poured into the baking pan, you'll want to press the batter down evenly like you would with crispy bars.
Don't Overcook. Be sure to remove your bars from the oven as soon as the edges are golden brown and the centers are still soft. Otherwise, they will be hard and difficult to chew.
Storage Options
High protein granola bars are a great option to make in bulk and have on hand for quick breakfasts, lunchbox treats, or afternoon snacks. Luckily, they store well. So, feel free to make a double batch!
Refrigerator: Slice and transfer your bars to an airtight container. Or, wrap them up, and store them in the fridge for up to 1 week.
Freezer: Slice your bars, wrap them in wax or parchment paper, place them in a sealable bag or freezer-safe container, and keep them frozen for up to 6 months.
Protein Granola Bars
Common Questions
What's the difference between a protein bar and a granola bar?
The primary difference between a granola protein bar and a regular granola bar is the protein content. On average, granola bars have 1-3 grams of protein per serving. Meanwhile, protein granola bars have anywhere from 9-20 grams of protein per serving which is often achieved by incorporating protein powder.
What protein powder is best?
Any protein can be used for this recipe. However, we highly recommend steering clear of those with artificial sugars as they tend to have an undesirable aftertaste.
Can I use quick oats or steel cut oats instead of old-fashioned rolled oats?
Quick oats aren't as suitable, as they won't deliver the thick, chewy texture we look for in these bars. Steel cut oats need to be fully cooked to be truly enjoyable.
---
More to Bake and Eat
---
---
Did you make this?
Please give us a rating and comment below. We love hearing from you!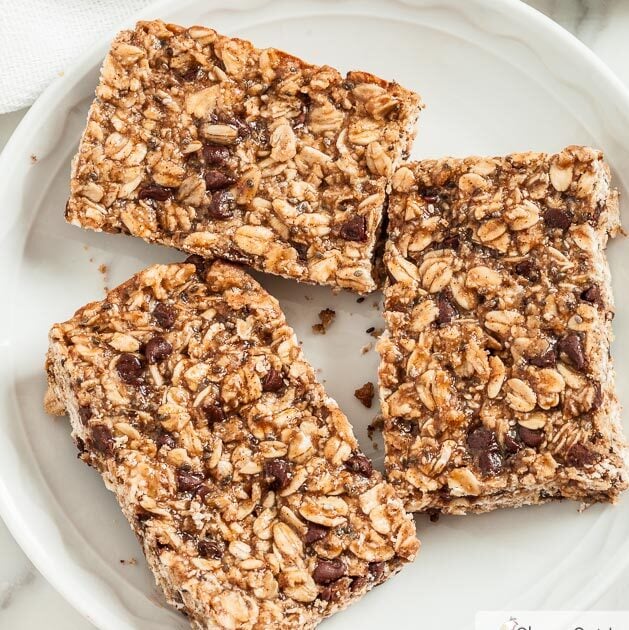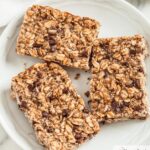 Protein Granola Bars (Gluten-free, Nut-free)
High protein granola bars are made with 10 ingredients and are ready in less than 30 minutes for a better-for-you, budget-friendly option perfect for breakfasts and snacks that will fill you up and leave you feeling energized!
Instructions
Preheat oven to 350F with rack on lower middle position. Grease an 8×8 baking pan and set aside.

In a large bowl, combine the oats, protein powder, chia seeds, cinnamon, and salt. Whisk to combine.

In another bowl, combine the sunflower butter, honey or maple syrup, milk, chocolate chips, and vanilla extract. Mix until incorporated.

Pour mixture into the large bowl of dry ingredients. Stir and fold until fully combined. Using a rubber spatula, scrape the batter into the greased baking pan. Press evenly into pan, using firm pressure to compress the mixture into desired bar thickness.

Bake 18 minutes, or until edges turn golden grown. Center should still be soft. Let cool in pan completely, and slice into bars. Wrap in airtight container, and store in fridge for 1 week.
Notes
We love sunflower butter, but feel free to use any nut or seed butter you like best.
Protein powder is to be measured according to standard measuring cups, not the scoops that come inside the tub of protein powder.
Make it dairy-free: use almond or coconut milk or any other milk of your choice.
You can use any protein powder, but we recommend using vanilla flavored varieties made without fake/artificial sugars, as those tend to have an unpalatable aftertaste.
Bars can be sliced, wrapped, and frozen for up to 6 months so they're ready to go for breakfast or snacks anytime.
Double-check that the brands you're using are gluten and nut-free if needed.
If you enjoyed this recipe, please come back and give it a rating ♡
Nutrition (per serving)
Serving:
1
serving
|
Calories:
209
kcal
|
Carbohydrates:
30
g
|
Protein:
8
g
|
Fat:
7
g
|
Saturated Fat:
2
g
|
Polyunsaturated Fat:
1
g
|
Monounsaturated Fat:
0.4
g
|
Trans Fat:
0.02
g
|
Cholesterol:
10
mg
|
Sodium:
18
mg
|
Potassium:
100
mg
|
Fiber:
2
g
|
Sugar:
17
g
|
Vitamin A:
51
IU
|
Vitamin C:
0.3
mg
|
Calcium:
67
mg
|
Iron:
2
mg