Protein Granola Energy Bars
These Protein Granola Energy Bars pack a powerful punch of nutrition to get you and the family through a busy work or school day, workout, or afternoon pick-me-up.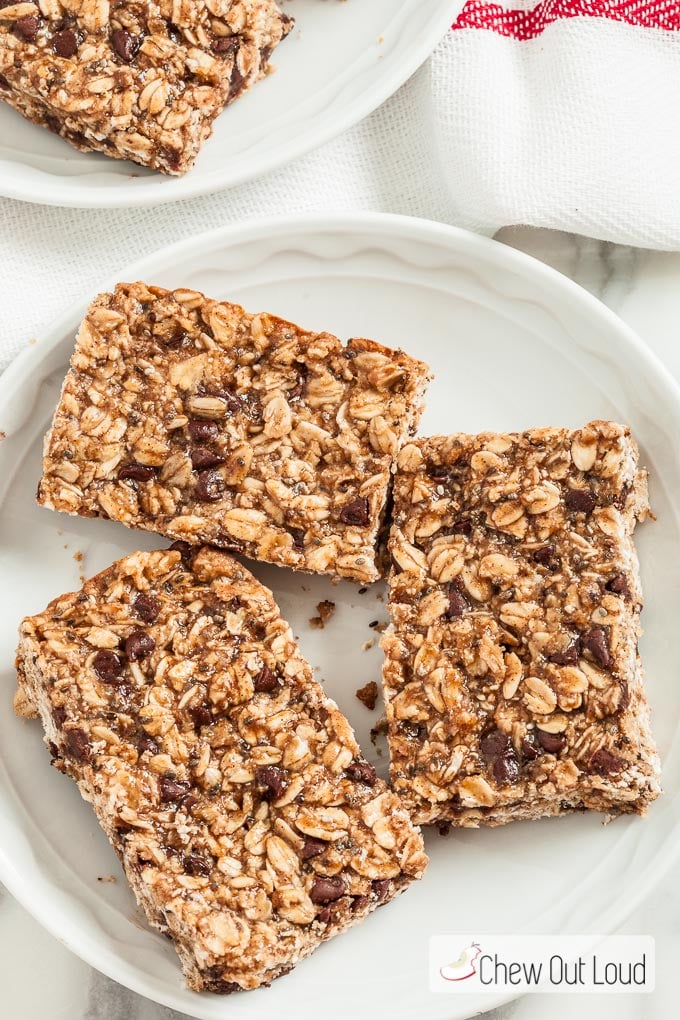 Protein Granola Energy Bars
Throughout my years of racing and marathoning, I've built up quite a repertoire of favorite no-bake protein bars, crunchy granola, and energy bites. They're not only fantastic for pre/post workout fuel, but energy bars are a quick and healthy breakfast or afternoon pick-me-up. (Not to mention, they're a healthy snack for kids who need to curb their munchies.)
These Protein Granola Energy Bars are a powerhouse of nutrition that tastes delicious. They're loaded with the goodness of oats, honey, chia seeds, protein, and chocolate chips. Old fashioned, rolled oats are a key reason these protein bars so healthy, satisfying, and chewy-delicious.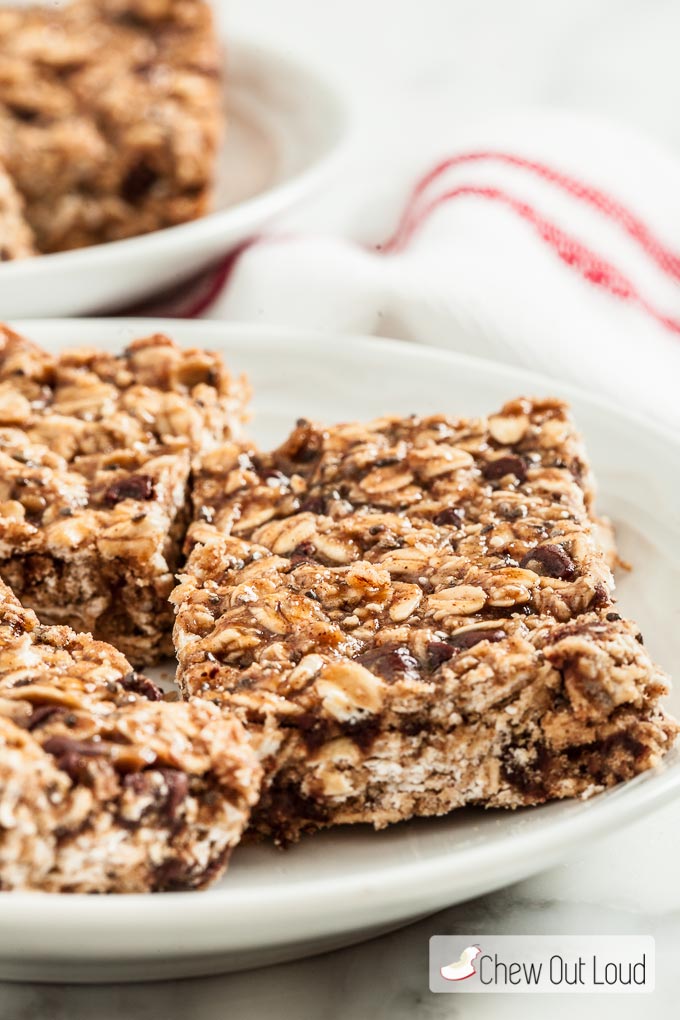 Why Use Rolled Oats Vs. Instant Oats or Steel Cut Oats?
Oh, the virtues of good old fashioned, rolled oats. Rolled oats have a hearty texture that's somewhere in between instant oats and steel cut oats. Here's why whole rolled oats are the best choice when it comes to homemade granola bars and baked goods in general:
Rolled oats are flat, flaky, and flexible enough to adhere well to binders like honey and nut butters.
Though we adore our morning Instant Pot Steel Cut Oatmeal, steel cut oats are chewy and must generally be cooked in water first. Rolled oats, however, can be added directly to your baking mixture.
Rolled oats are more robust than instant oats. While finer-textured instant oats can be conveniently fast to prepare, they also break down easily and can become mushy. Rolled oats maintain their shape and have excellent texture in baked goods.
Despite the fact that rolled oats are the oat-of-choice for baked goods, all 3 types of oats hold similar nutritional value. We like keeping all types on hand for various recipes.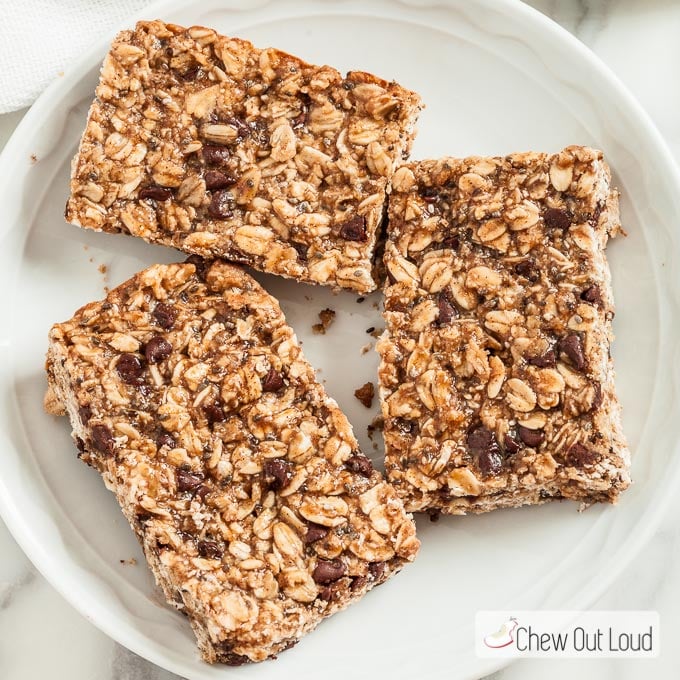 Variations and Alternatives
We've established the staying power of whole rolled oats in these healthy-delicious protein granola bars. As for the other ingredients, the options are endless:
Try chocolate protein powder or any other favorite protein powder
We love sunflower butter for these nut-free energy bars, but feel free to use the nut butter of your choice: peanut butter, almond butter, and cashew butter are all good choices.
We drop in some chia seeds for extra nutrition; if you can't find chia seeds, you can use sesame seeds or even poppy seeds. A couple tablespoons of very finely chopped nuts or sunflower seeds can also work.
Use your milk of choice: almond milk, coconut milk, regular cow's milk…it's up to you.
We recommend using mini chocolate chips, as they adhere to the mixture better than larger sized morsels; if you don't have mini ones, you can chop up your regular sized morsels to break them up a bit.
In lieu of chocolate chips, feel free to substitute with your favorite dried fruit: raisins, cranberries, dried blueberries, and chopped dates are all excellent.
Yes, You can Freeze Granola Bars
These energy bars keep well at moderate room temperature, but you can slice, wrap, and freeze individual squares for grab' n go breakfast or snacks.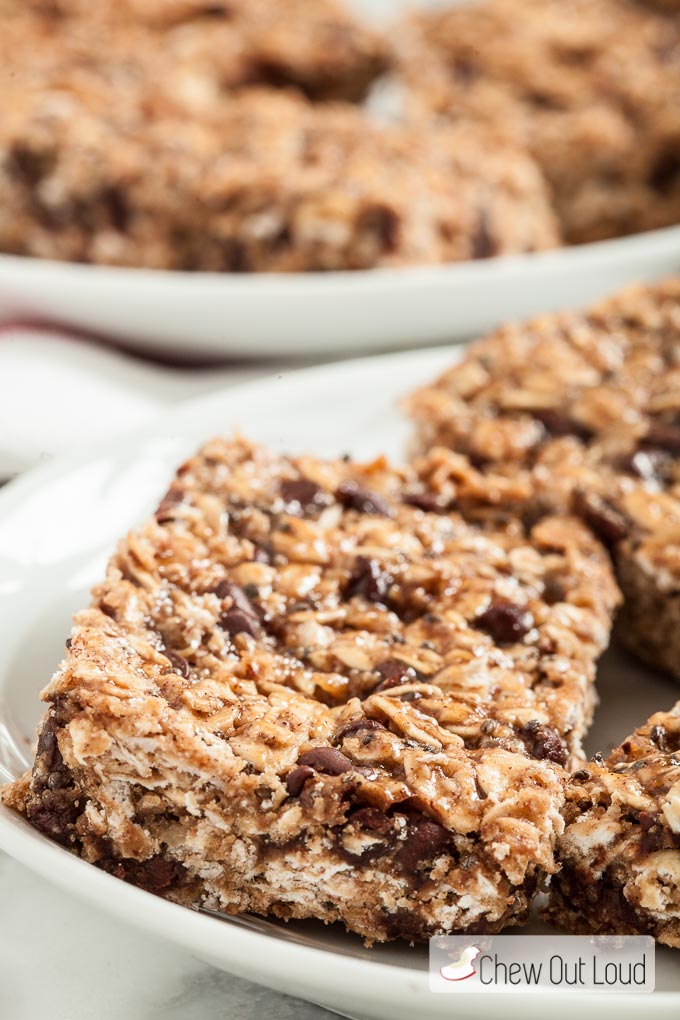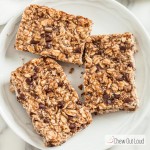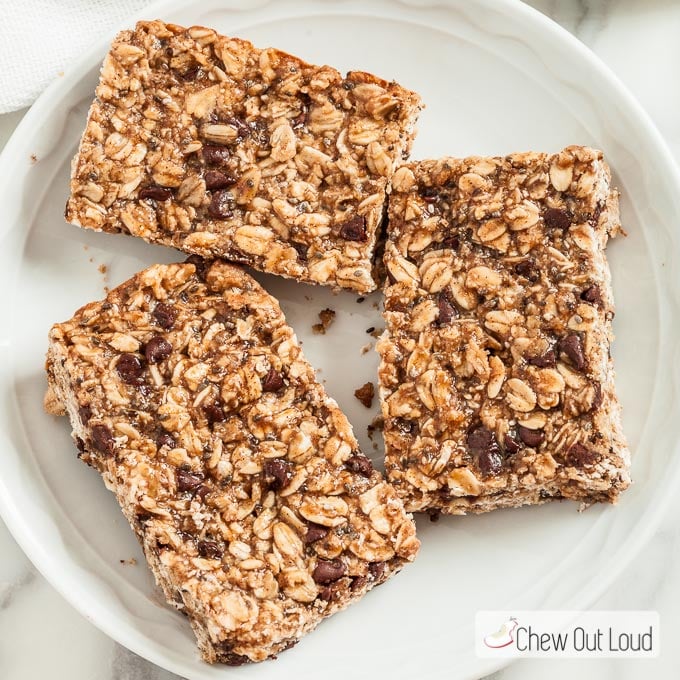 Protein Granola Energy Bars (Gluten-free, Nut-free)
These Protein Granola Energy Bars are a powerhouse of nutrition and energy! They're loaded with the goodness of oats, honey, chia seeds, protein, and chocolate chips. Perfect for taking with you, wherever you go.
Instructions
Preheat oven to 350F with rack on lower middle position. Grease an 8x8 baking pan and set aside.

In a large bowl, combine the oats, protein powder, chia seeds, cinnamon, and salt. Whisk to combine.

In another bowl, combine the sunflower butter, honey or maple syrup, milk, chocolate chips, and vanilla extract. Mix until incorporated. Pour mixture into the large bowl of dry ingredients. Stir and fold until fully combined. Using a rubber spatula, scrape mixture into the greased baking pan. Firmly and evenly press down.

Bake 18 minutes, or until edges turn golden grown. Center should still be soft. Let cool in pan completely before cutting into bars. If needed, cover and chill in fridge for easier cutting.
Notes
Bars can be sliced, wrapped, and frozen so they're ready to go for breakfast or snacks anytime.
Double check that the brands you're using are gluten and nut free, if needed.
If you'd like, see original article for variations and ingredient options; there are some great ideas.
If you enjoyed this recipe, please come back and give it a rating ♡
Nutrition
Calories:
216
kcal
|
Carbohydrates:
31.4
g
|
Protein:
5.4
g
|
Fat:
8.1
g
|
Saturated Fat:
2.3
g
|
Cholesterol:
0.3
mg
|
Sodium:
58.8
mg
|
Fiber:
4.2
g
|
Sugar:
18.3
g
Did you make this?
Leave a comment below and tag @chewoutloud on Instagram