Easy Thai Fried Rice (One Pan Method)
One-Pan Thai Fried Rice is done in under 20 minutes. It's easy, healthy, and tastes authentically delicious. Avoid the takeout and whip up this quick, tasty dish that's sure to become a family favorite.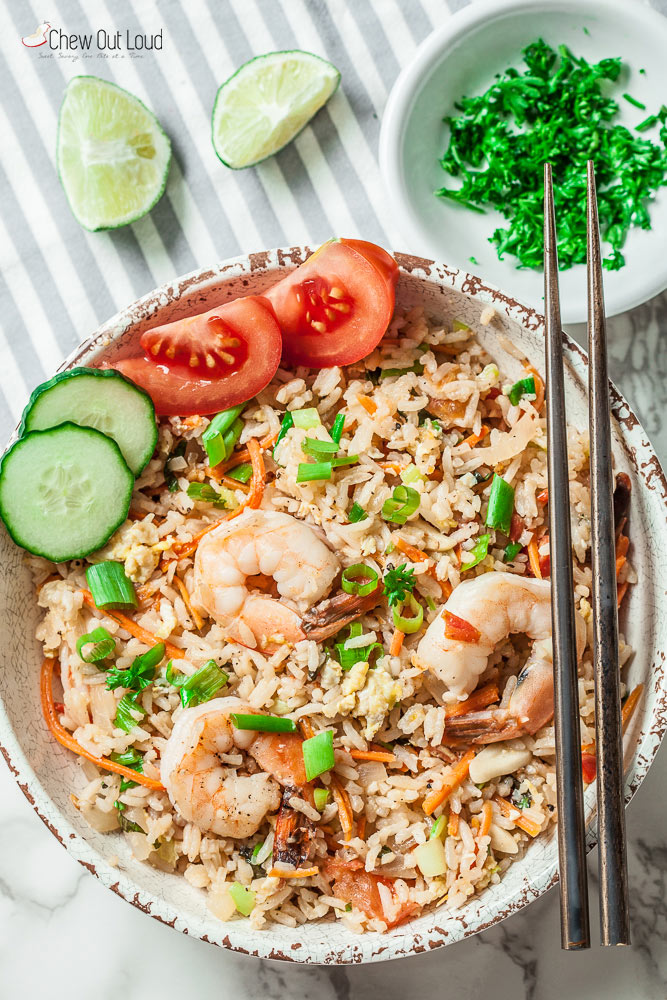 So did anyone catch the total eclipse this week?
In our 'hood, we were only able to grab an 85% view, but it was stunning nonetheless. We had special viewing glasses at the ready and our backyard turned into a little eclipse block party.
I have friends who traveled for hours in order to take in the full eclipse experience and I'm thinking maybe that could be us in 2024.
But there's no way/no how I'd ever pay $1500 for a motel room in order to view the eclipse. No inn, motel, or hotel is worth that. I'd probably opt to just camp out. Wonder if anyone actually paid that 😅
Anyway, it's pretty cool being able to experience a solar event that just went down in the books forever.
Speaking of history…you might make some culinary history in your very own kitchen. We're pretty confident that when you serve up this delicious Thai Fried Rice, it'll become a one-pan party your peeps won't forget…
How to Make One-Pan Thai Fried Rice:
It helps to watch how the eggs are cooked ⇑ right into the pan with the rest of ingredients, while managing to stay separate from them.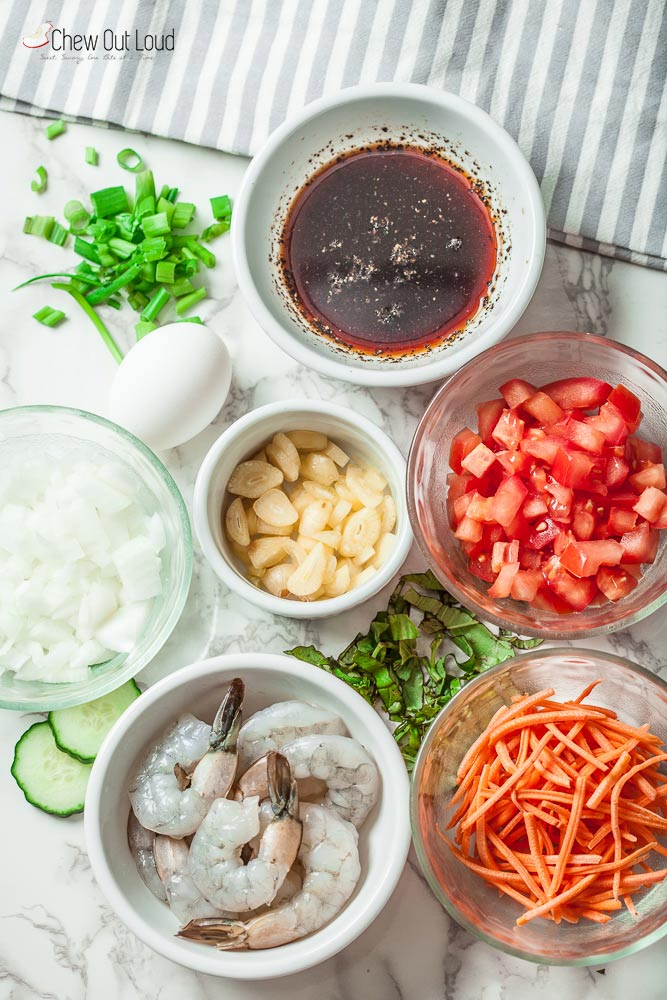 This gets you all the flavors of authentic Thai fried rice without having to do takeout. Not that we don't chase down some good takeout once in awhile, but homemade is always better. It's healthier, fresher, and made the way you like it.
Make this Thai Fried Rice and watch the magic happen. People will savor it. Talk about it. It's highly likely they'll ask you to please make this again and again.
Thankfully, it's easy to oblige because this IS called One Pan Thai Fried Rice, after all. It's a quick stir and serve deal.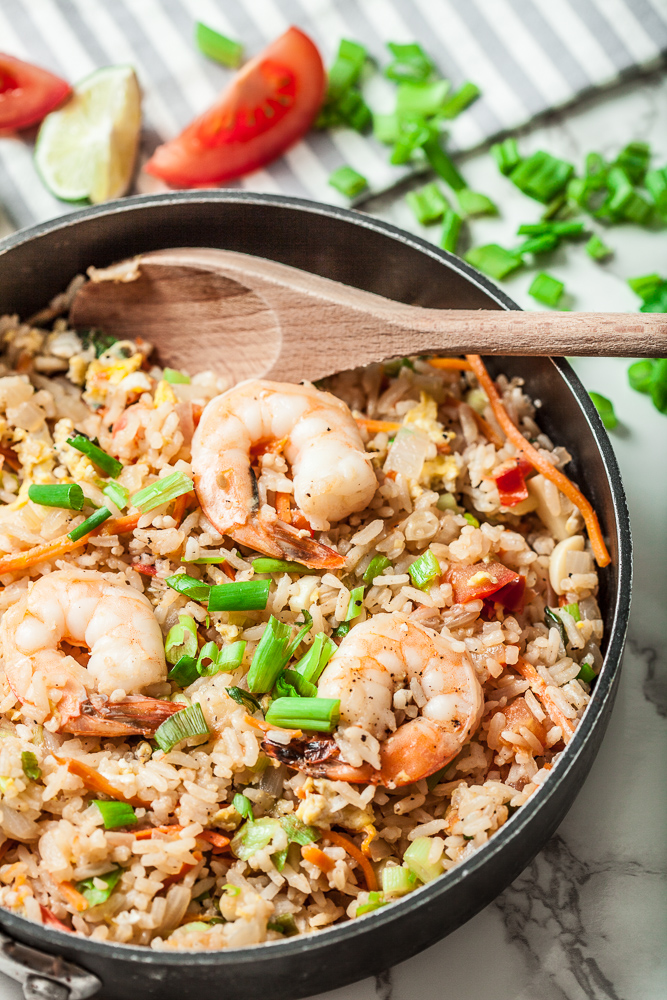 It's best to use cold, cooked day-old long grain white rice such as Jasmine. Even a couple days old rice is great. My mama's wise words: if you've got leftover rice, make fried rice. (Avoid subbing with short grain or brown rice here if you want the real thing.)
This dish boasts plenty of yummy herbs and veggies. Eggs scrambled right into the center of it all. No extra pan needed. See above video for how to work in the eggs.
It all comes together like magic.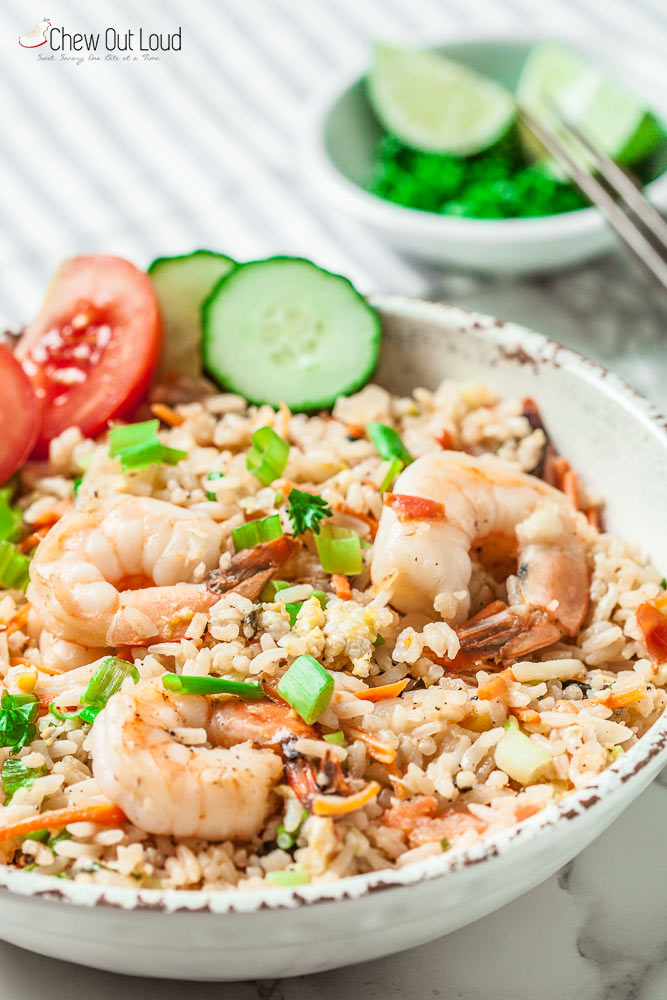 Here's to another 7 years before our next total eclipse.
And plenty of Thai fried rice in the meantime.
Enjoy.
Print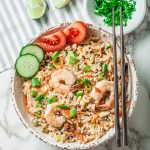 Easy Thai Fried Rice
One-Pan Thai Fried Rice is done in under 20 minutes. It's easy, healthy, and tastes authentically delicious. Avoid the takeout and whip up this quick, tasty dish that's sure to become a family favorite.
Prep Time:

10 mins

Cook Time:

10 mins

Total Time:

20 mins
For the Sauce Mixture:

2

TB Tamari soy sauce* or light soy sauce

2

TB Asian fish sauce

1

TB palm sugar

1

TB Asian oyster sauce

1/2 tsp

freshly ground black pepper
For the Fried Rice:

4

TB cooking oil (I just use olive oil)

1

onion, chopped

6

cloves garlic, chopped

1 cup

halved grape/cherry tomatoes (or freshly diced tomatoes)

1/2 cup

matchstick carrots

1/2

lb large raw shrimp, pre-shelled and deveined

6 cups

cold, cooked long grain rice (i.e., jasmine)

2

large eggs

1 cup

Thai basil leaves

1/2 cup

chopped scallions
kosher salt and freshly ground black pepper
Garnish: cucumber slices, tomato slices, and/or lime slices
Instructions
Make the Sauce Mixture: Combine all ingredients for sauce in a small bowl and whisk. Set aside.
Cook fried rice: In a large, deep pan (or wok) add the cooking oil and heat over medium-high until hot. Add onions and garlic, stirring frequently until fragrant, about 1 minute. Add carrots and stir until tender, 2-3 minutes. Add tomatoes and stir to combine well. Once vegetables are softened, add shrimp and stir until no longer opaque, about 1 minute (don't overcook the shrimp.)
Add cooked cold rice, breaking up clumps if needed, and stirring to incorporate. Add your Sauce Mixture and stir to combine well. Use spatula to push fried rice to the edges of pan, making a well in the center of pan. Crack eggs into the well and scramble them, trying not to disturb the fried rice. Once eggs are cooked, stir it into the fried rice. Add Thai basil and scallions, stirring just to incorporate don't fully cook the herbs. Add kosher salt and freshly ground black pepper to taste. Garnish as desired.
Notes
Tamari Soy Sauce* is often found in Asian aisles of grocery stores, and is typically GF. Look for the GF labeling.
If you haven't tried Asian Fish Sauce, we promise it doesn't make the dish taste fishy at all. It imparts a wonderful "umami" flavor that adds to the authentic taste of this dish. Try not to omit.
Palm sugar has subtle caramel tones to it, and has a deeper richer flavor than granulated sugar. However, you can use granulated sugar if you can't find palm sugar.
Shredded cooked chicken can be used instead of shrimp. Omit meat if making it vegetarian.
If you enjoyed this recipe, please come back and give it a rating ♡
Author:
Category:

Dinner

Method:

Stovetop

Cuisine:

Asian, Thai
Keywords: Thai Fried Rice
Kitchen Essentials:
Better than Takeout: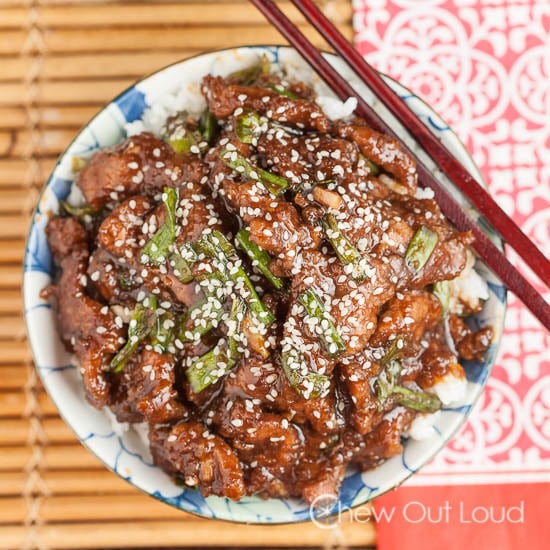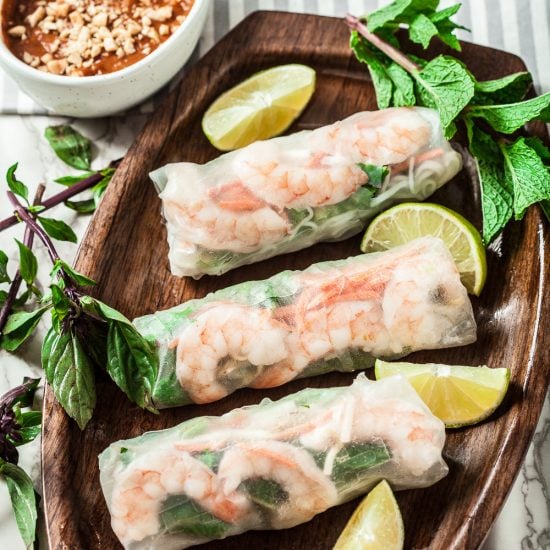 3. Chopped Asian Chicken Salad with Sesame Ginger Dressing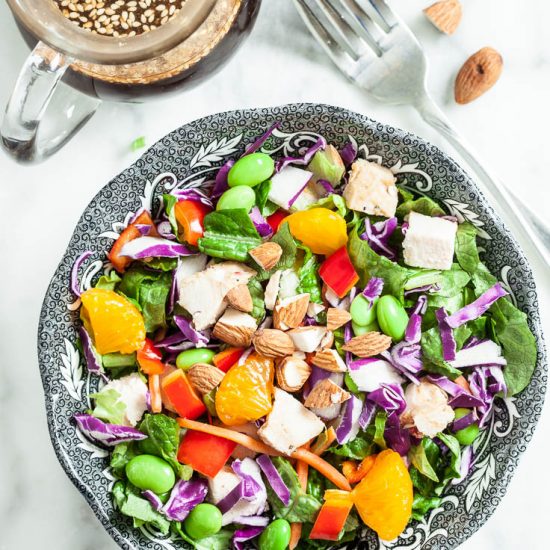 4. Thai Basil Chicken with Peppers