Chopped Apple, Candied Pecan, and Blue Cheese Salad
Summer just isn't summer without a scrumptious salad that's so good, you won't want to put it down. This Chopped Apple, Candied Pecan, and Blue Cheese Salad makes a tantalizing meal that satisfies. The honey-mustard dressing is simply deeelish!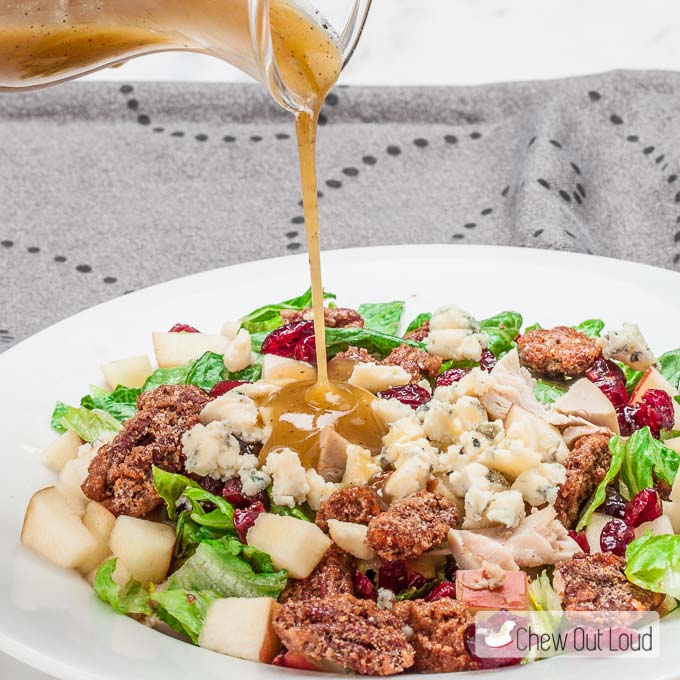 I cannot believe it's already mid-summer, and I'm just starting to share the food I make almost every day that temps go above 70F. Hey there, Salad – here's to you, Kid.
I literally toss up a salad almost every night to go with dinner. The Littles tell their teachers that their mama's fave food is spinach. I'd say that's stretching it a leeettle much.
But I'll admit I can get giddy over a plate of chopped salad with all the favorites…especially if it includes creamy blue cheese.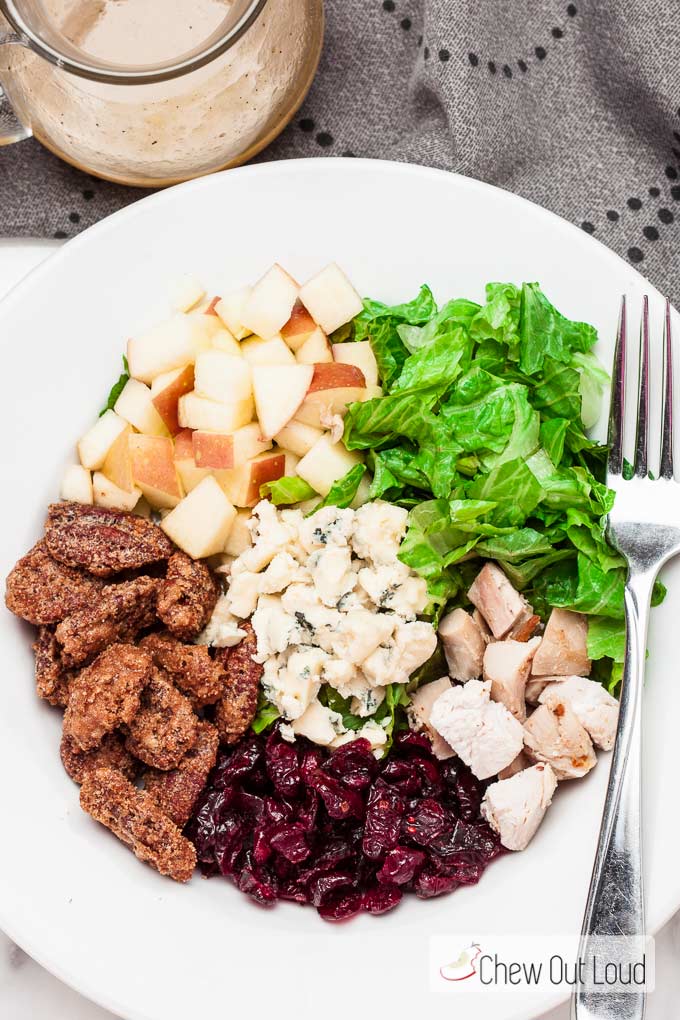 Blue cheese is my absolute favorite indulgence in any mouthwatering salad. When Castello asked me to try their smooth 'n creamy Noble Blue Cheese…well, yes. Just yes.
I could not wait to dig into that luscious block of creamy blue cheese. I knew I'd be sprinkling it all over my chopped salad with reckless abandon. But I also just had to try some of that smooth cheese with my baguette slices. Just had to.
So, so good. I could have just stopped right here. ↓ ↓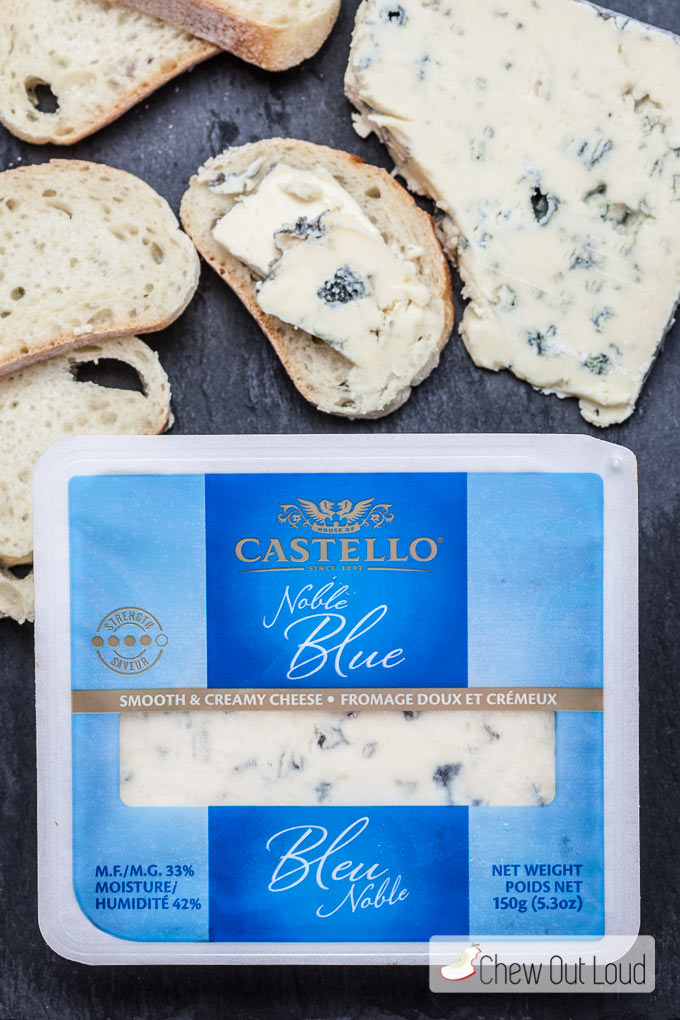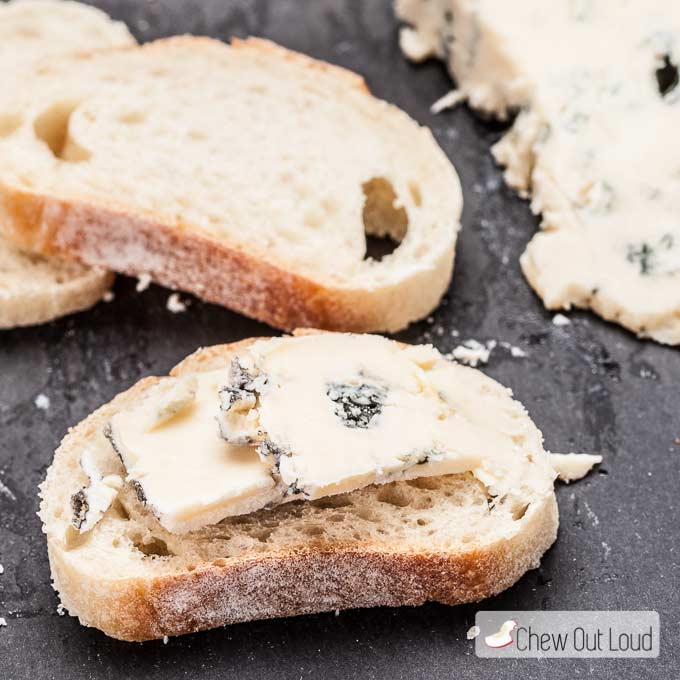 But thankfully, I held on to some self restraint and saved the rest of that delicious blue cheese for this crazy good chopped salad.
Which, by the way, is tossed with this stunning honey-mustard dressing.
This chopped salad has it all: it's crispy, sweet, tangy, crunchy, and creamy all at once. You can keep it meatless or add chopped chicken for a heartier salad. In fact, if you have leftover rotisserie, it's an easy way to chicken-up your salad.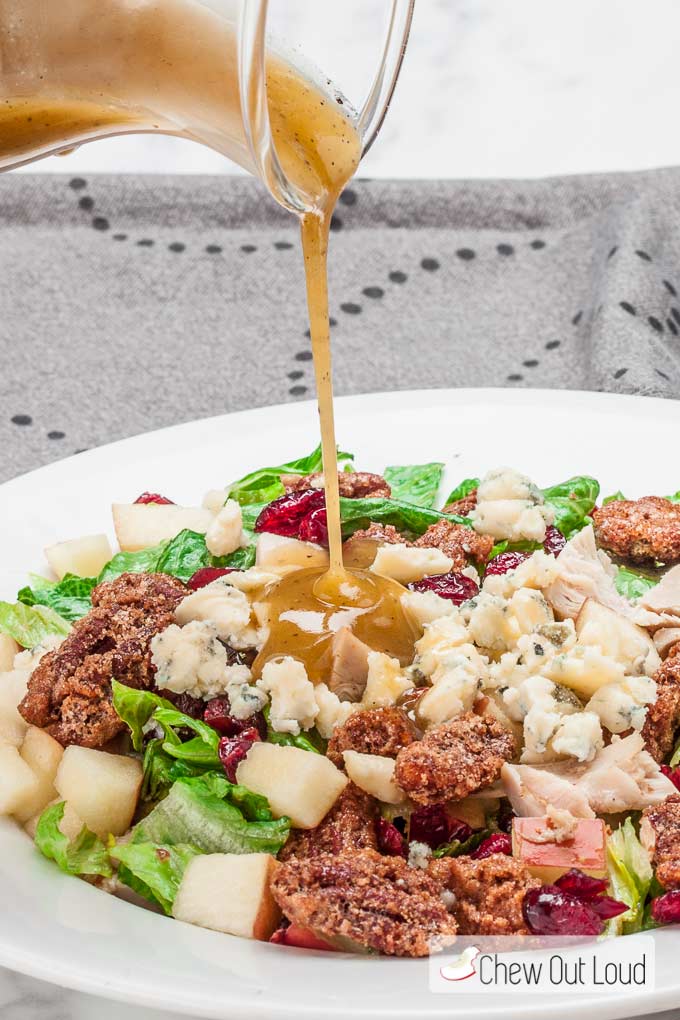 The crispy chopped apples, crunchy candied pecans, and creamy blue cheese go together beautifully in this salad. The flavors just meld together like they belong together.
Together forever. Or at least for the lunch hour.
Healthy, tasty, easy, and what're we waiting for?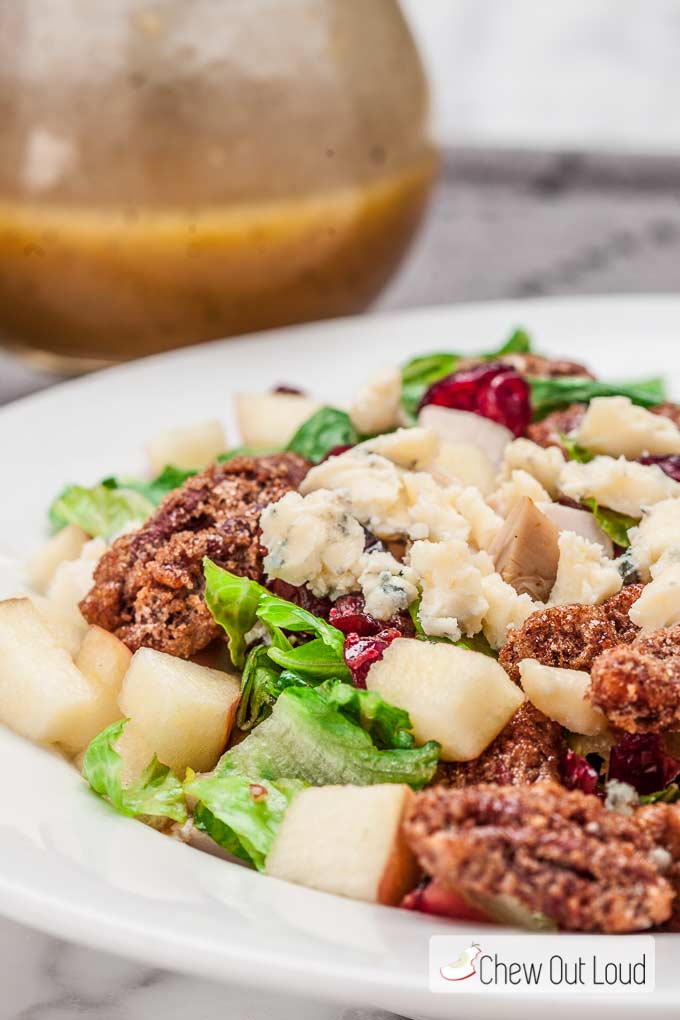 Here's to a summer full of warm memories. And a yummy Summer of Blue.
Enjoy.
Print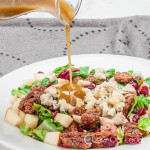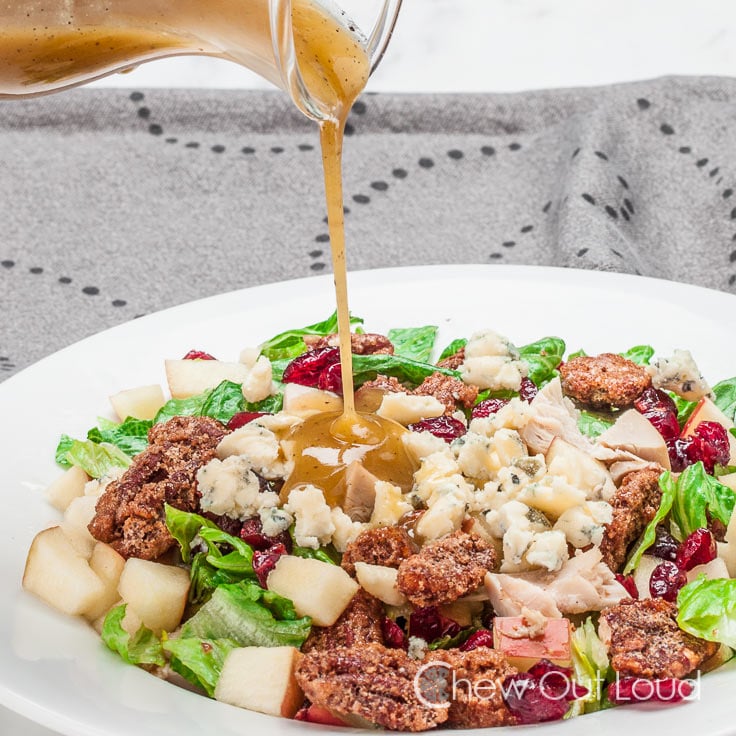 Chopped Apple, Candied Pecan, and Blue Cheese Salad
This Scrumptious Chopped Salad features crispy apples, crunchy candied pecans, and creamy blue cheese. The honey mustard dressing is so easy and tastes incredible.
6 oz

romaine lettuce, chopped

1/4 cup

dried cranberries

1/4 cup

candied pecans

3 oz

Castello Noble Blue Cheese, crumbled

1

whole apple, chopped into

1/2

inch cubes

4

TB extra virgin olive oil

4 tsp

coarse ground mustard (with seeds)

1

TB +

2 tsp

pure honey

1 tsp

apple cider vinegar

1/4 tsp

kosher salt and freshly ground black pepper
Instructions
Make the dressing: In a bowl, whisk together the olive oil, mustard, honey, vinegar, kosher salt, and freshly ground black pepper. Whisk well to combine. Transfer to airtight container and keep chilled. Can be made ahead of time.
When ready to serve, combine romaine lettuce, cranberries, candied pecans, crumbled blue cheese, and apples into a salad bowl. Drizzle a bit of dressing, toss, and repeat until desired amount of dressing is mixed in. Serve immediately.
Author:
Category:

salad, side
Source: Chew Out Loud
This post is in partnership with Castello for a Summer of Blue. For more delicious recipes featuring creamy blue cheese, visit Castello's website.
Here are a few of our favorite blue cheese recipes:
1. Pomegranate Salad with Pears and Blue Cheese. For the holidays and any other day of the year; soooo yummy, it doesn't feel like you're eating something that good for you.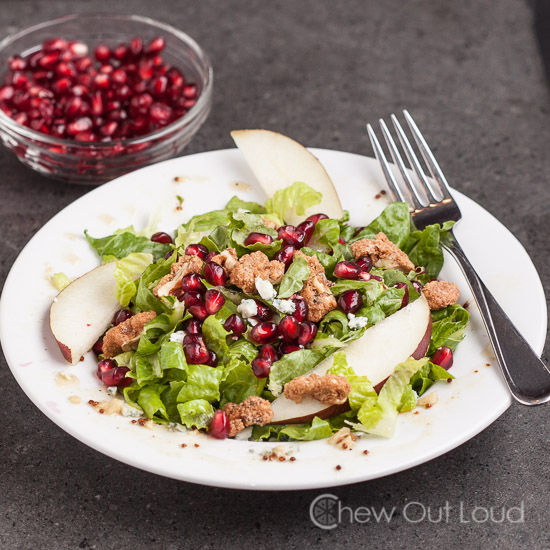 2. Beet and Blue Cheese Salad with Pistachio. Got beets? It's one of the best veggies for your health, and they taste awesome in a salad.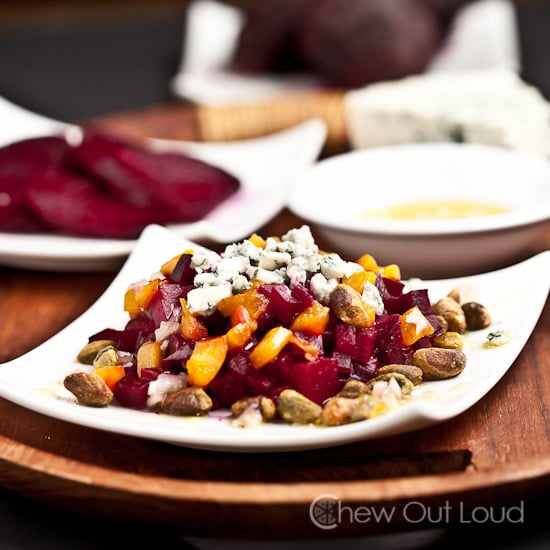 3. Peaches and Honey Crostini with Melty Blue Cheese. The title says it all. Sweet, savory, all yum.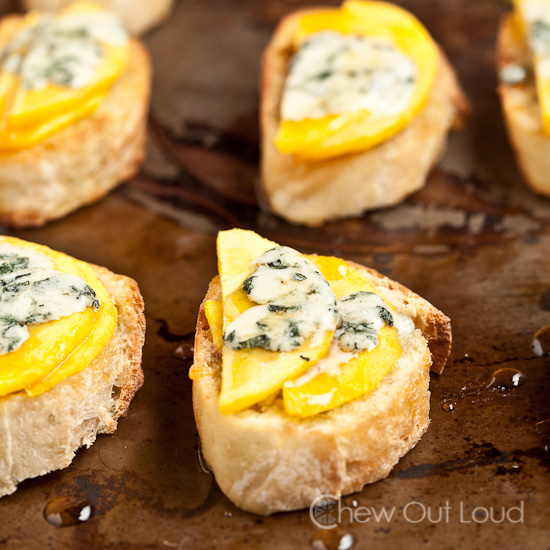 4. Cabernet Burgers with Blue Cheese. Gotta throw in a burger into this summery mix. Burgers and Blue just go hand in hand.