Best French Toast Casserole Recipe
The Best Texas French Toast Casserole Recipe also happens to be an easy overnight dish that can be completely prepared ahead of time. This is a jackpot breakfast bake that'll become a fast favorite among your family and friends.
(This is an updated post with new step-by-step photos and instructions. You can read original post with tons of comments here.)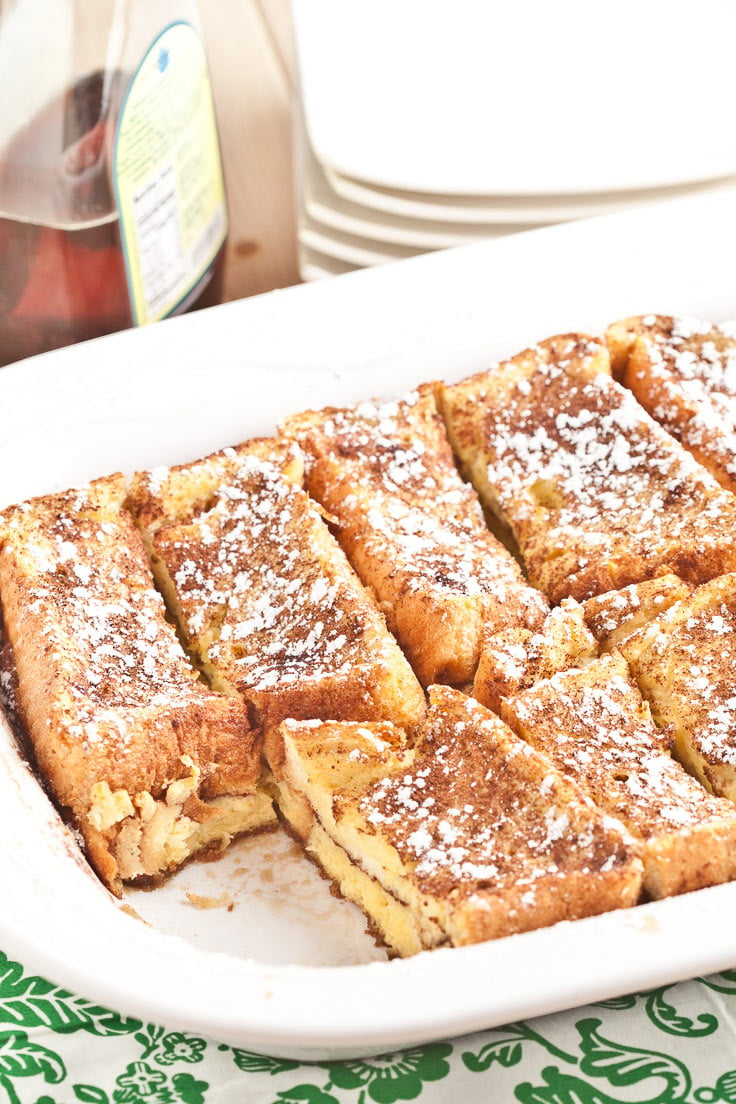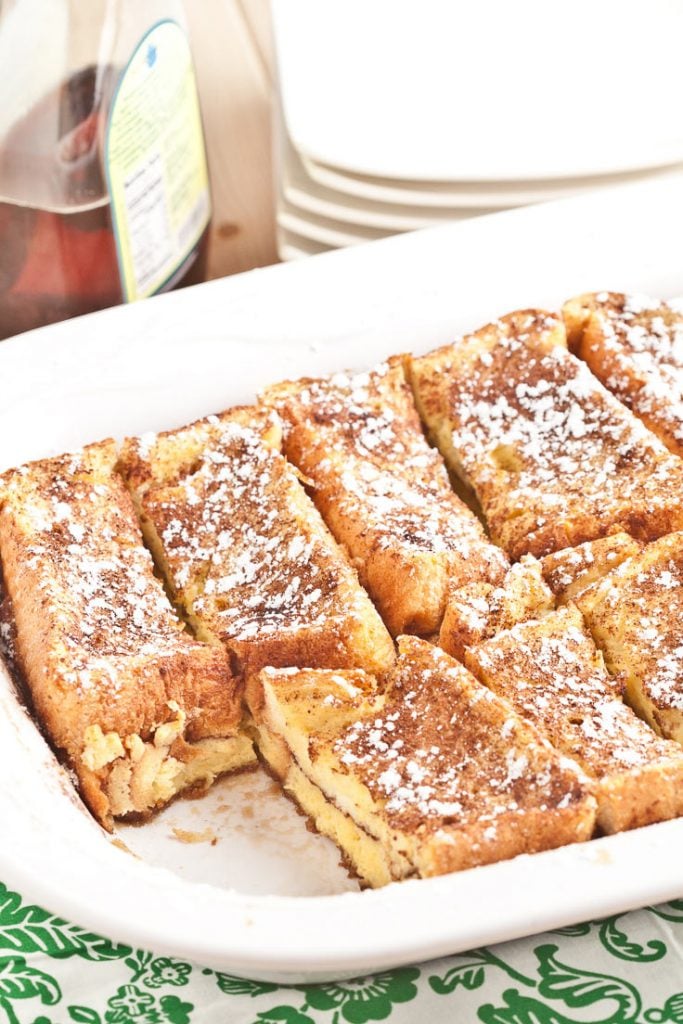 Best French Toast Casserole
I don't often remake recipes once they've been thoroughly tested and have earned a spot on the blog. After all, there are approximately 27 times more brand new recipes I want to create than I actually have time for.
I'm tickled when people ask me whether it's hard to come up with recipes to make…I've totally got the opposite problem. Buried in my files is a mountainous pile of yummy ideas that I'm craving to make with time I don't have. My please-cook-me collection keeps growing with a life of its own.
But. This Best French Toast Casserole? It gets ongoing requests for repeat appearances. Ever since Miss Texas French Toast casserole hit the Pinterest runway back in 2012 (here's my original blog post), it's been hot 🔥 It's one of the most Pinned breakfast bakes on the scene for years now.
Apparently, everyone loves a French toast bake with a crispy bottom layer that tastes so good, it doesn't need maple syrup.
People who try this French Toast Bake are rewarded with a perfect pan of mouthwatering magic. Occasionally, someone asks for help. So today, I'm updating this breakfast casserole post to include some new how-to photos. I've updated specific instructions to ensure a super easy, fail proof, jaw dropping result every time.
You'll end up with pan that's no-crumbs-left empty. You've been warned: leftovers are highly unlikely…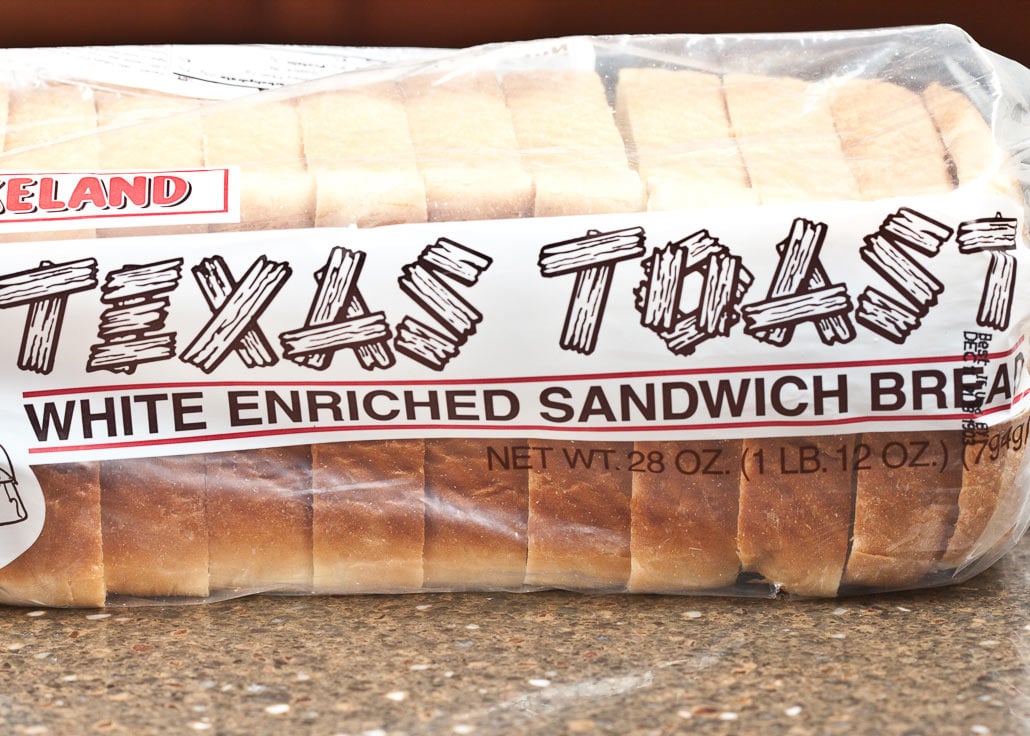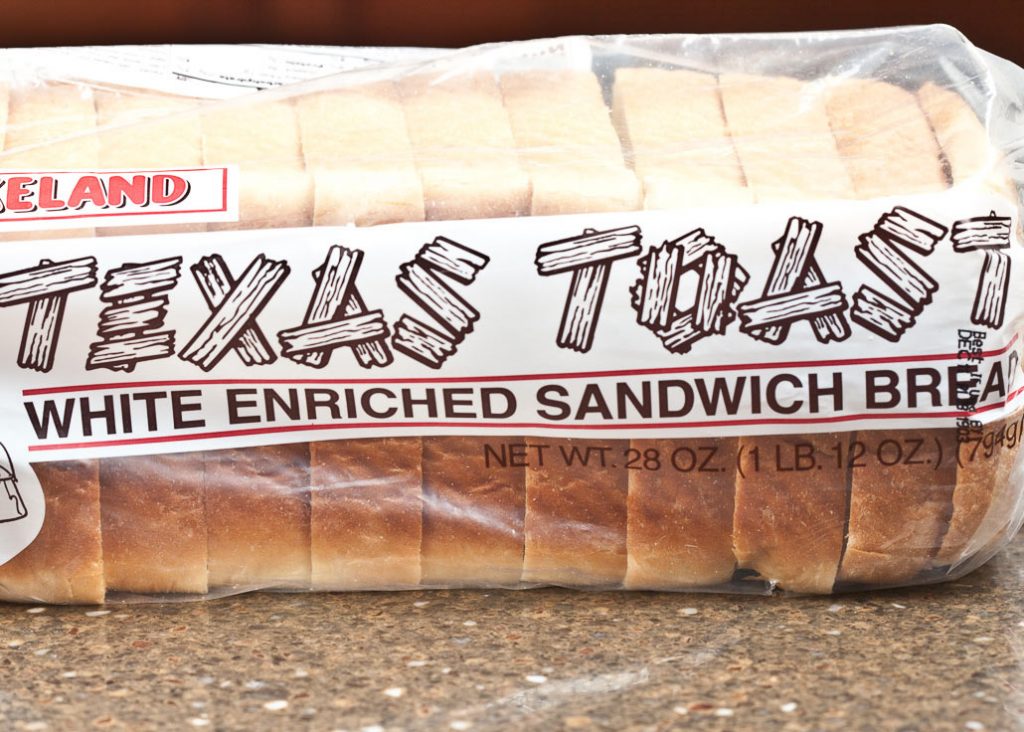 Tips for the best French Toast Casserole:
Be absolutely sure you have the right kind of bread. (See above image.) You can find fluffy, white, thick loaves of Texas Toast in the fresh bread aisle of your grocery store. Not all stores carry it, but I have always been able to find it at major grocery stores, including Target.
If you can't find Texas Toast, you can slice up a big loaf of French or Italian bread — just make sure to slice each piece about 1 1/4″ thick. The slices need to be thick for this hearty breakfast casserole.
If you're staring at frozen garlic/cheese type "Texas Toast" – this is not the right kind of bread. Run away from frozen garlic bread labeled Texas Toast (unless you're serving it with Lemon Basil Orzo with Chicken for dinner, in which case it would be all good.)
Hand whisk the egg mixture ingredients together: eggs, milk, vanilla extract, almond extract, and a bit of salt. No fancy electric mixers needed.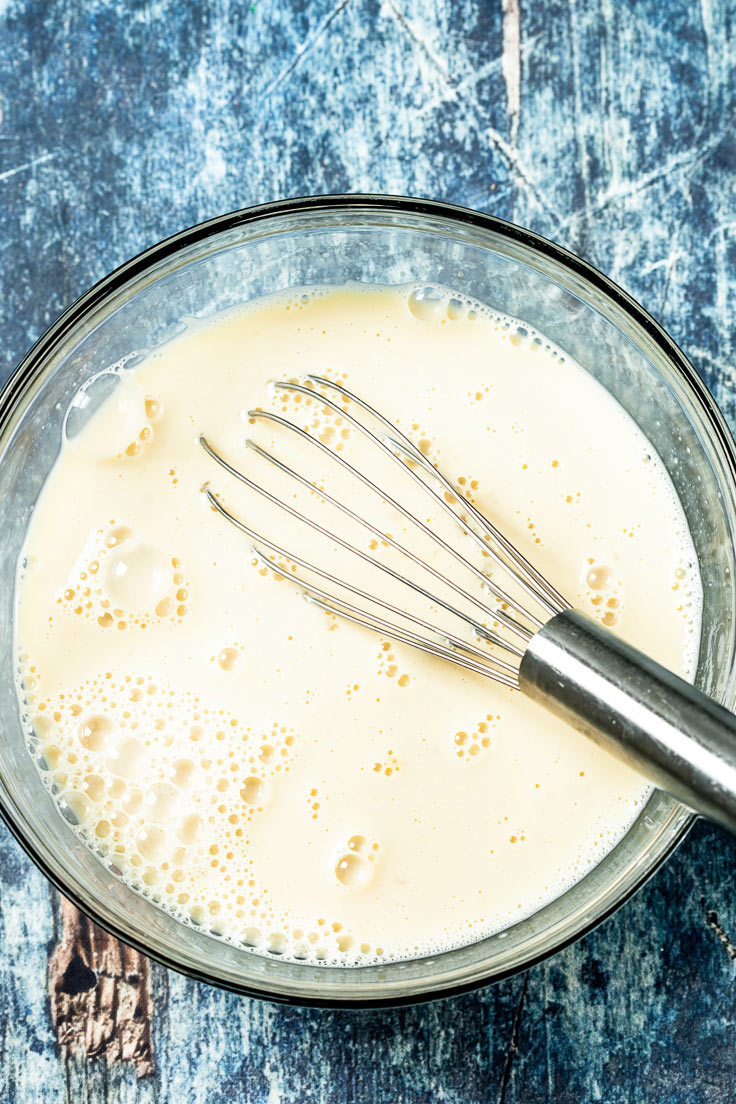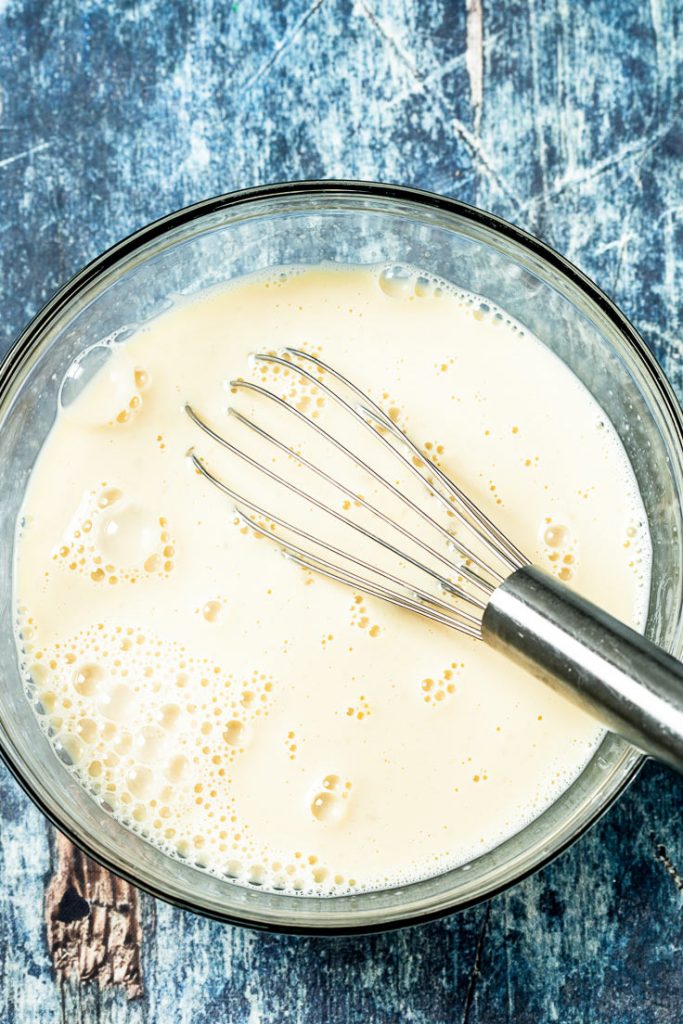 Don't skip the extract
Don't skip the almond extract. It's SO worth it to grab yourself a little bottle of almond extract if you don't have any in your spice cabinet.
The almond extract truly imparts a sensational flavor to the dish. You can also use your almond extract to make Award Winning Almond Dessert Bars and Lemon Almond Poppy Seed Bread.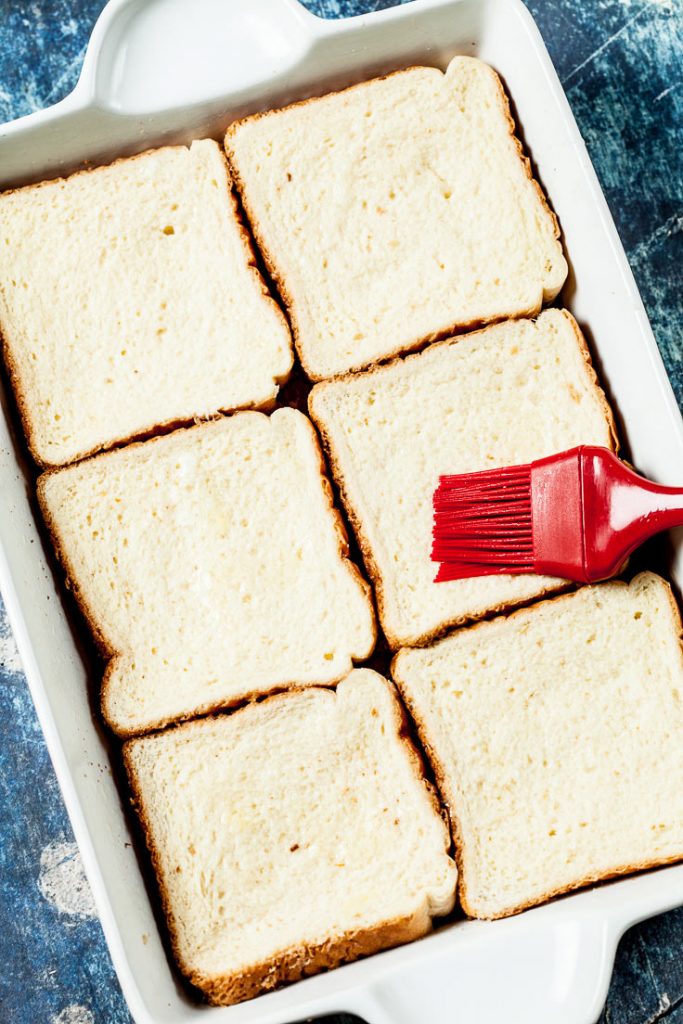 How to avoid any sogginess
Use pastry brush or even the back of a spoon to slowly brush on 1 cup of the egg mixture to first layer of bread slices.
Take your time. It's worth a few extra seconds to ensure an even coating and thorough bread soaking, so you don't end up with any risk of sog-factor at the bottom. If you pour the egg mixture too quickly over the bread slices, it won't soak into the bread; it'll just slide right into the bottom of your pan.
Be sure to get lots of wonderful egg mixture into the edges of each bread slice. It will make a difference.
Yes, you can just hand-dip each slice of bread into the egg mixture if you prefer; however, I find that's actually messier and trickier than simply using my pastry brush.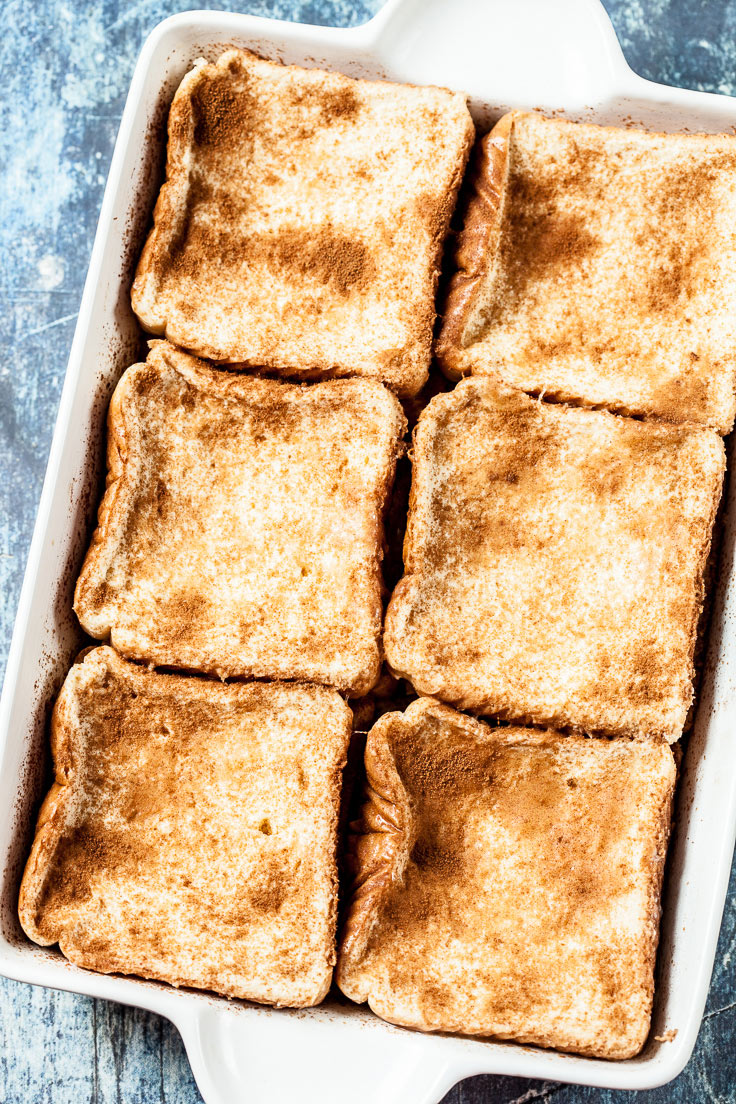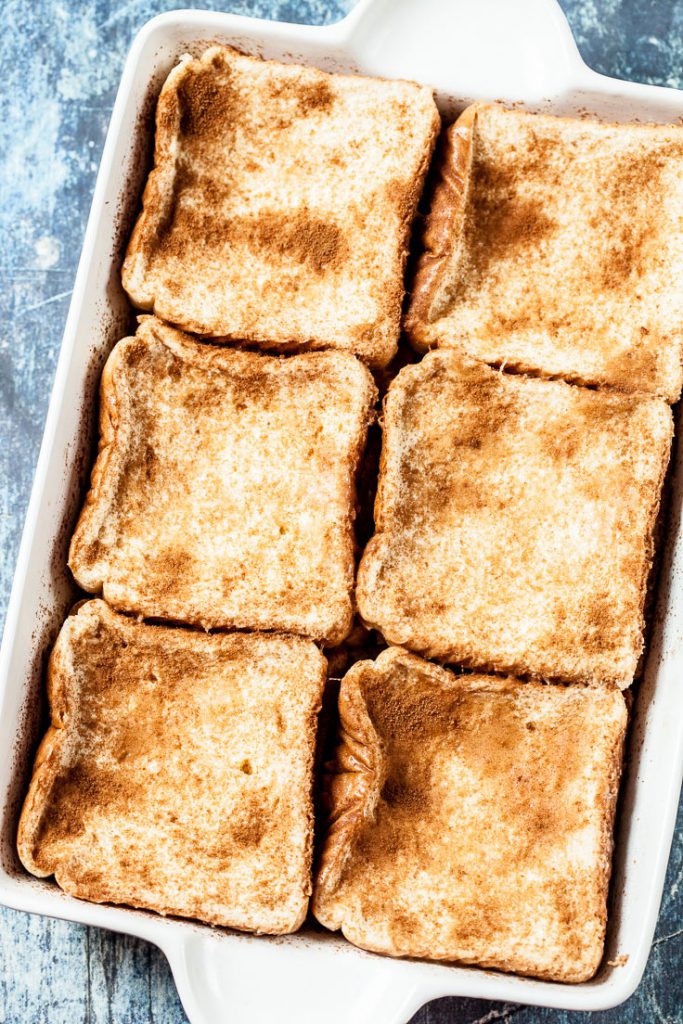 Layering instructions
Generously sprinkle delightful cinnamon-sugar over that first layer of sliced bread.
Repeat it all for a second layer of sliced bread.
I like to sprinkle most of the dry cinnamon-sugar mix in the middle, reserving just a bit for the top. It helps prevent the top from getting too overly browned in the oven.
Cover tightly with foil, chill overnight, and bake in the morning.
Serve with maple syrup and berries, if you like.
But really, it's so good you don't need syrup at all.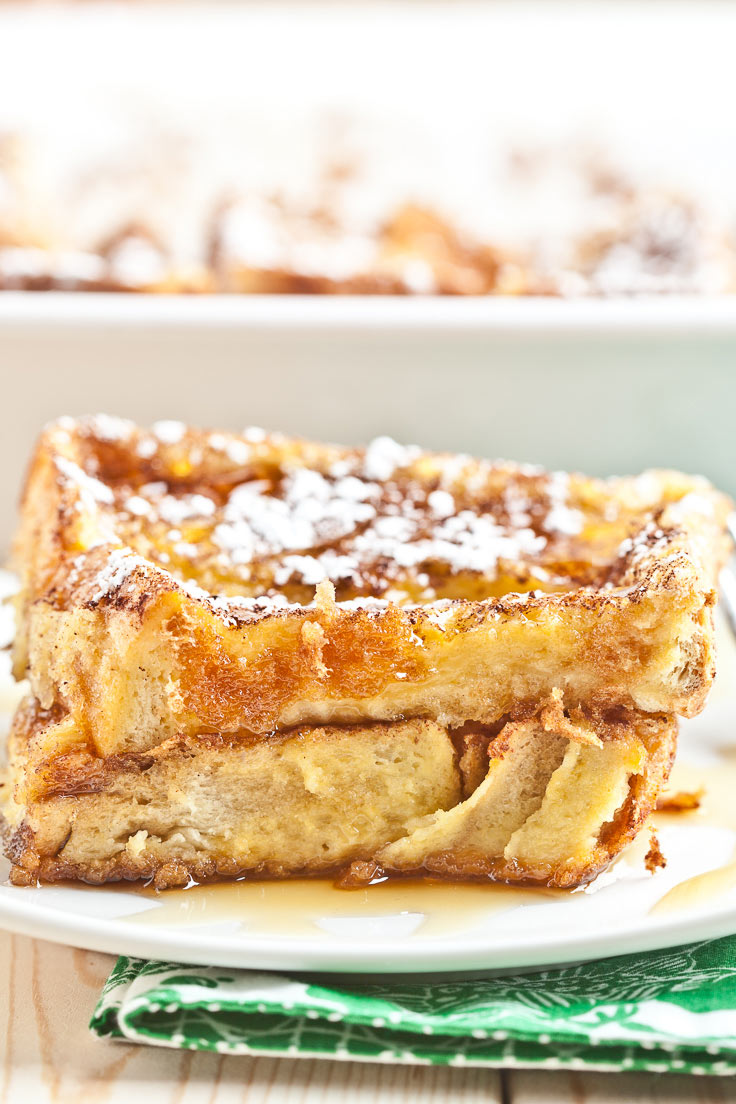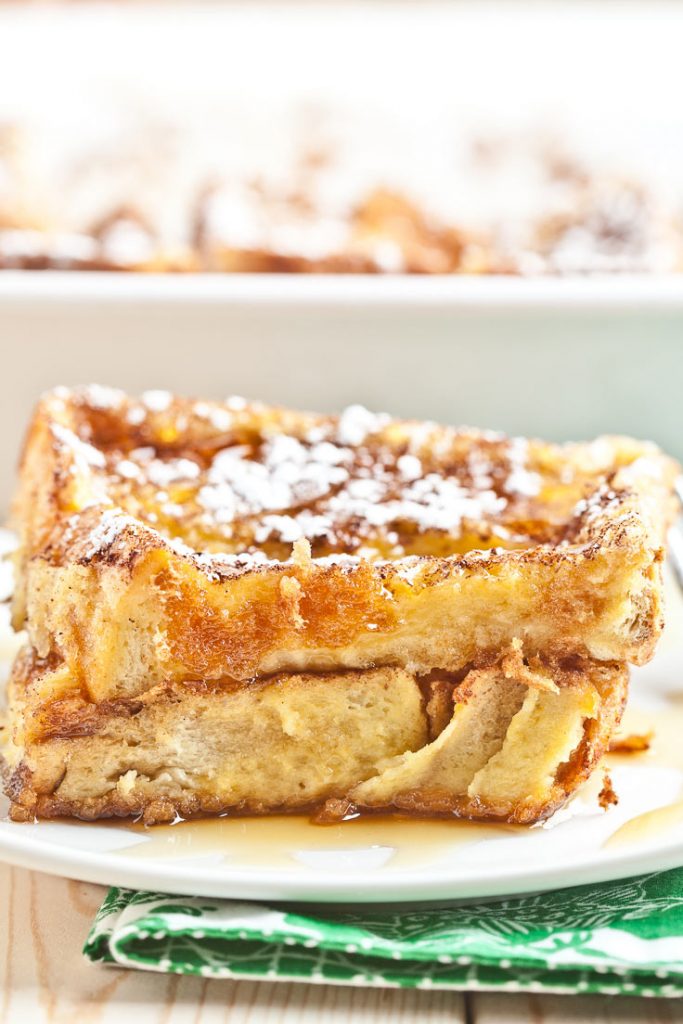 Final tips
Sleep in a little, bake, and eat. Repeat.
Repeat again next weekend (and maybe all the weekends from now and forever more.)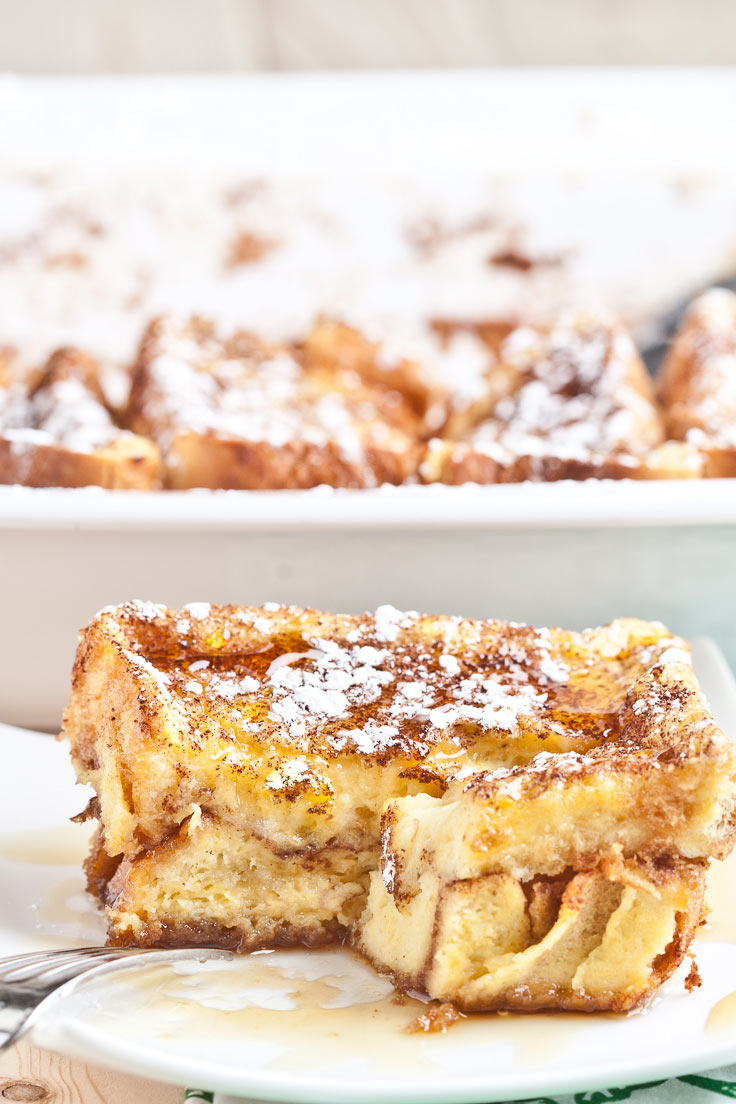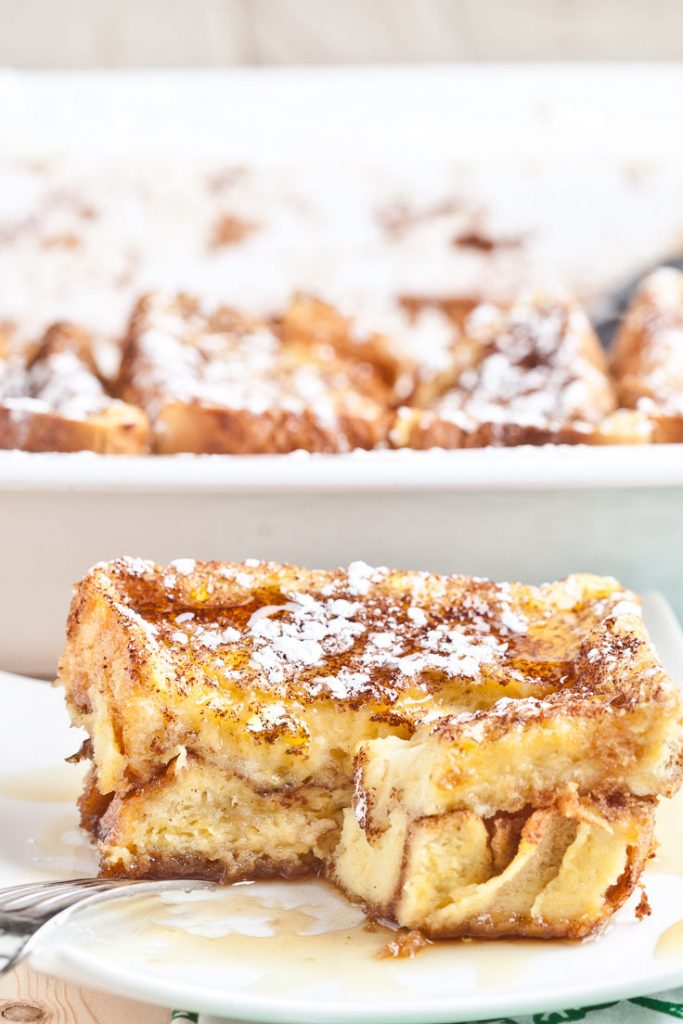 Watch this recipe in action:
Did you make this?
Please give us a rating and comment below. We love hearing from you!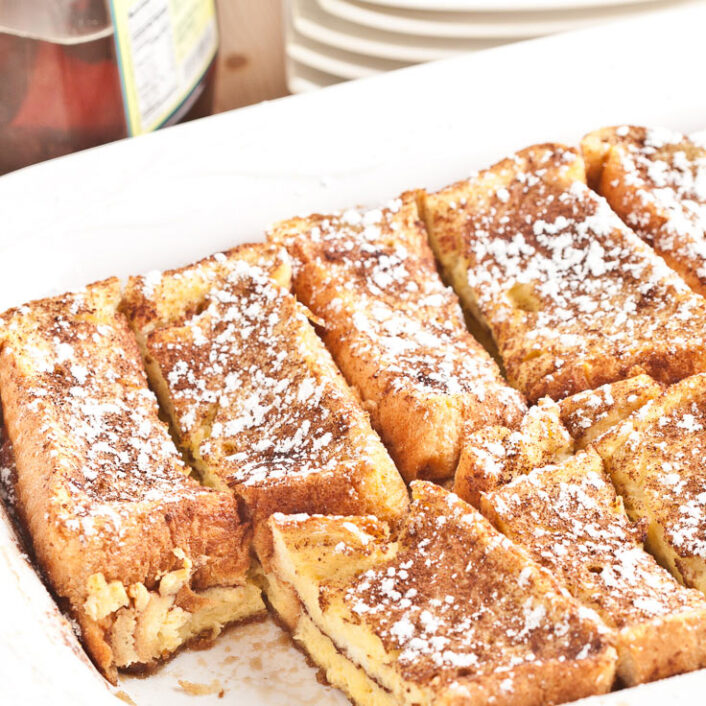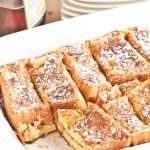 Best Texas French Toast Casserole Recipe
The Best Texas French Toast Casserole Recipe also happens to be an easy overnight dish that can be completely prepared ahead of time. This is a jackpot breakfast bake that'll become a fast favorite among your family and friends.
Ingredients
½

cup

salted butter,

melted (1 stick)

1

cup

packed light brown sugar

1

loaf

Texas Toast (fresh-sliced bread loaf)

,

Not frozen; found in fresh sliced bread aisle

4

large eggs

1 ½

cup

whole or lowfat milk

1

TB

pure vanilla extract

1

tsp

pure almond extract

⅛

tsp

table salt
Instructions
Put butter in a microwave safe bowl and microwave in 20 second increments, stirring in between, until melted. Add 1 cup brown sugar and stir until well incorporated.

Use rubber spatula to evenly press mixture into bottom of a greased 9×13 pan, spreading mixture evenly.

Use hand whisk to combine eggs, milk, vanilla extract, almond extract, and salt until fully incorporated. Mixture should be about 2 3/4 cup total. Set aside.

Lay a single layer of Texas Toast in pan (about 6 whole slices,) cutting additional pieces to fill pan bottom, if needed. Very gradually and slowly brush 1 cup of egg mixture evenly over every slice of bread, taking care to saturate edges (do not hastily pour egg mixture or all of it will end up at the bottom.)

Sprinkle evenly with most of the brown sugar/cinnamon mixture, reserving about 2 tsp of the mixture for topping. Repeat with second layer, using another 6 slices or so of bread. Slowly brush remaining egg mixture over that layer, again paying special attention to the edges. Ensure all slices are well saturated. End with sprinkling of remaining cinnamon sugar mixture.

Cover tightly and chill overnight in fridge, or at least long enough for custard to thoroughly soak bread. Preheat oven to 350F, with rack on lower middle position. Let casserole rest at room temp while oven preheats. Bake for 40-45 minutes, covered for the first 30 minutes, and uncovered after that.

Be sure to scrape up all the bottom sticky goodness when serving. Serve with optional toppings, if desired.
Notes
*If you don't have time to chill overnight, let the casserole soak for at least 35 minutes at room temp before baking.
If you enjoyed this recipe, please come back and give it a rating ♡
Nutrition (per serving)
Calories:
171
kcal
|
Carbohydrates:
20
g
|
Protein:
3
g
|
Fat:
9
g
|
Saturated Fat:
4
g
|
Polyunsaturated Fat:
0.4
g
|
Monounsaturated Fat:
2
g
|
Trans Fat:
0.2
g
|
Cholesterol:
52
mg
|
Sodium:
159
mg
|
Potassium:
61
mg
|
Fiber:
1
g
|
Sugar:
14
g
|
Vitamin A:
226
IU
|
Vitamin C:
0.01
mg
|
Calcium:
42
mg
|
Iron:
3
mg
Breakfast Bakes We Love: