Crispy Baked Chicken Tenders (Panko)
These Crispy Baked Chicken Tenders are made extra crispy with the use of panko breadcrumbs. They're deliciously baked, not fried.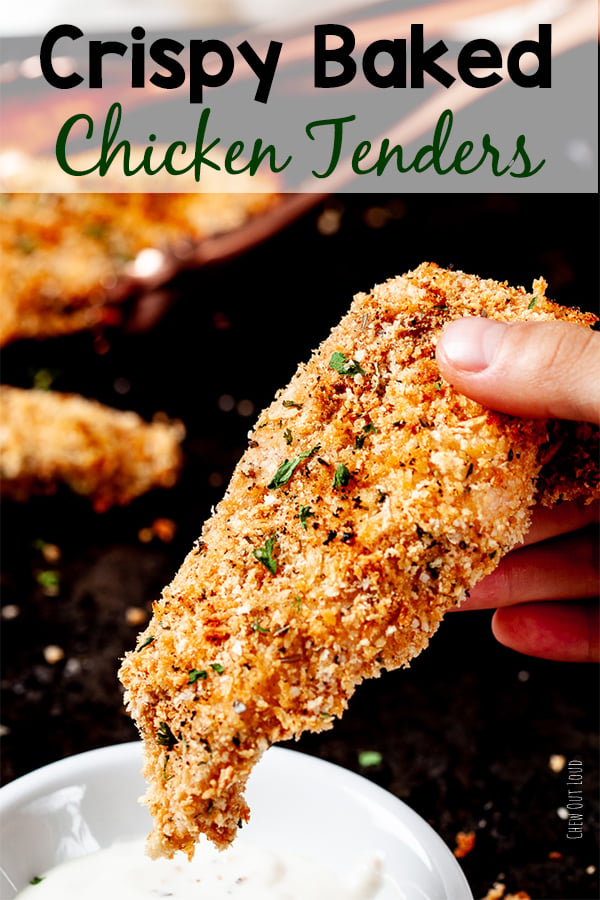 Crispy baked chicken tenders
Our family might be able to live on chicken tenders. We kind of fight over them. As in, we actually have to divvy all the chicken tenders up before anyone tries to snag more than their share.
In part, it might be because we have three very active boys, two of which are rapidly growing teens. I still don't get how they Eat. So. Much.
We aren't talking just any store variety of chicken tenders. We're referring to these extra crispy baked chicken tenders coated with plenty of seasonings and toasted panko breadcrumbs like these Parmesan Panko Crusted Pork Chops people love.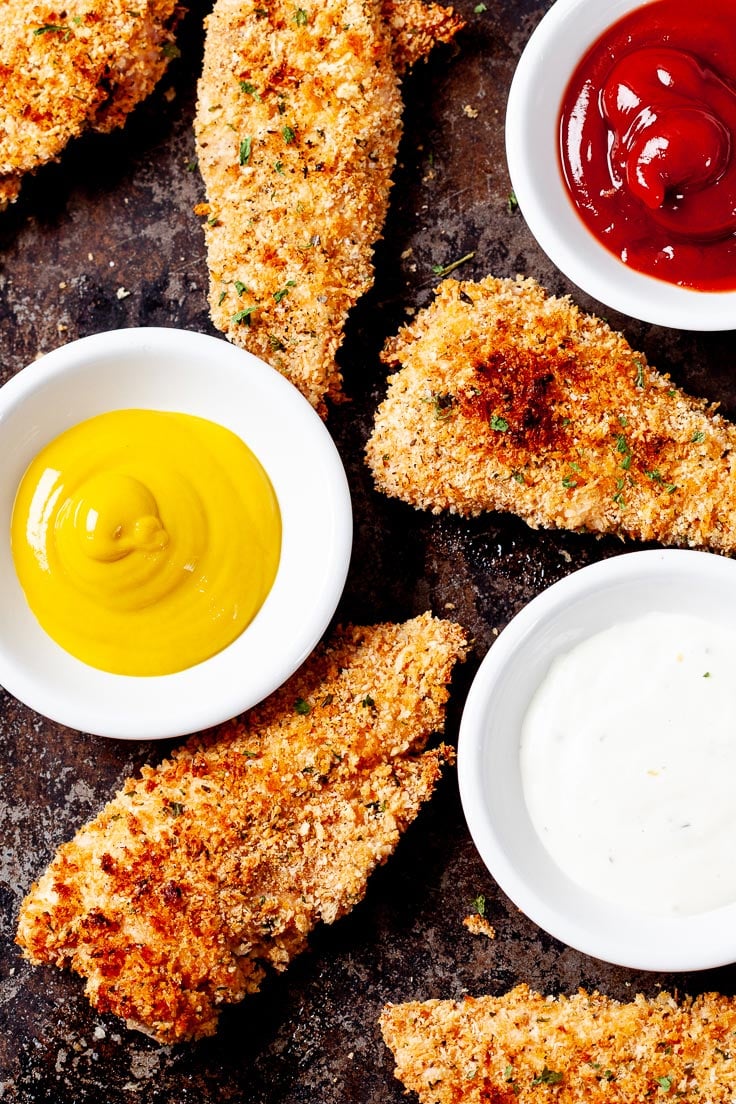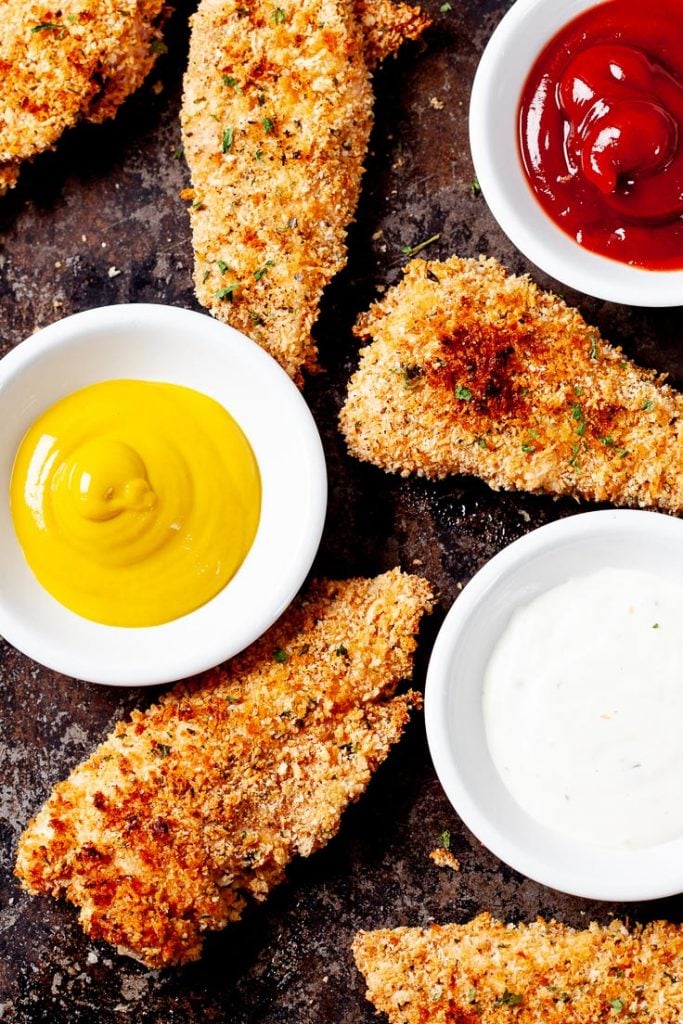 Real ingredients you feel good about
There's nothing wrong with digging into Raising Cane's on occasion, but we can't enter that lane on regular basis. At least, not if I'm on a budget and not if I want to know what my chicken dinner was made out of.
Here are the only ingredients you need for the perfect chicken tenders:
Panko breadcrumbs; go with unseasoned because you'll be tossing in your own spice staples for the breading. We'll talk more about panko in a bit. Note that gluten-free panko is available, too.
Plenty of dried seasonings you probably have in your pantry right now: onion powder, garlic powder, black pepper, kosher salt, and dried oregano.
Two pounds of chicken tenderloins

– the extra tender strips of meat attached to the underside of chicken breasts.

Be sure to use paper towels to remove all excess moisture before starting with the recipe. Extra water content can really change the texture, so dab away.
One large egg for dipping. It doesn't seem like one egg would be enough, but it should be plenty, as you'll stir it together with 1 TB water.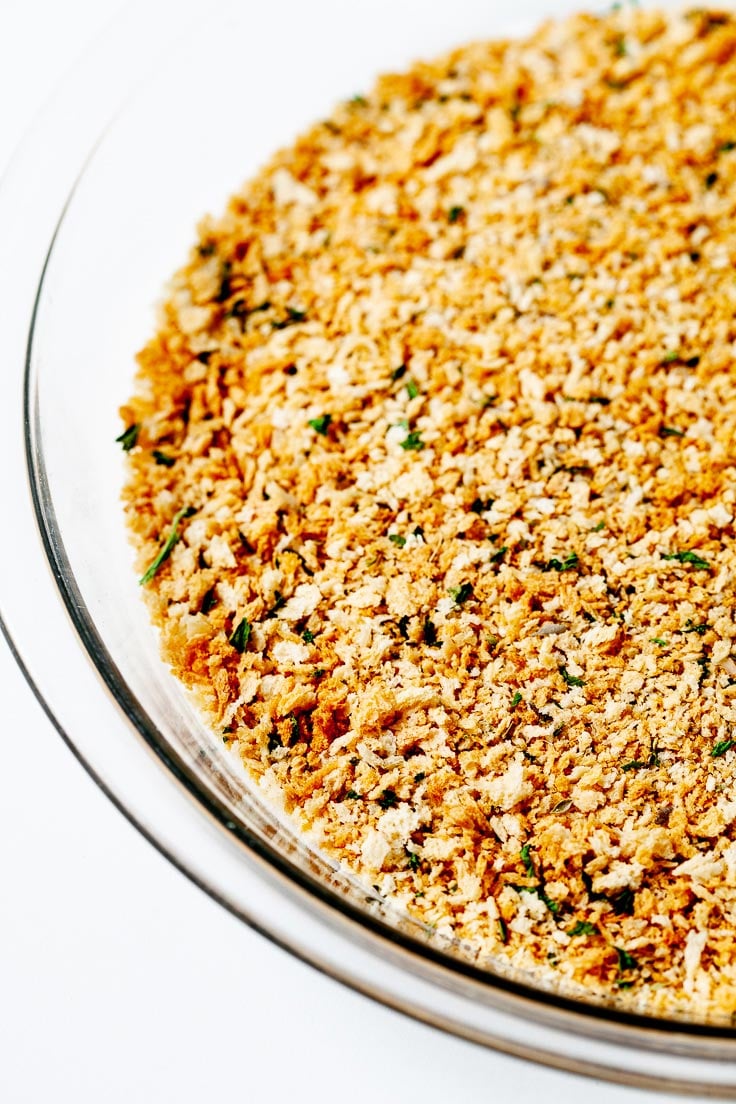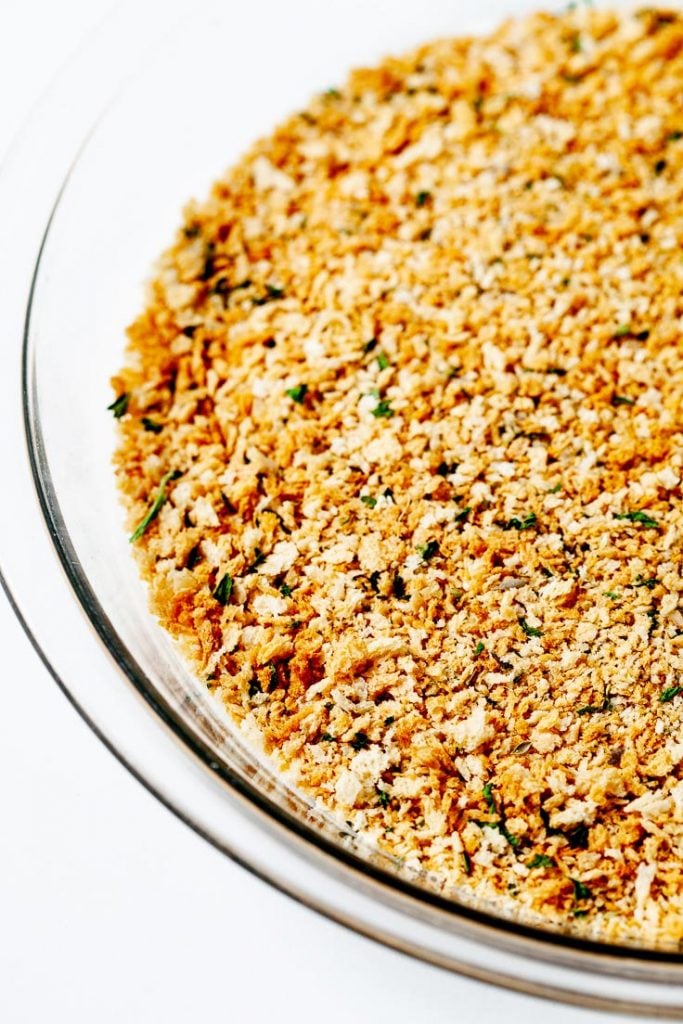 Panko vs. regular breadcrumbs
The virtues of panko breadcrumbs are many. It's a type of breadcrumb that has been popular in Asian cuisine and is now widely used. Varieties of panko breadcrumbs, including gluten-free options, can easily be found at most grocery stores.
The airy light texture of panko is lighter, flakier, and cooks up more crispy than regular breadcrumbs. Regular breadcrumbs consist of a finer crumb and isn't as flaky as panko. They also absorb more of the cooking oil than panko does.
Panko is a pantry staple in our kitchen. Crispy Toasted Ravioli Recipe are amazing appetizers for game days, party food, and it's a fun lunch idea. Panko Mozzarella Sticks are ditto all that, plus they're ultra cheesy.
Insider's secret tip: pre-toast your panko breadcrumbs before using them.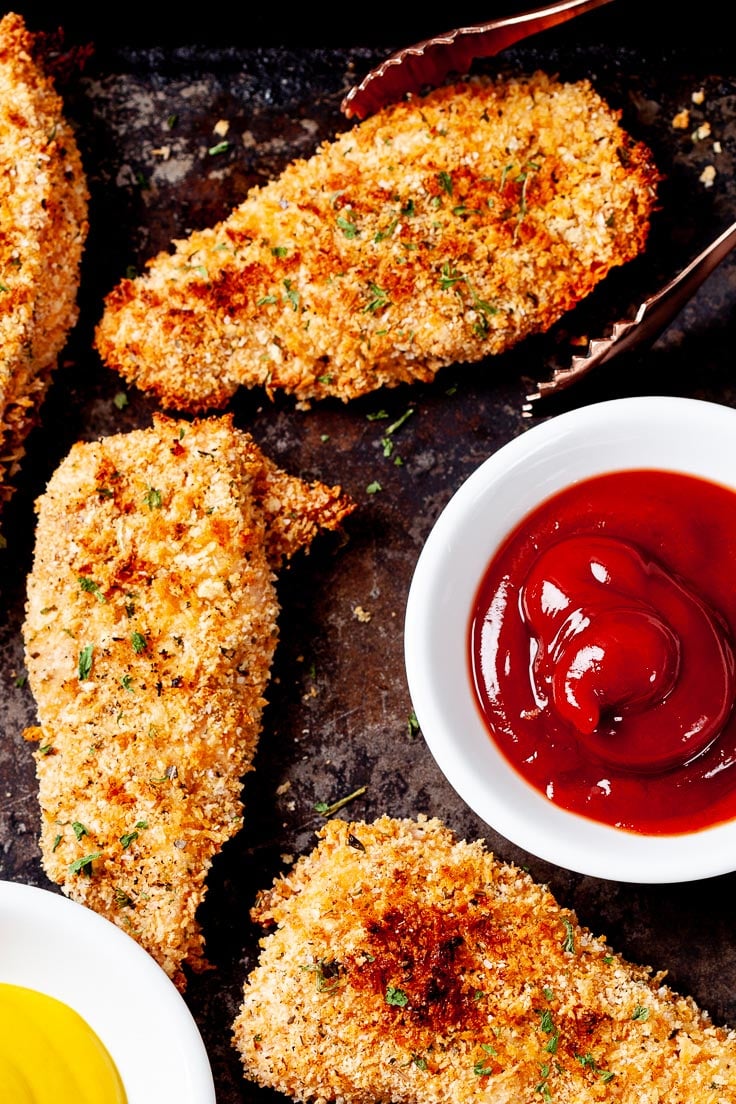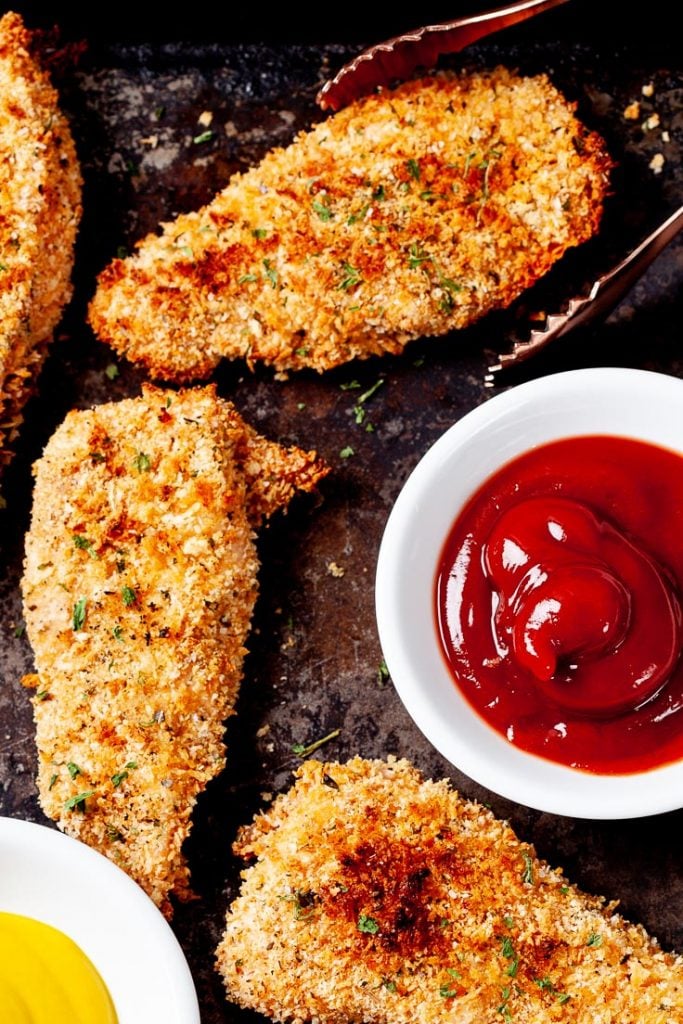 Make it a meal
My family, ranging from school age to teens, loves it when I say baked chicken tenders are on the dinner menu.
To make it a meal, we suggest serving up this Broccoli Apple Salad

that can easily be made ahead of time and stays crispy-crunchy even the next day. I've never seen my entire family gobble up that much broccoli without bribery.
If you've got another delicious sauce idea, we'd love to hear it!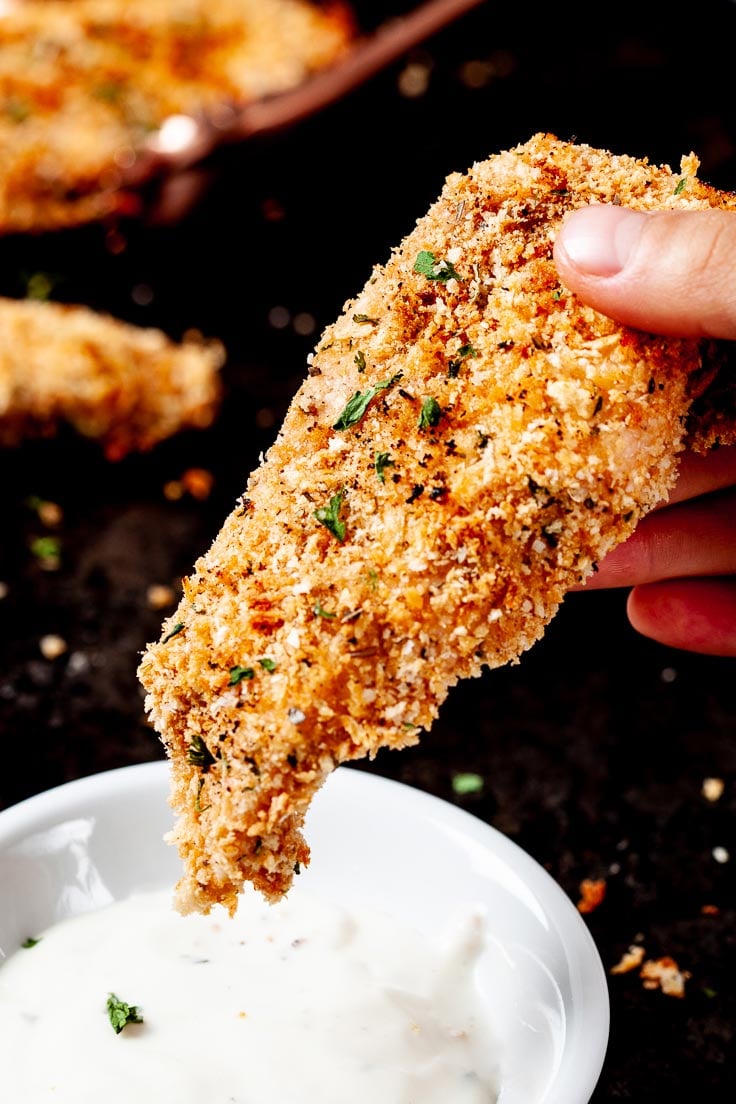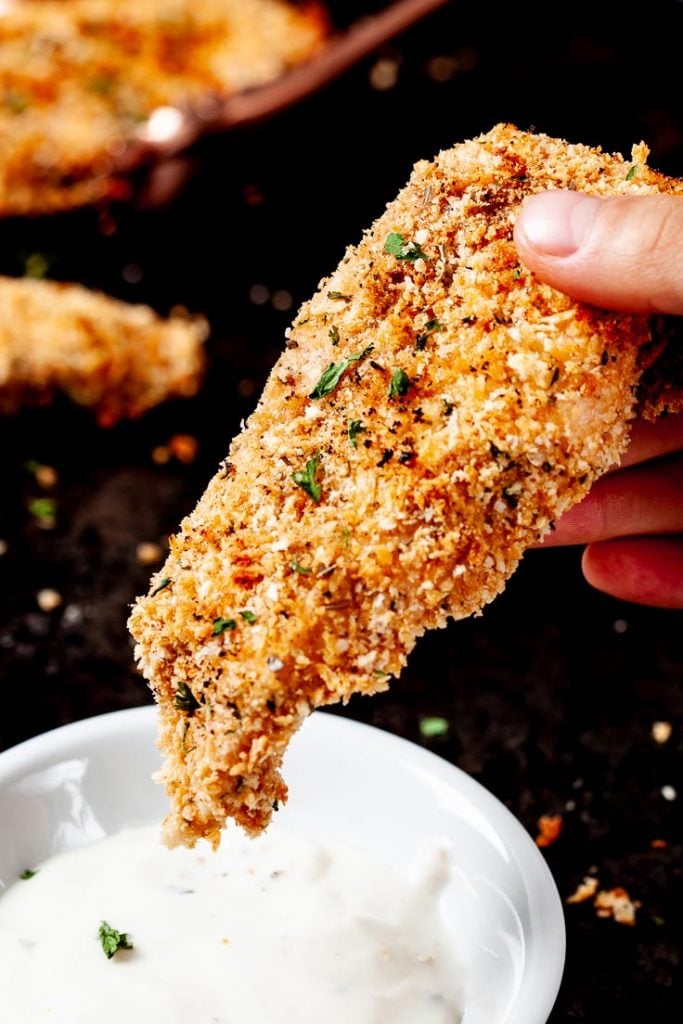 How to make 3-Minute Magic Sauce:
Did you make this?
Please give us a rating and comment below. We love hearing from you!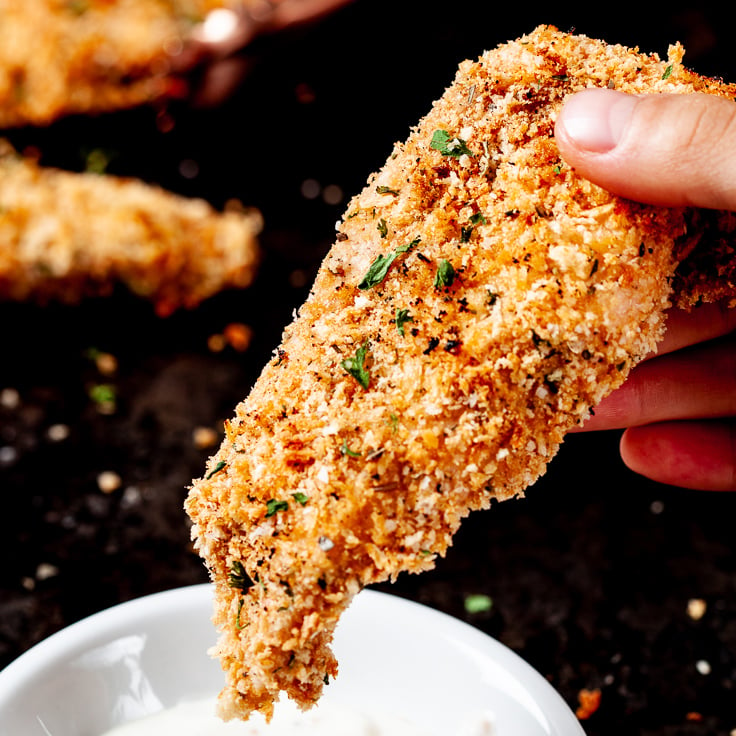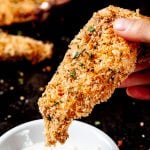 Crispy Baked Chicken Tenders (Panko)
These Crispy Baked Chicken Tenders are made extra crispy with the use of panko breadcrumbs. They're deliciously baked, not fried.
Instructions
Preheat oven to 400F, with rack on lower middle position. Line a large baking sheet with foil and generously grease the foil. Add panko breadcrumbs in a single layer on greased foil; spray oil over the top of the panko. Brown panko for 4 minutes, or until golden and crisp. Toasting the panko is the secret to the crunch. Let cool while you continue with recipe.

Meanwhile, increase oven temp to 450F, keeping rack on lower middle position. Use paper towels to thoroughly dry chicken tenderloins. Set chicken aside. In a shallow pan (I use pie pans) combine toasted panko with oregano, onion powder, salt, garlic powder, and pepper. Stir to combine well. In a separate shallow pan, combine the egg with 1 TB water, whisking to incorporate.

Replace the foil on large baking sheet and place a wire rack over it. Generously grease the rack. Dip a chicken tenderloin into the egg mixture, coating well and letting excess drip off. Coat generously with panko mixture. Place on greased wire rack. Repeat with remaining chicken tenderloins, leaving at least an inch of space between each one on the rack.

Spray tops of chicken tenders with oil. Bake 11-13 minutes or until chicken is just cooked and the coating is nicely browned (actual bake time depends on thickness of chicken and your oven.) Serve immediately while fresh from the oven, with dipping sauces of your choice.
Nutrition (per serving)
Serving:
1
piece
|
Calories:
88
kcal
|
Carbohydrates:
0.3
g
|
Protein:
16
g
|
Fat:
2
g
|
Saturated Fat:
0.4
g
|
Polyunsaturated Fat:
0.3
g
|
Monounsaturated Fat:
1
g
|
Trans Fat:
0.01
g
|
Cholesterol:
48
mg
|
Sodium:
282
mg
|
Potassium:
285
mg
|
Fiber:
0.1
g
|
Sugar:
0.02
g
|
Vitamin A:
26
IU
|
Vitamin C:
1
mg
|
Calcium:
7
mg
|
Iron:
0.4
mg