Parmesan 'n Panko Crusted Pork Chops
Parmesan and Panko. Both fabulous creations in their own right. Put together, they equal unparalleled deliciousness. If you haven't tried Panko, please try it soon. It literally can put bread crumbs to shame.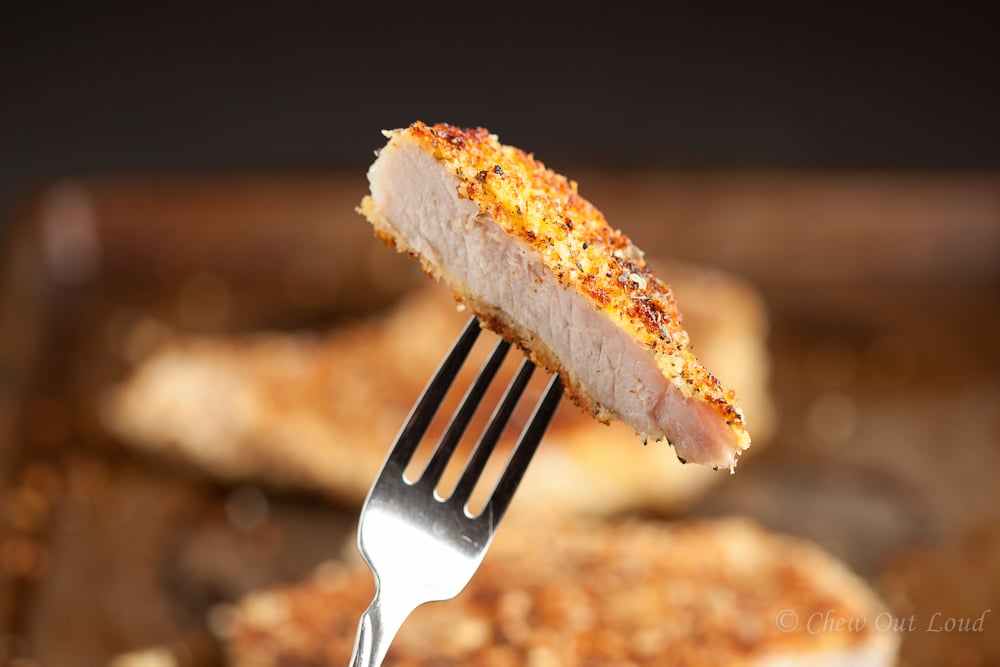 These Parmesan and Panko crusted pork chops are bursting with tender juiciness, well-seasoned flavor, and a crisp bite to the exterior. What more could we ask for in a quick weeknight meal? Yes, I did say quick and weeknight in the same sentence. Because it's that easy.
Pork, famous for being the other white meat, really is surprisingly lean. I had sworn it off many years ago when I was in my health-nut phase and thought all pork was fatty. It eventually dawned on me that with the right cuts, it's an extremely lean protein that makes the taste buds happy. Pork chops became my friend again.
These Parmesan and Panko crusted pork chops are super popular with kids and grown ups alike. We don't bother with sauces here, because there is simply enough robust flavor in this recipe as is.
Go ahead. Have your pork and eat it too. Enjoy! 🙂
——————————————————————————————————————-
PARMESAN PANKO CRUSTED PORK CHOPS (serves 4)
INGREDIENTS
2 large eggs
1 cup Panko breadcrumbs
1 tsp oregano
1 tsp basil
2 tsp garlic powder
2 tsp onion powder
3/4 cups freshly grated (grate it yourself) Parmesan cheese
4 large (10-12 ounces each) center cut pork loin chops, 1/2 to 3/4 inches thick
light olive oil
kosher salt and freshly grounded black pepper
optional lemon wedges for serving
DIRECTIONS
Lightly beat eggs in a pie plate. In another pie plate, thoroughly combine Panko, oregano, basil, garlic powder, and onion powder. In a third pie plate, place freshly grated cheese.
Sprinkle each pork chop lightly with kosher salt and pepper on both sides. Coat the chops completely with fresh cheese, pressing down to adhere. Dip pork chops into beaten eggs, and then completely coat with Panko mixture. Pat to adhere on both sides.
Heat 4 TB oil in large heavy skillet (nonstick works well) over medium heat. Add pork chops one or two at a time (do not overcrowd), cooking uncovered until golden brown and 150F at center – about 6 min per side. Repeat with remaining chops. Transfer to plates and serve with lemon wedges, if desired.
Source: Chew Out Loud, adapted from Giada De Laurentiis