Panko Breaded Pork Chops
By Amy Dong
Published Nov. 1, 2022
Updated Nov. 8, 2022
These crisp panko breaded pork chops are made with minimal ingredients and are ready in minutes for an easy weeknight meal you'll love. Pair with rice or potatoes and vegetables for a complete dinner!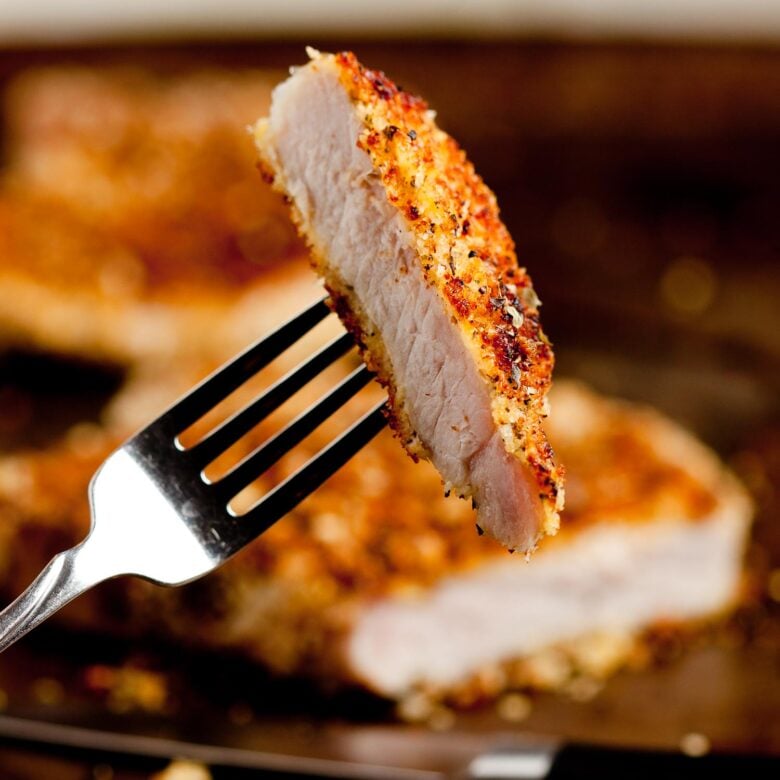 What You'll Love About Panko Breaded Pork Chops
Here are just a few reasons why you'll fall in love with panko pork chops at first bite:
They're much healthier than you might think. Pork gets a bad rap for being high in fat. However, with the right cut, it's a lean, high-protein option similar to chicken and just as tasty!
All you'll need are just a few pantry staples for the most delicious dinner without even needing to run to the store.
Breaded pork chops cook quickly on the skillet taking just 6 minutes per side.
Paired with your favorite sides, this breaded pork chops recipe makes for a family-friendly meal perfect for every occasion.
How Is Panko Different from Regular Breadcrumbs?
Panko breadcrumbs and regular Italian breadcrumbs can be used interchangeably, but their taste and texture couldn't be more different! That is because originating in Japan, panko breadcrumbs are made out of crustless white bread that has been processed into flakes and dried. Meanwhile, regular breadcrumbs are made out of a variety of different kinds of bread along with their crusts and are processed into a finer texture than panko breadcrumbs.
As a result, panko has a drier, flakier consistency and absorbs less oil. This means that foods breaded with panko like baked chicken and toasted ravioli have a lighter flavor and crisper, crunchier texture.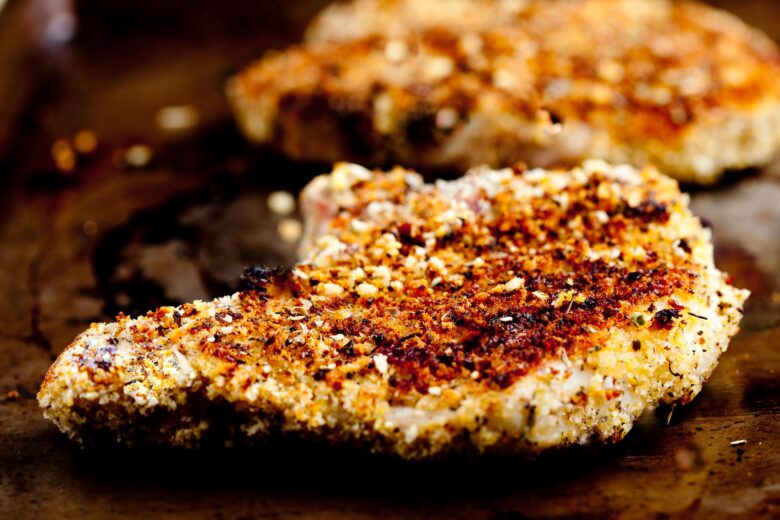 How Long Should I Pan Fry This Breaded Pork Chops Recipe?
Depending on the size and thickness of your pork chops, they will all require different cooking times. In general, pork chops ½-¾ inches thick will take roughly 6 minutes per side to cook. Be sure to watch for them to turn golden brown, and use a meat thermometer to ensure they reach an internal temperature of 145 degrees F.
How to Get Panko Breading to Stick
Panko can be a bit finicky if you've never used it before, but once you get the hang of it coating your pork chops is a breeze:
Dredge the meat correctly. You'll want to start by using paper towels to pat your pork dry.
Then, carefully dredge it first in the cheese followed by the egg mixture and panko crumbs.
The panko won't stick to the pork itself as it is too dry, and the eggs won't stick to the pork without the cheese to cling to. So, the order of dredging is crucial!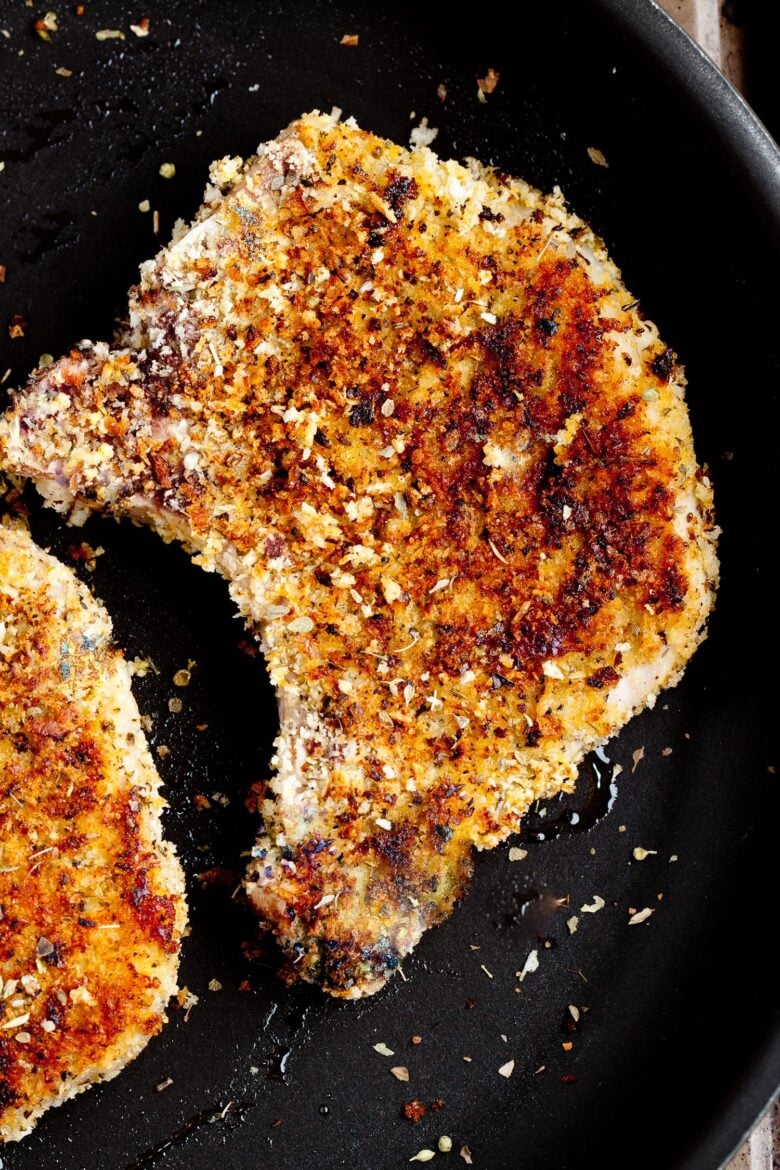 Breaded Pork Chops
Commonly Asked Questions
How do I make crispy breaded pork chops?
To ensure your breaded pork chops are golden and crisp, be sure to let the oil warm in the pan, and dry the pork on a paper towel to absorb any excess oil once cooked.
Can I make this breaded pork chops recipe ahead of time?
Yes, leftovers can be stored in an airtight container in the fridge for up to 4-5 days and are easy to reheat in the microwave or oven at 350 degrees F.
---
More to Cook and Eat
---
---
Did you make this?
Please give us a rating and comment below. We love hearing from you!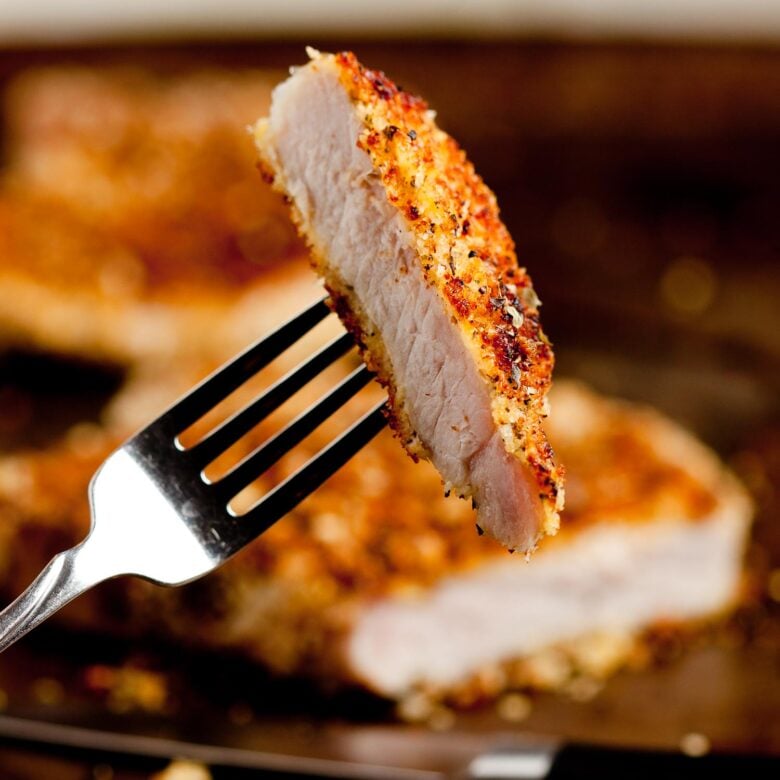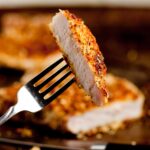 Panko Breaded Pork Chops
These crisp panko breaded pork chops are made with minimal ingredients and are ready in minutes for an easy weeknight meal you'll love. Pair with rice or potatoes and vegetables. Adapted from Giada De Laurentiis cookbook.
Ingredients
2

eggs,

large

1

cup

Panko breadcrumbs,

plain, regular or gluten-free

1

tsp

oregano

1

tsp

basil

2

tsp

garlic powder

2

tsp

onion powder

¾

cups

Parmesan cheese,

freshly grated from block cheese

4

center cut pork loin chops,

10-12 ounces each, 1/2 to 3/4 inches thick

Kosher salt,

to taste

Black pepper ,

freshly ground, to taste

lemon wedges

,

optional, for serving
Instructions
Lightly beat eggs in a pie plate. In another pie plate, thoroughly combine Panko, oregano, basil, garlic powder, and onion powder. In a third pie plate, place freshly grated cheese.

Sprinkle each pork chop lightly with kosher salt and pepper on both sides. Coat the chops completely with fresh cheese, pressing down to adhere. Dip pork chops into beaten eggs, and then completely coat with Panko mixture. Pat to adhere on both sides.

Heat 4 TB oil in large heavy skillet (nonstick works well) over medium heat. Add pork chops one or two at a time (do not overcrowd), cooking uncovered until golden brown and 150F at center – about 6 min per side. Repeat with remaining chops. Transfer to plates and serve with lemon wedges, if desired.
Nutrition (per serving)
Serving:
1
g
|
Calories:
299
kcal
|
Carbohydrates:
36
g
|
Protein:
13
g
|
Fat:
12
g
|
Saturated Fat:
5
g
|
Polyunsaturated Fat:
1
g
|
Monounsaturated Fat:
2
g
|
Trans Fat:
0.01
g
|
Cholesterol:
137
mg
|
Sodium:
346
mg
|
Potassium:
122
mg
|
Fiber:
2
g
|
Sugar:
0.3
g
|
Vitamin A:
351
IU
|
Vitamin C:
0.3
mg
|
Calcium:
204
mg
|
Iron:
1
mg