Buffalo Chicken Wings
This Buffalo Wings recipe is stunningly crispy and flavorful – they're baked, not fried! A couple of secret ingredients boost the crispiness of these finger-licking great chicken wings. This buffalo wings sauce is amazing!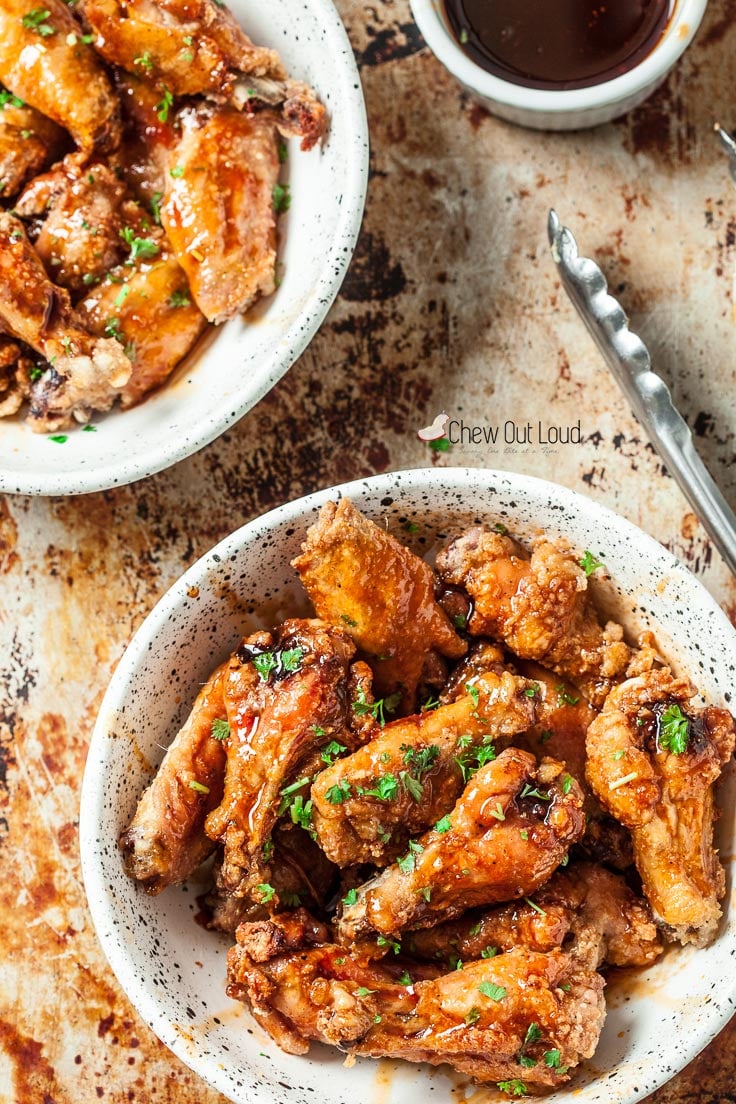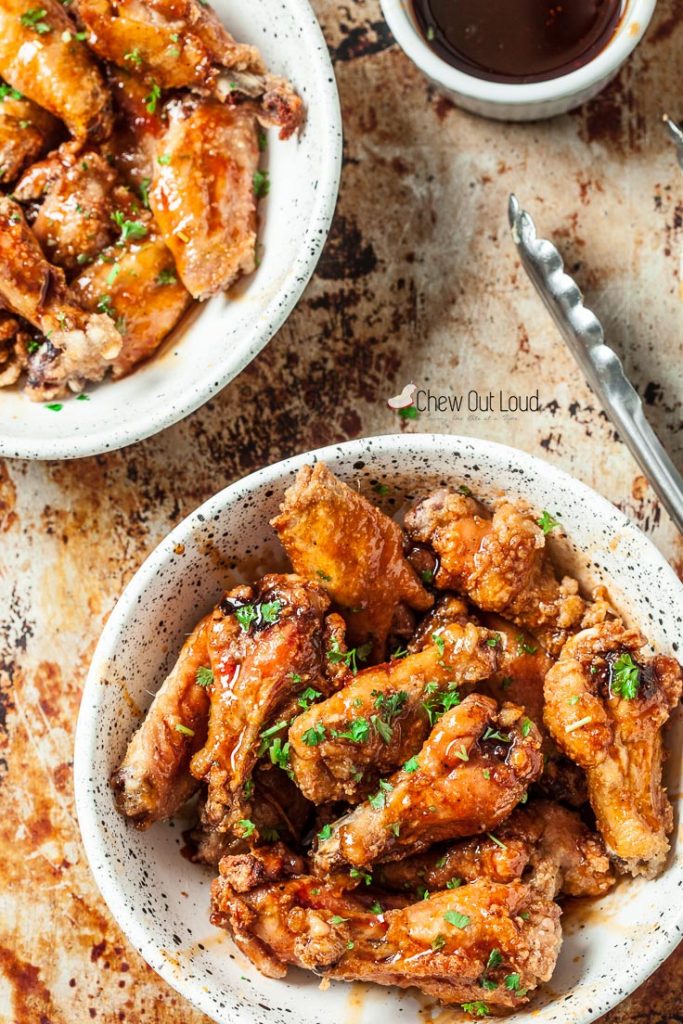 Crispy Buffalo Wings
This buffalo wings recipe came into existence back when my biggest little turned 14. At that age, he loved soccer, knowing more than the parents, and crispy chicken wings. The know-it-all thing will (hopefully) come to a humble end upon mature adulthood, but the buffalo chicken wings obsession might be permanent. For his birthday, he requested a DQ style ice cream cake and Buffalo Chicken Wings.
Specifically these chicken wings, he said. And only this buffalo wings sauce, please. Ah, the daily gig of feeding teenagers growing full tilt.
Why You'll Love THIS
Crispy Buffalo wINGS RECIPE
These buffalo chicken wings are baked to crispy perfection, not fried.
There's no need to get messy with greasy deep frying. A foil-lined baking sheet means easy cleanup.
There are 2 surprise ingredients: cornstarch and baking powder allow these chicken wings to become extra crispy in the oven.
Because these chicken wings use cornstarch instead of flour, they're naturally gluten-free.
We use Sriracha, as it has a thicker texture and deeper flavor than other commonly used hot sauces.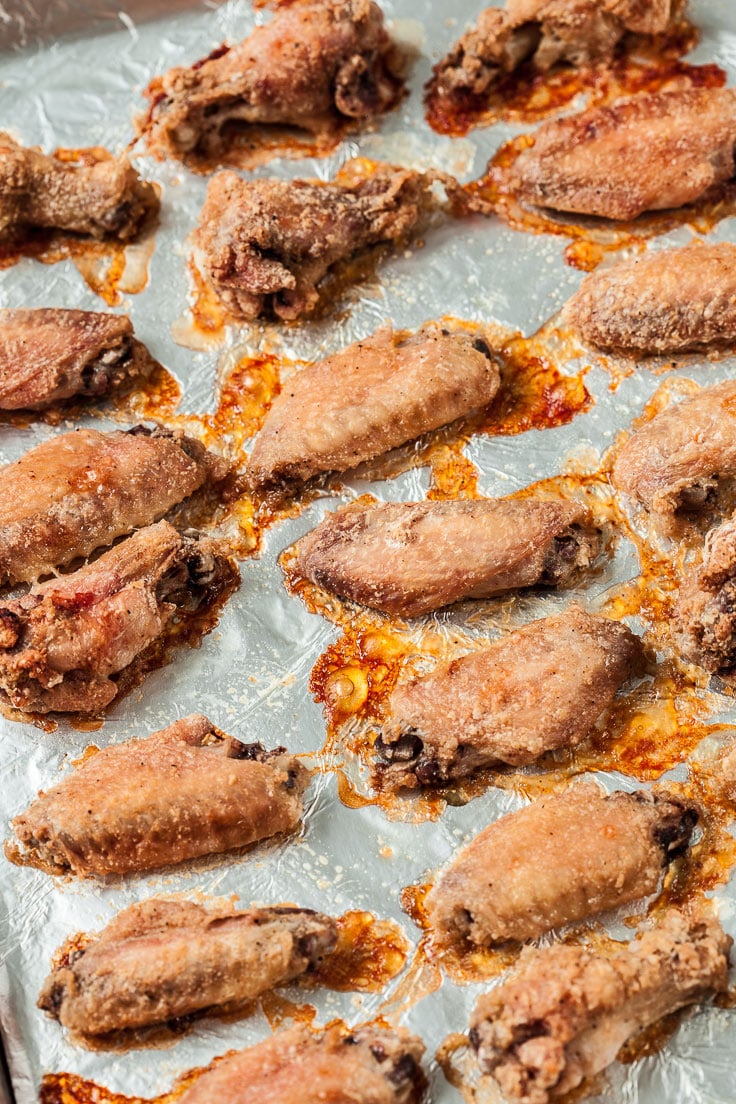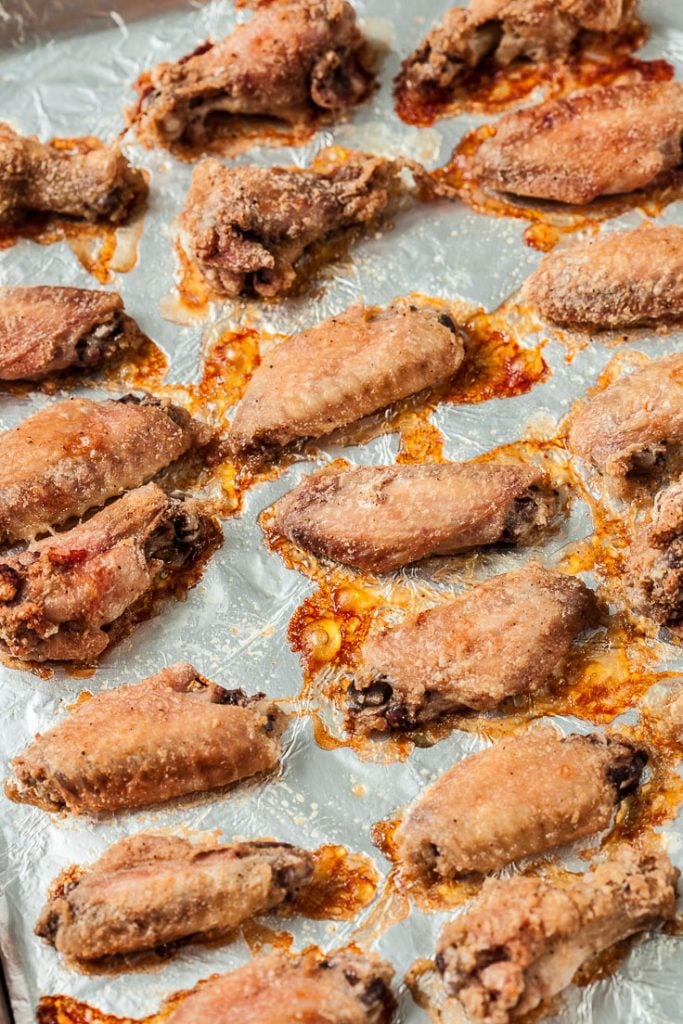 How to make crispy chicken wings
in the oven
You truly can have a crispy batch of chicken wings that are oven-baked and not fried. I've seen several tricks, but my personal favorite hacks are:
Thoroughly dry every single chicken wing. Singular, because you literally take paper towels to each piece of chicken and remove as much moisture as you possibly can. This works nearly just as well as the chilling/air drying method and is just way faster.
I use a combination of baking powder and corn starch in the dry rub. We add those two ingredients to just the right mixture of simple spices. The chicken sits in this dry rub before baking.
These simple techniques create a flavorful and crispy batch of oven-baked chicken wings. They're so good at this point, we could just devour all the crispy wings now and call it done. But let's say you wanted continue on with a finger-licking, delicious sauce.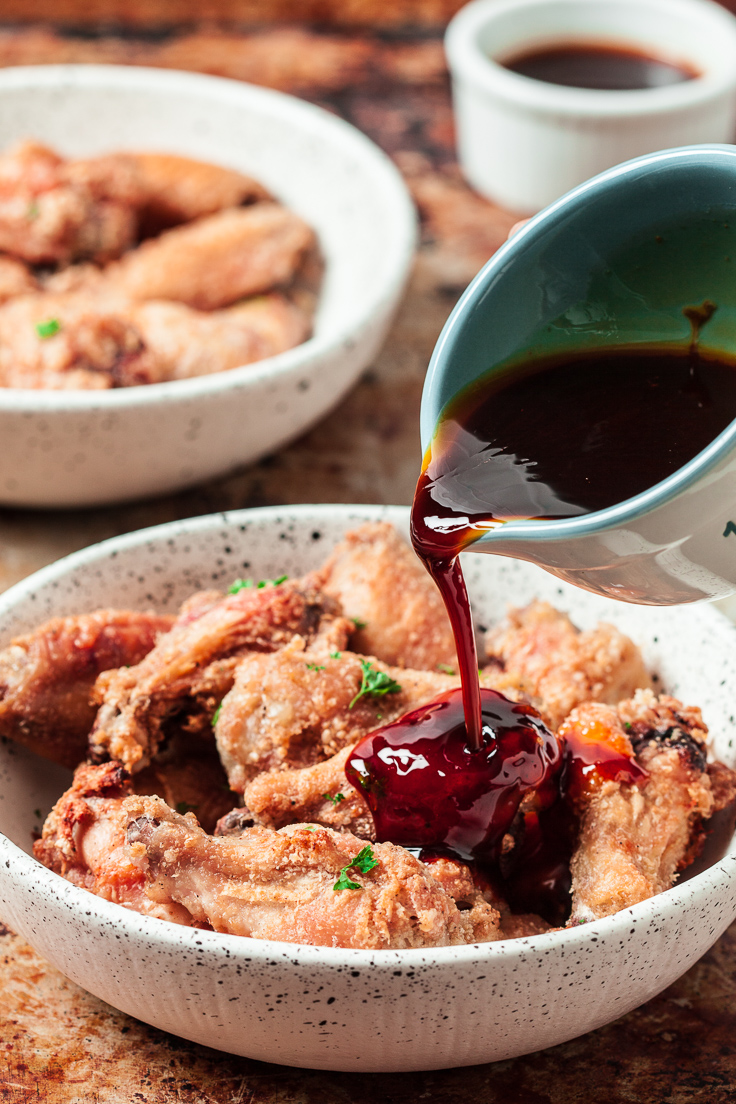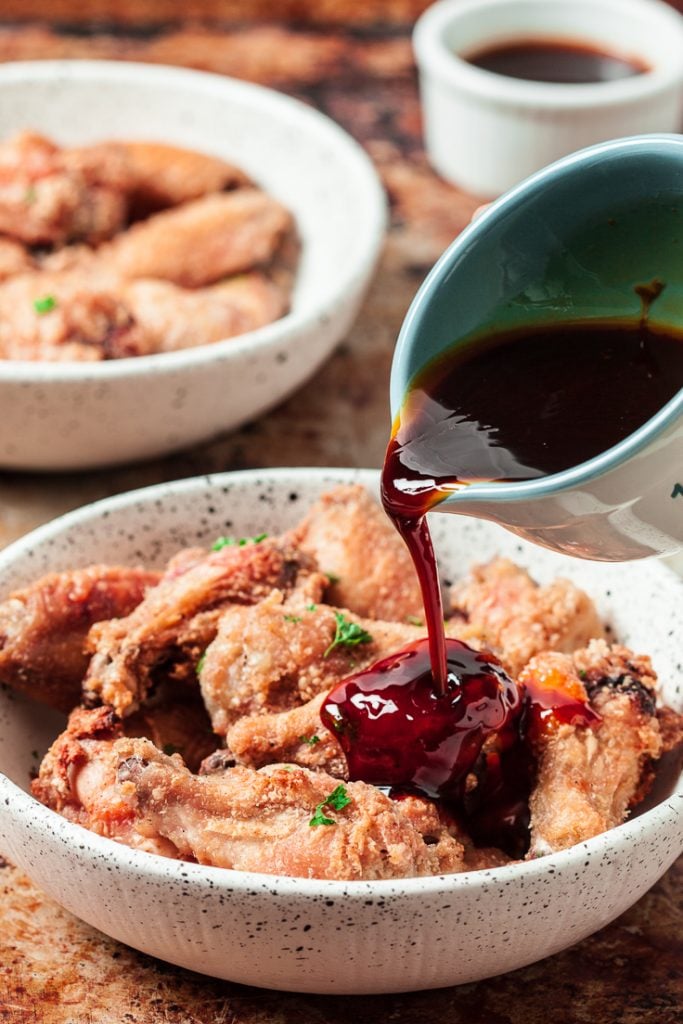 How to make buffalo wings sauce
Everyone knows the sauce is what makes buffalo wings so finger-licking great. We've done buffalo wings using all kinds of sauce variations, including classic Frank's Red Hot.
While all variations are mouthwatering in their own right, our favorite secret is Sriracha hot chili sauce. It's made with sun-ripened chilies, ground into a paste with garlic. We use up bottles of Sriracha like wild. Case in point: These BBQ Sriracha Ribs are spectacular and this Honey Lime Shrimp with Sriracha have stunning flavors.
For our Buffalo Chicken Wings sauce, the team players include:
Pure honey – this gives your sauce a deliciously syrupy texture and sweet flavor
Real butter – we use salted butter for extra flavor
Tamari soy sauce – you can use regular soy sauce if you'd like, but Tamari soy sauce is generally less salty and has more depth of flavor.
Sriracha – we found Sriracha to be superior to other common hot sauces, as Sriracha boasts a thicker texture and richer flavor.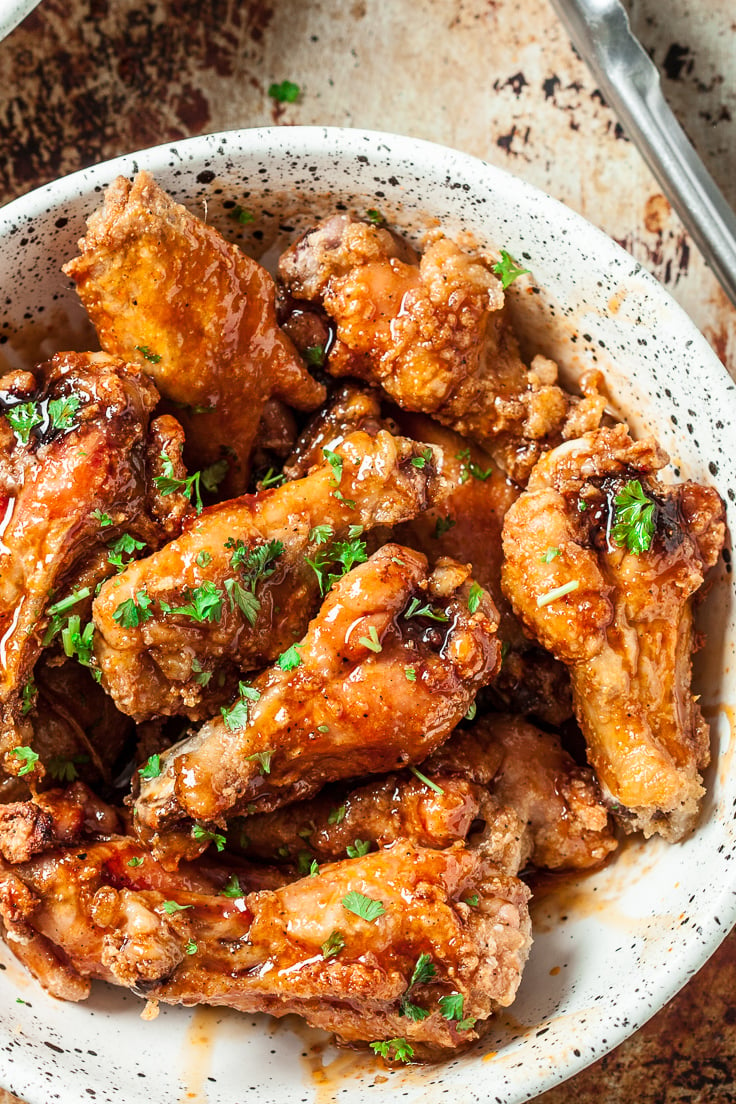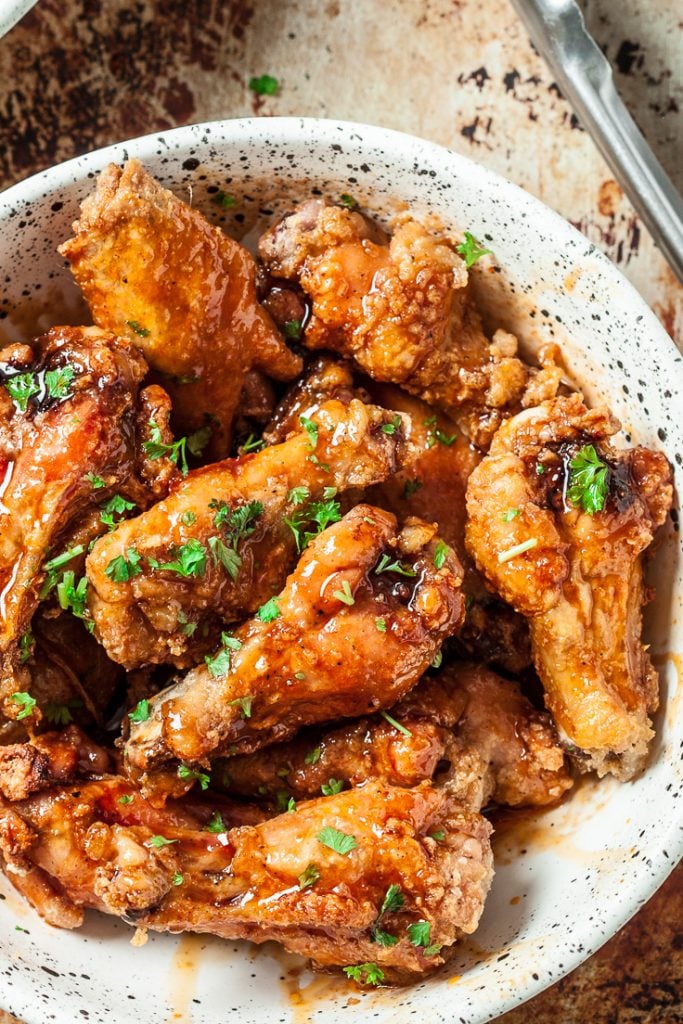 What to serve with Buffalo Wings
Buffalo Wings
Commonly Asked Questions
What's the difference between buffalo wings and chicken wings?
Both refer to crispy chicken wings that are typically deep fried; buffalo wings are dipped in a buttery hot sauce, while chicken wings can be dipped in a variety of sauces like barbecue sauce or ketchup.
Are buffalo wings healthy?
While the typical deep-fried buffalo wings aren't known for being healthy, our oven-baked chicken wings are definitely much healthier. Most of the fat is rendered while baking at high heat in the oven, and there is no additional grease added.
What's the secret to crispy chicken wings in the oven?
The secrets to crispy baked chicken wings include using cornstarch and baking powder (not baking soda) to coat the wings prior to baking. Also, it's essential to thoroughly dry every single piece of chicken with paper towels to remove all moisture prior to starting the recipe. Excess moisture will work against the chicken becoming crispy.
Do you put sauce on wings before or after they're baked?
Always bake the wings until they're crispy first. Then, either toss crispy wings in the sauce and serve immediately, or serve the sauce on the side for people to dip their wings into.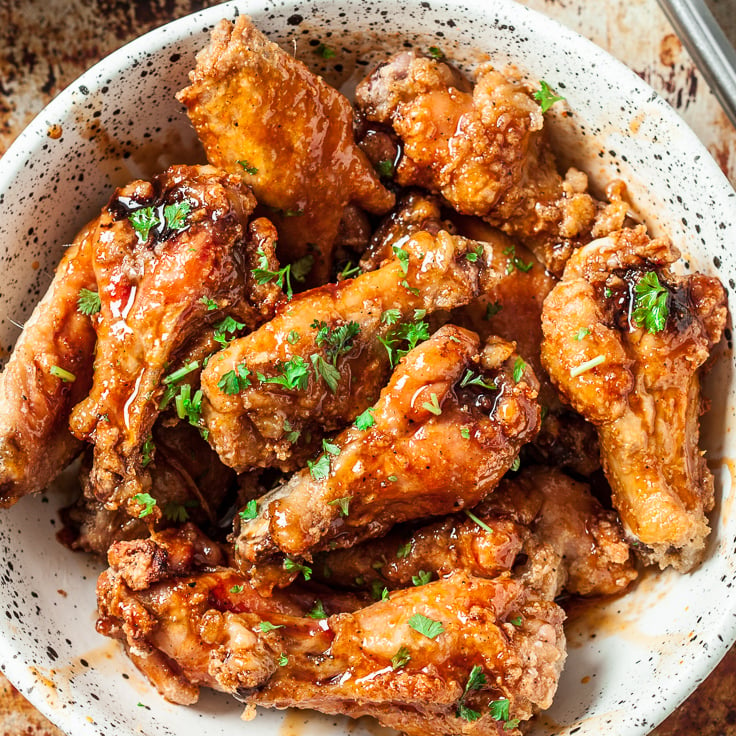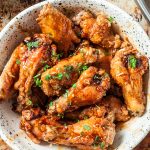 Honey Sriracha Buffalo Chicken Wings (Crispy Baked!)
This Honey Sriracha Buffalo Chicken Wings recipe is stunningly crispy and flavorful. Plus, they're oven baked, not fried! A couple of secret ingredients boost the crispiness of these finger-licking great chicken wings. This buffalo wings sauce is amazing!
Ingredients
For the Sauce:
5

TB

butter

½

cup

pure honey

¼

cup

Sriracha,

use less if you want it mild

1

TB

Tamari sauce

2

tsp

freshly squeezed lime juice

Optional garnishes: freshly chopped parsley or chives
Instructions
Preheat oven to 400F, with rack on upper middle position. Line a large baking sheet with foil and generously grease the foil. Very thoroughly chicken wings with paper towels; take the time to dry each piece well, so that all excess moisture is removed.

In a large Ziploc bag, combine garlic powder, pepper, salt, baking powder, and corn starch. Mix well. Add chicken wings, gently shaking to coat thoroughly.

Place wings in single layer on foil lined baking sheet. Bake 45-50 minutes or until browned and crisp.

While chicken is baking, make the sauce. In a small pot, melt butter. Add rest of sauce ingredients, constantly stirring, until mixture starts to bubble. Immediately remove from heat and set aside.

Transfer baked wings to a large serving platter.

When ready to serve, pour as much sauce as desired over wings, tossing to coat well. If desired, save some sauce for serving alongside of wings. Serve immediately while chicken is crispy.
Notes
We use Sriracha, as it has a richer and deeper flavor and thicker texture than that of other common hot sauces such as Frank's.
Honey is preferred here instead of sugar, as the thick and syrupy texture makes the sauce simply amazing. We love the sweet and spicy flavors of this sauce, but if you want your sauce less sweet, feel free to use less honey.
Tamari sauce is gluten-free soy sauce with nice depth of flavor.
If you enjoyed this recipe, please come back and give it a rating ❤️
Nutrition
Serving:
1
serving
|
Calories:
341
kcal
|
Carbohydrates:
20
g
|
Protein:
17
g
|
Fat:
22
g
|
Saturated Fat:
9
g
|
Polyunsaturated Fat:
3
g
|
Monounsaturated Fat:
8
g
|
Trans Fat:
0.5
g
|
Cholesterol:
90
mg
|
Sodium:
598
mg
|
Potassium:
186
mg
|
Fiber:
0.2
g
|
Sugar:
18
g
|
Vitamin A:
366
IU
|
Vitamin C:
7
mg
|
Calcium:
105
mg
|
Iron:
1
mg
Did you make this?
Leave a comment below and tag @chewoutloud on Instagram