Sweet Potato Fries (Crispy Baked)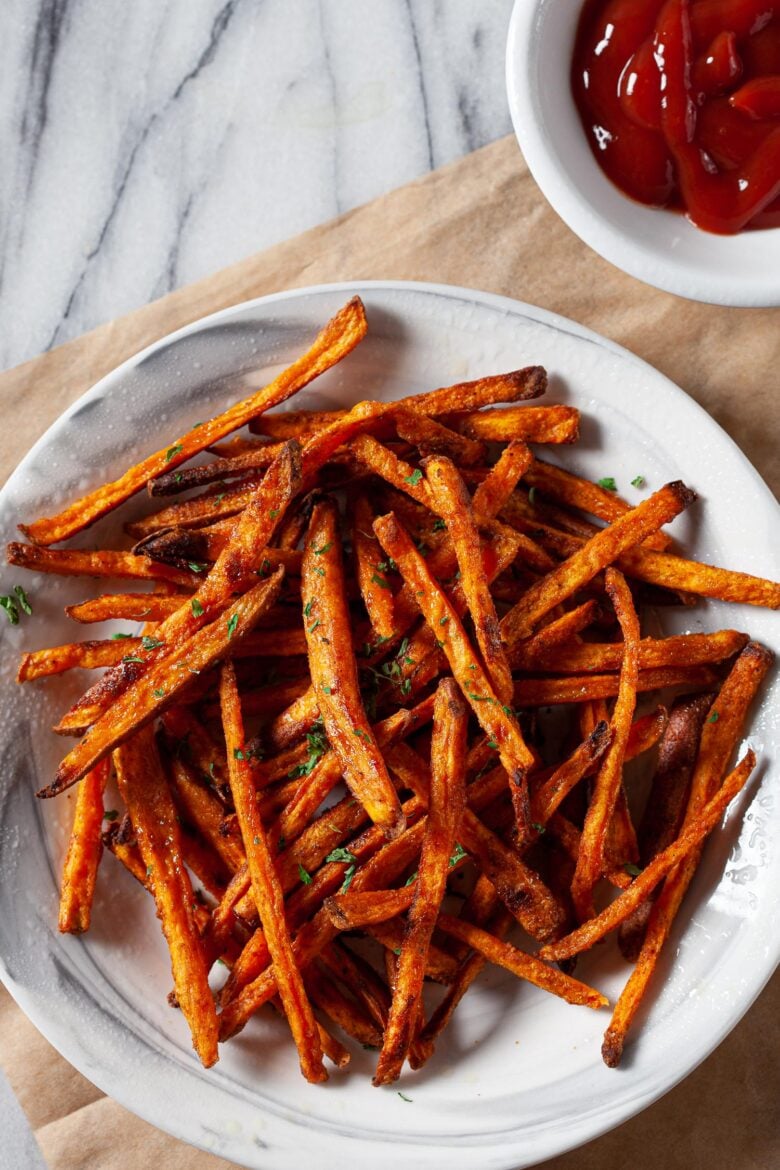 Video: watch This Recipe in Action
Why This Recipe Stands out
These fries bake to crispy perfection, not fried!
Use just 8 simple ingredients to create a bold flavor that makes this recipe even better than your favorite restaurant's version.
You'll use cornstarch to coat the potatoes, meaning this dish is naturally gluten-free.
With just 3 tablespoons of olive oil, this recipe is surprisingly healthy and full of fiber.
They cook on a single baking sheet so your cleanup is a breeze.
How to Make Sweet Potato Fries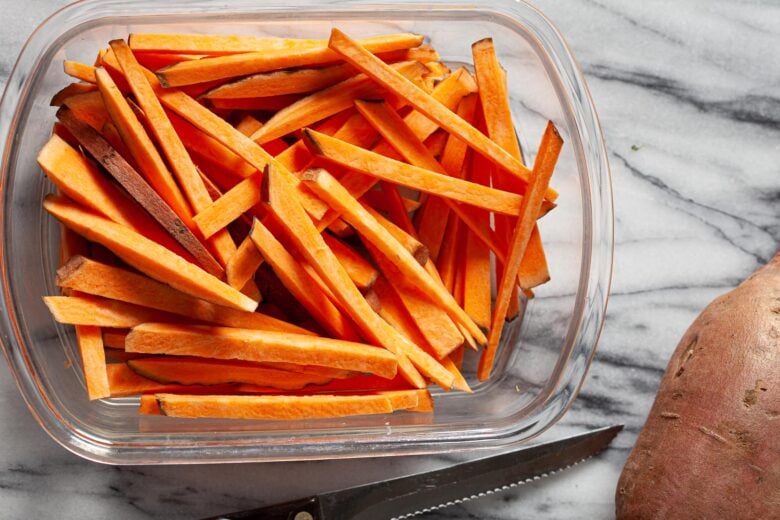 Step 1: Once sliced, soak your fries in cold water.
Step 2: Add fries to a bag along with oil and spices.
Step 3: Use a clean towel to remove all excess moisture from fries.
Step 4: Arrange crispy sweet potato fries in a single layer on a parchment-lined baking sheet.
Pro-Tips for Crispy Fries
Learning how to make sweet potato fries is super easy, and we've rounded up our best tips to make sure this recipe is virtually failproof!
Slice Evenly. You'll want to slice your sweet potatoes into ¼ inch strips, making sure they're as even as possible. This will allow for a uniform baking time and helps ensure every single fry gets crisp.
Soak the Fries. Once sliced, immerse your fries in a bowl of cold water for at least 30 minutes or up to overnight. This removes excess starch and allows for better crisping.
Bake in an Even Layer. Be sure to spread your fries in an even layer on a single baking sheet, leaving a little room in between each piece. Otherwise, they may not fully bake or become crisp!
Flip the Fries. Roughly halfway through baking, remove the baking sheet from the oven, and flip over every fry. Trust us, it makes a huge difference in the final taste and texture!
Cool. Once fully baked, allow your fries to cool at room temperature for 2 minutes to help them crisp up even further.
Serving Suggestions
We love to whip up these baked sweet potato fries for a satisfying snack or appetizer. They taste great paired with all your favorite sauces like ketchup, barbecue, and aioli. However, they also make for a scrumptious family-friendly meal when served as a side with main courses such as: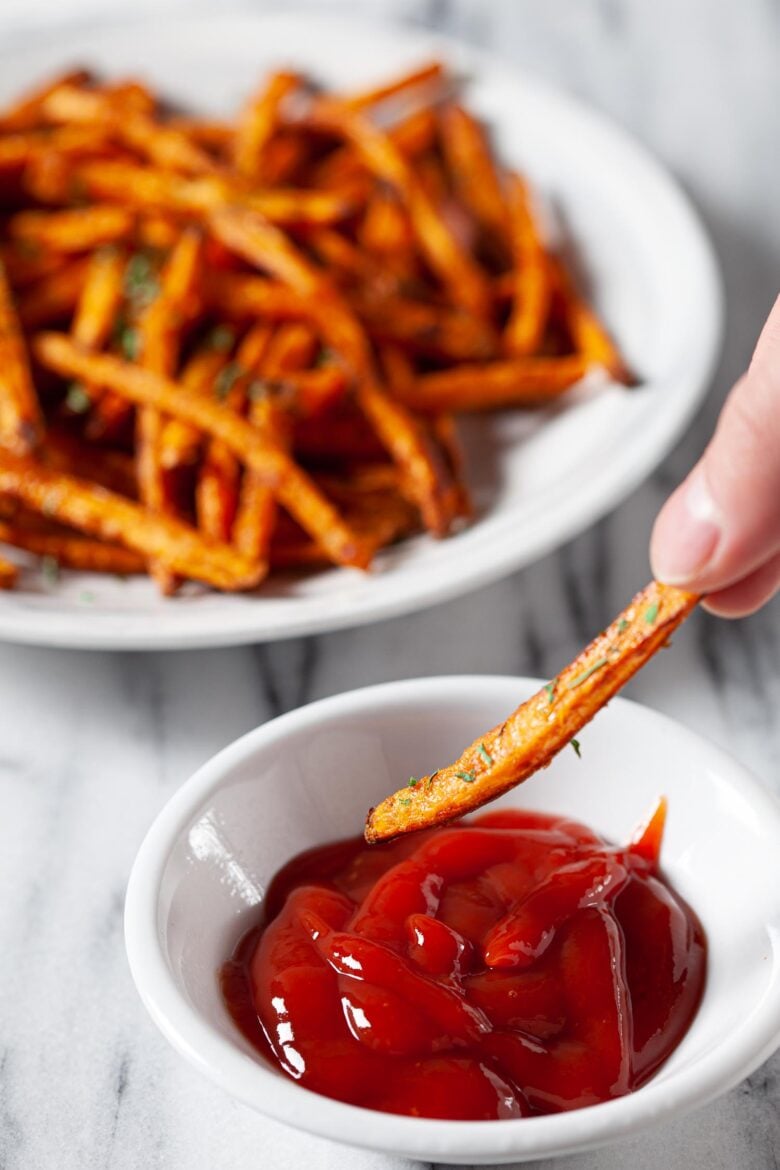 Common Questions
How can I ensure my sweet potato fries will be crispy?
If fries won't crisp, it's likely because they were cut too thick or were crowded in the pan. For the best results, aim for shoestring-style fries that are ¼" thick. Also, be sure to soak them in water, and arrange them in a single layer on your baking sheet!
How can I tell when sweet potato fries in the oven are done?
You'll know your baked sweet potato fries are done cooking when they are caramelized and crisp. If they begin to turn dark brown, they are overcooked.
Can I make baked sweet potato fries ahead of time?
These crispy sweet potato fries are best served right away while they're still warm. However, if you have leftovers, they can be transferred to a paper towel-lined storage container and stored in the fridge for up to 3 days. When you're ready to eat, place them back in the oven at 350°F just until your desired temperature is reached.
---
More to Bake and Eat
---
Did you make this?
Please give us a rating and comment below. We love hearing from you!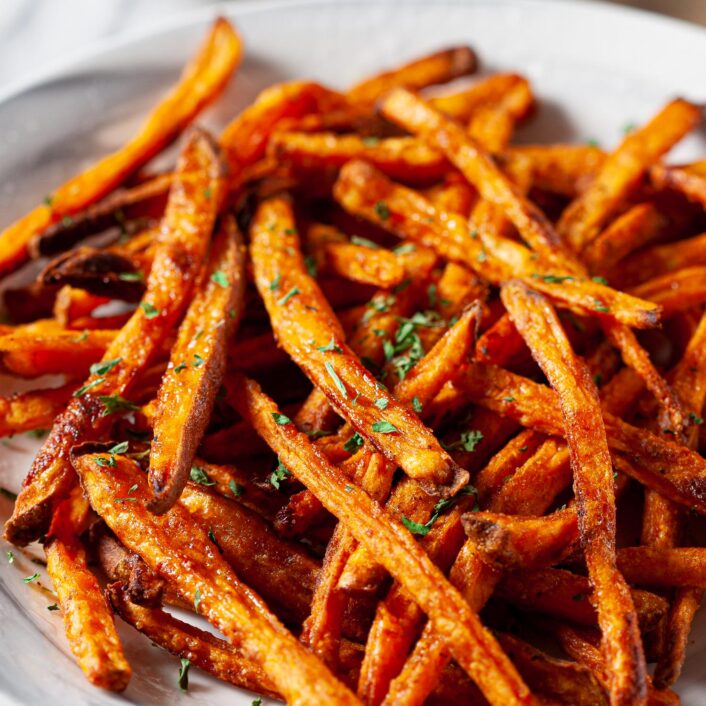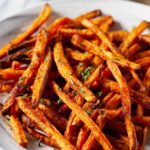 Sweet Potato Fries (Crispy Baked)
These sweet potato fries are baked to crispy perfection and seasoned with bold flavors you'll adore
Instructions
Wash and dry potatoes. Use a sharp knife to slice potatoes into even ¼" strips. Immerse the potatoes into a large bowl of cold water for at least 30 minutes or up to overnight.

Preheat oven to 425F, and position an oven rack in the middle position. Line a large baking sheet with parchment paper. Set aside.

Drain the potatoes, and use paper towels or clean absorbent cloths to pat dry all excess moisture.

In a large sealable bag, add the potatoes. Drizzle evenly with olive oil, and toss to coat evenly. Add the cornstarch, onion powder, garlic powder, smoked paprika, salt, and pepper. Toss again until the potatoes are evenly coated with the seasonings.

Arrange the potatoes in a single layer on the lined baking sheet, leaving a little space between them.

Bake 15 minutes. Quickly remove the baking sheet from the oven, closing the door to preserve heat, and use tongs or a spatula to flip each fry over. Bake another 7-10 minutes or until fries are browned at the tips.

Cool at room temperature for 2 minutes to help them crisp up. Serve warm.
Notes
The thinner the fries, the crisper they'll get. Aim for shoestring-style fries, about 1/4″ in thickness.
Unbaked, freshly sliced sweet potato fries can be soaked overnight if you want to get a head start on the recipe.
The more "shriveled" your fries become, the crisper they'll be, as the water content has largely evaporated from the fries.
For flavor variation, try Old Bay seasoning in place of the onion powder, garlic powder, paprika, salt, and pepper.
If you enjoyed this recipe, please come back and give it a rating ❤️
Nutrition (per serving)
Serving:
1
serving
|
Calories:
163
kcal
|
Carbohydrates:
26
g
|
Protein:
2
g
|
Fat:
6
g
|
Saturated Fat:
1
g
|
Polyunsaturated Fat:
1
g
|
Monounsaturated Fat:
4
g
|
Sodium:
67
mg
|
Potassium:
396
mg
|
Fiber:
4
g
|
Sugar:
5
g
|
Vitamin A:
16212
IU
|
Vitamin C:
3
mg
|
Calcium:
36
mg
|
Iron:
1
mg