Quinoa with Black Beans (Tex Mex)
For a mouthwatering quinoa dish with southwestern flair, it's hard to beat this Quinoa with Black Beans! Whip it up in 30 minutes for a crowd-pleasing side dish or even main dish.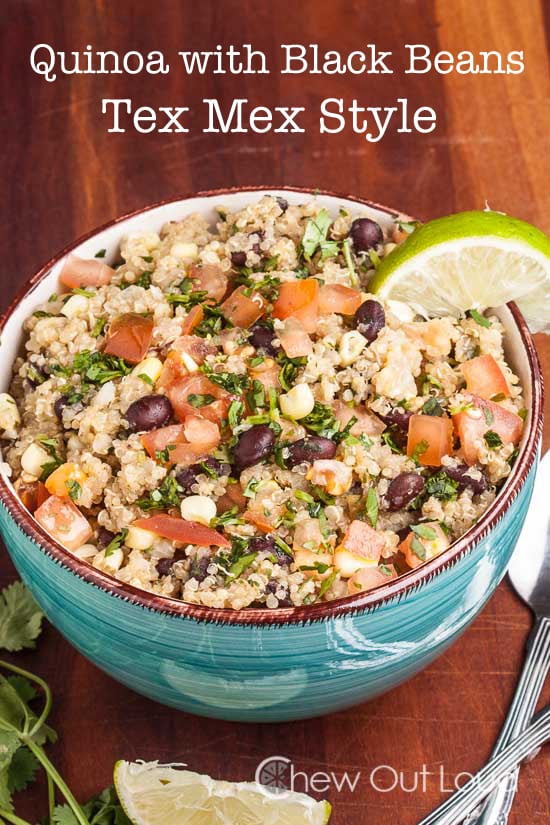 What a difference a day makes. I've said that before, I know. I can't help it, because just yesterday it was a balmy and sunny bright 80F. Today we're demoted to cloudy gray skies and cold gusty wind.
At least the Littles were scheduled for a water-soaked afternoon at camp yesterday rather than today. Today's camp schedule consists of sneakers and ball games, so it's all good.
Now I'm just praying for sunshine so our Father's Day weekend plans aren't foiled. It's funny because sports practices are usually canceled on Mother's Day. But Father's Day doesn't trigger much canceling of anything. The coaches are still holding baseball practice and we're still debating whether to go.
What say y'all? Would you go or would you skip sports practice for the Littles on Father's day afternoon?
That aside, we've got the weekend food covered. From Funfetti Pancakes to Tex Mex Sloppy Joes to this unbelievably luscious Triple Chocolate Mousse (GF) Cake. Covered.
Now. How about a festive side dish? This Quinoa with Black Bean dish could sit with the side dishes, salads, or be a main dish for vegetarian friends. It's so versatile and is a burst of happy in your mouth…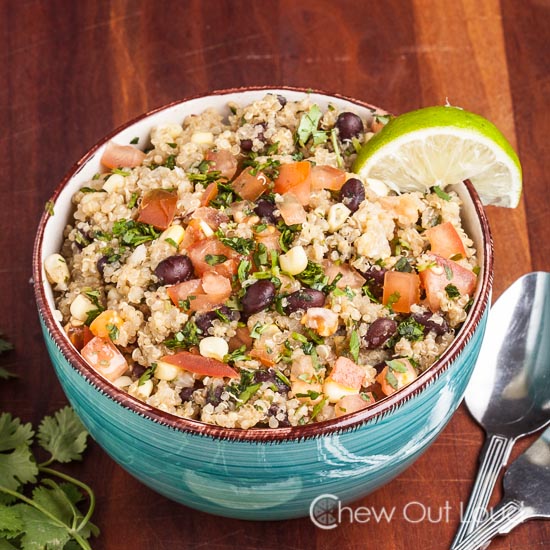 This is one of the tastiest 30-minute dishes one can muster up. And healthiest. A bowl of Quinoa and Black Beans is chock full of protein, thanks to the (well, quinoa and black beans.)
This time, my quinoa came out a teensy bit wetter than normal, due to rinsing the quinoa first. There's a bit of residual liquid after rinsing the grains. To account for that, I've written in to use a bit less liquid in the recipe so your quinoa can come out a bit fluffier. (Not that anyone even cared, since the whole thing was quickly gobbled up.)
I typically just throw my quinoa into the recipe without rinsing/draining the grains first. However. I realized that by rinsing/draining the uncooked quinoa first, it produces a much cleaner flavor without any bitter residue.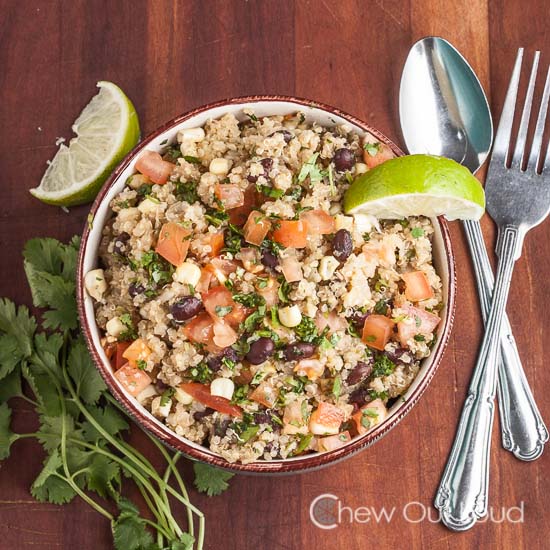 The fresh tomatoes, corn, cilantro, and lime all work together seamlessly to produce a superbly refreshing and flavorful quinoa dish.
If someone would make me this every day, I'd eat it every day. I would love a bowl of this for lunch Every. Single. Day.
Here's to a (hopefully) sunny weekend for all those celebrating Dad or Grad. Enjoy!
Did you make this?
Please give us a rating and comment below. We love hearing from you!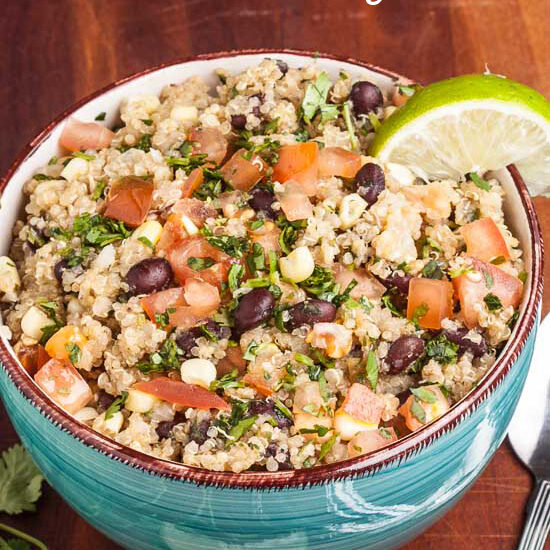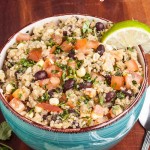 Quinoa with Black Beans (Tex Mex)
This Quinoa with Black Beans is a flavorful dish that's chock full of healthy grains, protein, and southwestern flair! Perfect side or salad for all those get togethers. Vegetarians will adore it. Be sure to rinse and drain well the quinoa before cooking.
Ingredients
1

tsp

olive oil

1

brown onion

,

chopped

3

cloves

garlic

,

chopped

¾

cup

dry quinoa

,

rinsed and drained very well to remove as much liquid as possible

Just under 1 1/2 cups chicken broth

1

tsp

ground cumin

¼

tsp

cayenne

½

tsp

table salt

1

cup

sweet corn kernels

1

15 oz can black beans, rinsed and drained very well

1

medium tomato

,

chopped

½

cup

chopped cilantro

lime wedges for sprinkling
Instructions
Be sure uncooked quinoa is rinsed thoroughly and drained well to remove all excess water. A fine wire mesh works best.

In a large saucepan over medium heat, add oil. Cook onion and garlic just until tender. Add quinoa to the pan. Add just under 1 1/2 cups chicken broth (between 1 1/3 and 1 1/2 cups).

Stir in cumin, cayenne, salt, and pepper. Bring to a boil, cover, and reduce to simmer. Simmer until broth is fully absorbed, 22 minutes. Do not lift cover during cooking.

Stir in corn kernels and black beans, cover, and continue to simmer 5 more minutes. Stir in chopped cilantro and tomatoes.

Sprinkle with freshly squeezed lime juice to taste, and serve.
Source: Chew Out Loud, inspired by allrecipes
This Avocado with Black Bean Salad is over the top awesome with big flavor and so easy to make: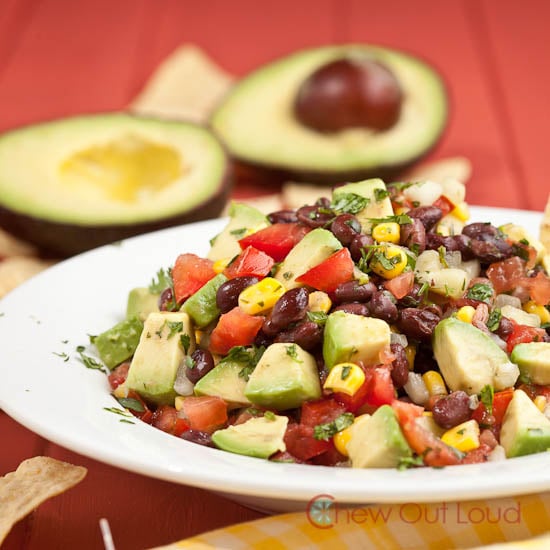 This Enchilada Breakfast Casserole isn't just for breakfast. We happily stuff our tummies with it for dinner, too.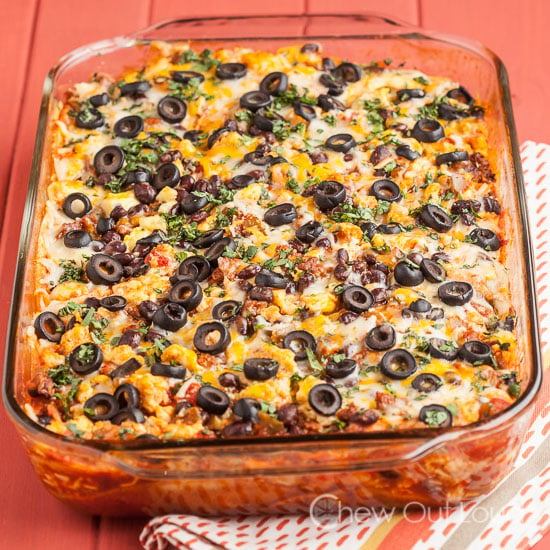 This Mexican Taco Salad is perfect for crowds. Mix in the creamy spicy dressing right before serving, and watch it disappear: