Easy Slow Cooker Smoked Brisket
By Amy Dong
Published Mar. 24, 2021
Updated Jul. 17, 2023
This Slow Cooker Smoked Brisket delivers a big smoky flavor, without using a smoker or wood chips. Simply set it, forget it, and enjoy.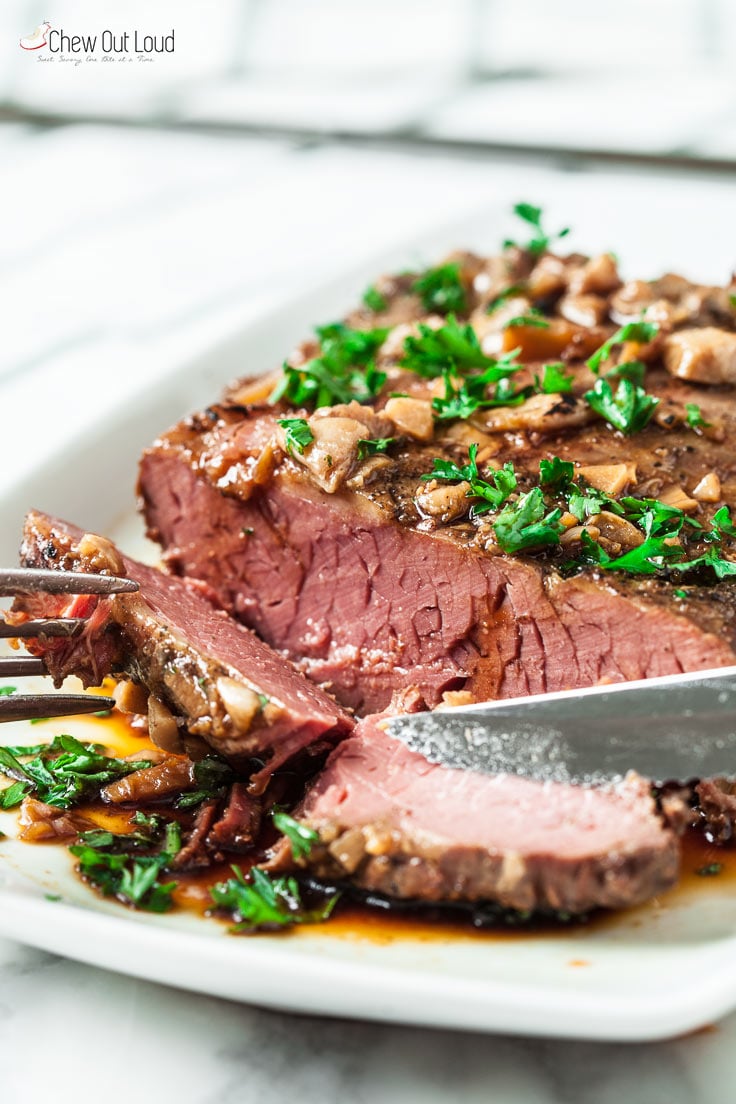 Tender Smoked Beef Brisket without a Smoker
This is one of those super easy recipes that took zilch elbow grease yet tastes like you absolutely worked on it. People will ask you where you're hiding your smoker once they taste this smoky beef brisket. Only you are privy to the fact that the brilliant brisket on the table required just a few basic ingredients and a slow cooker.
Before we take another step, this is important: be sure you're using a fresh cut of beef brisket from your local butcher or fresh meat counter. This recipe is not for the packages of pre-brined roasts that have been resting in a salty solution. If you use a pre-seasoned brisket, it'll result in the sodium party you never wanted to throw.
Other than that, all you need are a few basic ingredients and your trusty slow cooker to make this super tender, smoky beef brisket.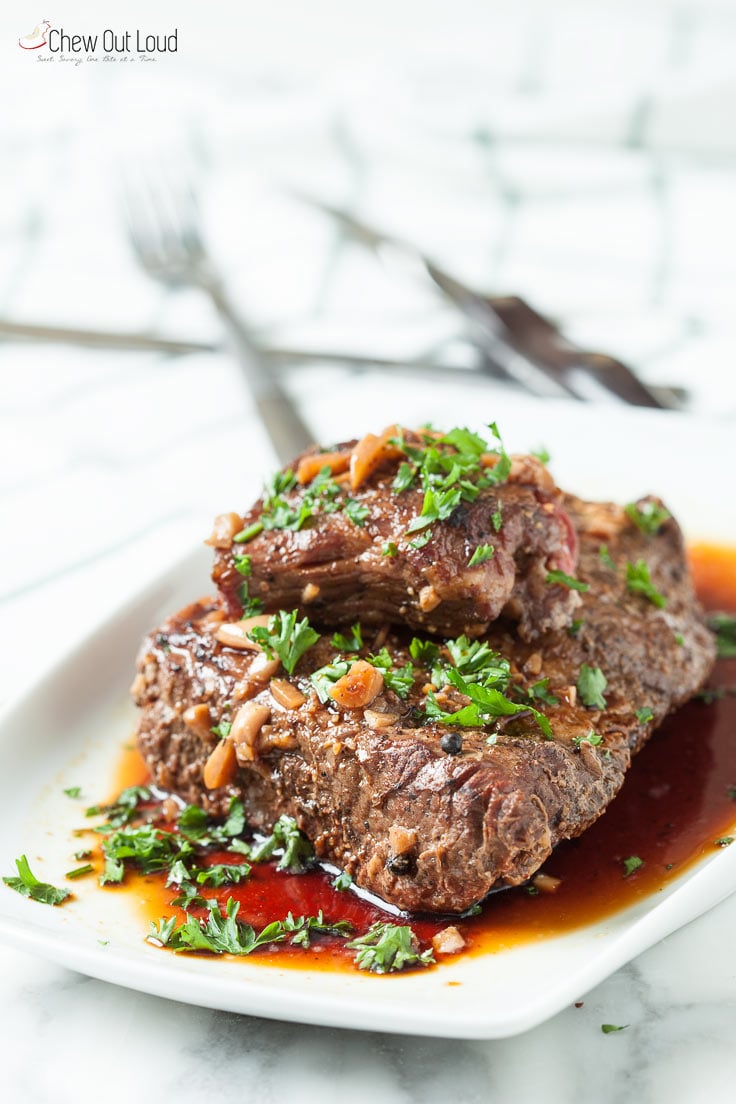 What is liquid smoke?
Good quality liquid smoke is necessary for that wonderfully smoky flavor you'll smell and taste in this delightful beef brisket. No fussing at the grill or smoker, which makes this a perfect dish for rainy spring shower days. Also, this means your hair and clothes won't smell like charcoal or wood chips. A definite bonus.
Liquid smoke is a smoky-flavored extract that tastes like it sounds – a savory smoked wood in liquid form. Wood chips are burned and the smoke is captured and condensed. It's then double filtered to remove soot and ash, leaving just the liquid steam.
A little goes long way, so one small bottle of good liquid smoke will last you a long time. A couple tablespoons of liquid smoke in this beef brisket recipe provides plenty of savory smoky flavor for the entire roast.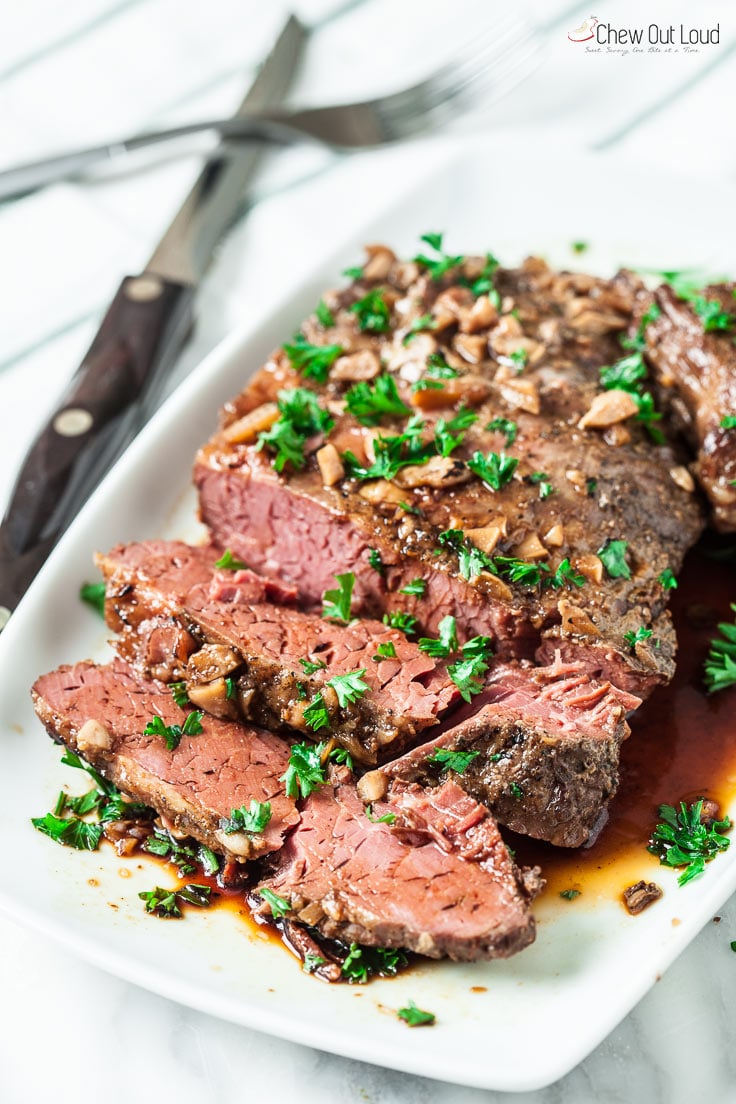 Common Questions and ANswers
Q: Where can I buy fresh brisket?
A: Unless you're in Texas, you may need to go to your local butcher shop for fresh beef brisket. Costco often carries prime briskets at a reasonable price. There are several online farms you can get it from as well.
Q: What should I look for in a brisket?
A: Look for a narrower, thicker slab of brisket. Try to avoid super thin flats of meat, and shoot for no less than 3/4″ thick. Prime cuts are best, as they will cook up more tenderly. If buying from Costco or a meat counter and you don't see a cut you like, try asking the butcher to see if they have more in the back.
Q: How should I trim the brisket?
A: Feel free to trim excess fat from the brisket, but do leave some intact, as some fat is needed for tenderness of the finished brisket.
More to Cook and Eat:
---
Did you make this?
Please give us a rating and comment below. We love hearing from you!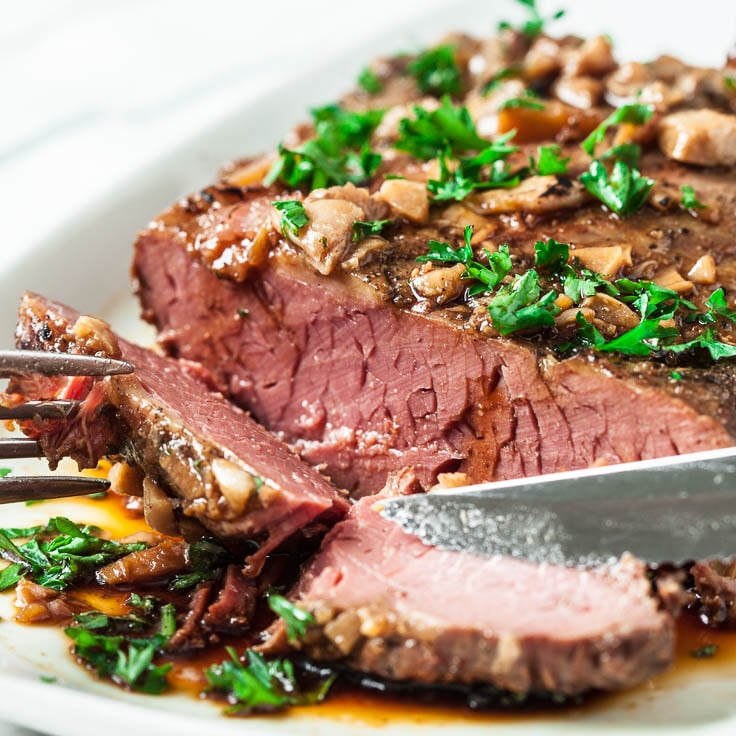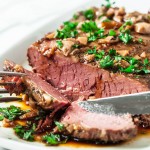 Easy Slow Cooker Smoked Brisket
This Easy Slow Cooker Smoky Brisket is full of that smoked flavor you love, without hassling with a smoker. The beef comes out tender and juicy every time!
Ingredients
4

lbs

fresh, unseasoned beef brisket (not in a salty brine or pre-seasoned)

4

fresh garlic cloves

,

minced

2

TB

onion powder

2

TB

good quality liquid smoke

kosher salt to taste

Optional: freshly chopped parsley for garnish
Instructions
Pat dry

beef with paper towels to completely remove any excess moisture. Trim excess fat, but leave some, as some fat is necessary for flavor. Place beef on a large sheet of heavy duty aluminum foil.

Evenly press on the garlic, black pepper, and onion powder all over the roast. Sprinkle light layer of kosher salt over roast (check the level of salt in your liquid smoke to determine whether to go light or heavier with the kosher salt.) Gently pour/pat on the liquid smoke. Tightly wrap beef with foil and seal closed.

Place foil-wrapped roast directly into the slow cooker and cook on low for 10 hours. Carefully unwrap foil (take care not to get burned by steam) and check for fork-tender doneness. Taste beef and sprinkle on more kosher salt to taste, if needed. Place beef onto serving plate. Taste the smoked juices and add salt as needed to the sauce.

Slice beef

and pour juices over the top. Serve warm, garnished with parsley or with your preferred BBQ sauce. Great with

potatoes

or

crusty bread

!
Notes
Check your brisket to be sure it's not already pre-seasoned or packaged in a salty brine. If so, omit the salt, as liquid smoke is typically a bit salty already. You can always add salt to taste once the roast is done, if needed.
Corned beef is generally pre-soaked in a salty brine. If you bought corned beef, use this corned beef recipe instead.
If you enjoyed this recipe, please come back and give it a rating ♡
Nutrition (per serving)
Calories:
314
kcal
|
Carbohydrates:
1.3
g
|
Protein:
41.4
g
|
Fat:
14.7
g
|
Saturated Fat:
5.2
g
|
Cholesterol:
123.3
mg
|
Sodium:
157.9
mg
|
Fiber:
0.3
g
|
Sugar:
0.1
g