Corned Beef with Cabbage
By Amy Dong
Published Mar. 17, 2022
Updated Jan. 15, 2023
This Slow Cooker Corned Beef with Cabbage is a great all-in-one meal. It's easy, tasty, and amazingly fork-tender. It's perfect for gatherings.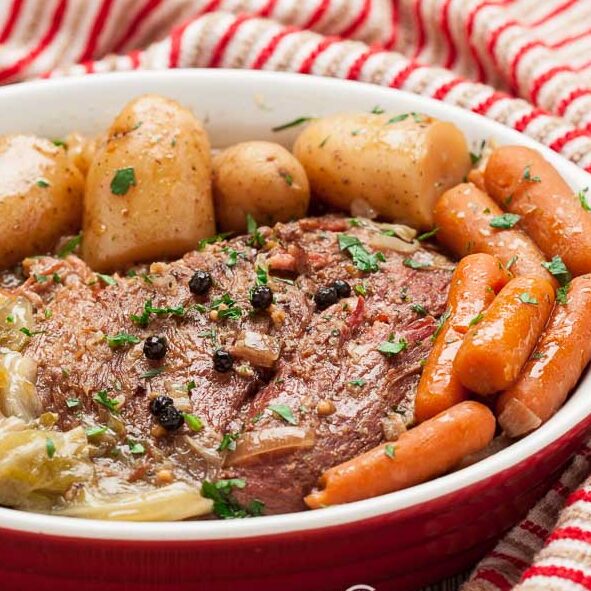 Corned Beef with Cabbage
Here's our tried-and-true corned beef recipe originally created in honor of St. Patrick's Day. This Crock Pot corned beef and cabbage is so good, it's become an all time family favorite, and not just in March.
Despite everyone's long standing infatuation with this tender pot roast I didn't realize corned beef and cabbage would make it onto the fail-proof dinner list.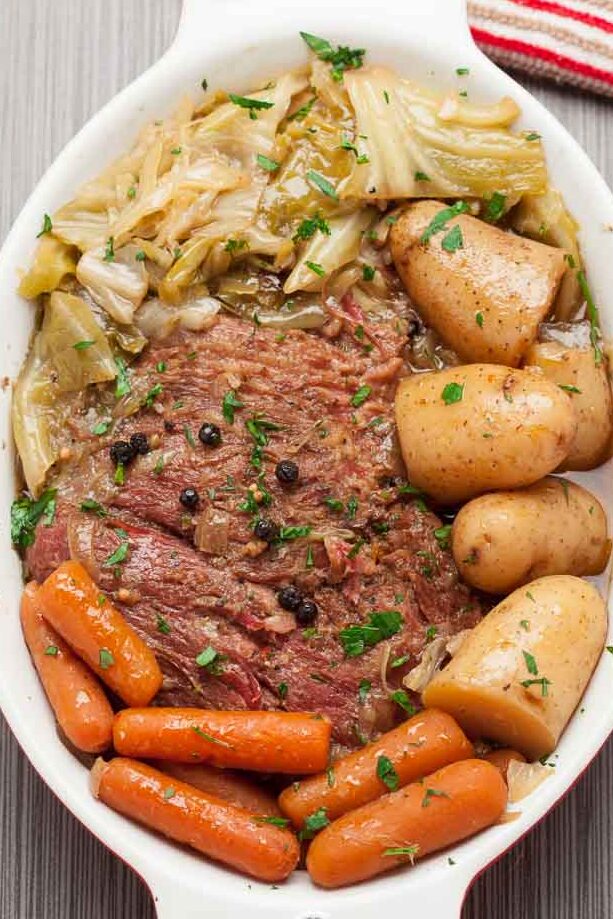 key Ingredients for Your Best Corned Beef
As usual, we think easier is better: go with baby carrots instead of shredding and slicing big carrots.
4 lb fresh corned beef brisket, trimmed, with its own separate little spice pack.
Regular beef broth provides essential liquid for cooking and full flavor.
You'll need one 6 oz can of beer; almost any type should work here.
Fresh onion and garlic provide plenty of aromatics.
Grab some whole peppercorns for a fragrant kick to the dish
We opt for fingerling potatoes or baby red/gold potatoes, as their small size and inherent tenderness lets us skip any peeling and excess slicing.
We find one head of fresh cabbage is perfect for this corned beef,. Although it may seem like a lot of cabbage, it cooks down to a fraction of the original volume,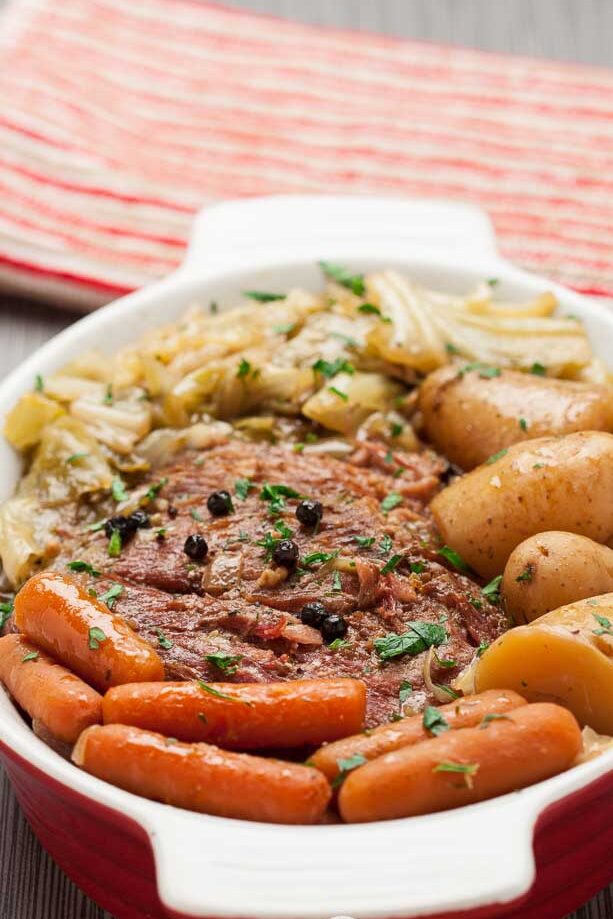 Pro Tips for the Most Tender Corned Beef and Cabbage
Let your slow cooker do the work, giving it plenty of time to cook the beef and cabbage down. We highly recommend the full 10-12 hours on low.
Go big on flavor. Plenty of garlic, peppercorns, regular strength beef broth, and the corned beef spice packet all go towards that goal.
Ensure that all ingredients are submerged in liquid so even the cabbage gains incredible flavor.
Add the potatoes and cabbage only during your last 2 hours of cooking; this is important to prevent them from becoming mushy and too overdone.
If you really prefer to slice yours rather than shred with a fork, simply decrease cook time by a couple of hours.
More to cook and eat:
---
You May Love this Beef Stew with Potatoes, Too:
---
Did you make this?
Please give us a rating and comment below. We love hearing from you!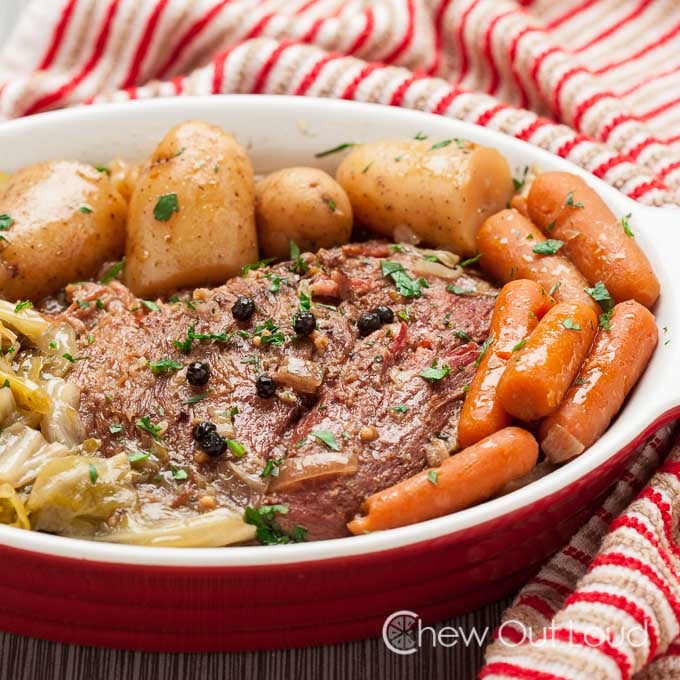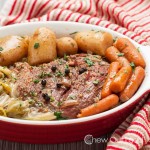 Slow Cooker Corned Beef with Cabbage
This Slow Cooker Corned Beef with Cabbage results in fork-tender beef that doesn't even need to be cut with a knife! The veggies are flavorful and tender, and potatoes are succulent. Extra sauce is great for pouring over noodles, if you like.
Ingredients
½

lb

baby carrots

1

large onion,

peeled and sliced thin

4

lb

corned beef brisket,

trimmed, with spice pack

4

cups

beef broth,

regular or low sodium

6

oz

beer

6

cloves

garlic,

peeled and smashed

1

TB

whole peppercorns

7

fingerling potatoes or baby red/gold potatoes,

halved

1

medium head of cabbage,

sliced
Instructions
Prepare In a large slow cooker, place baby carrots and onion into the bottom. Place corned beef on the veggies.

Season: Pour in the beef broth over the meat/veggies. Add the beer, garlic, and peppercorns. Sprinkle on the contents of spice pack that came with your corned beef.

Cook: Cover and cook on low for 10 hours. Then add potatoes and cabbage; submerge them in the liquid as fully as possible, and cook 2 more hours on low, for a total of 12 hours. Add salt and pepper to taste, if needed.
Notes
The 12-hour cook time will result in a corned beef that is fork-tender and can easily be pulled apart rather. If you prefer a firmer texture that you can slice, cook for a total of 9 hours instead of 12.
If you enjoyed this recipe, please come back and give it a rating ♡
Nutrition (per serving)
Calories:
266
kcal
|
Carbohydrates:
11.5
g
|
Protein:
44.7
g
|
Fat:
5.2
g
|
Saturated Fat:
1.9
g
|
Trans Fat:
0.2
g
|
Cholesterol:
99.7
mg
|
Sodium:
287.2
mg
|
Fiber:
2.7
g
|
Sugar:
6.7
g